Week of January 16, 2023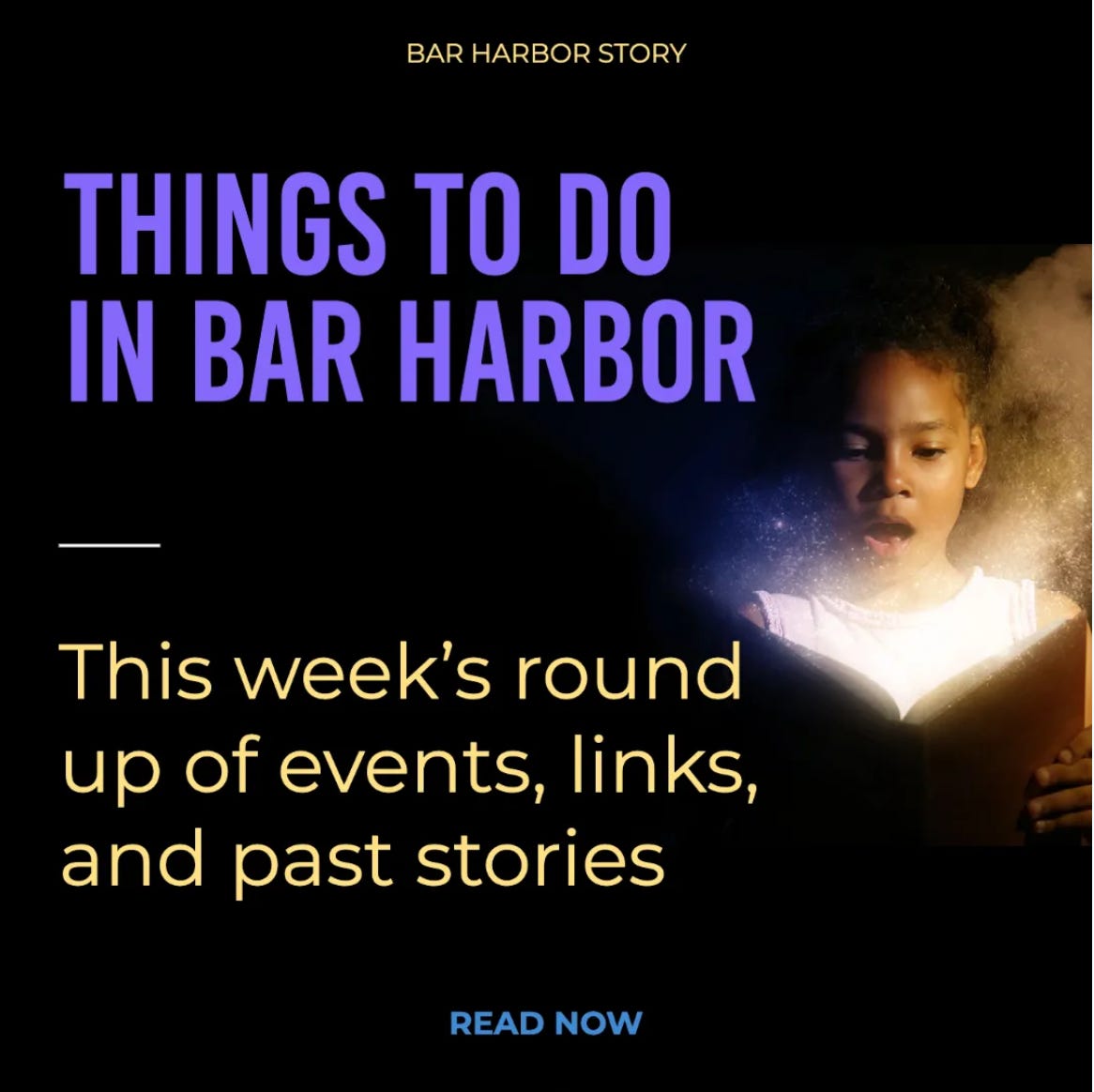 It's our weekly round-up, and I may have missed some things so apologies!
To check out our news stories from the past week. Click on the archive section and you'll see them in chronological order.
GET YOUR HERO ON!
To check if Bar Harbor Fire Department is currently hiring, please go to the town's jobs page.
But even if it isn't, you can become a call member
Becoming a call force firefighter requires extensive training, hard work, and dedication to the community. We rely on call force firefighters to respond quickly to emergencies, to perform firefighting duties, and to provide assistance and support to career firefighters. To be a fall force firefighter is to have a chance to aid and serve the community, which is an extremely rewarding experience.
---
Community Narcan Training
WEDNESDAY, JANUARY 18, 2023
4:00 PM 5:00 PM
JESUP MEMORIAL LIBRARY
34 MOUNT DESERT STREET
Please come to the Jesup Memorial Library on Wednesday, January 18th at 4 pm for a short training session with Deputy Chief, John Lennon of the Bar Harbor Fire Department, on how to recognize signs of an opioid overdose and administer the opioid overdose reversal drug Narcan. All attendees will be issued a Narcan kit after the class if they so choose.
This community Narcan education program is in person and registration is required to attend.
---
---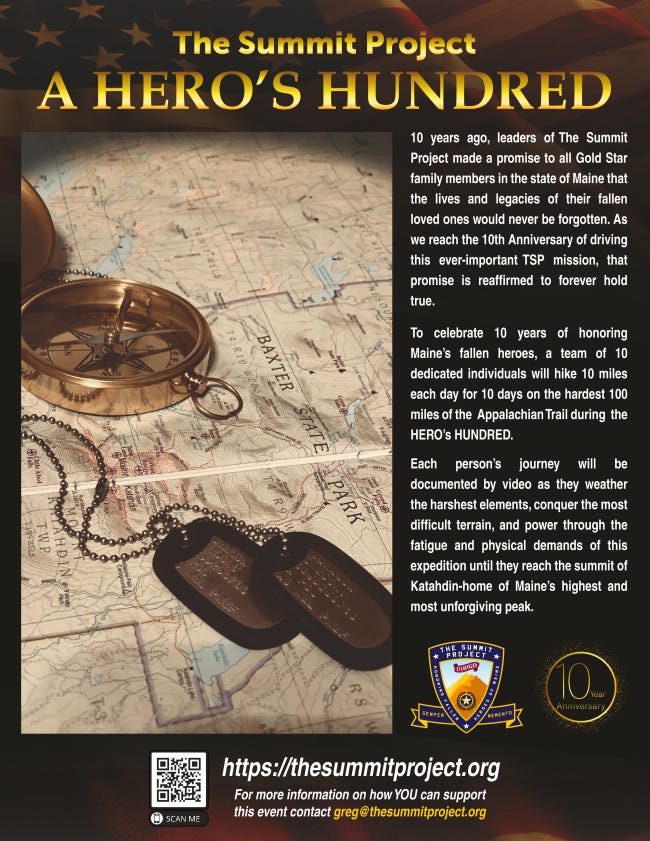 ---
Get Your Resources and Learning On!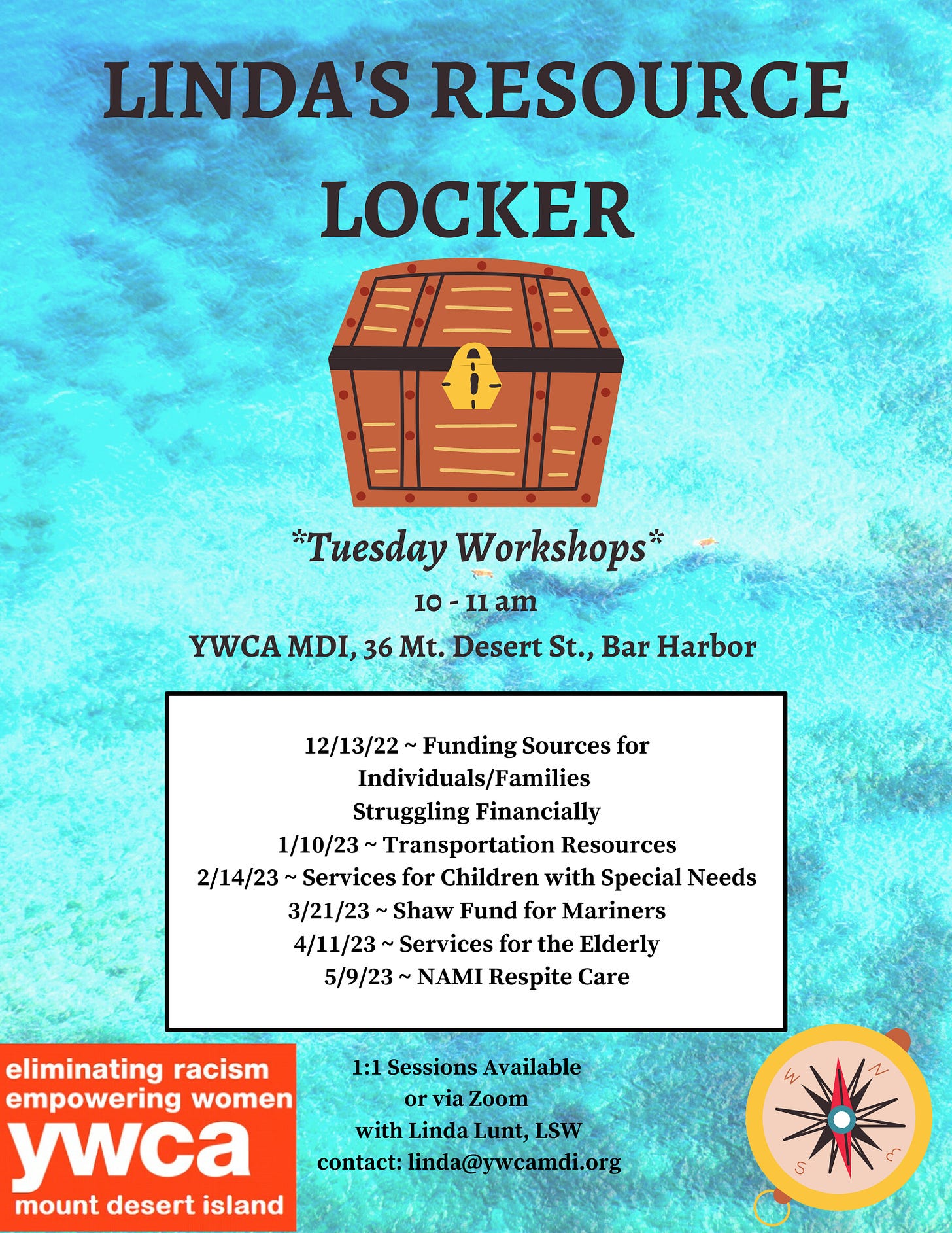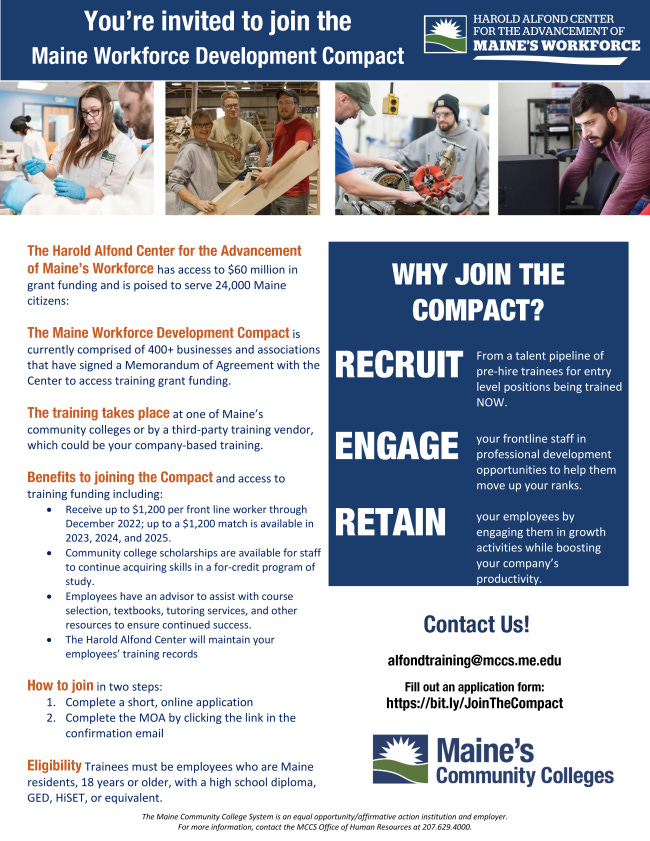 ---
My Darling Maine Island Boutique Raising Funds for the Jesup
My Darling Maine Island Boutique is thrilled to be partnering with the Jesup Memorial Library this holiday season to help raise funds for its expansion campaign. We still have socks in stock, so come "sock" up on these fun and comfy stocking stuffers. Also available online by clicking below.
Thank you to so many folks who have come in to support! You are all amazing! Happy Holidays!
---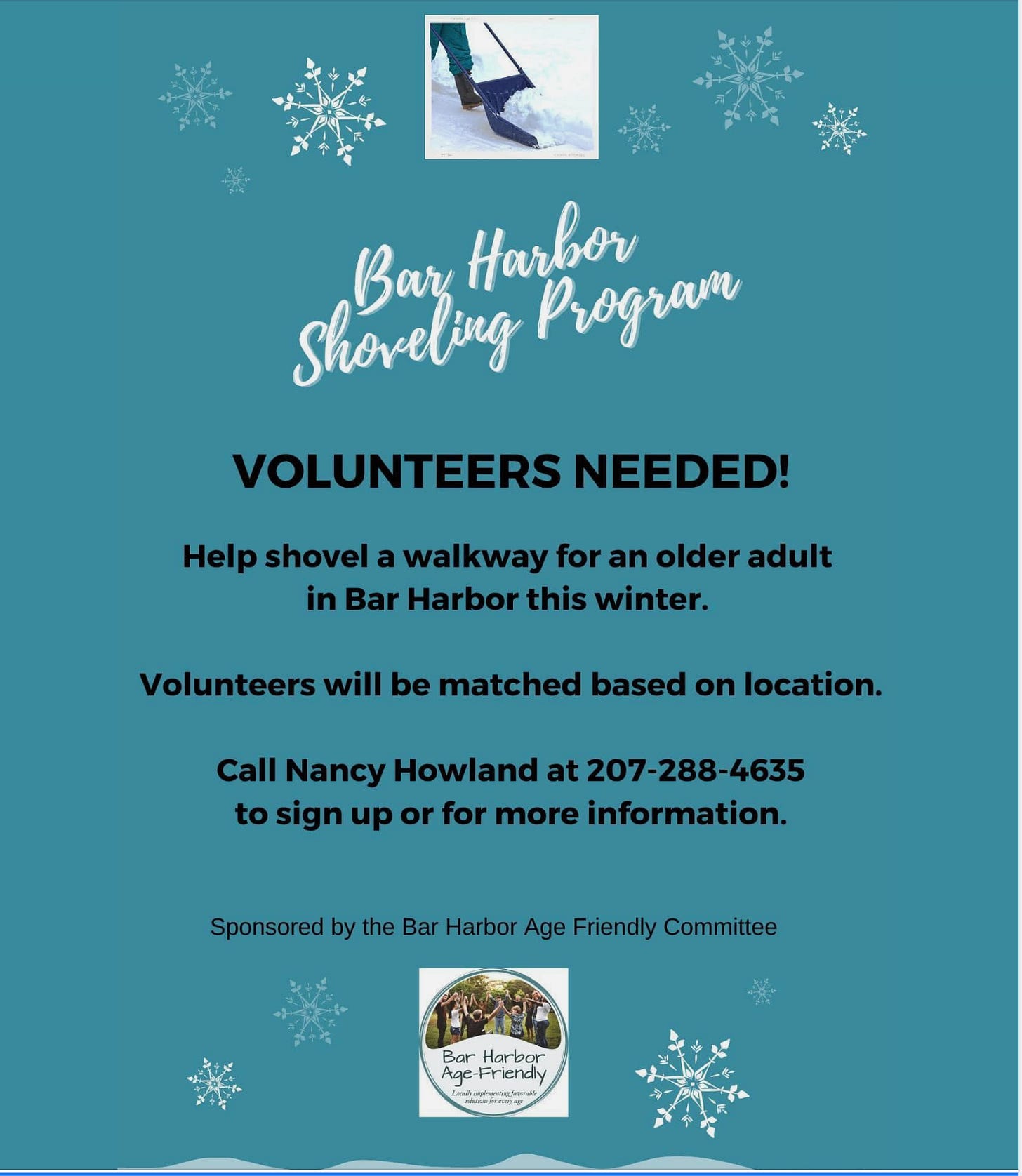 ---
Get Your Trivia On!
TRIVIA NIGHT AT FOGTOWN BREWING COMPANY BAR HARBOR
Join us for Fogtown Trivia Nights this winter at Fogtown Brewing Company in Bar Harbor! Register your team of no more than six at the bar with the bartender or host. (Be sure to check social media for updates or weather cancellations!)
Date and Time
Saturdays, 6:30 – 8:30 P.M.
Location
33 Cottage Street, Bar Harbor
Fees/Admission
No cover!
Website
Contact Information
(207) 801-9165
Send Email
---
Get Your Climb On!
Family Climbing Night At Camp Beech Cliff
For novices or experienced climbers, our indoor 30-foot wall provides an instructional and exciting experience. Our programs are designed for a variety of ages and include equipment (harnesses and helmets) and belay instruction from trained staff. Children under the age of 15 must be accompanied by an adult. Pizza and healthy snacks will be available for sale. In addition to climbing, the gym is open, and recreation equipment will be available to be used by all participants.
*There will be no Family Climbing Nights on February 24th or April 21st
Date and Time
Friday Jan 20, 2023
5:00 PM – 7:30 PM EST
Beginning January 13th and running every Friday through April 28th from 5pm – 7:30pm
Location
Camp Beech Cliff Eagle's Nest Gymnasium 264 Beech Hill Rd. Mount Desert, ME 04660
Fees/Admission
$5 per participant
Website
https://www.campbeechcliff.org/climbing-wall
Contact Information
2072440365
Send Email
---
Get Your Book On!
VIRTUAL WRITE ON! WRITING GROUP
Want support for your craft? The Write On! writer's group has been meeting at the Jesup since 2014, and remotely during the pandemic. Each meeting, members may bring in up to 1200 words to read for feedback, and in turn offer feedback to others. Although each member doesn't get to read work every time, the group shares the time fairly. The group meets on Zoom, and hold in confidence what is shared. This group welcomes adults 18 and up writing in many genres. There's no homework–the only commitment is two hours on Saturday mornings.
Date and Time
SATURDAYS
9:00 AM to 11:00 AM
Location
Zoom
How to Attend
Call the library, 207-288-4245, for more about us and how to join, or email info@jesuplibrary.org.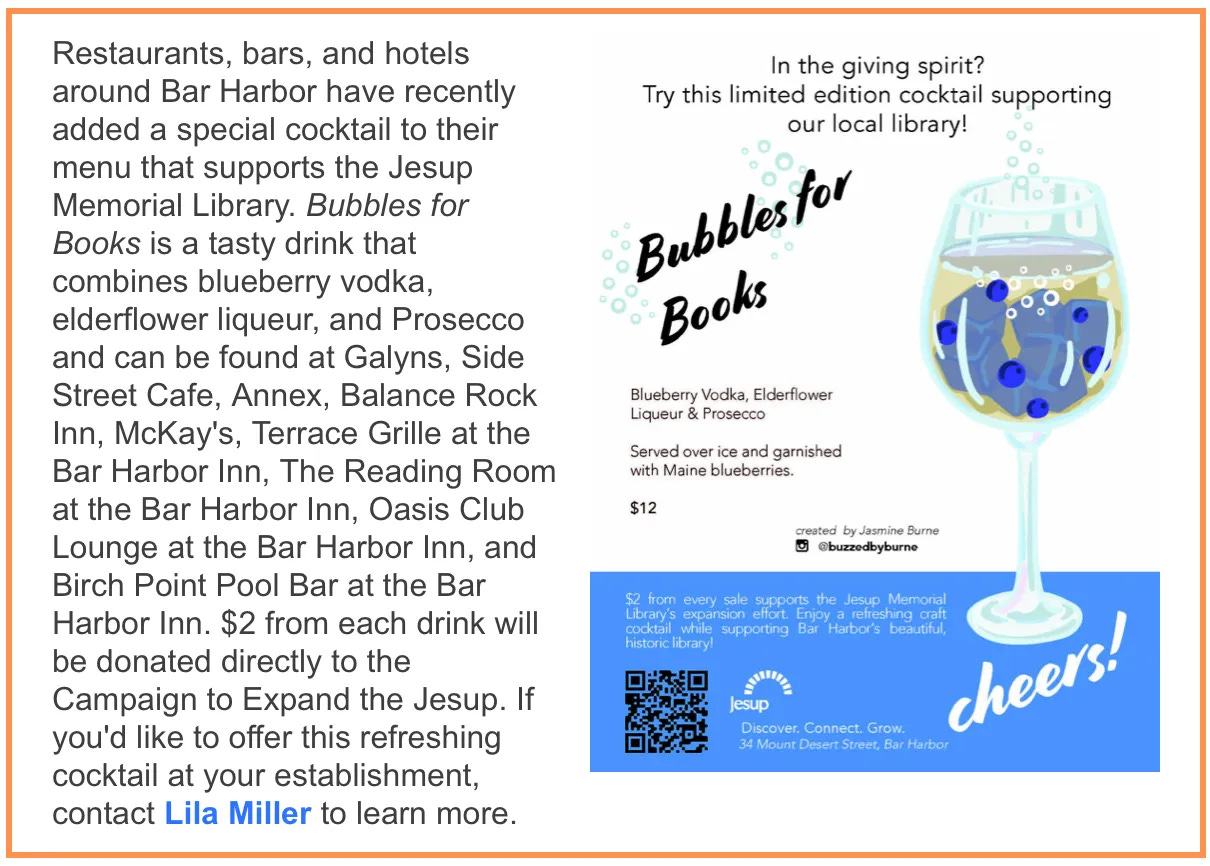 ---
PJ STORY TIME
Join Abby on Wednesday evenings for PJ Story Time! This program is for kids of all ages and their adults.
Time and Date:
Thursdays
6:30 P.M. to 7:00 P.M.
LOCATION:
Jesup Memorial Library, Mt Desert Street, Bar Harbor
---
The Story of This Place: Exploring the World of The Traveling Camera: Part 1
TUESDAY, JANUARY 17, 2023
1:00 PM 2:00 PM
This is the first session in a five part series for homeschool students. Please click the link above for more information about this series!
Tuesday, January 17th, 1pm: Visual Thinking Strategies (VTS) discussion and book introduction with Alison Johnson, IRW Director of School Programs and certified VTS facilitator (Zoom).
This program series for homeschooling students explores The Traveling Camera: Lewis Hine and the Fight to End Child Labor by Alexandra Hinrichs, with writing, photography, and local history. Sessions will be held both over Zoom and at the Jesup Memorial Library, culminating in an author visit with Alex! Each participant will receive a signed copy of The Traveling Camera. We recommend this program to homeschooling students aged 5–15.
Participation free of charge, but space is limited; registration is required. This program is cohosted by Island Readers & Writers and the Jesup Memorial Library.
About Alex
Alexandra Hinrichs is a children's book author and middle school librarian. Alex has worked as a historical researcher at American Girl, a children's librarian, and a children's bookseller among other things. She earned MAs in United States History and Library & Information Studies from the University of Wisconsin-Madison. She completed her undergraduate education at Colgate University, where she majored in History and French. Alex grew up in Princeton, Massachusetts. She has also lived in France and Thailand. She now makes her home in Bangor, Maine with her spouse and their three sons.
---
RESCHEDULED FOR THIS WEEK: MICHAEL J GOOD: BIRDS OF ACADIA NATIONAL PARK AND MOUNT DESERT ISLAND
Michael J. Good will be presenting on Birds of Acadia National Park and Mount Desert Island.
One of his most recently publications can be found in "Bird Observer: New England Birding Journal", Volume 50, #3. The Bird Observer's mission is to support and promote the observation, understanding, and conversation of the wild birds of New England.
Michael is an Ornithologist/Biologist/Naturalist and the founder of Maine's first Acadia Birding Festival. As a Registered Maine Guide, Michael has been guiding professionally for many years through his company Down East Nature Tours, LLC which focuses on avian ecology in the Gulf of Maine bioregion.
Starting in 2002, Michael has been a birding diplomat in Cuba where he conducted the "Cuba Bird Survey" with the Caribbean Conservation Trust. Cuba is vitally linked to Mount Desert Island through our breeding birds in Maine who winter or stopover. Michael is currently one of the top eBird contributors in Cuba and Hancock County, Maine. Michael has traveled extensively in the US, Alaska, Europe, Australia, South America and Cuba and is a regional business leader promoting sound ecologically practices in business, government and land development.
Michael was the founder and one of six participating organizers developing the Penobscot Watershed Eco Center in Bar Harbor, Maine which focused on river and stream restoration and the importance of sea-run fish for a healthy Gulf of Maine. Michael was founder and director of the Warblers and Wildflowers Festival (1998-2007) and in 2008 organized a committee of concerned and forward-thinking people. From the work of this committee, the event evolved into the Acadia Birding Festival, currently in its 24 th year. He has over 35 years' experience studying the birds of North America and brings a wealth of knowledge about Neotropical migrants and the avifauna of the Eastern United States.
Michael spent many years studying numerous aspects of the Gulf of Maine while employed at the Marine Biological Laboratory and Woods Hole Oceanographic Institute in Woods Hole, Massachusetts. In his spare time, he maintains Three Pines Bird Sanctuary in Town Hill, Maine, studying micro-habitat of Neotropical migratory birds on Mount Desert Island, Maine and winter ecology in various Neotropical countries like Cuba, when given the opportunity. He and his wife Lori have two children, Graham and Madeleine. He currently holds a BA (Biology) from Earlham College and an MS (Developmental Biology) from Utrecht University, The Netherlands, has taken several courses at College of the Atlantic and works with GIS students mapping eBird data.
Time and Date:
Thursday, January 19
7:00 P.M.
LOCATION:
Jesup Memorial Library, Mt Desert Street, Bar Harbor
---
GET YOUR ART ON!
OPEN STUDIO – MEMBER MONDAYS
Members can reserve a table in our studio for an hour or the whole session and have access to our non-consumable tools or use some materials from our stock!$10 for reserved space – participant brings supplies. OR $25 for reserved space plus access to consumable materials; felting, glass, paint, printmaking.Participants under 18 must be accompanied by an adult. Masking, vaccinated, and social distancing for staff and participant safety.
Date and Time
Mondays
2:30 p.m. – 6 p.m. EDT
Location
ArtWaves, 1345A State Highway 102, Bar Harbor
Fees/Admission
$42.00
Website
https://www.artwavesmdi.org/event
Contact Information207-266-0010
Send Email
---
MONDAY & THURSDAY NIGHT FIGURE DRAWING
Please register, space is limitedArtists will have a few quick warm-up poses then be able to spend time refining a long pose. Registration necessary- ArtWaves maintains distances for safety.The model is the star, no instruction, but plenty of easels, boards, horses, paper, charcoal and fellow friendly artists. Feel free to bring your paints and brushes as well!18 and over, under 18 allowed with parental attendance or prior signature.
Date and Time
Mondays and Thursdays
6 p.m. – 9 p.m.
Mondays 6-9 single pose and Thursdays multi poses
Location
ArtWaves Fine Arts Studio
Fees/Admission
$15 for 3-hour session
Members: $25 month fee
Contact Information
office @artwavesmdi.otrg
Send Email
---
KIDS CRAFTERNOONS
ArtWaves is devoting afternoons of studio (under the big tent) sessions for children to create. Most workshops use unique materials like fiber, ink, stained glass and wax. Weekly themes. Open to kids between 7-11. No skills required.Masks, vax'd (over 5), and distancing for staff and participant safety.
To Register:
Date and Time
Every Monday, Wednesday, and Friday
3 p.m. – 5 p.m.
Location
ArtWaves, 1345A State Highway 102, Bar Harbor
Fees/Admission
$30 materials included or bring some of your own! ($20 for members)
Student membership is $36 a year!
Contact Informationoffice@artwavesmdi.org
Send Email
---
COMMUNITY PEACE FLAGS
The intention of Children, Families and Communities Peace Flag Project is to provide a space for people of all ages to come together and explore their personal meaning of peace. By gathering collectively and mindfully creating peace flags we also manafest a space of peaceful collaboration. These peace flags, one is carried home and one is left behind, are a visual representation of our intentions. The flag left behind will become an installation of peace blessings that will spread on the wind. The flag carried home is a reminder of the maker's inner peace.
This class is donation based with a suggested donation of $10 for each session.
Sunday Jan 15, 2023
12:00 PM – 1:00 PM EST
Six Monthly Sessions starting on Sunday January 15th; 19 Feb 2023; 19 Mar 2023, 16 Apr 2023; 21 May 2023; Jun 2023
Location
ArtWaves 1345A Hwy 102 Town Hill Bar Harbor
Fees/Admission
This class is donation based with a suggested donation of $10
Website
https://artwavesmdi.org/event-5062357
Contact Information
2072660010
Send Email
---
Chinese New Year Crafts For All Ages
SATURDAY, JANUARY 21, 2023
1:00 PM 4:00 PM
JESUP MEMORIAL LIBRARY34 MT. DESERT STREET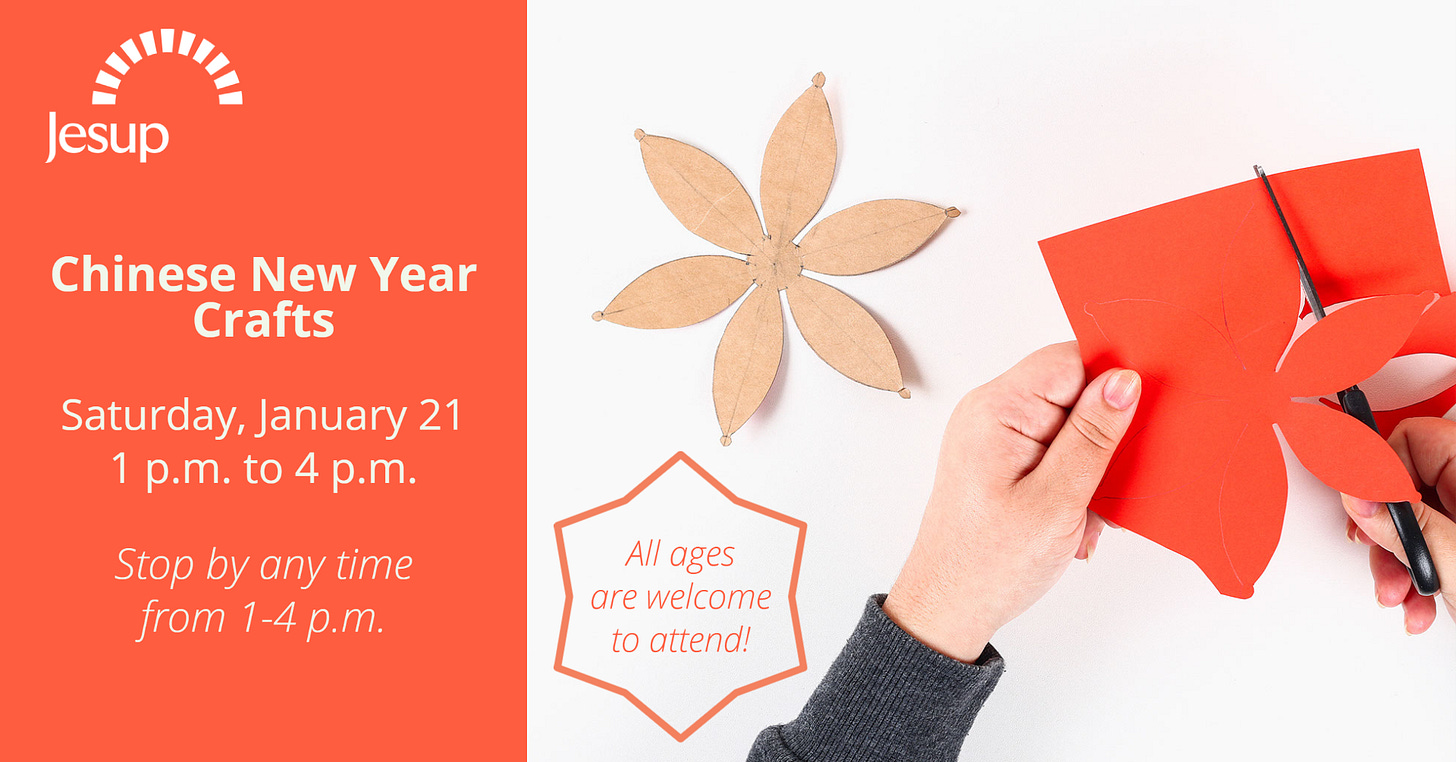 Crafters of all ages are welcome to join us for a "crafternoon" to celebrate Chinese New Year! There will be projects for all ages (kids, tweens, teens, and adults). Stop by any time from 1-4 p.m.
---
People-Nature-Art with Rebekah Raye
Rebekah Raye is surrounded by nature in her Maine home, and it inspires the artwork she does every day. "It doesn't seem to matter where I am," she says, "the sight of an animal, near or far, calls my attention. They are consistently in my dreams and daily thoughts. It is a celebration of their lives with us that I wish to interpret and share. I am compelled to paint them, sculpt them and love them."

She kicks off the Wendell Gilley Museum's 2023 People-Nature-Art series with an in-person event at the Gilley on Tuesday, Jan. 17 that includes a 5:30 p.m. reception, 7 p.m. presentation about the interplay of nature and art in her work, and a book signing. Books will be available for purchase at the event. The presentation also will be livecast via Zoom.

This monthly series brings artists, writers, carvers, and creative types of all kinds to the Gilley to explore how nature and art interact in their work, and how their art impacts their own approach nature. All 12 programs in this year's series are proudly sponsored by our friends at Bar Harbor Bank & Trust.

"At Bar Harbor Bank &Trust, we take great pride in partnering with area nonprofits doing important work to keep the community engaged. Wendell Gilley Museum is a wonderful example of this. We are excited to support this special artist series and look forward to the positive impact throughout the region," says Lisa Parsons, Senior Vice President Regional Marketing Manager.

Raye is an artist beloved for her bird and animal paintings and sculpture, which are derived from her affinity with the natural world around her studio in East Blue Hill. She also illustrates children's books and has written two of her own: "The Very Best Bed" and "Bear-ly There." Her paintings and sculpture are in galleries throughout Maine.

"The Gilley Museum aims to bring people closer to nature through art – those are our guiding words," says Sean Charette, the museum's director. "It's hard to think of anyone who epitomizes that better than Rebekah Raye. We are thrilled to have her launch the 2023 series, and so pleased that she will be with us in person."

There is no admission fee, but registration is required online. Please indicate whether you will attend in person or online, and whether you will attend the reception. Sign up at http://www.wendellgilleymuseum.org/events

If you have questions, please contact Melinda Rice-Schoon, Director of Engagement & Communications, at mel@wendellgilleymuseum.org.
Date and Time
Tuesday Jan 17, 2023
7:00 PM – 8:00 PM EST
January 17, 2023

Presentation at 7:00 pm
Reception at 5:00 pm
Location
Wendell Gilley Museum
4 Herrick Road
Southwest Harbor, ME

Fees/Admission
Registration is required.
Contact Information
mel@wendellgilleymuseum.org
Send Email
---
GET YOUR DANCE AND MOVEMENT ON!
---
ZUMBA!
It's a dance party, no experience needed!

Come take care of yourself, shake, smile & sweat! Every class is different; the music, people and weather, and we always have a blast! Erin leads a workout that caters to all levels of fitness and ability. All you need is a love for music and movement (or come to class to fall in love with dancing), but no experience necessary. You can follow along and give it your own flair! Come join our classes throughout the week, in the gorgeous dance studio at ArtWaves! If you haven't tried Zumba and want to talk with Erin, feel free to email anytime.
Date and Time
Thursdays
5:30 p.m. – 6:30 p.m. EDT
Location
Dance Studio at ArtWaves, 1345A State Highway 102, Bar Harbor
Fees/Admission
$40-$50 per month ($10 per week paid monthly)
Website
---
DOWNEAST COMMUNITY DANCE
Downeast Community Dance meets every Sunday from 10-11:30 a.m. at the Moore Community Center in Ellsworth (first and third) and ArtWaves in Town Hill (second, fourth and fifth).
These free form dance gatherings are not facilitated, with music provided by volunteer DJs. Move to rhythms in your own way and have fun.
Admission is by donation.
For more information, contact Susan at 288-8103 or cloudnine@gwi.net.
Location
Dance Studio at ArtWaves, 1345A State Highway 102, Bar Harbor
---
LATIN LINE DANCING
Join David Lamon for Latin Line Dancing!
No partner? No problem! Line dancing is a great way to have fun while dancing with others in a group. This class will focus on dances that use steps from common Latin dances including cha cha, rumba, salsa and more! No experience necessary. No street shoes allowed in the studio, please bring a pair of clean, non-marking shoes for dancing. Masking is encouraged, but optional.
Date and Time
January 9 to January 30 4 sessions
6:30 PM – 7:30 PM EST
Location
ArtWaves, 1345A, Hwy 102
Fees/Admission
$50
Website
https://www.artwavesmdi.org/event-5062192
Contact Information
2072660010
Send Email
---
STUDENT MASSAGE CLINIC
At Acadia School of Massage Student Massage Clinic, our students gain hands-on experience while our clients receive relaxation or therapeutic massage and bodywork treatments at discounted rates. Enjoy a soothing massage from one of our gifted student massage therapists. The Student Clinic is open to the public and we highly encourage anyone to try a massage!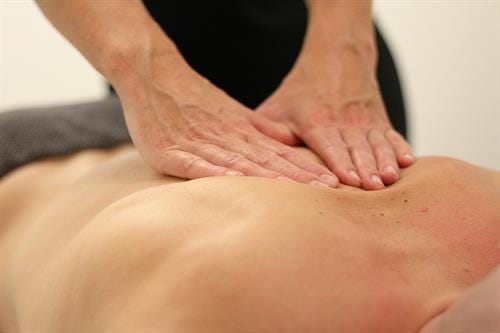 Date and Time
Tuesdays and Wednesdays
1:30 PM – 6:30 PM EST
Tuesdays and Wednesdays through the end of April 2023 from 1:30 to 6:15pm.
Location
Hosted by Tree of Life Day Spa,
108 Cottage Street, Bar Harbor
Fees/Admission
$35 for 1 hour massage
Appointments highly recommended
Book online at
Website
Contact Information
Acadia School of Massage
Send Email
---
DANCE NIGHTS AT FOGTOWN BAR HARBOR WITH DJ POPTART
Come on out and dance away your cabin fever at Fogtown Bar Harbor! Every Friday from 8-10 p.m., DJ Poptart/Gary Allen will be spinning groovy tunes!
Date and Time
Friday Jan 20, 2023
8:00 PM – 10:00 PM EST
Fridays, 8-10pm
Location
33 Cottage St, Bar Harbor, ME 04609
Fees/Admission
No cover
Website
---
GET YOUR FOOD ON!
OPEN TABLE MDI!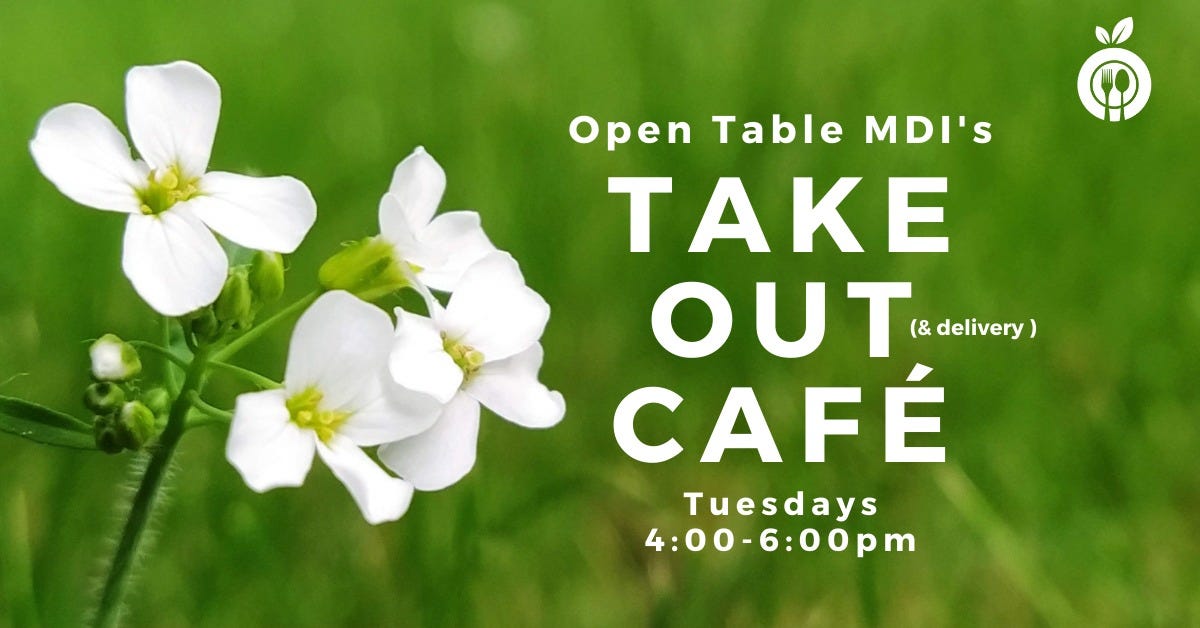 For more information, click here.
---
TOWN GOVERNMENT MEETINGS
SOUTHWEST HARBOR
Regular Meeting Schedule (meetings held at the Town Office unless otherwise noted). Calendar is here.
---
TREMONT:
Select Board meeting is cancelled.
---
BAR HARBOR:
According to the town's website, "Meetings that are broadcast live can be viewed at home by watching Cable Access Channel 7 or 1303 (Spectrum Cable only) and online at Town Hall Streams."
To see this week's events with agendas, click on our story here.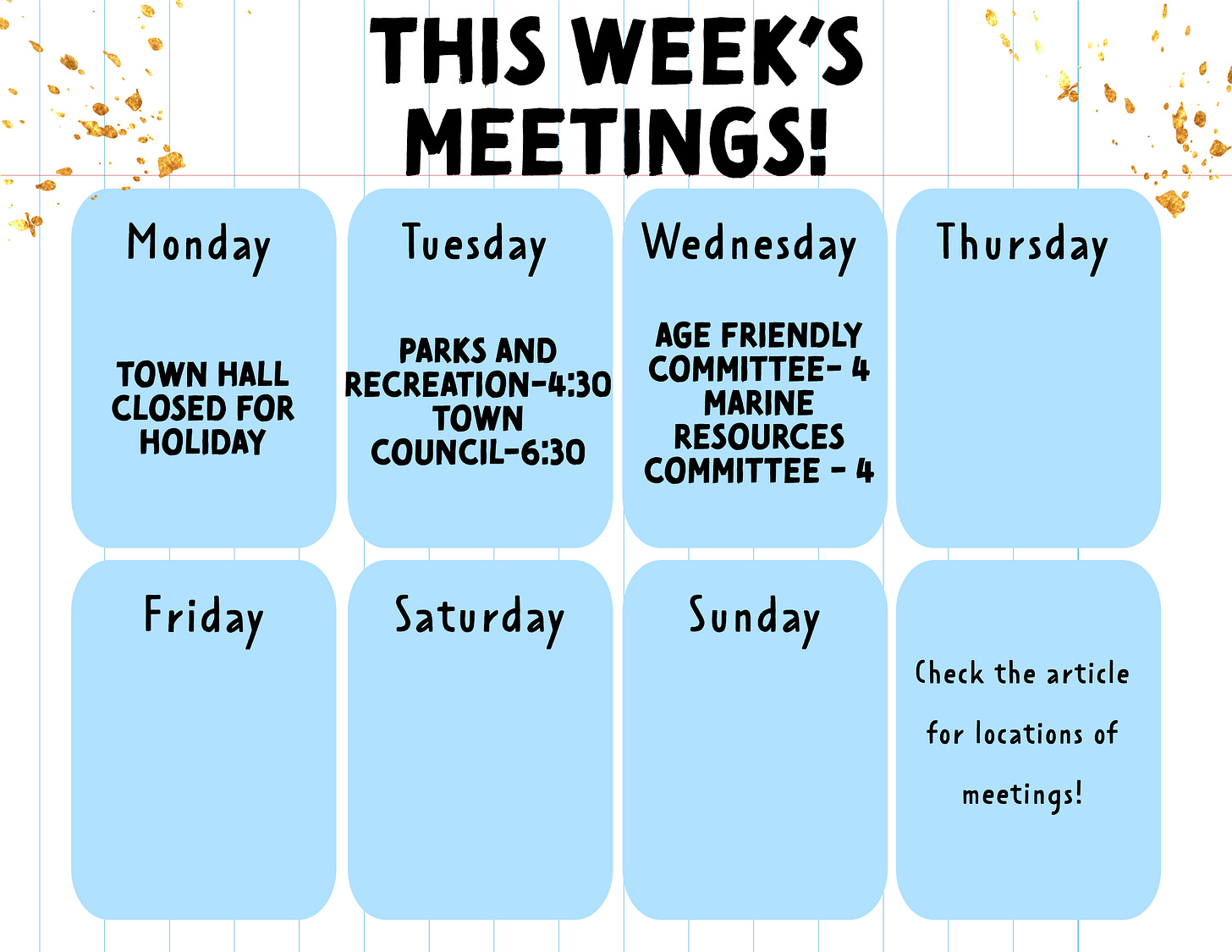 ---
MOUNT DESERT: