Local Band Debuted at Finnback This Weekend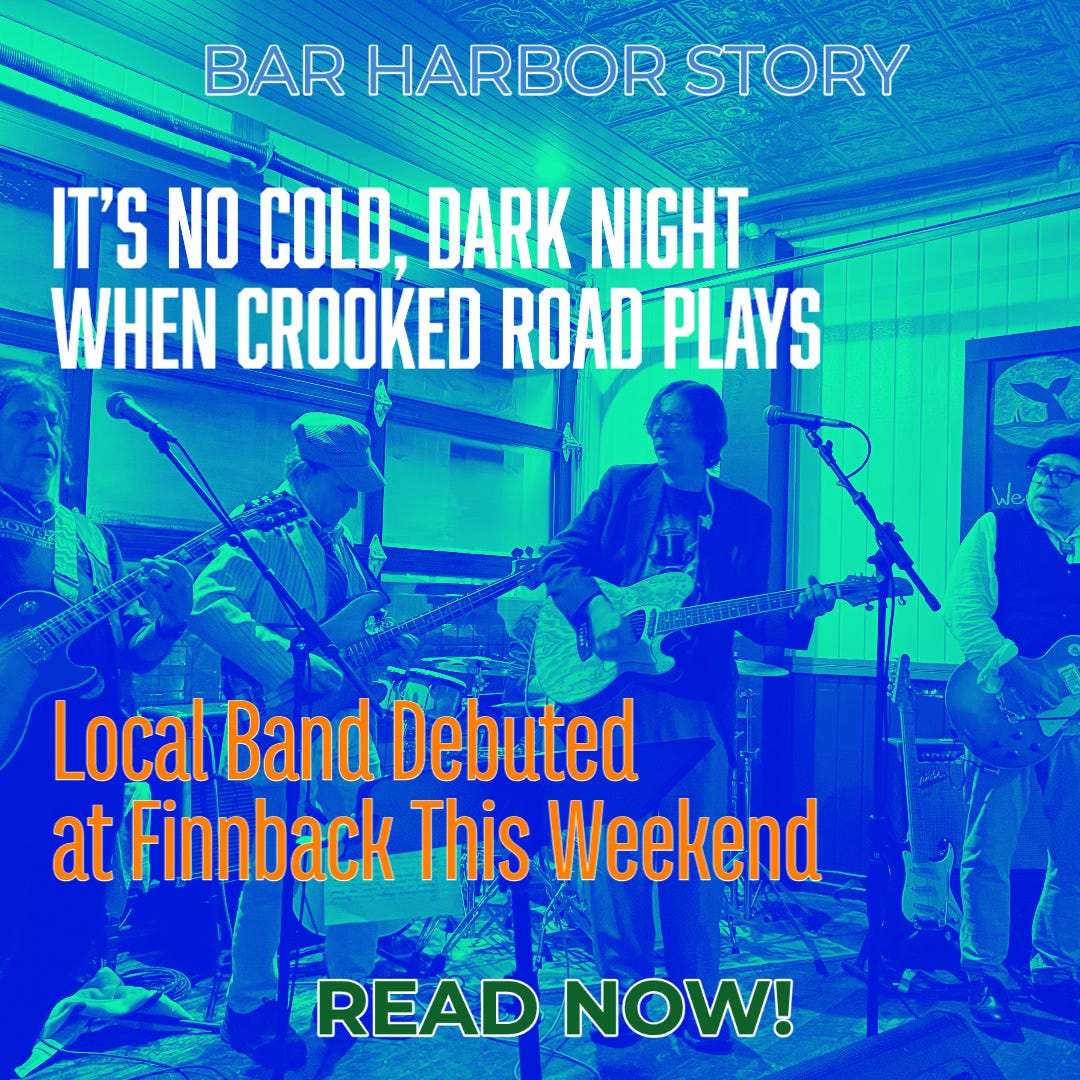 BAR HARBOR—On a cold, dark Maine Saturday January night, a new Bar Harbor band full of familiar faces made its debut in the history of the Bar Harbor music scene.
With all the members well past their twenties, Crooked Road is not giving up the dream or love of good music, guitars, and singing in places where the tap is ready and pouring. And that's a good thing.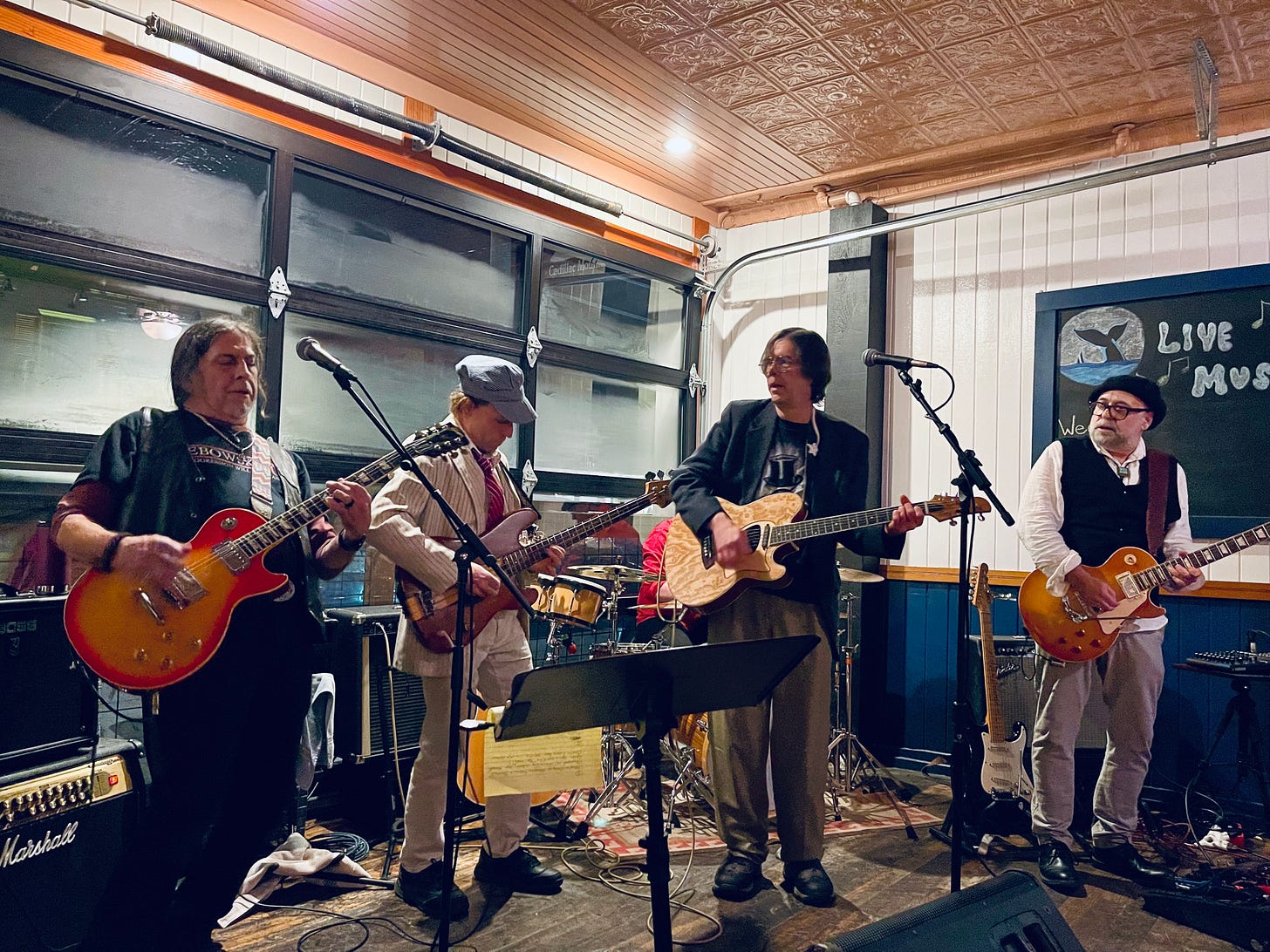 The joy and strength of Crooked Road is its capacity to create its own music thanks to the musical brain, lead vocals, and acoustic guitar that powers John Seigle's originals and the band members' passions for some standards and cover tunes, often deftly sung by Chuck Colbert, who is also nimble on the electric guitar. If you could take Steppenwolf, Los Lobos, and add in a little Cowboy Junkies and Rolling Stones, you'd get part of the vibe of Crooked Road, which bills itself as a rock and roll jam band.
It's a vibe that's worth making the trip into the cold for, not just to support the caliber and heart of the musicians, but to support friends and neighbors that you might see manning sound booths at the Criterion, serving tables in local restaurants, running the trails, in the produce aisle of Hannaford's, or at the MDI YMCA.
Across the street at Fogtown-Bar Harbor, the last round of trivia included the host's ex-boyfriend's mix tape/cd that he gave her when they graduated high school sometime around 2016 and the snippets of tunes echoed on the mostly deserted Cottage Street as people slipped into the Finback Alehouse, one after another, until eventually a little more than 30 clustered into the classic wooden tables and around the curved bar (created in the 1970s) of the historic pub that was once Bubba's.
The band members waited near the door for their set to begin. And it did with an original by John Siegel entitled "Air BnB."
The crowd quickly began listening, bopping, and dancing to the tunes of Crooked Road.
A little into the set, Colbert explained that the band was trying to shape Seigle's vision, bring it to life via music.
"It's all of our vision, man," Seigle interrupted.
"We're just having a good time with it," Colbert said.
"We're kind of an organic whole." Siegle bit his lip and after a quick drumstick intro-beat by Mike Hamele, the band quickly moved into a cover of Steppenwolf's "Born to Be Wild."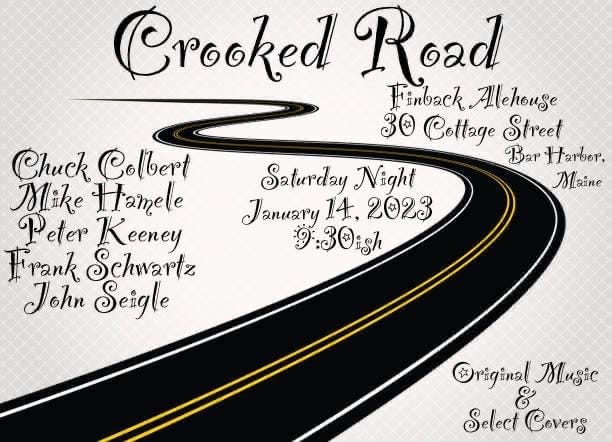 After the cover finished, Colbert said, "That was like going down a dirt road sideways on a freight train."
That self-deprecative wit combined with joy is all part of the band's charm. Combine that with all the members' talents? It made every person in the Finnback cheer.
"We're all just kind of working our collective s— out," Colbert said smiling. Working the kinks out included the name, which the band asked for feedback about. They originally were going to be called The Apologies, they said, but there's no need for apologies for this crew.
The new name received positive feedback and so did the vision. And for everyone in the Finnback, it seemed that working the collective s—out via music? It was a pretty magical and community way to do it.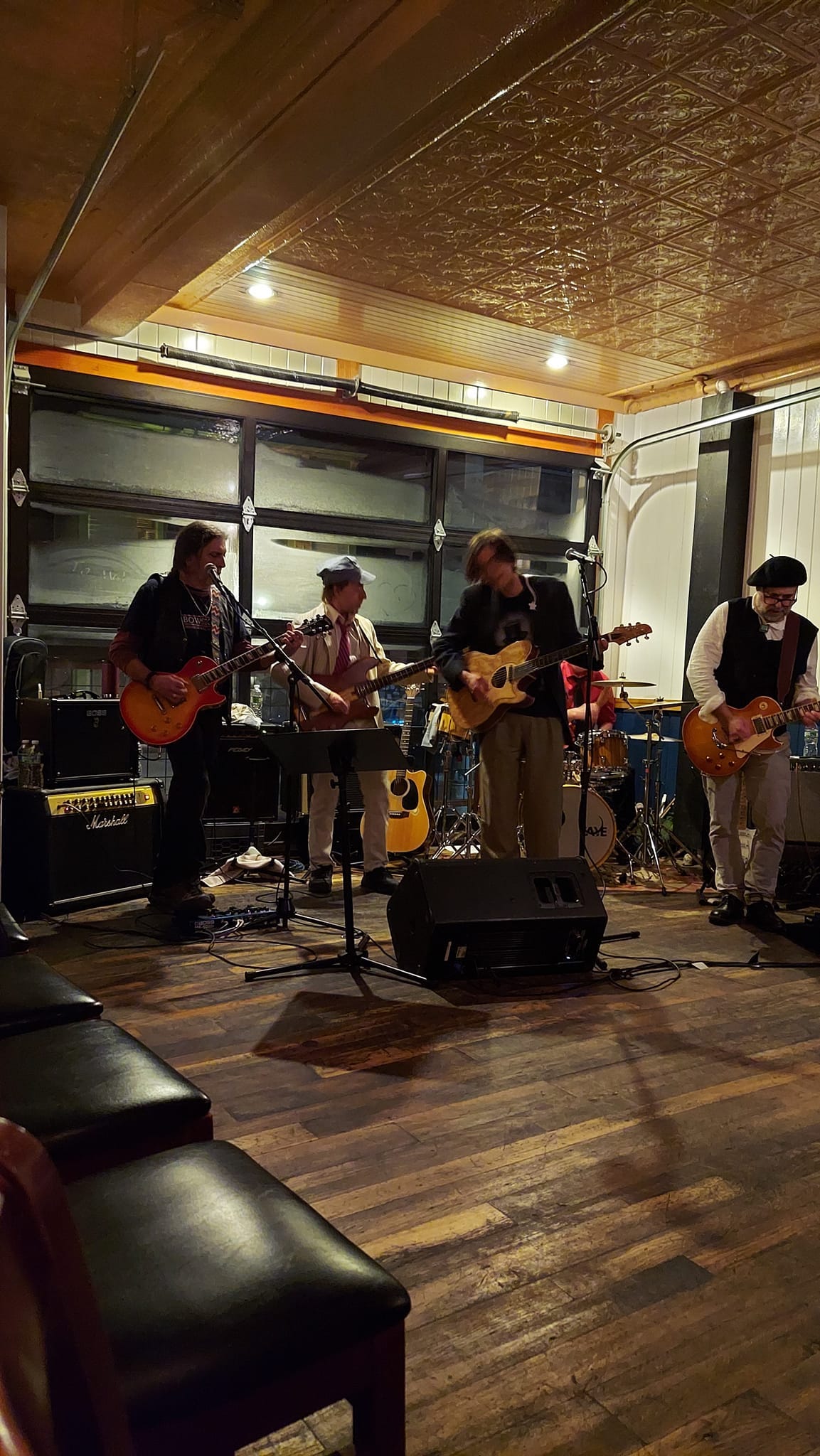 ---
The band in alphabetical order:
Chuck Colbert on electric guitar and lead vocals, Mike Hamele on drums and percussion; Peter Keeney on bass guitar; Frank Schwartz on electric guitar; and John Seigle on acoustic guitar and lead vocals.
---
The first setlist:
Set I
1. Air BnB
2. Out of My Control
3. Born To Be Wild (Steppenwolf Cover)
4. Simple Things
5. When The Circus Comes (Los Lobos Cover)
6. Ursa Minor
7. Widow's Hill
8. Slipping Away
9. Moonlight Mile (Rolling Stones Cover)
Set II
1. Summer In Eden
2. Shakedown Street (Grateful Dead Cover)
3. Oops! I Did It Again (Britney Spears Cover)
4. Mississippi 1/2 Step (Grateful Dead Cover)
5. One Way Out (Allman Bros. Cover)
6. Assebet River Blues
7. You Take My Breath Away
8. The Day You Broke My Heart
9. Fearless (Pink Floyd Cover)
10. Wolf at the Door
11. Dog on the Roof
12. Bertha (Grateful Dead Cover)
Encores
1. Champagne Supernova (Oasis Cover)
2. The Weight (The Band Cover)
3. I Am, I Said (Neil Diamond Cover)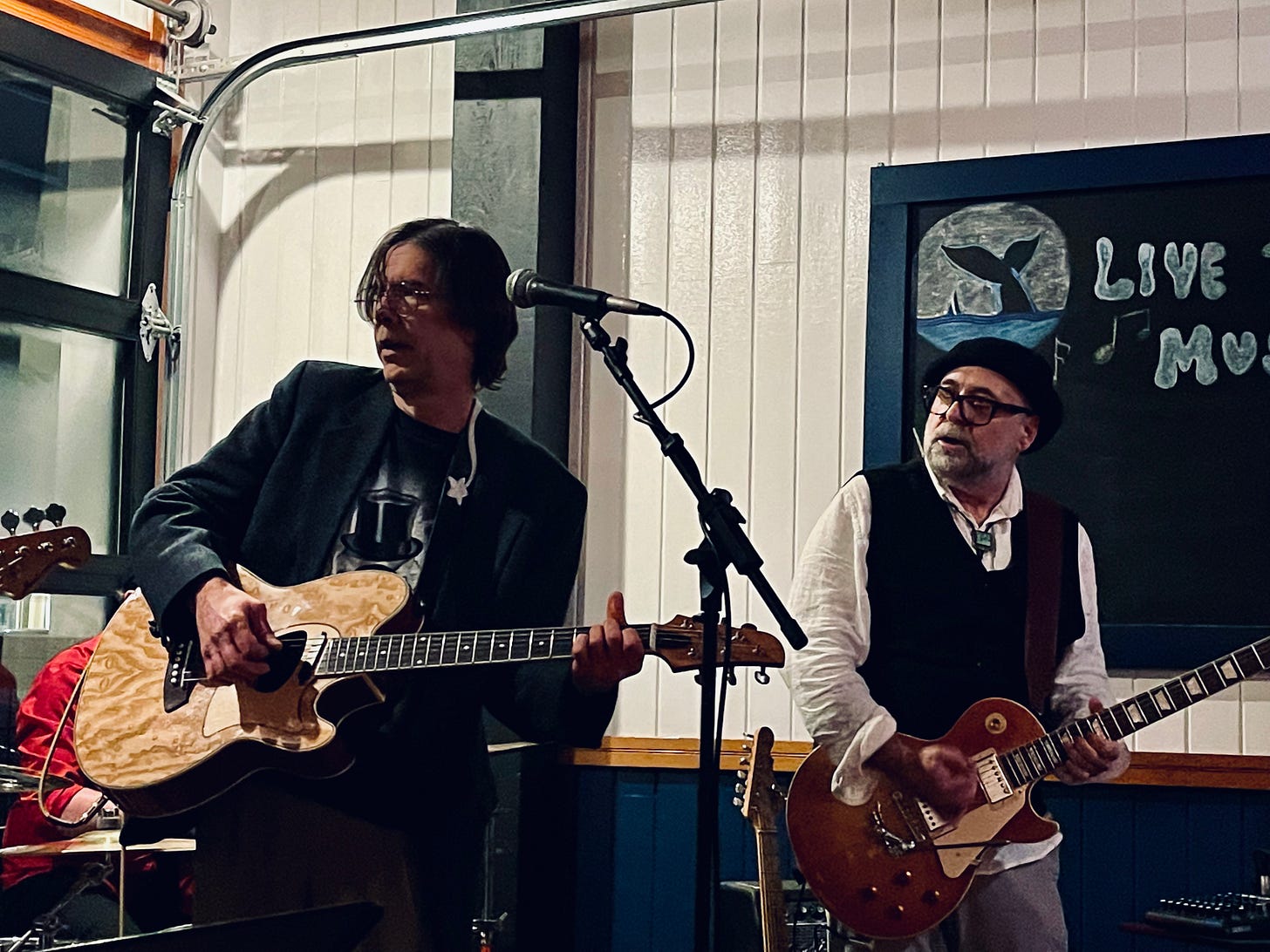 ---
WAYS TO LEARN MORE
You can hear some of John's tunes on WERU's "Morning Maine Friday" setlist with Denis Howard here.
The band's Facebook page is here.
John's 2020 solo album, Simple Things, is available on bandcamp.com. Tracks. It features Frank Schwartz, Casey Beaman, Kevin Haines, Andy Geel & Robert Harrington. It's produced by Nick Sawyer & John Seigle.
The Finback opens January 19 for full service. It's Facebook page is here. It's website is here.
---
Bar Harbor Story is a reader-supported publication. To receive new posts and support my work, consider becoming a free or paid subscriber. Thanks for being here with me!