The competition empowers youth to raise awareness of climate change through art and awards winners up to $5,000.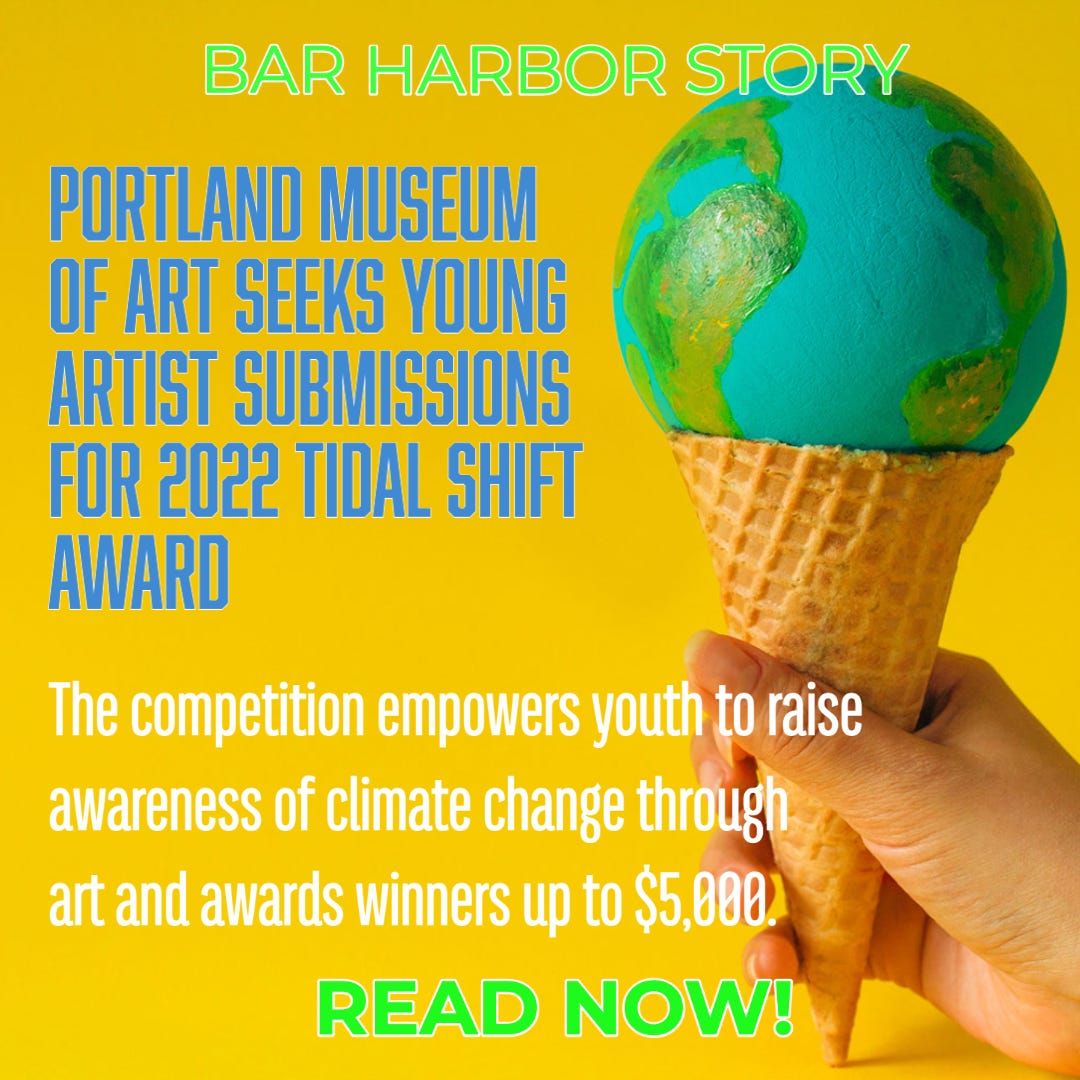 PORTLAND—The Tidal Shift Award, a juried competition that aims to showcase, amplify and elevate youth perspectives and art to highlight climate change solutions, has announced the opening of its submission period for its 2023 prizes. Going live today, December 1, 2022, the competition seeks artists ages 14 to 22 across the Northeast, from New England to Washington D.C., to submit artwork related to their perspective on climate change. Participants can submit any medium or combination of media (within official rule guidelines) by February 28, 2023.
"We are thrilled to be able to present this award for a second consecutive year," says Mark Bessire, the Judy and Leonard Lauder Director of the Portland Museum of Art. "Our climate crisis is real, and young artists can inspire meaningful action around the challenges we face together. We are proud to enable these artists to make a difference and ensure their voices are listened to."
The Tidal Shift Award is made possible by King Philanthropies, who partnered with the PMA in 2021 to launch the award. Cash prizes will be awarded in two divisions (with three prizes per division): Division one ages 14 to 18, and division two ages 19 to 22. Winners will be announced on Earth Day, April 22, 2023. Division one winners will receive $2,500 each and division two winners will receive $5,000 each.
---
RESOURCES TO LEARN MORE
­To learn about the competition, the jurors, official rules and details on how to apply, visit www.tidalshiftaward.com.
To see and download images from the 2021 award, visit this link. To learn more about past winners' artwork, visit this page.
For more information, please visit www.tidalshiftaward.com.
---
About the Portland Museum of Art
The Portland Museum of Art is an open, accessible, inclusive and welcoming museum for all, with exhibitions and programs that reflect our communities and create experiences with art that strengthen our bonds and bring us together.
The PMA is currently in the midst of a campus expansion and unification project, "The PMA Blueprint: Building A Landmark For The Future." The PMA Blueprint seeks to unify the museum's downtown Portland, Maine campus through construction at 142 Free St. – the museum's first expansion in more than 40 years – adding 60,000 square feet of flexible, community, gallery, and public space, and enabling 300,000-500,000 visitors per year.
Read more about the project via The New York Times.
---
Bar Harbor Story is a reader-supported publication. To receive new posts and support my work, consider becoming a free or paid subscriber. Thanks for being here with us! Okay. Me. With me. I'm just one person. 🙂 Shhhh. . .