Meeting Scheduled To Discuss Design Overlay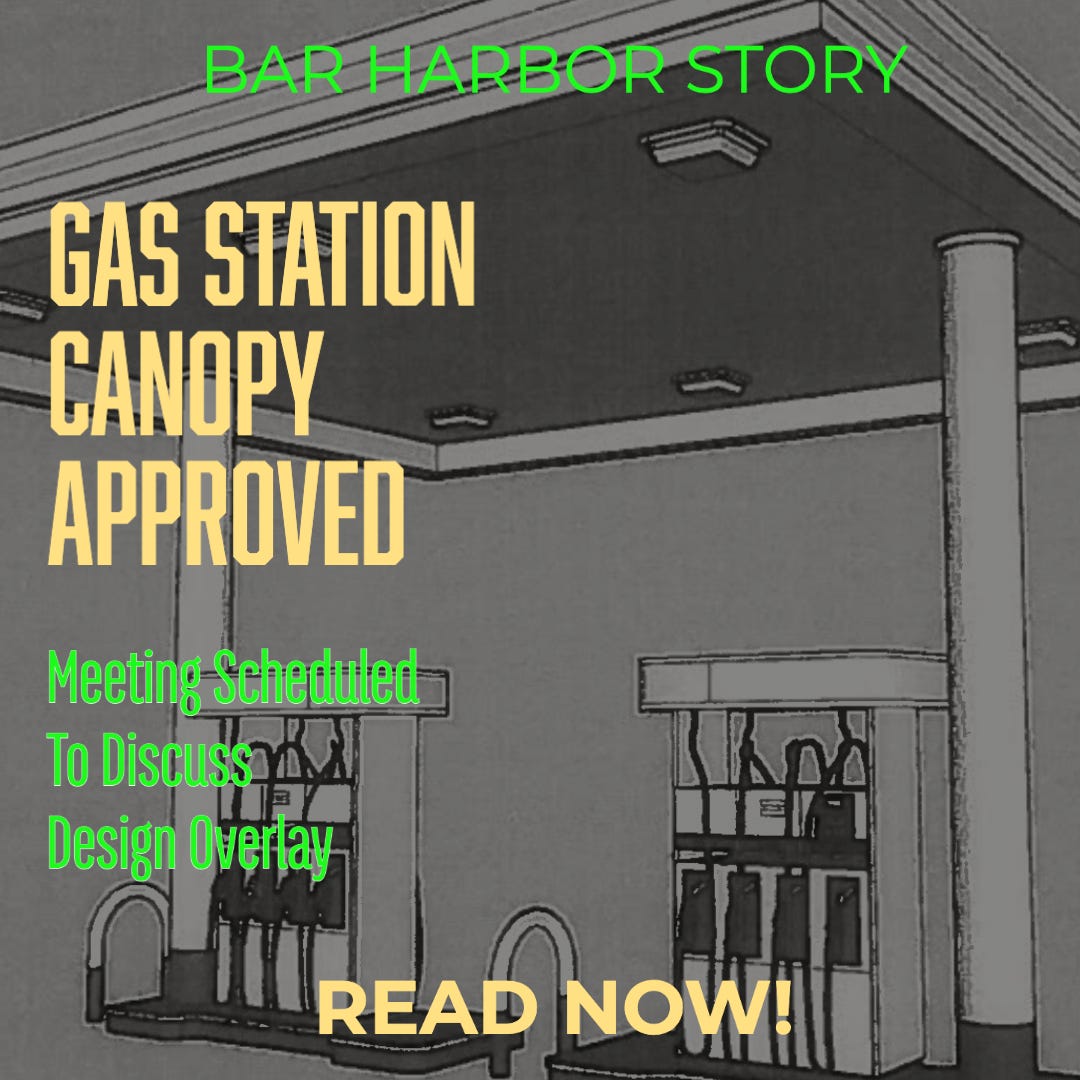 BAR HARBOR—The Design Review Board Thursday unanimously approved an application to build a 24 foot by 24 foot canopy over the fuel pumps at the gas station on 64 Cottage Street, which is owned by No Frills Energy Co., but is being applied for by Peter Hastings. He initially met with the board three months ago and as requested from that meeting slid the canopy a bit to the west.
Kate Macko had an excused absence. There were no minutes to approve or any public comment and the meeting flowed quickly ending in about 37 minutes.
"The tanks are going to be replaced this May hopefully and in that process, in order to become more compliant with the fire suppression systems, the canopy needs to be installed," Hastings said of the project.
He added that it was the lowest profile canopy that they could find.
Board members Mike Rogers and Andrea Lepcio both said that they liked the look of the canopy. Rogers checked that the color wouldn't be blindingly white but match the softer white of the building. Hastings said that it would.
Board Chair Barbara Sassaman wondered if the town could add in parking spots and a sidewalk, but said it was more of a town question than an applicant question. Rogers said that it is on the streetscape plan that the town has for Cottage Street. Hastings said he's going to ask the town for a sidewalk so that there isn't a straight shot with no obstructions to the fuel tanks. Sassaman said that there is a potential for two more parking spaces.
RETURN TO IN-PERSON MEETINGS
There was a quick discussion about returning to in-person meetings and ultimately, the board decided to revisit the question in March, potentially staring in-person meetings again in April when the flu season is over and most winter storms have passed. Currently, the board meets via Zoom and its meetings are streamed.
DESIGN OVERLAY
According to the town's website,
"The Design Review Board must review applications for demolition of structures which are historic, the moving or relocation of a building or sign which is historic, any exterior material change to the exterior of a historic building, sign, fence, or structure. Any new construction of principal or accessory structures, except for single or two family dwellings. Any material change to the exterior of a non-historic building, sign, fence, or structure. Any change in existing fences, retaining walls, or freestanding walls, the erection of a new sign, relocation of an existing sign, change of appearance of an existing sign, and seasonal closure of businesses. However, it is advisable to meet with the Code Enforcement/Planning Department staff to determine whether or not Design Review Board approval is required."
Currently the board reviews projects that are in its current jurisdiction, which is Downtown Village Districts, the Shoreland General Development I District, Town Hill Business, and the Village Historic District. It is meant to "ensure the aesthetic quality of Bar Harbor is preserved" and then gives a certificate of appropriateness if it is. This certificate must be gained before a property owner or renter can add a sign or change a building's exterior.
However, regardless of the district location, any conditionally permitted use or property which houses a bed and breakfast is subject to design review.
Currently the board's purview is laid out by neighborhood district. That means that if district lines change, the board may lose purview over some buildings and gain others. The board agreed that this was untenable and thought to do it via the more permanent map and lot number. Those, however can change as lots divide or merge. Instead, last year, Code Enforcement Officer Angela Chamberlain said that it was better to do that via street frontages or more permanent landscape features such as creeks.
Sassaman went before the Planning Board in December to see if members approved of "this notion." She received an endorsement.
The board will meet 2 p.m. Friday, January 27 to discuss the design overlay and potential changes to it.
Bar Harbor Story is a reader-supported publication. To receive new posts and support my work, consider becoming a free or paid subscriber. Thank you for being here. I'm just one person and doing my best, but please let me know if there's something you'd like me to cover.