Pam Kallner Advocates For Justice And Hopes to Inspire Others at Jesup Discussion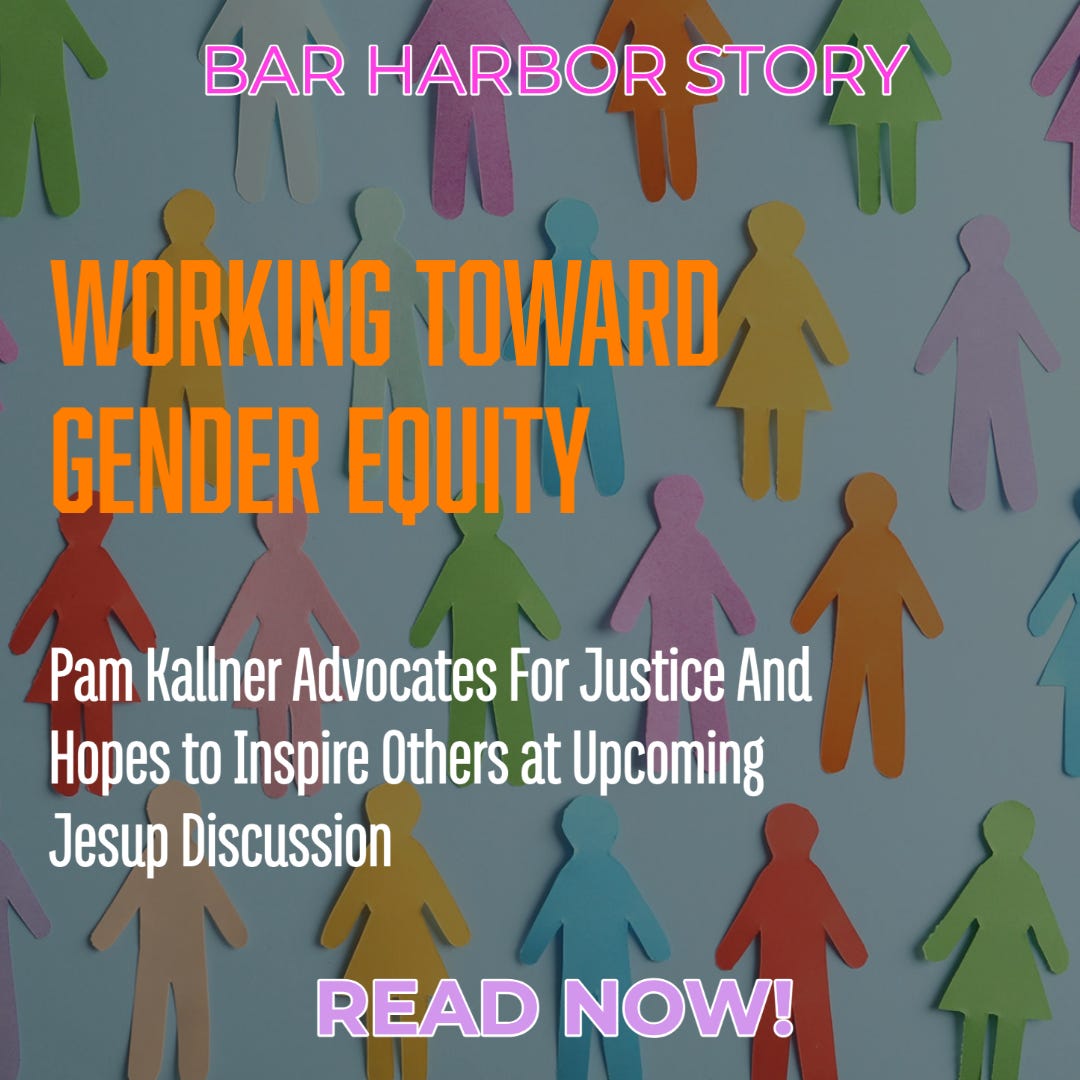 BAR HARBOR—Pam Kallner and her husband spent 30 years coming to Mount Desert Island, first spending a few weeks in the summer, then those weeks extended longer and longer.
They were even married at the Bar Harbor Congregational Church in 2000.
"Our dream was to have a place here and that happened in 2019 when we found our home in Southwest Harbor. We love riding our bikes on the Carriage Roads and long walks in our beautiful surroundings," Kallner said. "We spend summers here and even return for a few months in the winter. In addition, we love our city-life in downtown Columbus (Ohio) and find that we have the perfect schedule, splitting our time between MDI and Columbus."
This winter Kallner will speak at The Jesup Memorial Library on "Girl Power and Gender Equity" on Thursday, January 26 at 7 p.m..
Kallner is a retired teacher and a 30-year member of the American Association of University Women. She spent 30 years in education, teaching elementary-aged gifted students and the last 20 years of her career in the Bexley City Schools, which are in a suburb of Columbus, Ohio. While there, she served as the multicultural education coordinator. In that role, she was responsible for professional development with teachers and administrators K-12 around many aspects of diversity and multicultural education, which included gender equity.
"My teaching experience definitely increased my passion for equity! That's what public education is all about: meeting individual needs of ALL students in a variety of ways and creating safe learning environments where ALL students are welcomed and respected," she said.
It's a natural base for her upcoming talk. Plus, there is an apt saying, "once a teacher, always a teacher," which seems especially true for Kallner who is passionate about promoting gender equity, but not just promoting it. She also wants to give people the tools to continue learning about it.
"I do see this presentation re: advocacy for gender equity as an extension of that," she said. "I see it all as a part of being a life-long learner—increasing one's knowledge base, engaging in stimulating discussions, finding ways to apply what you are learning by taking action—standing up and speaking out about causes and passions. This presentation is one of the ways I try to advocate for justice. My hope is to reach a few and that they in return will reach out to others," she said.
She'll be providing participants with a resource list of a books and websites.
"In addition, I have developed a 'Take Action' list to share. This includes many ways to become an advocate, ideas for those who want to be on the front line to those who want to make calls or write letters from the comforts of their home. As I did when I was teaching elementary students and teachers K-12, I will leave them with a list of 'Points to Ponder.' These can serve as jumping off points for further discussion with friends/family and ways to extend the thinking beyond the presentation," she said.
The talk itself looks at how people can advocate to remove the barriers and biases that stand in the way of gender equity. Kallner and the library expect a lively discussion about gender equity around the following topics: girl power, education, the workplace, and leadership. Kallner will help attendees examine strategies for moving forward, resources regarding gender issues, and actions that individuals and groups can take to help create a more inclusive and equal society for women and girls.  
---
FOR MORE INFORMATION
This event is a hybrid program and registration is required to attend either in person or on Zoom.
Register at jesuplibrary.org/events/equity or email eventsignup@jesuplibrary.org.
---
Bar Harbor Story is a reader-supported publication. To receive new posts and support my work, consider becoming a free or paid subscriber. Thank you so much for being here! It means a lot to me.