First building of this category approved in Bar Harbor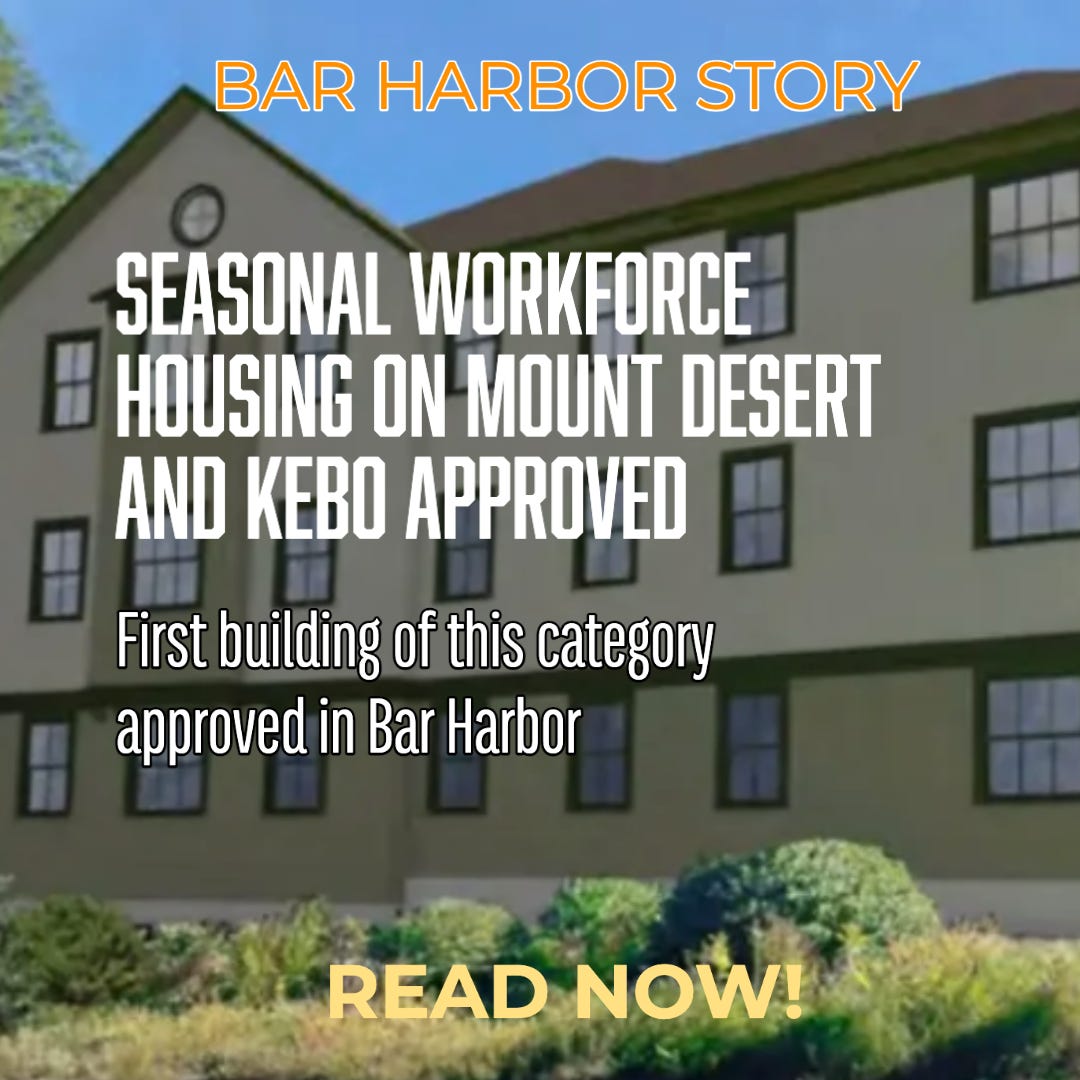 BAR HARBOR—The Bar Harbor Planning Board unanimously approved Witham Family Limited Partnership's plan for employee housing (shared accommodation) for the end of Kebo Street where it intersects with Mount Desert Street. This is the location of the former Quality Inn's breakfast room at 39 Kebo Street.
The proposal would tear down the existing two-story structure at 39 Kebo Street, reduce parking to the minimum for the use, and there would be a bike rack to promote non-vehicular use from the residents. The new building would house 84. There will be eight kitchens and 23 bathrooms with showers in the 17,1150-square-foot building.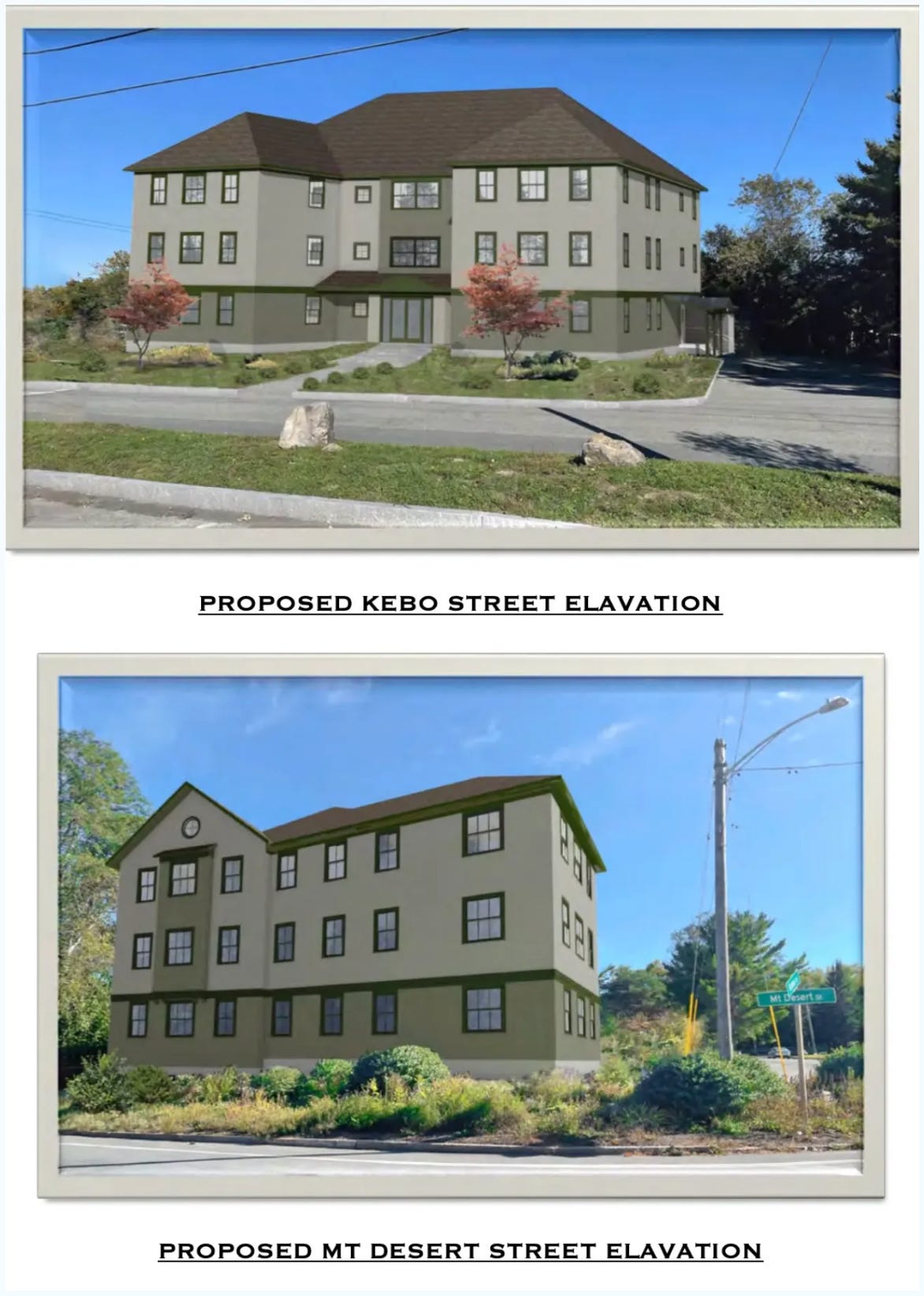 The application had a few standard conditions of approval. The application allowed only eight parking spaces rather than nine because it is on a regularly scheduled bus route and because it is being built as a shared accommodations level-one structure. This is the first structure to be built that is classified as this in Bar Harbor. Shared use buildings are those where occupants are not related and have their own bedrooms (furnished) but share bathrooms and kitchens.
Those definitions are
Any group of three or more rooms, other than lodging or vacation rental, where for direct or indirect compensation the occupants live in furnished rooms with shared kitchens for more than 30 days. The occupants do not constitute a family or a single housekeeping unit. The makeup of the occupants is determined by the landlord, property manager, or other third party and not by the occupants themselves. A shared accommodation serving a hospital shall not be subject to the thirty-day minimum requirement. There are three different types of shared accommodations:

[Added 7-14-2020]

A. SA-1: three to eight people per structure.

B. SA-2: nine to 32 people per structure.

C. SA-3: 33 or more people per structure."
There were no public comments during the Planning Board's general comment period. Fraser Architects was praised by Planning Board Chair Millard Dority for the application's quality.
There were no public comments about the Kebo Street application during the public hearing.
Witham Family Limited hopes to open in April 2024 and before that work with the town to discuss pedestrian movement across the property that is on the corner of Mount Desert Street and Kebo Street. There is currently no sidewalk for the property owner to build to. Developing a scope of work and scheme for pedestrian traffic between Witham Family and the town is key.
"We really do want to do that," Geoff Fraser of Fraser Architects said, but it's not under the property owner's purview, but the town's.
---
ACADIA FOREST SUBDIVISION
The Planning Board unanimously recommended an endorsement for the subdivision of lots at 78 Black Watch Trail.
The plan combines lots. The application is linked below.
---
WEATHERSBY CAMPGROUND
The project would potentially be for two RV sites at 1338 State Highway 102. This creates a campground. There had been major site plan review on the property for a different, more intense project two years ago. That project did not materialize and the approval had lapsed. This project is a smaller scale and staff thought it could go through smaller site plan review. It is not currently an application but a sketch.
Minor site plan doesn't have public hearings, but notice is given to abutters for public comment. The project would be subject to the exact same standards as a major site plan review.
Member Zach Soares said it felt like a loophole to not require it coming to the Planning Board as a major site plan if the reason was that a larger project had already gone through as a major site plan. Soares said that checks and balances are important especially since the town's Planning staff has so much on its plate.
Town Planner Michele Gagnon said the project has a minor impact and that the board could choose the minor site plan path for the project if it wanted to.
Dority said the real question is whether or not something of this scale needs to come before the Planning Board. "It seems like this is the perfect example of something that should be allowed as a minor site plan (review)."
By a vote of 5-1, the board decided that it was suitable and appropriate for minor site plan review. Soares voted against the motion.
---
MDI HOSPITAL—CENTRAL UTILITY PLANT
Prior to discussion, Ruth Eveland said her son works at the hospital and the board unanimously voted that she did not have a conflict of interest. Eveland did not vote on that determination.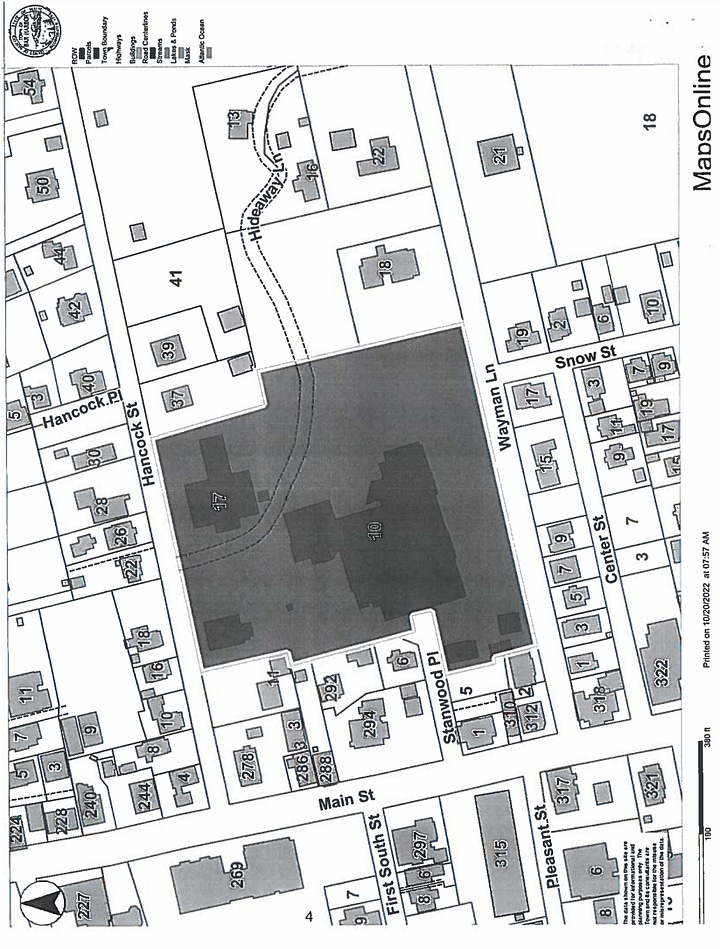 The hospital had a previous approval on this site and it has another bigger project coming, Gagnon said. "They have a significant project that would be coming to you soon. That addresses . . . a lot."
The proposed central utility plant would be 2,550 square feet.
Board Member Earl Brechlin said that the sketches of the property included in the packet do not show the hospital's current property lines. The Planning Board unanimously decided that this specific project is good for minor site plan review. Soares said he supported this because he knows the building and the proposal does not have a significant impact on the neighborhood.
---
Other Projects in the Pipeline:
Sketch Plan Review for Subdivision SD-2022-03 – Shore Cottages at Park Entrance Motel Subdivision
Applicant: Holiday Associates of Naples, 1000 Market Street, Building 1, Suite 300, Portsmouth, NH 03801
Owners: Parkent LLC, 1001 Atlantic Ave, Suite 202, Delray, FL 33483 and Holiday Associates of Naples, 1000 Market Street, Building 1, Suite 202, Portsmouth, NH 03802-0477
Application: To build seven dwelling units. Two units are proposed at 27 Ocean Avenue (Tax Map 223, Lot 13) which encompasses about two-thirds of an acre of land. Five units are proposed at 15 Ocean Avenue on the Park Entrance Motel lot (Tax Map 224, Lot 22) which encompasses ±8.02 acres of land.
Project Location: 27 Ocean Avenue and 15 Ocean Avenue, respectively Tax Map 223, Lot 13 and Tax Map 224, Lot 22, encompassing a total of ±8.75 acres, according to town tax records
Districts: Hulls Cove Business and Shoreland General Development II (Hulls Cove)
Link to Application: SD-2022-03 Shore Cottages at Park Entrance Motel (submitted 6/16/2022)
LINKS TO LEARN MORE
Our earlier story on the development process.
One of our stories about the development study.
The report is included in the October 3, 2022 packet for town councilors.
Our recent story on WHERE HAVE ALL THE STARTER HOMES GONE with some information about the development study in that context.
LINK TO DEVELOPMENT STUDY (begins at page 55)
LINK TO THE 2019 BAR HARBOR HOUSING POLICY FRAMEWORK
Earlier story about the Kebo Street project.
Kebo Street Seasonal Workers' Housing Project Goes Before Planning Board
Kebo Street Project Meets Design Review Standards
https://www.barharbormaine.gov/AgendaCenter/ViewFile/Agenda/_12072022-3100
https://www.barharbormaine.gov/DocumentCenter/View/6413/MSD-2022-02-RUSIECKI-lOT-MERGE?bidId=
https://www.barharbormaine.gov/DocumentCenter/View/6413/MSD-2022-02-RUSIECKI-lOT-MERGE?bidId=
https://www.barharbormaine.gov/AgendaCenter/ViewFile/Agenda/_12072022-3100
Bar Harbor Story is a reader-supported publication. To receive new posts and support my work, consider becoming a free or paid subscriber. Thank you for being