Board Investigates Tweaking Its Jurisdiction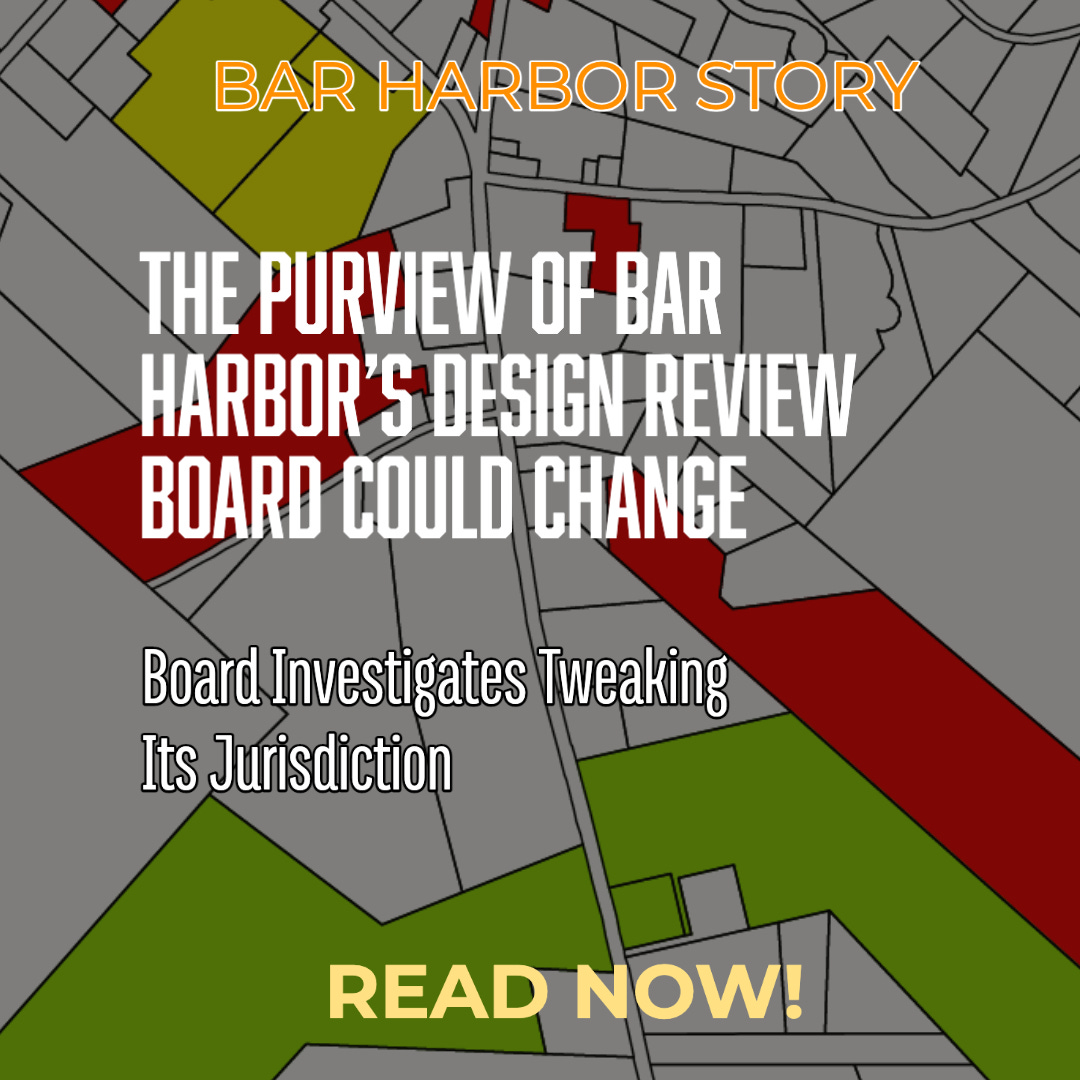 BAR HARBOR—The Design Review Board requested that the Planning Board change its overlay. The overlay stipulates the buildings and places that the board is responsible for.
According to the town's website,
"The Design Review Board must review applications for demolition of structures which are historic, the moving or relocation of a building or sign which is historic, any exterior material change to the exterior of a historic building, sign, fence, or structure. Any new construction of principal or accessory structures, except for single or two family dwellings. Any material change to the exterior of a non-historic building, sign, fence, or structure. Any change in existing fences, retaining walls, or freestanding walls, the erection of a new sign, relocation of an existing sign, change of appearance of an existing sign, and seasonal closure of businesses. However, it is advisable to meet with the Code Enforcement/Planning Department staff to determine whether or not Design Review Board approval is required."
Currently the board reviews projects that are in its current jurisdiction, which is Downtown Village Districts, the Shoreland General Development I District, Town Hill Business, and the Village Historic District. It is meant to "ensure the aesthetic quality of Bar Harbor is preserved" and then gives a certificate of appropriateness if it is. This certificate must be gained before a property owner or renter can add a sign or change a building's exterior.
However, regardless of the district location, any conditionally permitted use or property which houses a bed and breakfast is subject to design review.
Currently the board's purview is laid out by neighborhood district. That means that if district lines change, the board may lose purview over some buildings and gain others. The board agreed that this was untenable and thought to do it via the more permanent map and lot number. Those, however can change as lots divide or merge.
Code Enforcement Officer Angela Chamberlain said that it was better to do that via street frontages or more permanent landscape features such as creeks.
Design Review Board Chair Barbara Sassaman went before the Planning Board Wednesday night to see if members approved of "this notion." She received an endorsement.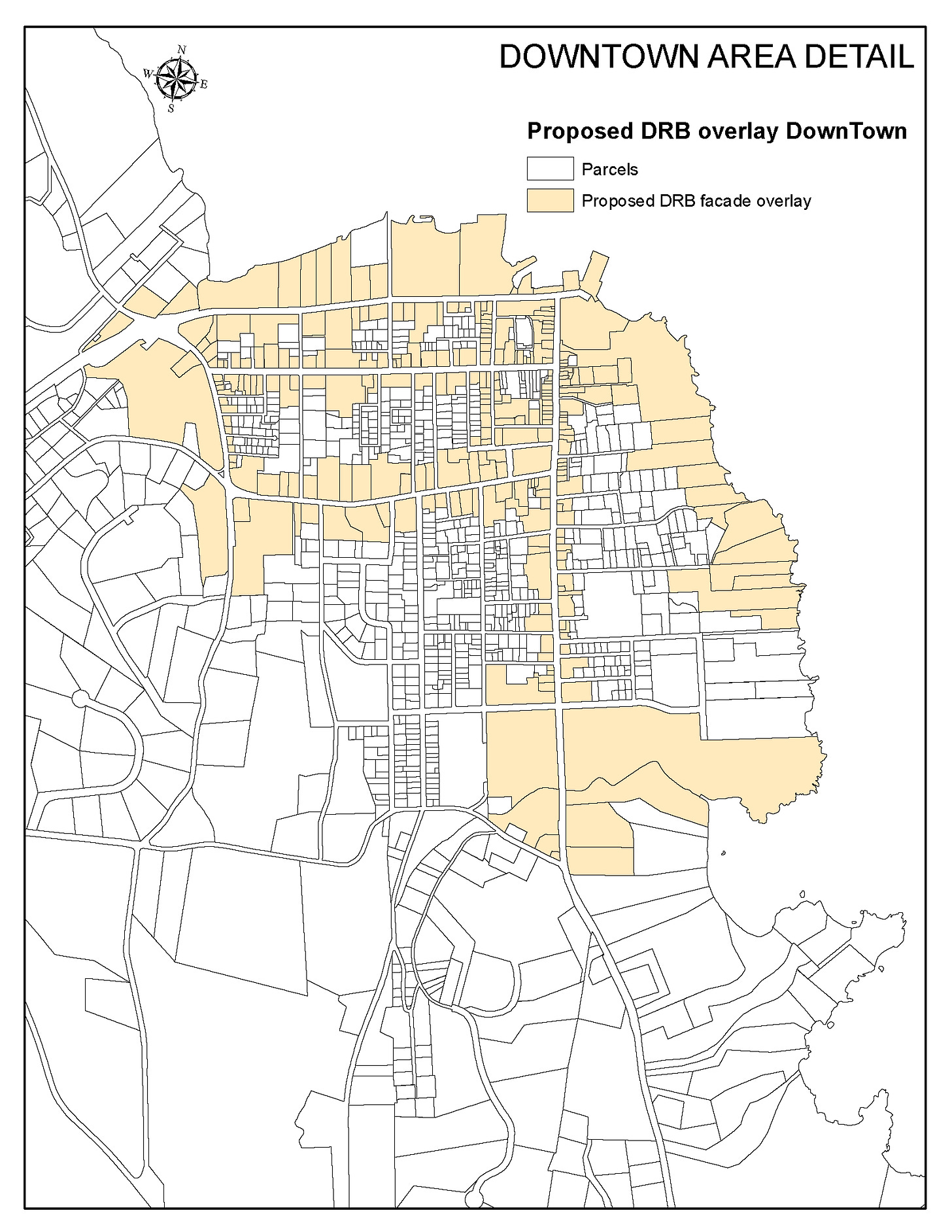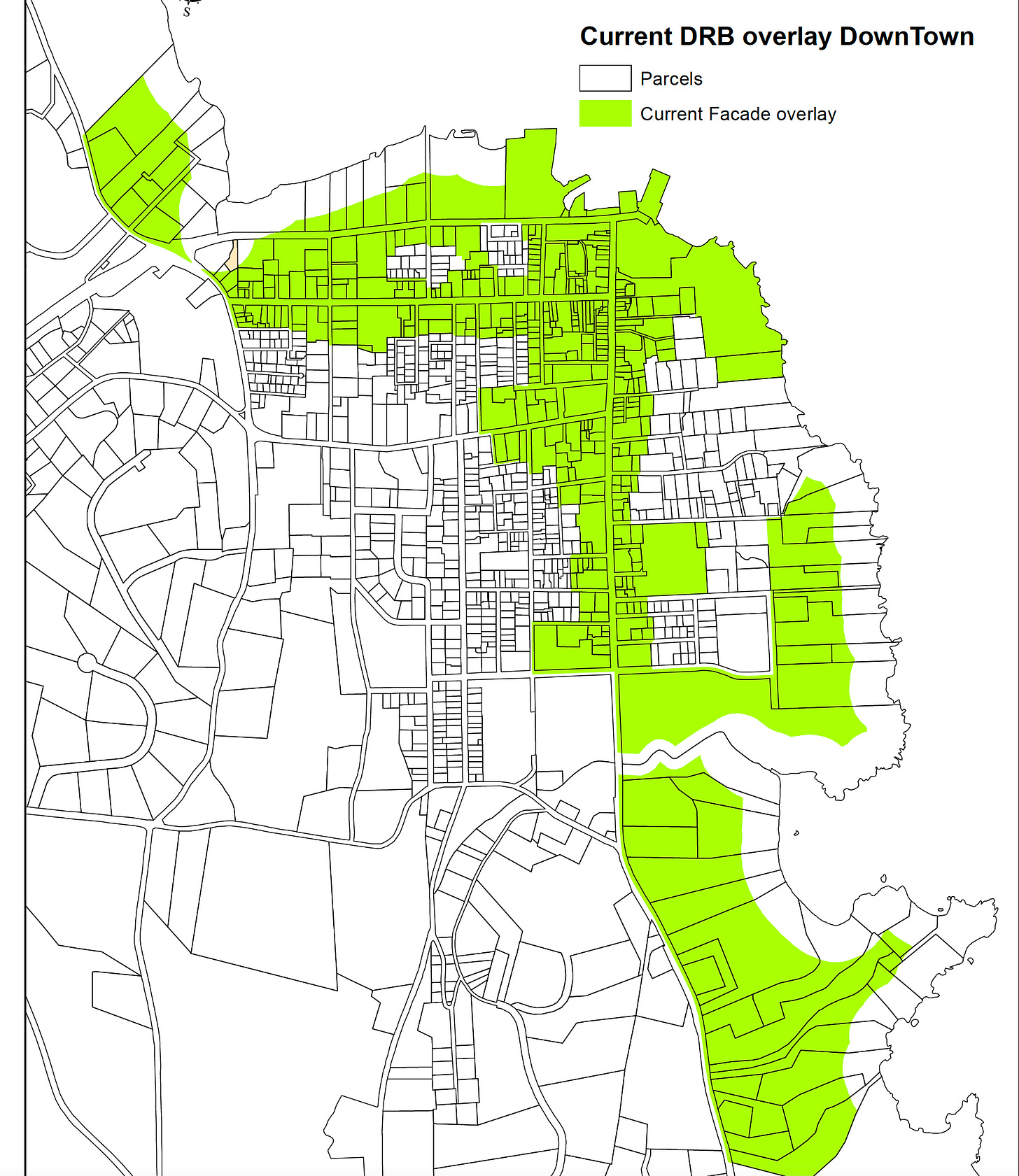 Assistant Planner Steve Fuller said, "These proposed changes are just that at this point, proposals, and would need to be further refined before making it into draft order form and an eventual town-wide vote."
Sassaman also discussed a potential 350-foot boundary to that jurisdiction (from the street). The overlay would only extend in 350′ deep to any given lot, even if the lot went further back than that. The maps included in that article do not reflect that boundary, but do reflect current discussion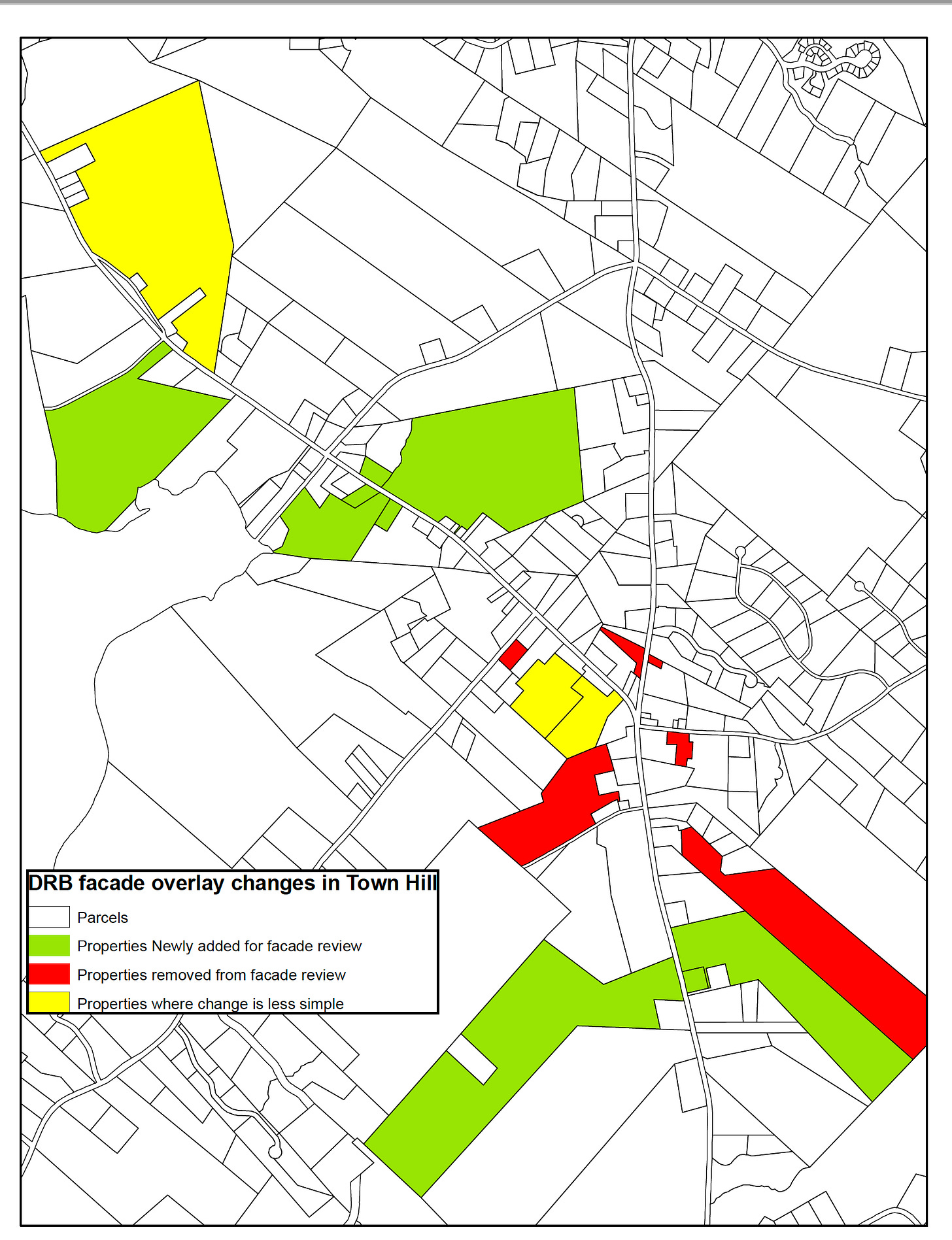 .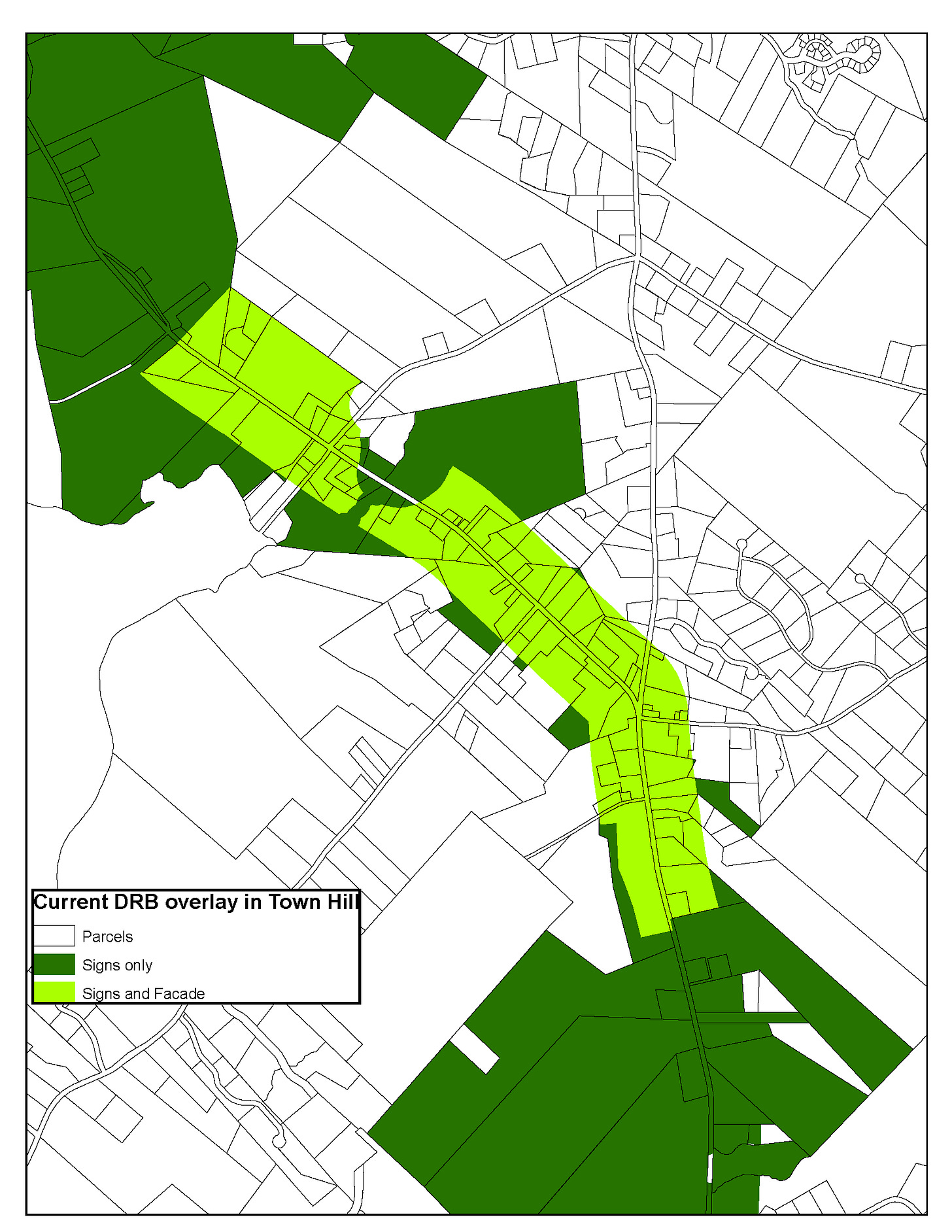 Sassaman said that the possible changes would make it so that the Design Review Board's jurisdiction would be on all major Bar Harbor downtown roads. Single family and two-family dwellings are not impacted unless that dwelling is in the national historic registered property list. Fuller said that the board's interest is to focus on the really visible parts of town that visitors and people see and all historic properties. Sassaman said it would have been nice if the ferry terminal could have come before the Design Review Board.
"For now what we're doing is just Bar Harbor and Town Hill," Sassaman said.
Planning Board Vice Chair Ruth Eveland said that the idea is more rational and defensible than what currently exists. Planning Board member Calistra Martinez agreed, saying it was more efficient. Planning Board Secretary Elissa Chesler said she appreciated the effort to be more rational and hopes there is room for discussion, "This creates a structure that makes sense." She also thought it protected some of the scenic characteristics of Route 3.
"They actually liked the idea unlike the last Planning Board," Sassaman told members of her board the next afternoon.
"It's a much nicer reception than what we had when we came before them (Planning Board) the first time," Planning Board member Pancho Cole said.
Staff and the Design Review Board agreed that it would be good to hear from people in those specifically impacted areas.
The board hopes to hold a workshop about the potential overlay changes. It is not currently scheduled. The next scheduled meeting of the Design Review Board is January 12 at 4 p.m..
WEST STREET WINDOWS
The Design Review Board met to discuss a certificate of appropriateness for seven window replacements at 110 West Street, a historic building. The application is by Scott Doughman of GoPermits LLC.
The windows have been previously installed in other parts of the house. The project was quickly approved by a unanimous board.
---
LINKS TO LEARN MORE
https://www.barharbormaine.gov/DocumentCenter/View/651/Overview-of-Design-Review-Process?bidId=
http://barharbormaine.gov/271/Design-Review-Board
---
Application for Certificate of Appropriateness
Below are links to applications for specific types of projects:
Design Rules
To watch the Design Review Board meeting.
To watch the Planning Board meeting.
---
Bar Harbor Story is a reader-supported publication. To receive new posts and support my work, consider becoming a free or paid subscriber. Thanks for being here with me. I'm just one person, but please let me know if there's something you think you'd like me to cover and I'll do my best.