Planning Board Rules Two Subdivisions Complete, Continues Public Hearings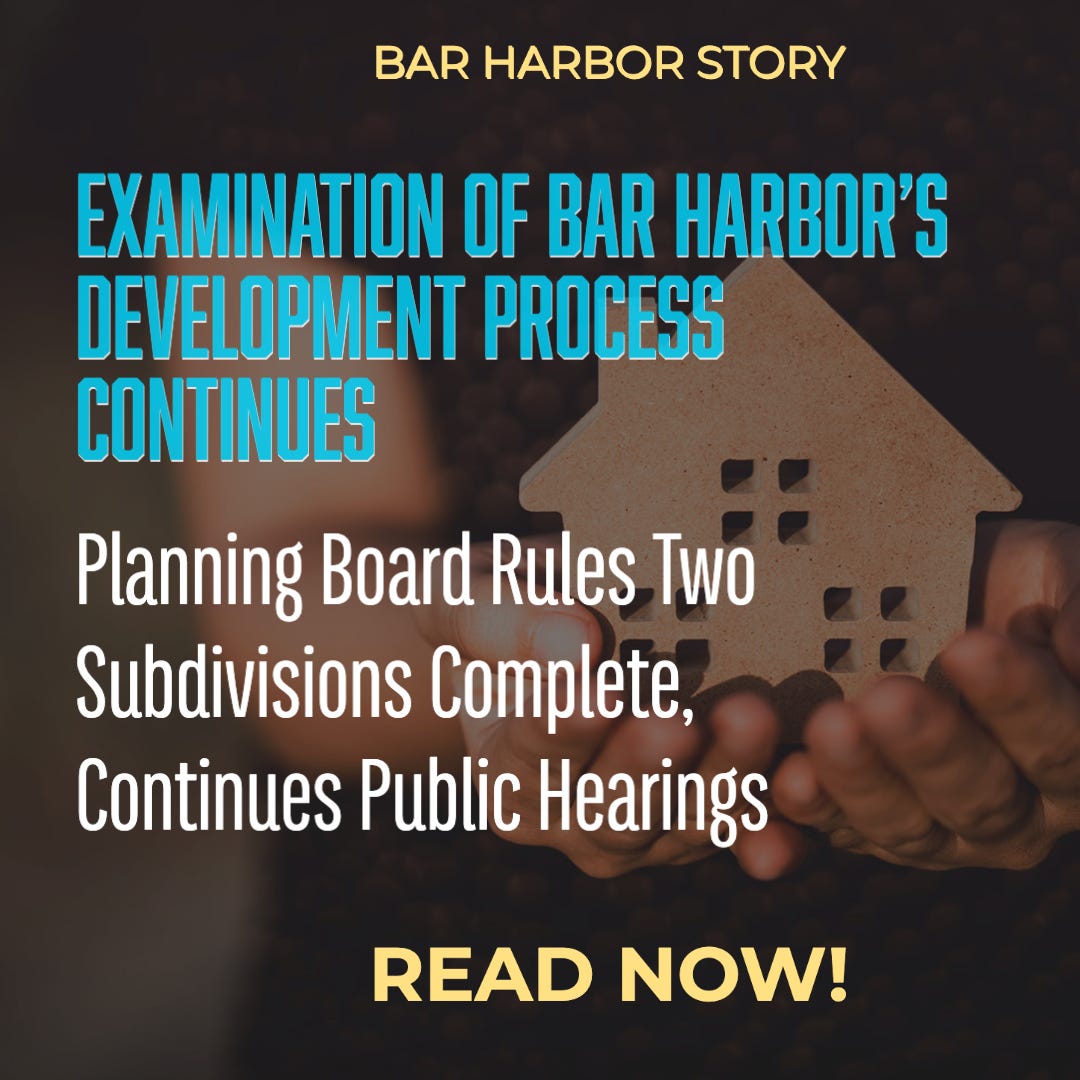 BAR HARBOR—Town Planner Michele Gagnon continued her discussion of the recent development report during the Bar Harbor Planning Board's October 5 meeting.
A recent report conducted by Steve Whitman of Resilience Planning and Design LLC the same man who is working with the Comprehensive Plan Committee, called "An Examination of Bar Harbor's Development Process" (September 15, 2022).
"That was part of our housing policy framework that was adopted by the council back in 2019," Gagnon said.
The town and the Bar Harbor Chamber of Commerce funded the report, interviewing twelve people who, according to the report "have extensive experience in Bar Harbor as developers, business owners, or as design and permitting professionals assisting the development community."
According to the report there are five main issues and ways to improve the development process in Bar Harbor. Findings included: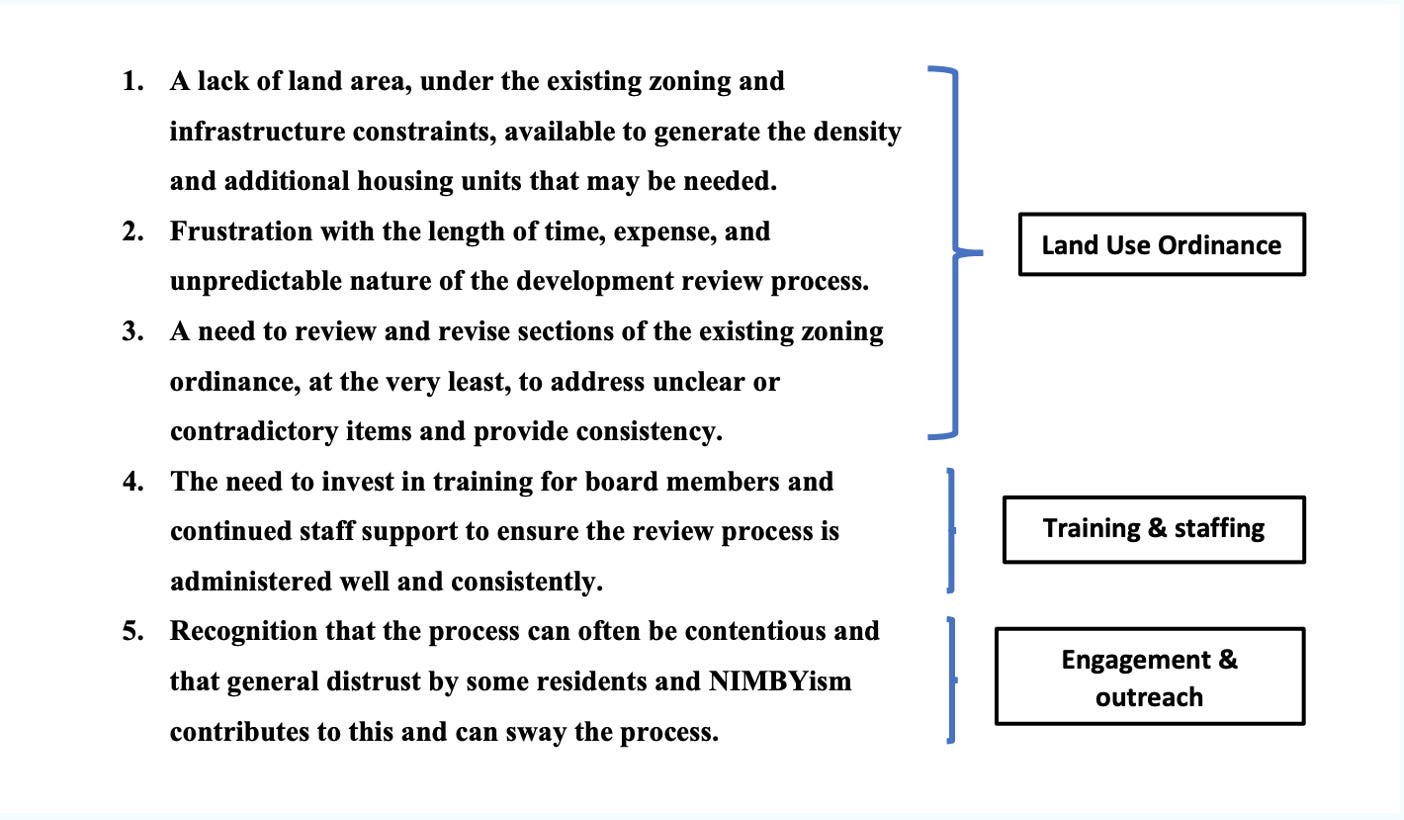 Gagnon told planning board members that she was a bit defensive when first reading the information, but then took a step back, desensitized herself, and realized how informative the report was about what the town should be working on. Since then she's met with the chamber, Town Council, staff and now the Planning Board.
"Some of the comments are hard, but I think we can draw from that and improve," Gagnon said. She said she thinks the town doses a great job at customer service but can improve on delivery of service.
Planning Board member Ruth Eveland said, "Basically, I think the documents you presented are really helpful for an overview and how to move the conversation forward."
Eveland said that for her it's about community building, with the point being how to make the town better and how to fix things.
"This is to help us plan with the future, which is different than just dealing with the here and now," she said, and that what the town wants to do is set up for the next decade via coordination with the comprehensive planning work.
She said community participation is not the same as buy-in. Eveland also stressed that the report focused on the builders' perspectives but not necessarily the home owner's or neighborhood perspectives.
"A lot of the time people feel like they need to fight the process to stand up for their perspective," she said.
She also stressed that she believed that there needed to be more staff so that there could be time to think and collaborate. Planning Board Secretary Elissa Chesler agreed that the planning department needed time for policy work.
"Someone needs time to think in your office," Eveland said to Gagnon.
When you are only spending a minute of your day thinking of the future, you are not thinking of the future. Reaching out to island communities for regional cooperation as well as Ellsworth and Trenton is important, Gagnon said.
Chesler said the report was great feedback from the perspective of developers and that the Planning Board wants to get multiple perspectives. She also said that the documents showed places for thoughtful simplification of the land use ordinance.
"There are many restrictions against current housing favorable policies," she said as well as many misplaced commas in the ordinance.
Chair Millard Dority said, "That's interesting because it always goes the opposite way." He added that instead of being made more simple, the ordinance always gets more and more complicated, which plays into attorney's hands.
Gagnon called the town's land use ordinance "disjointed and disconnected." She said it is not "user friendly" and "not made to succeed." By straightening it out, it would be a big weight off the Bar Harbor community's shoulders.
DISCUSSION OF POSSIBLE AMENDMENTS TO SUBDIVISION REVISION PROCESS
Gagnon spoke about potentially simplifying the subdivision revision process. State law, she said, requires that projects come to two meetings, but she believes that the sketch plan portion of the process could stop and that she'd like to look to amending the process.
There could still be site walks and neighborhood meetings, she said, but aspects could be expedited a bit. They could also consider how to do amendments. She told Planning Board members that she wanted a "true and honest and respectful public process."
SUBDIVISION REVIEWS – SALVATORE SUBDIVISION AND NATURE'S GIFT
At the Bar Harbor Planning Board's October 5 meeting, board members dealt with two subdivision reviews.
The board quicky approved a completeness review for the Salvatore subdivision of a parcel of land on 21 Russell Farm Road with the only main question being whether or not a spot was a vernal pool, which came up during a meeting at the site earlier this month. The location was determined to not be, but actually a manmade structure that Perry Moore, representing applicant Eben Salvatore, theorized was a pig pen thanks to the stakes, which smelled of pig manure.
"I smelled it," Moore said.
The board unanimously voted the application complete and moved it to a public hearing on October 26 at 4 p.m. in Council Chambers at the Bar Harbor Municipal Building.
Another completion and compliance review for a 35-acre parcel on 1115 State Highway 3 (Nature's Gift) did not go as smoothly. Staff told the applicants and Planning Board that the application was complete but not yet compliant because staff members believed the application lacked the quality of information that would allow the board to review it for compliance. The board voted 7-0 that it was complete. However, it had pending exhibits
There was some discussion about whether the public hearing that had been advertised should be held or not.
Typically the applicant presents, the board asks questions, and then there is a public hearing so the public can have comments. Gagnon said that there had to be something done with the public hearing because it was advertised. The public hearing was opened and the board unanimously moved that it be continued to November 2 at which point the board would also consider a compliance review.
COMPREHENSIVE PLAN
Chesler gave a quick review of the two open houses about the town's comprehensive plan where there will be free pizza.
Gagnon said that the Department of Labor hadn't been releasing the Jackson Laboratory and MDI Biological Laboratory employment information, which would change the town's employment demographics. The Jackson Laboratory petitioned the Department of Labor and the new information shows that the largest sector is not necessarily tourism and restaurant related employment, which is often seasonal, but more year-round jobs focused on the science and research sectors. That information tweaks the data and thoughts around the town's employment and is important for the comprehensive plan process.
There will be two comprehensive plan open houses. Those are scheduled for October 25 (6-8 p.m.) at the Mount Desert Island High School and October 26 (4-6 p.m.) at the Connors Emerson School.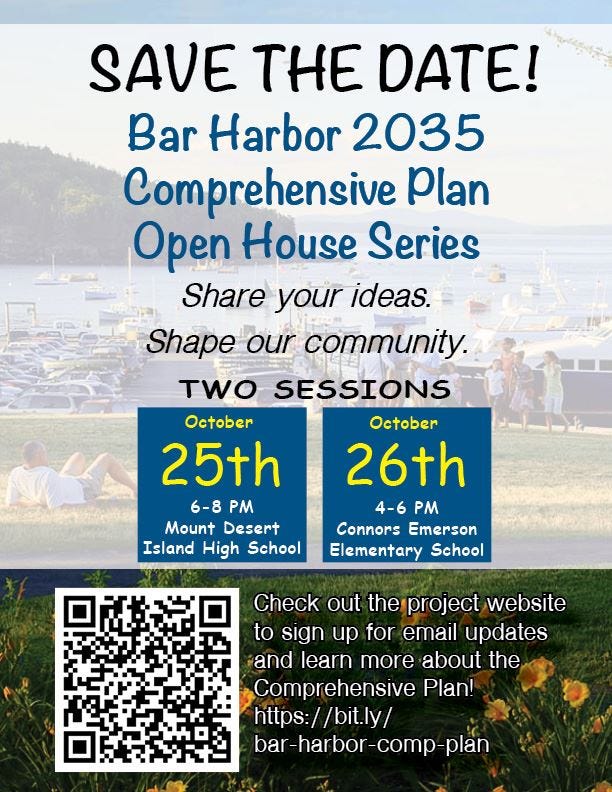 ---
Bar Harbor Story is a reader-supported publication. To receive new posts and support my work, consider becoming a free or paid subscriber.
Subscribed
---
OTHER INFORMATION TO LEARN MORE!
Our earlier story on the development process.
The report is included in the October 3, 2022 packet for town councilors.
Our recent story on WHERE HAVE ALL THE STARTER HOMES GONE with some information about the development study in that context.
LINK TO DEVELOPMENT STUDY (begins at page 55)
LINK TO THE 2019 BAR HARBOR HOUSING POLICY FRAMEWORK
LINK TO EARLY SEPTEMBER PB ARTICLE ABOUT THE TWO SUBDIVISIONS MENTIONED IN THIS ARTICLE
BAR HARBOR'S COMPREHENSIVE PLAN LINKS
BAR HARBOR'S DEDICATED COMPREHENSIVE PLAN WEBSITE
---
LINKS TO PLANNING BOARD INFORMATION
Completeness Review: SD-2022-05 Salvatore Subdivision
Applicant: Eben Salvatore, 123 Eden Street, Bar Harbor, Maine 04609
Owner: Heirs of Judith Strout, P.O. Box 36, Hulls Cove, Maine 04644
Application: Split Tax Map 228 Lot 34 encompassing ±17.7 acres into two lots — one lot will be 13.3 acres and the other lot will be 4.4 acres. Also, part of the subdivision is Tax Map 228 Lot 34-2 (now 2.31 acres) which was originally part of Tax Map 228 Lot 34 (the parent lot).
Project Location: 21 Russell Farm Road (Tax Map 228, Lot 34), encompassing a total of ±17.7 acres.
Districts: McFarland Hill Residential, McFarland Hill Rural, Shoreland Limited Residential and Resource Protection
Application Materials:
Completeness/Compliance Review and Public Hearing: SD-2022-06 – Natures Gift Subdivision
Applicant/Owner: Kay and William Koplovitz Trustees, 1115 State Highway 3, Bar Harbor, Maine 04609
Application: To subdivide a 35.08-acre lot into five lots.
Project Location: 1115 State Highway 3 (Tax Map 213, Lot 5-1), encompassing a total of ±35.08 acres, according to town tax records
Districts: Shoreland Limited Residential and Town Hill Residential
Application Materials:
Other Projects Under Review (Minor Site Plan or Minor Subdivision):
Application #MSP-2022-04 0151 — Atlantic Oceanside Steel Stair Replacement and Balcony at the Main Hotel
Applicant/Owner: Witham Family, LLC, 215 High Street, Ellsworth, Maine 04605

Application: The replacement and enclosure of two existing, exterior steel stairs, and the enclosure of the exterior balconies/first floor landings serving those stairs. This application amends SP-2021-04 Atlantic Oceanside Employee Living Quarters.

Location: The property is located at 119 Eden Street, Tax Map 101, Lots 1 and 2. The parcels encompass ±10.59 acres of land, according to town tax records. The subject land is in the Bar Harbor Gateway and the Shoreland General Development III districts.

Public Review: The application is filed as MSP-2022-04 and is available for public review in the Planning Department office, which is located in the Municipal Building at 93 Cottage Street in Bar Harbor.
It is also available here as a PDF.

How to Comment: Under the requirements of Section 125-61 G., public comment may be received and reviewed until October 13, 2022. You may forward your comments in writing to Planning Director Michele Gagnon at 93 Cottage Street, Bar Harbor, Maine 04609 or by email at planner@barharbormaine.gov.
---
Other Projects in the Pipeline:
Sketch Plan Review for Subdivision SD-2022-03 – Shore Cottages at Park Entrance Motel Subdivision
Applicant: Holiday Associates of Naples, 1000 Market Street, Building 1, Suite 300, Portsmouth, NH 03801
Owners: Parkent LLC, 1001 Atlantic Ave, Suite 202, Delray, FL 33483 and Holiday Associates of Naples, 1000 Market Street, Building 1, Suite 202, Portsmouth, NH 03802-0477
Application: To build seven dwelling units. Two units are proposed at 27 Ocean Avenue (Tax Map 223, Lot 13) which encompasses about two-thirds of an acre of land. Five units are proposed at 15 Ocean Avenue on the Park Entrance Motel lot (Tax Map 224, Lot 22) which encompasses ±8.02 acres of land.
Project Location: 27 Ocean Avenue and 15 Ocean Avenue, respectively Tax Map 223, Lot 13 and Tax Map 224, Lot 22, encompassing a total of ±8.75 acres, according to town tax records
Districts: Hulls Cove Business and Shoreland General Development II (Hulls Cove)
Link to Application: SD-2022-03 Shore Cottages at Park Entrance Motel (submitted 6/16/2022)