Our list of ways to get your scare on (or maybe just your candy fix)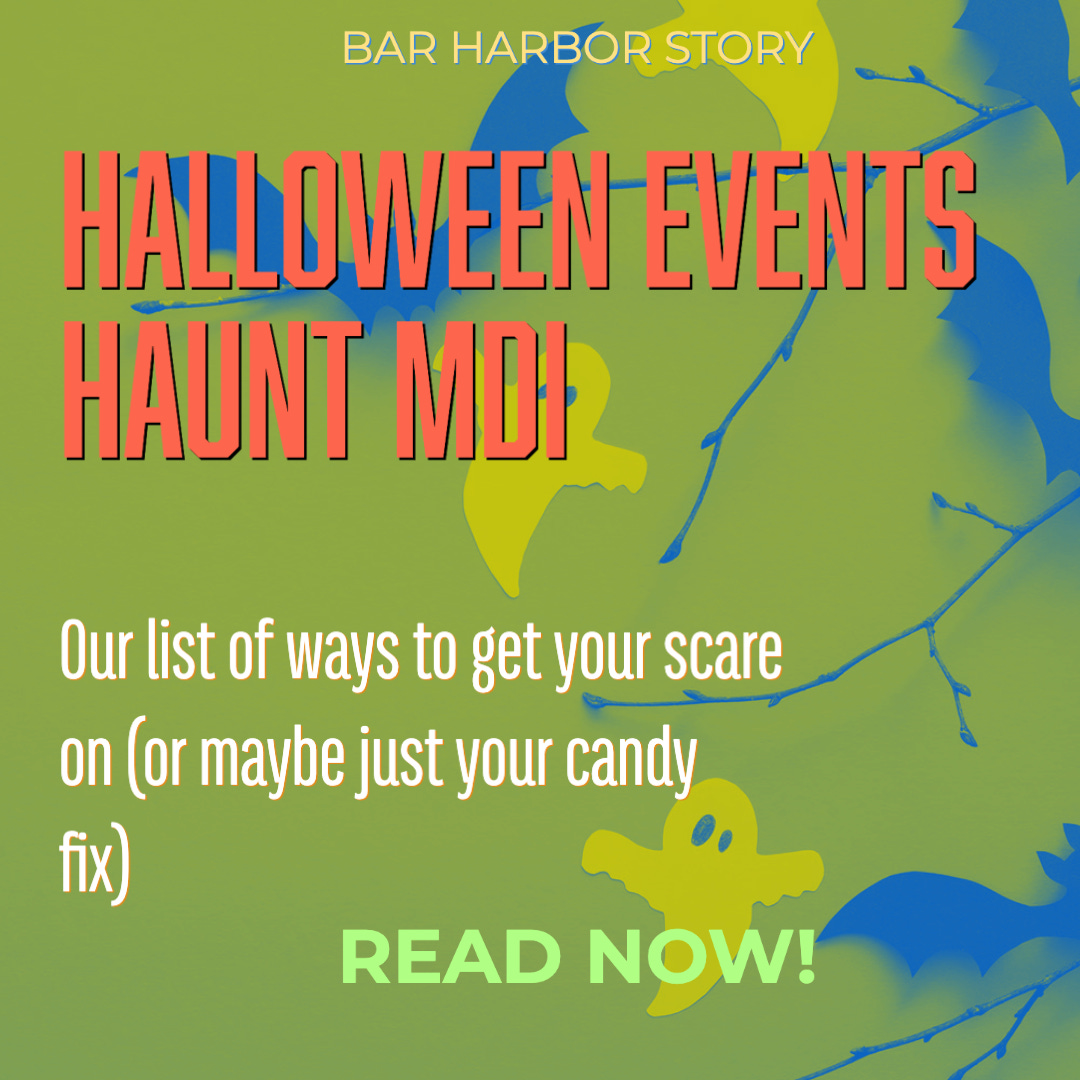 BAR HARBOR—There's a plethora of spooky events for those of you who long for a little naughty and nice in your life.
Let us know if we've missed anything and we'll update the list!
Jesup School of Witchcraft and Wizardry – October 22
Calling all wizard and witch students and their guardians! Do you have what it take to complete magical challenges at the Jesup? Click the link below to reserve your spot!
http://www.signupgenius.com/go/10c094dadaa2ba1fdc34-harry
This program is for children ages 8 and up. Teams of 2-4 kids with at least one adult, please!
If you have any questions, please contact Abby (amorrow@jesuplibrary.org)
DATE AND TIME:
SATURDAY, OCTOBER 22, 2022
7:00 PM 8:00 PM
LOCATION":
Jesup Memorial Library, Mt Desert Street, Bar Harbor
---
HALLOWEEN BOOK TRICK OR TREAT – October 27
The Halloween Book Trick or Treat program will still take place that day from 4-6 p.m. at the Southwest Harbor library. Costumes are encouraged and no registration is required.
---
TRAIL OF TREATS – October 28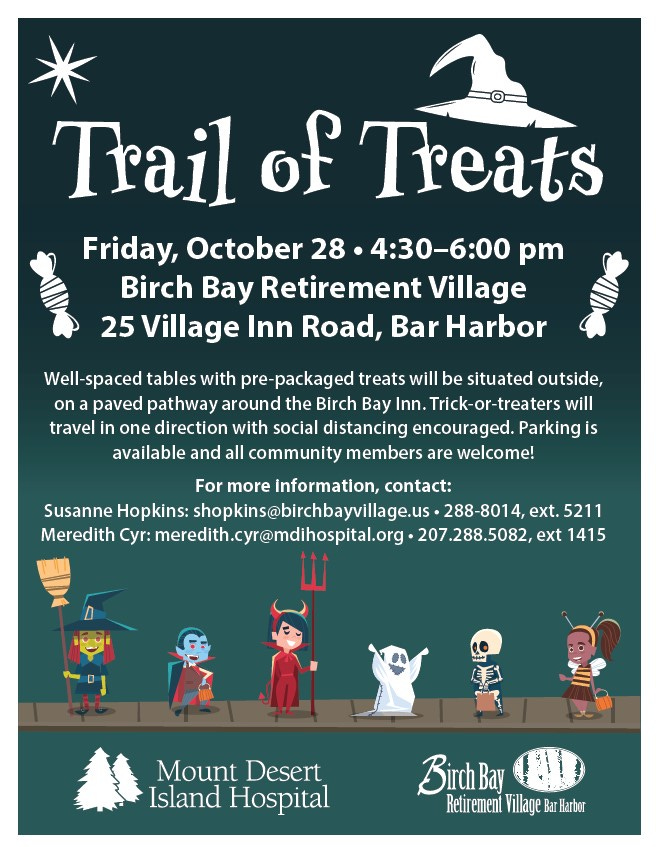 Birch Bay Retirement Village and MDI Hospital for its second annual Trail of Treats! Well-spaced tables with prepackaged treats will be situated outside, on a paved pathway around the Birch Bay Inn. Parking is available and all community members are welcome!
For more information, contact Susanne Hopkins:
shopkins@birchbayvillage.us
288-8014, ext. 5211
Location
25 Village Inn Rd, Bar Harbor, ME 04609
---
HALLOWDEAN – October 28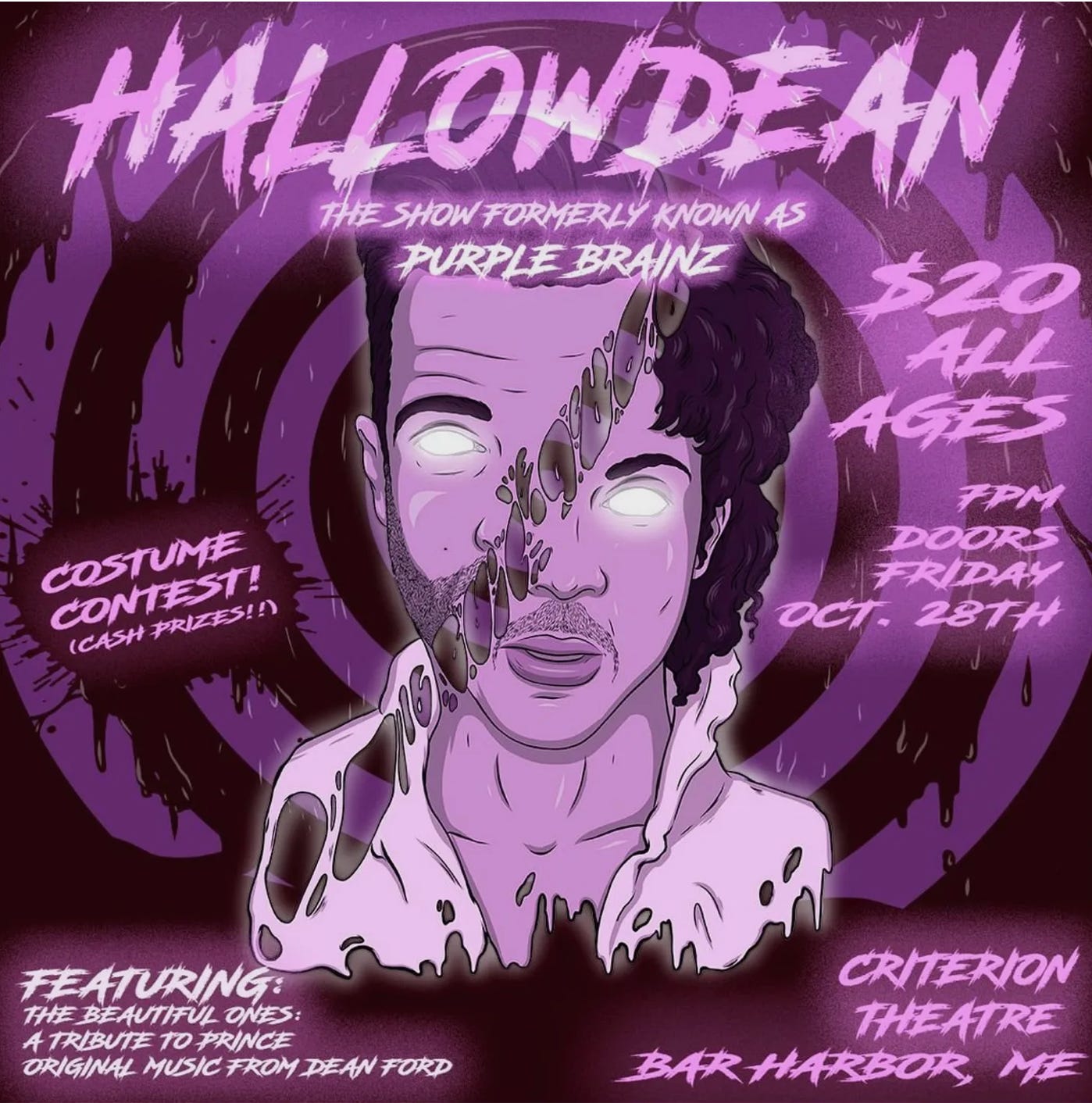 Additional Info
Artist: Dean Ford & The Beautiful Ones – A Tribute 2 Prince
Brand New Original Music from Dean Ford

Costume contest! Cash prizes!
Ticket Limits
There is an 8 ticket limit on this event.
Date and Time:
Friday, October 28, 8 p.m.
LOCATION:
Criterion Theatre,
127 West Street, Bar Harbor
---
MDI YMCA TRUNK OR TREAT – October 28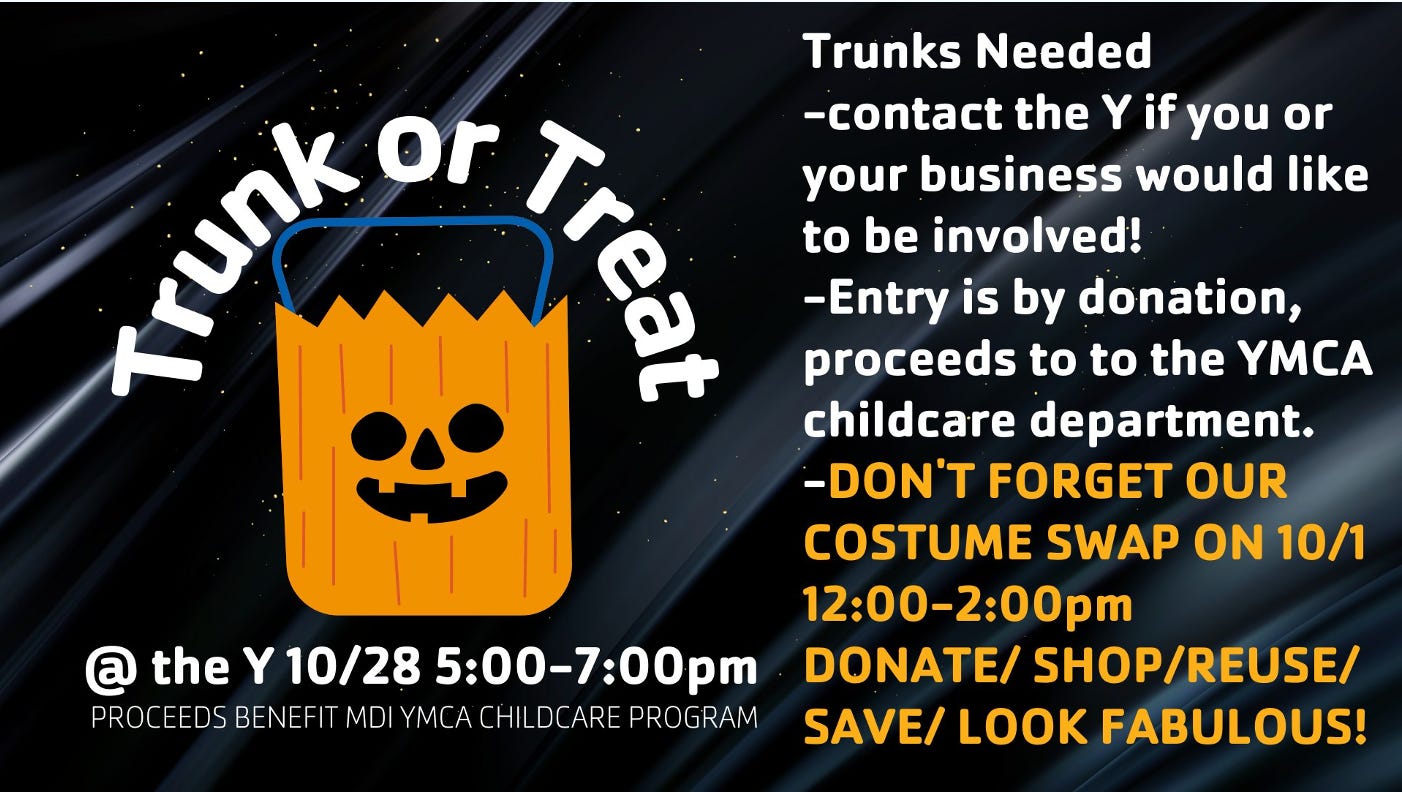 Date and Time:
FRIDAY, OCTOBER 28, 2022 AT 5 PM – 7 PM
2nd Annual MDI YMCA Trunk or Treat!
Admission by donation to benefit YMCA Childcare Department.
They are looking for trunks! If you or your business would like to have a trunk at the event, please contact them at 288-3511 or email childcare@mdiymca.org
---
House of Horrors – October 29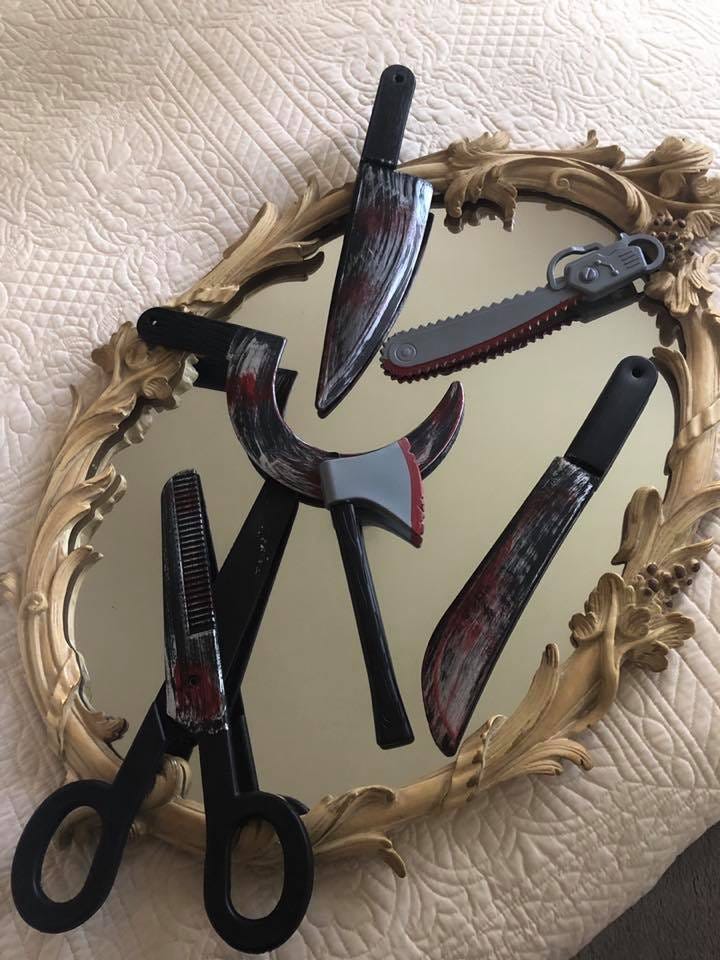 It will be dark. It will be scary. Walk through the historical inn and see what nightmares await!
Entry fee: $5/person suggested donation. All proceeds benefit the Jesup Memorial Library.
This haunted house is designed for adults. Please use your best judgement when bringing children. All children under the age of 12 must be accompanied by an adult.
Location and Time
Ivy Manor Inn, Main Street, Bar Harbor
6-8 p.m.
---
HAUNTED HUSTLE! – October 29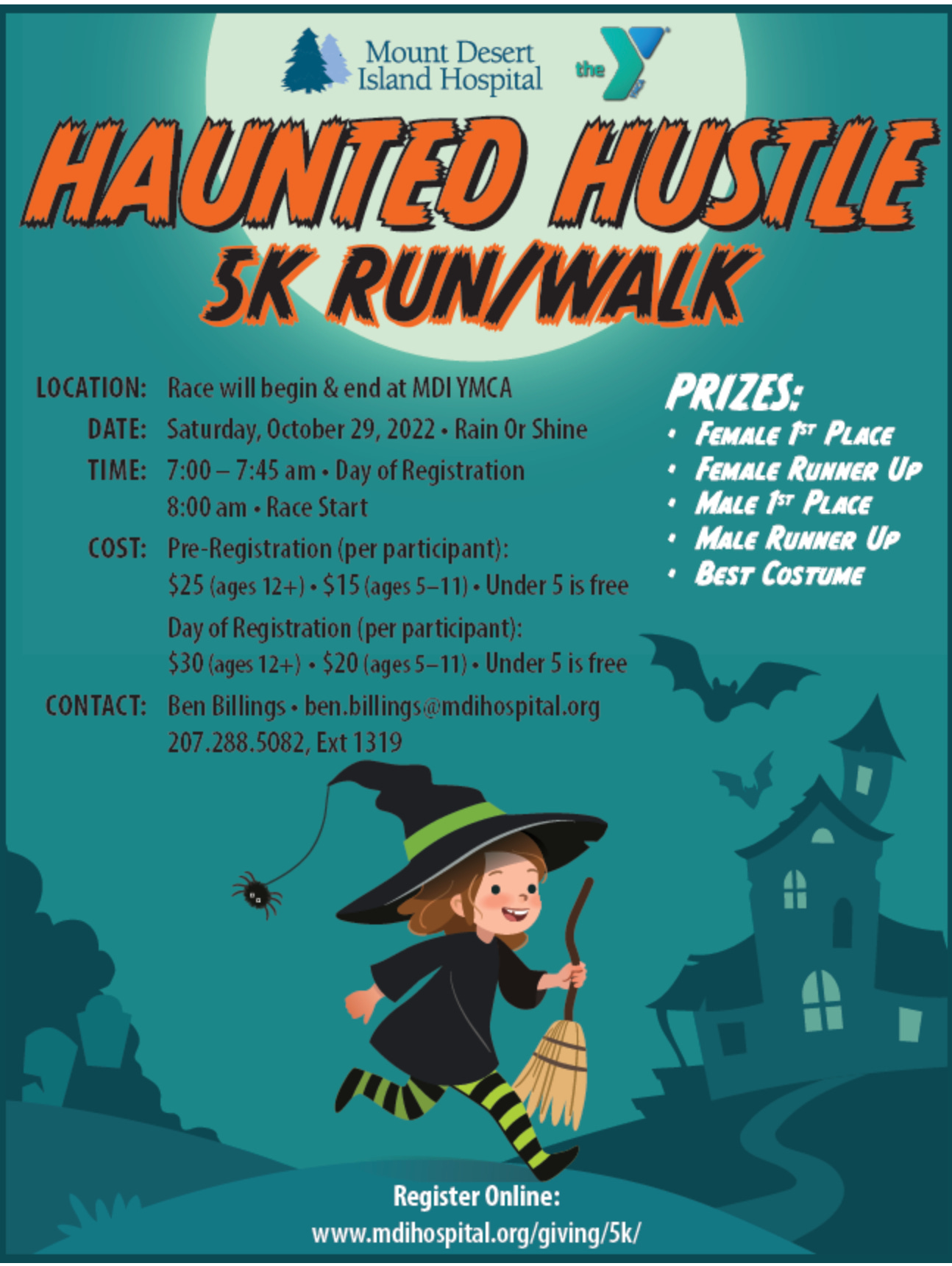 Join MDI Hospital's for its first annual Haunted Hustle 5K Run/Walk! The race will begin and end at MDI YMCA in Bar Harbor. Registration is from 7:00-7:45 a.m. with the race beginning at 8:00 a.m..
Date and Time:
October 29, 7 a.m.
Location:
21 Park St, Bar Harbor, MDI YMCA
Pre-Registration cost is:
$25 for ages 12+, $15 for ages 5-11, and free for under 5 years.
Day-Of Registration cost is:
$30 for ages 12+, $20 for ages 5-11, and free for under 5 years.
Prizes will be awarded for 1st place and runner up in both female and male categories, as well as an award for best costume!
Questions? Please contact Ben Billings at ben.billings@mdihospital.org or 207.288.5082, Ext 1319.
Register online: www.mdihospital.org/giving/5k/
---
GHOSTLY HISTORY – October 29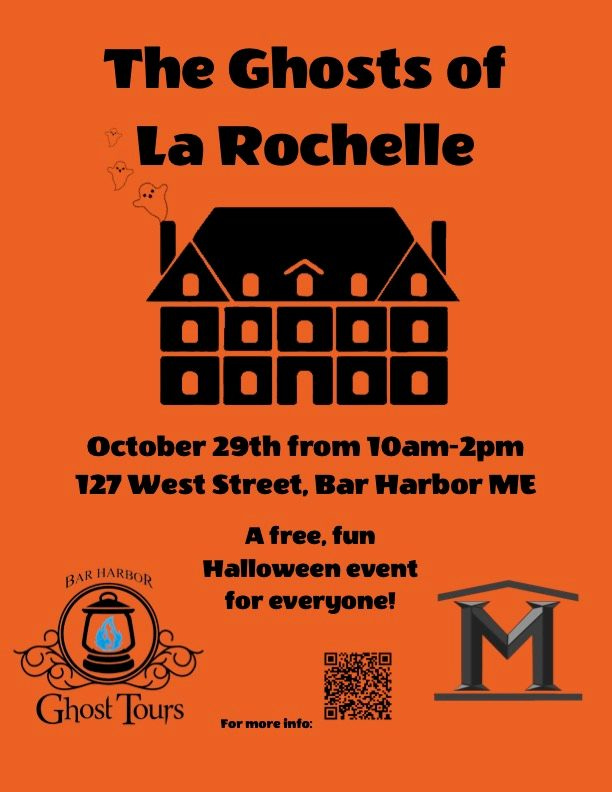 The Ghosts of La Rochelle
For the first time, The Bar Harbor Historical Society and the Bar Harbor Ghost Tours are partnering to present The Ghosts of La Rochelle! Come join us for this free, fun Halloween event for adults and children at La Rochelle (127 West Street in Bar Harbor) on Saturday, October 29th from 10:00 a.m.- 2:00 p.m.. Also, we understand how busy the community is during the summer season, so to show our appreciation, museum admission will be free for all guests!
Professional storytellers will tell tales in the shadows and dark corners of the La Rochelle mansion– does George B. Dorr appear to reclaim his favorite umbrella? Does the parlor organ play itself in the library? Who haunts the hidden chamber on the third floor? All these spooky questions and more will be answered!
Get in the spirit and wear a costume if you wish! Halloween treats–not tricks–will be offered at the end of your visit!
DATE AND TIME
October 29
10 a.m. to 2 p.m.
---
TRAIL OF TREATS – October 29
MARK YOUR CALENDARS!!!! IT'S BACK!!!!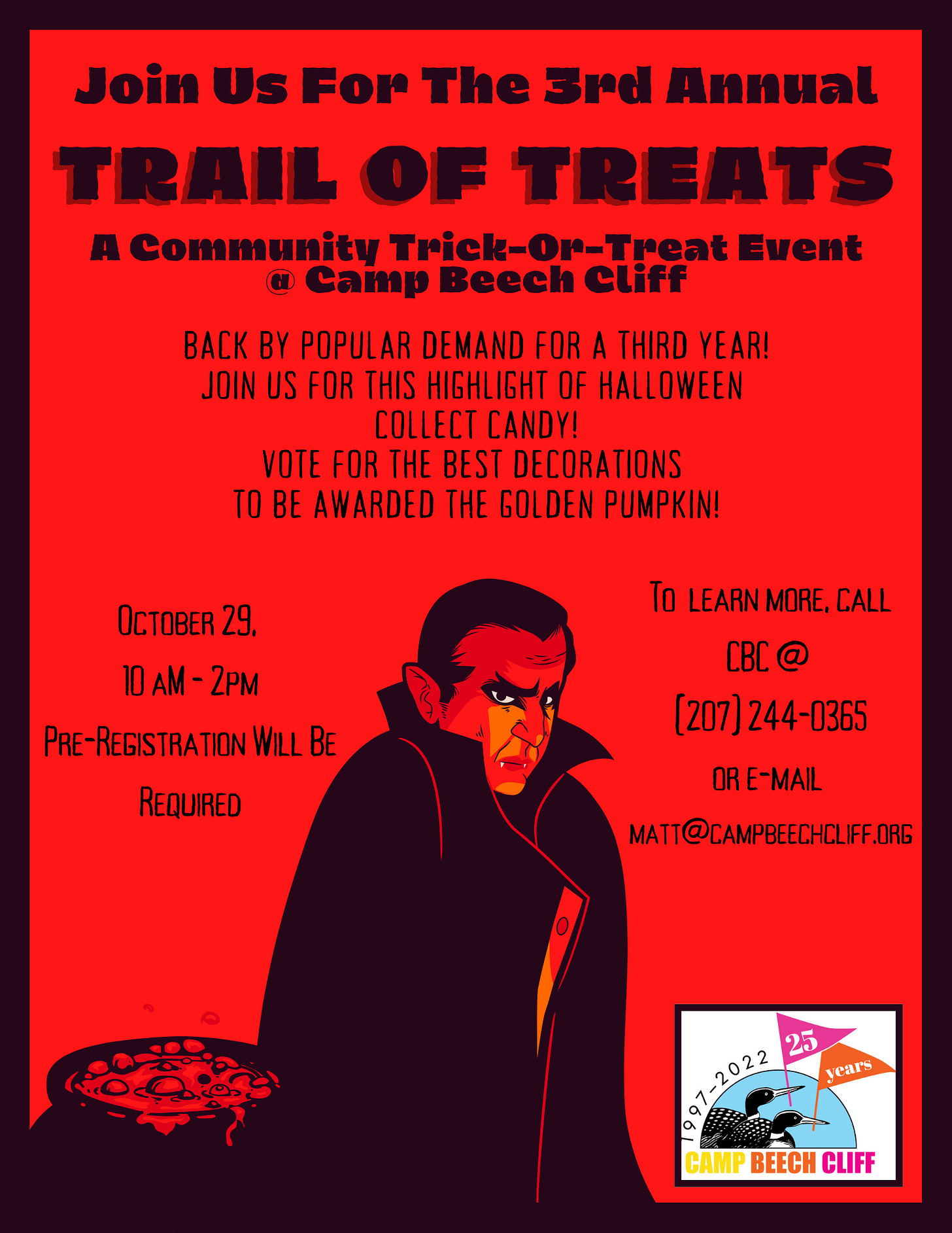 Camp Beech Cliff is excited to announce the third annual Trail of Treats: a Community Trick or Treating Experience at CBC.
It's excited once again to be joined by some of your favorite local organizations to provide candy & Halloween happiness for children of all ages!
Time:
Saturday, October 29th from 10 a.m. to 2 p.m.
Preregistration will be required to participate.
Visit www.campbeechcliff.org to sign up your brood of little werewolves. Just remember, each slot can accommodate one carload for parking and safety purposes.
Got questions? Feel free to give them a call 244-0365
Get ready to get Spooky…but not too spooky, with the Third Annual Trail of Treats at CBC!
---
Samhain 2022! – October 30
According to MDI High School's Heather Chute Dillon's Facebook page, "This will be a fun, family event at the Neighborhood House in Northeast Harbor. It will support students from MDI High School who are going to Ireland, Scotland, and England next April."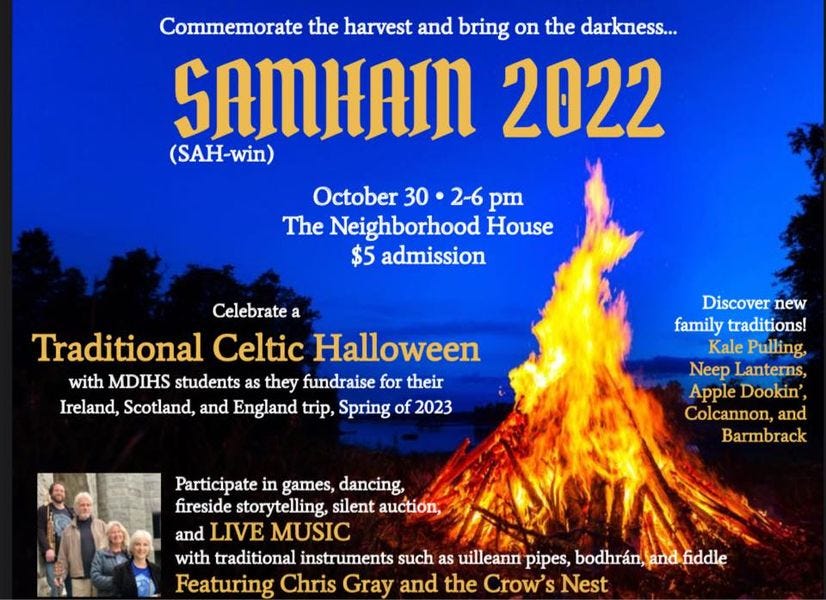 Location:
The Neighborhood House
Time and Date:
October 30, 206 p.m.
Cost:
$5
---
TRICK OR TREATING IN BAR HARBOR– October 31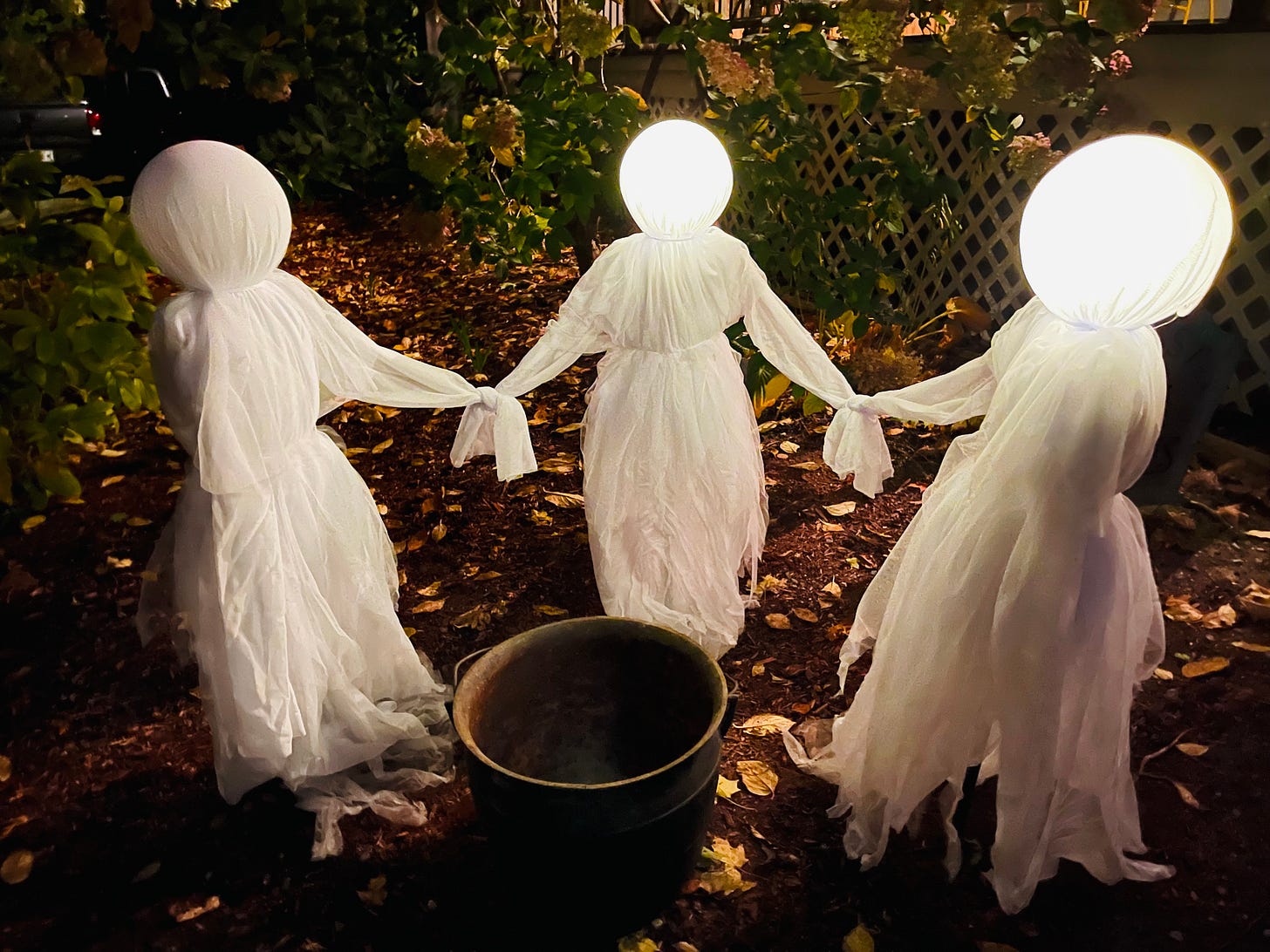 According to Bar Harbor Police Sergeant Soren Sundberg, officers will block Ledgelawn Avenue to vehicular traffic between 3:30 and 8:30, Monday, October 31. But, you can trick or treat other places, too.
---
Halloween Cycle Class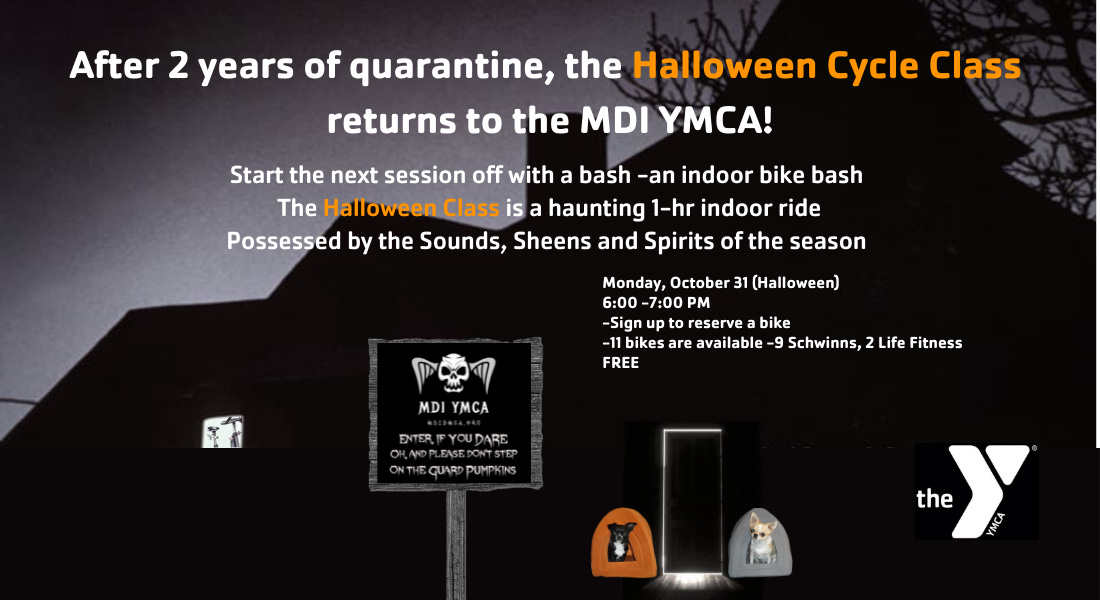 ---
Bar Harbor Story is a reader-supported publication. To receive new posts and support my work, consider becoming a free or paid subscriber. Your support means so much to me and allows me to keep putting out stories with no paywall so that the news is accessible to everyone who wants to read it. I'm just one person, but let me know if there's something you'd like me to cover and I'll do my best to get there .