Acadia National Park's First Jazz Composer Improvises During Jesup Talk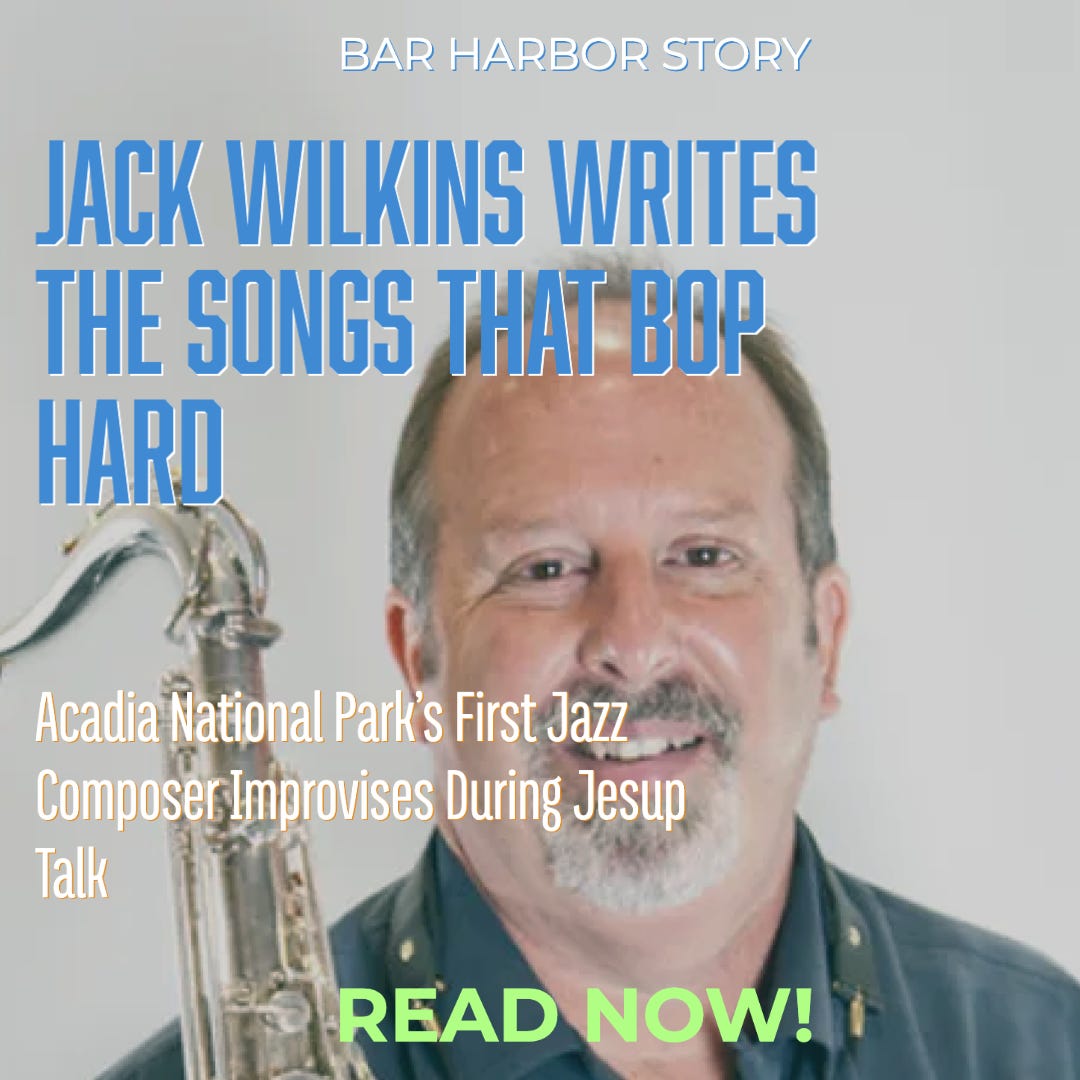 BAR HARBOR—Like any great jazz musician and composer Jack Wilkins proved that he could improvise during his lecture entitled "The Compositional Process: How to Make Mountains Into Music" at the Jesup Memorial Library, Thursday, October 20.
The Grammy-nominated jazz saxophonist is an Acadia National Park Artist-In-Residence and he presented a bit of his music and improvisational skills during some technical difficulties as he presented to the people at the library and watching on Zoom.
He called it a tech adventure.
"At the very least I have my saxophone here and I can just play," said the man that one North Carolina newspaper dubbed "Santa with a saxophone." Wilkins, a force in the hard bop and fusion scene can definitely always play.
A Fulbright scholar and the director of the Jazz Studies Program at the University of South Florida, he has seven CDs out and also directs the student jazz ensemble and teaches at USF.
Wilkins said that coming to Acadia had been on his bucket list and what he does in the artist-in-residence program is to come and get inspiration. He already has ideas and then the test is to go home and see if those ideas come to fruition. "Sometimes those ideas make great music and sometimes they don't."
Wilkins is one of eight artists who participated in this year's program. It was the first year that the park included a food writer, art therapist, standup comic and a jazz composer. Residents spend 14 nights in housing provided by the park. There were 137 applications. Those applications were reviewed by panels of jurors. There were three panels and 14 jurors in all. The selected artists for 2023 have not yet been announced.
The invited participants for 2022 included:
Past participant Sue Charles, an artist who lives in both Newbury, Massachusetts and Lamoine, Maine told Will Newton of Friends of Acadia that she wants "to give something back to the park for its work to conserve a special landscape."
The Artist-In-Residence program allows artists (musicians, writers, artists) to come for 14-night residencies in Acadia. Participants are selected and then like Wilkins have to "host a public outreach activity with park visitors" as well as "donate within a year one finished work of art based on their experience," according to the park's website.
---
Bar Harbor Story is a reader-supported publication. To receive new posts and support my work, consider becoming a free or paid subscriber. Your support means so much to me and allows me to keep putting out stories with no paywall so that the news is accessible to everyone who wants to read it. I'm just one person, but let me know if there's something you'd like me to cover and I'll do my best to get there .
---
Some Resources To Learn More!
https://www.nps.gov/subjects/arts/air.htm
https://www.nps.gov/articles/000/acadia_air_2022.htm
https://www.jackwilkinsjazz.com/
https://www.nps.gov/acad/getinvolved/artist-in-residence.htm
https://greensboro.com/entertainment/saxophonist-jack-wilkins-lives-in-florida-now-but-he-feels-himself-called-to-north-carolina/article_f6b6362a-0299-11eb-801f-134f19577967.html