Town Committee has vacancies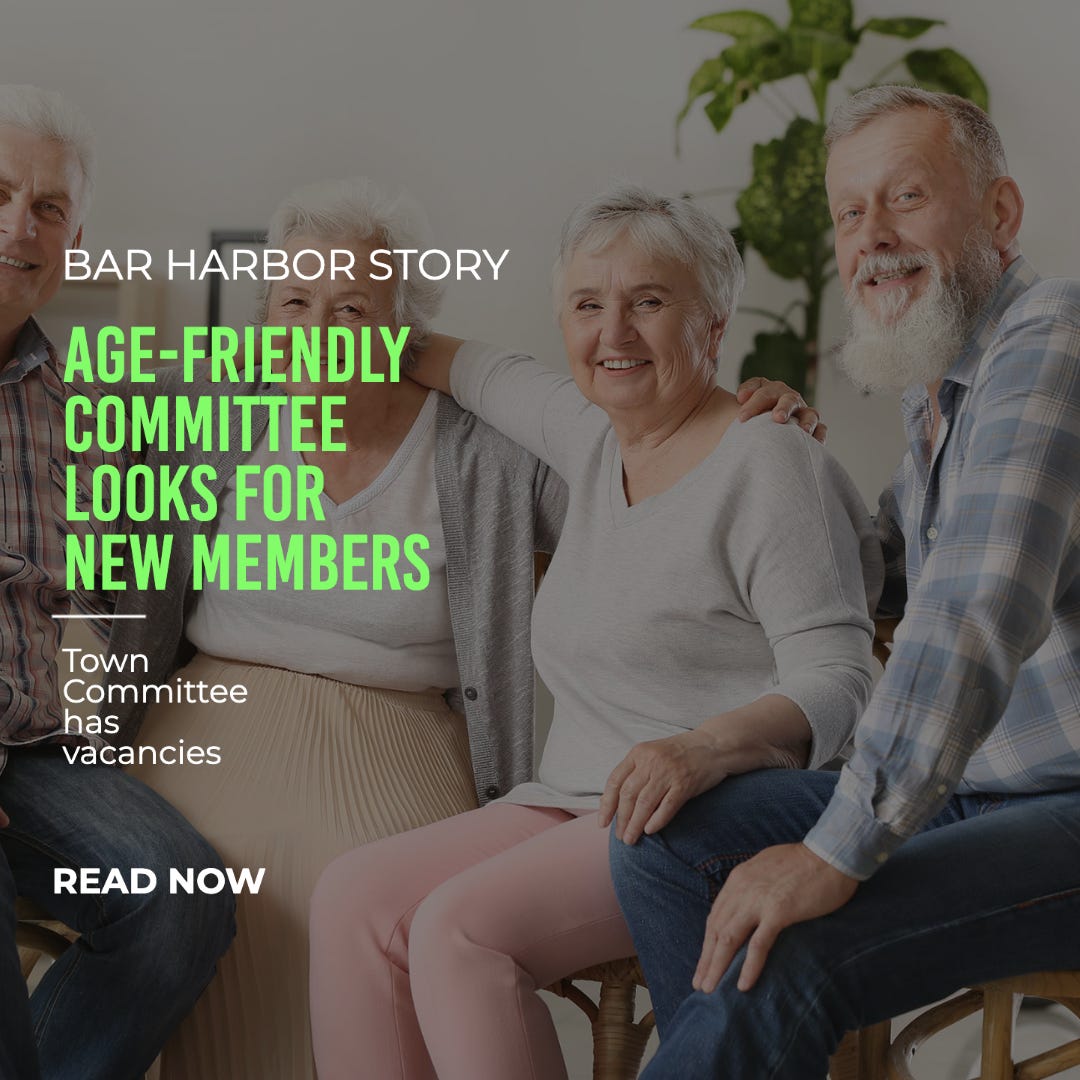 Bar Harbor's Age-Friendly Committee is looking for members to fill vacancies. The committee meetings are the third Wednesday of the month at 3:00 pm in the 3rd Floor Conference Room at the Bar Harbor Municipal Building on Cottage Street.
The committee submitted its report to the council August 2 during the regularly scheduled council meeting in council chambers at the Bar Harbor Municipal Meeting. Hopkins said the committee was excited about its own future work and the possibility of working and learning more about the MDI Wheelers.
Despite meeting mostly virtually until the Spring of 2022, the committee continued to work on action plans to achieve goals. Last year, the committee created a shoveling assistance program for older residents of Bar Harbor. Portland, Maine has a similar program. Though the committee distributed information about the program last year, a memo submitted to the town council states, "We did not get a lot of interest from community members." The members plan to try again this upcoming winter to "find out if it is a community need."
The committee also created a 25-page resources guide, which is available at the town website, and it hopes to begin an "age-friendly sponsored column in the Mount Desert Islander." The resource guide lists food assistance programs, health services, long-term care services, housing, transportation and social participation activities for seniors.
"We want a strong community for our aging residents," Hopkins said.
According to the memo, there are vacancies for "additional members and (we) would love to welcome new voices." The committee lost chair Doreen Willett when she moved to Florida and Jan Varnum also left. With Willett's move, Susanne Hopkins became chair and member Allie Bodge became vice chair. New members include Nancy Howland, Andrea Lepcio and Sharon Lincscott.
MDI Wheelers, a new volunteer-led nonprofit created in late 2021, will be talking to the Bar Harbor Age-Friendly Committee in the future about possible collaborations according to Committee Chair Susanne Hopkins.
According to its website, MDI Wheelers hopes "to provide experiences on the carriage roads in Acadia National Park for people unable to ride a bike by themselves." Using electric-assist tricycles, the program will bring people around the carriage roads for free. It hopes to begin offering rides by request in June 2023.
The program's purpose aligns with that of the Age-Friendly Committee, whose mission reads that it "strives for a community where all of the residents of Bar Harbor, regardless of age, can live, grow and thrive."
---
Current members of the committee include:
Susanne Hopkins, chair, director of marketing for Birch Bay Retirement Village
Allie Bodge, vice chair, director of operations for the MDI & Ellsworth Housing Authority Teresa Wagner, secretary, retired chief information officer of SUNY Upstate Medical University
Sharon Linscott, executive director for Island Connections
Andrea Lepcio, playwright, health and fitness director for the Neighborhood House
Nancy Howland, former executive director of Jesup Library
---
WANT TO LEARN MORE?
The agency's resource guide is available at Island Connections and on the town's website.
To apply to be on the committee, click here.
To find out more about MDI Wheelers or to volunteer, click here.
---