In a split vote, committee recommends continuing to allow cruise ships in April and November and adjusting September and October disembarkation metrics.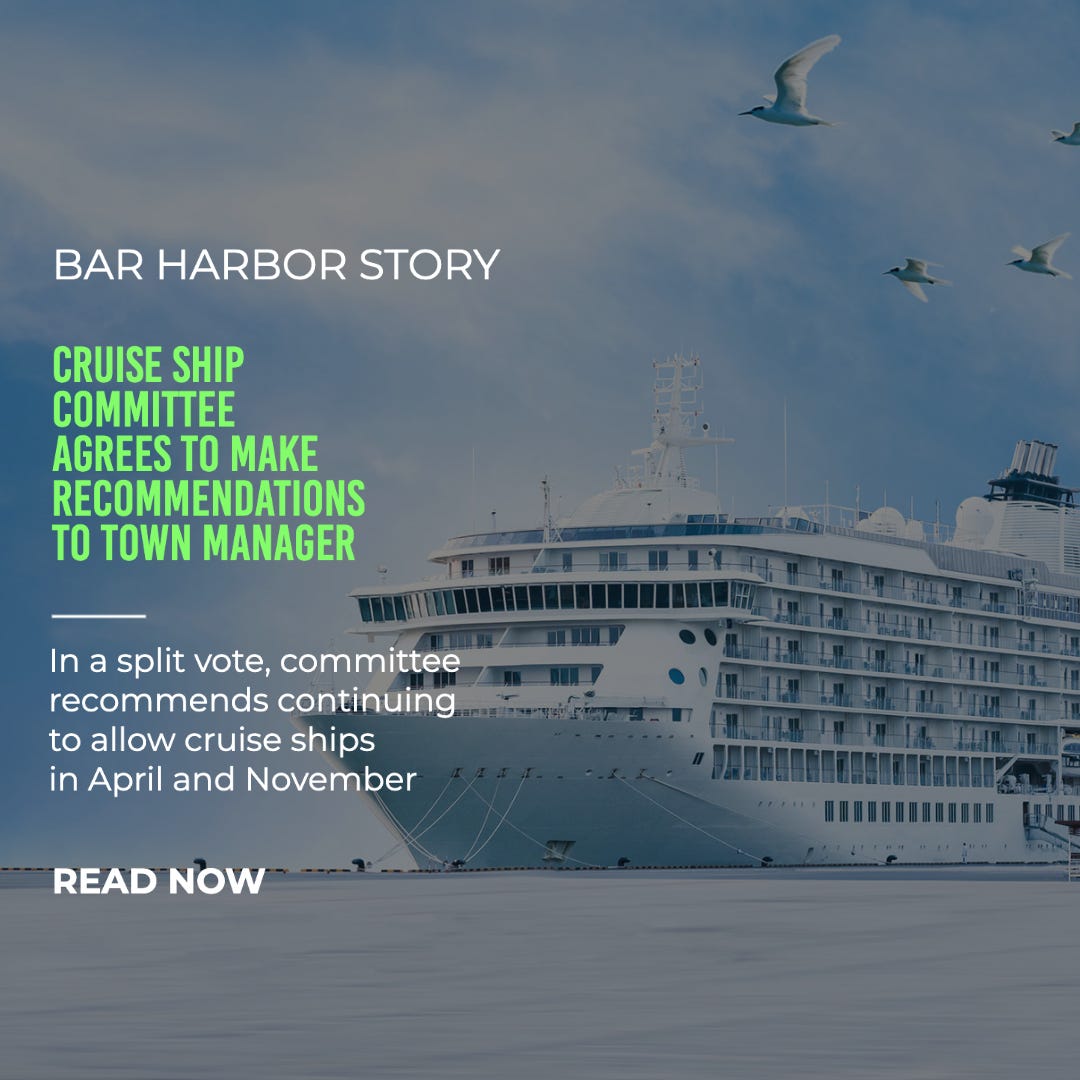 BAR HARBOR—In two split votes, Bar Harbor's Cruise Ship Committee agreed during its August 10 meeting to send recommendations to the Bar Harbor Town Manager for his call for public comment.
The motions arose after discussion headed by former chair and current member, Eben Salvatore.
The first motion asked the Bar Harbor Town Council to reconsider the recommendation of the cruise ship management plan to no longer allow cruise ship visits in the shoulder months of April and November. The only member voting against the motion was Acadia National Park's representative on the committee, John Kelly. Lawrence Sweet, Ken Smith, Eben Salvatore, Jeremy Dougherty, Prentice "Sandy" Strong, and Martha Searchfield voted in favor.
The second motion was a bit more complicated and recommended maintaining daily caps of disembarkations for the month of September and October at 5,500 rather than the management plan's reduction, until the new plan's monthly cap of 65,000 disembarkations is reached. The committee said that they hoped that change would allow days where no cruise ships would visit (rather than the ships reaching a daily quota every single day each month). All voting members except for Kelly and Jeremy Dougherty voted in favor and the motion passed, 5-2.  
Salvatore said that closing the town to cruise ships in April and November was largely an operational concern adding that those months' cruise ship visits "means a lot to people especially the smaller businesses." The first ship of the year is when many businesses open, he said, and the last ship of the season is when they close. "We talk about the year-round economy and we talk about extending our seasons and the people who work here in April and November" are the people who are locals, looking for the extra paychecks, he said. Salvatore said that the chamber had a meeting this morning about those concerns.
"It's a broad change across the board," Salvatore said, the current management plan as is would take the current 95,000 disembarkations a year to 65,000 a year as a new monthly cap. Salvatore said there is potential that the council could approve this plan on August 16, which is why Town Manager Kevin Sutherland is asking for public comment prior to August 11 at 5 p.m.
Kelly said that the process has been going on a long time and wondered about the committee's role in regards to entering comments into the public hearing.
"This is the cruise ship management plan and we are the cruise ship committee, and we haven't seen any of their plans or numbers until last week," Salvatore said and stated that he believes it's the committee's responsibility to have a comment about the plan.
During the public comment portion of the meeting, James O'Connell used his three minutes to speak of cruises concerns asking, ""Is it worth it?" O'Connell asked. "I have lost money here on my weekly rentals." He said he had one customer who went out of town because the lunch crowd was too busy and the person couldn't easily find a place to eat, while another renter he wasn't coming back because when he went up Cadillac Mountain to get a good picture, he was unable to because of a cruise ship in the harbor.
Also at the meeting, Searchfield was elected chair and Sweet was elected vice chair. The next meeting will be September 13. Currently all meetings are on Zoom and can be watched live via the town's website.
WANT TO LEARN MORE?
For more information about the cruise ship committee.
To view all past agendas and minutes.
For a history of the cruise ship fees uses in town for the past eight years.
For information about the town's cruise ship management presentation.
From the town's website:
Possible actions for Town Council consideration August 16:
• Formally support the daily and monthly caps, and other provisions as outlined in the presentation
• Authorize the Harbormaster to allow the currently requested but not booked ships who meet the agreed-upon limits to anchor in 2023.
• Support staff's effort to develop a Shoreside Vendor Ordinance before the start of the 2023 season (see Cruise Ship Operations and Management presentation)
• Review a draft Memorandum of Agreement (MOA) that will be used with each of the cruise lines and possibly authorize the Manager to sign (Conditional on timing to develop and have reviewed by Counsel)

Have Feedback?
If you have specific questions or comments, please submit them to manager@barharbormaine.gov by 5 pm on Thursday August 11th and we'll share your comments and provide responses to your question(s) as part of the Council packet for 8/16.
Bar Harbor Story is a reader-supported publication. To receive new posts and support my work, consider becoming a free or paid subscriber. Thank you so much!