April 11
APR 11, 2023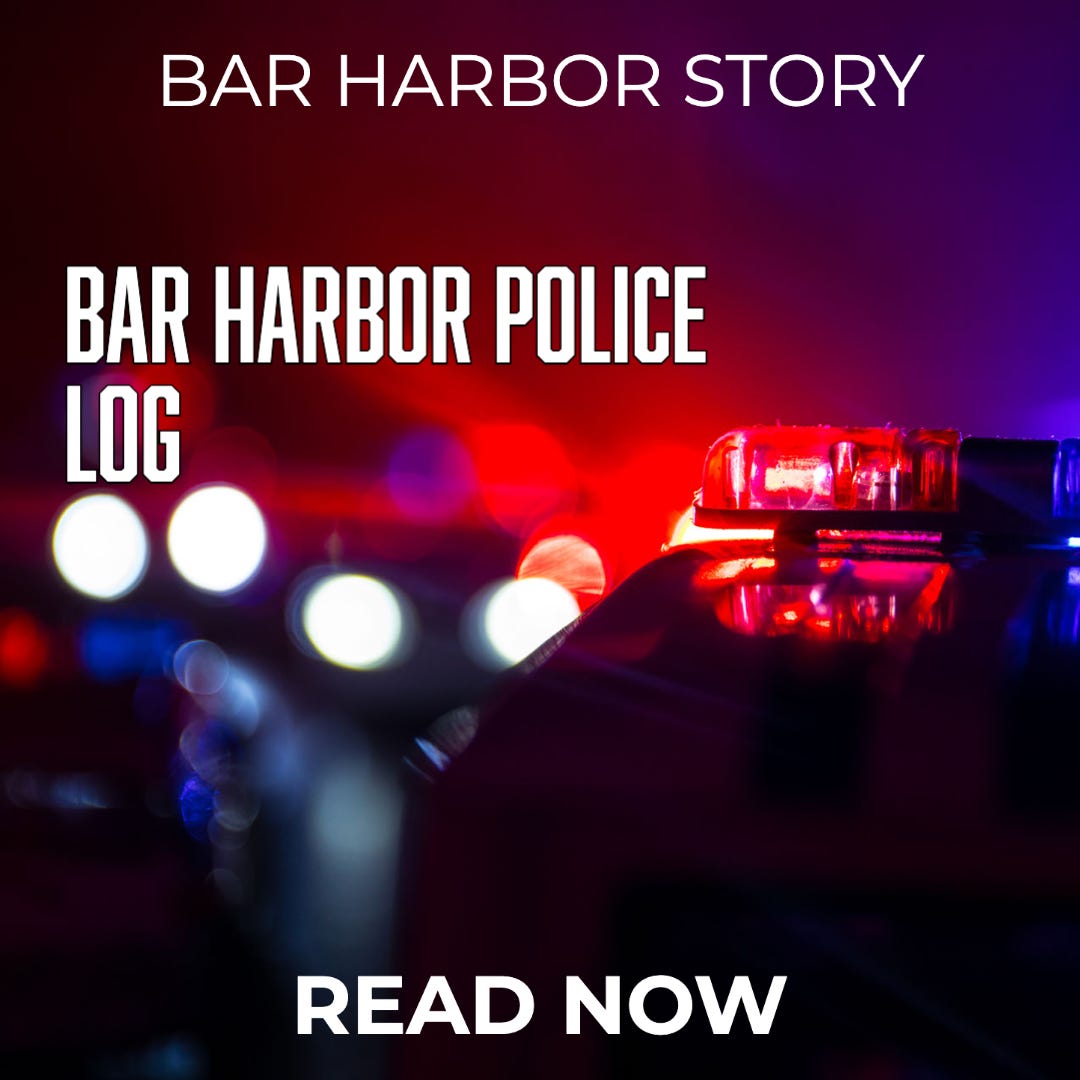 BAR HARBOR—This week is National Public Safety Telecommunications Week. Thank you to the humans out there who answer all the emergency calls. Emergency dispatchers are a vital part of emergency services on Mount Desert Island and Hancock County.
According to the Southwest Harbor Police Department page, "Jacob Russell has been arrested on nine warrants out of Southwest Harbor including multiple burglaries, assault on an officer, and many others. There were also many warrants from surrounding towns." Russell was arrested by Bangor Police Department.
Last week, the Bar Harbor Fire Department practiced placement on the town's Wastewater Treatment Plant. There's video here. Yesterday, firefighters responded to and contained a grass fire near Locust Lane.
---
The following incidents occurred in Bar Harbor last week according to the Bar Harbor police log, which is publicly released information.
Monday, April 03, 2023
David Lee, 42, of Lamoine was operating a 2016 Dodge box truck and stopped at a stop sign on the Crooked Road. When Lee backed up to go around the vehicle that was stopped in front of him, he allegedly backed into a 2023 Toyota SUV that was being operated by Peter Ossanna, 62, of Bar Harbor. There was reportable damage to the front of Ossanna's Toyota, no damage to the box truck and no reported injuries.
After performing a motor vehicle stop, Officer Judson Cake summonsed Larry King Jr., no age or residency given, for alleged operating after suspension.
Officer Troy Stanwood took a report of an attempted phone scam.
Officer Judson Cake took a report of identity theft.
Officer Stanwood conducted a well-being check.
After performing a motor vehicle stop, Officer Stanwood summonsed Amber Betts, 24, of Bar Harbor for alleged operating after suspension and alleged violation of conditions of release.
Tuesday, April 04, 2023
The police department received information from a local business about a female subject who had recently frequented the business.
Officer Caleb Mora assisted the Bar Harbor Fire Department on a medical call.
Officer Chris Dickens assisted Acadia National Park with investigating suspicious activity at a Route 102 trailhead.
Officer Dickens responded to an erratic driver complaint, located the vehicle, and warned the driver for distracted driving.
The police department received a report of vandalism on Acadia National Park property and the matter was referred to the park service.
Lt. Kevin Edgecomb responded to a parking complaint at the corner of Shannon Way and Shannon Road.
Officer Jerrod Hardy served a temporary protection from abuse order on a Bar Harbor resident.
Wednesday, April 05, 2023
Jenna Van Wunnik, 23, of Ellsworth was trying to park a 2022 Jeep Wrangler in one of the Jackson Laboratory parking lots and while attempting to pull into a spot, allegedly struck a previously parked 2019 Toyota SUV which had last been operated by Roberto Rolon, 26, of Swarthmore, Pennsylvania. There were minor scratches to both vehicles and no reported injuries.
A debit card was turned into the police department and the owner was contacted. The owner requested that the debit card be destroyed.
Officer Cake spoke to someone regarding a civil issue.
Officer Stanwood took a report concerning threatening that is related to an ongoing investigation.
John Boyd, 76, of Shrewsbury, Massachusetts, was attempting to leave a parking spot on Main Street when he allegedly backed his 2021 Ford F-150 into the vehicle parked behind him. The parked vehicle was a 2012 Volvo C30 last operated by Rebecca Sipes, 38, of Castine. There was minor damage to the Volvo and no reported injuries.
Officer Hardy investigated a complaint of a vehicle passing a stopped school bus with its safety lights flashing. After reviewing an available video, it was determined that no infraction occurred.
Officer Hardy investigated a report of a large propane tank missing from a residence and determined that it was most likely because of a billing issue repossession.
Thursday, April 06, 2023
Officer Amie Torrey gave a patient a ride home from the MDI Hospital emergency room at the hospital's request.
Friday, April 07, 2023
After the police department received a misdialed 911 call, Sgt. Leigh Guildford drove around the area of West Street and could not find any issues.
Paul Hamblen, 72, of Bar Harbor was backing his 2021 Chevy Malibu out of a parking spot on Holland Avenue and struck a utility pole. The passenger's side rear of the vehicle sustained damage but there were no reported injuries.
Sgt. Sundberg took a report of assault and is investigating the alleged assault.
Saturday, April 08, 2023
Officer Mora arrested Sarah Standridge, 27, of Bar Harbor for an outstanding arrest warrant and transported her to the Hancock County Jail.
Officer Cake performed a security check of a building that was found to have an unsecured door.
Officer Cake retrieved a syringe that was found at a local business and disposed of it.
Sgt. Guildford took a report of someone possibly losing something in Bar Harbor.There were no more details.
Officer Liam Harrington assisted the Southwest Harbor Police Department with an ongoing investigation.
Officer Kaleb Payson and other officers assisted the Main State Police with locating two subjects. They were later located by the state police.
Sunday, April 09, 2023
Sgt. Guildford had papers signed for a subject at the hospital.
Officer Dickens spoke with an individual regarding a traffic violation.
---