Council intends to appoint replacement for the remainder of his term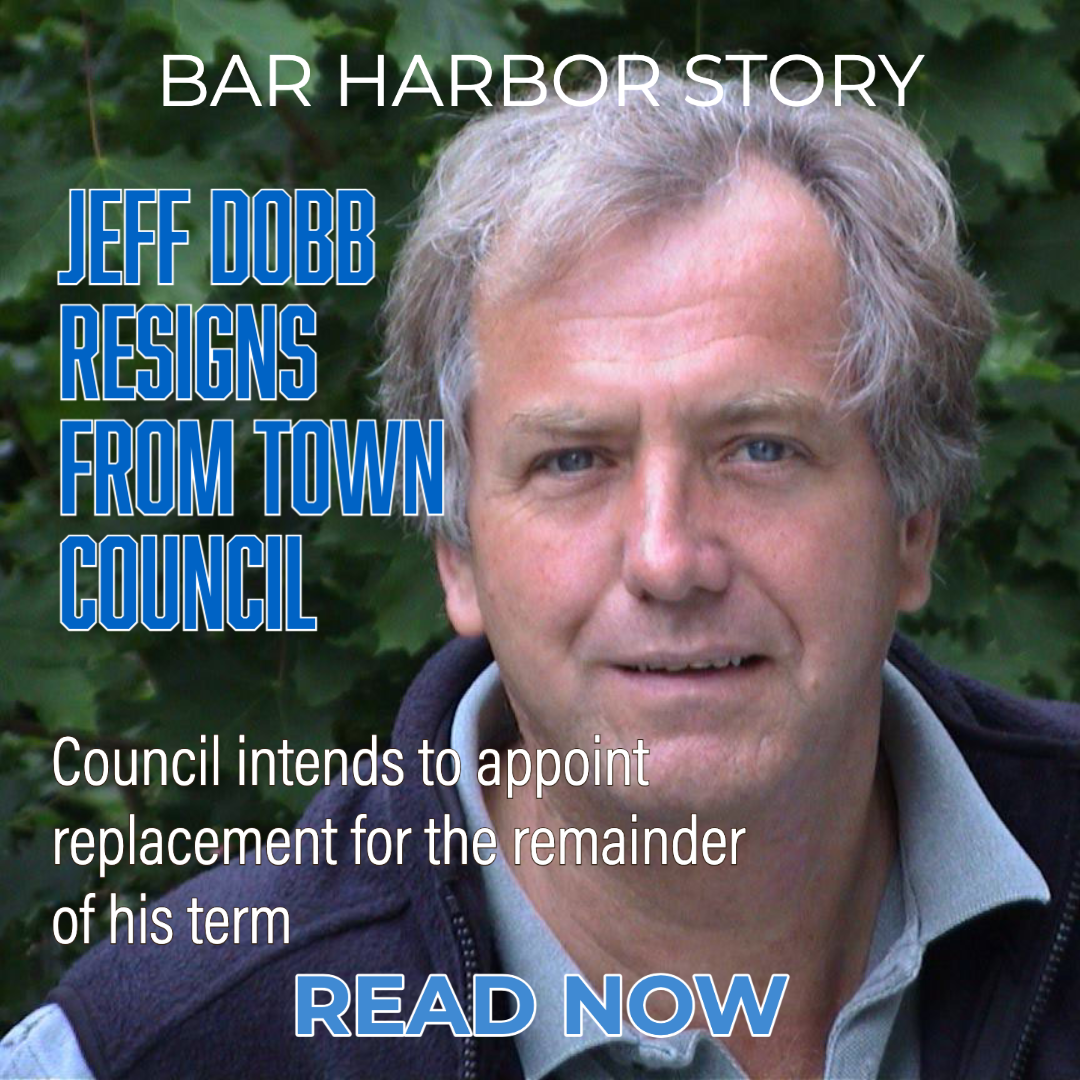 BAR HARBOR—Town Councilor Jeff Dobbs announced his resignation near the end of the Town Council's meeting Tuesday night. It was his first meeting back after having a heart attack and subsequent kidney failure earlier this year.
"It has been my pleasure to work with each and every one of you," he told his fellow councilors.
Dobbs' resignation was not officially voted on, but his letter said it was effective at noon, March 8. He said he will still serve on the town's Parks & Recreation Committee as well as nonprofit boards.
"That's it for me," Dobbs said. "It wasn't easy, but that's my decision."
"Thank you for your time, Jeff," Councilor Erin Cough said.
Dobbs said that Rob DeSimone talked him into being a councilor in 1989. He's been on and off the council since then, often taking leadership positions on the council and other town committees.
"I'm glad that you're prioritizing yourself, your health, and your family," Council Chair Valerie Peacock said. Her comments were echoed by others.
"It's been fun," Dobbs said, who added that he feels guilty about leaving before his term ended, but that he had to prioritize his health and his family and that he's looking forward to devoting more time to what he does best—making documentaries.
"They're less stressful," Dobbs said with a laugh.
Councilor Gary Friedmann said the announcement gave him great sadness and surprise. "You've give so much to the town…. You're what I consider a model citizen," Friedmann said. "It's been a pleasure to serve with you, and I've always valued your perspective."
Dobbs has chaired the council and other committees. In 2018, he received the Bar Harbor Chamber of Commerce's Cadillac Award. He has done a great deal of work with the Bar Harbor Historical Society and Village Improvement Society. Recent documentaries included Ralph Stanley, whales, and how Acadia came to be. He runs the Acadia Channel as well as Dobbs Productions.
"We'll miss you," Councilor Jill Goldthwait said. "The town will never understand how much you've given over the past decades.… You've done good, kiddo. Hold your head up."
Dobbs' term was scheduled to end in 2025.  With Dobbs' departure there are four spots up for election in June. According to interim Town Manager and Finance Director Sarah Gilbert, the council intends to appoint someone to finish Dobbs' term through the June election, and then the remainder of his term (two years) will be up for election.
Peacock, Cough, and Goldthwait all have expiring terms this year.
---
Photo of Jeff Dobbs via his Facebook and web.
Editor's note: I revised the final two paragraphs because they didn't seem clear enough. Apologies.
---
LINKS TO LEARN MORE
The meeting where he read his letter.
---
Bar Harbor Story is a reader-supported publication. To receive new posts and support our work, please consider becoming a free or paid subscriber. Thank you so much for being here and a part of this community with us.