Ordinance takes effect in 30 days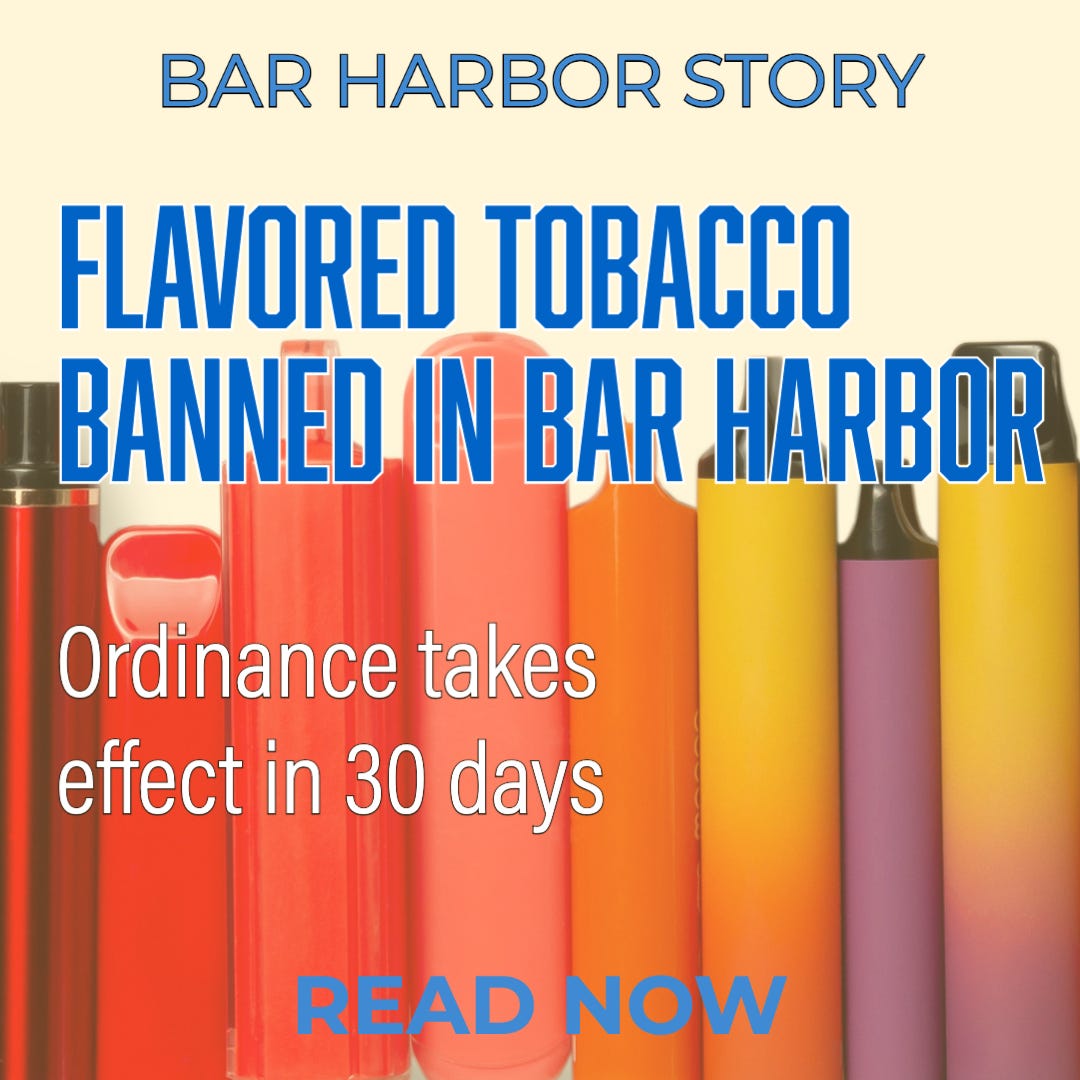 BAR HARBOR—The Town Council quickly adopted a flavored tobacco and nicotine ordinance amendment during its March 7 meeting by a unanimous vote.
The ordinance creates a ban on the sale of all flavored tobacco products with escalating fines.
At a town council meeting in January, Councilor Gary Friedmann introduced Arthur Blank, former CEO of MDI Hospital and Friends of Acadia Board member to discuss the potential town ban of flavored tobacco products.
"This is a significant issue particularly at the high school right now," Friedmann had said.
Blank had said that slowing the spread of nicotine addiction was going well until recently, and that this was partially true because the tobacco industry has been able to market its design and product to kids. "It's become a major challenge for the high school."
One way of dealing with it is to get the products out of the stores in town, he said.
At this Tuesday's meeting, MDI High School Dean of Students Ian Braun, said that tobacco use had declined dramatically during his multi-decade tenure in education. He believes that was because of educational messaging and stricter laws and ordinances.
"This all changed in the last few years. Vape use is prolific on our campus," Braun said. "They are addictive. Because of the addiction, students will bring them onto campus and use them."
It's harder to catch students using because it's easier to hide the vapes, he said.
"I started smoking as a sophomore at MDI High School," Vice Chair Matthew Hochman said and added that he knew it wasn't good for him, but the education alone wasn't enough to make him stop. "I was one of those kids you would have caught in the bathroom."
Warrant Committee member Ezra Sassaman said that he believes that the flavored tobacco and e-cigarette problem is complex and is worried that the Town of Bar Harbor might see the ordinance adoption as a be all and end all for the problem. However, he stressed there are environmental aspects that happen because of e-cigarettes including e-waste from batteries, stressing that the town needs to address e-cigarette waste. He also said that the town also needs to look at the demand side and why kids feel the desire to use nicotine products. Supporting organizations doing things with kids might be part of that solution, he said.
"I think we need to look at it as a more holistic solution," he said.
Dr. Mary Dudzik encouraged the council to adopt the ordinance. Ann Tikkanen, CEO of the MDI YMCA and a representative from MDI Hospital echoed her comments, with Tikkanen telling councilors, "We have a chance to stop one cycle of addiction before it begins."
"You have this moment to be a compassionate government to our children," she said.
Helen Jolley, a physical education teacher at Bar Harbor's Conners Emerson school said, "The problem with youth vaping is incredibly widespread. Flavors are the hook."
She also played a video created by three Conners-Emerson students.
Julie Daigle, community health and development coordinator for Healthy Acadia, read a statement from Bar Harbor resident and parent Doug Michael where he said, "Youth use of tobacco products in any form is unsafe."
Councilor Erin Cough made a motion to remove the word "flavored" from the ordinance and therefore ban the sale of all tobacco products, but her motion failed for a lack of a second.
At the early January meeting Daigle, extolled tobacco's addictive properties especially on people under 24.
"If you don't start when you're a young person, you're probably not going to start at all," she said, stressing that she believes that tobacco companies know this and have developed 15,500 flavors to market to kids. Menthol, they hope, would be included in the flavor ban though many don't think of it as a flavor.
In January, former Town Manager Kevin Sutherland took the Bar Harbor ordinance language directly from the Bangor ordinance language, which made it the town manager's job to enforce (or his designee). The council voted to tweak the language to have the police chief or police chief's designee be the ordinance's enforcer. Police Chief Jim Willis said Tuesday that the ordinance was straight forward.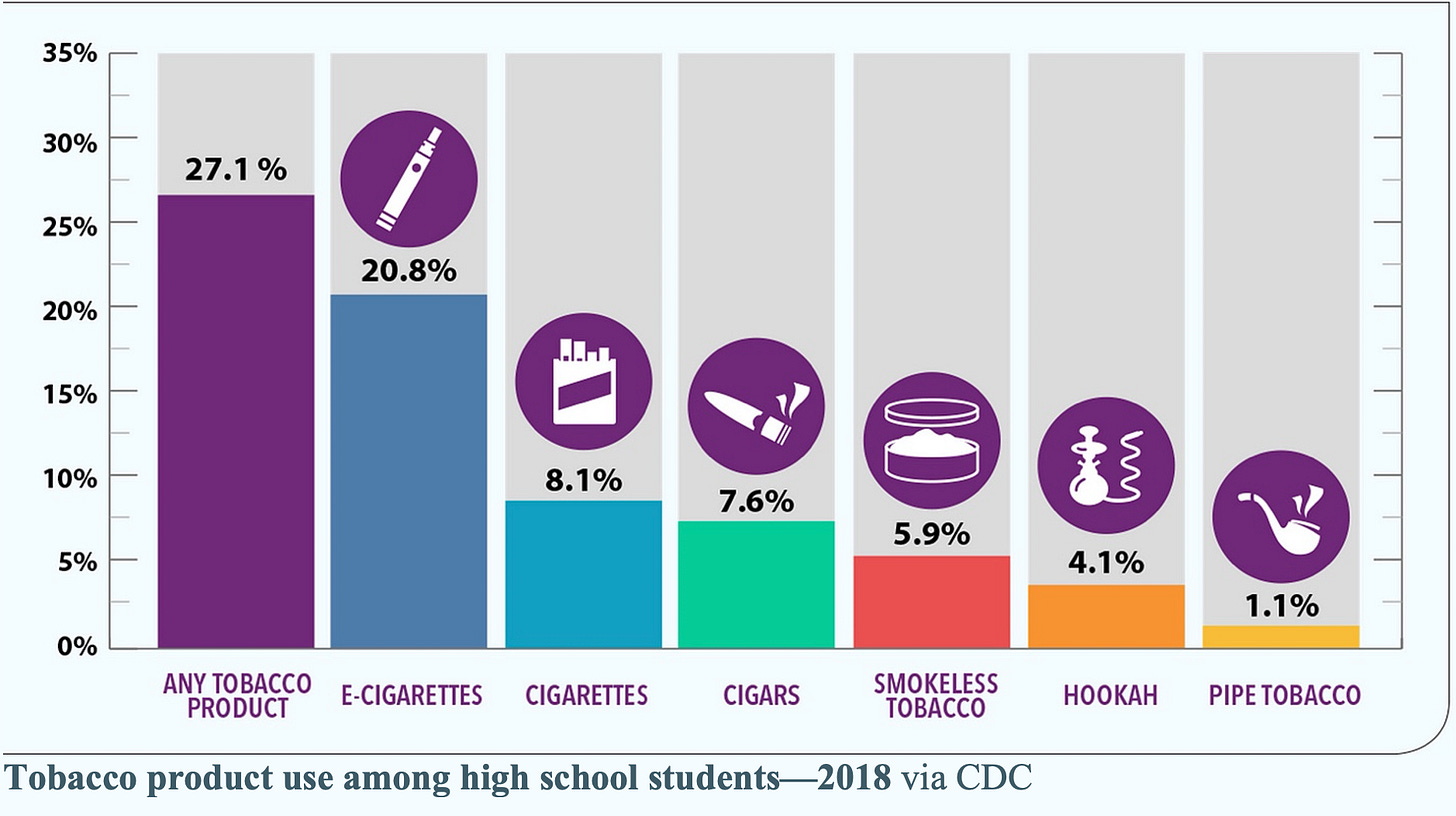 ---
LINKS TO LEARN MORE
Council Sends Flavored Tobacco Ban To Public Hearing
https://sites.google.com/mdirss.org/conners-emerson-school/teacher-pages/specials/pehealth-mr-dionne-ms-jolley
For our original article with FDA footnote links and graphs, click here.
https://www.barharbormaine.gov/AgendaCenter/ViewFile/Agenda/3171?html=true
---
Bar Harbor Story is a reader-supported publication. To receive new posts and support our work trying to make sure unbiased information is easily accessible to the community, please consider becoming a free or paid subscriber. Thanks so much for being here with me.