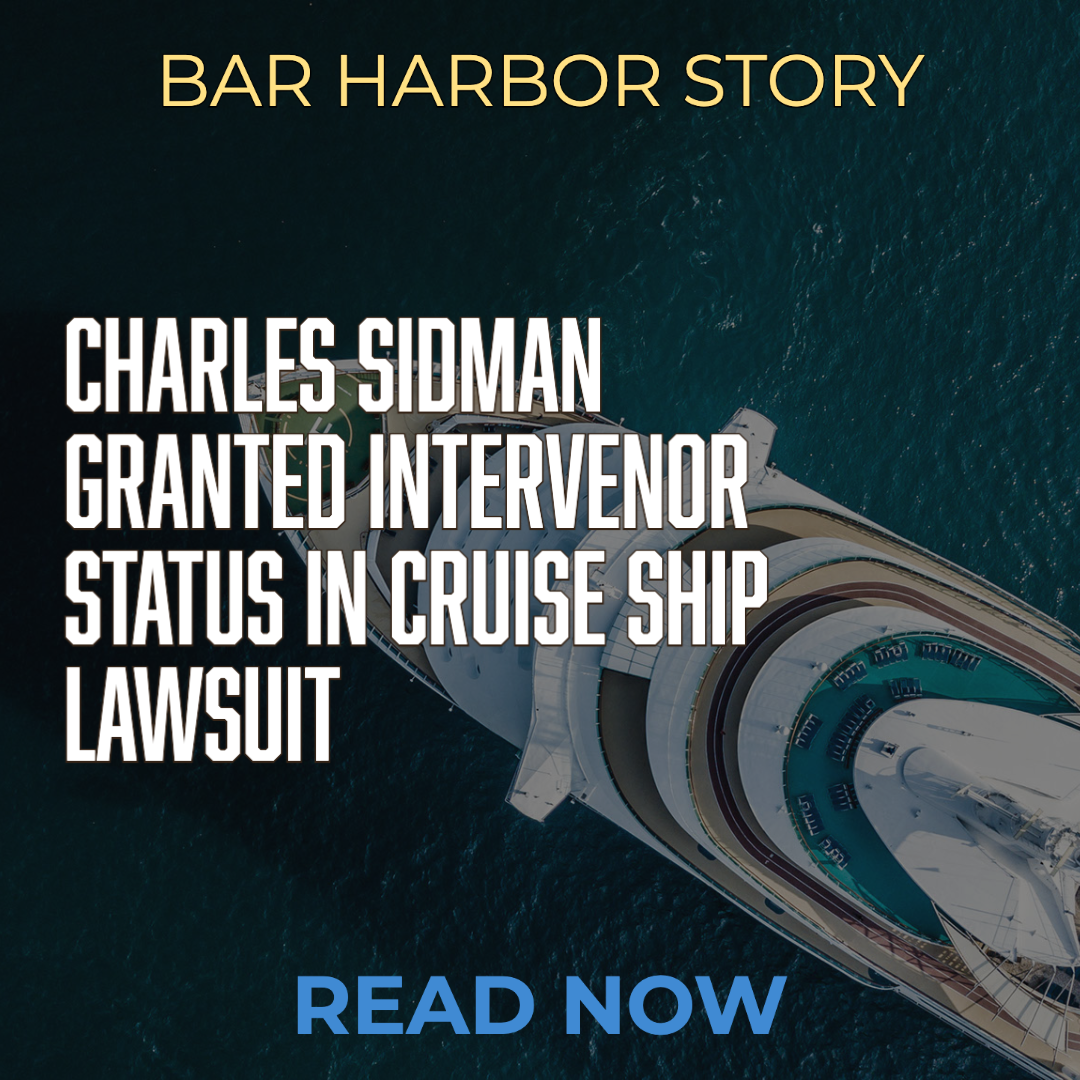 BAR HARBOR—Charles Sidman was granted intervenor-defendant status by U.S. District Court Judge Lance Walker in the case of Association to Preserve and Protect Local Livelihoods vs Town of Bar Harbor, which is about the daily cruise ship limits enacted by town voters in November, by a vote of 1,780 to 1,273.
The new plan limits the amount of passengers disembarking cruise ships each day to 1,000, inserts the changes into the town's Land Use Ordinance, and calls for mechanisms to count those disembarkations as well as fines if more people leave the ships and step onto Bar Harbor land. Because of the lawsuit, the town has to defend those changes.
The case is currently "in the briefing cycle of a motion for preliminary injunction," according to the Walker statement. Sidman and Bar Harbor both have until March 20 to respond to the case.
He writes,

"The deadline for the Town to oppose the motion has been continued by agreement of the parties to facilitate settlement negotiations that will implement a preliminary injunction by stipulation, which voluntary injunction would postpone implementation of the ordinance during the pendency of this action and potentially beyond (throughout both the 2023 and 2024 extended seasons)."
Sidman, who was the lead petitioner on the citizens' petition for the caps, said that he was "adversely affected by the influx of cruise ship passengers." Walker wrote: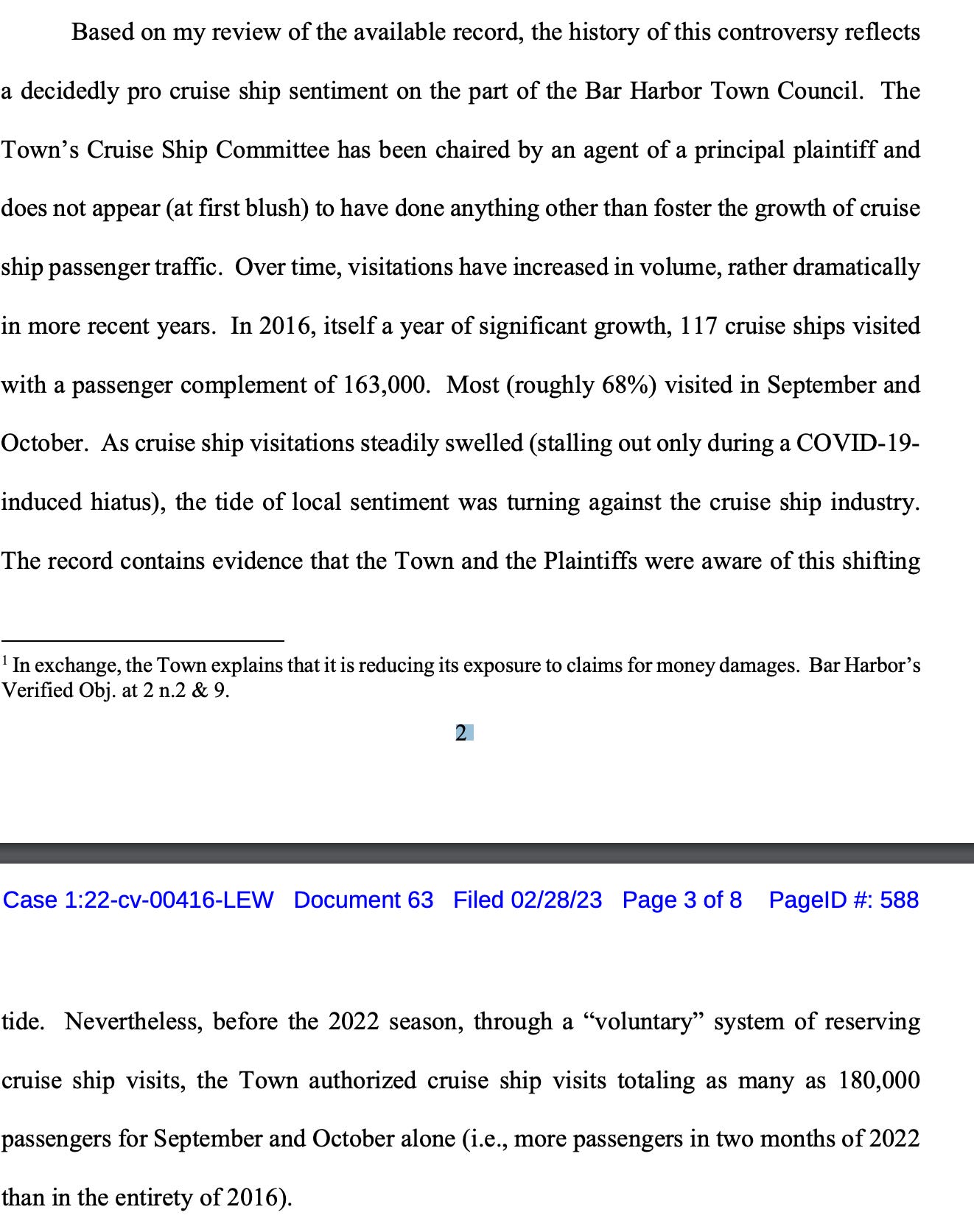 He also said that the initiative was locally divisive with the town encouraging voters to vote against the limits. He added that the 2023 season is secure,
"And while the parties' effort to stipulate a resolution for the 2024 season is timely for purposes of the cruise ship industry's itinerary planning, they have not provided any indication in their filings that their voluntary approach to settling the matter of the preliminary injunction involves any serious compromise in terms of passenger volumes that would be responsive to the expressed will of the Town of Bar Harbor's electorate, even as they insist in briefs opposed to Mr. Sidman's intervention that the Town will vigorously litigate to uphold the ordinance."
Walker said that Sidman's stake is personal and concrete and directly related to "the alleged harms the ordinance was meant to redress." His investment in his business downtown further solidifies that, Walker wrote.
---
DECISION IN FULL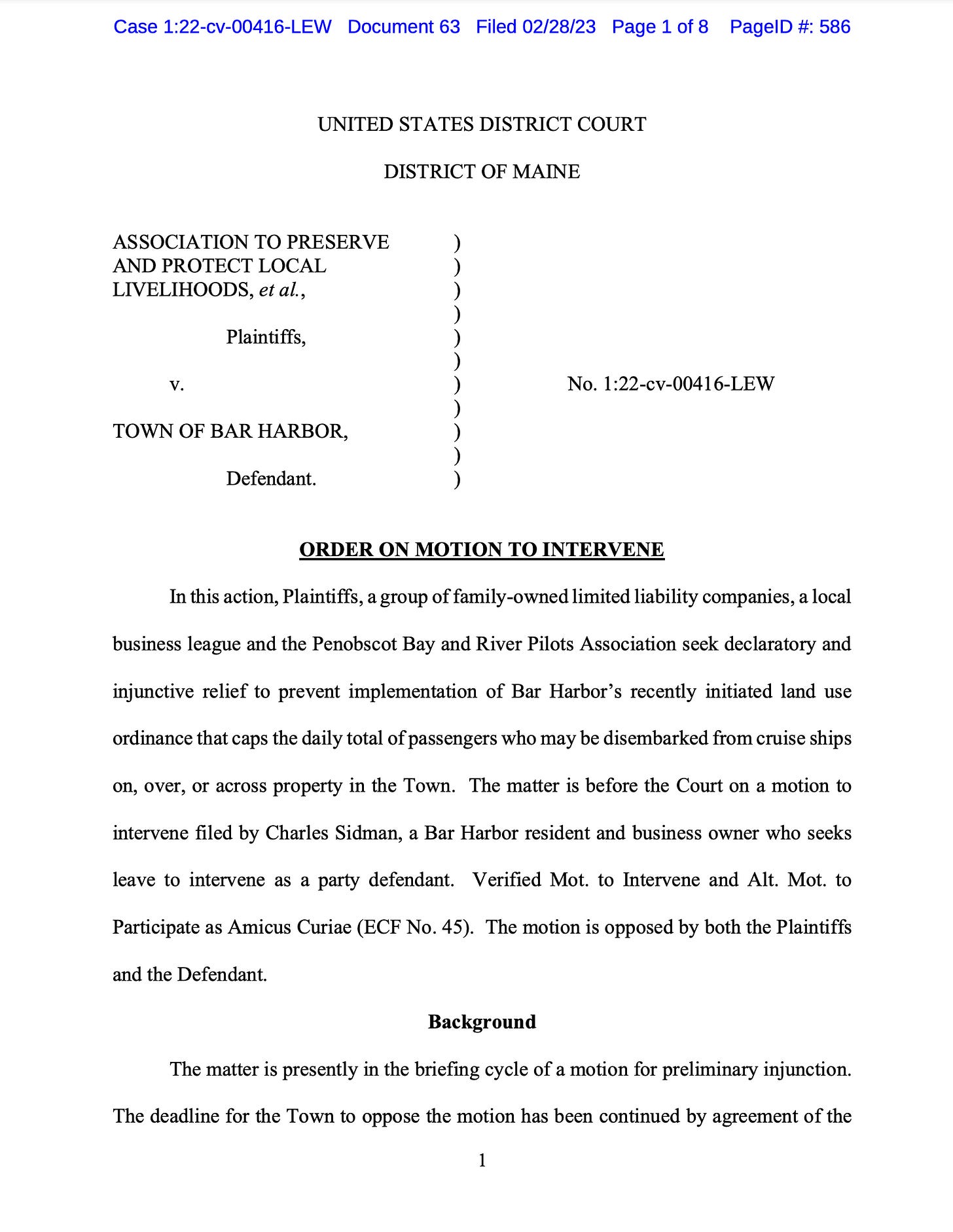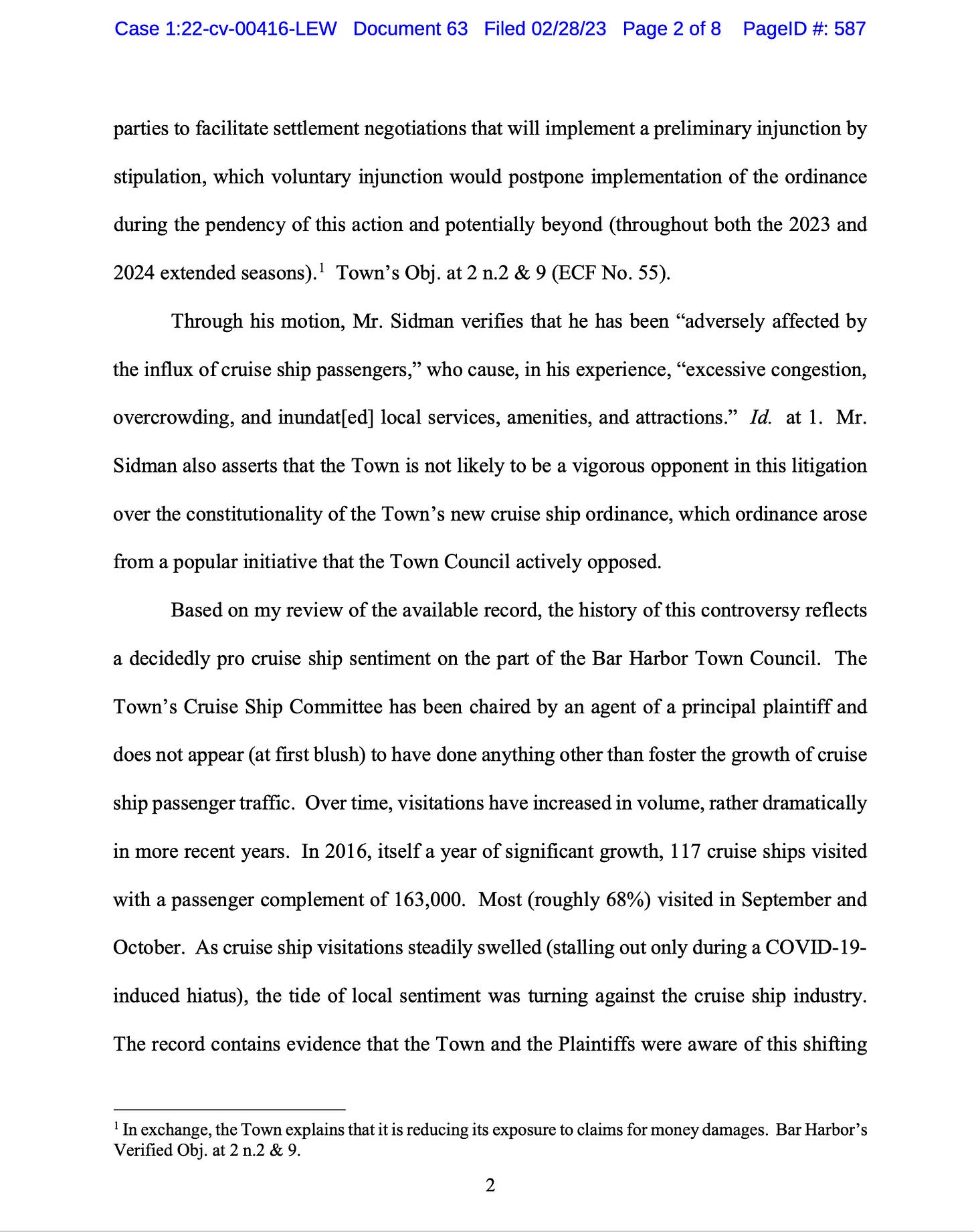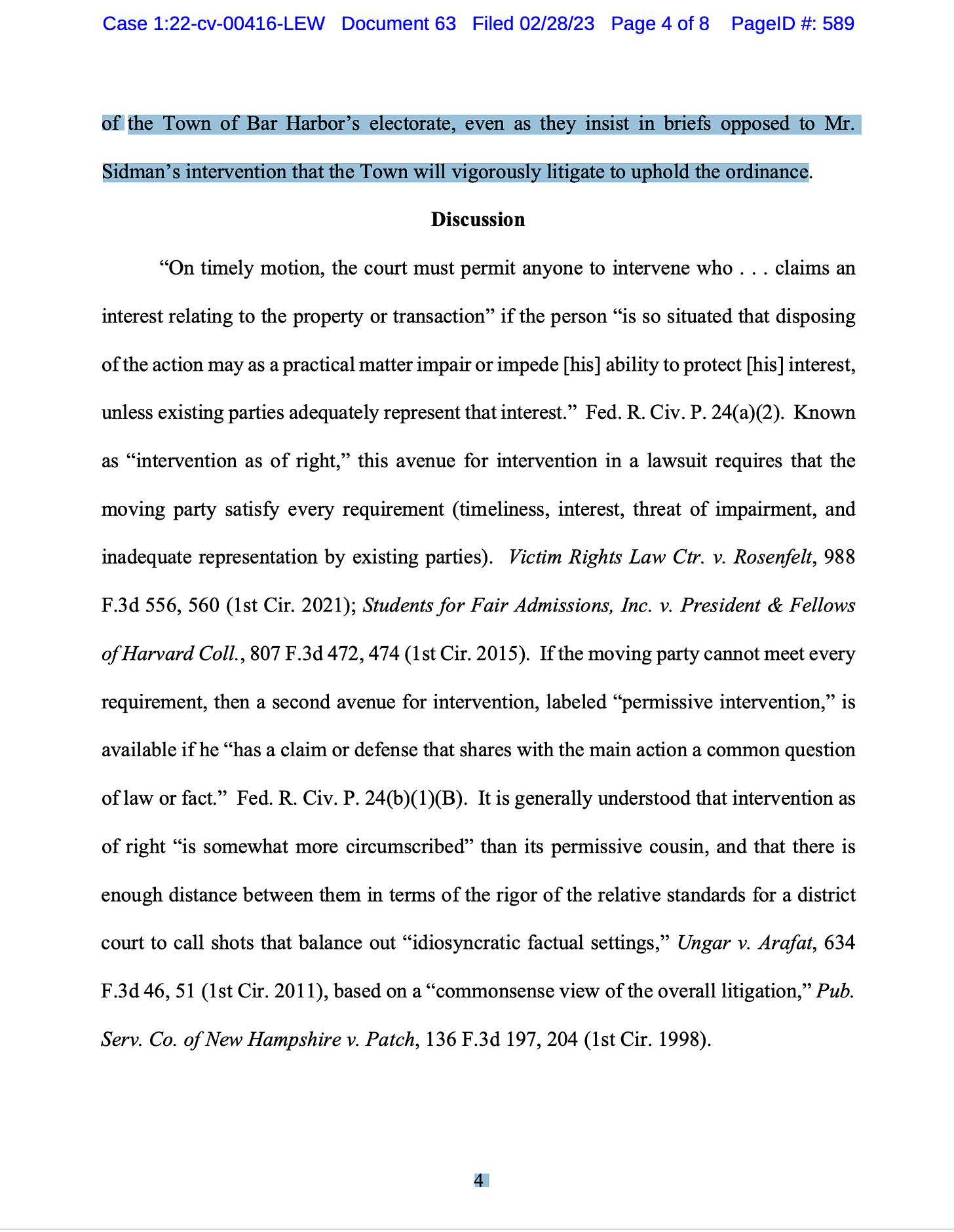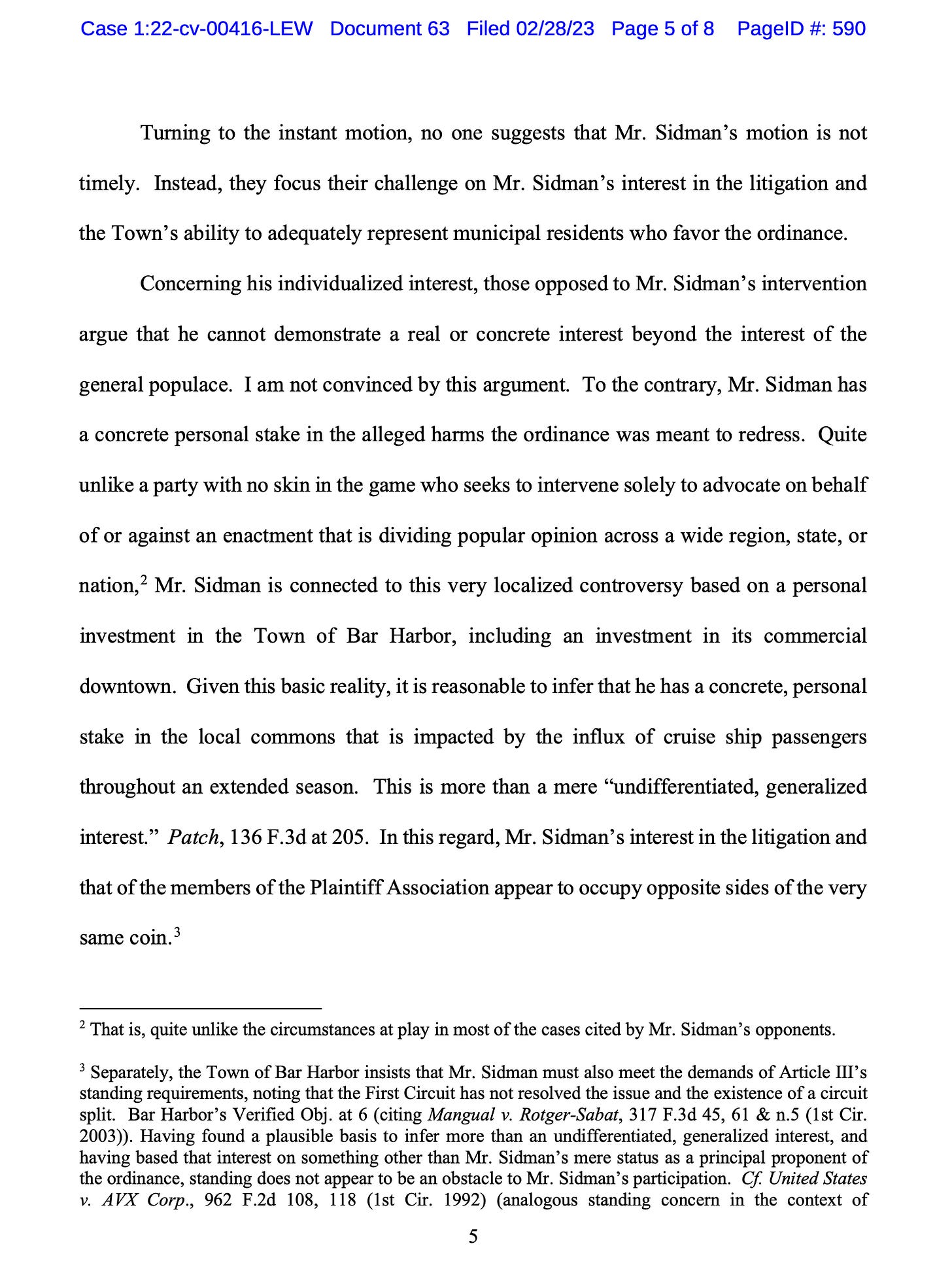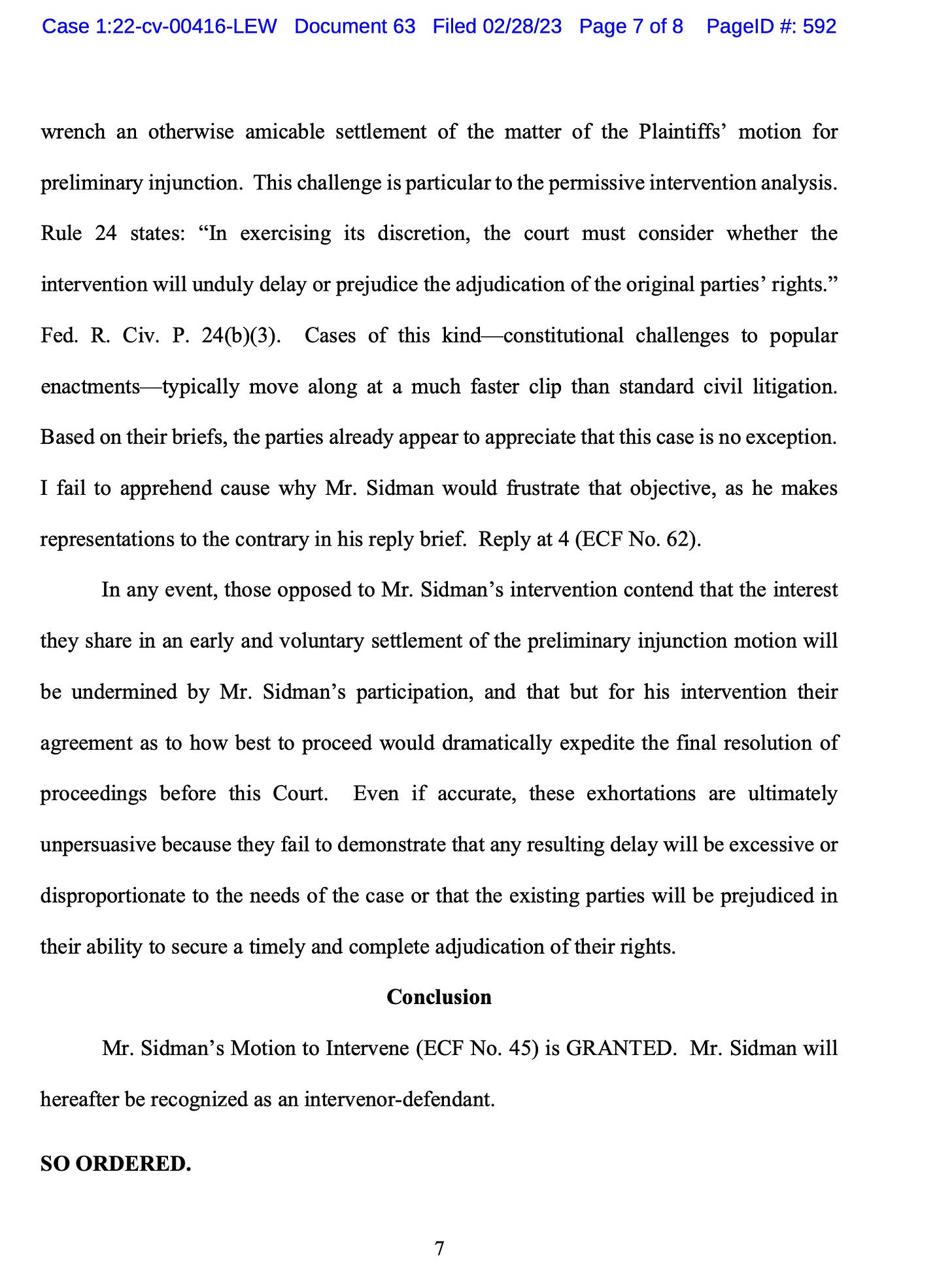 ---
LINKS TO LEARN MORE
Charles Sidman Supports His Desire To Be Part of Cruise Ship Law Suit's Defense
BANGOR AND BAR HARBOR— Charles Sidman, the lead petitioner in the cruise ship disembarkation petition that passed this November and limited daily cruise ship caps has filed a brief in support of his involvement in the United States District Court case…
7 days ago · 1 like · 1 comment · Carrie Jones
https://drive.google.com/file/d/1ajLq2XsSGMq11d2PIgx5x5amUOwfYJLn/view
Town Attorney Expects APPLL Lawsuit Will Be Settled By August
BAR HARBOR— Town Attorney Stephen Wagner from Rudman Winchell, one of a team of five working on litigation of APPLL et al vs Town of Bar Harbor gave a quick summary of the court case about the new daily cruise ship limits on Tuesday night during the Town Council's meeting. After a quick executive session, he also relayed conflict of interest advice rela…
https://www.barharbormaine.gov/126/Town-Council
https://www.barharbormaine.gov/268/Cruise-Ship-Committee
https://www.barharbormaine.gov/DocumentCenter/View/5303/Warrant-Committee-Bylaws—Adopted-August-2021
https://www.barharbormaine.gov/civicalerts.aspx?AID=1170
---
Bar Harbor Story is a reader-supported publication. To receive new posts and support my work, consider becoming a free or paid subscriber. Thanks for being here with me. And thanks for caring about news and the community.