Public can email comments until 5 p.m. tomorrow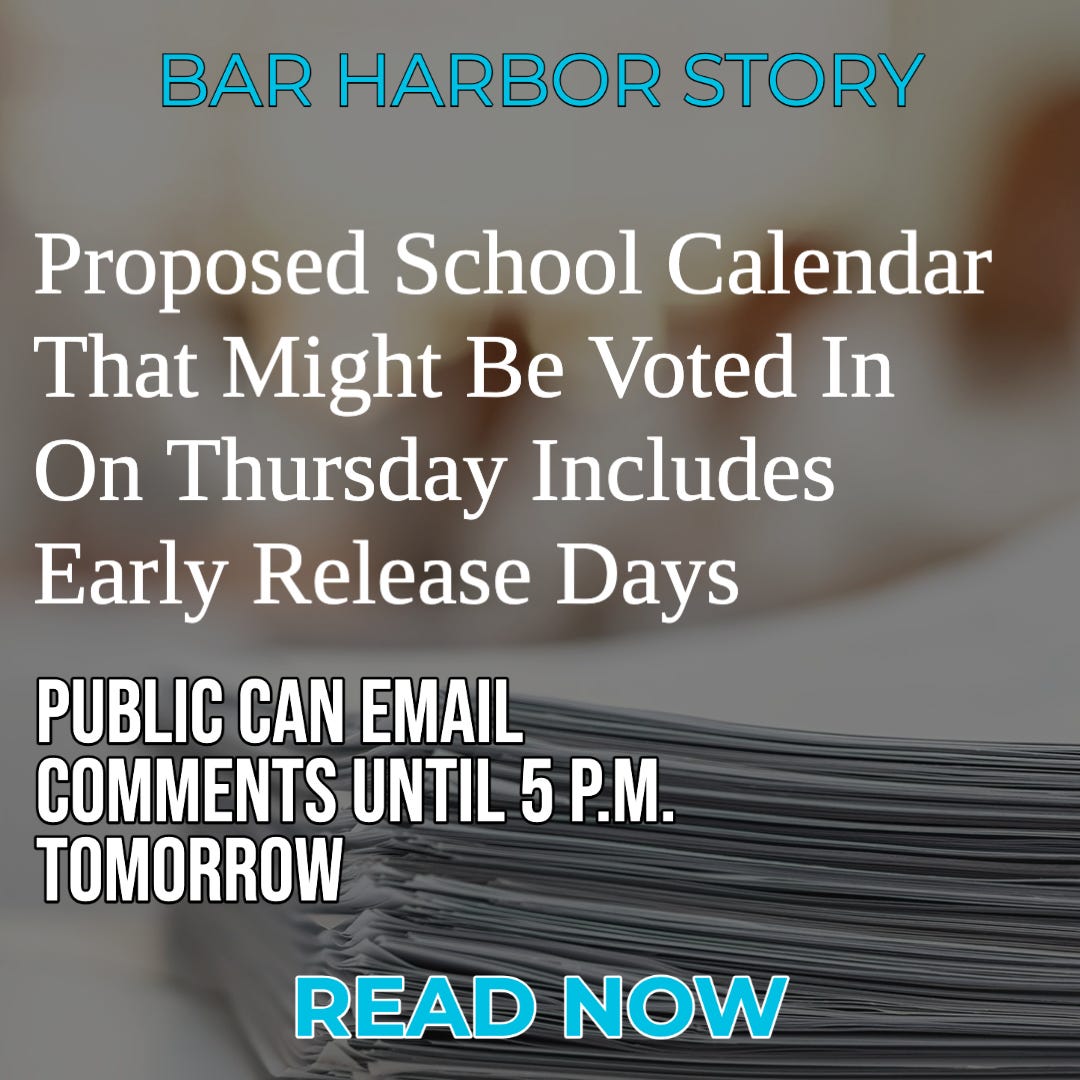 BAR HARBOR—This Thursday, the AOS 91 Board will potentially vote on a calendar that includes early release days for all district elementary and middle schools. The calendar shows releasing students 90 minutes early on 24 Wednesdays. So, instead of a 3 p.m. release, they'd be let out at 1:30. This translates to 15.5 less hours than they currently attend school throughout the year. The weeks without the proposed early release Wednesdays are where there is already a holiday or professional development day and on the second day of school.
Maine does not have a minimum number of hours or minutes in a school year and allows five days for in-service education and meetings of staff and parent conference and similar activities. Statute states that students must be in school for a minimum of five hours in the school day as a two-week average for grades 1-12.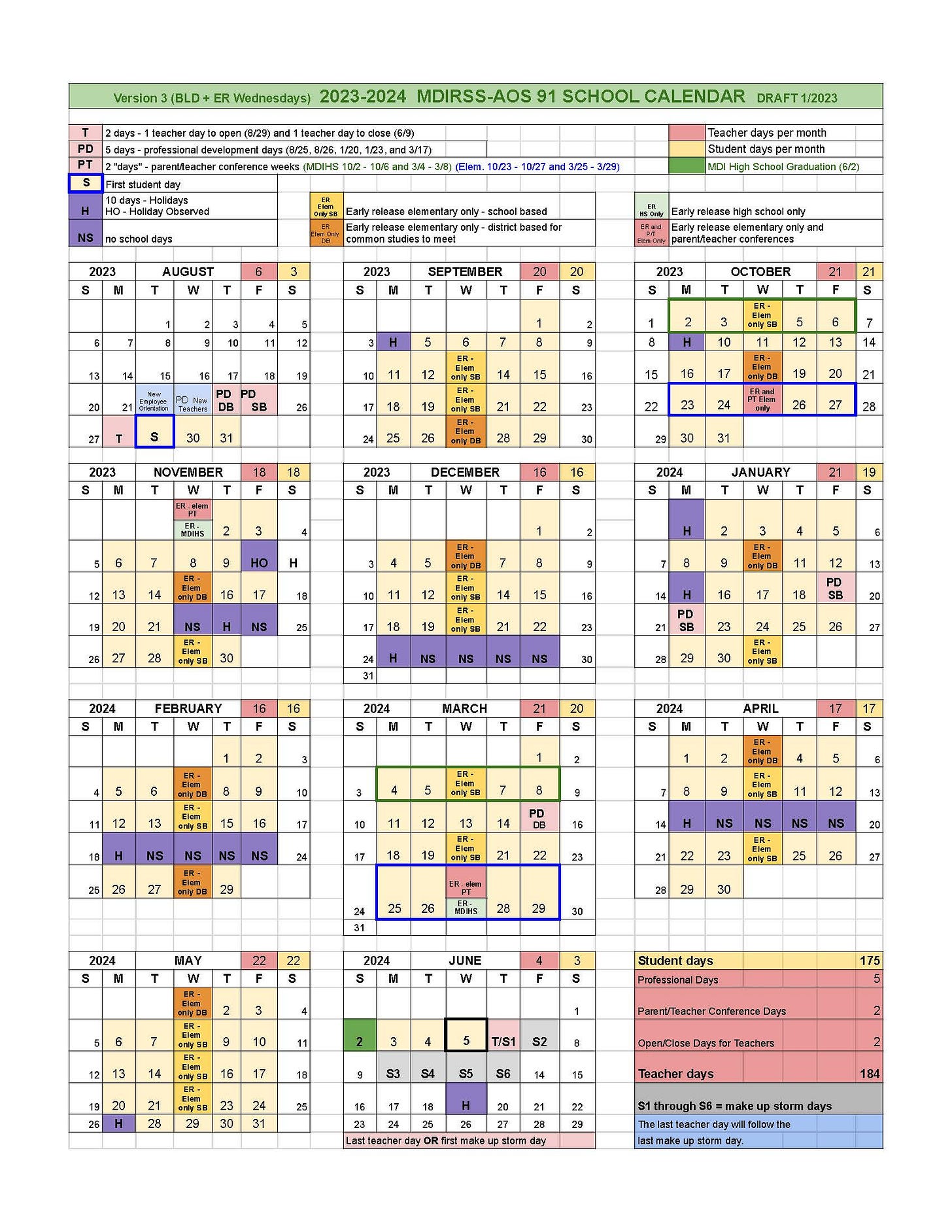 Parent Catrina Spruce spoke out at the last board meeting and told the Bar Harbor Story, "Personally, I would like to see our state legislate a minimum number of school hours, like what is already in place for most other states."
Spruce is urging others to contact state representatives in the hopes of passing legislation imposing a state-mandated minimum number of instructional hours.
Multiple parents have written documents expressing their displeasure at the change. The school district has also written an information sheet explaining the rationale.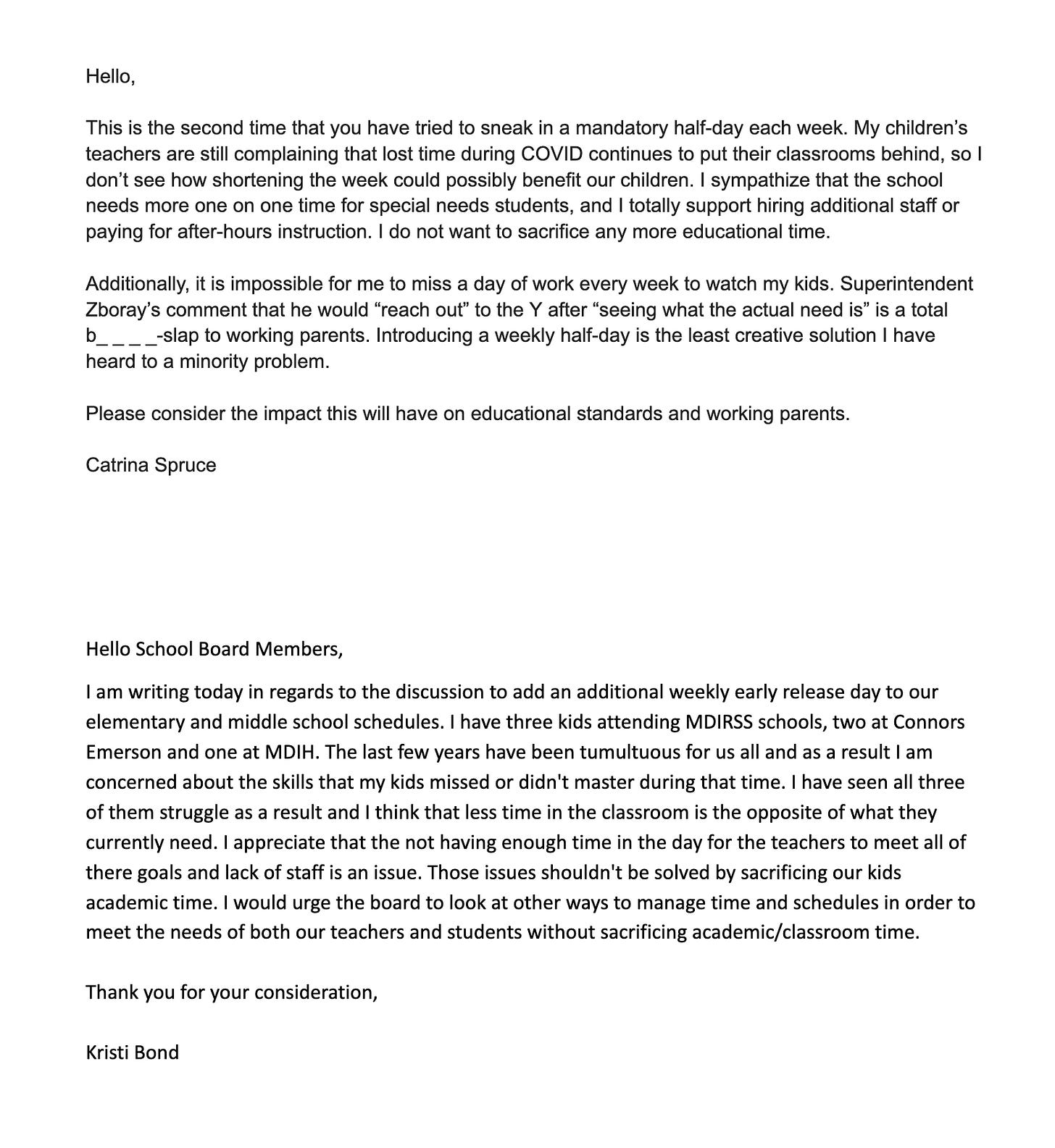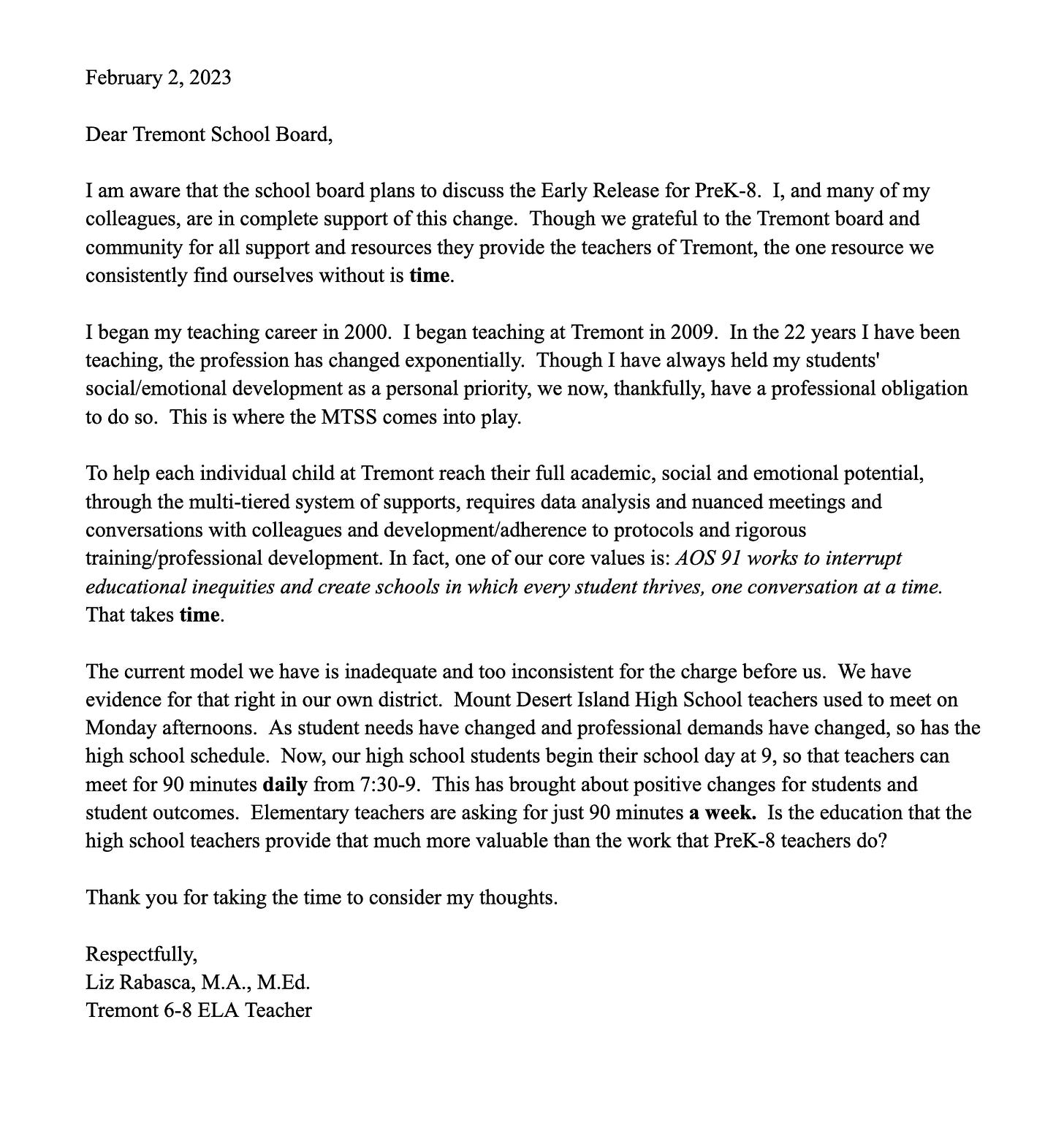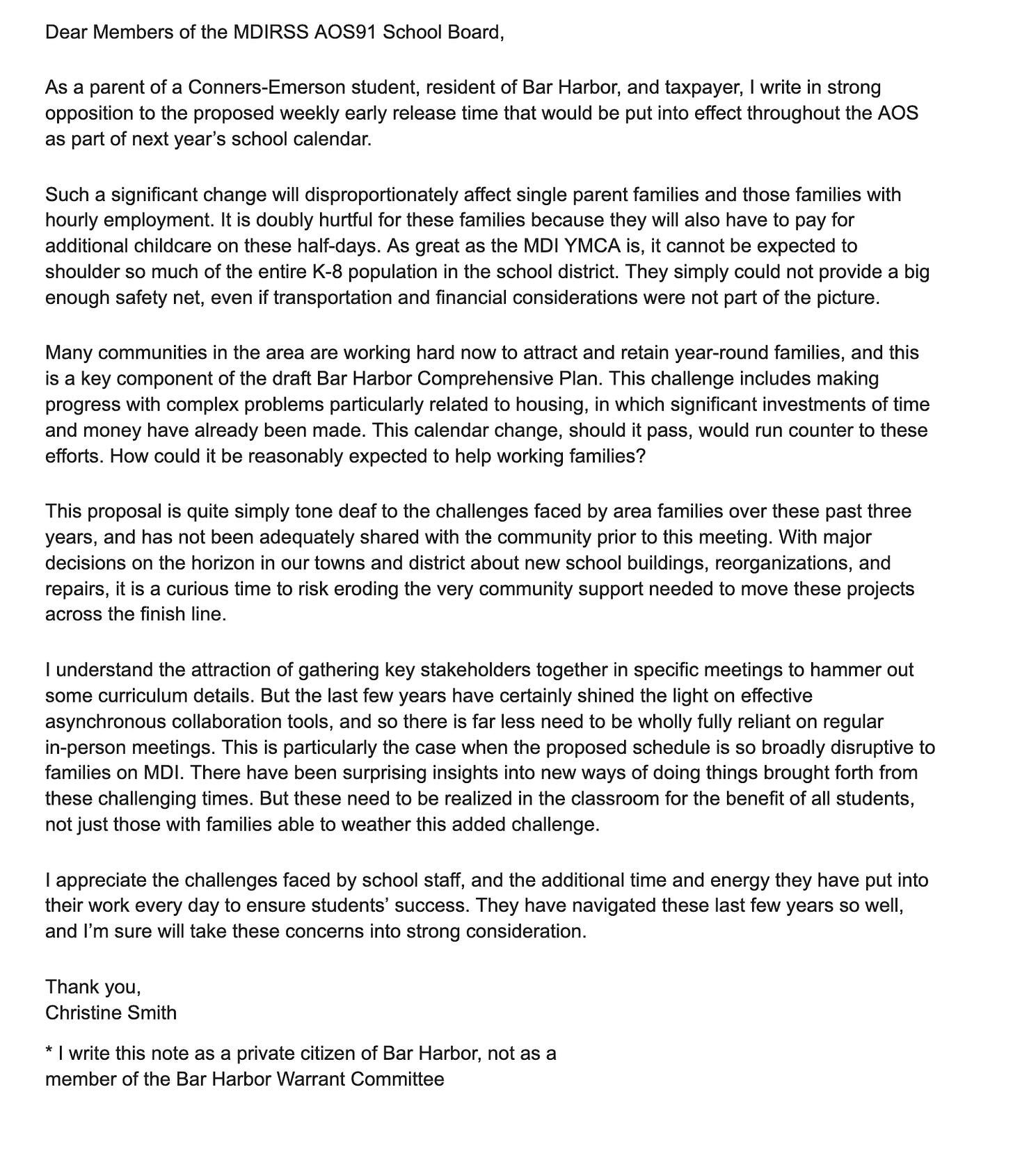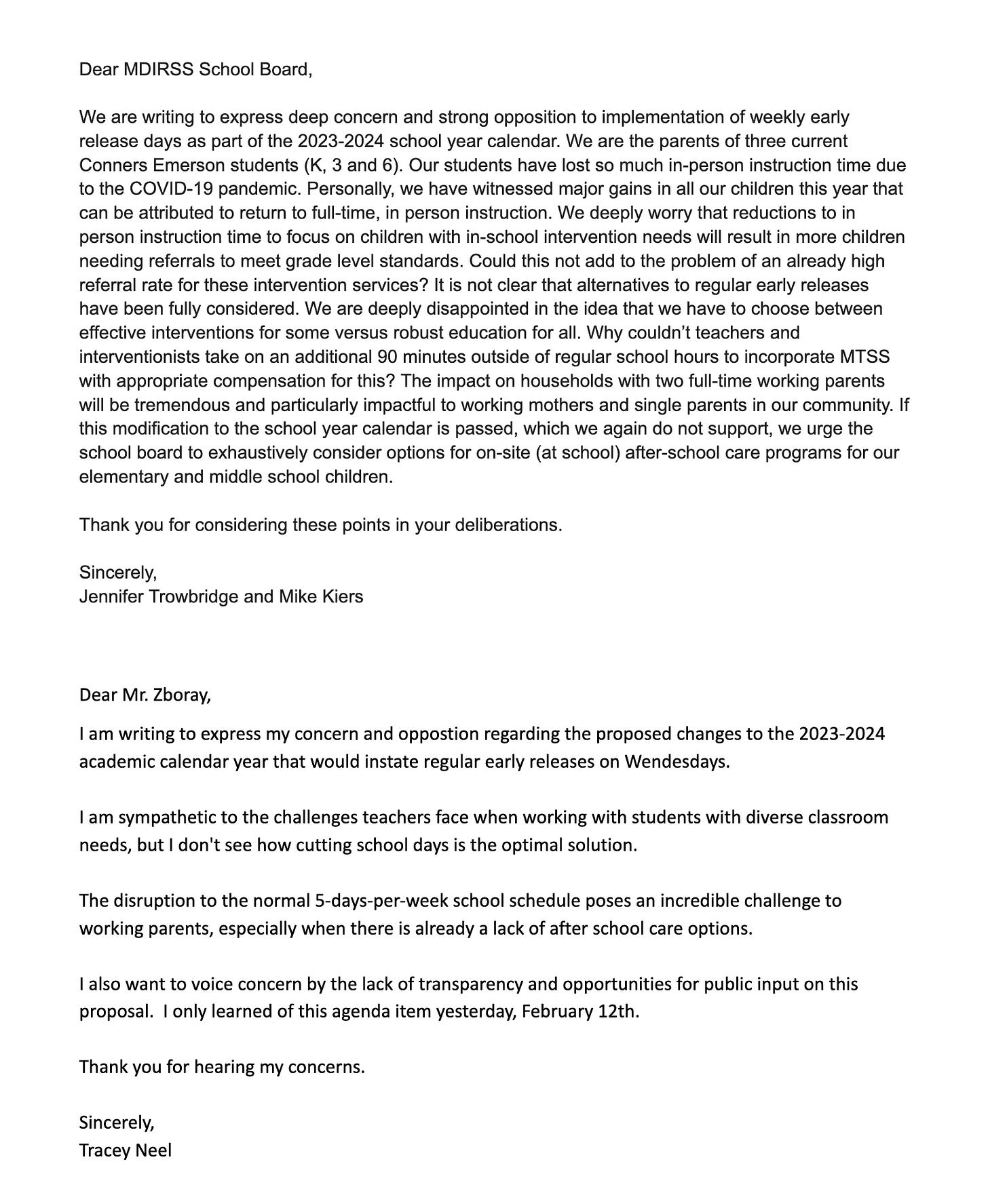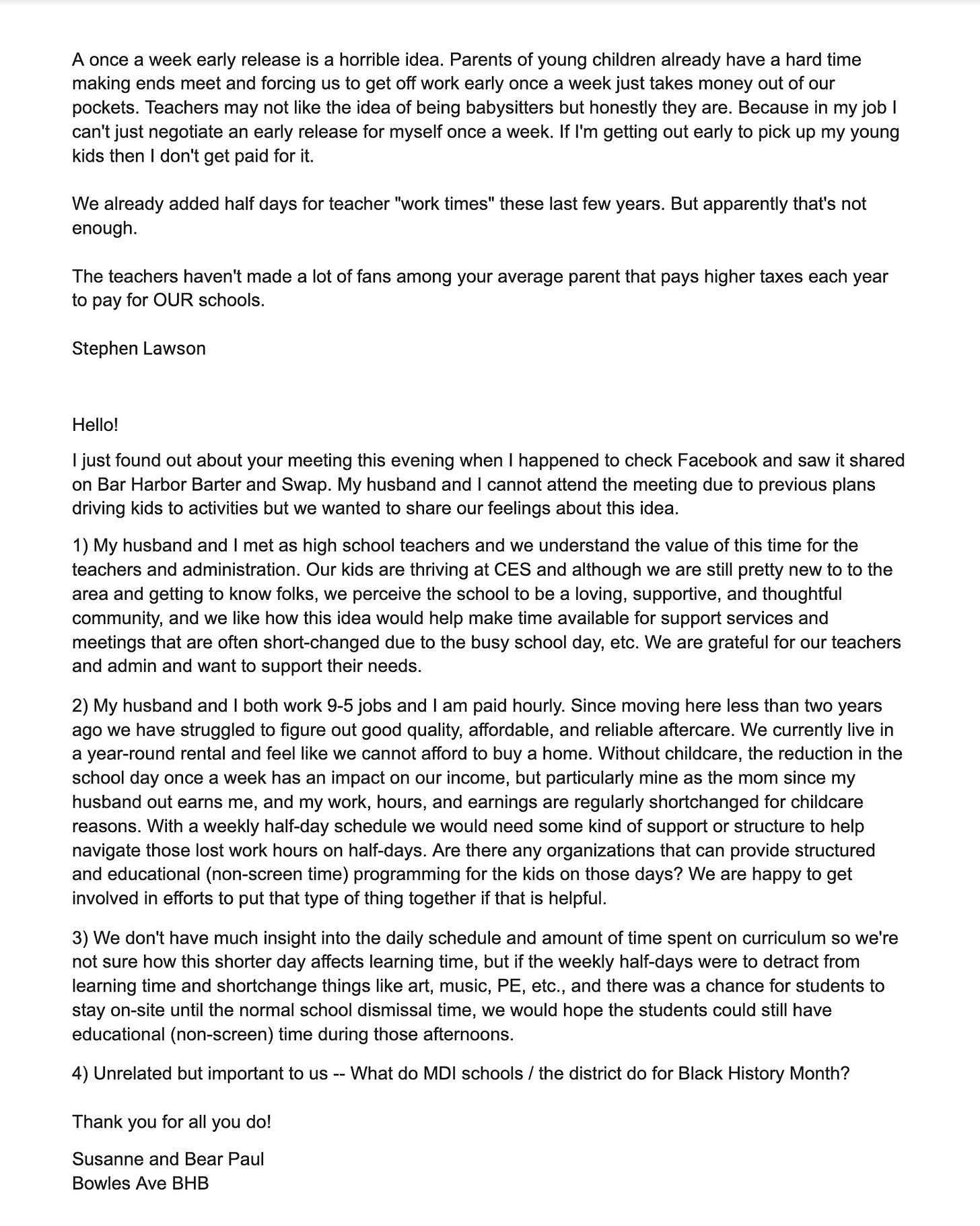 Public comment about the proposal must be emailed to mdirssboards@mdirss.org prior to 5 p.m. on Thursday, March 2.
In early February, Superintendent Michael Zboray made the case for a weekly early release day, which would decrease the school hours in that day by 90 minutes. Zboray presented the idea at a January AOS 91 board meeting and then discussed the possibility with each of the island's school boards, excluding the high school board.
At a mid-February meeting of the district board, Bar Harbor School Committee member Robin Sue Tapley said that since Bar Harbor doesn't have sports on Friday that day would work better for an earlier release. Another board member said that a three o'clock release is difficult already for many working parents.
"What are we supposed to do at 1:30 in the middle of the week?" he asked.
The plan is still for Wednesdays.
In a February 28 article in the Mount Desert Islander by Dick Broom, he quotes Zboray as saying, ""I have sent out a survey to parents to get a sense of what the actual need is for families. So, we'll see what that is and then see if the schools or our local partners can meet that need."
---
WHAT IS MTSS?
The proposal is to release students early approximately once a week so that the entire staff can use that 90 minutes to work in teams to meet the individual needs of students that might need extra help. These students aren't necessarily part of special education, but would benefit from individualized attention that is covered under MTSS, a program that involves multi-tiered systems of support. This is a state policy.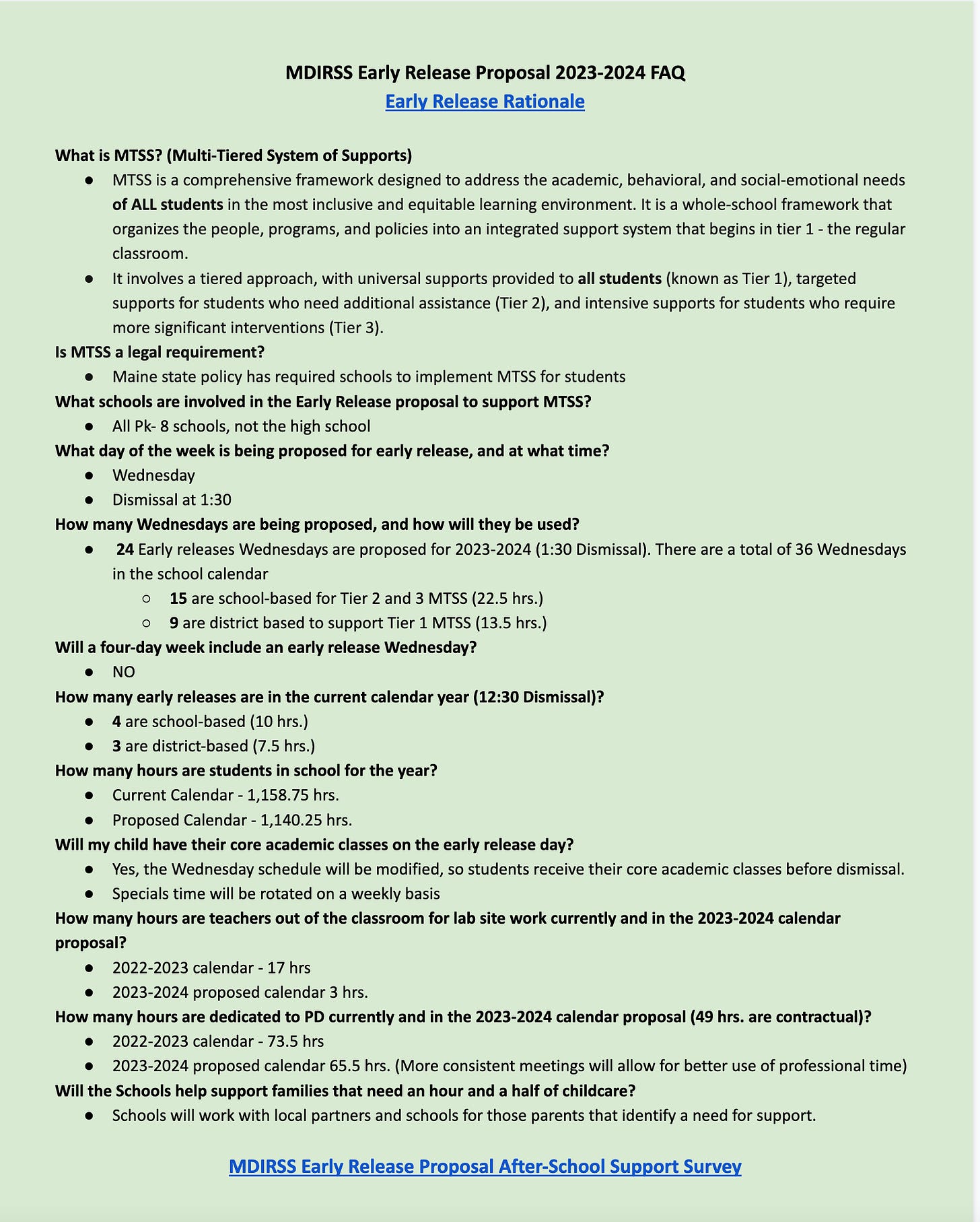 MTSS is defined in the pre-kindergarten through grade 8 early release rationale memo as "a framework that utilizes data-driven decision making to support the academic, behavioral and social-emotional learning needs of all students. It involves a tiered approach, with universal supports provided to all students (known as Tier 1), targeted supports for students who need additional assistance (Tier 2), and intensive supports for students who require more significant interventions (Tier 3)."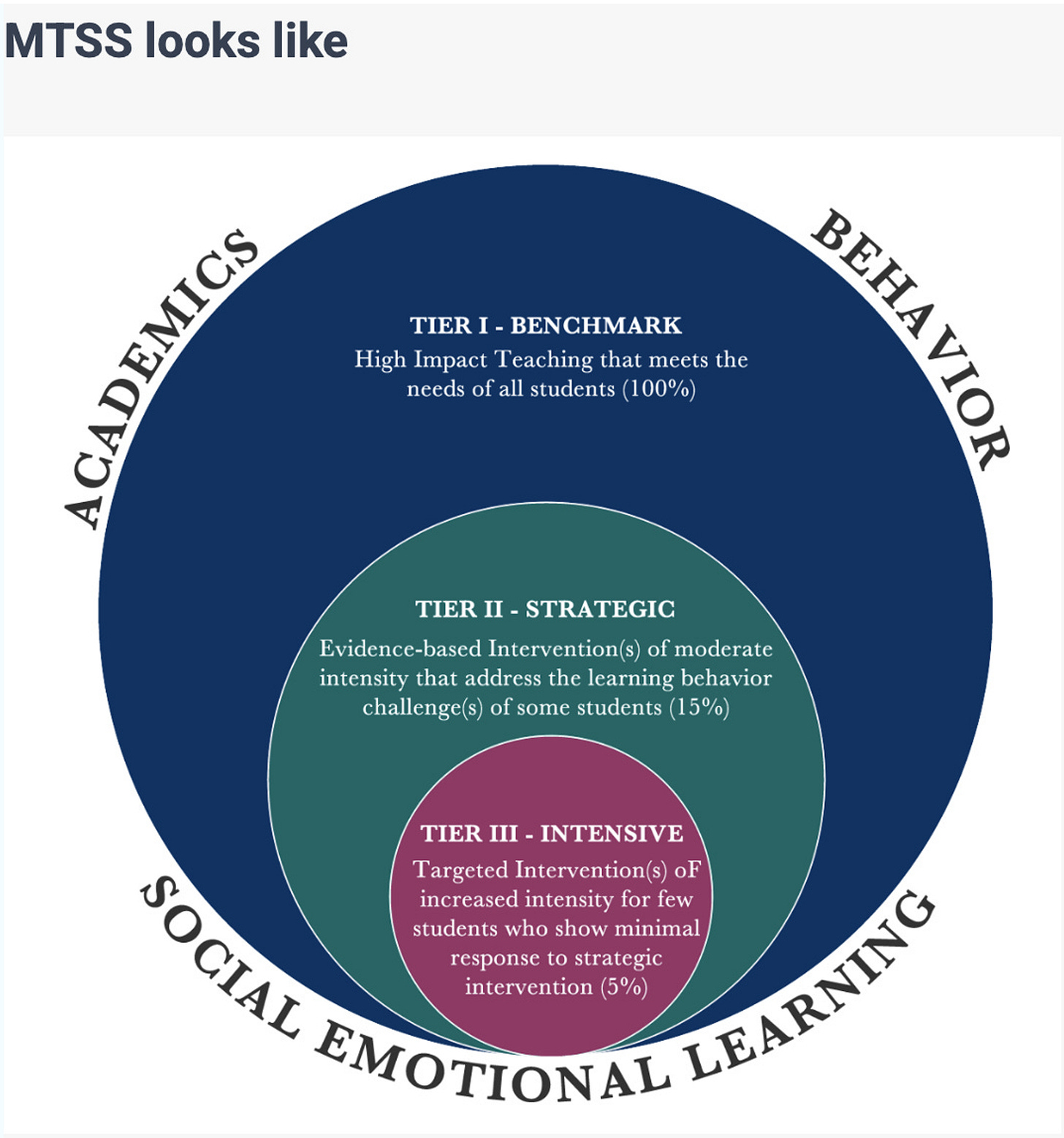 The memo says that the systems of support concept can be a bit complicated and explains further:
"First, an MTSS meeting is focused on addressing how the best educational practices are being carried out for all, and then the specific needs of students who are struggling academically or behaviorally. This requires a deep understanding of best practices and individual students' needs, as well as the ability to analyze data and make evidence-based decisions about how to support students.

"Second, an MTSS meeting involves a team of professionals with different areas of expertise, such as teachers, special education teachers, school psychologists, and other support staff. This team must be able to collaborate effectively and communicate with different professionals to develop the comprehensive plans necessary for supporting students.

"Third, an MTSS meeting requires a high level of organizational skill and attention to detail, as the team must keep track of students' progress and make adjustments as needed.

"Overall, an MTSS meeting requires a complex and nuanced approach to addressing student needs. It also requires strong collaboration, communication and analytical skills from all parties involved. As such, an MTSS meeting requires dedicated time, organization-wide focus, and preplanning to coordinate and develop the expertise required for the implementation."
The meeting is scheduled for Thursday, March 2 at 5 p.m. at the MDI High School library. It can be viewed on YouTube.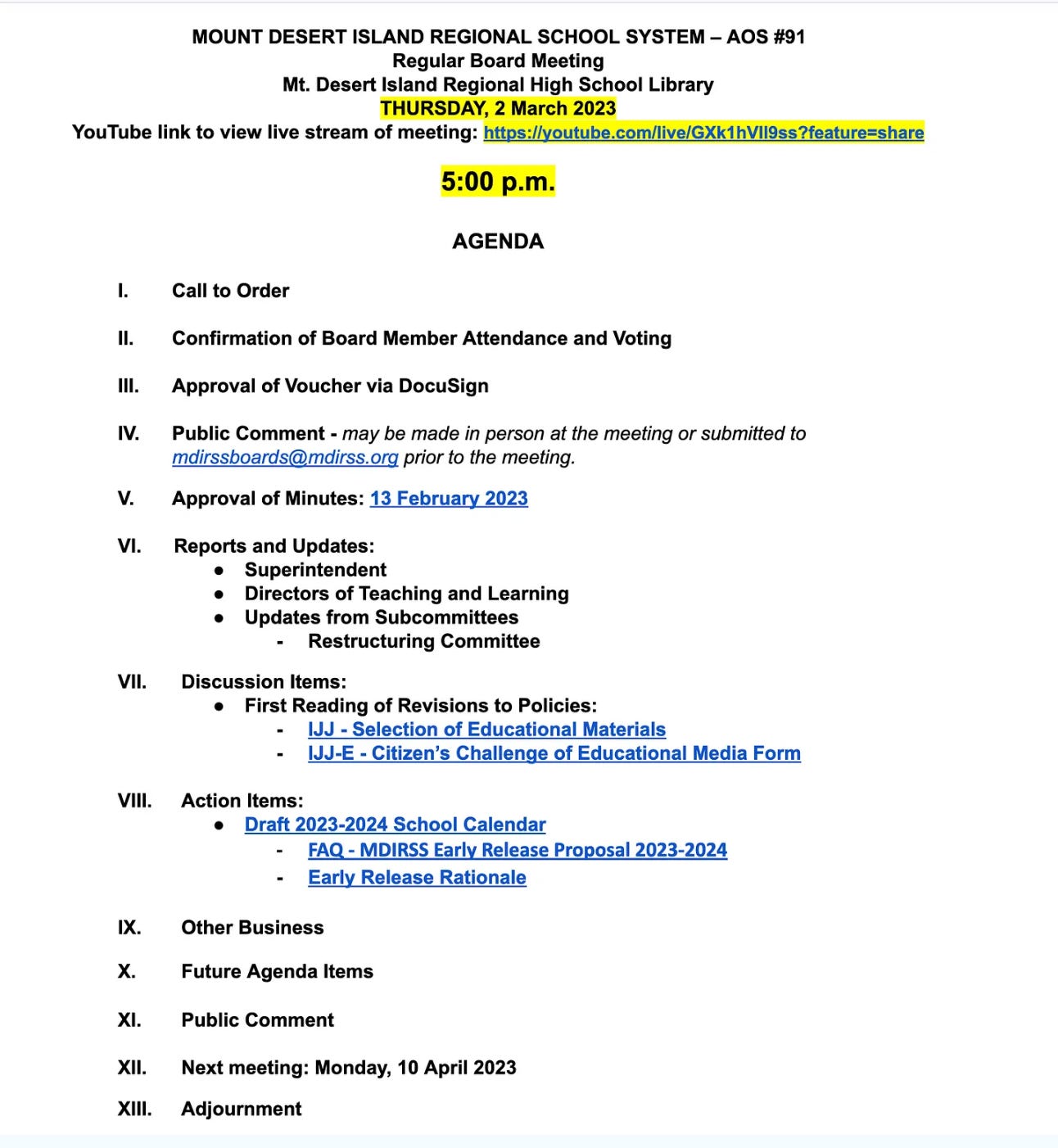 LINKS TO LEARN MORE
Bar Harbor School Board Learns More About Weekly Early Release Day Possibility
Total Reorganization? New Early Release Days?
https://www.playgroundequipment.com/how-many-days-and-hours-of-school-time-per-us-state/
https://reports.ecs.org/comparisons/instructional-time-policies-2023
https://drive.google.com/file/d/10ZJEeqcKU9hb2Cb4RUQRuOgCQ1egTKKX/view
https://docs.google.com/document/d/1oKsbvr_Y04DsGUXUc9wKV3KT2Ov3LV1_QnKCjoShjhs/edit
https://docs.google.com/document/d/148m3OunNvqXXlDlam_bmZksWDqnn2qevMEEvc3Z8Ieg/edit
https://www.waldenu.edu/online-doctoral-programs/doctor-of-education/resource/the-pros-and-cons-to-longer-school-days
https://www.nea.org/advocating-for-change/new-from-nea/9-5-school-day-are-longer-hours-better-students-and-educators
https://www.mdislander.com/news/education/early-release-plan-goes-to-school-board/article_9d1ae3ee-b6ca-11ed-be94-339629d517bc.html
Here are the public comments from last meeting: https://docs.google.com/document/d/1gDKogci6G2l7lDugFYSwdsk8kMAydwz4ZBZPVQ_KJbg/edit#
Here is a link to the contact info for the Bar Harbor school board members: https://www.barharbormaine.gov/280/Superintending-School-Committee
State Senator Nicole Grohowski: https://openstates.org/person/nicole-grohoski-6yXlWv6cn9ExMqsglB7dzm/
State Representative: Lynne Williams: https://openstates.org/person/lynne-a-williams-1FLjAry2OtC982441HlSM/
---
Again, if you'd like your opinion heard prior to the vote, you must email it to mdirssboards@mdirss.org prior to the 5 p.m. meeting on March 2, or come in person for the public comments at the beginning or end of the meeting.
---
Bar Harbor Story is a reader-supported publication. To receive new posts and support my work, consider becoming a free or paid subscriber. Thank you so much for being here and being part of the community with me.