Maine Lobstermen's Association v. National Marine Fisheries Service Proceeded Friday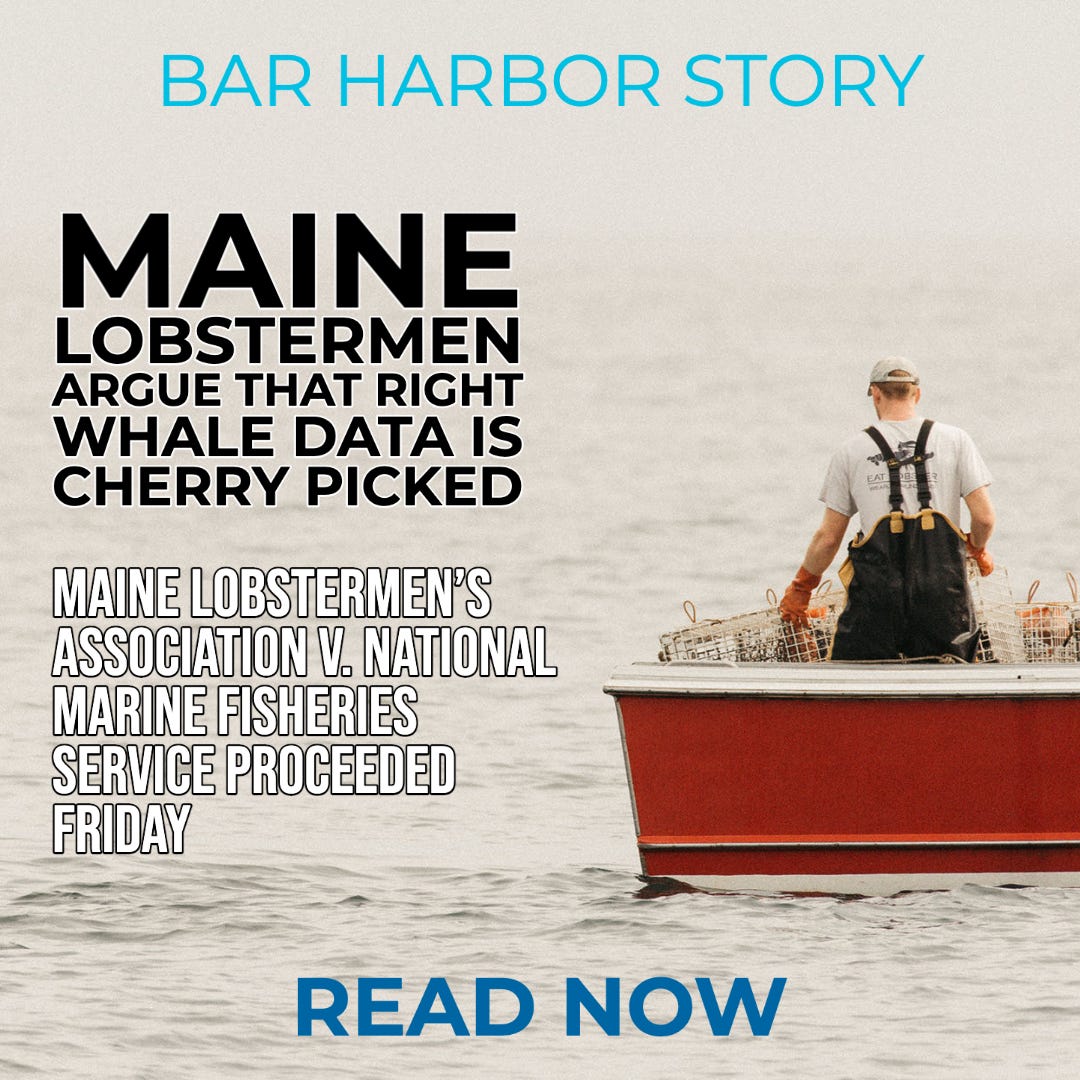 WASHINGTON, DC—The Maine Lobstermen's Association argued Friday in a federal appeals court that there were procedural errors that occurred when the National Marine Fisheries Service recommended several measures to protect right whales. The recommendations would impose new regulations for lobster fishers.
Paul Clement, the attorney representing the Maine Lobstermen's Association said that the Marine Fisheries Service failed to follow the Endangered Species Act rules. Instead, he said, the agency looked at worst-case scenarios. He argued that data showed all entanglements from 2016-2018 showed Canadian gear at fault, not Maine fishing gear. That gear can cause the whales to become entangled and die.
He said that the government agency only used data that gave them a rationale to create stricter regulating decisions and ignored data that didn't support those decisions. Clement has said that there is administrative overreach on behalf of the federal government.
The National Marine Fisheries Service does not believe this is true. The agency's attorney, Sommer Engels, said that there is limited data on the 340 right whales still alive.
There has been a six-year pause on the fishery's need to adhere with the new rules because of an amendment in a federal spending bill which passed in December. That amendment was put into the bill by Maine congress members. The move was criticized by multiple conservation groups who believe that the pause will make the whales extinct.
Parties have intervened in support of both sides of the case with the Maine Department of Marine Resources intervening for the Maine Lobstermen's Association.
Recently a 20-year-old male right whale died from blunt force trauma caused by a vessel. This year, four have suffered entanglements from gear. Vessel strikes, entanglement in fishing gear, and seismic blasting all can kill the whales.
Last summer, Judge James Boasberg (District of Columbia) ruled that those who regulate federal fisheries broke the federal law that keeps the whales safe. In a 43-page decision, the court said that the approximately 350 whales that are still alive could become entangled in fishing gear and die. He ruled that National Marine Fisheries Service officials violated the Endangered Species Act when they said that lobster fishing and Atlantic crab fishing wouldn't have an impact on right whale extinction.
Maine has a $725 million lobster industry. Groups concerned with conservation of species say that the industry is a reason for right whale deaths because of gear entanglements with ropes. The whales become entangled and then drown. Alternatively, the ropes creates cuts that could become infected, or the whales starve if the lines are around their mouths and inhibit the filtration of food via the baleen. Maine lobstermen say that the whales rarely appear in the waters they fish, and they have challenged the NOAA assessment and new regulations. The lobstermen also state that the Maine industry and lobstermen want to protect right whales and have been making significant advancements trying to do so.
Kristan Porter, president of the Maine Lobstermen's Association, told the New York Times's Annie Roth in September, "The way we manage our fishery has always been one of the best. As a fisherman, all I can do is go by the rules that are in front of me."
---
LINKS TO LEARN MORE
https://archive.org/details/gov.uscourts.cadc.22-5238
https://www.docketalarm.com/cases/District_Of_Columbia_District_Court/1–21-cv-02509/MAINE_LOBSTERMEN%27S_ASSOCIATION_v._NATIONAL_MARINE_FISHERIES_SERVICE_et_al/1/
https://www.mainepublic.org/environment-and-outdoors/2022-12-20/maines-federal-lawmakers-get-reprieve-for-lobstermen-in-national-spending-bill
https://www.cbsnews.com/boston/news/north-atlantic-right-whale-death-vessel-strike-new-england-aquarium/
https://www.maine.gov/governor/mills/news/maine-congressional-delegation-and-governor-mills-call-seafood-watch-immediately-reverse
Click to access me_delegation_letter_to_monterey_bay_aquarium_re_red-listing_090822.pdf
https://www.mainelobstermen.org/
https://www.seafoodsource.com/national-fisherman/us-judge-rejects-maine-lobstermen-s-appeal-of-new-rules
https://prod.seafoodwatch.org/
https://www.reuters.com/legal/government/lobster-fishing-endangers-whales-says-judge-backing-feds-finding-2022-09-09/
https://www.fisheries.noaa.gov/species/north-atlantic-right-whale
https://www.fisheries.noaa.gov/national/endangered-species-conservation/reducing-vessel-strikes-north-atlantic-right-whales
https://harborfish.com/the-history-of-the-maine-lobster-industry/
https://www.maine.gov/dmr/science/species-information/maine-lobster/whale-rules
https://www.maine.gov/dmr/fisheries/commercial/fisheries-by-species/lobsters
---
Bar Harbor Story is a reader-supported publication. To receive new posts and support our work, consider becoming a free or paid subscriber. Thank you so much for being here with me and I hope you have a lovely Sunday.