A federal court case and seafood watch strike dual blows on the industry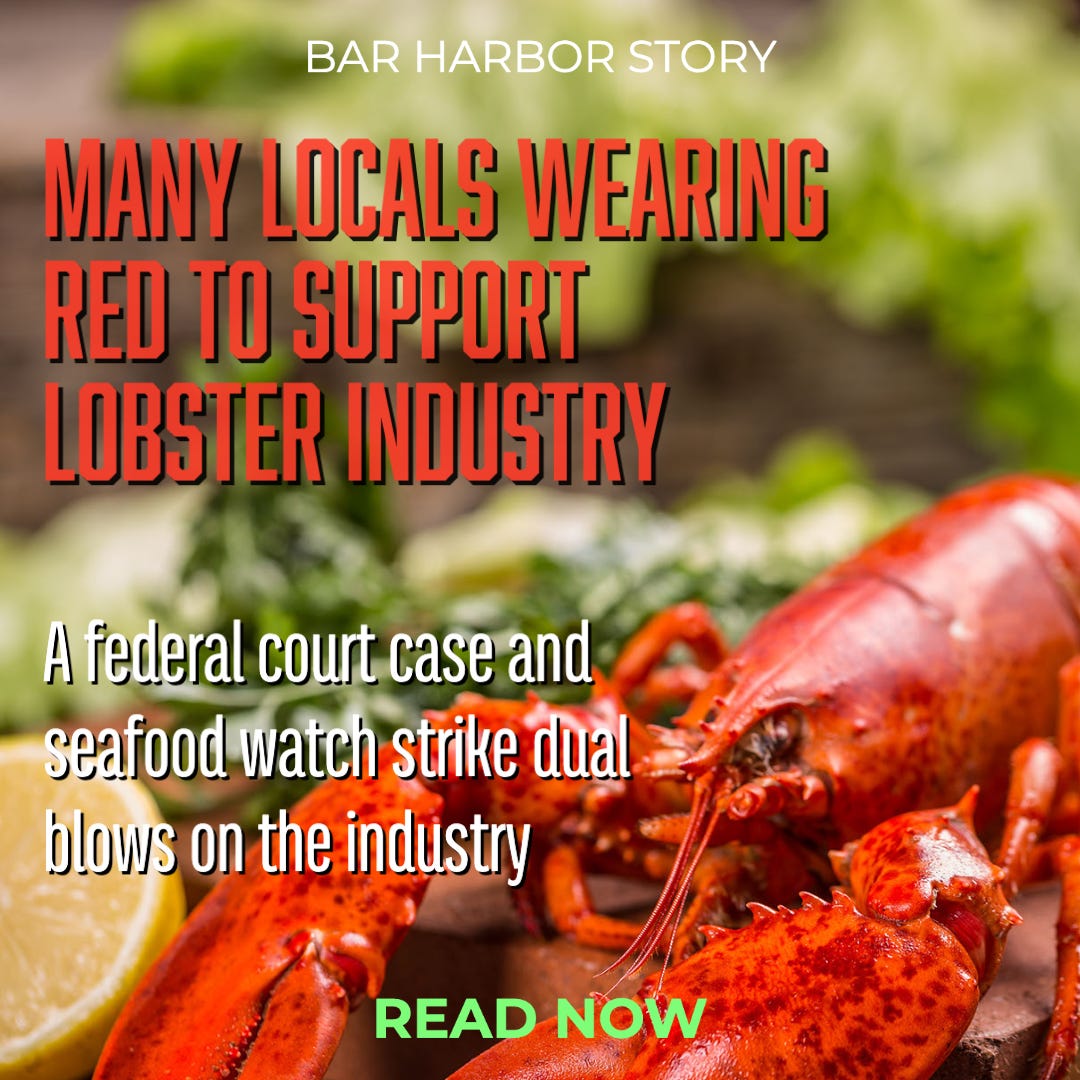 BAR HARBOR—Many locals are purposefully wearing red today to show their support of the lobster industry after the Monterey Bay Aquarium Seafood Watch lowered North American lobster to a "red/avoid" status because the industry may impact North American right whales on September 5.
The organization has four possibilities for recommended purchases of seafood that range from best choice to avoid. Along with North American lobsters, Canadian snowshoe crabs and fish such as European anchovies, black seabream, channel catfish, pollock, Atlantic salmon, sardines, and Atlantic cod are on that avoid/red list.
The website reads:
"American lobster caught in the U.S. Atlantic (Gulf of Maine and Georges Bank fishery) with pots should be avoided. This fishery poses a risk to overfished or at-risk species, including endangered North Atlantic right whales. Entanglement in fishing gear is the leading cause of serious injury and death to North Atlantic right whales. As a result, bycatch management is rated ineffective for all pot and set gillnet fisheries operating within the North Atlantic right whale's range because current management measures do not go far enough to mitigate entanglement risks and promote recovery of the species. Pots typically have fewer impacts on habitat, but the cumulative effects of large-scale fishing are likely underestimated. Some measures to protect the ecosystem have been implemented, but stronger policies are needed to protect American lobster's role in the food web. The Gulf of Maine and Georges Bank stock is healthy, and overfishing isn't occurring."
At the same time, Maine's state government and industry are appealing a federal court decision by U.S. District Court Judge James E. Boasberg that refused the industry to postpone restrictions that are meant to help keep right whales safe (Maine Lobstermen's Association Inc. v. National Marine Fisheries Service et al, U.S. District Court for the District of Columbia, case No. 21-2509.)
The Maine Lobstermen's Association said that the decision "failed Maine's lobster industry" and that it was clear that the court nor the National Marine Fisheries Service realized, "The devastating impacts their decisions will have on the Maine lobster industry, our coastal communities and the state of Maine."
The MDI RSS Superintendent Michael Zboray sent out the following statement to the school community on Thursday, September 22.

In 2021 the U.S. government ruled that there should be fewer vertical ropes when whales are migrating and that restricts buoy lines as well. The lobster industry believes that the North Atlantic right whales are not as threatened by those ropes as believed by the National Marine Fisheries Service and conservation groups. Since 2017, 34 right whales have died either because of line entanglement or being hit by vessels in the U.S. and Canada. Those vessel strikes are not explicitly linked to lobster fishing vessels as opposed to other vessels.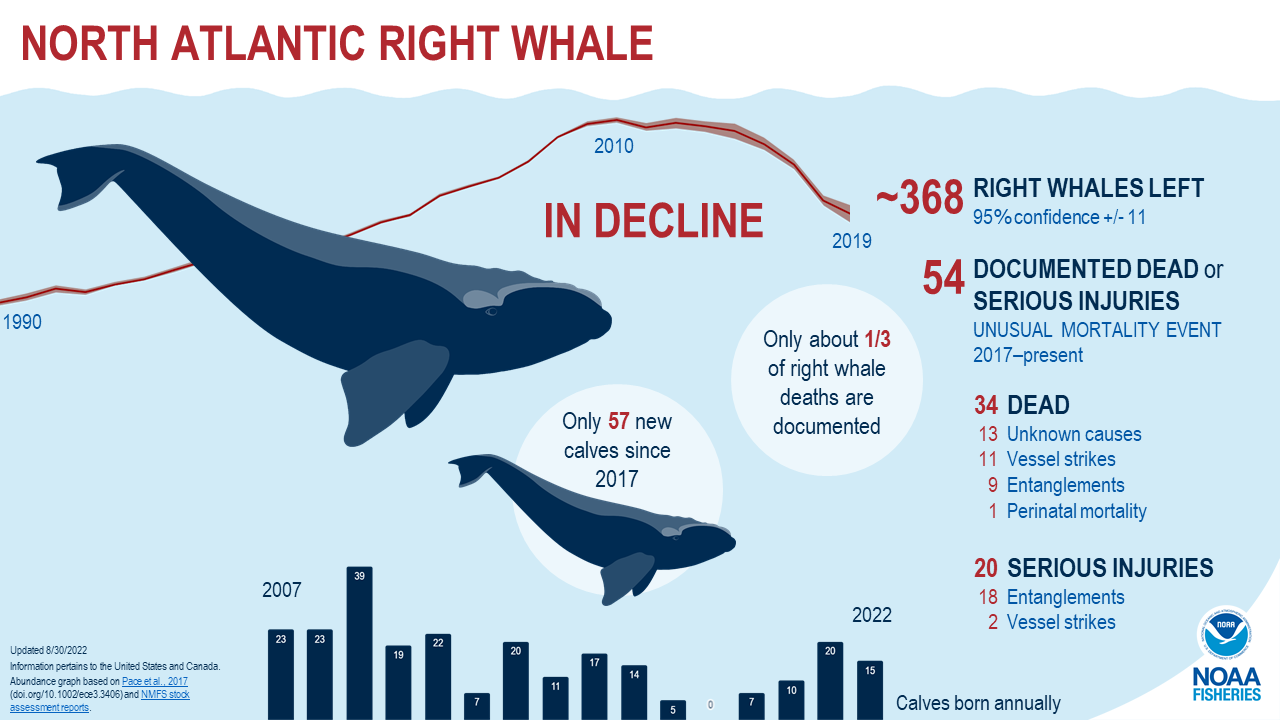 According to the NOAA Fisheries, "The North Atlantic right whale is one of the world's most endangered large whale species; the latest preliminary estimate suggests there are fewer than 350 remaining." The whales were hunted until they were almost extinct by the 1890s. NOAA also believes climate change as well as human activities which make noise could "interfere with right whale communication and increase their stress levels." It is proposing reduced speeds of boats over 65 feet to 10 knots or less in various coastal locations.
In 2021, lobstering in Maine generated $735 million dollars of lobsters or 108 million pounds of lobster. Maine lobster industry proponents have said that deaths of right whales due to entanglement have not been documented since 2004 and there are no recent right whale deaths connected to Maine lobstering gear.
Maine political leaders have stressed that most North Atlantic Right Whale deaths because of vessel strikes occurred in Canada.
On September 9, Governor Janet Mills as well as Senator Angus King, Senator Susan Collins, and Representative Chellie Pingree and Representative Jared Golden wrote a letter to the Monterey Bay Aquarium Seafood Watch asking it to change the listing, writing,
"Right whales are not dying in Maine lobster gear and the report blindly ignores everything that Maine lobstermen have done to create a sustainable industry," the letter states. "Make no mistake, your designation will have a real world impact – with the industry already facing challenges, the inaccurate designation will hurt the thousands of hardworking lobstermen, their families and businesses across our state."

" There has not been a right whale entanglement with Maine lobster gear since 2004, and right whale deaths or serious injury have never been attributed to Maine lobster gear.
The majority of right whale deaths since 2017 have been due to vessel strikes in Canada. In fact, 23 of the 30 whales that died between 2017-2019 were found in Canadian waters or were a result of entanglement in Canadian fishing gear.
The Maine lobstering community has taken many measures, including eliminating all floating rope (the type of rope most likely to entangle whales) and removed more than 30,000 miles of line from the water, facts your report conveniently ignores.

"By ignoring these clear facts, Seafood Watch isn't encouraging safe fishing; instead, you are damaging the reputation of your certification process by misleading consumers. There's an easy way to fix this – now that you've seen the facts, reverse your decision and take lobster off the 'Red List."
They also said,
"If the decision is not reversed, the leaders call for answers on five key questions:

How does harming an already challenged lobstering community with little to no evidence of right whale entanglements promote the safety of right whales?

Monterey Bay Aquarium's Seafood Watch listed Maine Lobster as a "Good Alternative" in 2014. Since then, the Maine Lobster fishery has implemented even more changes to protect right whales. Why does the new report fail to take these actions into consideration?

Claiming that any fishery with rope in the water as an equal threat to right whales undermines efforts by Maine lobstermen to make gear safer, as well as Seafood Watch's purpose to distinguish between fisheries working to improve sustainability measures and those that aren't. Why does Seafood Watch use a blanket assessment rather than putting in the effort to be specific and accurate?

In presenting its pseudoscientific claims, why did Seafood Watch omit objective facts that would present a more comprehensive view of the reality?

What steps is Seafood Watch prepared to take to remedy the significant harm they have already inflicted on the Maine lobster industry?'
Mills released another statement saying,
"My administration continues to stand with the Maine Lobstermen's Association in fighting this wrong and out-of-touch court decision that jeopardizes the livelihoods of thousands of Maine families," Mills said. "We will continue to fight to see that the Federal government uses sound science and proven facts – most notably that Maine lobster gear has never been responsible for the death of a right whale and that lobstermen have undertaken substantial measures, at great personal expense, to protect them."
According to a piece by John Dory for the Harbor Fish Market, lobstering used to be done by hand along the coast. Traps began around 1850 and many consider lobster to be Maine's first commercial fishing industry.
---
LEARN MORE
https://www.maine.gov/governor/mills/news/maine-congressional-delegation-and-governor-mills-call-seafood-watch-immediately-reverse
https://www.mainelobstermen.org/
https://www.seafoodsource.com/national-fisherman/us-judge-rejects-maine-lobstermen-s-appeal-of-new-rules
https://prod.seafoodwatch.org/
https://www.reuters.com/legal/government/lobster-fishing-endangers-whales-says-judge-backing-feds-finding-2022-09-09/
https://www.fisheries.noaa.gov/species/north-atlantic-right-whale
https://www.fisheries.noaa.gov/national/endangered-species-conservation/reducing-vessel-strikes-north-atlantic-right-whales
https://harborfish.com/the-history-of-the-maine-lobster-industry/
https://www.maine.gov/dmr/science/species-information/maine-lobster/whale-rules
https://www.maine.gov/dmr/fisheries/commercial/fisheries-by-species/lobsters