"I almost happy cried"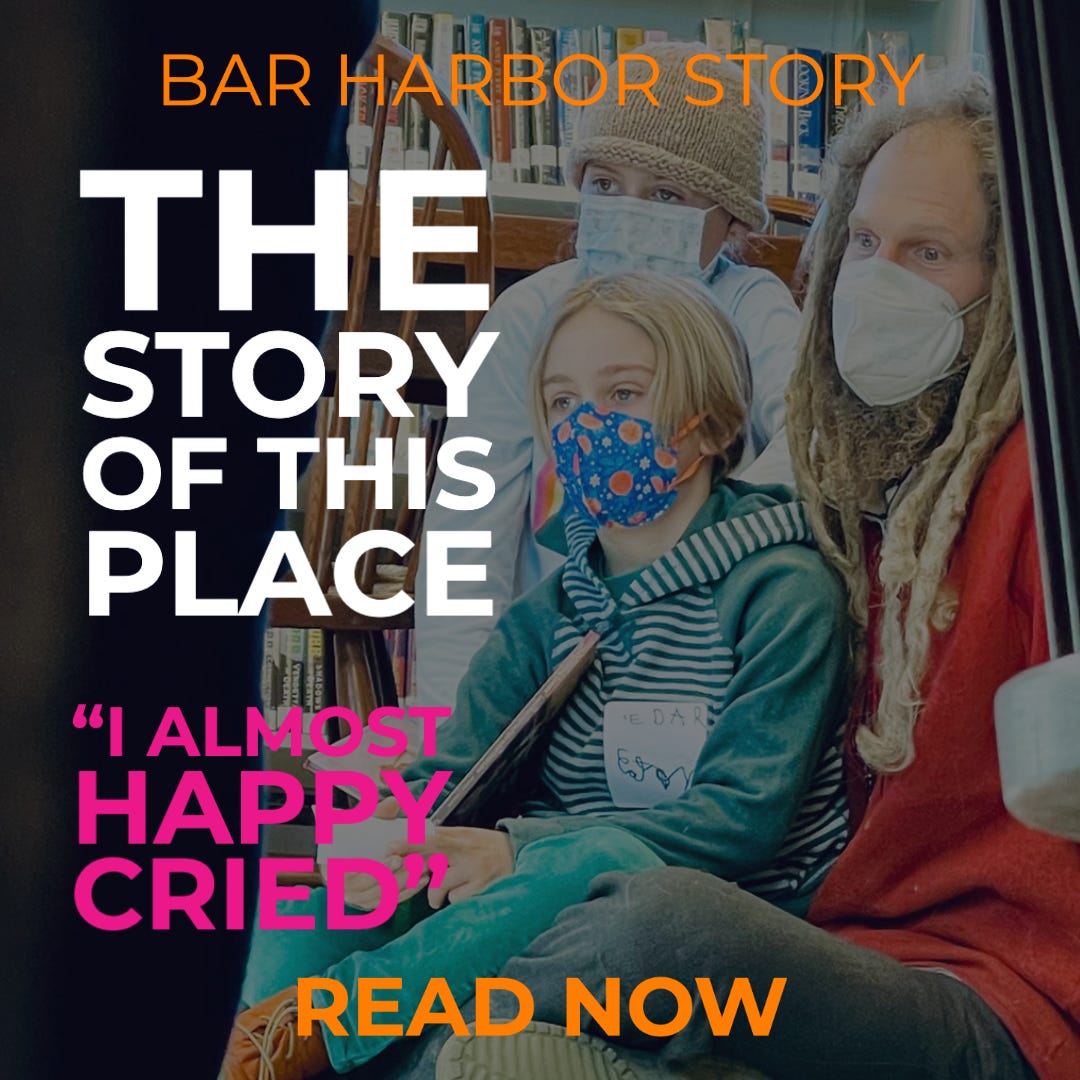 BAR HARBOR—On Bangor author Alexandra Hinrichs' website, it says that she "is pretty sure she has one of the best jobs in the world." This Tuesday as homeschooled students and their caregivers gathered around at the Jesup Memorial Library, proudly telling her their ideas and stories, it was easy to see why.
"It has been a joy to see local homeschool students connect around a shared text and explore their creative sides through writing and photography. We're so grateful to work with Island Readers and Writers, author Alex Hinrichs, photographer Katherine Emery, and all of the wonderful homeschool students on this program," said Abby Morrow, youth services librarian.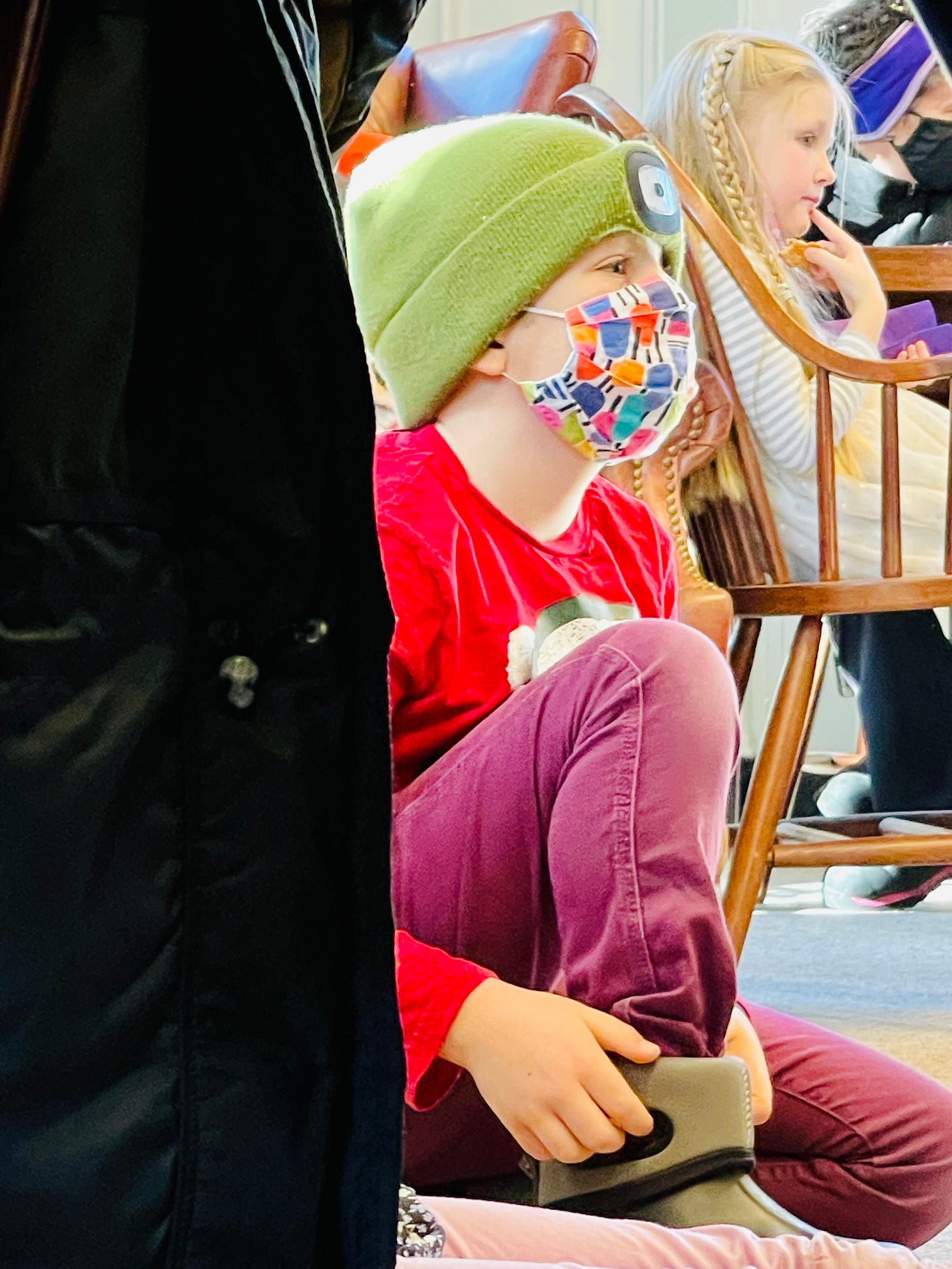 The children created a poem, proudly posted on the wall of the reading room and discussed titles for it, each taking turns to share their favorites: Ripple, Our Forms of Art, Building Joy, The Gray, Rebuilding, and Children Change.
"Oh," Hinrichs said, "That can mean that the children change the world and that children change themselves too."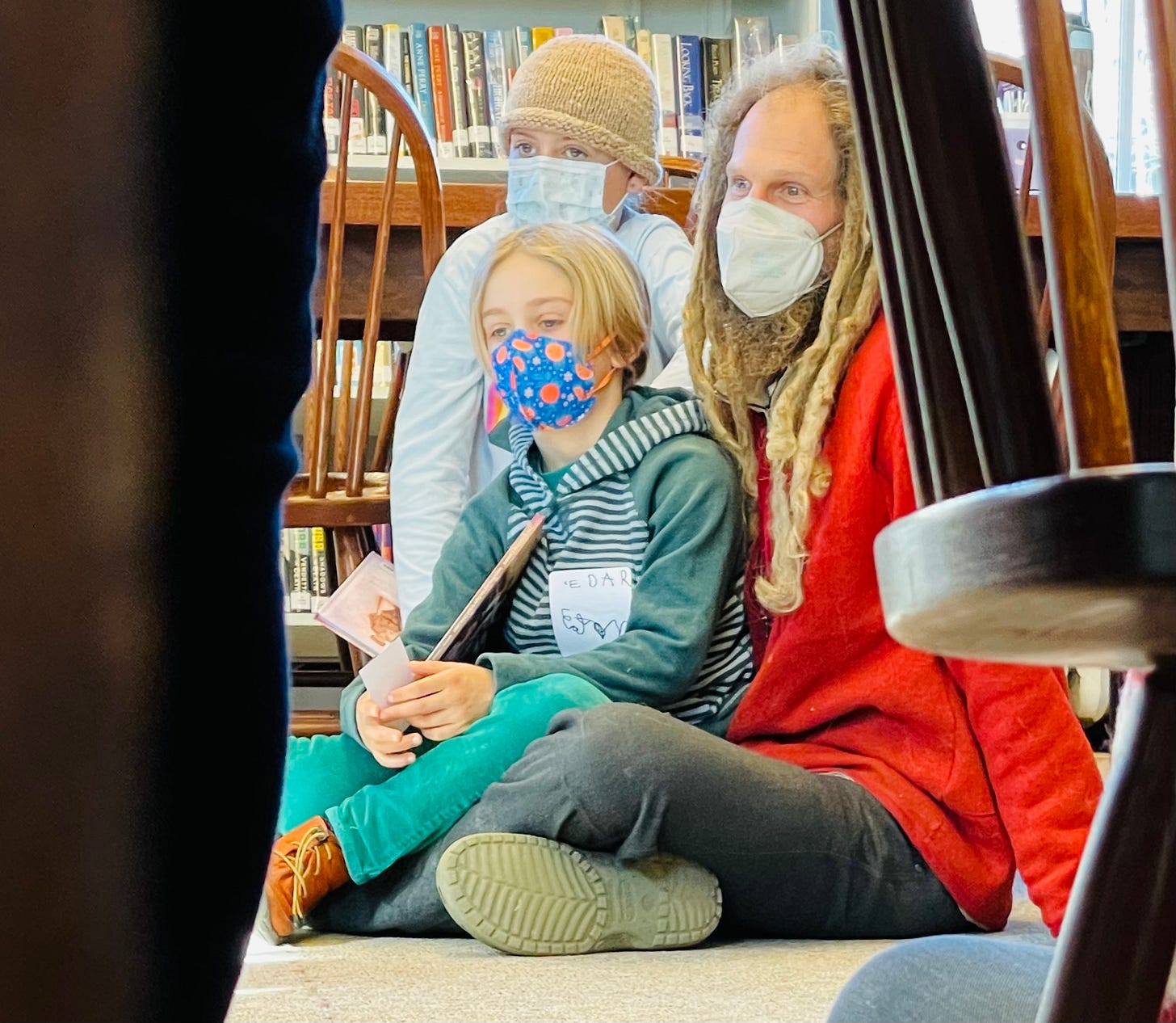 Island Readers and Writers and Jesup Memorial Library partnered with Hinrichs and Emery to present a series of programs for homeschool students that began in January. The conversations and activities revolved around Hinrichs' book The Traveling Camera: Lewis Hine and the Fight to End Child Labor. Students, using a hybrid in-person and virtual model, created their own poetry and photography inspired by the book, including a workshop with local photographer Katherine Emery. The series concluded Tuesday afternoon with visits from Hinrichs and Emery, a book signing, and an exhibit of the students' photography.
The poem begins:
Precise brushstrokes
sculpt neat relief.
Imagine beautiful kindness
A world without smoke
Blocking the stars . . .
"Today is the day that gives us the opportunity to reflect on the work that's been done," said Island Readers and Writers' Director of School Programs Alison Johnson.
Isla, one of the students spoke of the photo she'd selected of a tree, a photo that she loved so much, "I almost happy cried about it."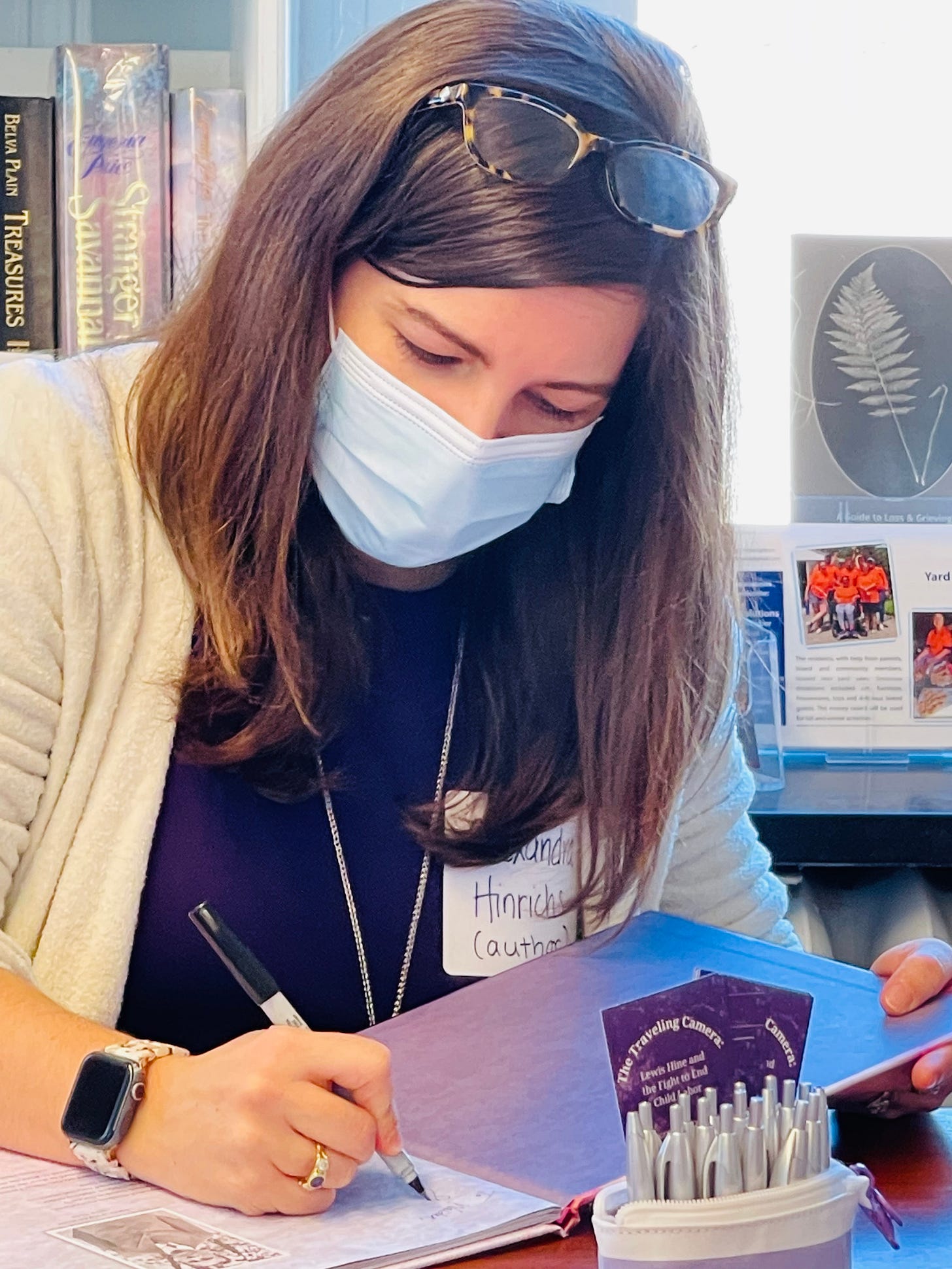 Some parents on Tuesday seemed close to happy crying themselves, as their children proudly showed off the group poem and photos, and shared thoughts. Before signing books and everyone getting some snacks, Heinrichs fielded some questions and discussions.
"I was a flying a baby," one student told her.
Hinrichs laughed. "A flying baby? Like we said, children change."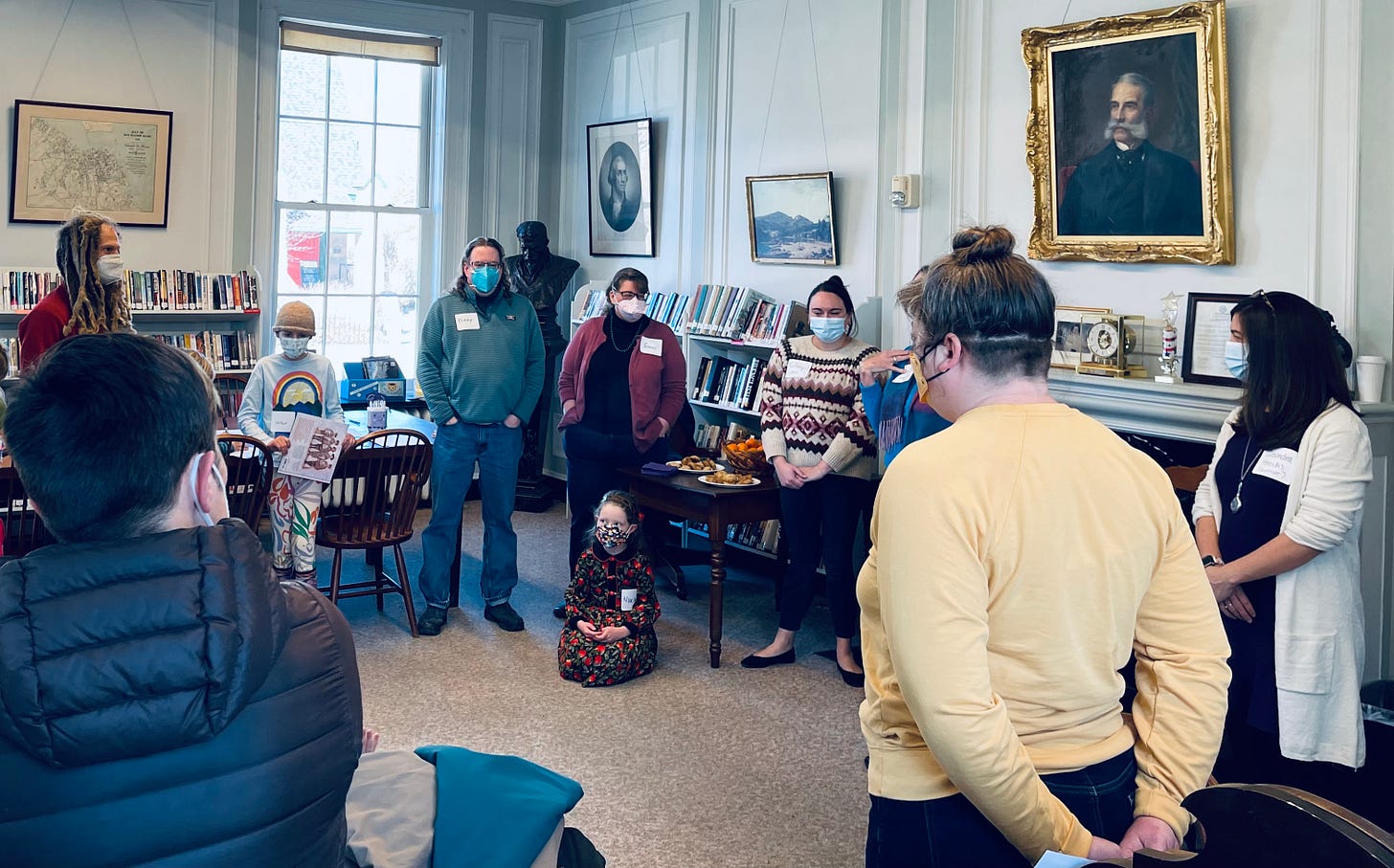 People can think different things about art, she told them and discussed how one child focused on the shadow in the photo and their own shadow. She told those attending that yes, you are allowed to name your poem after somebody and that she keeps her new ideas in a notes app on her phone.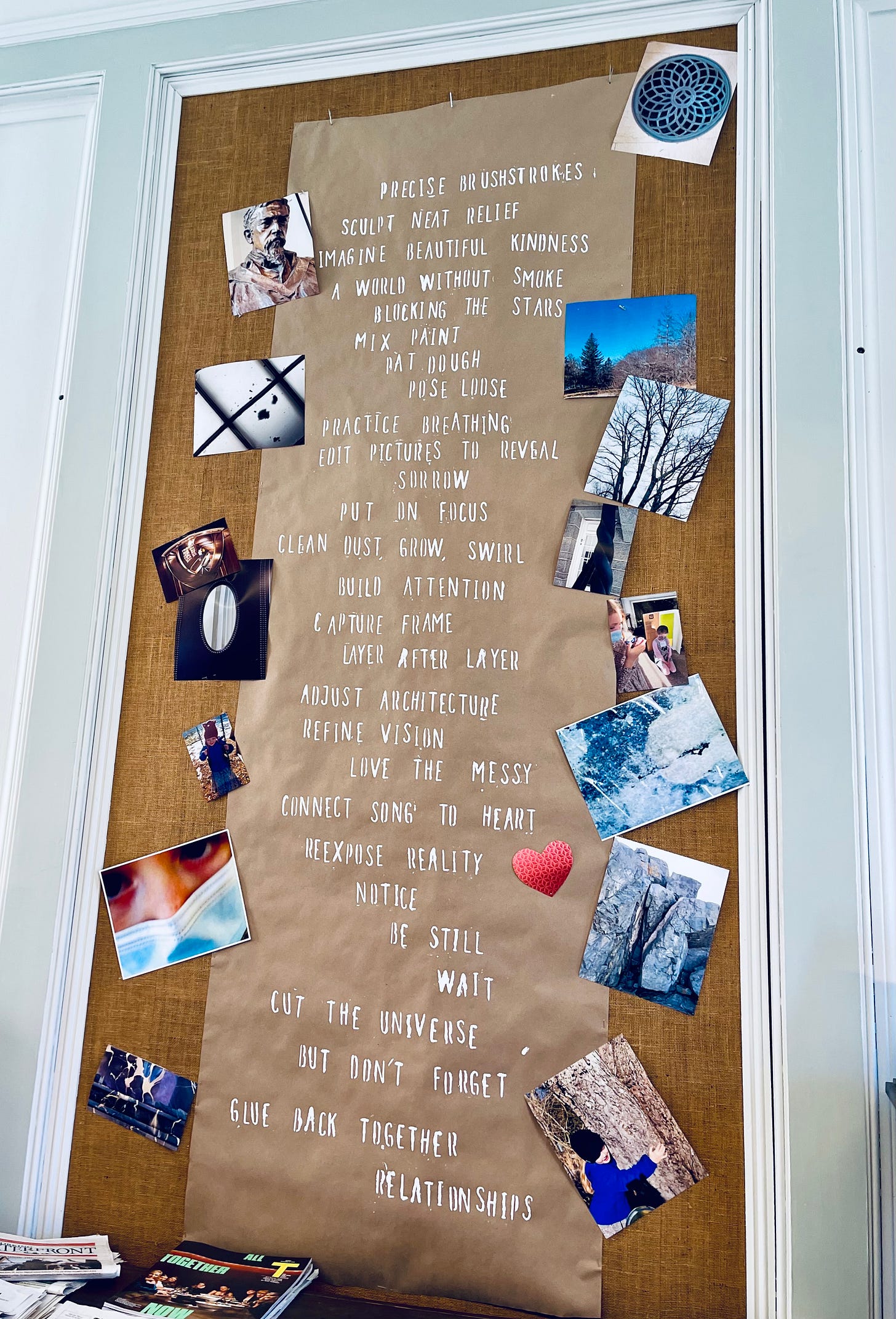 On February 16, the students gathered in person for the first time and met with Katherine Emery, a portrait and documentary photographer, much like Hine.
On her website, Emery says, "I am interested in the fibers connecting self to family and other forms of belonging—but also those that may reveal a tension between how we see ourselves and how we feel defined. As humans, we make sense of our world through storytelling. I am curious about the narratives that confine us, the narratives that connect us, and those we create to set us free."
Those connections to poem, to story, to each other, and to a talented writer and photographer were all strengthened Tuesday at the finale and celebration.
The poem ends,
Cut the universe
But don't forget
Glue back together
Relationships.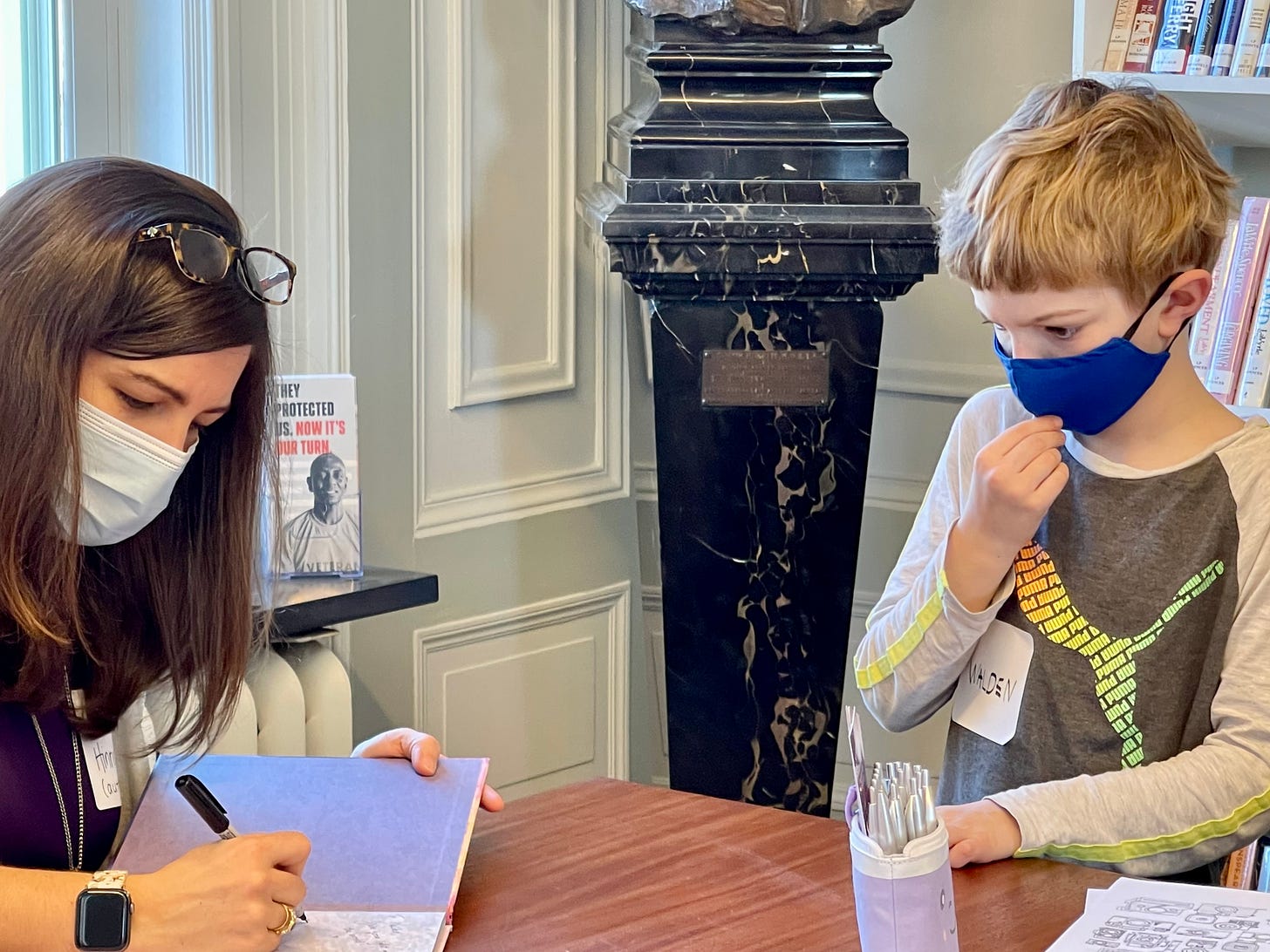 ---
MORE ABOUT HINRICH FROM THE ORIGINAL PRESS RELEASE:
"The Traveling Camera: The Story of Lewis Hine and the Fight to End Child Labor is a nonfiction picture book that tells the true story of photographer Lewis Hine and his work exposing child labor in America during the first half of the twentieth century. The book pairs poetry and illustrations to explore the lives of children working in coal mines, as "newsies," and even in a sardine canning factory in Eastport, ME. Alexandra Hinrichs is a children's book author and middle school librarian. Alex has worked as a historical researcher at American Girl, a children's librarian, and a children's bookseller among other things. She earned MAs in United States History and Library & Information Studies from the University of Wisconsin-Madison. She completed her undergraduate education at Colgate University, where she majored in History and French. She now makes her home in Bangor, Maine with her spouse and their three sons."
---
From her website (linked in the header above, "I am a portrait and documentary photographer who recently moved with my daughter and husband from San Francisco to Mount Desert Island, Maine.
"I grew up in Indiana and my father sometimes read his poetry aloud. If I closed my eyes, the words created images that floated in my mind and I shivered.
"I remember the very first time I shivered when taking a photo. My grandma Bertha was telling me about her chickens, and her toes were interlocked like a clasped hand. I could see where she'd lost her toenail from an axe mishap as a child. I took photos of her feet, and I shivered. Making photographs is deeply personal process for me; it causes me to slow down and reflect as the world unfurls around me.
"I owe much of my photographic life to the work of those who have come before me and showed me that no story is too small to be seen. I am grateful for Mountain Workshop and The Missouri Photo Workshop for pushing me to develop documentary stories with more thought and confidence."
---
MORE ABOUT ISLAND READERS AND WRITERS:
According to its website, "Island Readers & Writers (IRW) inspires a passion for reading and learning among children.
"Each year, IRW brings book-based educational programs to over 2,600 children, grades Pre-K-8, living on Maine's coastal islands and in rural communities in Washington County. Online, we reach children, teachers, librarians & caregivers everywhere.
"IRW's programs are designed to stretch imaginations, encourage curiosity, develop creative and reflective thinking skills, and expand perspectives through hands-on learning in natural history, science, literature, writing, and art."
---
MORE ABOUT THE JESUP MEMORIAL LIBRARY:
From its website,
"The Jesup is a community resource and gathering place.
"The Jesup nourishes minds, enhances lives, and builds community. We are a vibrant center for educational exchange, creative community collaboration, and knowledge-sharing where we connect people to ideas, people to information, and people to people. The library is a place where possibilities and realities share space. We are a center for creative community pursuits, opening doors with our activities and resources, for those who live here and those who visit.
"The Jesup offers programming that is inclusive and expansive, for people of all ages, and provides space for other community groups to do the same. Within our treasured building, rich in history and tradition, we integrate new technology to serve as the hub for access to information from sources local and worldwide. We remain stewards of our heritage and are committed to the joy of reading."
---
Bar Harbor Story is a reader-supported publication. To receive new posts and support my work, consider becoming a free or paid subscriber. If there's something you'd like me to cover, please let me know and I'll do my best to get there.