Bar Harbor Police Beat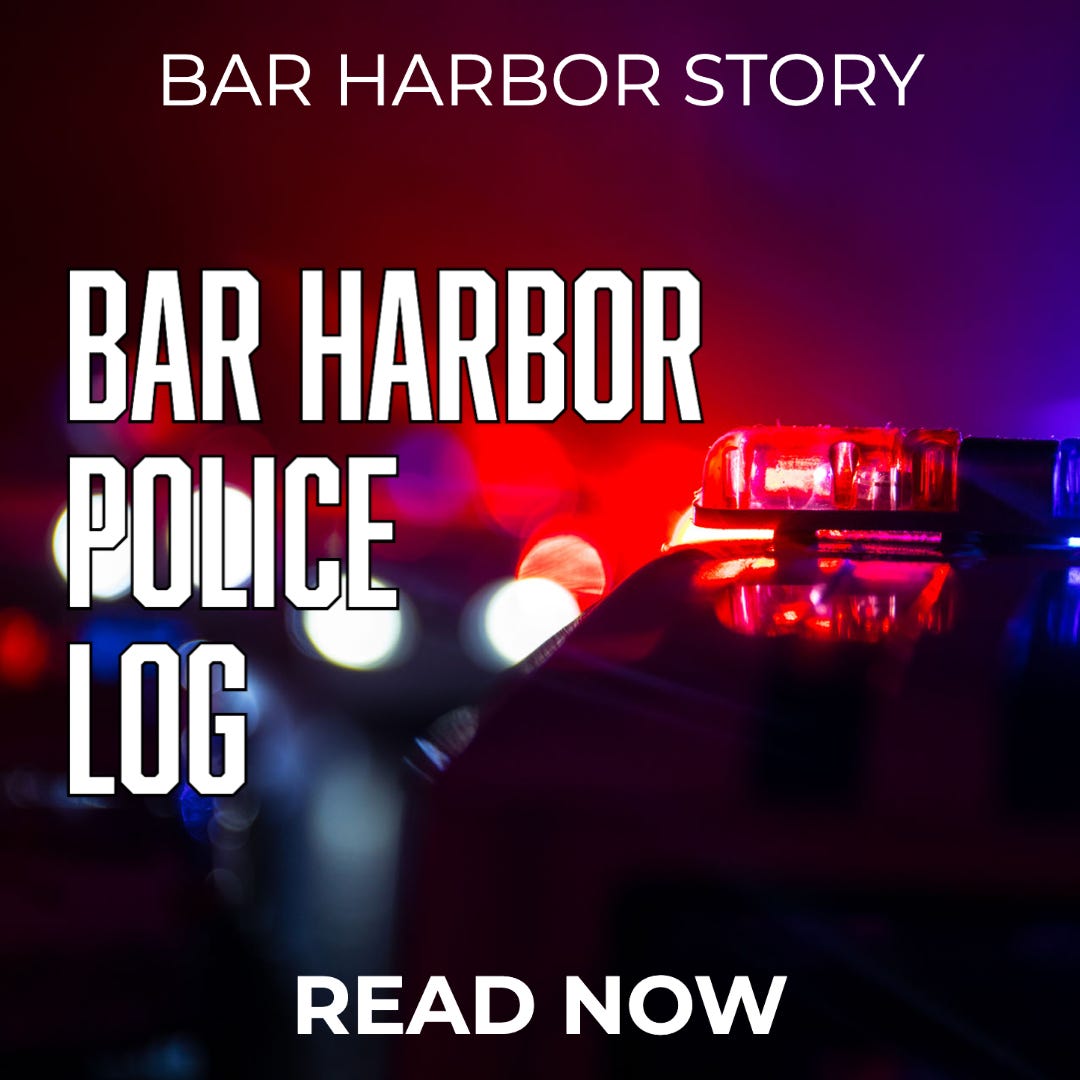 The following incidents occurred in Bar Harbor last week according to the Bar Harbor police log, which is publicly released information.
BAR HARBOR— On Thursday, February 16, Officer Stanwood was attempting to locate Jacob Russell, 37, of Tremont to arrest him for outstanding arrest warrants stemming from a burglary that occurred on February 8, 2023, at a residence in Bar Harbor.
Russell had been spotted operating a motor vehicle that had been reported as stolen and the island police departments had been notified. Officer Stanwood located Russell operating a motor vehicle that matched the description of the vehicle that had been reported as stolen at the intersection or Rt. 102 and Rt. 3, and he initiated a traffic stop. Russell failed to stop and Officer Stanwood pursued Russell into Trenton where the Hancock County Sheriff's Department took over the pursuit and Officer Stanwood terminated his involvement in the pursuit. As of press time, Russell has not yet been detained.
An article by Piper Curtin in the Mount Desert Islander reports that Russell had been spotted on February 14 by the Wendell Gilley Museum by Southwest Harbor Police Officer Franklin Burke. When Burke knew of the warrant, and tried to arrest Russell, Russell allegedly resisted the arrest and as a result, Burke fell to the ground. Russell allegedly fled into the woods.
On February 16, Russell had first been spotted in an allegedly stolen 2006 Honda Pilot. Southwest Harbor began pursuit, but stopped once the Honda left Southwest Harbor. Officer Stanwood found the vehicle at the head of the island. After that interaction, Hancock County Sheriff's Department continued the chase, found the vehicle the next day in Waltham, but did not find Russell. Another vehicle stolen in Waltham was later relocated in Bangor, but hasn't been officially connected to Russell.
---
Monday, February 13, 2023
The Bar Harbor Police Department received a report of ice on the roadway on Cromwell Harbor Road. The department referred the complaint to the Bar Harbor Highway Department.
Officer Troy Stanwood conducted a well-being check as part of the police department's "good morning" program.
Officer Christopher Dickens met with a pre-kindergarten class at the Mount Desert YMCA.
He also responded to a report of a wounded deer on the Indian Point Road.
Officer Dickens investigated a report of suspicious activity at a residence on the Old Bar Harbor Road.
---
Tuesday, February 14, 2023
The BHPD received information about a resident in the community.
Officer Judson Cake responded to a report of an injured deer. The deer was found to be deceased and was taken by the property owner.
Officer Cake located a dog that had been reported as running loose. The dog was located and the owner was made aware that their dog was at large.
Officer Cake assisted the Southwest Harbor Police Department.
---
Wednesday, February 15, 2023
The police department received a complaint of damage to a roadway and notified the highway department.
Officer Timothy Bland investigated a non-reportable motor vehicle accident.
Officer Timothy Bland responded to a criminal mischief complaint. He spoke to the alleged suspect and the matter was resolved.
Lt. Kevin Edgecomb assisted the Southwest Harbor Police Department but was no longer needed by the time he arrived.
An officer assisted the Mount Desert Island Hospital with involuntary committal paperwork for an individual.
Officers helped out a motorist whose vehicle was disabled on Eden Street. The vehicle was towed.
---
Thursday, February 16, 2023
Officer Stanwood responded to a residential alarm and found nobody at home.
Officer Theodore Cake investigated a motor vehicle complaint but could not locate the suspect vehicle.
Officer T. Cake was asked to assist another agency but was told he could disregard before his arrival.
A driver's license was turned into the BHPD and was later retrieved by the owner.
Alan Bartsch, age unknown, of Bar Harbor was backing into a driveway at 30 Schooner Head Road when, allegedly, a cream-colored pickup truck, of unknown make, struck the front bumper of Bartsch's vehicle, a 2015 Toyota Venza. The offending vehicle did not stop and was not located at the time. Bartsch's front bumper was scraped and dented but Bartsch was not injured.
Officer Bland made a referral to another agency.
Officer Stanwood received information regarding a criminal case.
Officer Jerrod Hardy received a burglary complaint from a Bar Harbor resident. The complaint is under investigation.
---
Friday, February 17, 2023
Scott Crowley, 46, of Bar Harbor was driving his 2020 Infiniti east on the Eagle Lake Road when he struck a large deer that ran across the roadway in front of him. Crowley's Infiniti received functional damage, but Crowley was not injured. The deer was deceased upon the officer's arrival.
A resident gave the BHPD an item that they had found in a car that they had rented.
Officer Elias Burne responded to a motor vehicle complaint in Bar Harbor.
---
Saturday, February 18, 2023
Officer Stanwood investigated a report of a vehicle blocking traffic. The owner moved the vehicle.
Found property was turned into the BHPD.
---
Sunday, February 19, 2023
Officer J. Cake tried to locate dogs running at large but could not find them.
Officer J. Cake took another complaint of dogs running at large. A photograph of the dogs was placed on social media in an attempt to locate the owner.
Officer Elias Burne assisted an agency in Bar Harbor.
Officer Liam Harrington helped out a motorist whose vehicle was disabled.
Officer Liam Harrington provided a ride to a citizen in need.
Officer Caleb Mora arrested Paul Boisvert Jr., 47, of Mount Desert for allegedly operating under the influence. Boisvert also received multiple summonses for alleged traffic infractions and was transported to the Hancock County Jail.
---
Bar Harbor Story is a reader-supported publication. To receive new posts and support our work, consider becoming a free or paid subscriber.