New Up-Island Water Storage Tank and Fire Hydrants a Go
BAR HARBOR—Town Manager Kevin Sutherland announced during his Manager Minutes at the Jesup Memorial Library yesterday that the Town of Bar Harbor received $1.44 from Congress' $1.7 trillion omnibus spending bill. The town will use the money to create a new water storage tank.
The project will require an additional $1.8 million to complete, which comes via a bond that voters approved at the 2022 town meeting. The 'Up Island' water tank will likely be placed on Route 3 in the Salisbury Cove area between Storybrook Lane and Hutchins Lane. The project will also replace approximately 50 fire hydrants.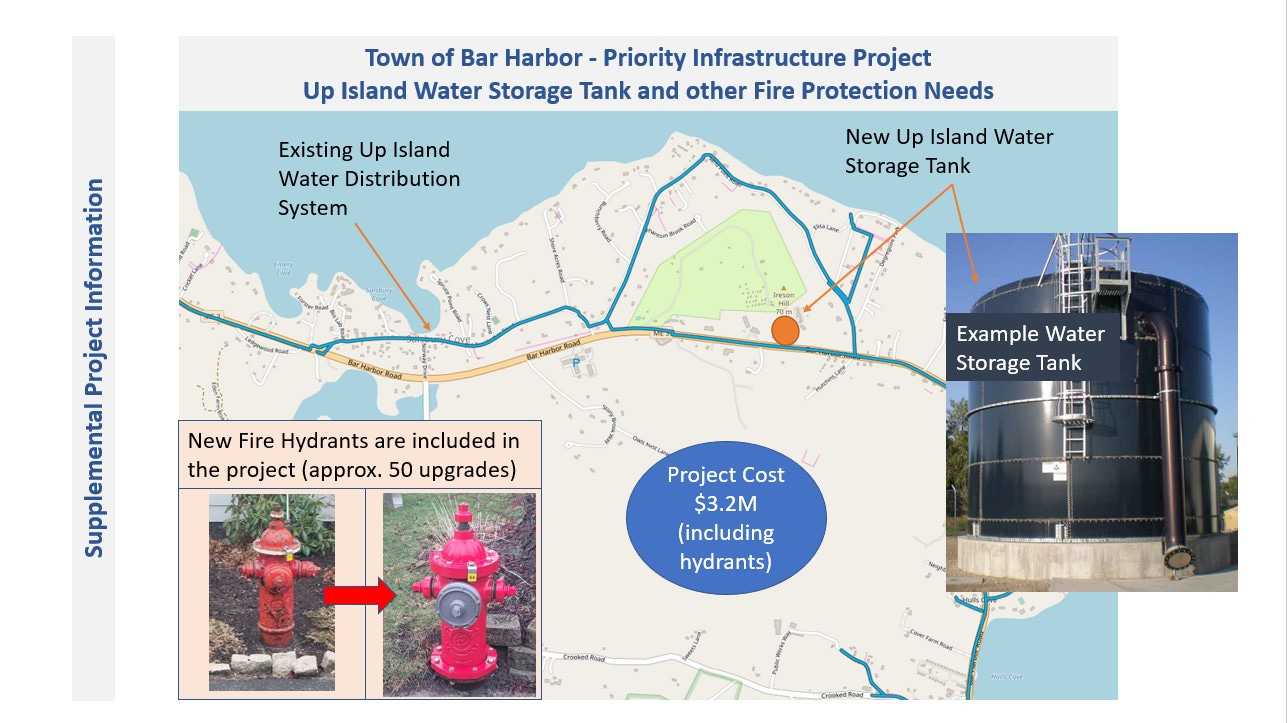 "The town found out today," Sutherland said Wednesday. Sutherland said that early during his first year here (he began January 3, 2022), he talked to about 50 people and asked them what were the three biggest challenges Bar Harbor faced. He came up with a list of 40 things and met with committees and department heads to try to figure out the needs of a balanced year-round community and how to pay for those needs. Infrastructure projects were high on that priority list.
The people gathered at the Manager Minutes agreed, speaking at length over the state of Bar Harbor's sidewalks and roadways and that staff had even created a color system for priorities. Sutherland said that he wants the town to move forward with "data-driven decision making rather than who screams the loudest."
Infrastructure might not be the sexiest of words, but the buildings and facilities including sewer, water, and utilities are a main part of what the town provides to residents.
Because of the tourists and summer residents who visit Bar Harbor every year, the town supports more than its 5,000 residents. According to the town's Existing Conditions Analysis Report, released in October,
"Major investment is needed on Bar Harbor's municipal infrastructure. This includes a recent bond for updating the wastewater collection system, stormwater and water systems. However, this will not address all capacity limitations or future demands. Approximately 5% of Bar Harbor's population is served by sewer infrastructure and 16% of the town is served by water infrastructure."
The new tank is part of Bar Harbor's infrastructure rebuild and will be able to hold sufficient fire suppression supply volume and public water supply.

The project is one of 140 in Maine that was approved in the bipartisan Fiscal Year 2023 Omnibus Appropriations Package. This translates to about $250 million in Congressional funds coming into the state via senatorial requests.
"From food banks and hospitals to job training programs and infrastructure upgrades, Maine's 2023 Congressionally-Directed Spending supports important projects across the state that will improve the lives of Maine people and invest in the future of our communities. These historic investments are going directly to the local organizations who need them the most and can effectively provide economic opportunities, personal enrichment, and other vital public services," said Senator King. "Maine people have always looked out for each other, and the 140 nonprofits and local governments receiving these funds are no different – they have proven track records of success in our communities and will use this support to expand and improve their efforts. I'm grateful that Congress approved so many of my CDS requests, and deeply appreciate all of the Maine organizations who submitted projects for consideration. I look forward to seeing these investments support people across our state for years to come."
The package also brings $600,000 to the Mount Desert Island Biological Laboratory for its MDI Bioscience initiative, which according to Senator King's description, "leverages our internationally recognized expertise in molecular biology and regenerative medicine to discover new pharmaceuticals with greater efficiency and efficacy than is currently possible with existing approaches." The money will be used to improve the lab's facilities and some equipment.

The Acadia Disposal District's quest "to establish a year-round collection site for hazardous household and universal waste to keep hazardous materials out of the local waste-stream" received $350,000.
---
LINKS TO LEARN MORE
To read all the approved requests, go here.
Bar Harbor's Comprehensive Plan documents
Bar Harbor's Existing Conditions Report
---
Bar Harbor Story is a reader-supported publication. To receive new posts and support my work, consider becoming a free or paid subscriber. Thank you for being here.