Community Comes Together As Over 1,000 Still Without Power and Structure Fire Destroys Norway Drive Home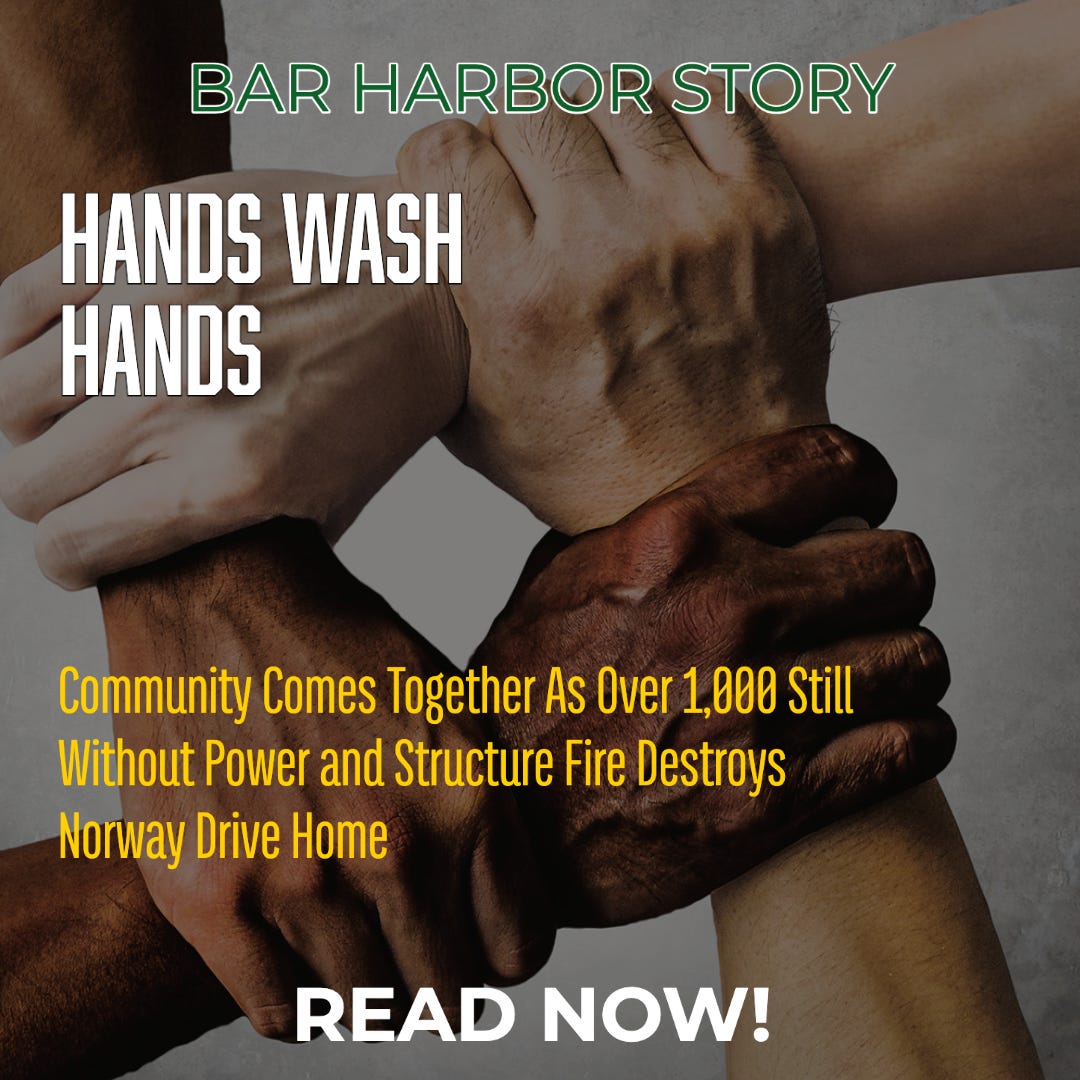 MOUNT DESERT ISLAND AND BAR HARBOR—A fire destroyed a single-family home at 488 Norway Drive early Monday morning with the Bar Harbor Fire Department responding just before 2 a.m.. The home was unoccupied. There have been no reported injuries and the origin and cause are under investigation. Bar Harbor Fire Department also responded to another call that night, but the information has not been released.
The fires happen at a time when many island residents are struggling with three-days of power outages from a storm that occurred Friday, December 23. Some on-call and full-time firefighters were among those without power at the time.
Monday morning, a Mount Desert woman posted on Facebook that her town currently had more outages than any town in Versant's service area. According to the National Weather Service, winds gusted to 61 m.p.h. in Bar Harbor on December 23.
"I don't know if that means we'll be prioritized in any way or they are saving us for last. Coming to you live from beneath my blanket tent in my very cold house," she wrote.
Immediately Ginny Norwood offered Mr. Buddy heaters.
Someone else said Atlantic Oceanside Hotel was giving discounts to people who didn't have power.
As of 10 a.m. Monday, December 26, 13,341 Hancock County residents did not have power:
Bar Harbor – 512
Cranberry Isles – 118
Mount Desert -1,294 or approximately 48% of total customers
Southwest Harbor – 104
Tremont – 148
Norwood said that one reason that she tries to help others is because she grew up not having a lot. She grew up with five siblings and her dad remarried and there were three more. They were all very close growing up and remain close. Older aunts and uncles and older cousins also gave her a great love for the elderly.
"I've always wanted to help and do whatever I can. There's been times I made a tremendous amount of money, and they were times that I barely get by. But I always share," Norwood said.
On another post, Jeff Young offered use of his two 8000-watt portable generators that he'd deliver. Andrew Flanagan also offered a generator as did Dallas Hodgkins, Will Renault and others. More people offered houses (some not being used currently as vacation rentals and some being used) to stay for showers, to cook, to get a bit warmer.
Matty Haskell of Blaze in Bar Harbor cooked pizzas for a bit of time on Christmas and offered them to eat in or take-out.
"All I can really say is it's like my close friends in Belize always say to me: 'Hands wash hands,'" Haskell said. "Plenty of people out there have helped me and continue to help me along the way and a large portion of that help is my customers and the community that's helped support me for almost thirteen years now. So when I was scrolling through the socials yesterday it was like wow a lot of people on MDI have no heat and now power and no water and spoiled food and nothing is open down there. So I messaged my chef, Jamison, and my general manager, Taylor, and I said I'm going in to make pizza and I'm gonna let people know we're there for them. They both jumped right into action."
Norwood also credited other people with helping out. When her grandson and daughter-in-law were shot in another state, people quickly started a GoFundMe to support her and her son. Then people helped at the Ridge Apartments when there was a fire there last week. She'd been in the building visiting a friend and witnessed first-hand the care in the community as people took residents into warm cars, making sure everyone was accounted for and warm. In the past three years she's made it through a lot of hardships in her family and she also ascribes to hands washing hands.
"People have shown me so much love this past three years, but always before that, people were kind and I try to return that favor," Norwood said.
Haskell said he was glad to see that people came in and had pizza.
"It was nice to see it made a bit of a difference, you know?" he said. "So what inspires me is really growing up watching my mom do so many good things for people and then just the fact that I'm in the position to help out a little because so many people have helped me."
"It's also Christmas and I had just gotten my power back and knew the feeling first-hand what it was like (to not have power)," he said. "When you hang with people that help people it inspires you to help people. I appreciate how much that island has done for me for thirteen years. I felt compelled to help a little and we really enjoyed it. I also like making pizza a lot so that helps too."
At 8 a.m. Monday, another poster said they spotted "a line of eleven Hydro (Versant) trucks coming onto the island!" And also offered their home for others to hang out in.
One woman offered thanks for the people who found her dad after he'd fallen on ice on Kennebec Street after Christmas mass. Another asked for a generator after people were in a car accident.
The Bar Harbor Municipal Building opened as a warming shelter throughout the holiday weekend. Southwest Harbor Police Department and the Jesup Memorial Library also opened their doors as warming centers on Monday.
For many MDI people, giving doesn't just happen during times of storms and catastrophes. Norwood and her partner Lori have bought boxes of books and pencils and school supplies and donated them.
"We have cooked meals for many people during the cold winter months and I would run around delivering it while it was elderly people "mostly" or people with children or just anybody that could use an extra hot meal and something sweet and baked as my partner is a wonderful baker. It's just been something we've always wanted to do. I try to help elderly people by doing reduced rates when I know they can't afford it and I do it willingly and by choice, but I also have to live so I might have to charge reg. price. As long as my bills are paid and I have a little savings I'm happy to share with others," she said.
Hands wash hands.