And it still does.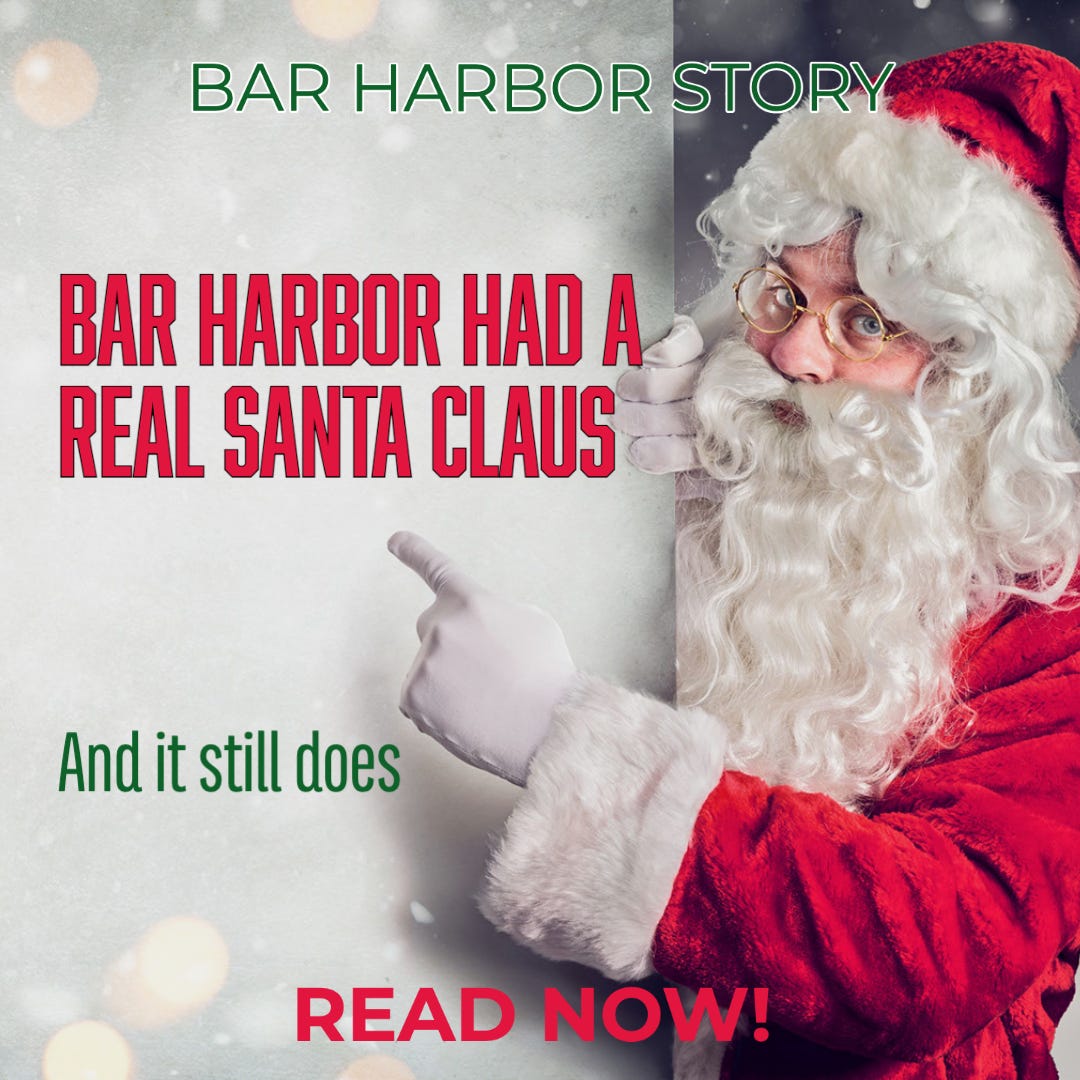 THE NORTH POLE AND BAR HARBOR—In 1920, Dr. Ellis came home from World War I and he returned to Bar Harbor and one of his first greeters was a 15-year-old boy who had been paralyzed.
While the doctor was away at war, he became the boy's hero. And while the doctor was away at war, the boy's family became overwhelmed with doctors' bills because of his condition.
Santa wouldn't be visiting that year. And the boy was more worried about other kids in Bar Harbor who might not have Christmas. That plight impacted Dr. Ellis, who wanted children to have a Christmas no matter what. He decided to do something about it.
Dr. Ellis began to work in secret. He sent toys and gifts to local kids year after year. And then it grew bigger.
After eleven years, according to a 1931 Bangor Daily News article,
"520 boys and girls and Bar Harbor know that there is a Santa Claus. They know he lives. They know he answers their letters and sends them just what they ask for. They know that when Santa Claus comes, he brings them nice new things, new coats, new suits, new dresses, new underclothes, boots, shoes, overshoes, rubbers, and brand new toys.…"
Dr. Ellis didn't work alone. Teams of knitters would make mittens. The Red Cross would help. The YMCA would transform into Santa's exhibition hall with tables piled with gifts. The American Legion and its auxiliary would help, too. Local merchants would donate thousands of dollars in gifts and money to purchase gifts.
It seems a fantastical tale, nostalgic, from a time of good will toward humans, young and old.
But Bar Harbor still holds this community spirit, it's just not quite as lauded or creates as much news as so many other things. The MDI YWCA still hosts a Christmas event where tons of MDI kids go out and "buy" their family members presents. The Bar Harbor Chamber of Commerce hosts a Village Christmas event, supported by the MDI YMCA and the Jesup Memorial Library. During this recent storm, the town's Municipal Building opened its doors, people offered their homes to friends and strangers to warm up, shower, or cook. Clerks at Hannaford's on Cottage Street, Shermans' or Spruce and Gussy, spoke of how worried they were about people, their lack of power, and their Christmases.
It's even smaller than that, too. One local man, who wished to remain anonymous, heard a developmentally challenged adult as he was walking down the road two weeks ago, happily talking to himself about his Christmas list and Santa and what he really wanted for Christmas. With no fanfare, with no hoopla, the man bought that present, wrapped it, and brought it to the man's group home. He checked with staff first to make sure that it was okay.
Santa can be Santa, hanging out at the North Pole most of the year, but he can also be something that lives inside us, no matter whether we have beards or not. He can be an organization or a community member, an act of kindness or a bit of hug. He can be a hope, a wish, a present, and a thought.
That is what Bar Harbor is about.
It's what Christmas is about, too.
---
If you're looking to find the real Santa Claus and his exact location. You can check out the official NORAD site.
---
I celebrate Christmas and Boxing Day (complicated family), so the Bar Harbor Story is going to be a bit thin on news for the next two days as I try to find a work/life/family/Bar Harbor Story balance. If you celebrate, I hope you have an amazing holiday. Similarly, I hope that your last days of Hanukkah are lovely if you celebrate.
If you are cold and need to come shower or get warm, please send me a message, too, okay?
Thank you for being here with me in this really special community. And for forgiving me my typos.
---
Bar Harbor Story is a reader-supported publication. To receive new posts and support my work, consider becoming a free or paid subscriber.