A weekly look at upcoming Bar Harbor Meetings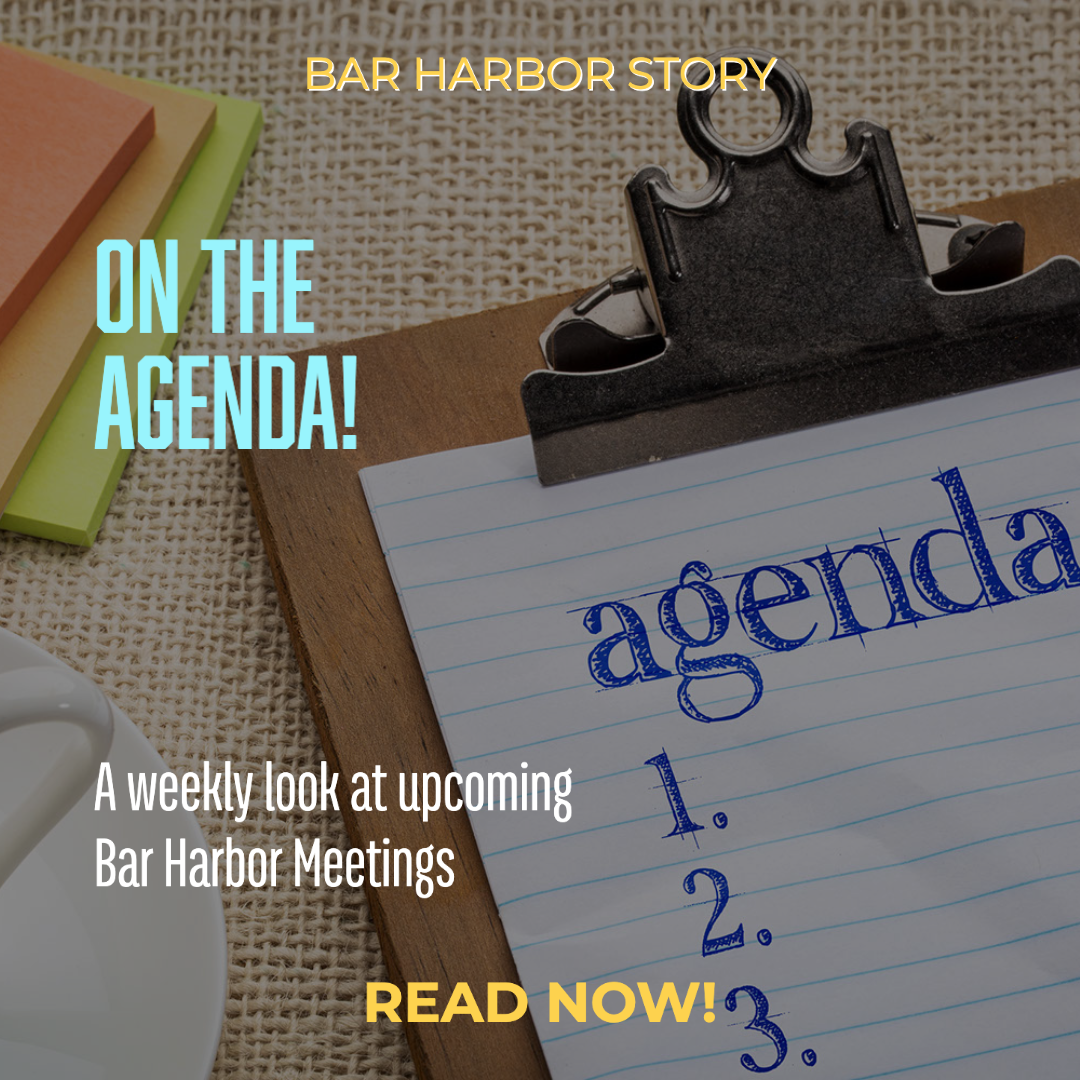 It's our new weekly piece documenting Bar Harbor town government and other similar meetings that we know of. Please let us know if we've missed something. Also, sometimes things are on the town calendars and are cancelled or rescheduled, so make sure to double check before you head over!
All the meetings take place at the Bar Harbor Municipal Building unless otherwise noted. And they usually have a time for public comment. So, go! Be informed! Be part of the process. You deserve to be.
---
PARKS AND RECREATION COMMITTEE
Public comment for desires/discussion about the Glen Mary Wading Pool Revitalization Project will occur. There is also an email for public comment, which needs to be received prior to the meeting. That email is Glenmarypool@barharbormaine.gov .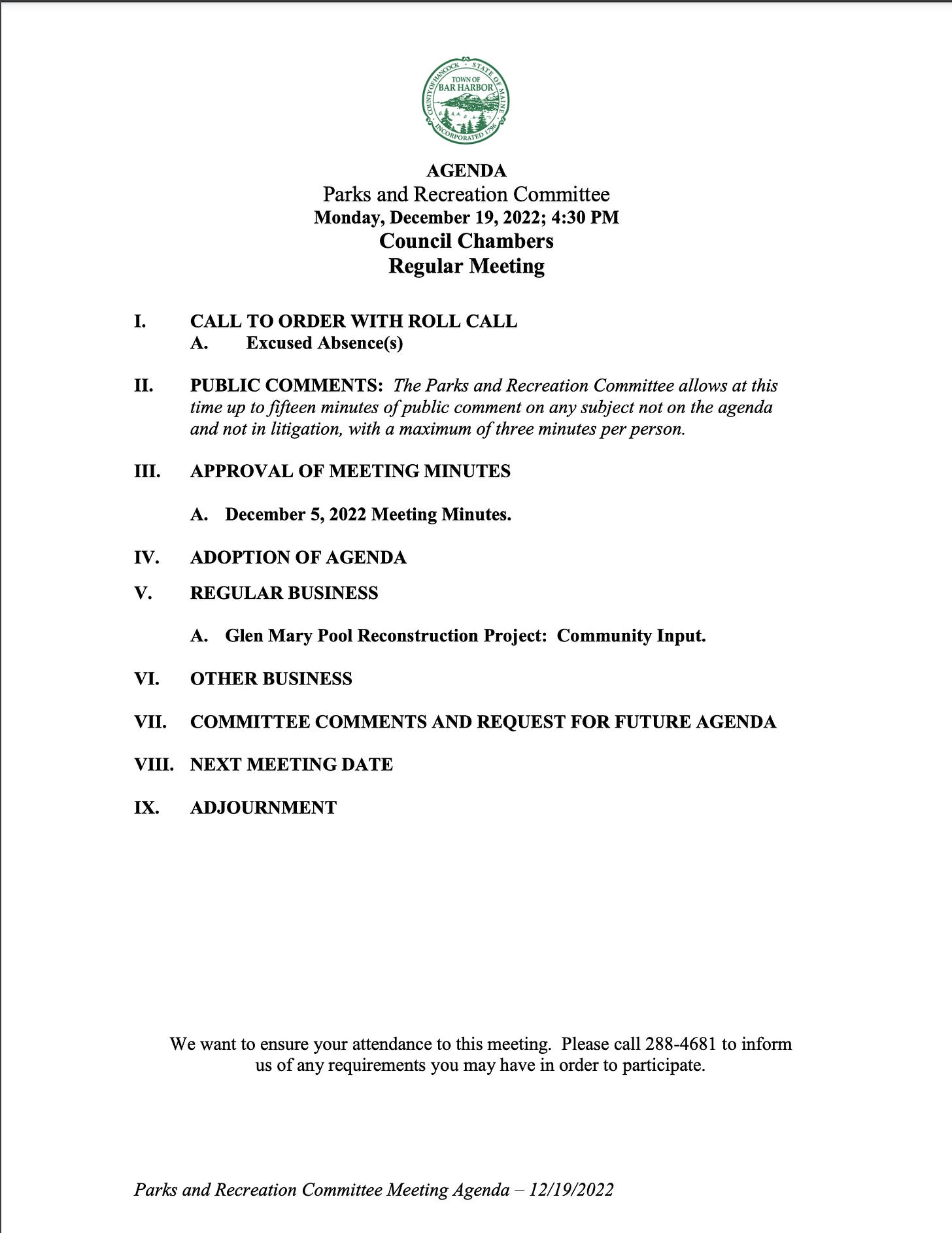 Date:
December 19, 2022
Time:
4:30 PM - 6:00 P.M.
Location:
Council Chambers
93 Cottage
Bar Harbor, ME 04609
---
TOWN COUNCIL
The Council's agenda includes the appointment of statutory officers, the beginnings of an impact fee on housing types discussion, a public hearing about Pat's Pizza's special amusement permit, Council priorities, a potential extension to the Comprehensive Plan timeline of work and added funds to do that work, a resolution honoring Alf Anderson, director of the Bar Harbor Chamber, potential creation of a fund to allow people to donate the the Conners-Emerson Building project, and updates on the Cruise Ship Passenger Disembarkation Plan and the ferry terminal site and potential signing of a memorandum of agreement about a proposed dog park.
Town Manager Kevin Sutherland wrote in the Town Council packet about impact fees:
"Several requests have been made by Councilors to explore impact fees to address prioritizing housing development over transient accommodations. I've been working this week to pull together some information for Council discussion and consideration."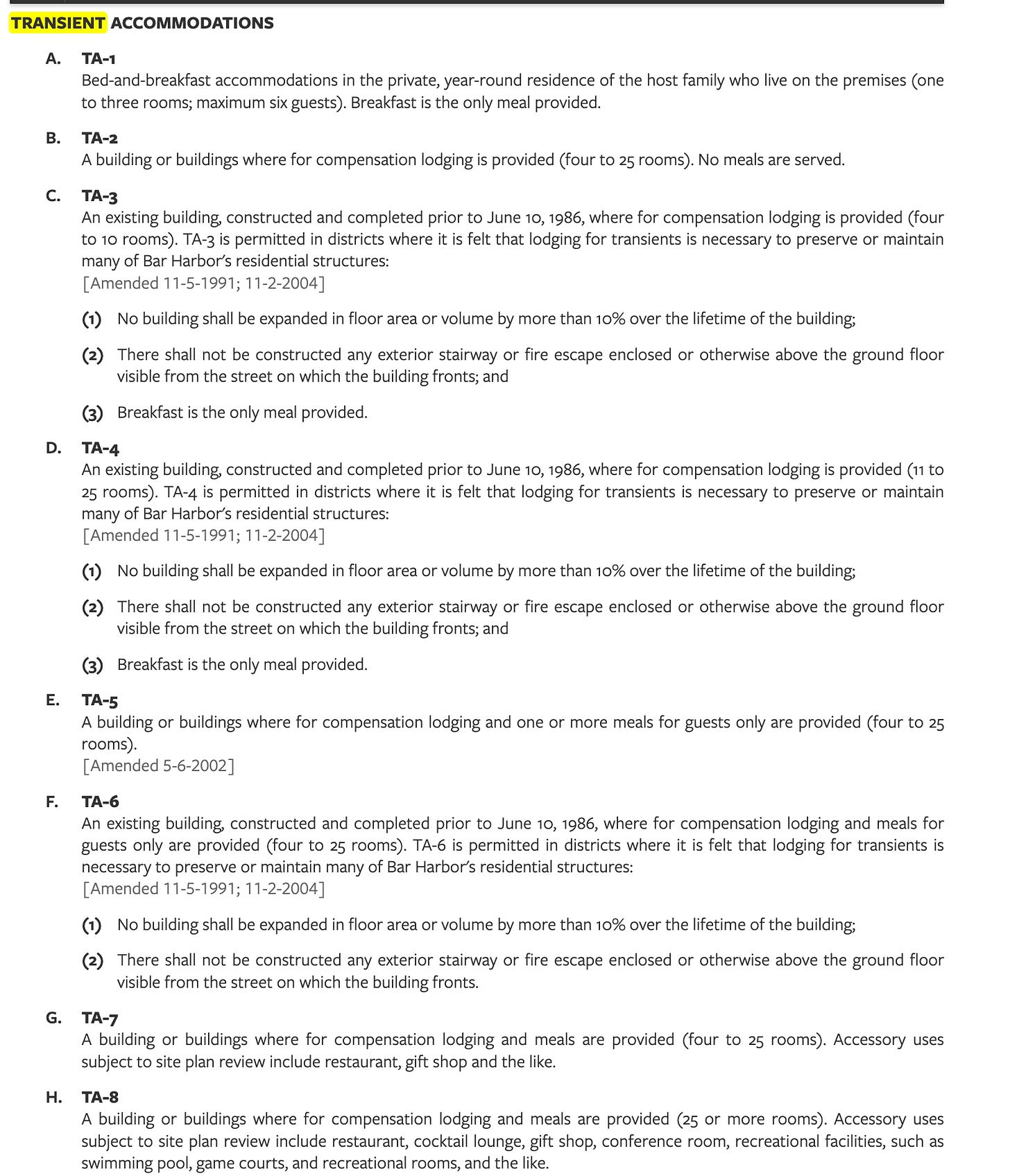 The above image is a screen grab of the town's definitions of transient accommodations. This definition is within the town's Land Use Ordinance.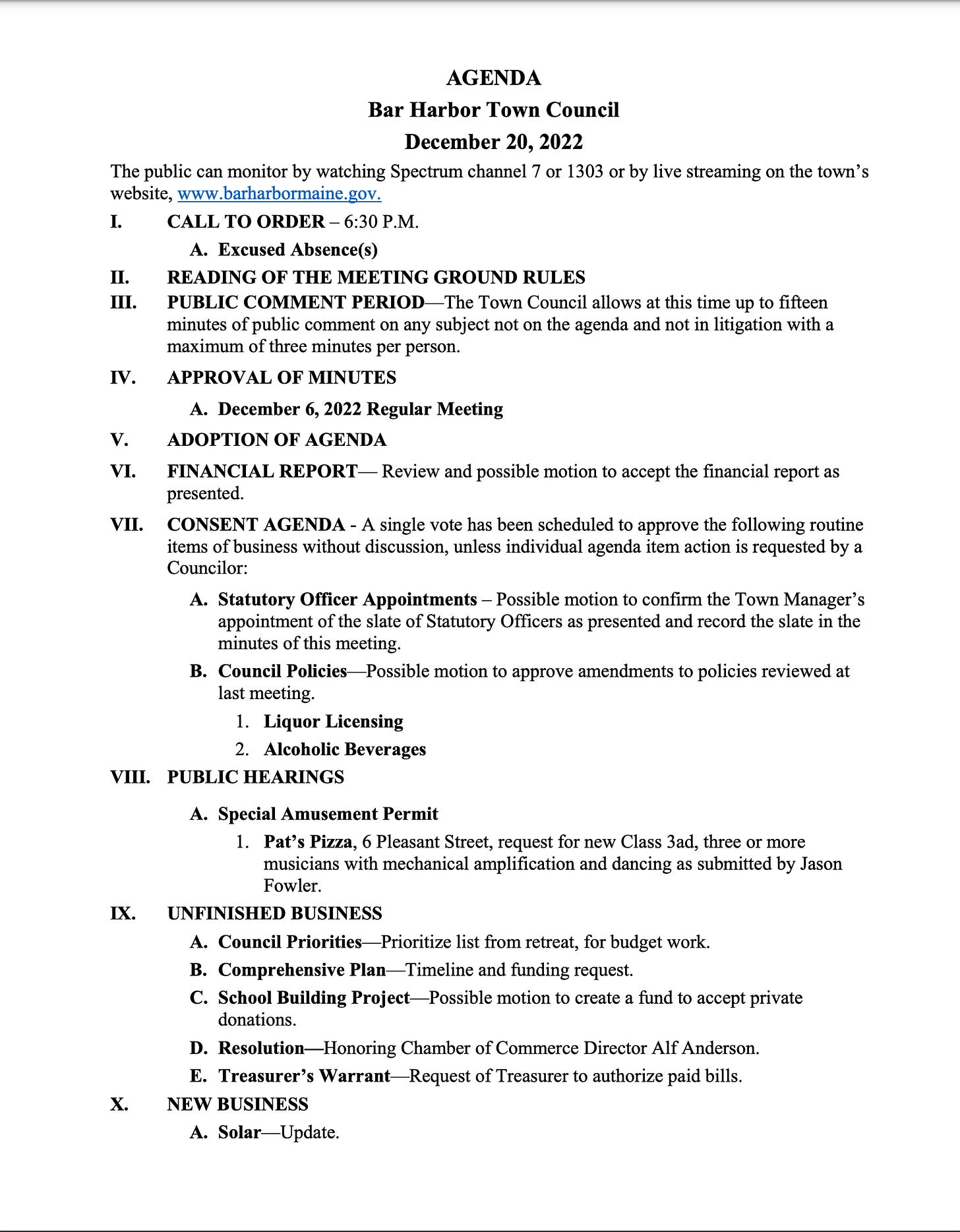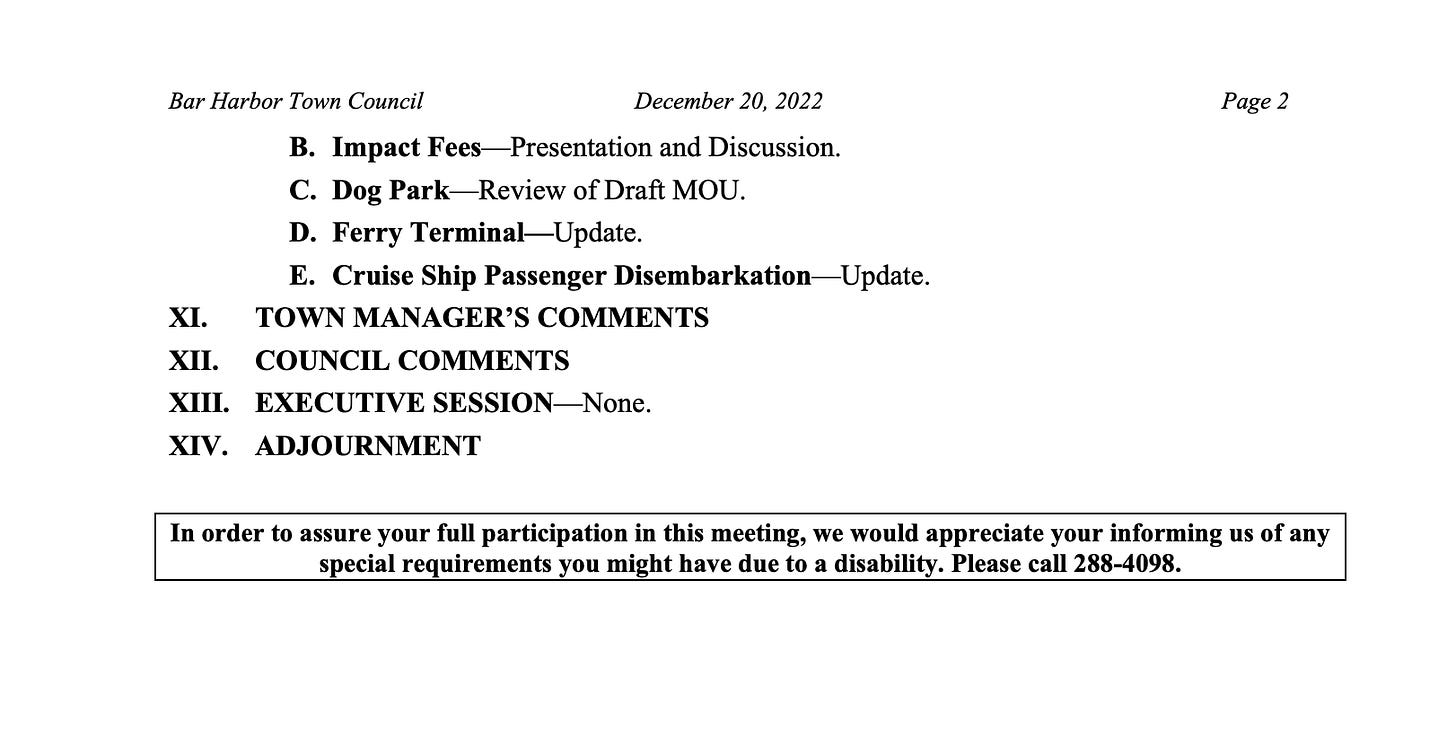 Date:
December 20, 2022
Time:
6:30 PM - 9:00 P.M.
Location:
Council Chambers
93 Cottage
Bar Harbor, ME 04609
---
Manager's Minutes
The open discussion with Town Manager Kevin Sutherland that was originally scheduled for this Wednesday is now on December 28 because of the library's Solstice celebration.
---
Editor's Note: There might be slightly less news this week and the next because of the holidays and I'm trying to find a little work/life balance when people are home and celebrating. I hope you're okay with that.
---
Bar Harbor Story is a reader-supported publication. To receive new posts and support my work, consider becoming a free or paid subscriber. Thank you for being here!