Puppets, reindeer, gingerbread houses, and solstice dominate upcoming holiday events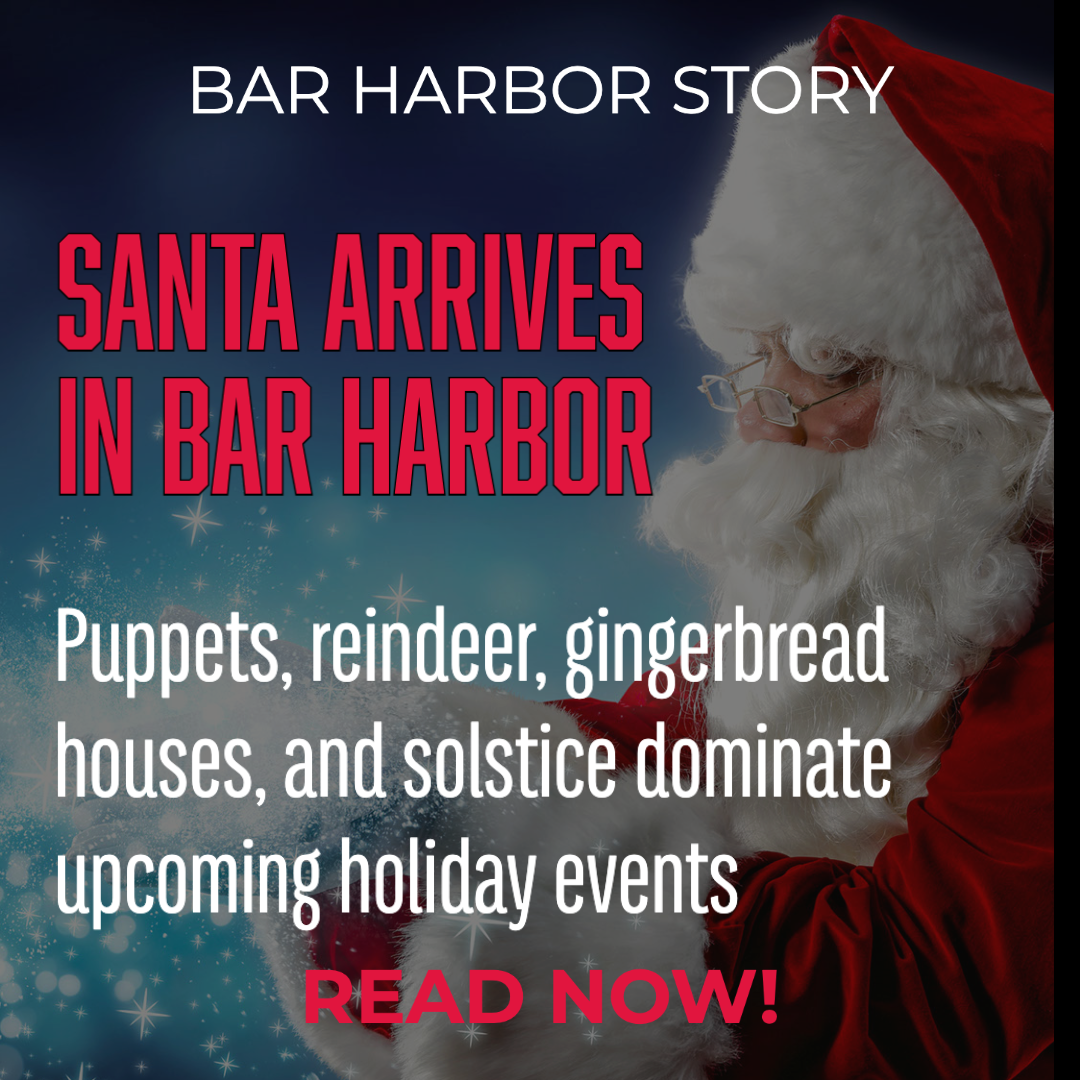 BAR HARBOR—Santa Claus came to town last night as the jolly old elf visited the green and read "'Twas the Night Before Christmas" from the town's cupola to a gaggle of enthused listeners. Santa also helped light the town's tree at the same location Friday night.
The poem, written in the early 1800s by either Clement Clarke Moor or Henry Livingston Jr (it's disputed) first appeared in the Troy Sentinel, a paper in New York. At that time (and for the following 14 years) it was not attributed.
While waiting for Santa's arrival, kids played or hunkered by parents, cups of hot chocolate warmed bellies and cookie crumbs scattered about the town green. Kids gallivanted around chatting groups of parents and grandparents and some of the more adventurous climbed trees or raced in circles around the tree in the center of the cupola.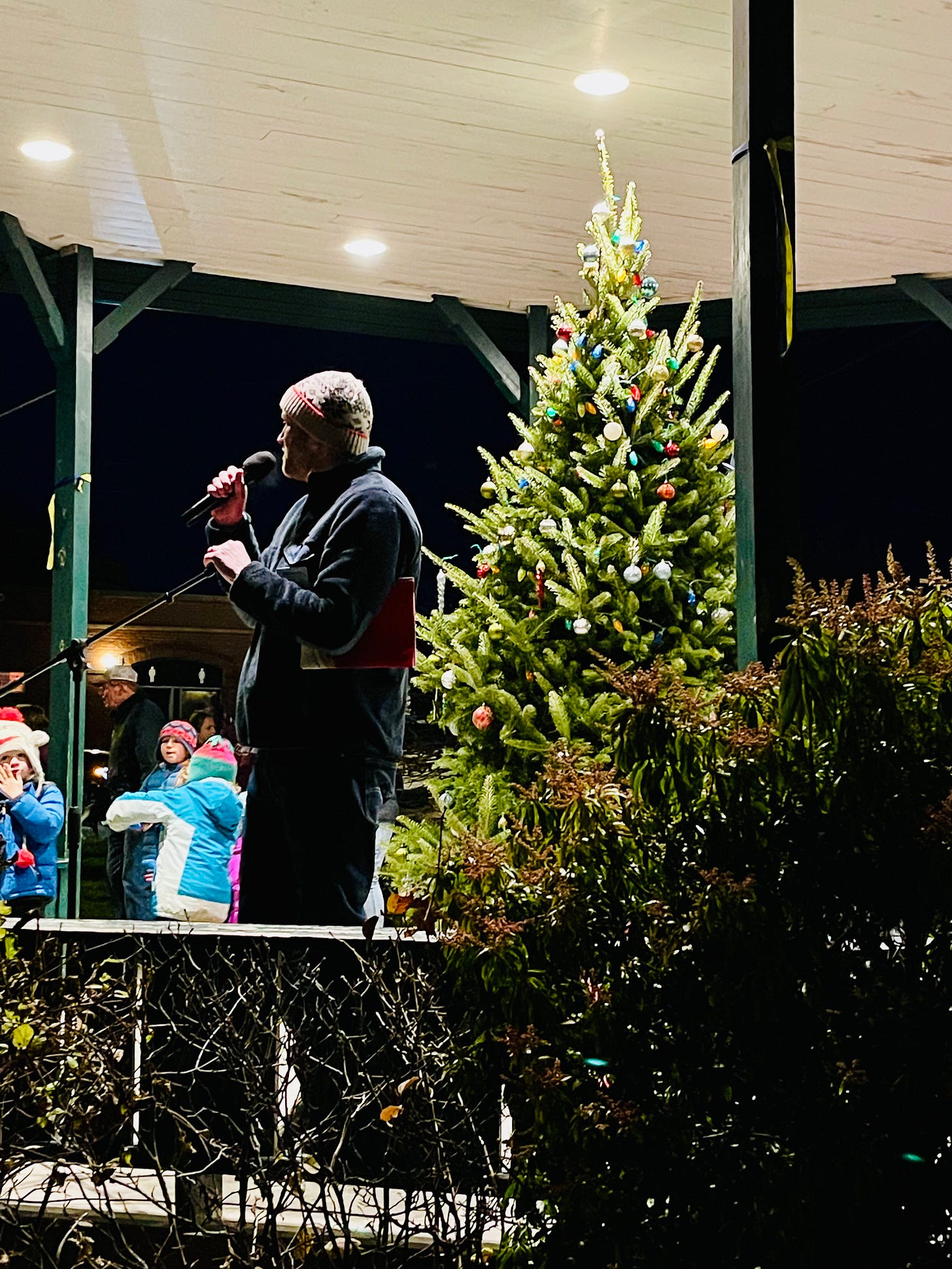 "They're getting out their zoomies," one man laughed.
"Let them get them out now," another agreed.
Soon, all those zoomies were focused in one direction as Santa arrived to a chorus of hellos.
"He's here! He's here!"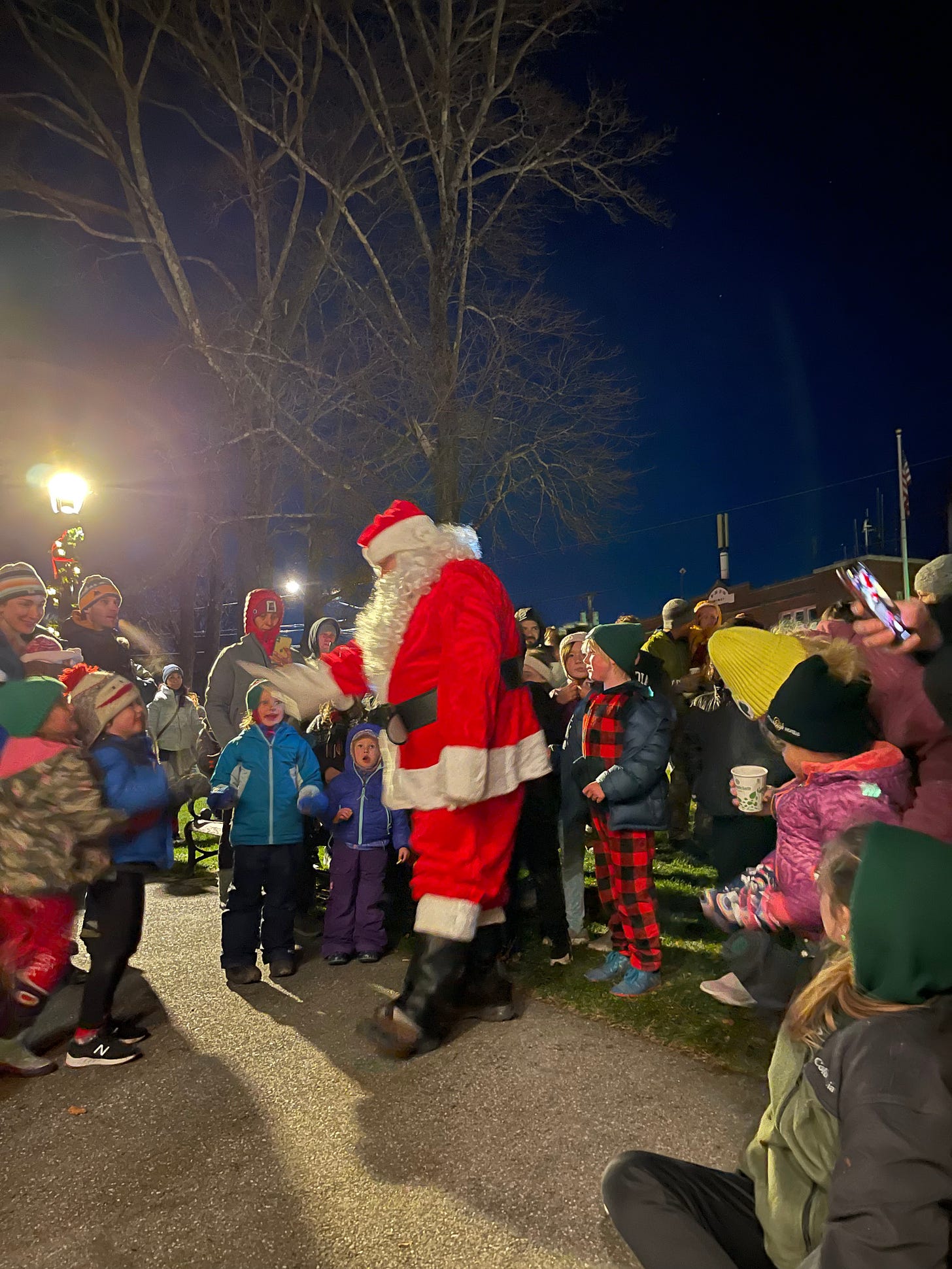 Santa had a police escort to the green and walked to the gazebo through a throng of admirers, stopping to give high-fives and say hello before stepping up onto the cupola, taking the microphone from the Bar Harbor Chamber's Executive Director Alf Anderson and then greeting everyone gathered with a hearty ho-ho-ho.
After the event he headed to the MDI YMCA on Park Street. Local businesses helped Santa and families create holiday crafts. At the Jesup Memorial Library on Mount Desert Street, kids learned about holidays around the world thanks to students from the College of the Atlantic. Kids also could settle in at the library to write a letter to Santa.
Many local shops had sales for the Village Holidays Celebration.
The event was presented by the Bar Harbor Chamber of Commerce, the MDI YMCA, Jesup Memorial Library, Hannaford, and Summer Festival of the Arts. It was sponsored by First National Bank.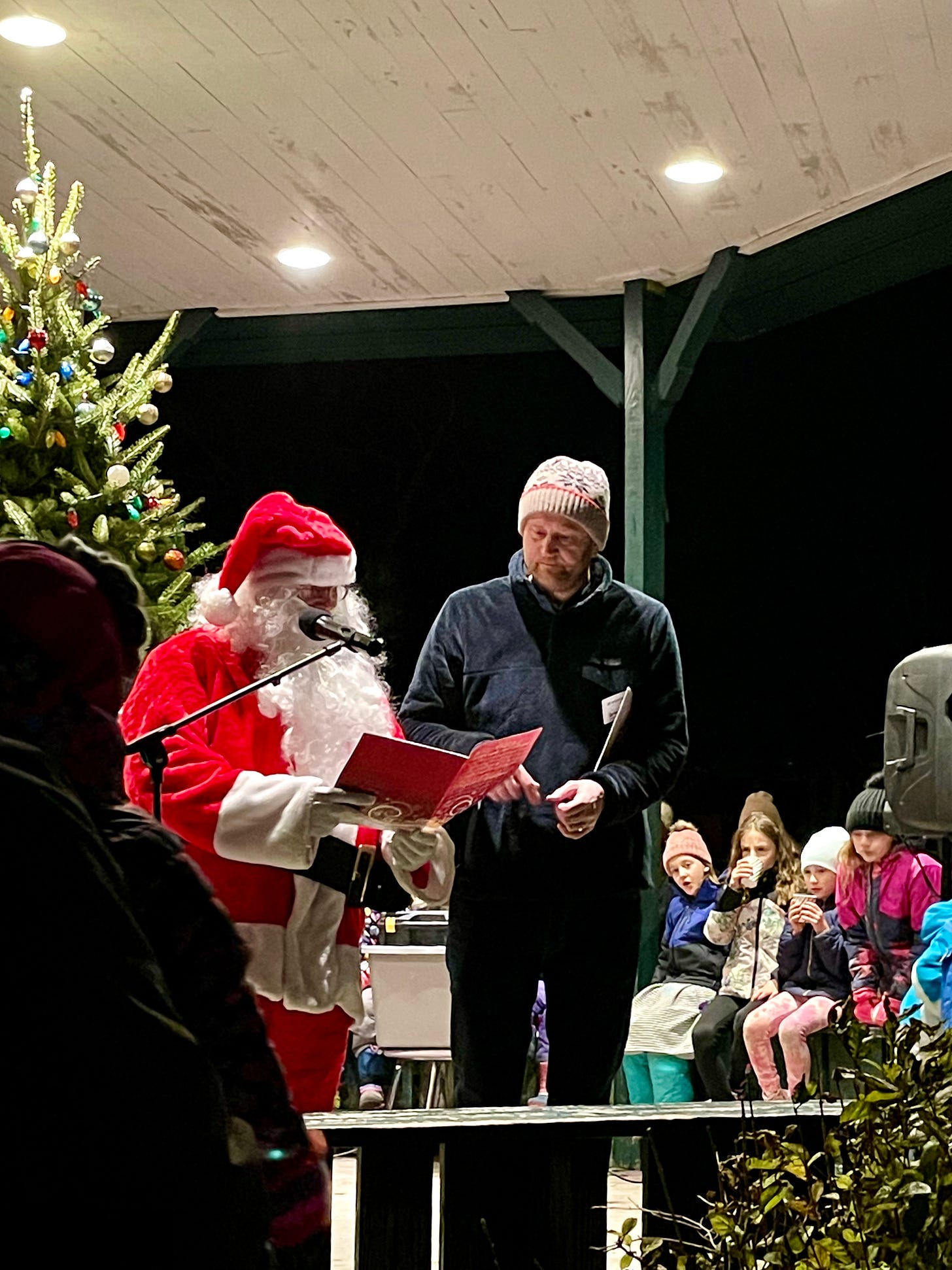 ---
OTHER BAR HARBOR HOLIDAY EVENTS
Island Arts Association's Annual Holiday Fair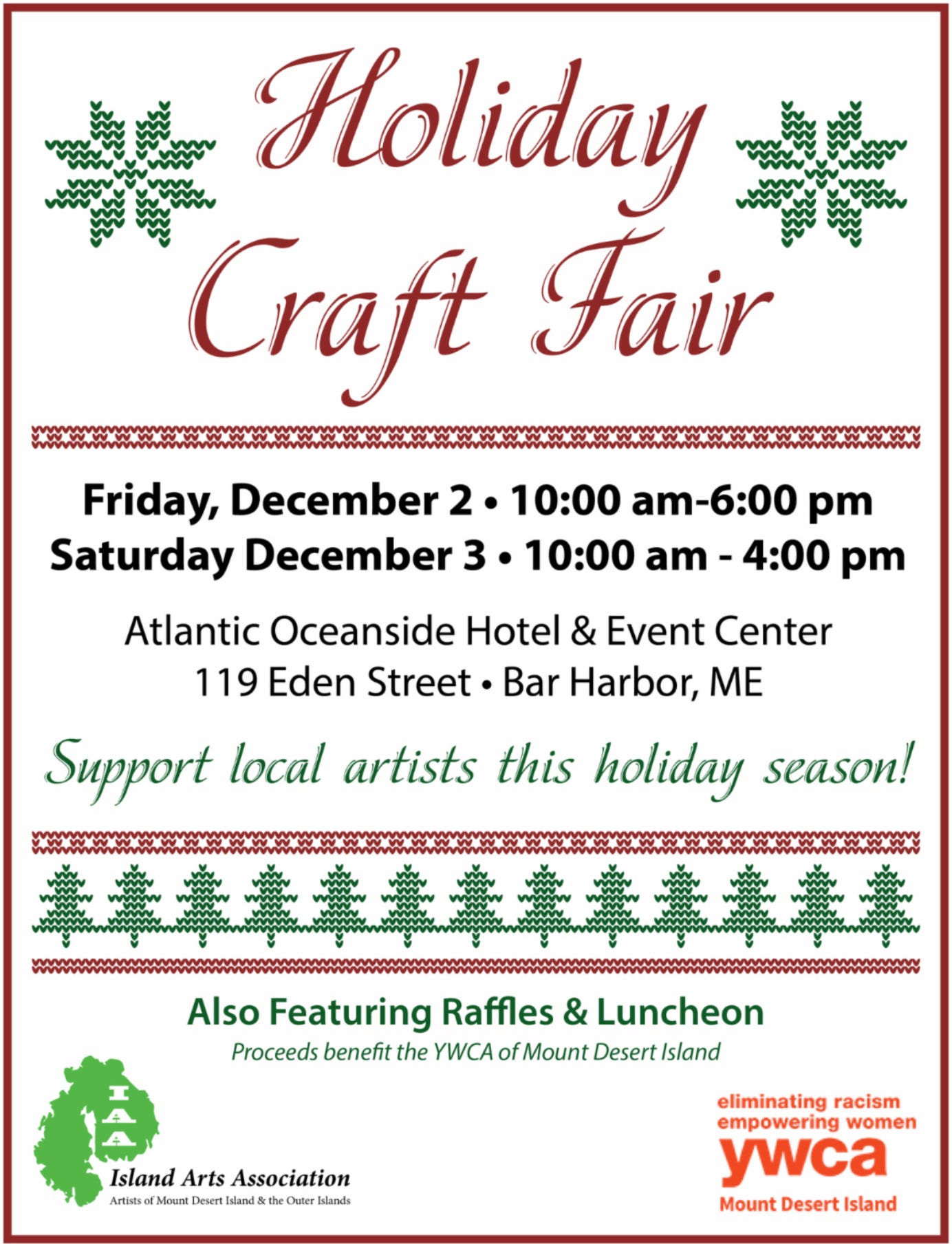 The fair continues today, Saturday, Dec. 3 from 10 a.m. to 4 p.m. at the Atlantic Oceanside Event Center, 119 Eden St., Bar Harbor. Lunch is sponsored by the YWCA.
Frogtown Puppeteers at the Criterion.
A loose retelling of the classic Dr. Seuss holiday classic, with some added twists! The event occurs Sunday, December 11th, at 4 p.m. at the Criterion Theatre on Cottage Street.
YWCA Annual Christmas Bazaar
The YWCA's Annual Children's Bazaar will occur on Saturday, December 10th from 9 a.m. to 2 p.m. at the YWCA on Mount Desert Street.
Reservations are required and needed to be made by Dec. 1.
Witham Family Hotels Charitable Christmas Event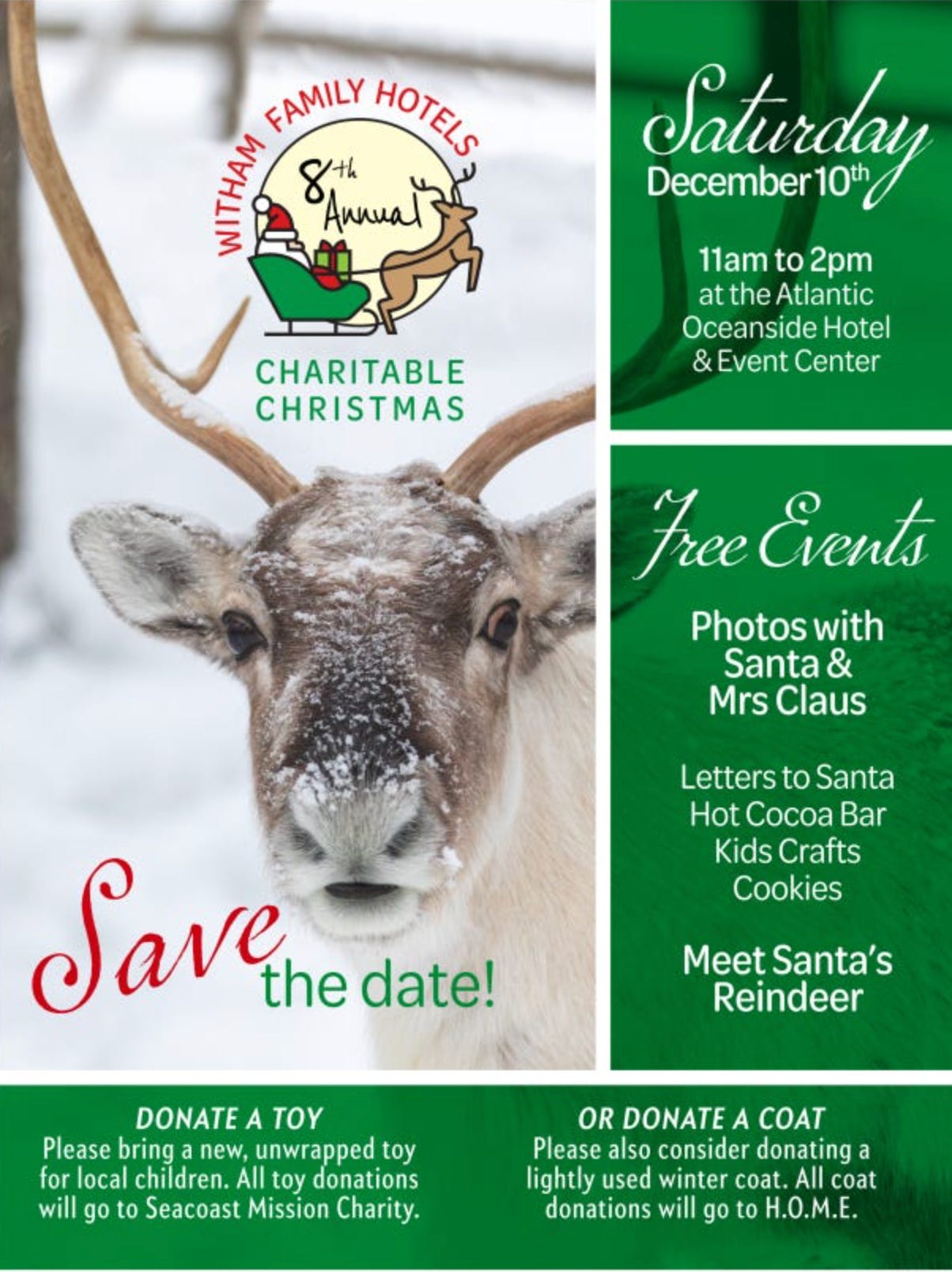 The 8th Annual Witham Family Hotels Charitable Christmas Event will take over at the Atlantic Oceanside Hotel and Events Center on Eden Street/Route 3, Saturday, Dec. 10. The free event runs from 11 a.m. to 2 p.m.
Please bring a donation of a new, unwrapped toy or winter clothing. Those donations will go to the Maine Seacoast Mission's Christmas Program or H.O.M.E. Inc..
Santa and Mrs. Claus and their reindeer will be on hand for photos. There will also be cookies, crafts, hot cocoa, and letter writing time so that kids can send a missive to Santa.
Bar Harbor Gingerbread Contest and Open House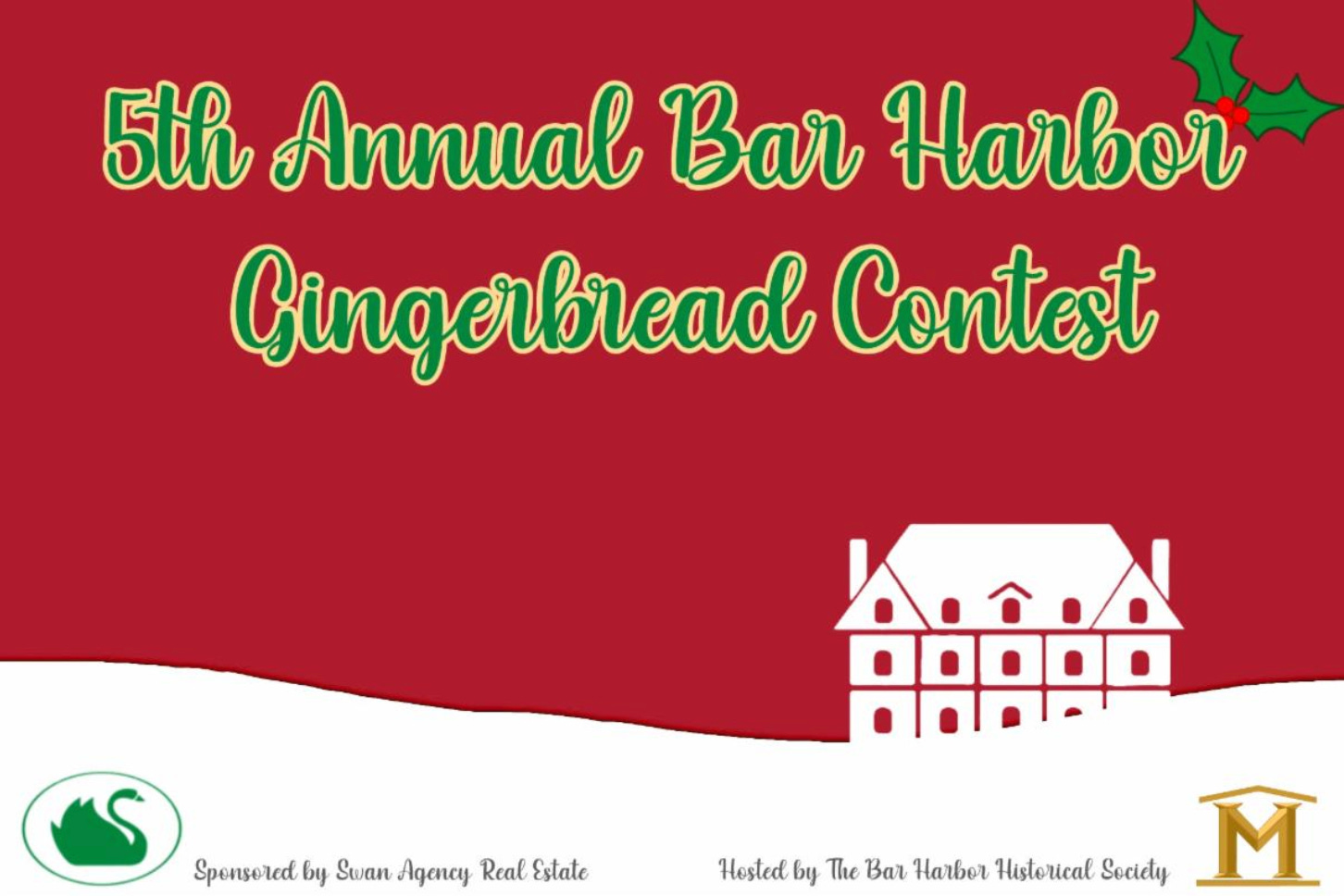 The Bar Harbor Historical Society and Swan Agency Real Estate host the 5th Annual Gingerbread House Contest.
The event runs from 10 a.m. to 1 p.m. and is on Saturday, Dec. 10 at La Rochelle Mansion and Museum, which is located at 127 West St.
Check out the gingerbread house area residents have conjured. Vote for your favorite! The event is free and the museum and gift shop will be open and free.
To celebrate the 5th annual contest, the prize purse will be doubled to a grand prize of $500. There will also be a community favorite prize of $250, and a children's prize of $250.
Gingerbread house entries should be made with all edible materials and delivered to La Rochelle between 2 p.m. and 4 p.m. on December 9th. The kid's category is for children 13 or under, and may have reasonable adult assistance.
Outdoor Living Nativity
Bar Harbor Congregational Church will host its annual outdoor living nativity, 6-7:20 p.m. Friday, Dec. 16. The church is located at 29 Mount Desert St.
Winter Solstice Celebration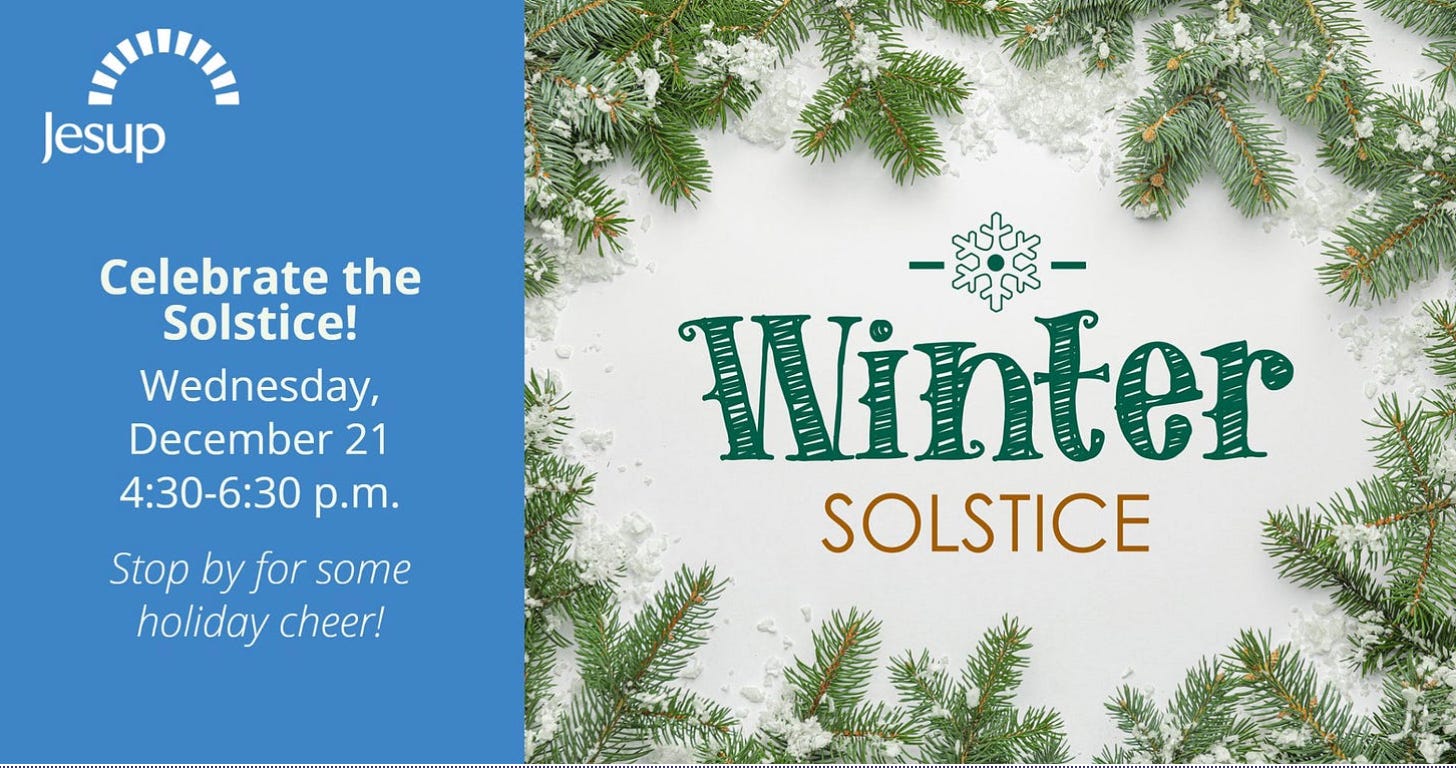 The Jesup Memorial Library will hold an open house solstice party to celebrate the year and the start of winter. Join them for cider, music, crafts, snacks, and community. Drop in for some holiday cheer! The event is Wednesday, December 21, from 4:30 to 6:30 p.m..
Acadia Choral Society Concert in Bar Harbor
The Acadia Choral Society of Hancock County is pleased to offer a stunning selection of holiday-themed music for the upcoming season. The group will perform Vivaldi's Gloria and Buxtehude's Christmas cantata "Das Neugeborne Kindelein" ("The Newborn Little Child") along with arrangements of other well-loved Christmas music in an hour-long performance on Dec. 4 at 3 p.m. at St. Saviour's Episcopal Church in Bar Harbor. Tickets are $20 per person or $45 for families of three or more. For more information, visit http://www.acadiachoralsociety.org.
Date and Time
December 4
3:00PM – 4:00 P.M.
Location
St. Saviour's Episcopal Church
41 Mount Desert Street
Bar Harbor
Cost
$20.00
CHRISTMAS CAROLING IN BAR HARBOR
Let's go caroling!!! All are welcome to join in on Sunday, December 11th. We will meet at the YMCA in Bar Harbor at 4 P.M. and head off! We will have lyric sheets…feel free to bring along your jingle bells!
---
TO LEARN MORE
https://www.visitbarharbor.com/villageholidays?fbclid=IwAR36UzOb6Y-7-qda3zmfHPUacwxPz5rkhubRBqgvsh0O7hd3V8EHSU8w9zE
https://en.wikisource.org/wiki/Troy_Sentinel/1823/12/23/Account_of_a_Visit_from_St._Nicholas
To check out the original version, "Account of a Visit from St. Nicholas"
https://merrycoz.org/moore/1823Troy.xhtml
---
Bar Harbor Story is a reader-supported publication. To receive new posts and support my work, consider becoming a free or paid subscriber. I'm just one person and I can't be everywhere (especially while trying to support my family), but please let me know if there's something you want me to check out! And thanks for being here!