Town Council To Determine Budget for January-June 2023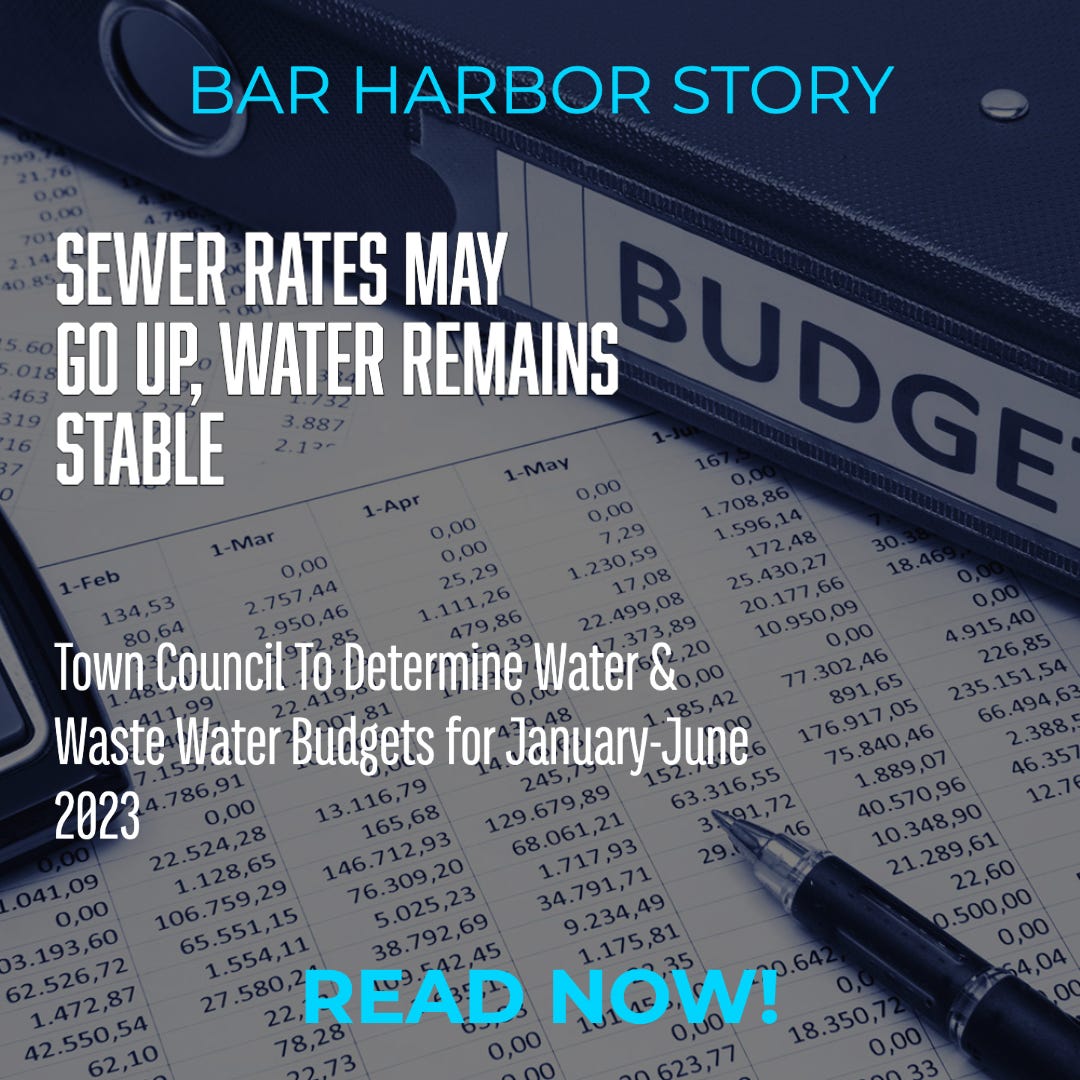 BAR HARBOR—If the Town Council approves budgets for wastewater and water at its Tuesday meeting, the average home owner's minimum payments will increase from $48 to $56 for the last two quarters of the fiscal year.
"The sewer budget has a rate increase of 18% and this will be for the second half of Fiscal Year 2023 (Jan-Jun 2023)," Town Manager Kevin Sutherland wrote in his memo for town councilors Friday. "This anticipates expenses related to operating and treatment including an interest payment related to the infrastructure bond."
In June town councilors approved two continuing resolutions for the water department budget and for the waste water budget so that the departments would have more time to draft budgets. The draft Fiscal Year 2023 water and sewer budgets have been separately released Friday.
According to a memo from Bar Harbor Finance Director Sarah Gilbert dated December 6, but released December 2, the water budget, calls for
"No recommended change in the rates
Gross capital expenditures projected at $506,500, with no borrowing
A 3.5% budgeted increase of anticipated revenues
A 21.7% budgeted increase of operating expenses due to added services and increased cost of materials and supplies."
The revenues for that year are expected to be 4.5% higher than the budget projected for FY 2022 and 3.5% higher than the actuals. This predicts a 2% volume increase from FY 2022.
According to Gilbert,
"Total operating expenses, including depreciation, over the 2022 budget are scheduled to increase by 21.7%. Capital spending is requested at $506,500 covered by previously internally generated funds. The fiscal year just ending (FY22) projects an increase of cash of approximately $204,740, primarily because of deferred capital spending. Next year, we are budgeting for $242,158 in cash drawn down because of increased capital spending funded by cash reserves."
The payroll and benefits will likely increase 46.5% because of added personnel and the staff joining the Teamsters Union in July. There are also increase costs for fluoride and CO2.
Current Average Water Costs
There are 1,854 metered customers in Bar Harbor. Of those 1372 are residential. About one-fourth of all customers are seasonal. Customers receive quarterly bills from the town, which in 2001 purchased the Water Company.
The system can handle 2,400 gallons a minute. There has been $9 million in infrastructure improvements since then, and the system handles 365 million gallons every year. In that 365 million, there is a 20% loss from broken mains, hydrant flushing, and firefighting, Gilbert said Friday, of that, the Jackson Lab makes up 27% annually and up to 45% in the winter quarter.
According to the memo,
"The Lab generates 8% of the Water Division's total revenues and 12.2% of the metered revenues in 2022. The Jax Lab has been keeping close to their estimates of water usage (stable use, despite the Ellsworth facility coming on line)."
Gilbert further explained Friday that the lab has multiple meters. There are two elements for metered usage- a regular water consumption meter and a meter that measures what enters the sewer for treatment. For Jax, its metered water is higher that metered sewer. However both are counted and reported in metered usage. Revenue reflects only water billed.
According to Gilbert's memo,
"A minimum quarterly bill currently under this budget allowing 1200 cubic feet through a 5/8" meter of $76.17 per quarter will remain at that level. Bar Harbor's typical quarterly average household charge for 2000 cubic feet currently is $111.53, still well below the average rate of $144.88 for 15 selected comparable communities. As a comparison, the Town's sewer customers pay quarterly fees for wastewater usage of $47.70 (for a minimum-allowing 600 cu ft usage) and $159.00 (2000 cu ft- for a small family). The FY23 Wastewater budget has a proposed increase of 18% in rates."
DEBT SERVICE AND CAPITAL OUTLAY
According to the budget,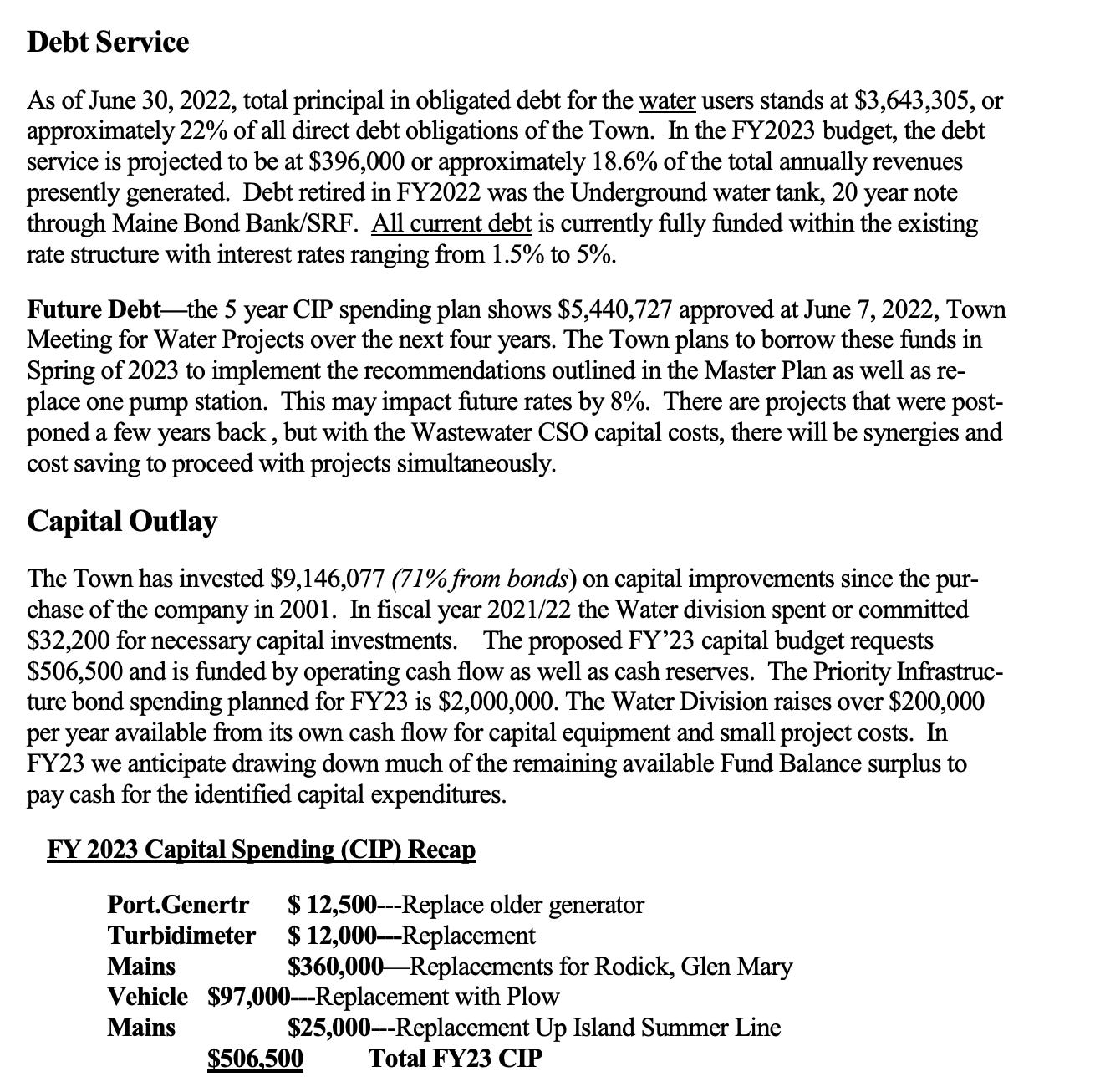 FY 2023 SEWER FUND BUDGET
Unlike the water budget, the sewer budget, if passed as submitted, will increase by 18%. That includes a rate increase. The budget was under for FY 2022 because of staffing shortages. Emergency repairs made the repairs and maintenance items in the budget come in $100,000 more than expected.

According to the submitted budget, "The recommended budget for cash operating expenses will increase $386,425 in the coming year over the FY22 budget, or 24.2% and an increase of 27.3% from the FY2022 projected. Wages are budgeted to increase by 10.8%. Benefits will decrease by 0.5%, due primarily to the revised mix of employee participation in health insurance cost."
There are eight full-time employees including the superintendent. They are also part of the Teamsters Union.

RATES
There is a summer residential user discount, of which 105 residents used. It is meant to "reflect water that does not enter the town's sewer system." It is an annual program.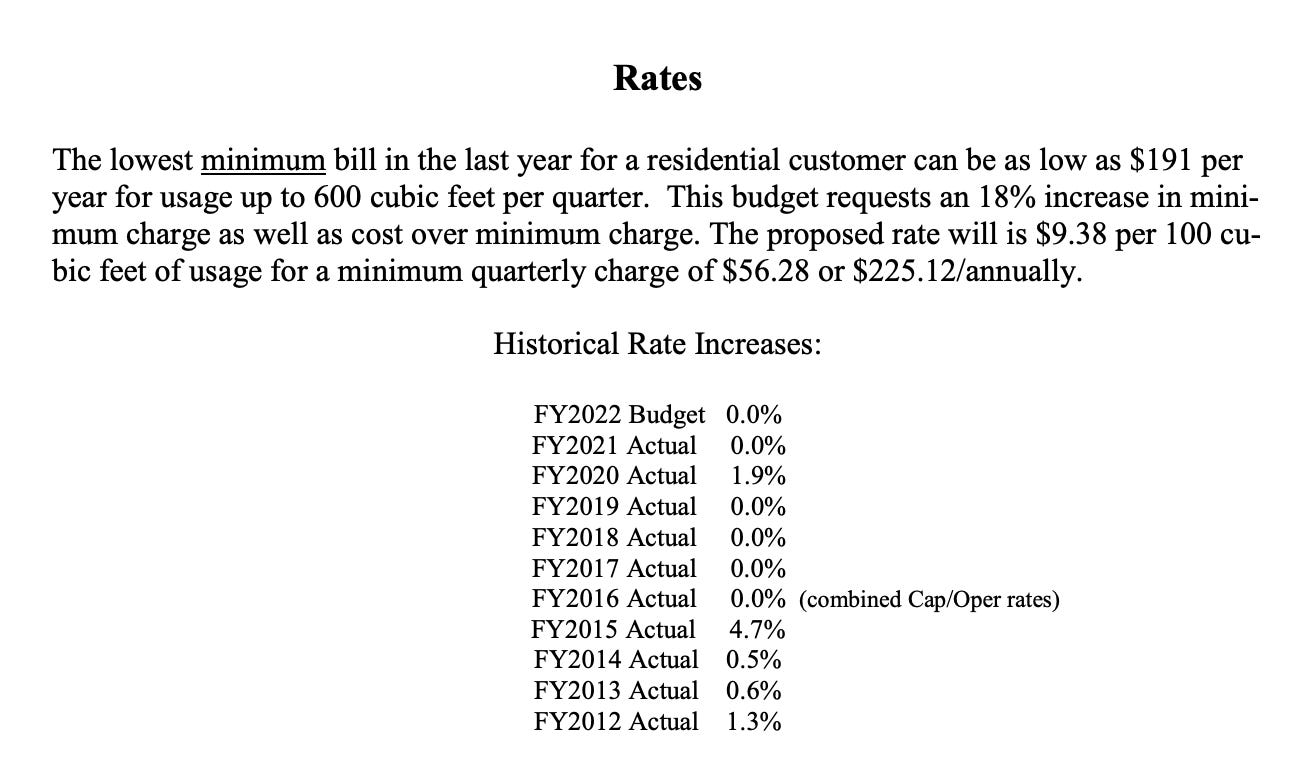 ---
FOR MORE RESOURCES AND TO SEE THE FULL BUDGET, CHECK THE LINKS BELOW.
Town Council Packet and Agenda for Monday
---
Bar Harbor Story is a reader-supported publication. To receive new posts and support my work, consider becoming a free or paid subscriber. Thank you for being here!