Police Chief Says Cruise Season Went Well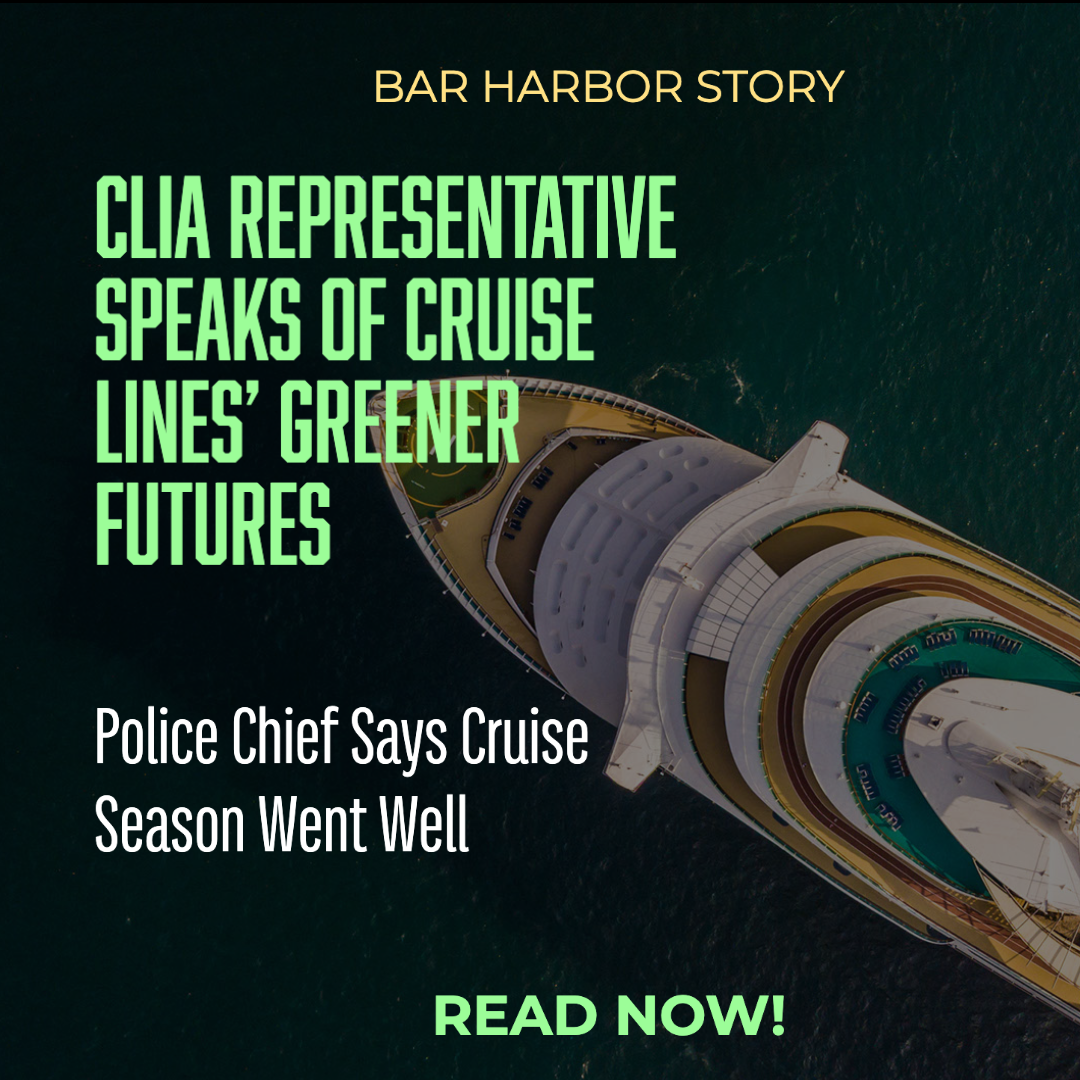 BAR HARBOR—The Bar Harbor Cruise Ship Committee met in Council Chambers and via Zoom webinar Thursday afternoon and had a few Zoom buffering glitches due to a weak internet connection at the town's Municipal Building.
"People on Zoom, are they frozen for you too?" said one disembodied voice over Zoom.
"This internet is not very good," Harbormaster Chris Wharff said in Council Chambers.
The meeting continued despite the glitches. Talk about the past season filled most of the meeting though it was not an official season review. That will occur at a later meeting.
During staff reports, Police Chief Jim Willis said, "Things have gone way better with our new plan this year. I don't think we have received any complaints." He added that this season went very well compared to years past in terms of moving people and congestion by the water. That plan involved cruise ship passengers disembarking by Harborside on West Street rather than having all those passengers disembark closer to the municipal wharf at 1 West Street, just past Main Street.
"It made a huge difference," Wharff said, adding that town staff never had to make West Street one-way the entire summer. The police department cross-trained its civilian parking staff in cruise ship management instead of using police officers for cruise ship duty. Willis said the parking staff seemed to enjoy the duty.
Chair Martha Searchfield works part-time as a port agent and said to Willis and Wharff, "I think your staff was excellent. I think they did a great job."
Comparing the season to 2019 (the last busy season, pre-pandemic) was night and day, Searchfield said. Guests and cruise lines both shared with her that they enjoyed the experience. "It all made a tremendous difference in how people moved and dispersed through the town."
She said that Ollie's Trolley, Larry Sweet's team, tour guides, and others all stepped in to help.
"It's an amazing process of how people come together and work together," she said. "It's very inspiring and joyful to work down there."
Two items of regular business were postponed until the committee's next meeting in January. That was a review of the 2023 season as well as an understanding or discussion of the election results and the new cruise ship disembarkation caps. Council representative Matthew Hochman and Town Manager Kevin Sutherland were not at the Wednesday meeting. Sutherland was on vacation. Hochman was at work.
Member Jeremy Dougherty asked for the final cruise ship numbers and statistics for 2022. Wharff said they only had a few bad weather days that led to cancellations and added that ten ships is about the average of cancellations in a season.
Maureen Hayes, Cruise Lines International Association's (CLIA) senior technical advisor gave a short industry environmental update and said that currently 40% of the global cruise ship capacity is fitted to operate on shore-side electricity. This does not occur in Bar Harbor. Ships do not come in to shore.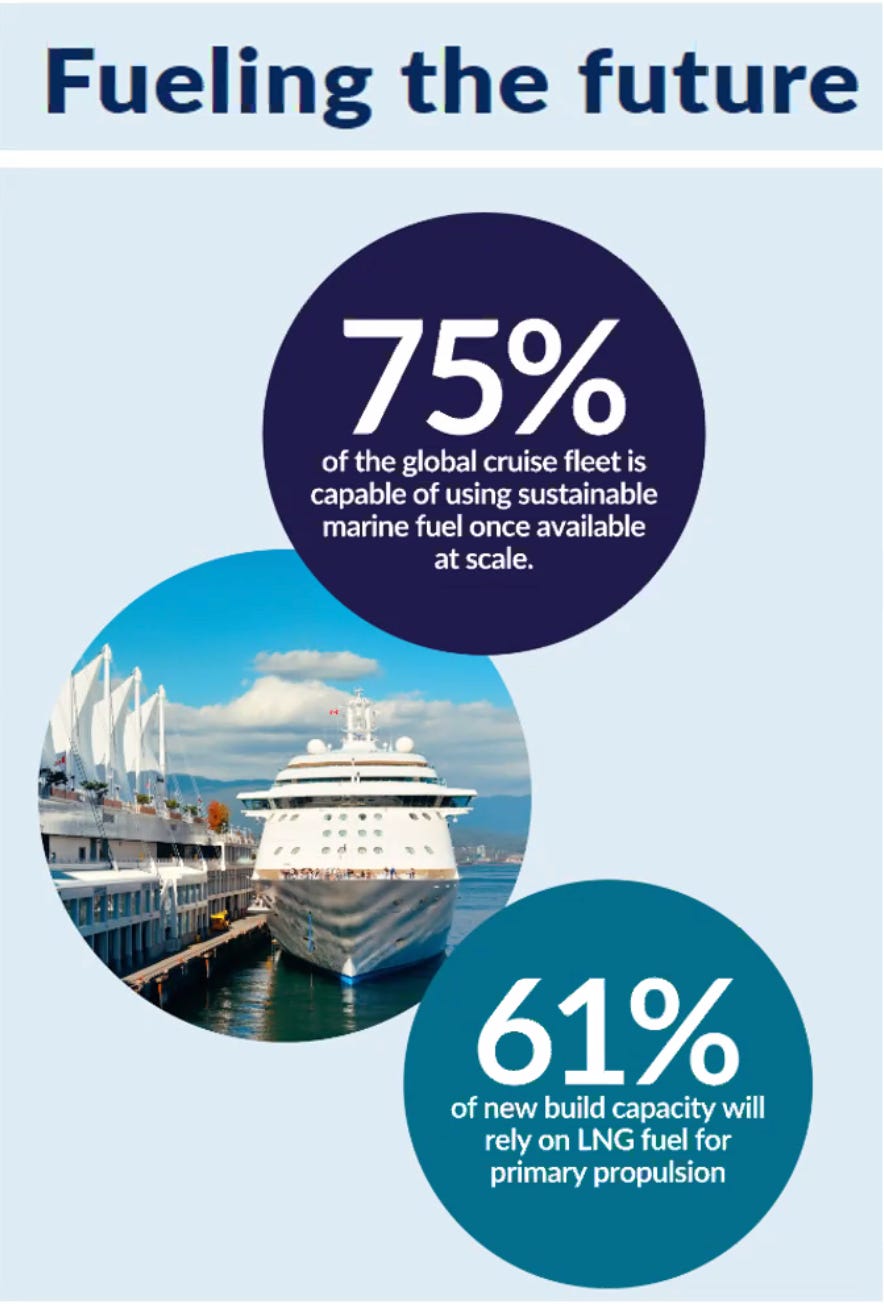 Currently, there's a lot of research underway looking into greener futures, she said, and that includes alternative fuel. The industry hopes to decarbonize shipping moving forward.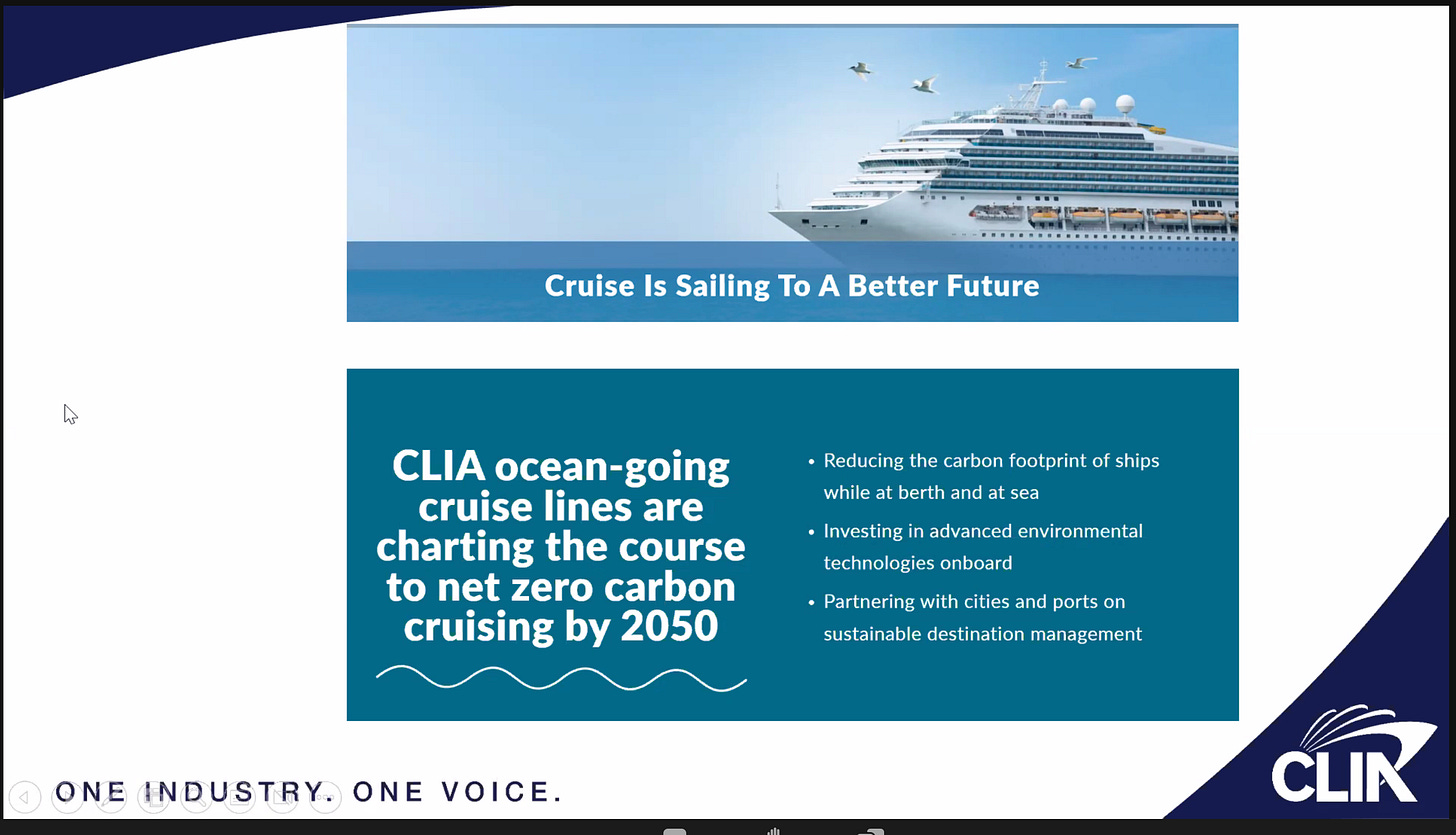 Since 2005, Maine's state government and Department of Environmental Protection have had a focus on marine vessels and air quality. Marine vessels include lobster boats, cruise ships, whale watches, large and small. The state's DEP was specifically interested in the air quality and health impacts and it released a report about those impacts and levels in 2005.
In a January 2020 report to the joint state legislature, the DEP wrote that for the country,
"Commercial marine vessels contribute 40% (13 8 tons/year) of the sulfur dioxide (SO2), 2. 7% (70 tons/year) of the particulate matter (PM), 8% (2,681 tons/year) of the nitrogen oxides (NOx), and 0.1% (43 tons/year) of volatile organic compound (VOC) emissions from the mobile sources sector. Apart from sulfur dioxide, emissions from marine commercial vessels appear minor in comparison to other source categories; however, the Department cannot conclude that marine vessels contribute insignificant levels of air emissions in Maine because the emissions inventory method used by the EPA may not be accurate or robust enough to capture a complete picture of marine vessel emissions."
Regulations for marine vessels' air emissions happen at the federal level and international level, not locally. According to the 2020 report, those regulations are becoming more stringent. At the same time, the report said that "cruise ship calls have doubled" since 2005. And that maritime transport moves more than 90% of world trade.
On October 18, CLIA issued a press release, which is included in the Cruise Ship Committee's packet, saying the industry "demonstrates commitment to pursuing net-zero carbon cruising globally by 2050."
The release goes on to say,
"In fact, more than 15% of the vessels to be launched in the next five years will be equipped to incorporate fuel cells or batteries, and 85% of CLIA-member ships coming online between now and 2028 will be able to plug in to shoreside electricity, allowing engines to switch off at berth for significant emissions reduction.

"Despite progress made, the report makes clear that a transition to sustainable marine fuels remains essential to achieving the maritime industry's decarbonization goals and underscores the urgent need for governments to support research efforts to accelerate development of these fuels so that they are safe, viable and available for use at scale. To that end, CLIA is a supporting organization to the Getting to Zero Coalition's Call to Action for Decarbonization of Shipping. This support is in addition to the leadership of its individual cruise line members and their partnerships with a number of other coalitions and organizations that are working to find critical decarbonization solutions."
"The report notes that CLIA ocean-going cruise lines continue to progress reductions in emissions:
"Shore-side Power Capability – cruise lines continue to make significant investments for cruise ships to connect to shoreside electricity, allowing engines to be switched off in port.

40% of global capacity (up 20% year over year) are fitted to operate on shore-side electricity in the 29 ports worldwide (less than 2% of the world's ports) where that capability is provided in at least one berth in the port.

98% of new build capacity on order book (between now and 2028) is either committed to be fitted with shore-side electricity systems or will be configured to add shore-side power in the future.
Liquefied Natural Gas (LNG) Fuel – The 2022 report found 61% of new-build capacity will rely on LNG fuel for primary propulsion. The use of LNG results in 95% to 100% fewer particulate matter (PM) emissions, virtually zero sulphur emissions, and an 85% reduction in nitrogen emissions. As a transitional fuel, LNG provides real benefits now, but also allows LNG-ready ships to adapt to a future generation of sustainable marine fuels. *
Exhaust Gas Cleaning Systems (EGCS) – More than 79% of global capacity utilizes EGCS to meet or exceed air emissions requirements, representing an increase in capacity of 7% compared to 2021. Additionally, 88% of capacity of non-LNG new builds will have EGCS installed, in line with already high historical level of investments.
Advanced Wastewater Treatment Systems – 100% of new ships on order are specified to have advanced wastewater treatment systems and currently 78% of the CLIA ocean-going cruise line fleet capacity is served by advanced wastewater treatment systems (a 9% increase compared to 2021)."
Searchfield asked to have Hayes's presentation forwarded to the town so that it could go up on the town website.
OTHER BUSINESS
The committee also quickly discussed the issues of in-town drop-off sites for cruise ship passengers, many of whom have difficulties navigating the hill up from the water and into town proper. Willis said that the drop-off issue is a complex one because of staffing, traffic flows, and congestion.
During the public comment session, Bar Harbor Chamber of Commerce's Executive director, Alf Anderson talked about Port Call (a "synchronized vessel scheduling for ports, pilots, and agents") and how its public face is limiting and not user friendly. There's also no way to look at historical information for public users. His comments were seconded by Committee member John Kelley.
Wharff agreed that there should be a much better public-facing functionality.
Searchfield said it would be helpful if the last ports the ships visited prior to coming to Bar Harbor were in the shared information too.
The committee will not meet in December and is trying to find a new consistent meeting time. The members are penciling in Thursday, January 5 as its next meeting. That meeting would start at 4:30 p.m..
---
FOR MORE INFORMATION
Town's cruise ship committee site
http://barharbormaine.gov/268/Cruise-Ship-Committee
To monitor the daily air quality
https://www.iqair.com/usa/maine/bar-harbor
The town's air quality website
https://barharbormaine.gov/496/Air-Quality
Maine DEP's Air Quality maps
https://www.maine.gov/dep/air/aq-me.html
Maine DEP's historical data
https://www.maine.gov/dep/air/ozone/view_data.html
Bar Harbor Water Quality Reports
Reports:
Moody Mountain Environmental Report 2011-2012
MDI Bio Lab Cruise Ship Monitoring Report 2018
Marine Vessels Air Emissions 1-2020
CLIA_Health and Safety-Factsheet_June 2020_Global
CLIA_Environmental Responsibility-Factsheet_9 June 2020_Global-US
CLIA_Economic Impact-Factsheet_June 2020_Global
CLIA_Destination Stewardship-Factsheet_June 2020_Global
To see Port Call:
Members (not all members are voting members)
Martha Searchfield, Chair
Chamber of Commerce representative
Term expires 2024
Eben Salvatore,
Cruise Ship Tender Ops representative
Term expires 2024
Matt Hochman
Town Council representative
Term expires 2023
Vacant
Scientific Industry representative
Term expires 2025
Sandy McFarland,
Resident at Large
Term expires 2025
Deputy Clerk, – Secretary
Jeremy Dougherty,
Downtown Business representative
Term expires 2023
Jennifer Cough,
Downtown Business Representative
Term expires 2024