Matthew Foster Had Said He Was Never Investigated By Maine's Attorney General's Office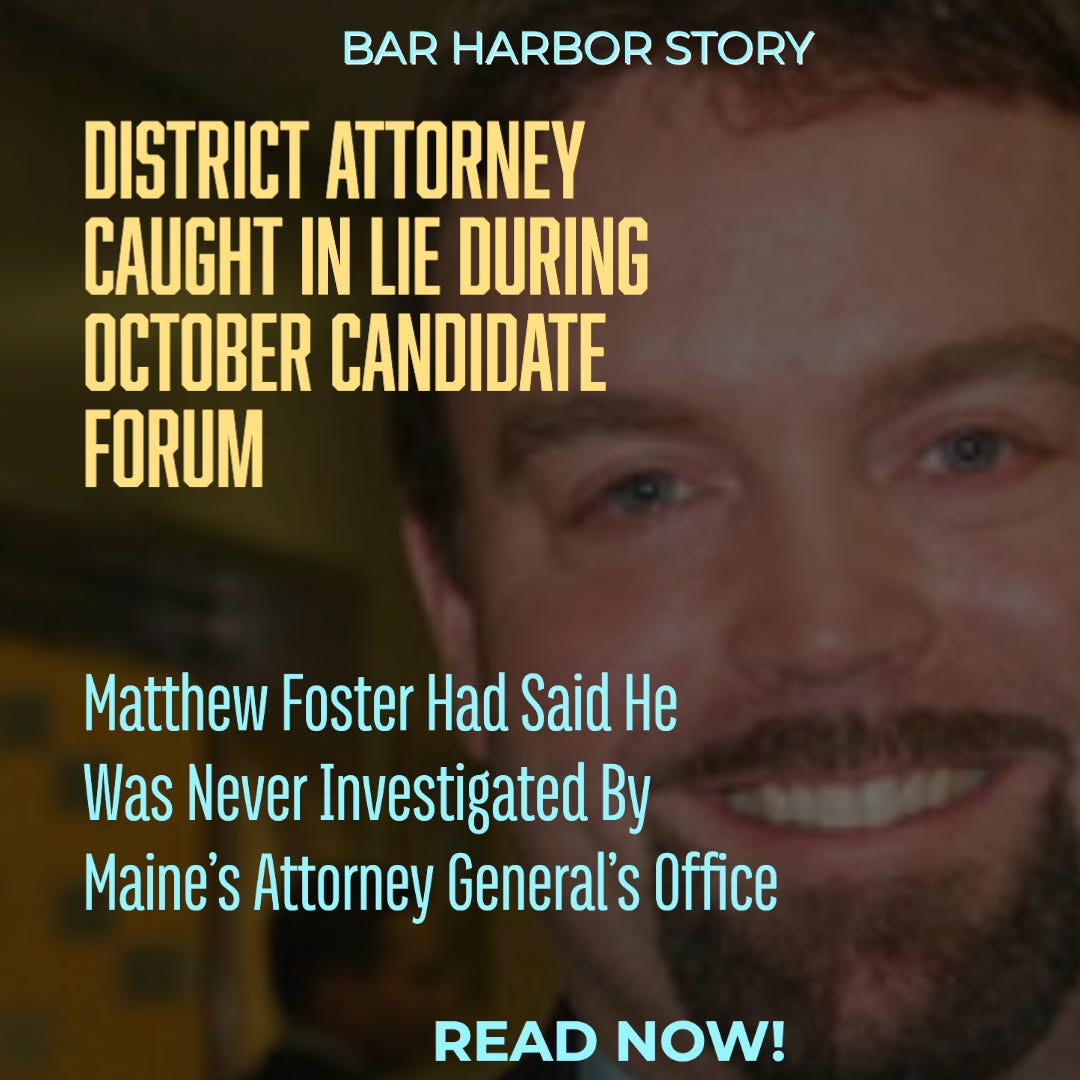 ELLSWORTH—Two recent Bangor Daily News articles detail that current Hancock and Washington County District Attorney Matthew Foster (R) lied during a candidates' forum on October 12. That League of Conservation Voters forum was online and moderated by the Ellsworth American's Cyndi Wood. Foster is running for reelection for the district attorney against Robert Granger (I) of Blue Hill. If elected, this would be Foster's third term. He was initially elected in 2014.
About 36 minutes into the forum, which was online, the attorneys were asked if they'd ever been investigated by the attorney general's office for a possible criminal offense.
Granger said not that he was aware of and that he "represented all the investigators there," so he assumed he would have heard about it.
Foster said, "No."
Wood replied, "Thank you. That was easy."
They then moved onto the next question.
However, Bangor Daily News reporter Callie Ferguson spoke to Kathleen Hinerman who alleged that Foster had sexually abused her just over a decade ago when she was 13, and she and her mother were staying at Foster's home. Maine's attorney general's office had state prosecutors investigate Hinerman's statement in 2017 and 2018. The office did not file charges against Foster.
Ferguson wrote the first article detailing the allegations, which is linked below. Bill Trotter wrote the initial follow-up article, which included some reactions from people in Hancock County and Washington County. In that article, a few people said that they knew of Hinerman's allegation and have known about them for a while. The earlier article said that Hinerman began relaying the story around 2017, and some said that they've known about it since around that time.
In a third Bangor Daily News article published today, Foster told Trotter that he passed a lie detector test in the 2018 investigation. That test that was administered by the Maine State Police, and Foster told Trotter that he stood by everything he told investigators during that time.
District attorneys in Maine are elected to four-year terms. They then represent one of eight Unified Criminal Dockets in the state.
"(We) dictate policy and give direction on how cases are prosecuted and how recommendations are made for sentencing," said Jonathan Sahrbeck, the Cumberland County district attorney, told the Maine Monitor back in 2020.
They also all are members of the Maine Prosecutors' Association.
---
If you or someone you know needs resources or support related to sexual violence, contact the Maine Coalition Against Sexual Assault's 24/7 hotline at 800-871-7741(voice) or 711 (Maine relay). For more information, For more information visit: www.mecasa.org. For a list of resources in Tribal communities visit: www.mcedv.org/get-help/
---
LINKS TO BANGOR DAILY NEWS ARTICLES AND OTHER RESOURCES
https://nantucket.ma.networkofcare.org/dv/news-article-detail.aspx?id=139030
https://spectrumlocalnews.com/me/maine/news/2022/06/10/local-attorney-challenges-two-term-da
http://co.hancock.me.us/site/index.php/county-departments/da7​