Planning Board approves the Salvatore Subdivision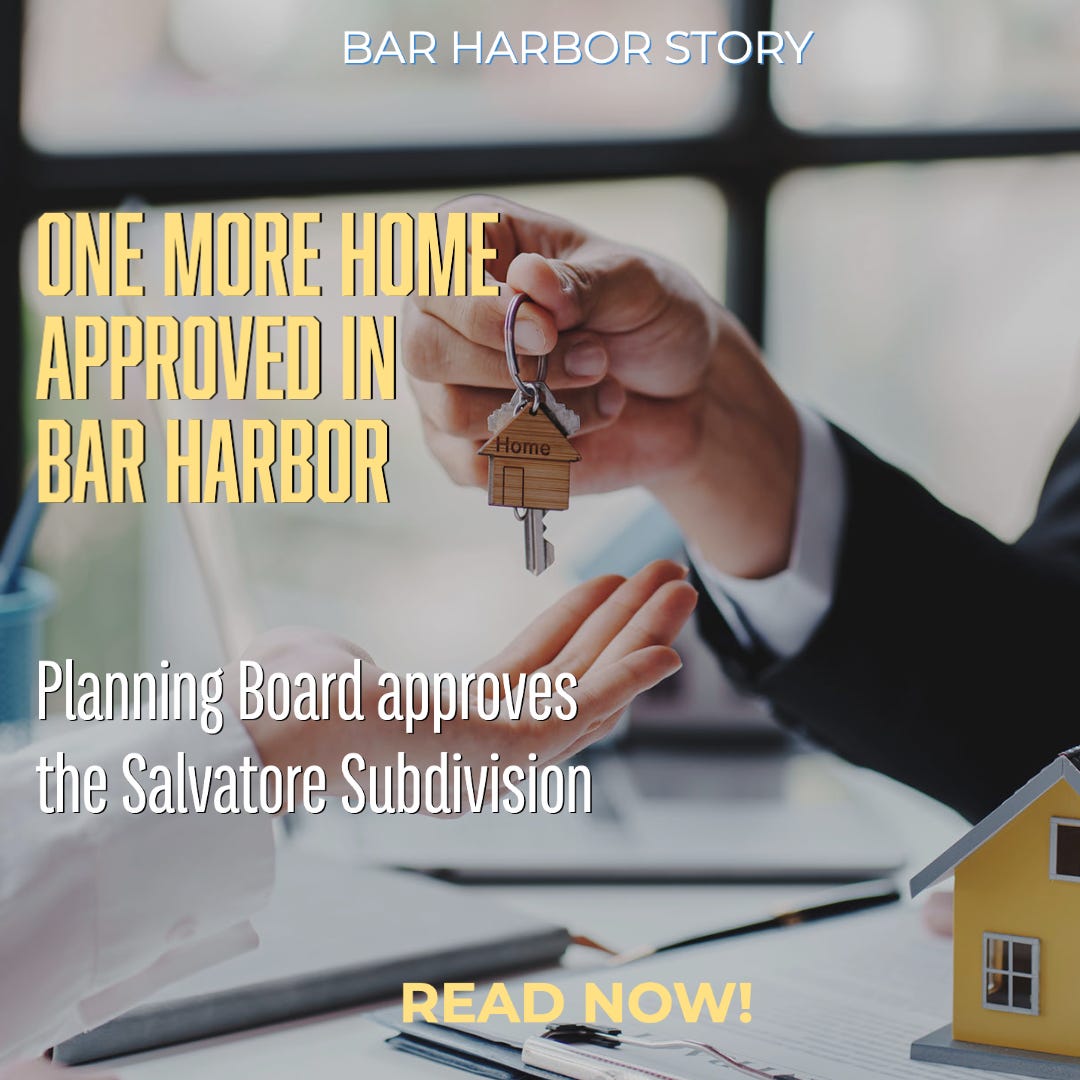 BAR HARBOR—In one of its fastest meetings in recent history, the Bar Harbor Planning Board had a single-item agenda that was unanimously approved in 22 minutes on October 26.
There was no public comment ahead of the hearing for the Salvatore subdivision at 21 Russell Farm Road. It's a proposal to create one 17.7-acre existing lot owned by the heirs of Judith Strout into two lots (13.3 acres and 4.4 acres). Mrs. Strout passed away in October of 2020, "and if that had not happened, this could have passed without the review," Perry Moore of the Moore Companies said. Moore was representing applicant Eben Salvatore. If Mrs. Strout was still living on the property at the time of the subdivision agreement's execution, it would not have triggered a planning board review.
The Salvatores, Moore said, plan to have a house and horse farm on the property
At an earlier October meeting, the board unanimously voted the application complete and moved it to a public hearing on October 26 at 4 p.m. in Council Chambers at the Bar Harbor Municipal Building.
Planning Board member Earl Brechlin asked about the logic of requiring a sprinkler system as part of a deed restriction. Chamberlain said it doesn't have to be in the deed, but she believed that the town planner thought it would be easier to track if the language was placed there. It was added that the sprinkler system was added partially due to the fact that there isn't a fire pond incredibly close to where the building would be.
Moore said it's not the first project that's had that as a condition. He's working on another subdivision project with a similar requirement.
During the public hearing portion, there were no comments. There were no additional written comments.
Planning Board Secretary Elissa Chesler had an excused absence because of a delayed flight.
---
LINK TO EARLY SEPTEMBER PB ARTICLE ABOUT THE TWO SUBDIVISIONS MENTIONED IN THIS ARTICLE
BAR HARBOR'S COMPREHENSIVE PLAN LINKS
BAR HARBOR'S DEDICATED COMPREHENSIVE PLAN WEBSITE
---
LINKS TO PLANNING BOARD INFORMATION
Completeness Review: SD-2022-05 Salvatore Subdivision
Applicant: Eben Salvatore, 123 Eden Street, Bar Harbor, Maine 04609
Owner: Heirs of Judith Strout, P.O. Box 36, Hulls Cove, Maine 04644
Application: Split Tax Map 228 Lot 34 encompassing ±17.7 acres into two lots — one lot will be 13.3 acres and the other lot will be 4.4 acres. Also, part of the subdivision is Tax Map 228 Lot 34-2 (now 2.31 acres) which was originally part of Tax Map 228 Lot 34 (the parent lot).
Project Location: 21 Russell Farm Road (Tax Map 228, Lot 34), encompassing a total of ±17.7 acres.
Districts: McFarland Hill Residential, McFarland Hill Rural, Shoreland Limited Residential and Resource Protection
Application Materials:
---
Bar Harbor Story is a reader-supported publication. To receive new posts and support my work, consider becoming a free or paid subscriber.