Nova Scotia Orders Economic Impact Studies About The Cat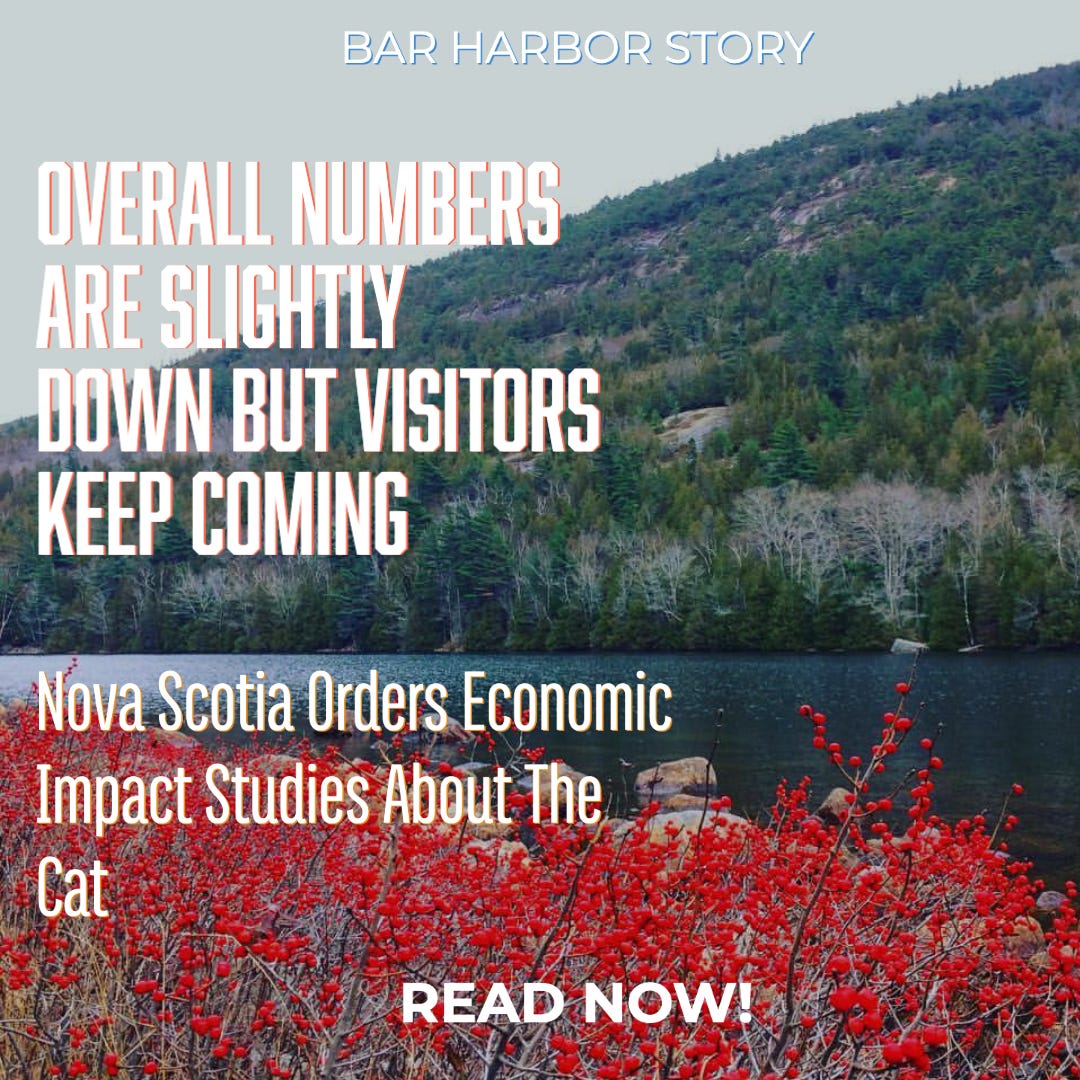 BAR HARBOR—Visitors keep coming and exploring Acadia National Park, which has had a historic September with a total of 697,000 visits, an increase of 30,000 or 4.5% compared to last September's numbers.
However, last year's total visits to the park topped out at over 4 million, another record breaking number despite the lack of cruise ships. The Island Explorer also didn't have its full complement of routes in 2021.
This year's total numbers are not quite as many, mostly thanks to lower numbers between January and April as well as August and June. The other months visitations have increased by about 1 percent except for September. In 2019 there were 3.4 million visits to the park.
An article by Bill Trotter for the Bangor Daily News (link below), says that Alf Anderson, Bar Harbor Chamber of Commerce president indicated that the growth in September numbers was potentially related to commercial tour busses. Last year's September numbers, Trotter writes, were around 10,000. This September they are approximately 30,000. Those figures are for visitors taking the motor coaches through Acadia. Many of those busses are tours for cruise ship passengers.
According to one page on the National Park Service's site, Acadia National Park is the 16th most visited national park with approximately 4 million yearly visits. The Blue Ridge Parkway is the most visited with 15.9 million. Another page specifies that Acadia National Park is one of the top ten most visited national parks.

---
BAY FERRIES
Bay Ferries Limited operates the Cat and reports that at the end of its sailing season that it ferried 14,972 vehicles and 36,151 passengers between Bar Harbor and Canada. This accounts for 113 round trips and 12 cancellations due to weather.
Traffic from Bar Harbor was 25% lower than in 2018. The press release from Bay Ferries indicates that this is less of a percentage than the total reduction of U.S. based land traffic into Canada this summer. That decrease was 45%. Traffic coming from Canada to the United States increased.
A recent article in the Boston Globe (link below) by Alexander Thompson explores that decrease in traffic a bit more fully. Thompson writes:
"The unprecedented border closures and other restrictions forced people on both sides to alter long-held routines, fraying deep economic, cultural, and personal ties. Now, with the last of the restrictions lifted Oct. 1, Americans and Canadians wonder: Will things ever return to the way they were?
"'I think it's a change of habits,'" said Simon Proulx, who opened La Taverne du Gamer, a quirky bar and retro video game shop on Rue Dufferin steps from the border, just before the pandemic.
"In that first month, February 2020, Proulx said, about half the people who came through the door were American. Then the border slammed shut the next month to all but essential travel and stayed closed for 19 months. When it reopened, travelers faced stringent testing and vaccination rules.
"Proulx said only a few American customers trickle in now.
"Though many are optimistic that pre-pandemic routines will return, for now the increased separation is a cause for angst."
Canada has only recently stopped its COVID-19 related border restrictions on October 1. Some people interviewed by Canadian news outlets believe those restrictions played a large part in the decreased traffic from the United States to Canada.
The government of Nova Scotia subsidizes the ferry for about $17 million each year and has recently ordered an economic impact study. The study is said to be a "broad overview" of the Cat's impact for Yarmouth and the region.
The ferry's Yarmouth lease has been extended for an additional year. The subsidy equals a $472 per passenger expense for Nova Scotia. The government had hoped for 60,000 per season to disembark the ferry onto Nova Scotia.
---
TOURISM THROUGHOUT THE COUNTRY
According to the US Travel Association, the most recent travel statistics ending in September, 2022 indicate that "total travel spending was 3% below 2019 levels in August" and that "group hotel demand remained static at 11% below 2019 levels in August" and that overseas visitation was down 35% for the country in August and July.
The United States is the third most popular global tourist destination behind France and Spain with 79.3 million visitors in 2019.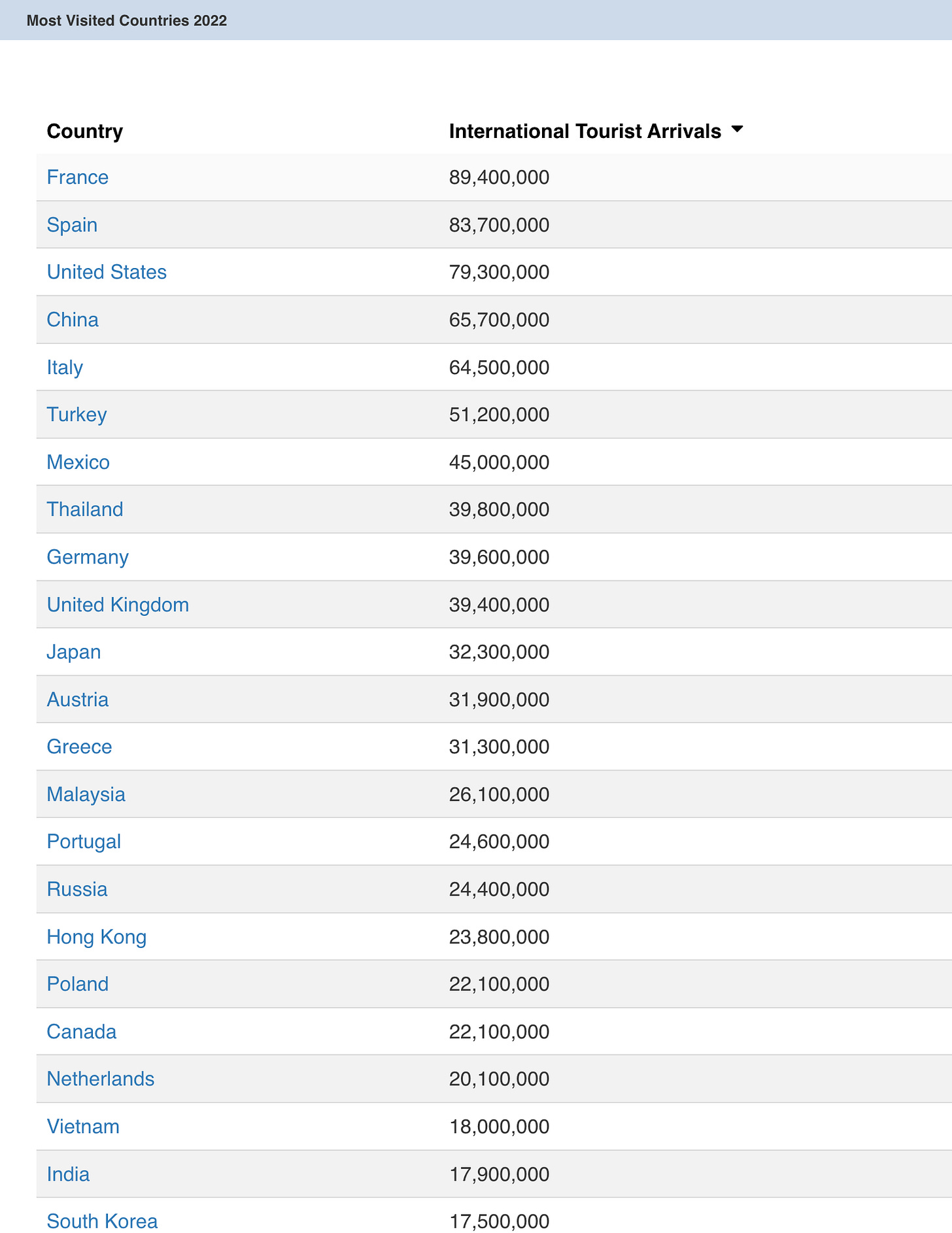 ---
LINKS TO LEARN MORE
https://www.msn.com/en-us/travel/news/along-the-us-canada-border-the-pandemic-leaves-a-deeper-divide/ar-AA1320BG
https://worldpopulationreview.com/country-rankings/most-visited-countries
https://theconversation.com/shuttered-canada-us-border-highlights-different-approaches-to-the-pandemic-and-differences-between-the-2-countries-137848
https://www.nps.gov/acad/learn/facts.htm
https://www.nps.gov/aboutus/visitation-numbers.htm
https://www.nps.gov/acad/index.htm
https://ca.finance.yahoo.com/news/nova-scotia-orders-economic-impact-193402844.html
https://www.ustravel.org/research/monthly-travel-data-report
https://www.marketwatch.com/press-release/marine-tourism-market-report-2022-industry-insights-share-size-growth-trends-and-demand-analysis-forecast-by-2029-2022-10-20