Side Street Cafe hosts internationally recognized nonprofit dedicated to addiction and behavioral healthcare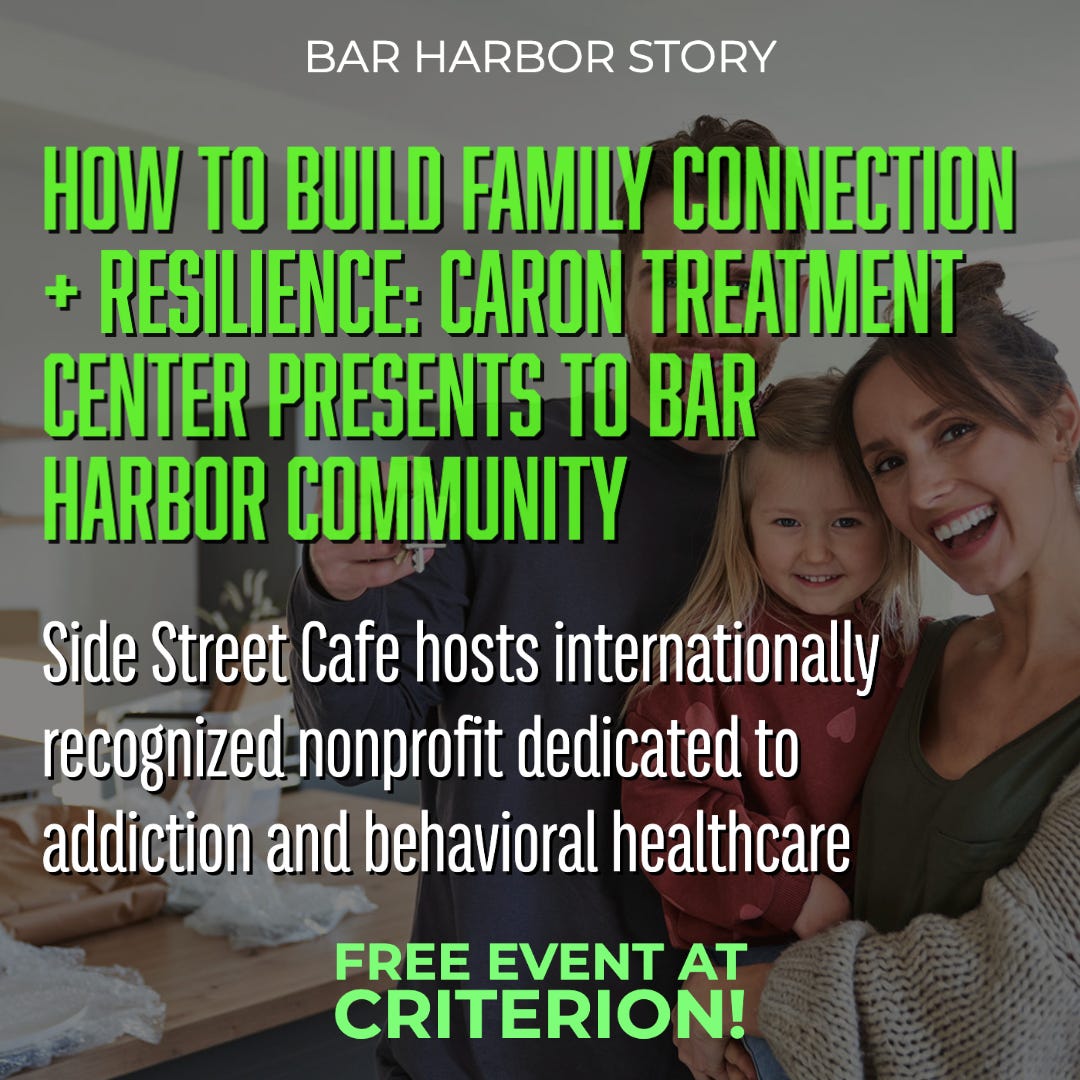 BAR HARBOR—Resilience. Never giving up. Rebounding. Restoring. Renewing. Hope. That's the message from many addiction treatment centers and government officials in Maine this September.
And Bar Harbor and MDI are no different. And some locals are trying to do something about it.
The Side Street Cafe, Criterion Theatre, and Caron Treatment Centers, a leading, internationally recognized nonprofit dedicated to addiction and behavioral healthcare, will host a free presentation at the Criterion Theatre on Thursday, October 13 from 6 – 7:30 p.m. No registration is necessary, and all are welcome.
In a press release, they wrote, "Today's families and communities are faced with many challenges such as addiction, isolation, and pressures from social media and everyday life. This presentation will provide attendees with 10 ways to build resilience, so they have the capacity to rebound, restore and face adversity with a renewed sense of hope."
Jena Young, co-owner of Side Street Cafe, was inspired to create this event when she attended Caron's Family Education Program with her family 10 years ago.
"We recognized that the information we learned could be valuable to every person, regardless of their situation. The information extended far beyond substance misuse to truly understanding ourselves and growing from there. We wanted to bring a small portion of that program to our community," said Young. "We have carried the lessons we learned with us, especially in our roles as parents. We are thrilled to welcome Cheryl Knepper from Caron to our community with practical skills and an incredible message of hope."
Governor Janet Mills recently released a statement about expanding the state's resources to deal with addiction.
"I've now dedicated $1.9 million to behavioral health providers for start-up costs, like staff training and development, allowing them to increase the number of patients they serve in rural areas of the state. This new initiative complements our State funding for renovation and capital costs that I announced in July to increase the number of available beds for residential treatment and medically supervised withdrawal in Maine.

"This funding is also in addition to an historic $230 million investment in behavioral health through our biennial budget — a bipartisan budget — to support the workforce, capacity, and resilience of substance use and mental health providers as well as sustainable MaineCare rates into the future. It is also in addition to the $20 million in my Maine Jobs & Recovery Plan that is increasing Maine's health care workforce.

For all the Maine people impacted by substance use disorders, whose lives are disrupted, or destroyed by drugs, for all those who have lost a loved one to this epidemic since it began – know that we will not give up."
For Side Street Cafe and Caron, never giving up is a motto that they've turned into reality. Healthy Acadia has vetted the event and the presenter and is jumping on board to help support this event as well. The Criterion is also sponsoring the October 13 event to keep it free for attendees.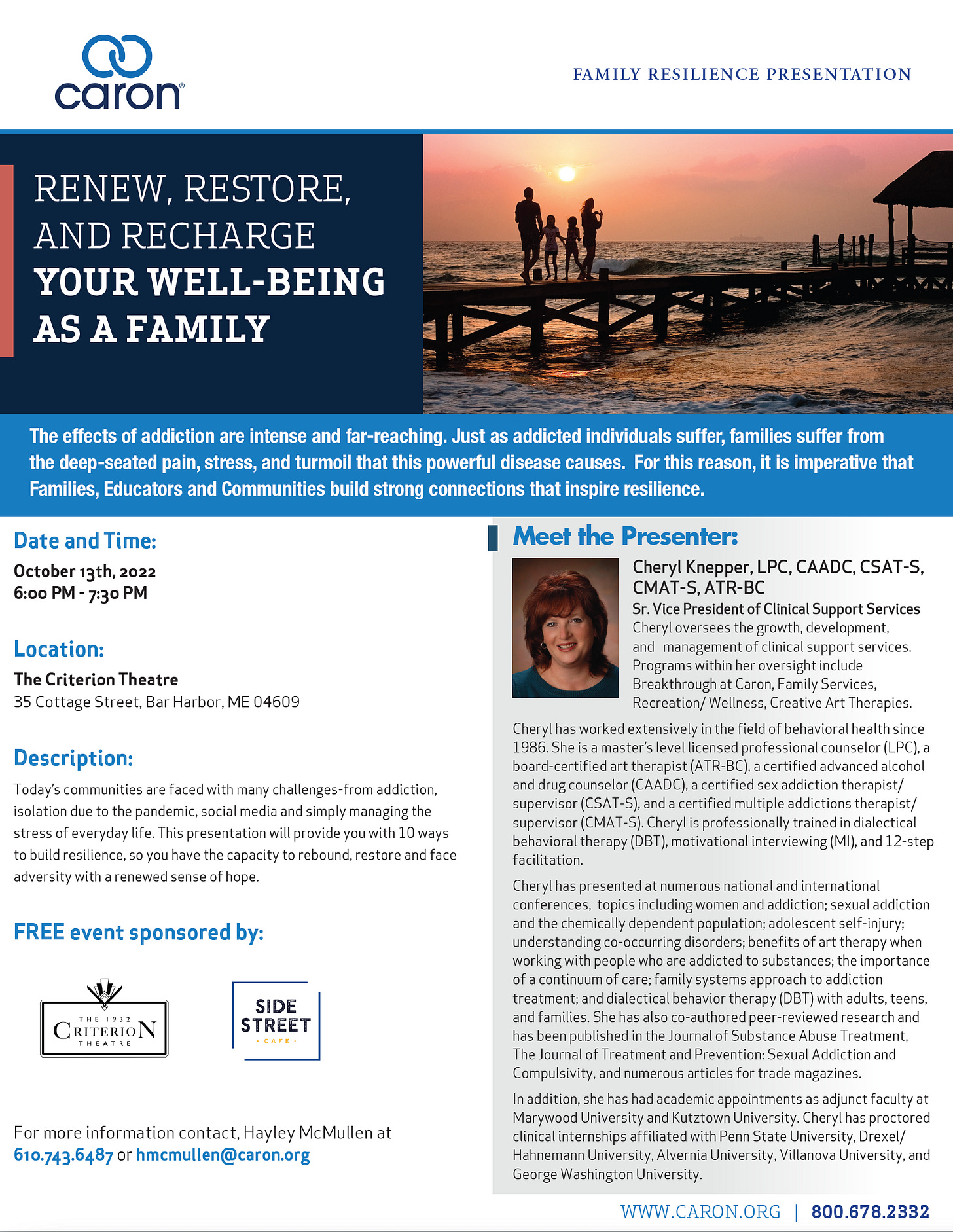 According to Caron's website, "the effects of addiction are intense and far-reaching. Just as addicted individuals suffer, families suffer from the deep-seated pain, stress, and turmoil that this powerful disease causes. For this reason, it is imperative that the whole family—not just the addicted individual—participates in comprehensive treatment."
Caron Treatment Center is a leader in addiction recovery and prevention. Caron transforms lives impacted by addiction and substance use through proven, comprehensive, and patient-centric treatment plans. They are dedicated to delivering evidence-based programming while treating patients and families with the respect they deserve.
The Maine State government says,
"Maine has been severely impacted by the nationwide overdose epidemic. Between the years 1997 and 2021, 5,423 residents of Maine have lost their lives due to pharmaceutical and non-pharmaceutical drug overdoses. The drug information on this data hub provides resources, data metrics, and visualizations to inform Mainers about efforts to reduce the harm caused by drug use and drug overdose and to track progress towards reaching the goals outlined in Governor Janet Mills' Maine Opioid Response Strategic Action Plan."
But the October event is not about the data and numbers. The event is about families and lives.
Cheryl Knepper, the night's presenter, is the senior vice president of clinical support services at Caron. Programs within her oversight include Breakthrough, Family Services, Recreation/ Wellness, and Creative Art Therapies. Cheryl has worked extensively in the field of behavioral health since 1986 and has presented at numerous national and international conferences.
"Cheryl is coming to our community at the perfect time. It's an opportunity for us to connect and learn about substance dependence and how to create more loving connection in our families. Our goal is that this will change perspectives, give hope and start meaningful conversations. We are happy to provide this for free so that it is accessible to anyone who could benefit," Young said.
---
LEARN MORE!
About Caron Treatment Centers:
Caron Treatment Centers is an internationally recognized nonprofit dedicated to addiction and behavioral healthcare treatment, research, prevention, and addiction medicine education.
Headquartered in Wernersville, Pennsylvania, its mission is recovery for life. For more than 65 years, the organization has helped thousands of individuals struggling with substance use disorder and their families begin to manage this chronic, treatable disease. Caron provides a continuum of care for teens, young adults, women, men, and older adults. Caron's signature programming provides concierge treatment for executives, healthcare professionals and older adults. In addition to the Pennsylvania campus, Caron provides services in Palm Beach County, Florida, Philadelphia, Washington, D.C., Atlanta, and New York City. Caron accepts several major insurance plans and provides financial assistance for those who qualify.
For more information, please visit caron.org or @CaronTreatment on Instagram and Facebook.
---
About Side Street Cafe:
Side Street Cafe opened in the Summer of 2009, right in the heart of Bar Harbor. From the beginning, the Youngs were committed to creating a lively and welcoming environment where they could serve fresh and creative comfort food for friends, family, and our community.
Over the past 10 years, Side Street has undergone numerous expansions and renovations to its building. They are constantly seeking opportunities to improve the dining and work experience for their customers and staff. Side Street Cafe has grown and changed, but they have always made a point to listen to the feedback from their community, and this has shaped them into the local staple.
For more information, please visit sidestreetbarharbor.com or @sidestreetbarharbor on Instagram and Facebook.
For more information about the event contact Jena Young.
---
Maine and Substance Abuse
For Maine health data reports, check out this page.
The Maine drug data hub is here.
Governor Janet Mills' radio address about expanding substance abuse disorder treatment in Maine.