Blue Planet Strategies hopes to help local fishermen and whales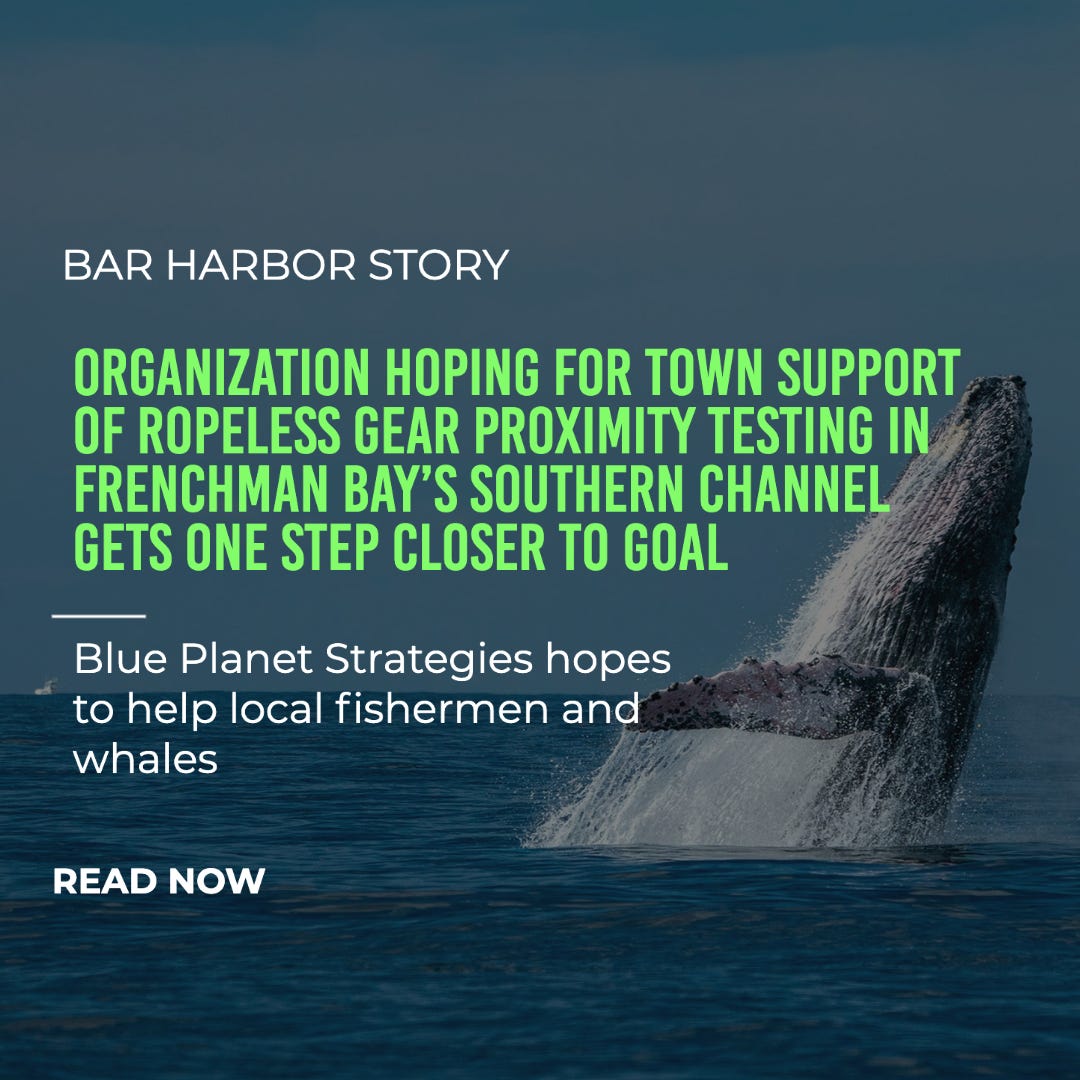 BAR HARBOR—Zack Kylver hopes to secure funds from the town's cruise ship fees to support his organization's ropeless fishing gear project and potentially help local fisherman and protect right whales.
At its August 10 meeting, Bar Harbor Cruise Ship Committee members heard Kylver's appeal for $20,000 to support the initiative and unanimously voted to recommend it to the Bar Harbor Town Council, with Chair Martha Searchfield saying she would contact the town manager about the project. Harbormaster Christopher Wharff and committee member Eben Salvatore suggested Kylver also get support from the town's harbor committee. Amy Powers has already forwarded Klyver's proposal to cruise line representatives. The committee was unsure at this point in the year, which fiscal year budget the money could potentially come from if the measure is approved by the town council.
Town resident, Jim O'Connell said he didn't support ropeless fishing gear because of past experiences with such equipment.
According to a press release by NOAA Fisheries, "North Atlantic right whales are approaching extinction with fewer than 350 individuals and fewer than 100 reproductively active females remaining. Entanglement remains a pressing and ongoing challenge and a threat to species survival."
Klyver said that he's been working with fisherman with ropeless fishing gear to help them access areas that are currently restricted for vertical line fishermen. He said that he's been working with fishermen up and down the coast, including those on Mount Desert Island. Klyver's work as a Maine-based marine scientist has focused him on helping the right whale's conservation. He has educated over 600,000 on Bar Harbor whale watching tours.
Klyver's project is with Blue Planet Strategies. Along with Sea Mammal Education Learning Technology Society (SMELTS), the organization has been developing ropeless gear for lobster, Jonah crab and sink gillnet fisheries.
He hopes to test "fully ropeless lobster gear (both endlines and surface buoys removed) to test acoustic release systems and GPS-based marking within the "southern" ship channel leading into Frenchman Bay." The project would run from August 15 to December 31 of this year.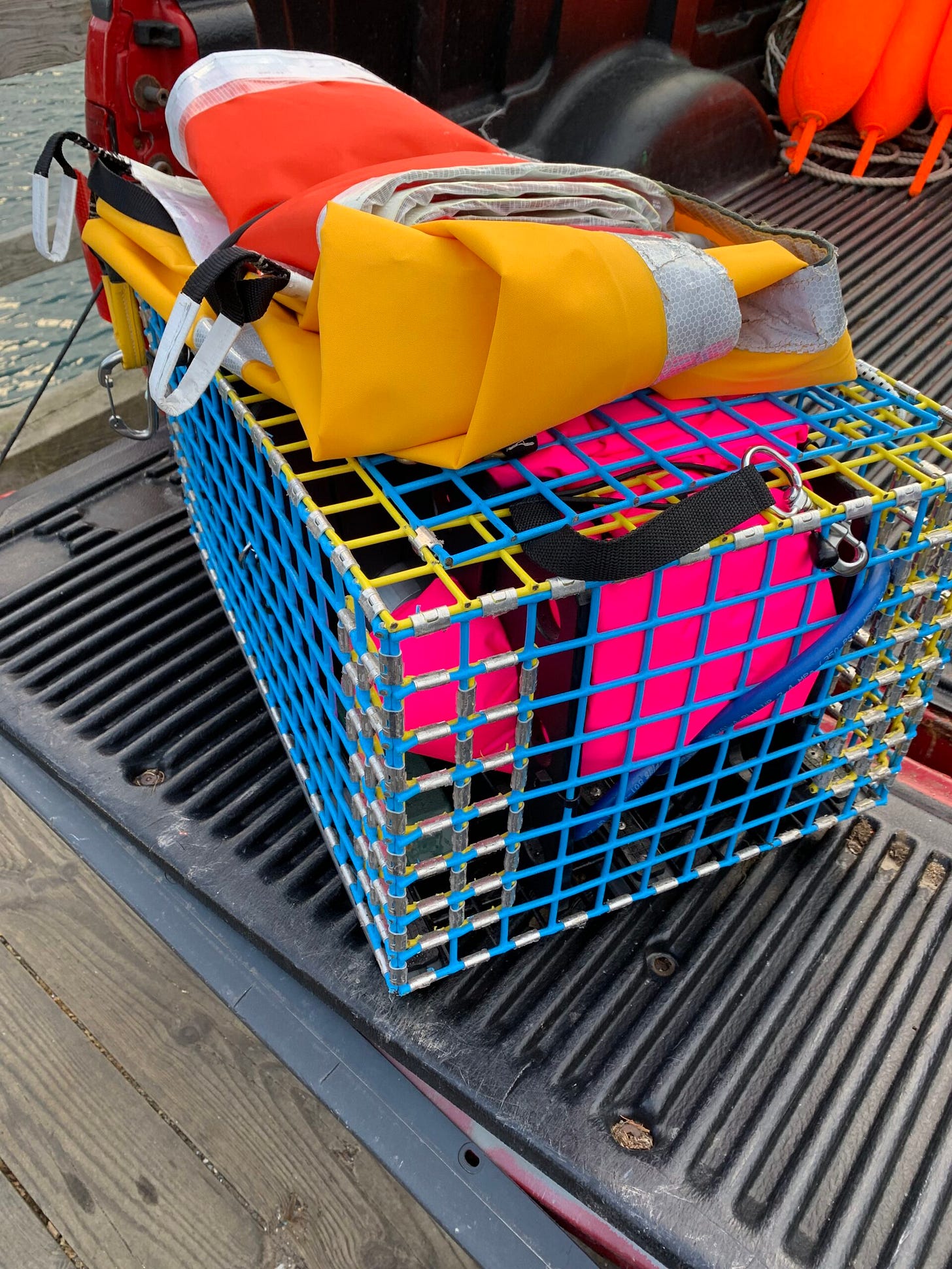 According to Klyver the project's goals are to "contribute to the development and understanding of technology that allows fishermen to fish without vertical lines and buoys in order to reduce the entanglement of marine mammals." The gear could potentially enable fishermen "to fish in shipping channels that are presently kept clear of gear using vertical line and buoys."
This specific exercise would hopefully allow them to conduct multiday tests and see the efficacy of the equipment, Klyver said.
According to SMELTS,
"Whether by marine life entanglement, ocean storms, incorrect line to depth ratios, strong currents or other factors, every day trap/pots are lost to the sea and typically not recovered. Ghost gear, the term used for fishing gear that is lost to the sea, continues to capture marine life with no benefit to fishermen and causing negative interaction to the ocean ecosystem.

"This loss effects the profitability of the fishing communities and is a major source of marine debris and plastic pollution.  Countless marine animals are injured and killed from interactions with the traditional bottom set buoyed end line gear, when marine mammals swim into taut vertical lines they can become entangled."
According to its website, Klyver and Roger Fleming cofounded Blue Planet Strategies on Earth Day in 2019 to help restore oceans and provide solutions to "help address the impacts of climate change, rebuild sustainable fisheries, conserve the world's great whales, and otherwise protect the ocean and coastal ecosystem."
---
For an understanding of the cruise ship fund's revenues and expenditures for the past few years see below.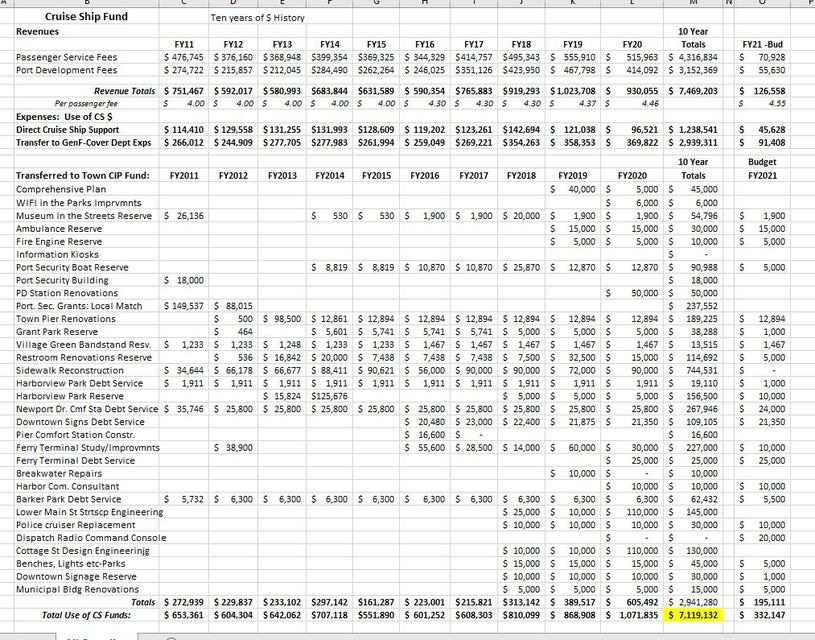 TO LEARN MORE
About Blue Planet Strategies, check here.
About SMELTS, check here.
To read a NOAA report about ropeless fishing, check here.
---
Bar Harbor Story is a reader-supported publication that's currently the work of just one human. To receive new posts and support my work, consider becoming a free or paid subscriber. It means a lot to me. And let me know if there's something you'd like me to cover. Thank you so much for your support!