Trying to trace the ghost of Mary Margaret
It's a ghost story that almost everyone in Bar Harbor knows. A bereft young woman kills herself after the social disgrace and emotional hardship that happened when her future husband skittered off, never to be found again.
But the woman? She can often be found, floating, maybe half invisible, returning again and again.
Almost all the stories of Mary Margaret, the ghost of Ledgelawn Inn are told from one mouth to another, sometimes on ghost walks, sometimes around campfires, sometimes at the Dog and Pony, a pretty fun bar and restaurant behind the Bar Harbor Police and Fire Departments in Bar Harbor Proper. Sometimes at a sleep-over.
The "Phantoms of Ledgelawn Inn" also feature prominently in Marcus LiBrizzi's book, Ghosts of Acadia (2011) by Down East Books. LiBrizzi, a professor at the University of Maine at Machias leans heavily on fieldwork interviews with Jomar Castro, Mike Gallant, Sherry Gallant, Gerda Ferreira, and Fatima Olievara between 2007 and 2010. He also cites a story by Robert Levin in the Mount Desert Islander, "The Ghost of Ledgelawn," from 2007.
The ghost stories that focus on what was once the Ledgelawn Inn, or the private property Ledge Lawn, a shingle-style cottage on Mount Desert Street close to the Church of the Holy Redeemer feature the death of a young almost-bride who dies in the 21-room, 10,000-square-foot mansion.
The red building sprawls out across the lot the way many cottages built for wealthy summer visitors back in the early 1900s do. The building survived the 1947 fire—just barely, and eventually was purchased by Ocean Properties for employee housing in 2010. Before that it was an inn. Before it became an inn, it was a home. It was a home where allegedly horrible deaths happened.
---
The tale you will hear on ghost walks and in LiBrizzi's book mostly center on the ghost of Mary Margaret who allegedly died when her fiancé took off right before their wedding. She allegedly stormed up to the third floor of the building, some say that she stole up their quietly and secretly. She put on her wedding dress because of course she did, and then, she used her veil and hung herself from a beam.
"That is where her family later found her, a ghastly parody of the blushing bride. Mary Margaret's face was so bruised that she was nearly unrecognizable. The final horror was the grotesque smile twisting the blackened face of the corpse," LiBrizzi writes. "Since then, the specter of Mary Margaret has appeared on countless occasions . . . The setting of the suicide became a guest room at the Ledgelawn Inn. People who checked into Room 326 were apt to wake up to the image of a woman in white floating in the moonlight at the foot of the bed. Or, as experienced by one guest, a phantom veil appears to sway all night from the sloping ceiling."
LiBrizzi recounts the tale of Mike Gallant, one of the inn's caretakers, who in October 2000 was closing up the inn for the season and was checking out the guest rooms upstairs while the rest of the staff were on the first floor. He suddenly felt terrible, gloomy. There was a foreboding sensation. As he climbed to the third floor, one of the lights in a room turned on all by itself. He turned it off. It turned on again. Something moved in his peripheral vision. He pivoted and looked at the dreaded Room 326. And there was Mary Margaret floating down the hall. She made eye contact and smiled.
According to LiBrizzi, the beautiful dark-haired woman's ghost is not a smile that you want to have grace you.
There is also allegedly the ghost of a maid, Catherine, who according to a local ghost tour guide was beautiful and was possibly pregnant after having an affair with the master of the house and was killed or fell, tumbling down the backstairs. And of course there is a boy who drowned while visiting Bar Harbor. He hides in the cupboards sometimes.
---
Like most ghost stories and creepy legends, the story of Mary Margaret is a great story. And maybe there is a ghost haunting the building who looks like a bride and smiles. The only problem is that they story doesn't make sense because it's a bit too specific. Most of the storytellers say that the ghost's death occurred in the early 1900s and the ghost was related to the incredibly wealthy Astor family. She was perhaps a great-niece.
Samuel Willard Bridgham and his wife, Fanny Schermerhorn, built Ledge Lawn in beginning in 1900 from the designs of Fred Savage. They were married in 1869 at Fanny's father's home. They were from New York City and Fanny was related to the Astors. William, in 1897, was the subject of a sensationalized blackmail plot that dealt with a false infidelity claim. This could be possibly the source of the rumors of Catherine, the pregnant maid who allegedly fell to her death on the backstairs after having an affair with her master. However, the claim did not involve a woman named Catherine and went to court. The man who issued it was imprisoned for his lies. It was somewhere around the thirty-ninth time he'd been convicted for a crime.
And as for Samuel and Fanny? They did not have any children. They were known by the press to be kind.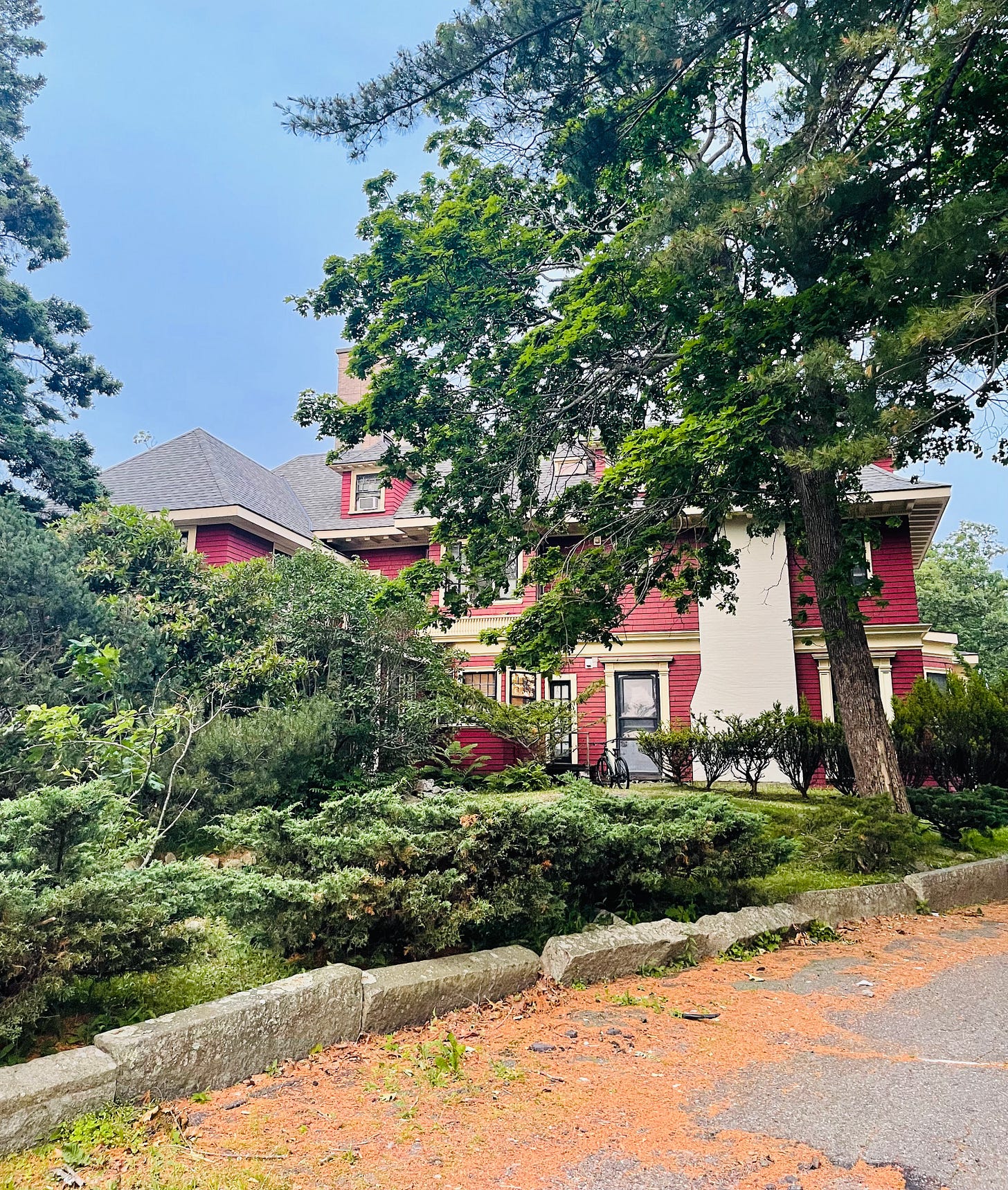 The book "New England Families V2 : Genealogical and Memorial," edited by William Richard Cutter, mentions both Mr. Bridgham and Mrs. Bridgham and their homes, writing, "He is of a benevolent and charitable nature, and this disposition is shared by his wife to such an extent that their home is an abiding place of hospitality. Mr. and Mrs. Bridgham spend their summers at the old Bridgham farm in East Providence, Rhode Island, occupying the old Bridgham homestead, which was erected in 1767, and at their summer home at Bar Harbor, Maine."
Not only was Ledge Lawn during the Bridghams' occupancy seemingly calm, it was full of hospitality, not the potentially creepy, haunted mansion that fills the internet talk of it today. To be fair though, Samuel did get appendicitis while there one summer.
Ledge Lawn was owned by the Shannons prior to The Bridghams razing the Shannons' house and building their own. Mary Shannon Sr. and Mary Shannon Jr. were socially liberal pioneers who made massive philanthropic contributions to the town of Bar Harbor, which was where they summered. Neither of them had a daughter or even a niece named Mary Margaret though their own first names were Mary. Neither died in the house as a young, jilted bride. They lived well past their fifties and died of natural causes.
So, back to the Bridghams. Samuel died first and Fanny bequeathed the property to her sister, Annie C. Kane. Annie and her husband, John Innes Kane had a summer estate at 45 Hancock Street designed by Fred Savage. Like the Bridghams and Mary, they had no children. In 1922 Annie sold the property to Louis B. McCagg of Newport. Three years later, Louis and his relative Edith sold the property to Charles E. Sampson and Gertrude Sampson of Tuxedo, New York and Boston, Massachusetts. They then began to petition off the land.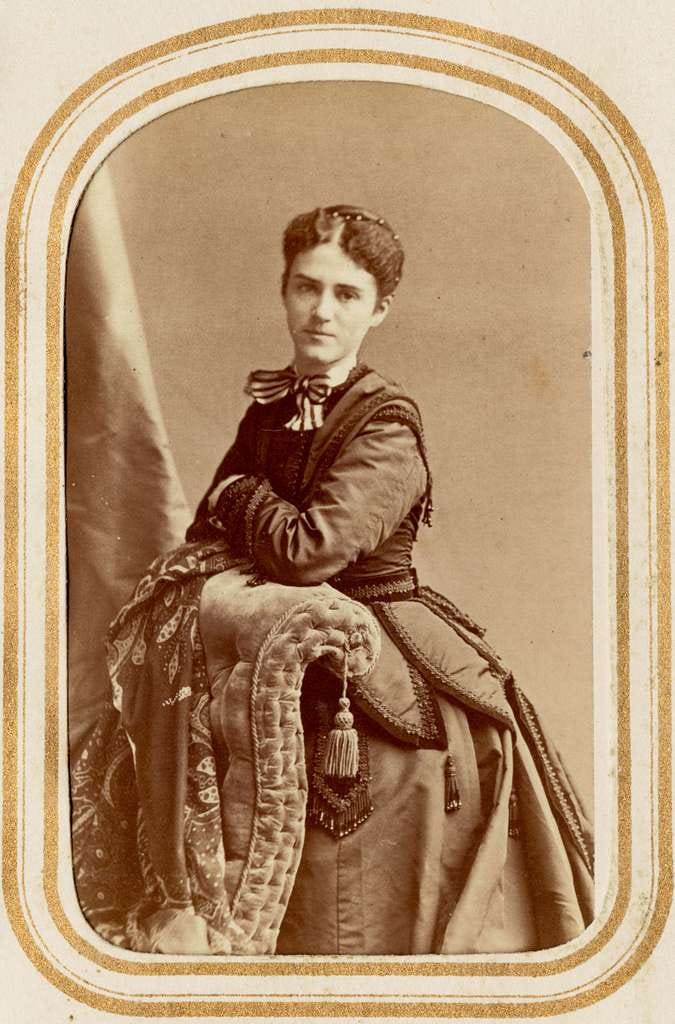 ---
Louis did have children. The Harvard graduate served in the navy and was an architect, dying in 1964. His daughters were Mary Warren McCagg who married Paul Franklin; Joan who married G. Hugh Lawrence, and Caroline O. McCagg. Still no Mary Margaret jilted at the grave. And Caroline became a well-respected doctor, not a bride jilted before her wedding night.
The Gilded Age was from about 1870 to 1900, and Caroline was born in 1940. And the legend of the broken-hearted bride, grandniece of the Astors, by some accounts, stops making sense once you move past the McCaggs.
So, who is the woman dressed in white that's haunting Ledge Lawn? Given the number of sightings, there seems to be something going on there, but it's highly likely that if she's a woman named Mary Margaret, she wasn't the daughter of the families that lived there. Maybe a niece? Maybe a visitor? Maybe a mystery that might never be solved, but just hovers there, almost within your grasp, and forever haunting. . .
---
A tiny bit more about Mr. Bridgham.
In the book "New England Families V2 : Genealogical and Memorial," edited by William Richard Cutter, it reads,
"Personally, Mr. Bridgham is the embodiment of culture and refinement, a man whose quiet and dignified, yet democratic manner, has always been a strong characteristic of his family. His politeness is inborn, consequently it is omnipresent. Few men in his position are as approachable, and as void of superfluous dignity, and whether in his home, or on the street, his manner is always the same – courteous and affable. Tall in stature, with a well-rounded physique, he possesses an imposing presence and a commanding figure. His generosity is well known, although ever dispensed in a modest and unostentatious manner. He is a lover and patron of the fine arts as well as of standard literature, his large and comprehensive library affording him ample opportunity for literary entertainment. He is of a benevolent and charitable nature, and this disposition is shared by his wife to such an extent that their home is an abiding place of hospitality. Mr. and Mrs. Bridgham spend their summers at the old Bridgham farm in East Providence, Rhode Island, occupying the old Bridgham homestead, which was erected in 1767, and at their summer home at Bar Harbor, Maine."
---
RESOURCES FOR MORE INFORMATION!
https://www.wikitree.com/wiki/Bridgham-549
https://books.google.com/books/about/A_History_Lover_s_Guide_to_Bar_Harbor.html?id=XukoEAAAQBAJ
https://mdihistory.net/digitalarchive/items/show/1308
https://npg.si.edu/object/npg_56.123.1 photo
https://picryl.com/media/fanny-schermerhorn-bridgham-d15951 photo