The Ocean and All Its Connections is the focus of COA's week-long series that begins with two National Geographic explorers
If you want to tell a new story, a story in a different way, then you have to change the storyteller. And sometimes that change is about giving a name to a statistic, an honoring of a story and a past.
That was advice from another National Geographic explorer that storyteller and podcaster Tara Roberts took to heart as she began her own exploration into the African diaspora.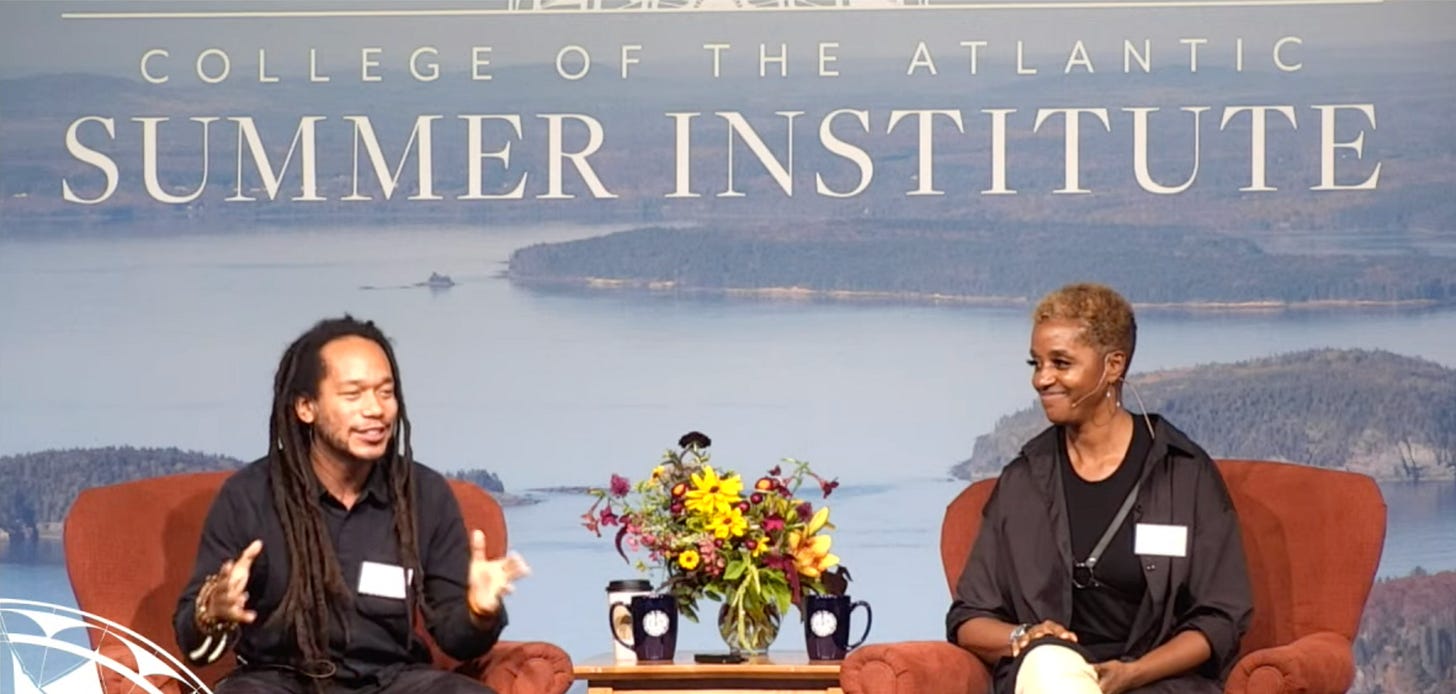 Monday's opening lecture at College of the Atlantic's Summer Institute featured Tara Roberts, a National Geographic Storytelling Fellow and Justin Dunnavant, an assistant professor of anthropology at UCLA, archaeologist, and National Geographic Explorer, and the joy was palpable as the two took the stage, sitting in rust-covered easy chairs, flowers and mugs sitting on a wooden table between them. Their friendship and work together has been happening for the last few years.
Hoping to hold off the rain Monday night, Collins introduced the two and chanted, "It's not going to rain. It's not going to rain. It's not going to rain" as The College of the Atlantic's Summer Institute kicked off this week with a program entitled "Into the Depths." It is a festival of ideas focusing on the ocean and is being held in collaboration with The National Geographic Society. The opening speakers were six years in the making.
That's because six years ago Tara Roberts felt like something was off in her life though she was deeply involved in the nonprofit world and that she wasn't "on purpose in her life." A storyteller and journalist by trade, she was no longer telling stories.
It was 2016 and race issues were coming again to the forefront to the American consciousness. She got a "little nudge to play hooky from work and visit the Smithsonian's National Museum of African American History and Culture." She followed that nudge from the universe.
And at the museum, she saw a photo that changed her life.
"I had never seen a picture of Black women on a boat in wet suits before," she said.
"It felt like the sun was shining down a spotlight on this picture," she said. The heavens parted. And those women? "She could have sworn that they were superheroes."
The photo featured women who were a part of Diving With a Purpose, which is an international organization that educates and trains people and supports programs about what its website says is "submerged heritage preservation and conservation projects worldwide with a focus on the African Diaspora."
About 36,000 voyages brought Africans to the United States, but less than twenty ships have been found and documented, she said.
Approximately 1.8 million Africans lost their lives in the middle passage of the Atlantic Ocean. "But where are the memorials to those 1.8 million people?" she asked. "Who is remembering them?"
She called the organization to find out more and said that though she wasn't a person who looked to the past, what that organization did felt revolutionary and important. Three months later she was SCUBA trained and she thought, "Oh my God, I have to start telling this story."
She quit her job and though she had no funding, she applied for a National Geographic grant and received it, becoming an underwater archaeology advocate.
"There was a way that the world looked before the trans-Atlantic world trade and a way that it looked after," Roberts said. Yet, she added, it's treated as a side note though it impacted four continents."
"Imagine what it means to take 12.5 million people across the oceans. It changed landscapes," she said. "I felt like this was something to examine in a much, much deeper way."
She talked to over 100 people from around the world and began to hear their voices and turned her education and communication from a blog-post focus to a six-part narrative podcast.
"I wanted to give voice to all the people I met along the way," she said. "When we talk about this history, we often talk about them as faceless statistics."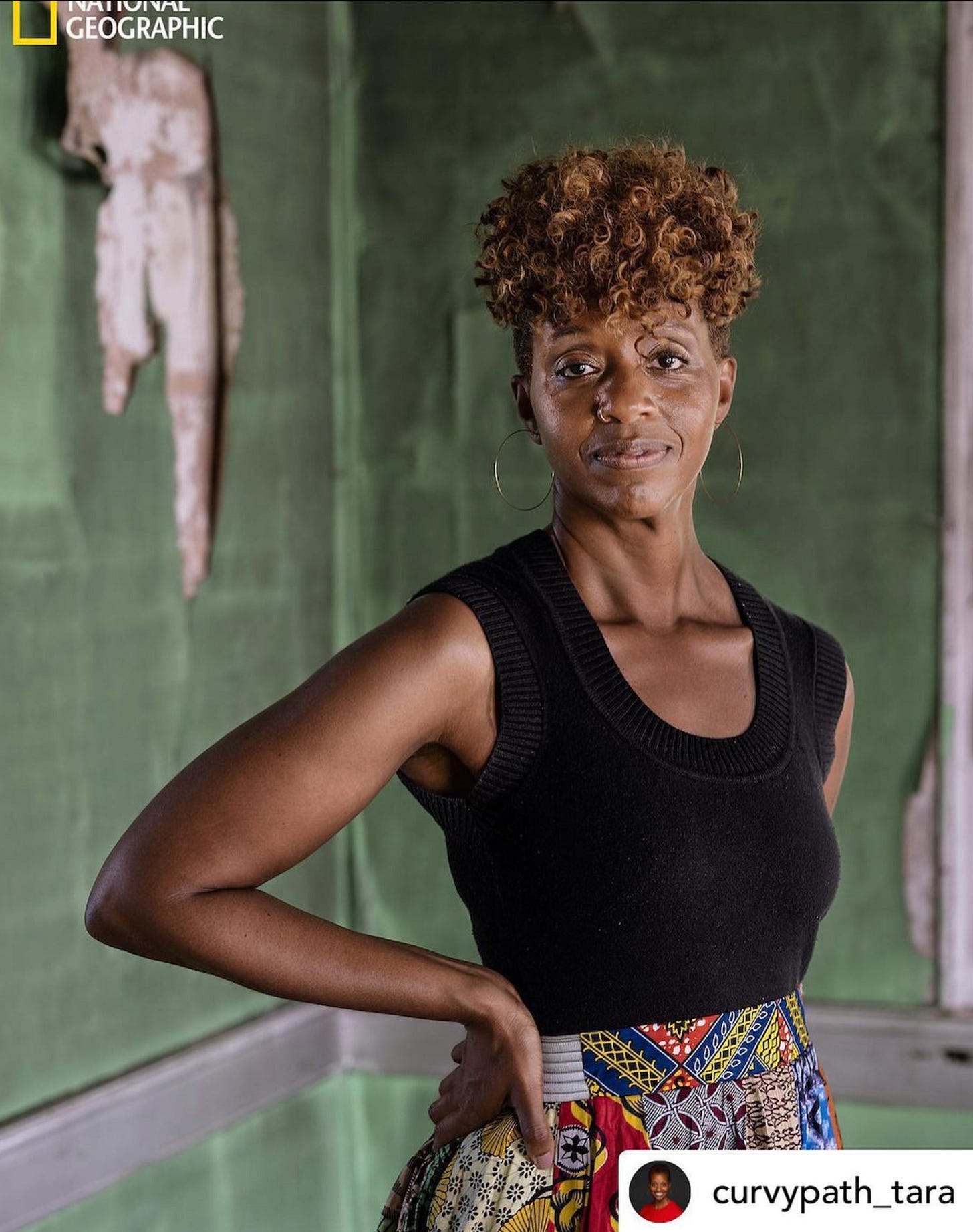 ---
Six years ago, maritime archaeologist and Monday's co-speaker Justin Dunnavant barely knew how to swim. Now, he focuses on artifacts that are underwater.
Dunnavant cofounded the Society of Black Archeologists in 2011 to help diversify the field of archaeology. "We had no idea that we could eventually get into scuba diving, I could barely swim," he said.
Eventually he was contacted by that same organization that Roberts reached out to, Diving With a Purpose. It was mapping slave ship wrecks all over the world and reached out to his organization six years ago asking if there was any Black archaeologists who focused on maritime archaeology.
That connection led to a multi-year collaboration to begin his focus on the archaeology of the slave trade. And that trade boosted plantation lands, he said, which then created massive terraforming of environment that led to its degradation in the island that he focuses his studies on, but also around the world. Rippling impacts occurred, he said, and when looking at potential reparations those impacts to land also have to be acknowledged.
"When you actually look at something," Roberts said, no matter how painful that honest looking and acknowledgement is, looking with eyes wide open, "you can move through it."
That, she said, becomes an opportunity for healing.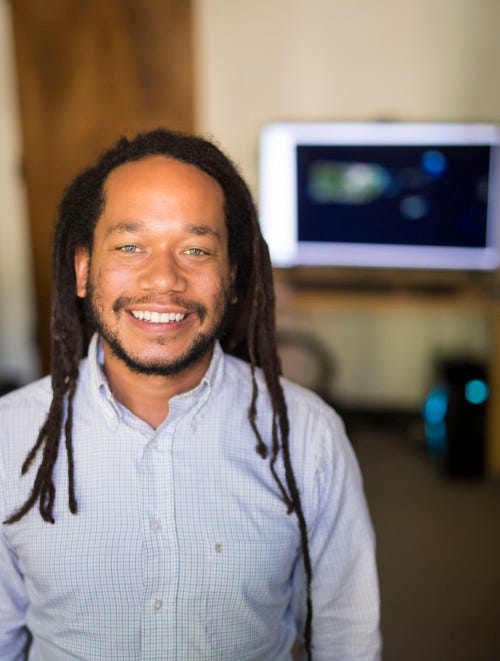 ---
Healing and exploration and understanding across academic disciplines is part of COA's goal with the week-long series.
Awe and reverence about the ocean is important Collins said, not just because of the ocean's magnitude, but also comes from the beauty "in a curling wave or a breeching way," or "the total horror and destruction of a hurricane."
The ocean provides joy, oxygen, food, medicine, but "we are using it to death," Collins said and acknowledged the land, culture and resources of the Wabanaki. And it was also a conduit for the trading of humans, trafficking and deaths.
"At COA we understand the ocean as our planet's greatest commons. Our aim is to use conversation and the exchange of ideas among our faculty, our friends, and some of the world's leading thinkers and doers to help avert what could be the greatest tragedy of those commons," Collins said.
According to Collins, some of the week's discussions will include discussion focused on the following points:
"Approximately 1.8 million enslaved Africans died at sea during the more than 40,000 voyages across the Middle Passage of the Atlantic. Deep sea mining for the Copper, Nickel, Manganese, and Cobalt that will make a green economy possible also threaten the resting place of those who perished and the ecological integrity of a little understood seabed. How do we navigate the need to simultaneously recognize the past while adapting to the future?
"They say the cod were once so thick that you could walk from Bar Harbor clear across Frenchman Bay to Winter Harbor, right on the meaty backs of those fi sh. Today, you'd starve if you depended on catching cod in these waters. . . . How can we harvest the ocean's bounty and feed the starving mouths of humanity?
"We add roughly 35 billion metric tons of carbon dioxide into the atmosphere every year. That geological engineering reshapes ocean currents, increases the severity and frequency of storms, bleaches coral, melts glaciers, and causes sea levels to rise. At the same time, the ocean concentrates 50 times more carbon than the atmosphere and the deep sea may be the largest carbon sink on Earth. What role might the ocean play in carbon sequestration, in energy development, and as a path toward balancing our energy needs with our long-term survival as a species?
"Our ocean inspires examples of the best of humanity—in film, in writing, in athletic accomplishment, in technological development. Yet it also seems a canvass for our worst character, capturing the incomprehensible tragedy of slavery, the movement of migrants, the unseen horrors of microplastic pollution, and the very visible atrocity of the Pacific Garbage Patch. What is it about the ocean that moves humanity to such extremes?"
The Summer Institute is open to the public and runs from July 25-29. For more information, check out the entire program here. And according to Collins, it is an extension of how the college practices human ecology and reaches out to the local, national, and international community with over 4,000 participants registered.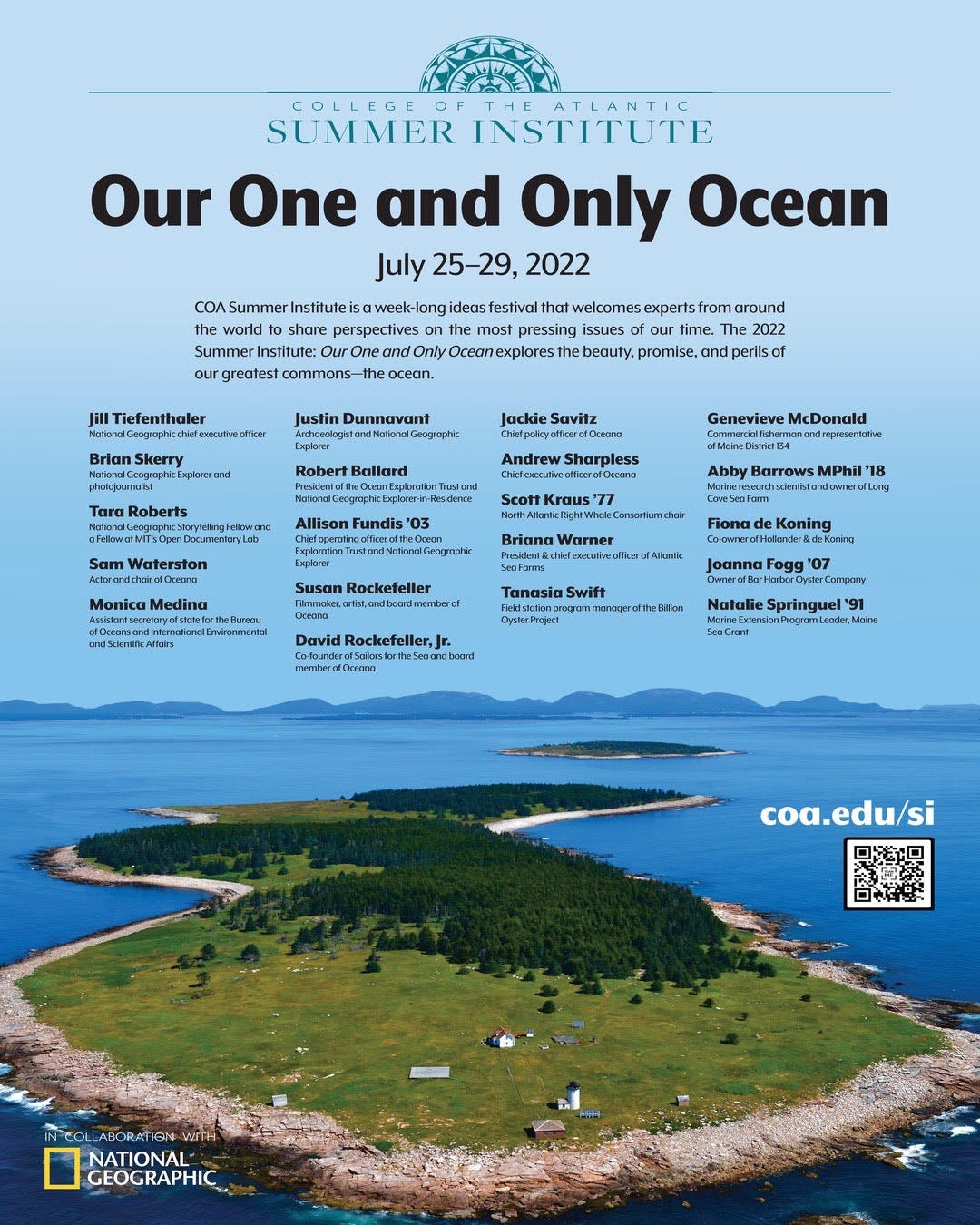 ---
ADDITIONAL RESOURCES
To watch the Monday night discussion in its entirety, head over here.
Want to support or learn more about Diving With a Purpose? Click here.
For more about the National Museum of African American History and Culture click here.
To visit Justin Dunnavant's website, click here.
---