Community Meeting About PFAS at High School Set For Monday and Other News
MAY 12, 2023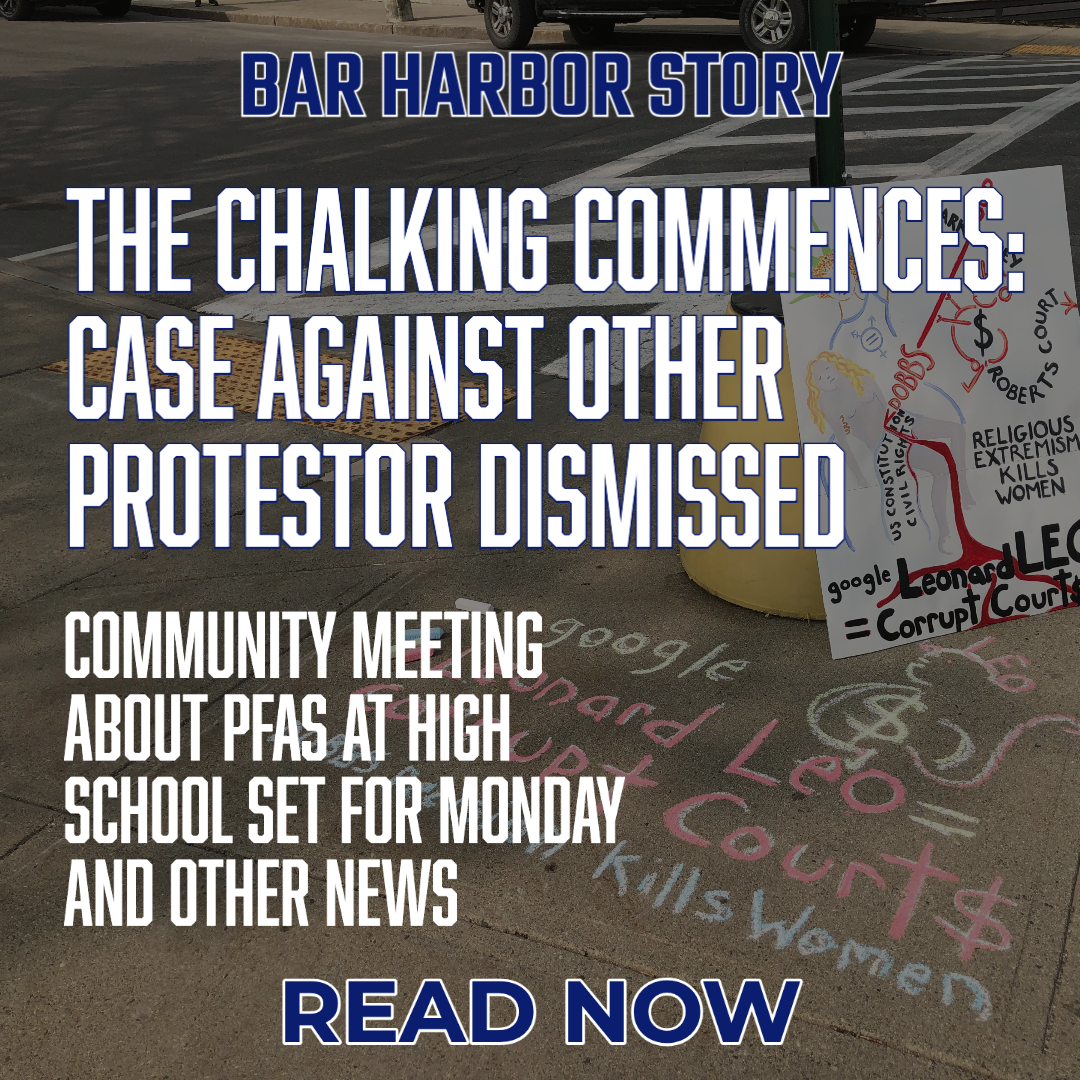 BAR HARBOR—An email sent by Mike Zboray, superintendent of schools just after 9 a.m. Friday announced,
"On Monday, May 15th, there will be a community meeting to share a summary of PFAS remediation in the drinking water at MDIHS and the relationship to wastewater management at the school.

"The meeting will take place in the school auditorium at 7 p.m."
---
CHALKING BEGINS
Annlinn Kruger has begun her chalk messages on island sidewalks this week in hopes of raising public awareness of summer resident Leonard Leo's political activities with the Federalist Society. An article by the Maine Beacon summarizes some of the actions and intentions of Kruger and other citizens on MDI this past year as they've protested Leo's actions. Kruger has also asked the Bar Harbor Town Council for an accounting of former Town Manager Kevin Sutherland's actions concerning her chalk messages in Bar Harbor and his reactions to them. A Bangor Daily News article details the beginnings of those events.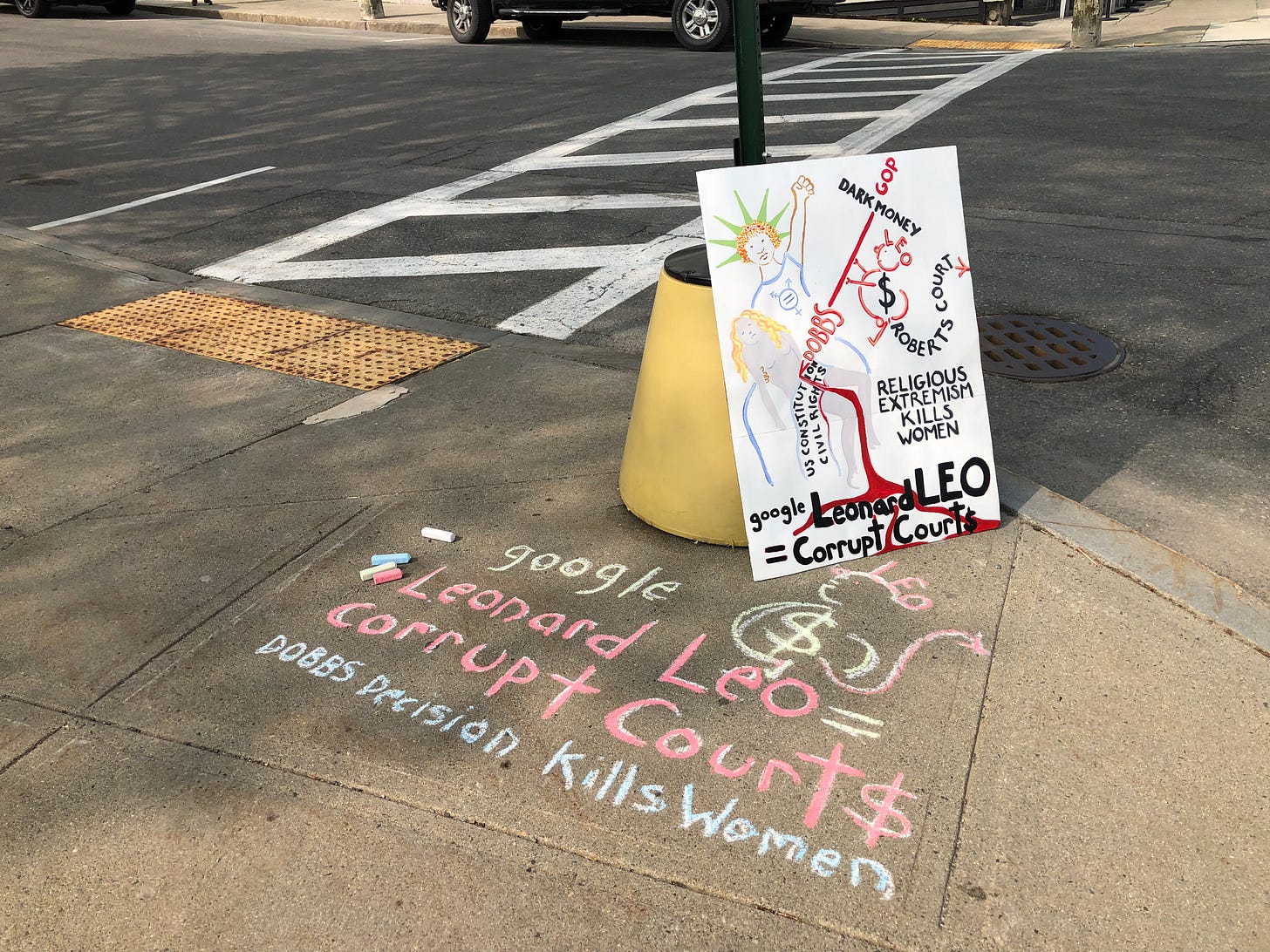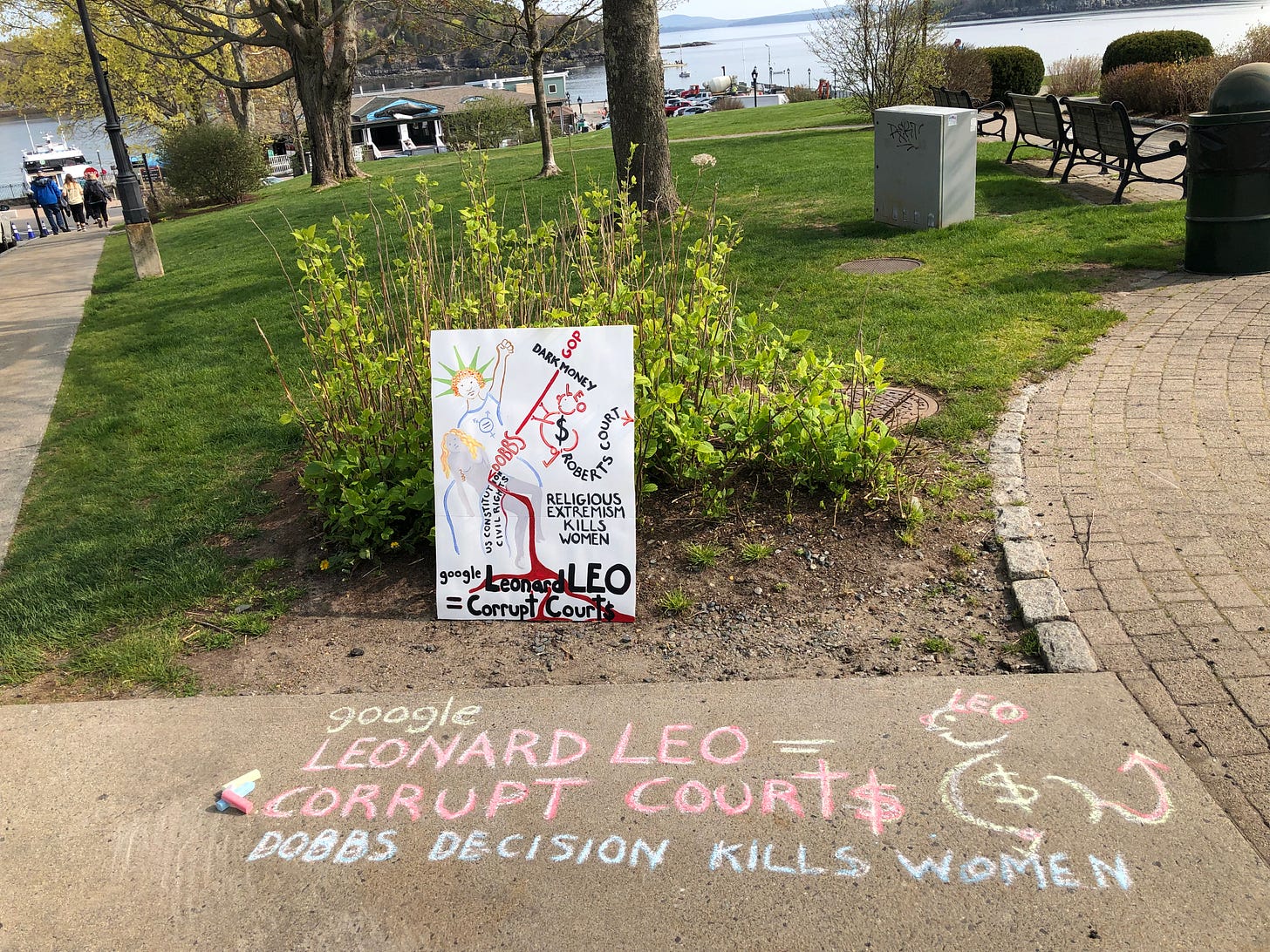 The Dobbs Decision that the chalk mentions is the Supreme Court Decision that reversed Roe v. Wade and Planned Parenthood of Southeastern Pennsylvania v. Casey. Both those decisions had said that abortion was a fundamental right if performed before the fetus is viable. Dobbs v. Jackson Women's Health Organization said that this is not a right in the U.S. Constitution and gives the power (or authority) "returned to the people and their elective representatives." A Cornell Law School brief about the case is here.
A 2022 National Public Radio article by Jonaki Mehta and Courtney Dorning details Leo's role in shaping the Supreme Court and getting Roe v. Wade overturned. Leo's Mount Desert residence has been the location of several protests and one arrest since 2019.
---
CASE DISMISSED
According to Lincoln Millstein's Quietside Journal article this morning, "The disorderly conduct charge against Bar Harbor resident Eli Durand-McDonnell for protesting against dark money operative Leonard Leo last summer has been dismissed."
Robert Granger is the district attorney for Hancock County who sent Millstein the message. Durand-McDonnell allegedly yelled obscenities at Leo and some members of his family while they were in Northeast Harbor. The case had been scheduled for a motion hearing today. In Granger's message to Millstein he said, "This case was on the precipice between criminal conduct as defined by Maine law and lesser distasteful expression." The full story is here. In it, Granger also talks about how the caseload in Hancock county has increased 53% since May 2019 and that this specific case was "on the lower end of our priority list."
---
CADILLAC SUMMIT ROAD REOPENS
The Cadillac Summit Road reopened yesterday as paving and culvert replacement work on the road pauses for the summer season. Because of the road's uneven surface, bicyclists and pedestrians are encouraged to use caution when traveling on the road.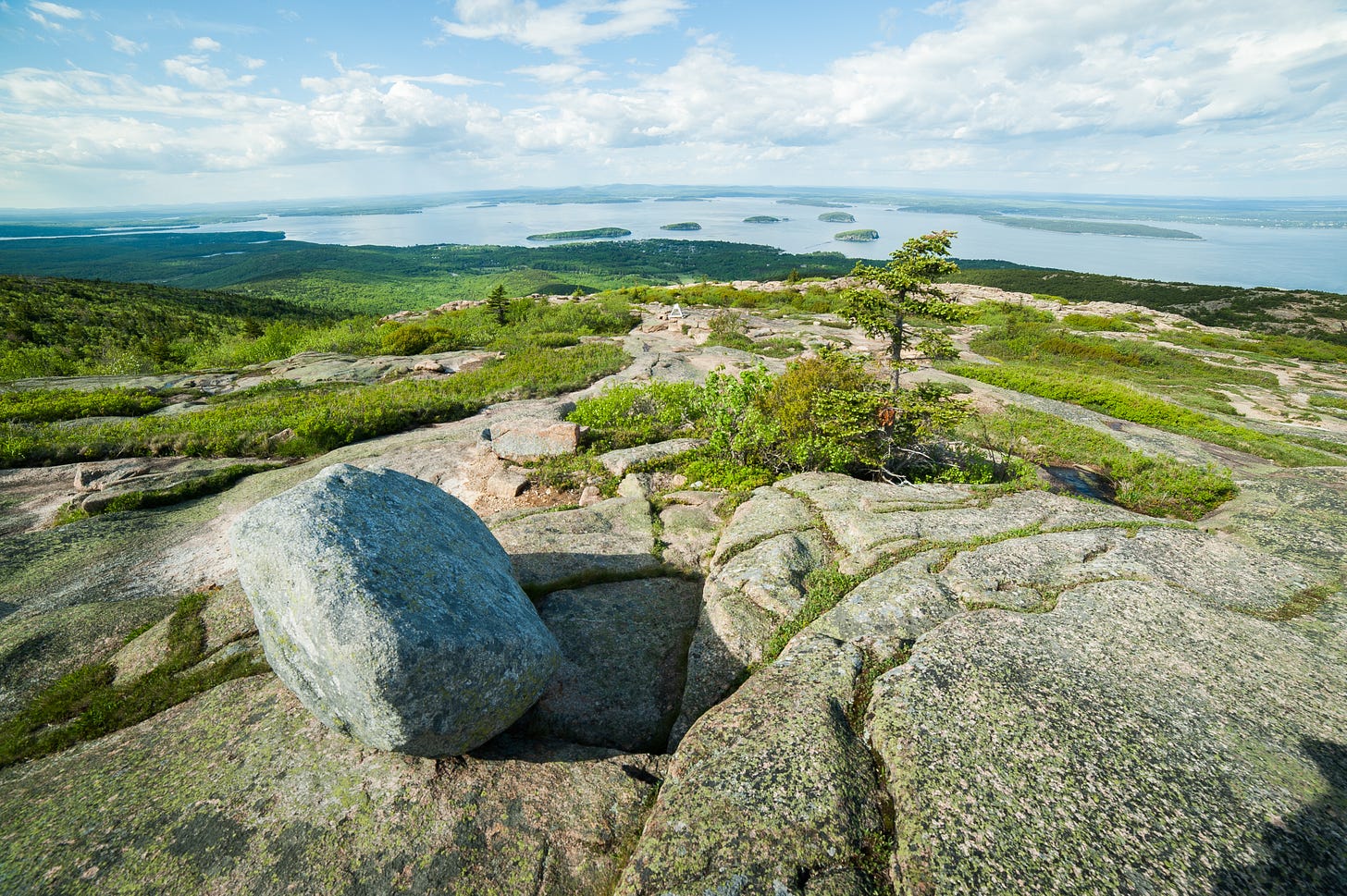 The construction, which includes repaving and culvert replacement, began last fall and continued into November when the contractor suspended work due to the onset of winter conditions. Throughout the spring, the contractor repaired culverts under the road and prepared the road for repaving. Single lane closures may continue throughout the spring, and the repaving of the road will resume at a later date.
The NPS expects Park Loop Road to experience single lane closures along Ocean Drive throughout the spring. Expect traffic delays and plan your visit accordingly.
Vehicle reservations will be required for Cadillac Summit Road from May 24 through October 22, 2023. For the most up to date information on reservations, please visit https://www.recreation.gov/timed-entry/400000 .
For the most up to date information about Cadillac Summit Road closures, please visit https://www.nps.gov/acad .
---
DESIGN REVIEW BOARD
The Design Review Board gave certificates of appropriates to Siam Orchid and No Frills Energy during a quick Thursday afternoon meeting. Heather Pellegren represented Siam Orchid, a restaurant on Rodick Street, which looked to change parts of its exterior fences and freestanding walls as well as create a horizontal propane fired heater outside.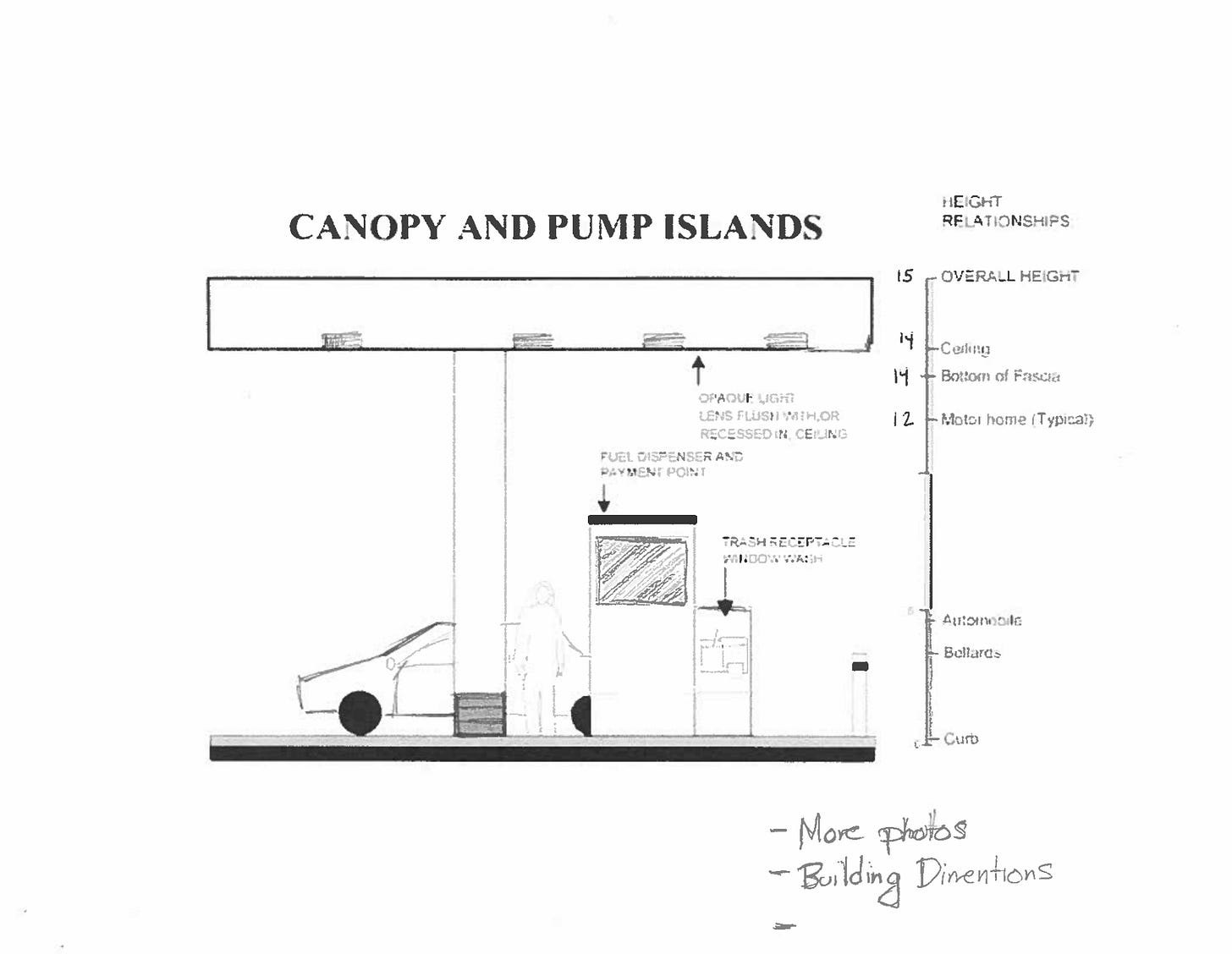 No Frills Energy represented by Peter Hastings was back with a plan similar to one approved before, only this time due to some inaccurate measuring, the overhangs and the pumps would be too close to the building, so the design was shifted five feet to the west and three feet to the south.
"I actually like this better," Hastings said.
The meeting lasted about 20 minutes and can be streamed here.
---
LABEL YOUR KAYAK
Each year the Maine Warden Service and Maine Marine Patrol respond to many calls of unoccupied canoes, kayaks, and rowboats found floating on the water. Without owner information on a vessel/paddle craft, it can be difficult for first responders to confirm if someone is in need of rescue on the water or if the boat simply drifted away from shore without a passenger.
The organization asks boaters to always label your vessel/paddle craft with an "IF FOUND" sticker to help first responders efficiently determine if an emergency exists, prevent unnecessary and expensive searches, and enable your paddle craft to be returned if lost.
Stickers are available for FREE from MDIFW and Department of Marine Resources – visit your local office for a sticker or ask your local game warden or marine patrol officer. You can also find stickers at many marinas and sporting goods stores.
Click here for more information on where you can get a free sticker
---
TOWN NEWS FLASHES
The following news flashes came out Friday morning.
Lower Ledgelawn Avenue Temporary One-Lane Traffic – May 12, 2023
Effective Friday, May 12, 2023, lower Ledgelawn Avenue traffic flow to and from White Spruce Road and Great Meadow Drive properties will temporarily be via one-lane to accommodate an emergency water main repair. The existing traffic light at the Cromwell Brook Bridge #3 will continue to manage vehicle traffic. Thank you for your patience and cooperation.
Water Service Interruption
The Water Division is conducting an emergency water service repair. The affected customers on White Spruce Road and Strawberry Hill Road have been notified.
---
Bar Harbor Story is a mostly self-supported publication. To receive new posts and support our work, consider becoming a free or paid subscriber. Thanks for being here and for being part of the community.