APR 28, 2023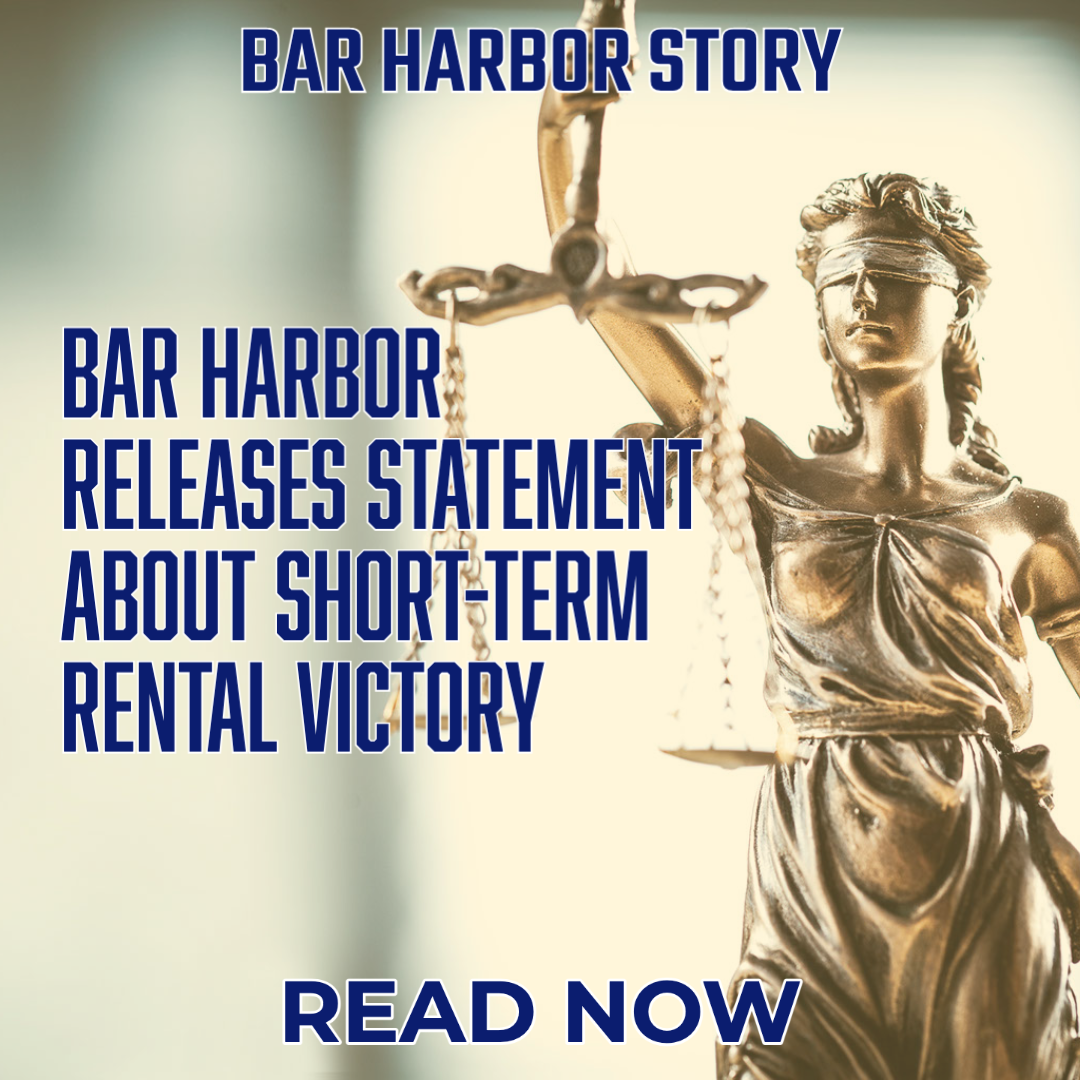 BAR HARBOR—The town of Bar Harbor has released a statement about its recent short-term rental victory.
"The Town of Bar Harbor is pleased to announce the Maine Superior Court ruled in its favor in Brooks v. Bar Harbor, upholding the vacation rental amendment to the land use ordinance that the voters passed overwhelmingly in the November 2021 election.

"The court agreed that all necessary procedures of the town's charter and land use ordinance were followed to lawfully enact the land use ordinance amendment and the council's related short-term rental ordinance amendments. As articulated in a lengthy written decision available on the Town's website, the Court held that it would be contrary to those legislative documents, and the basic democratic principle of majority rule to require a two-thirds supermajority vote simply because the Planning Board failed to fulfill its duty under the land use ordinance in effect at the time to issue by a majority vote a recommendation as to whether or not the amendment ought to pass. This decision keeps in place the town's regulations concerning vacation rentals, which are necessary to help preserve affordable year-round housing in our community.

"Finally, we wish to extend our thanks and appreciation to the staff and our legal team, who worked hard on behalf of the citizens to shepherd this legislation through the Town process and defend it in the courts."
A Maine Superior Court Justice has denied a lawsuit against the Town of Bar Harbor by Erica Brooks and Victoria Smith that stemmed from short-term rental regulations that were passed by town voters in a simple majority in November 2021.
The lawsuit centered on whether or not the town had misinterpreted its charter and code when voters approved a short-term rental ordinance. Part of the issue was whether or not that vote needed a two-thirds majority to pass.
In a statement April 26, Brooks and Smith said,
"We are disappointed in the process and the outcome and are evaluating our options with our attorney which include a possible appeal.

"We are grateful for all the participation and contributions to date and anyone who feels their rights as a homeowner have been affected is encouraged to stay in touch as we move forward.

"Homeownership and property owner rights are incredibly important to us, and we will continue to work with our legal team to ensure the process is fair and just. Land use ordinances are in place to protect everyone and there are checks and balances in place within our Town Charter to ensure things are fairly vetted and voted on. Doing things the correct way and standing up for property owner rights have always been our motivation."
For a full accounting of the court's decision, please see our earlier story.
---
Disclosure: I own a short-term rental in Bar Harbor that I intend to move back into once all our children have graduated school.
---
Bar Harbor Story is a mostly self-supported publication. To receive new posts and support our work, consider becoming a free or paid subscriber.