Possible rebuild could increase safety at the corner of West Street and Eden Street
APR 14, 2023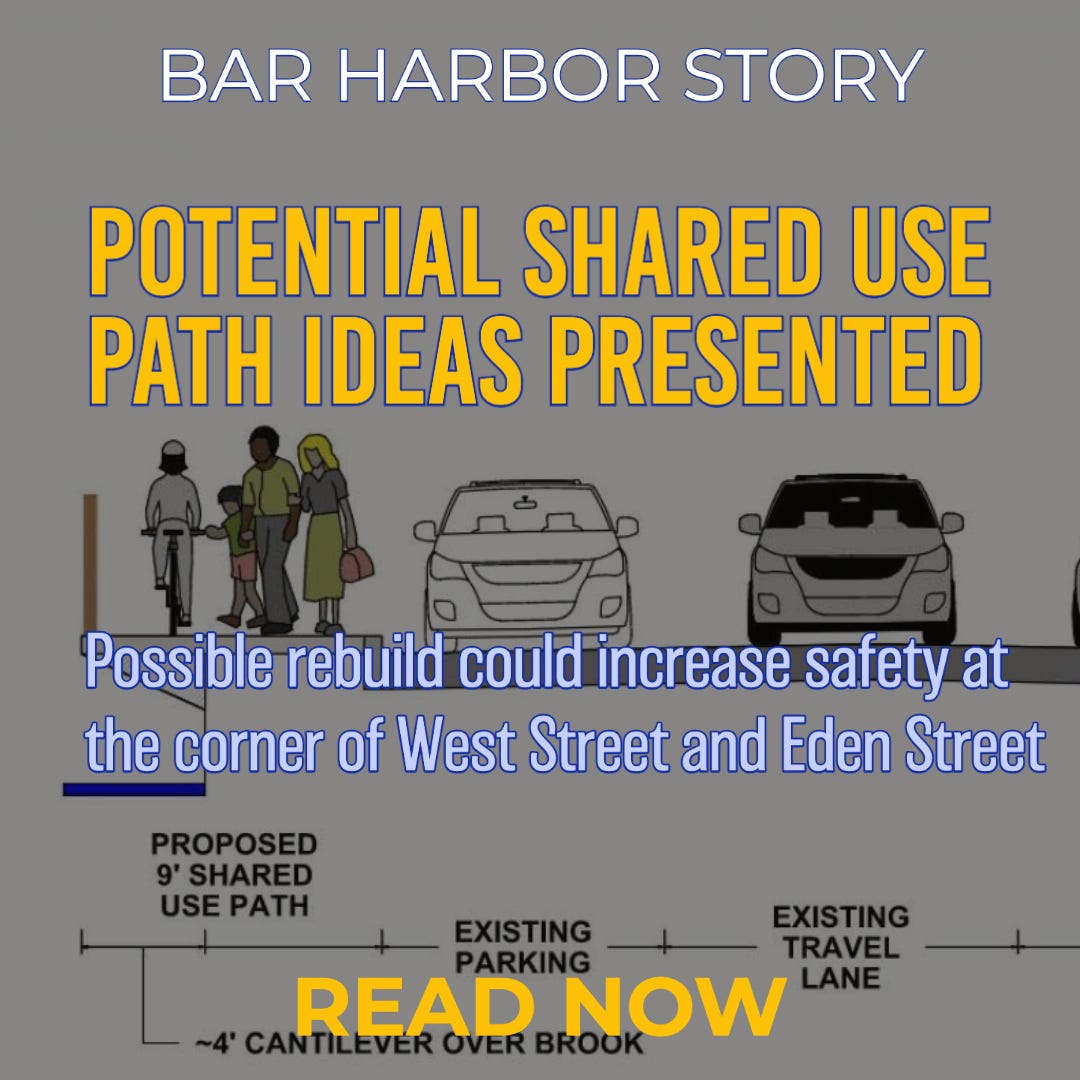 BAR HARBOR—The town released potential shared-use plans for a path up West Street. Public Works Director Bethany Leavitt presented the possibilities at the April 4 Town Council meeting in an 18-page Powerpoint that is attached below and is also linked to the town's website.
The possibilities are focused on a stretch of West Street by Eddie Brook and the connection to Eden Street. A goal of the project is to improve pedestrian and bicyclist safety as they enter the downtown area via West Street.
According to the presentation,
"Discussions initiated within the Parking Solutions Task Force to look into options to extend the Eden Shared Use Path (SUP) from it's ending point at the corner of DeGregoire Park and the crosswalk near the entrance of West Street
"Several preliminary concepts where outlined with Town Council for initial preview and further development into concepts with planning level cost estimates

"In the meantime, we removed parking spaces to allow for the creation of two (2), 15‐minute bus parking spots (60‐foot long each) within the project area along West Street."
From the presentation, it looks as if the mention of DeGregoire Park is actually DeGregoire Green which is located at the corner of West and Eden Streets not the road at the base of Dreamwood Hill.
The possibilities for the path were presented in order of cost. The greatest cost was alternative one.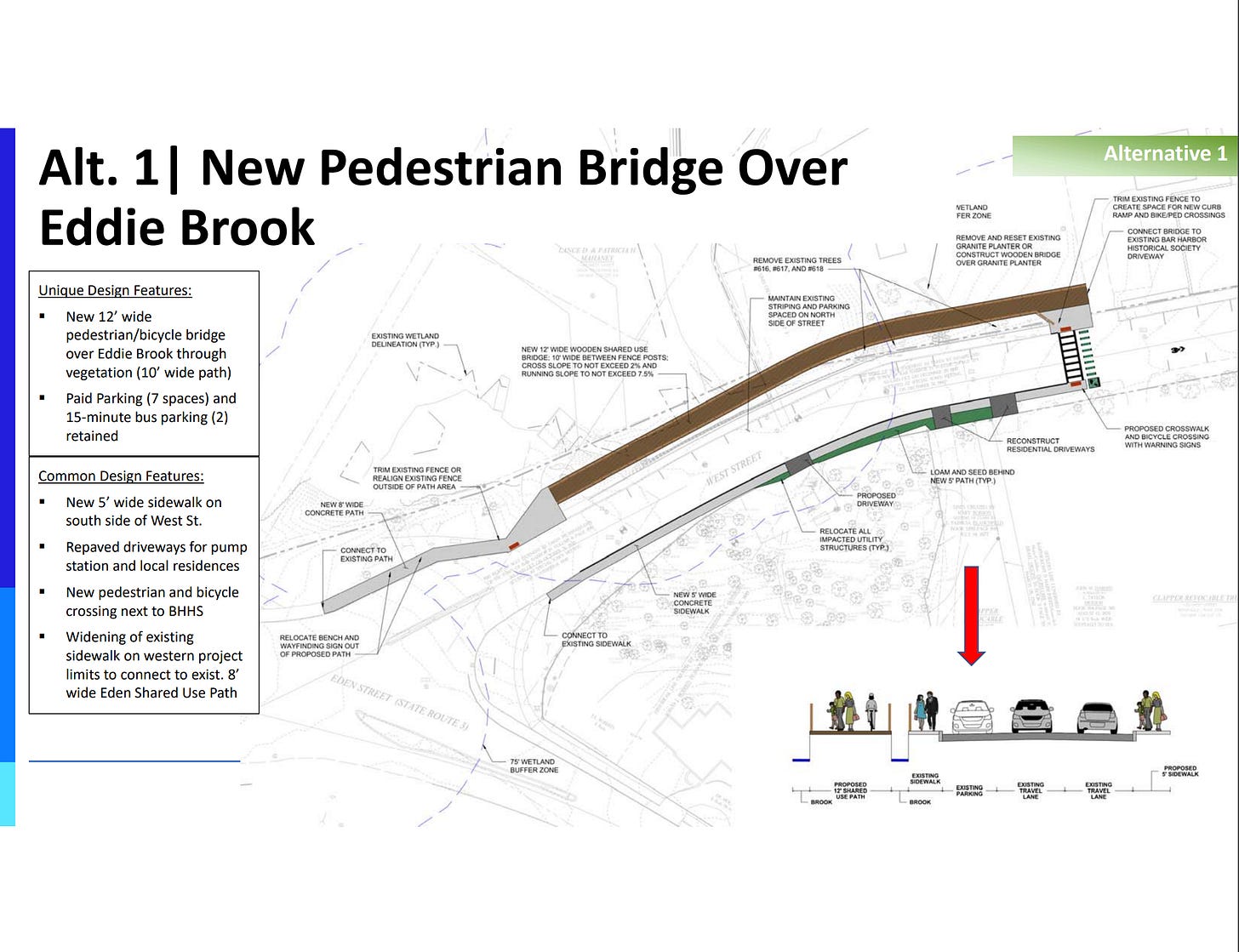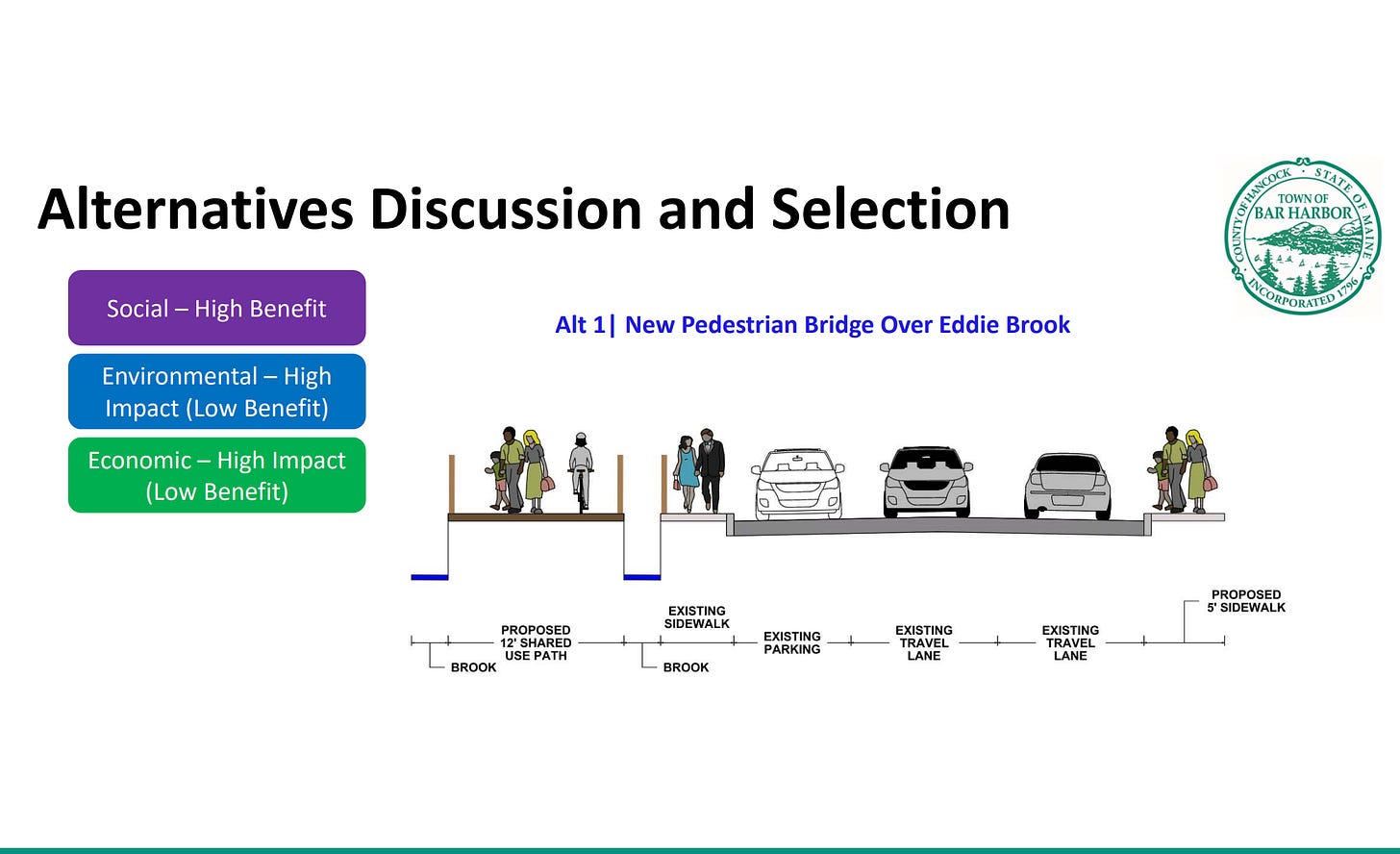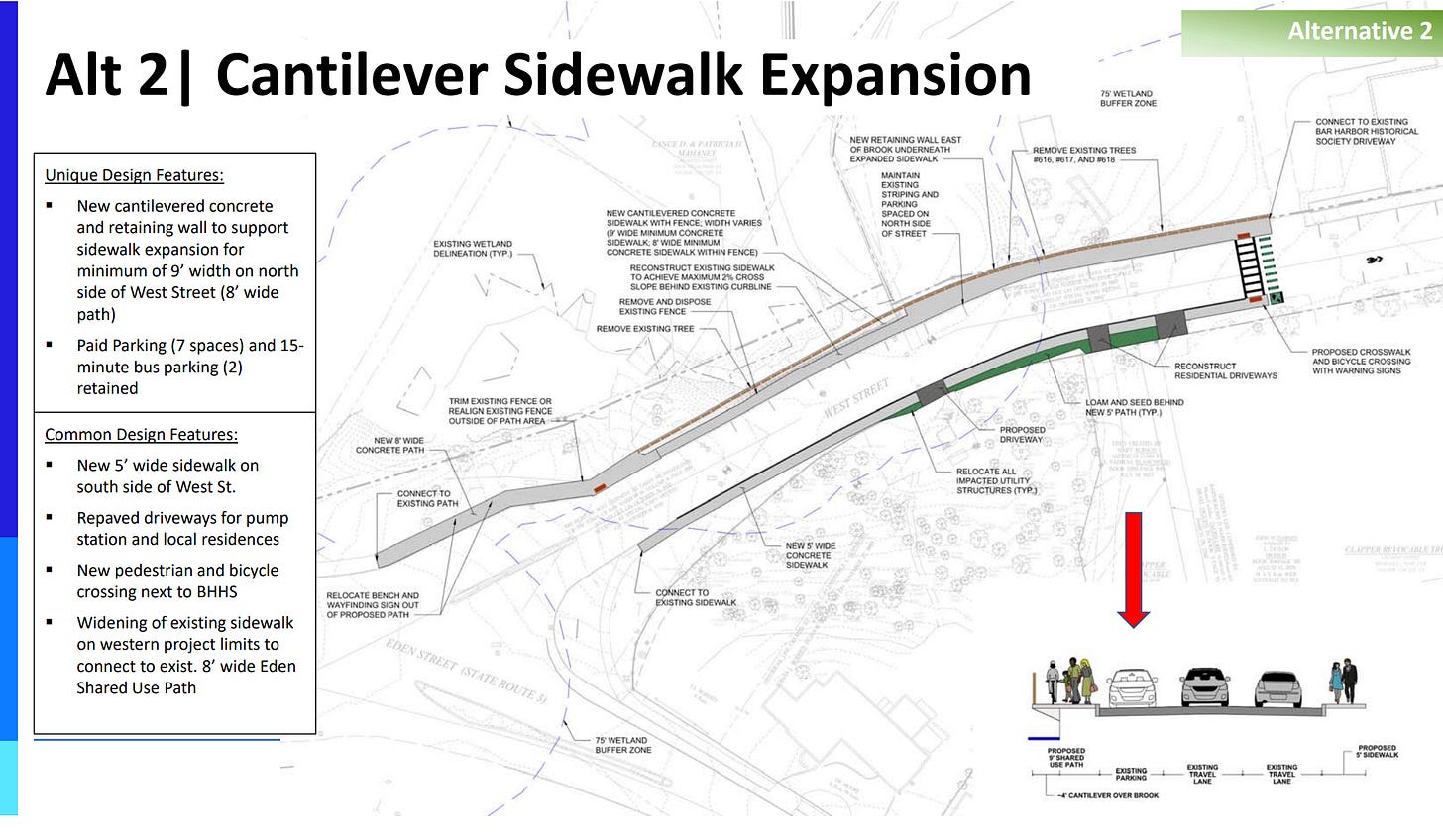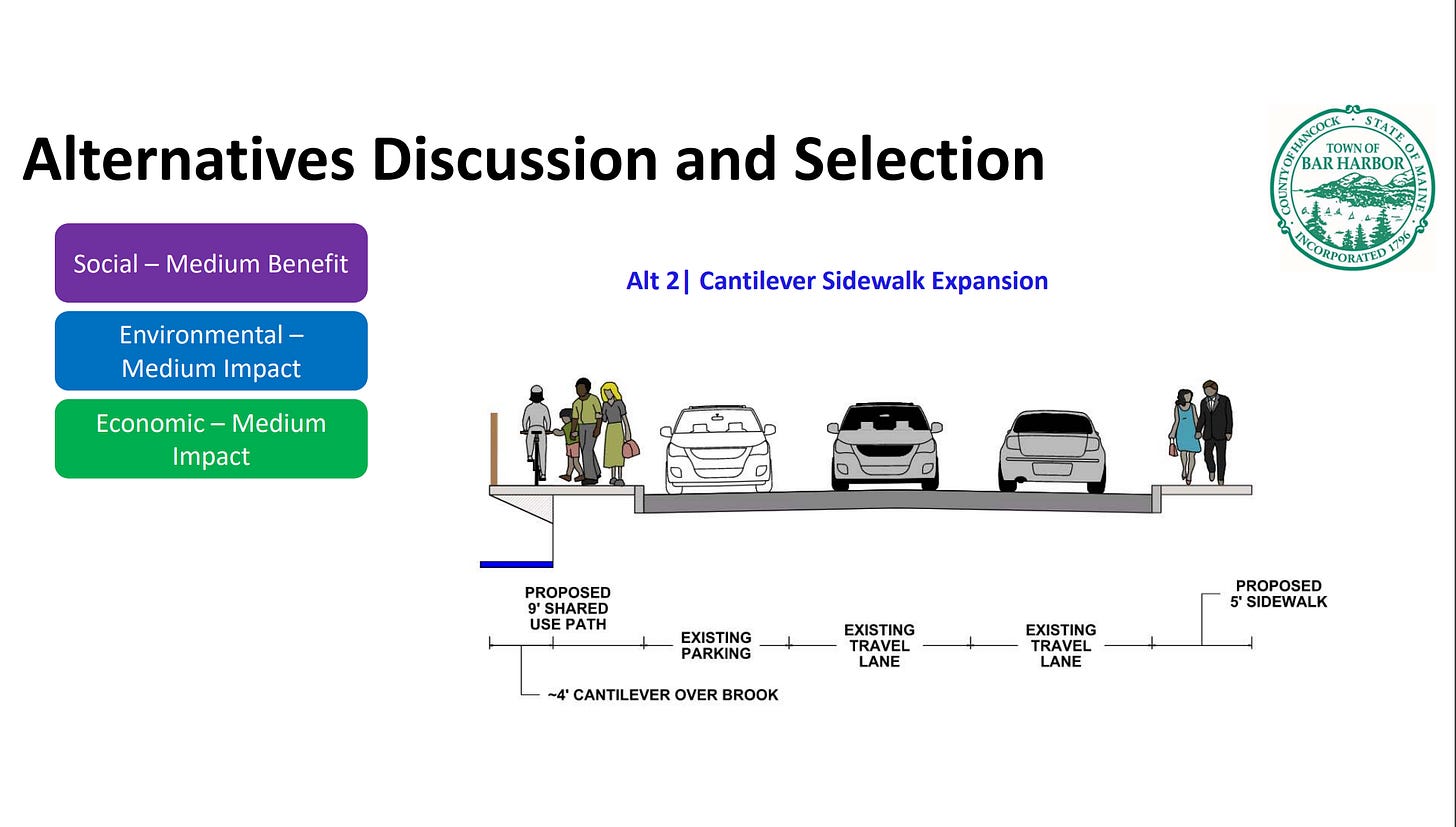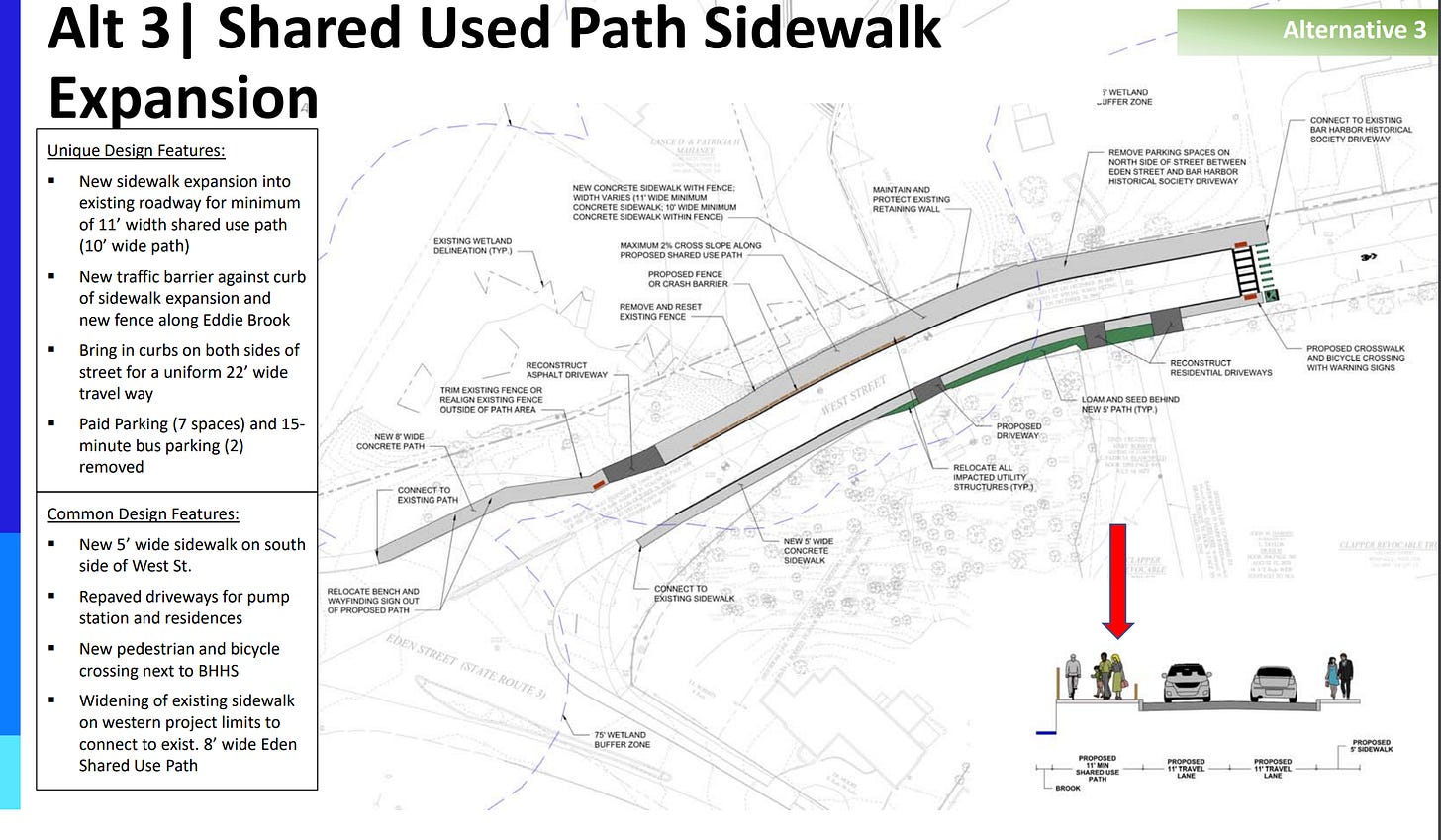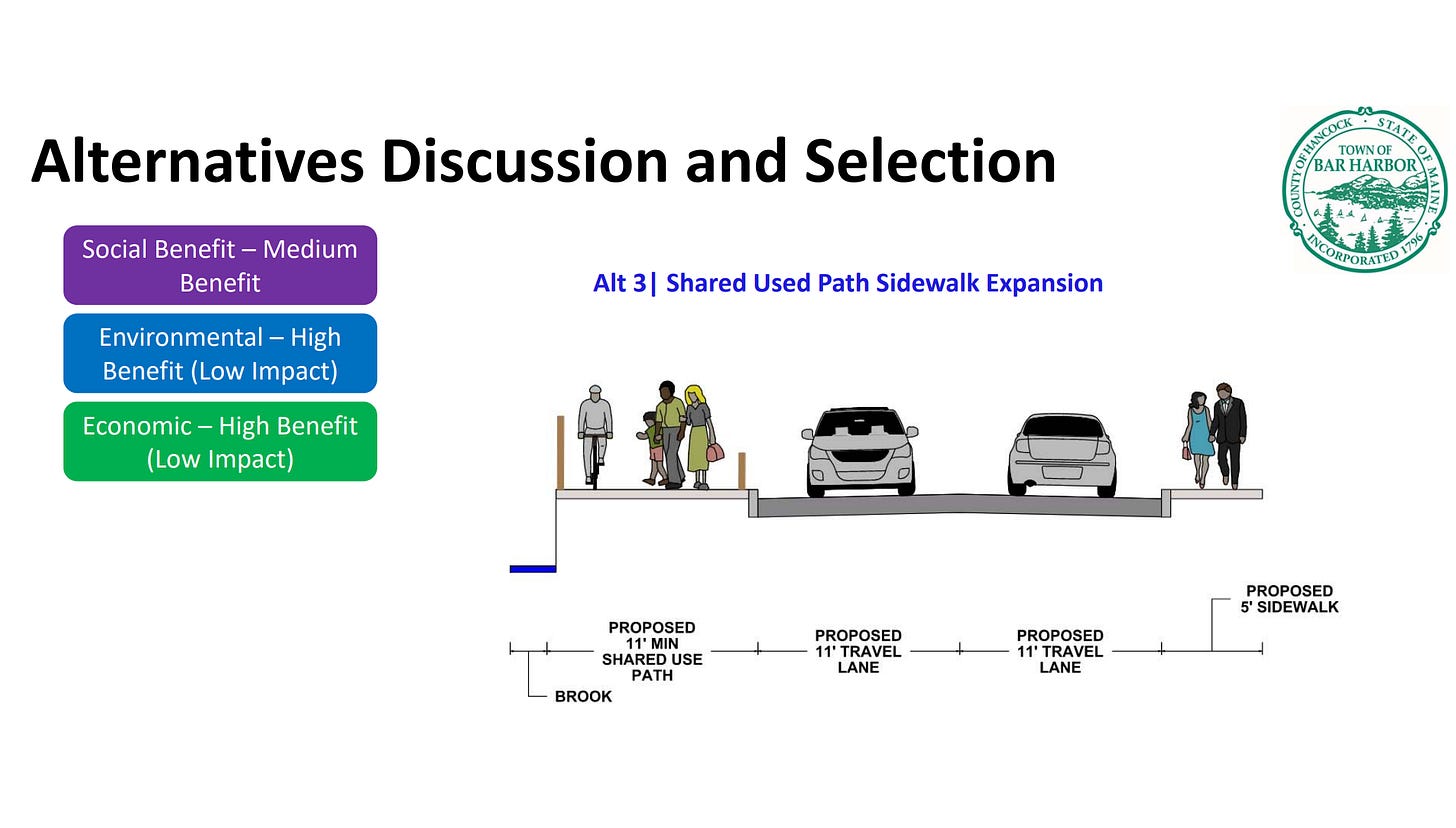 Leavitt also had a slide about the new evaluation criteria she used for the project as well as a fourth alternative, which she recommended to the council.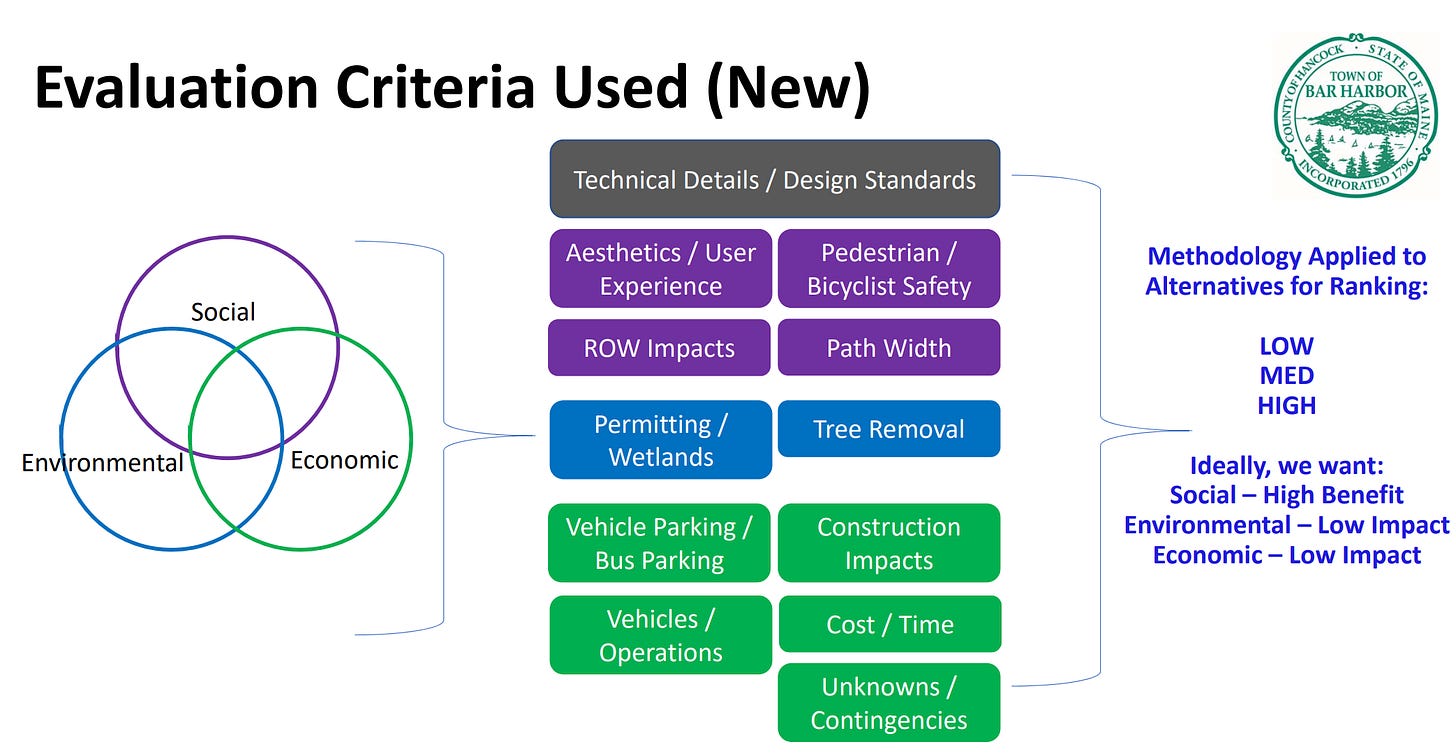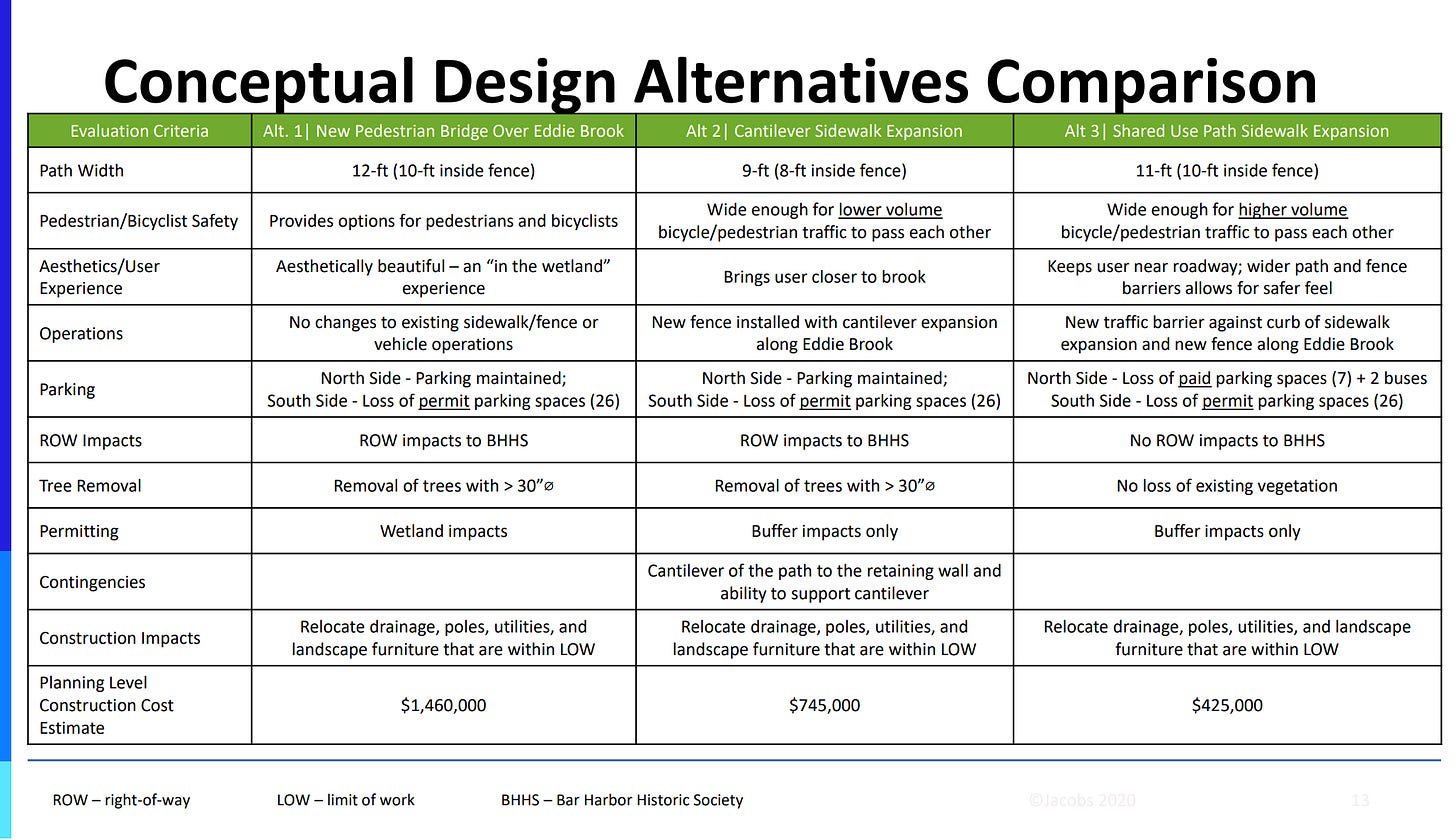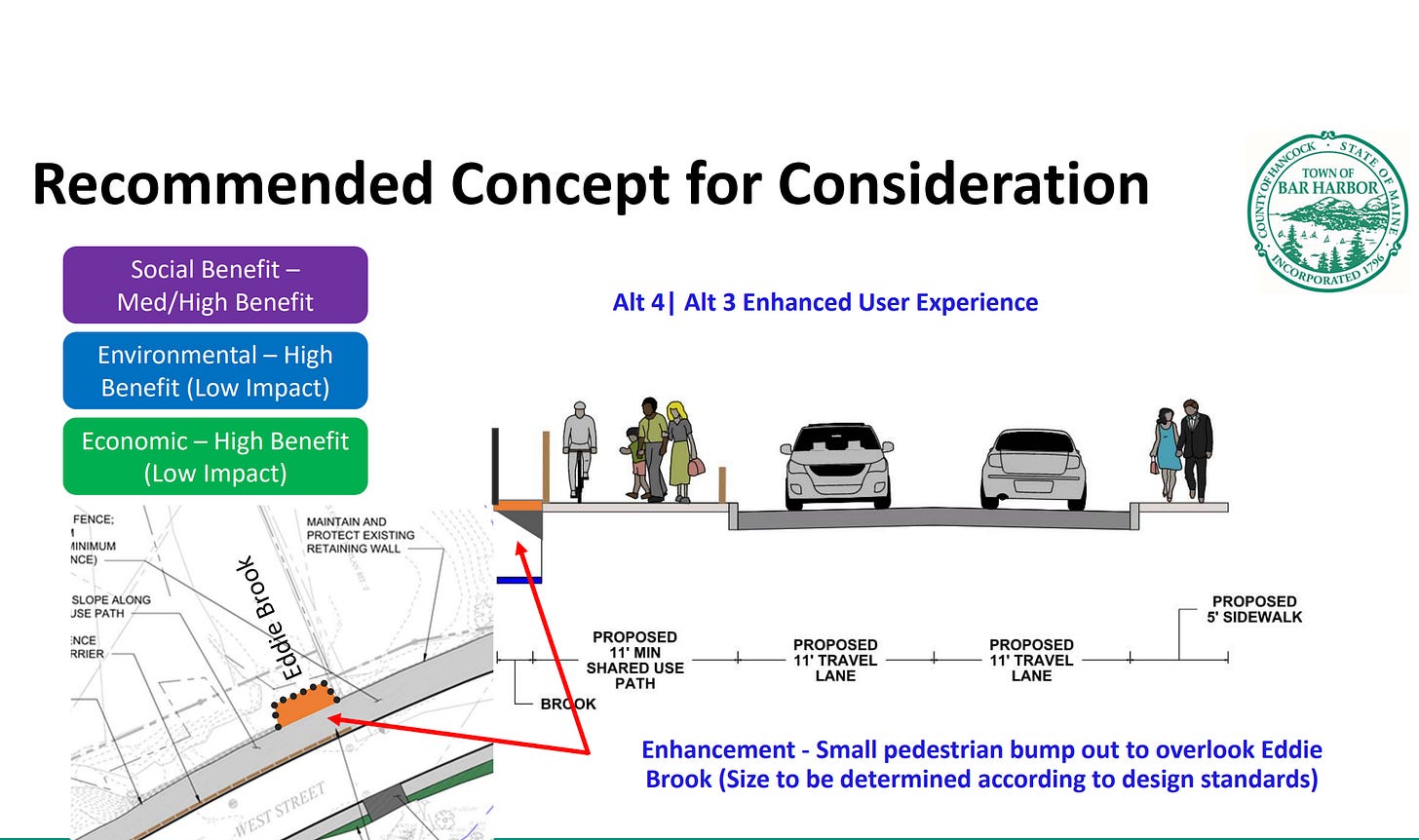 The West Street shared use path is funded under the town's infrastructure grant – under the general fund component.
The Safe Streets Grant, which we reported about earlier this year, is for planning and is separate from this project.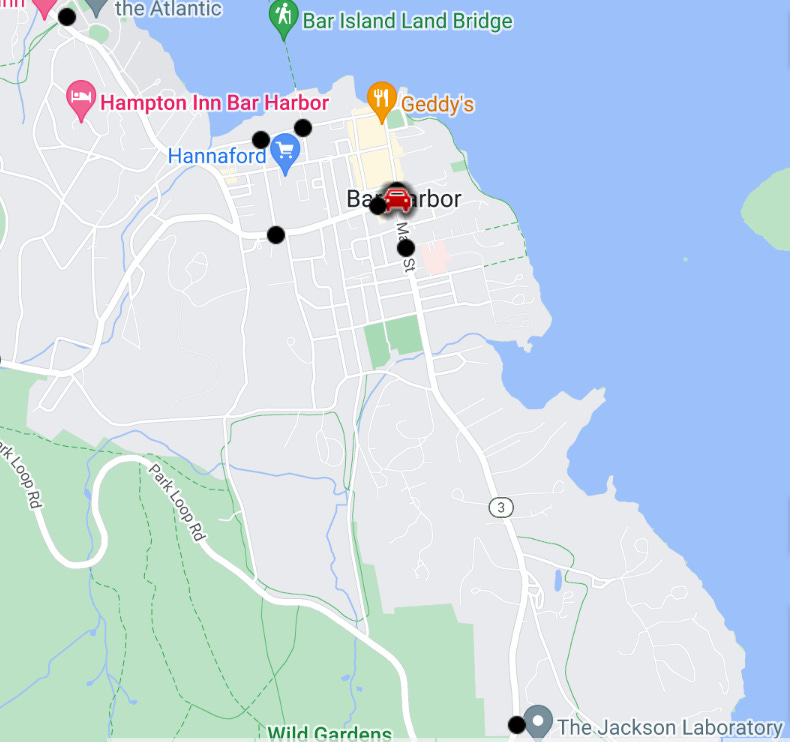 *Unless labeled with Bar Harbor Police Department, all slides are from Leavitt's presentation.
Apologies, I misspelled Eddie Brook and the moment I shared the post, I realized it. I've updated the story to reflect that correct spelling.
---
LINKS TO LEARN MORE
An earlier article about grant for pedestrian safety
https://www.transportation.gov/grants/dot-navigator/federal-tools-determine-disadvantaged-community-status
https://www.lawinsider.com/dictionary/transportation-disadvantaged
https://www.arcgis.com/apps/dashboards/d6f90dfcc8b44525b04c7ce748a3674a
https://www.transportation.gov/grants/SS4A
---
Bar Harbor Story is a reader-supported publication. To receive new posts and support our work, consider becoming a subscriber (free or paid). And thank you so much for being here!