https://barharborstory.substack.com/p/on-the-agenda-current-potential-nominees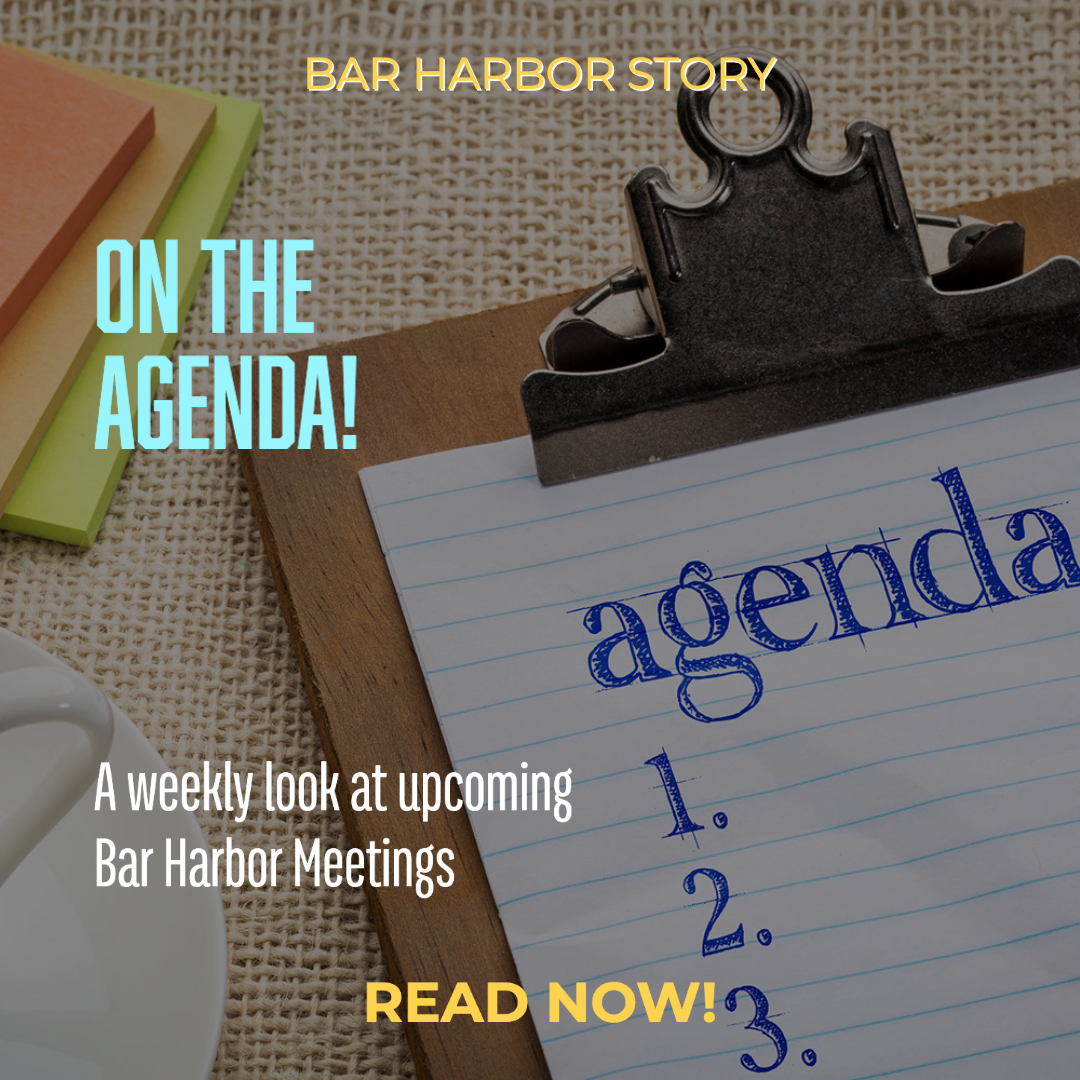 BAR HARBOR—It's our weekly piece documenting Bar Harbor town government and other similar meetings that we know of. Please let us know if we've missed something. Also, sometimes things are on the town calendars and are cancelled or rescheduled, so make sure to double check before you head over!
All the meetings take place at the Bar Harbor Municipal Building at 93 Cottage Street unless otherwise noted. And they usually have a time for public comments. This is not true about executive sessions.
So, go! Be informed! Be part of the process. You deserve to be.
To see the town meeting calendar by month, click here.
To see the school board calendar by month, click here.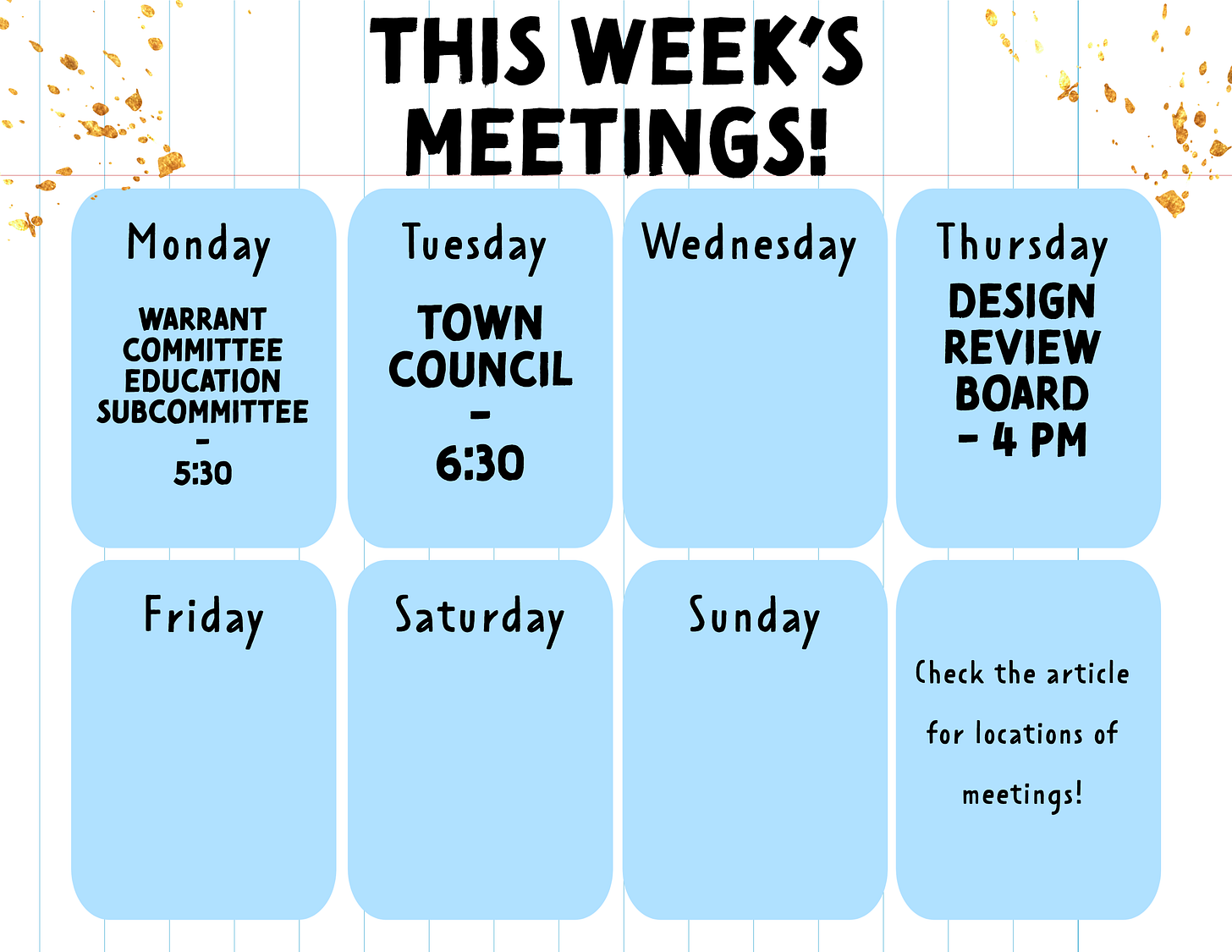 ---
QUOTE OF THE MEETING
This week, we're trying something a little new and putting in a couple of anonymous quotes from this past week's meeting. Why? Because sometimes there are quotes that don't fit in an article but they are too good to pass up.
Quote #1 in reference to driving a motorcycle in winter
"What happens when you hit an icy patch?"
"It's slippery."
Quote #2
"When you drive a police car the most terrifying thing you worry about is getting stuck somewhere and have to get winched out. You'll never hear that end of that."
Quote #3
"That's what I mean by tool in the toolbox."
"That sounds dehumanizing"
"Ah, that's what I do."
Let us know where you think those quotes took place if you feel like it! But they are real. They happened this week. And they are quotes.
---
Nomination Papers Available March 3, Papers Taken Out By Several Potential Contenders
The following offices will be elected by the voters at the June 13, 2023 town election:
Bar Harbor Town Council Three seats – three-year term
Bar Harbor Town Council One seat – two-year term
Superintending School Committee Two seats – three-year term
MDI High School Trustee One seat – three-year term
Warrant Committee Five seats – three-year term
Nomination papers will be available in the town clerk's office beginning Friday, March 3.
The deadline for filing nomination papers with the town clerk is Friday, April 14, 2023 at 5:00 p.m..
See also the Elections-June page or call 207-288-4098 for more information.
Multiple people have signaled an intent that they might potentially run for the three contested three-year council seats. Those who have already pulled papers include: incumbent Council Chair Valerie Peacock; Councilor Erin Cough; former Communications Coordinator Maya Caines; President, Bar Harbor Chamber of Commerce Board of Directors Gary "Bo" Jennings; musician Cosmo Nims; Comprehensive Planning Committee Chair Kyle Shank' former Bar Harbor assessor and former Southwest Harbor Town Manager Justin VanDongen; and former Police Chief Nate Young.
The seats that are available are those of Peacock, Cough and Jill Goldthwait.
There is also a two-year seat available because of Councilor Jeff Dobbs' resignation. Brooke "Zana" Blomquist, Keith Goodrich, and Charles Sidman have taken out papers for that position.
For the Superintending School Committee (Conners Emerson School) it's Misha Mytar and Robin Sue Tapley whose spots are available. Mytar has taken out papers. She had been appointed to the committee this year to fill out a resigning member's term.
For the Warrant Committee, the five members up for reelection are Carol Chappell, Kevin DesVeaux, Allison Sasner, Secretary Christine Smith, and Bethany Reece. So far, Chappell, Julia Cuchelo, DesVeaux, Shaun Farrar, Elizabeth Lemire, Sasner, and Smith have taken out papers.
No one has yet taken out papers for the position on the high school trustee board.
There are no term limits and incumbents can run for reelection. Pulling papers is the first step in running for office, but people can take out forms, not return them and therefore not run.
There are also numerous board and committee vacancies. To start the application process candidates must fill out, sign, and return the Boards and Committees Application to the town clerk.
---
---
Monday, March 20, 2023
Agenda not available online at press time.
Time:
5:30 PM - 6:30 PM
Location:
3rd Floor Meeting Room – Suite 301, 93 Cottage Street, Bar Harbor Municipal Building
---
Tuesday, March 20, 2023
Town Council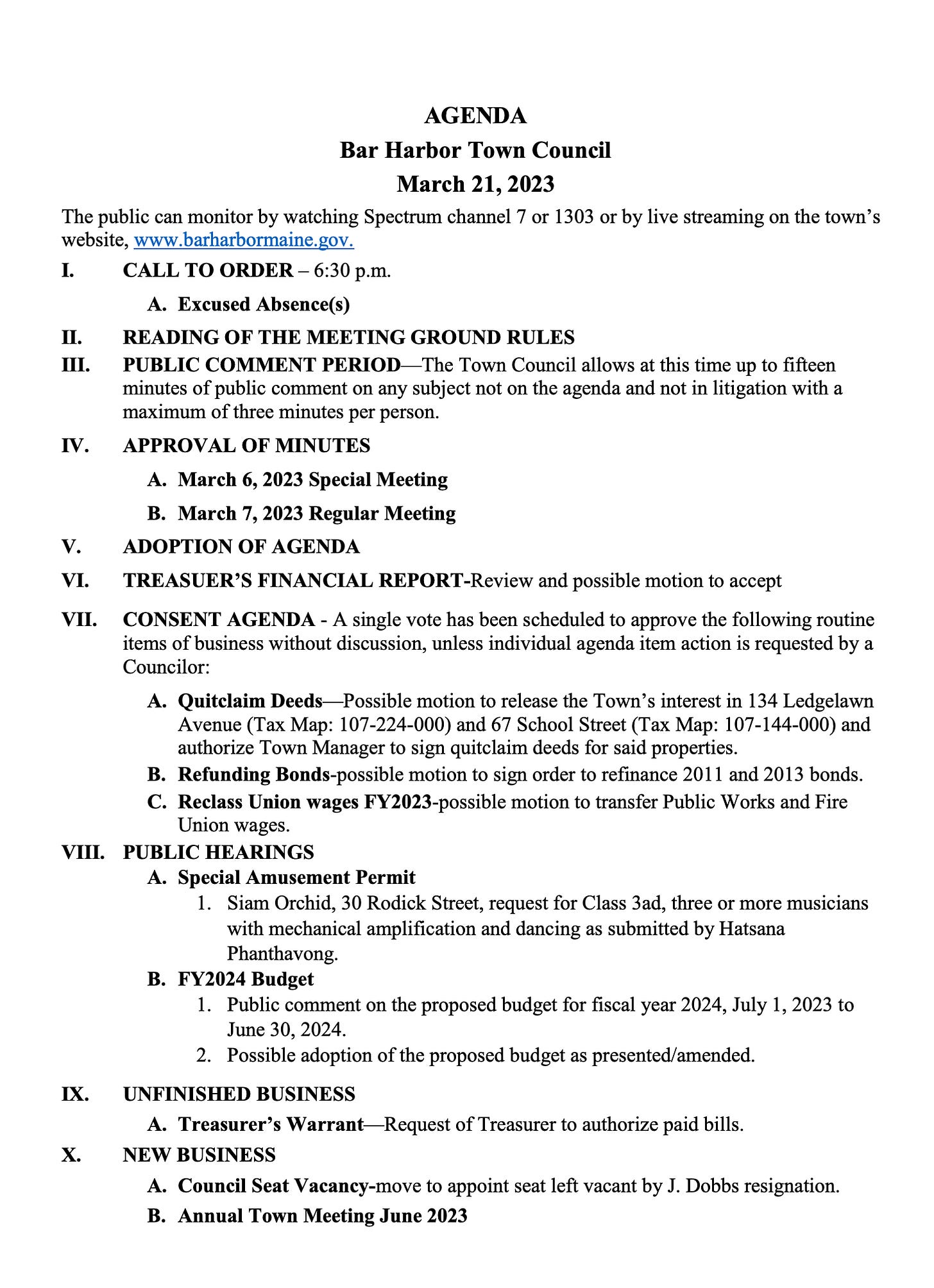 Time:
6:30 PM
Location:
Council Chambers
93 Cottage St, Bar Harbor Municipal Building
---
Thursday, March 23, 2023
Design Review Board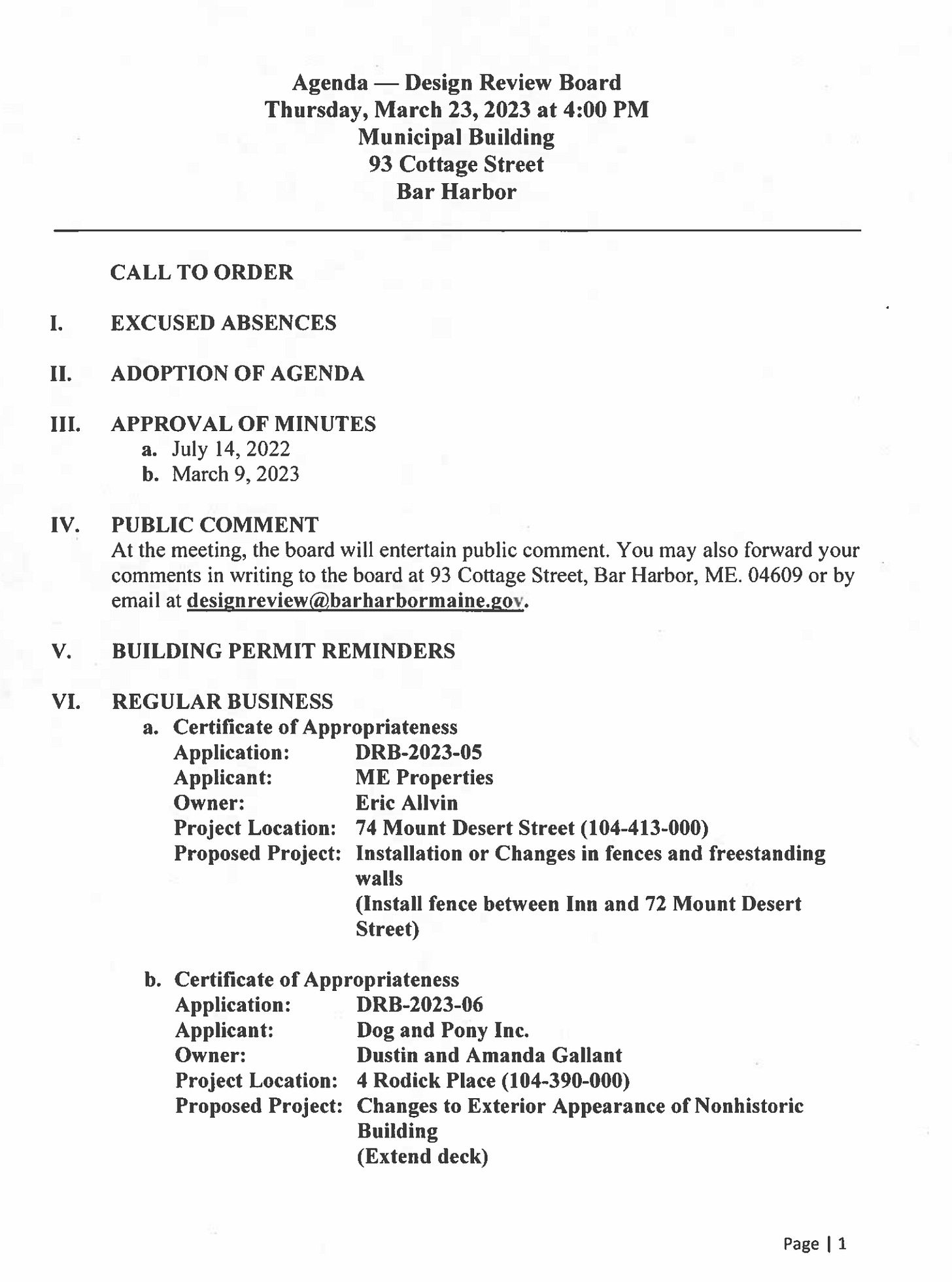 Time:
4:00 PM - 6:30 PM
Location:
Council Chambers
Address:
93 Cottage
Bar Harbor, ME 04609
---
Bar Harbor Story is a reader-supported publication. To receive new posts and support my work, consider becoming a free or paid subscriber. Thank you so much for being here with me!