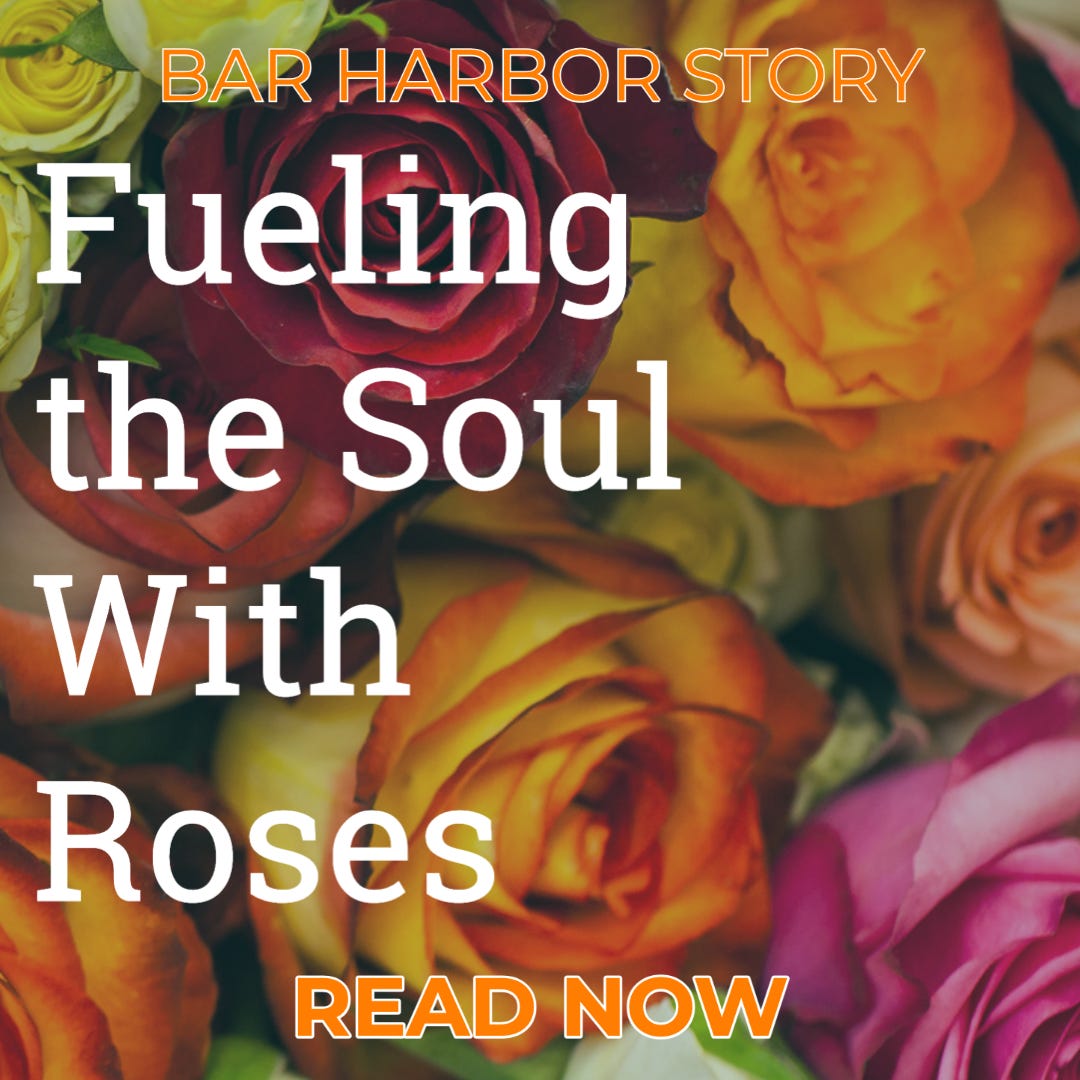 BAR HARBOR—The hardest part about spreading joy via rose delivery is often just finding the right door in a house to knock on, according to Kristi Losquadro, who volunteered for the MDI YWCA's International Women's Day rose program.
The best part?
There are a lot of best parts.
"I love getting to deliver to people I know and getting a chance to chat a bit. I also like to slip the rose in the door when the people aren't home and imagine their happiness at finding the flower after a long day of work," Losquadro, one of the event's many volunteers, said.
The annual sale of the roses is about honoring women, about acknowledging each other, and raising some funds for the nonprofit, which has been helping MDI women with housing, food, education, economic empowerment, and more since 1904.
The MDI YWCA is the only YWCA left in Maine that still offers housing, and it shelters approximately 125 women every year. According to its website, "Our lodging is subsidized to continue keeping it affordable for the low-income, the vulnerable, and seasonally employed women who are racially and ethnically underrepresented."
International Women's Day, March 8, is celebrated globally, but the MDI YWCA specifically chooses to sell roses to deliver on that date each year.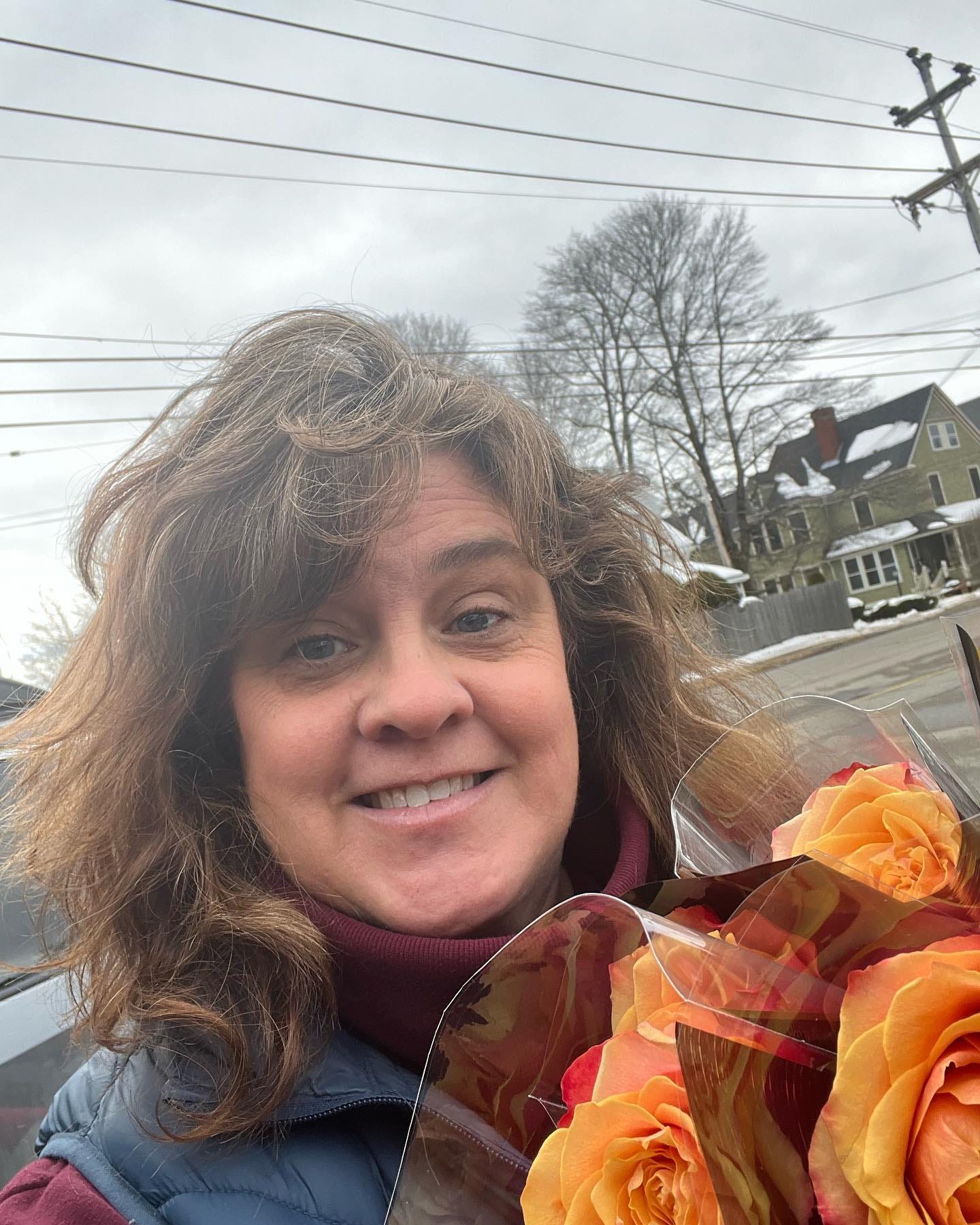 It was Losquadro's third year delivering flowers for the YWCA. She originally volunteered because her daughter was a teen board member of the YWCA and was in school during the day when they were being delivered.
Losquadro posted on her social media about volunteering this year.
"After seeing my post, a lot of people asked me about it and were interested. It does take quite a bit of time doing the delivery, but the YW recommends pairing up with a partner which makes it more fun. A driver and a navigator make the trip easier. The island has many rural areas and finding the addresses is sometimes harder than I expected. Also, I've realized that no one in Maine uses their front door! Figuring out where to knock or where to leave the rose if no one answers if often a bit difficult."
The event is also a celebration for the YWCA's Executive Director Jackie Davidson.
"The roses, for me, provide an opportunity to—for a fairly small investment of money—let a woman we know that she is important. Having delivered the roses, I have seen the faces of women when they receive one. It gives me joy," she said.
Roses cost $5 each. They can be given anonymously or signed.
"One of my friends likes to purchase several roses each year and never signs her name on them. She thinks it's more fun to send anonymous flowers to people she thinks are working hard for our community. This year she sent one to Sarah Gilbert who has taken on the very difficult job of acting town manager on top of her already difficult position with the town," Losquadro said.
Orange roses like the persimmon ones dispersed by the YWCA are often given to tell someone that you are proud of them and can express admiration or a dash of motivation. Or, the rose can just make its receiver feel acknowledged and seen.
"It's a lot of fun, especially when the women receiving the flowers are at home when they're delivered. Everyone is surprised and then so happy that someone else thought of them. I also enjoy purchasing the roses for unsuspecting Bar Harbor women, such as the ladies who do the scheduling at Island Connections or the school secretaries. There are a lot of women who are working very hard for our community who don't often get the recognition they deserve," Losquadro said. "A little rose to let someone know you appreciate them is very special. Delivering the flowers fuels my soul as well."
Amy Madden Roebuck agreed, for the last several years she's been teamed up with another person to deliver the roses to women on one of the several routes on MDI and Trenton.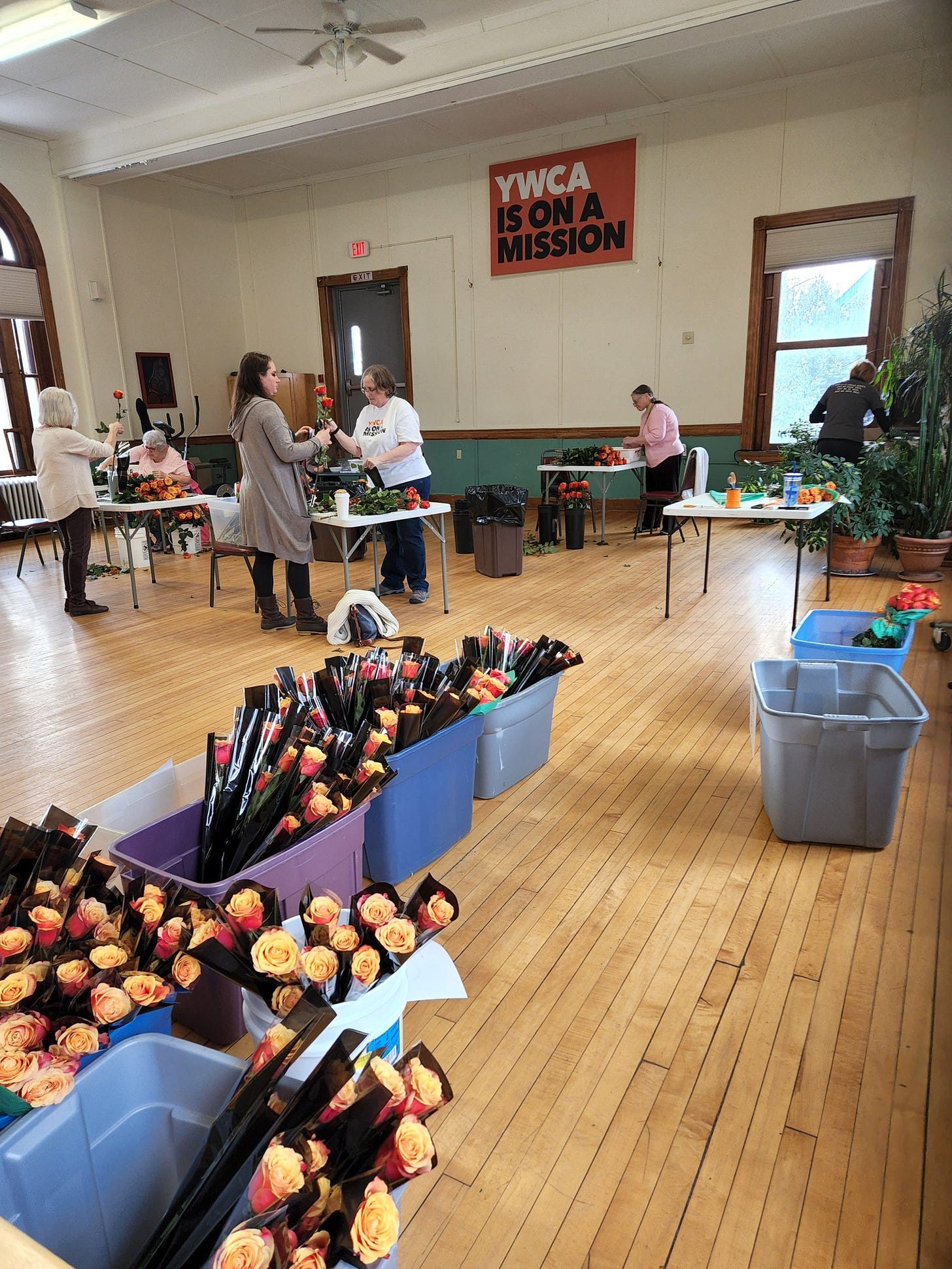 "I also have a smaller role in "the day before delivery" route organization and confirmation," Madden Roebuck said.
She's volunteered for the Y for years and been involved in multiple events and programs and for the last three years, she has served on the board of directors.
"As a volunteer and a member of the board of course I said yes when asked to volunteer for International Women's Day Rose program. It has become a tradition I don't plan to miss."
What she loves about the event is that it's about honor. She said that it's about "women honoring the women in their lives that have held them up. Friends honoring friends for always being there for them, students honoring mentors for what they have inspired in them, mothers and daughters honoring each other for the unconditional love and women honoring their elders for the path they have blazed. And the smiles on the faces of the women as they answer the door! "
Madden Roebuck said that she became involved with the YWCA because of its mission statement about being dedicated to eliminating racism, empowering women and promoting peace, justice, freedom, and dignity.
"All are values I strive to live by," she said. "Celebrating women's achievements on IWD speaks to that mission. For me it is as much about honoring the women in one's community that have made a difference (sometimes an unknown difference) in other women's lives as it is about eliminating gender inequality. The two go hand in hand and in my opinion one mission cannot exist without the other."
---
LINKS TO LEARN MORE
---
Bar Harbor Story is a reader-supported publication. To receive new posts and support our work, consider becoming a free or paid subscriber.