Week of March 4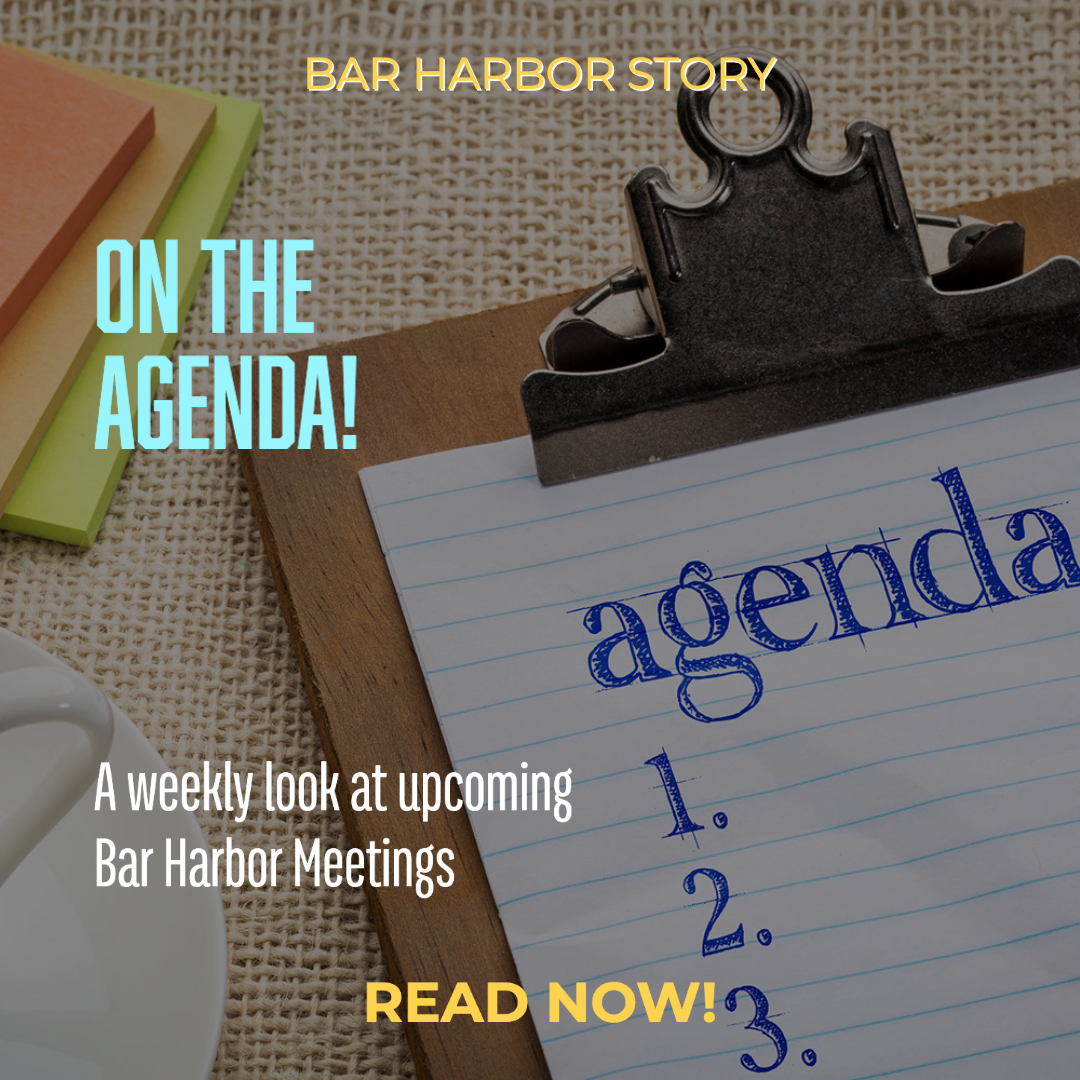 BAR HARBOR—It's our weekly piece documenting Bar Harbor town government and other similar meetings that we know of. Please let us know if we've missed something. Also, sometimes things are on the town calendars and are cancelled or rescheduled, so make sure to double check before you head over!
All the meetings take place at the Bar Harbor Municipal Building at 93 Cottage Street unless otherwise noted. And they usually have a time for public comments. This is not true about executive sessions.
So, go! Be informed! Be part of the process. You deserve to be.
To see the town meeting calendar by month, click here.
To see the school board calendar by month, click here.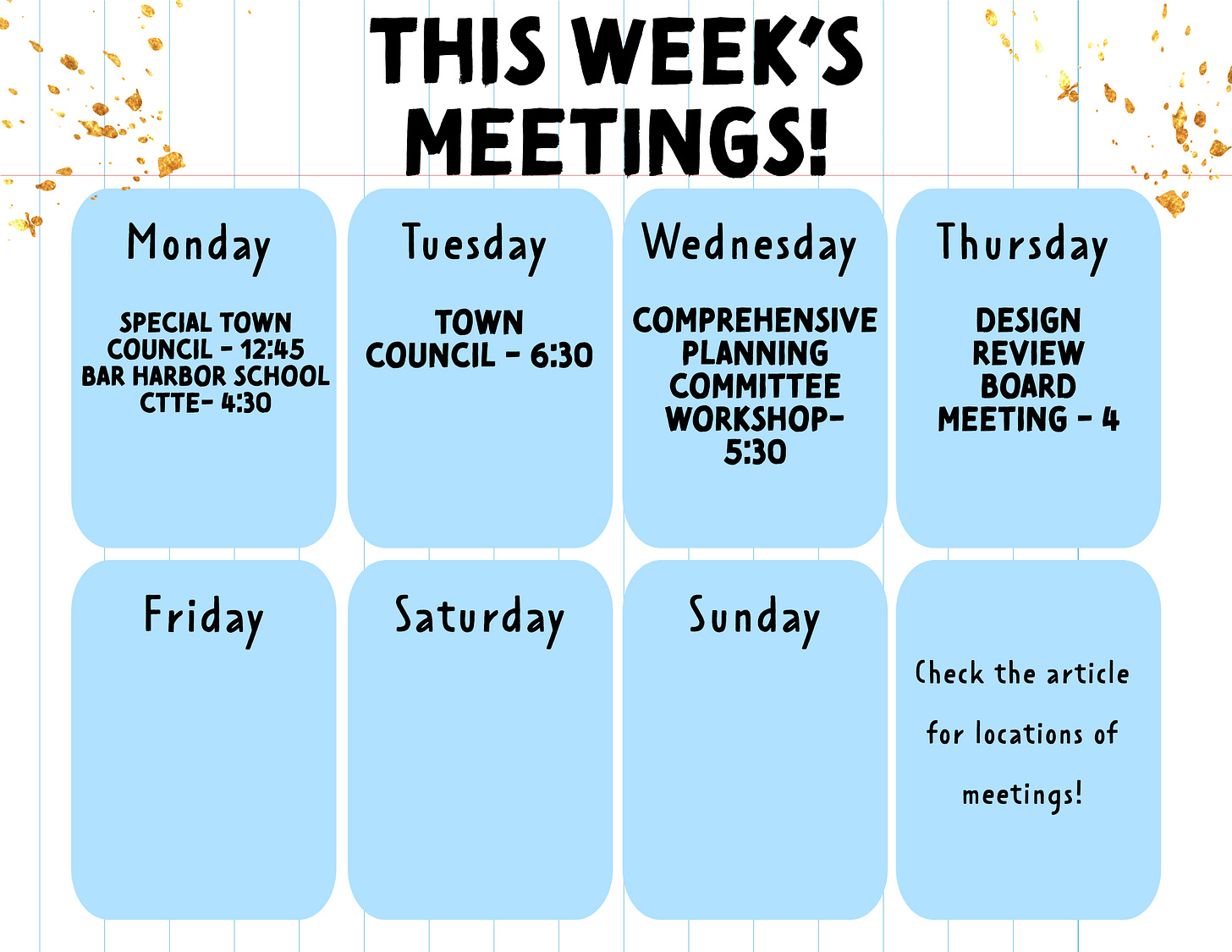 ---
---
Nomination Papers Available
The following offices will be elected by the voters at the June 13, 2023 town election:
Bar Harbor Town Council Three seats – three-year term
Superintending School Committee Two seats – three-year term
MDI High School Trustee One seat – three-year term
Warrant Committee Five seats – three-year term
Nomination papers will be available in the town clerk's office beginning Friday, March 3.
The deadline for filing nomination papers with the town clerk is Friday, April 14, 2023 at 5:00 p.m..
See also the Elections-June page or call 207-288-4098 for more information.
Town Councilors Chair Valerie Peacock, Jill Goldthwait, Erin Cough all have terms that end this year.
For the Warrant Committee, the five members up for reelection are Carol Chappell, Kevin DesVeaux, Allison Sasner, Secretary Chris Smith and Bethany Reece.
For the Superintending School Committee (Conners Emerson School) it's Misha Mytar and Robin Sue Tapley.
There are no term limits and incumbents can run for reelection.
---
Monday, March 6
Special Town Council Settlement Conference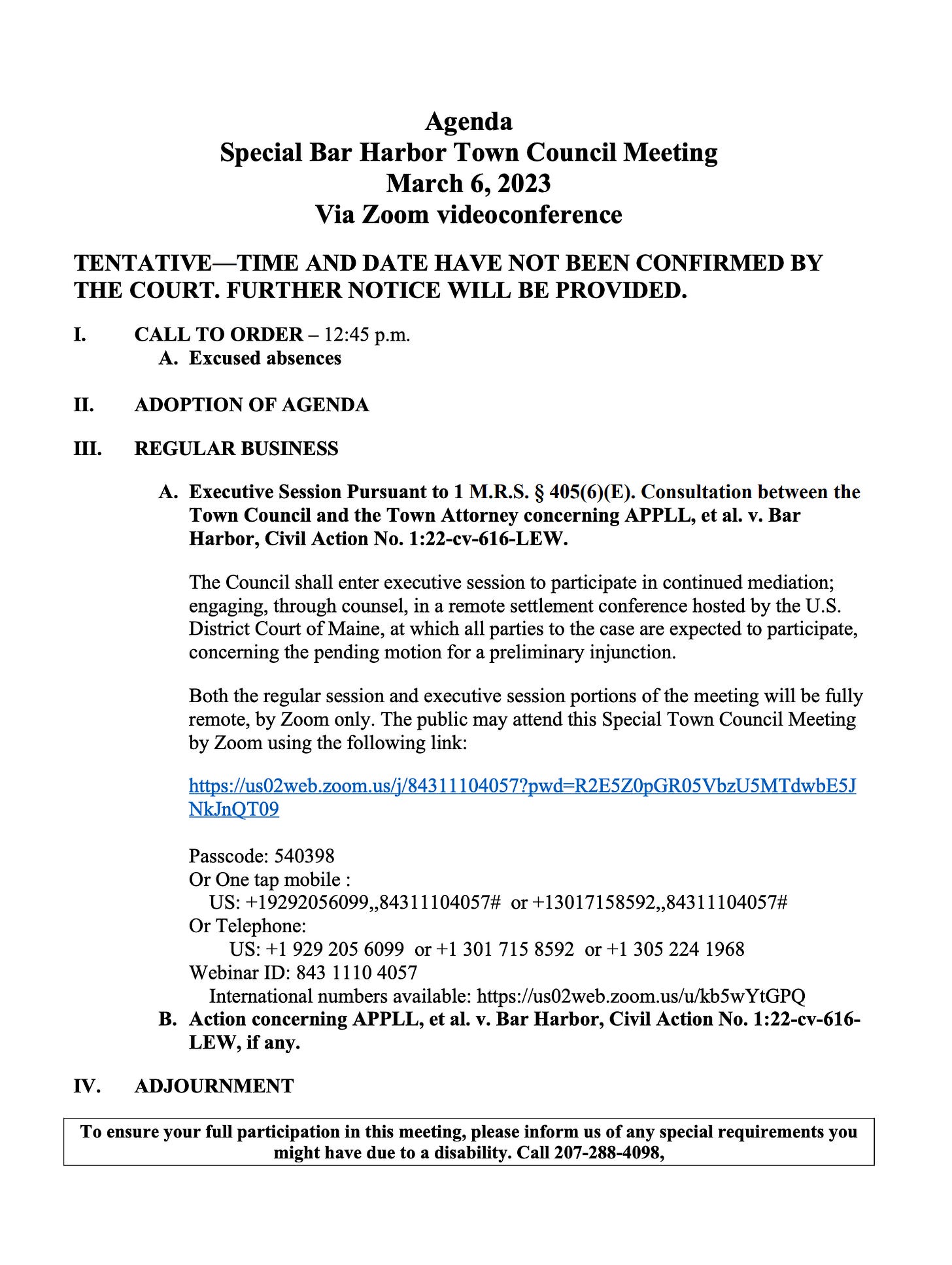 The Council shall enter executive session to participate in continued mediation; engaging, through counsel, in a remote settlement conference hosted by the U.S. District Court of Maine, at which all parties to the case are expected to participate, concerning the pending motion for a preliminary injunction. Both the regular session and executive session portions of the meeting will be fully remote, by Zoom only.
Time:
12:45 PM
Location:
Zoom, Passcode: 540398 Or One tap mobile : US: +19292056099
---
Bar Harbor School Committee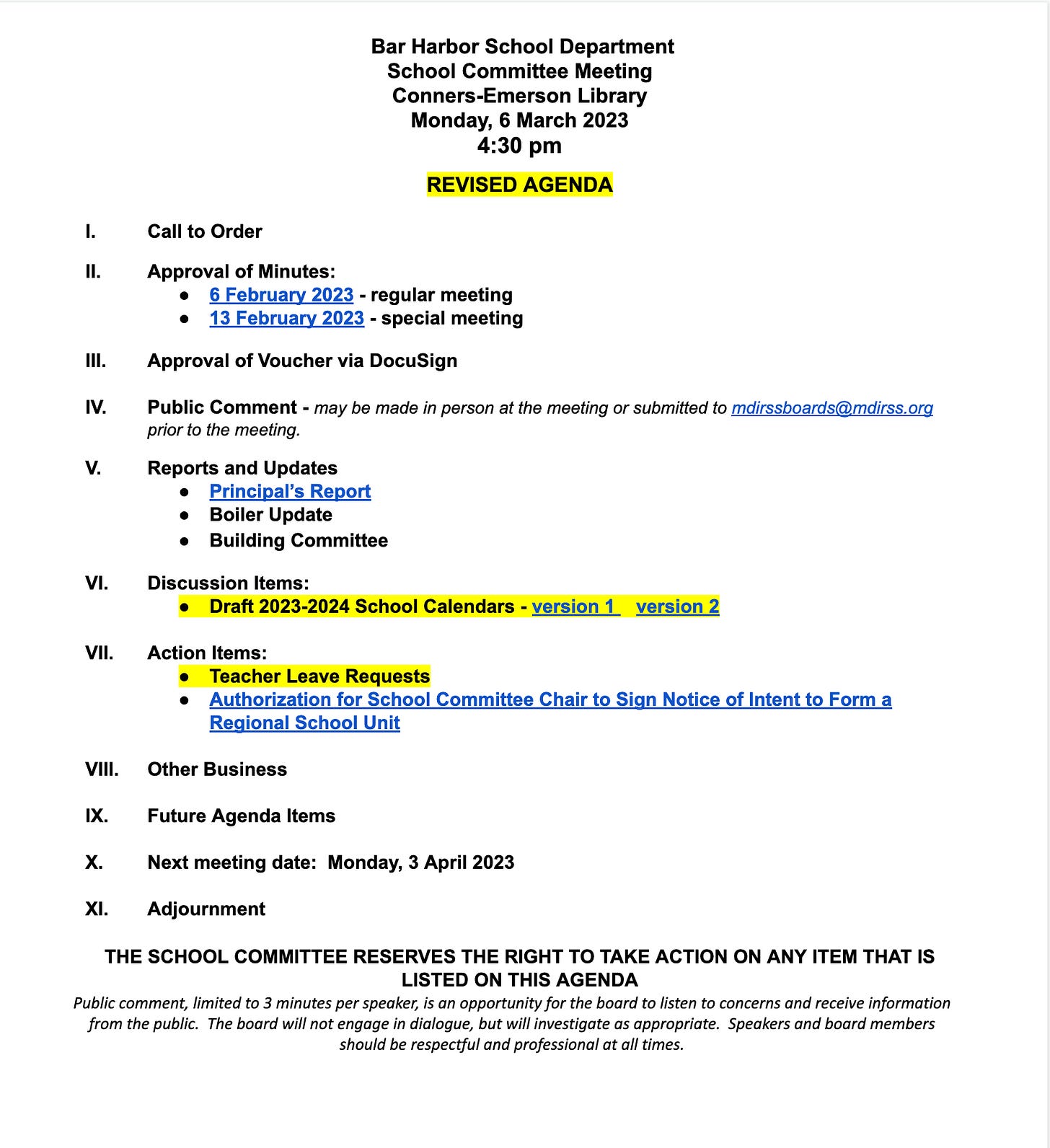 Time:
4:30 PM - 5:30 PM
Location:
Conners-Emerson Library
Links to those draft school board calendars:
---
---
Tuesday, March 7, 2023
Town Council Meeting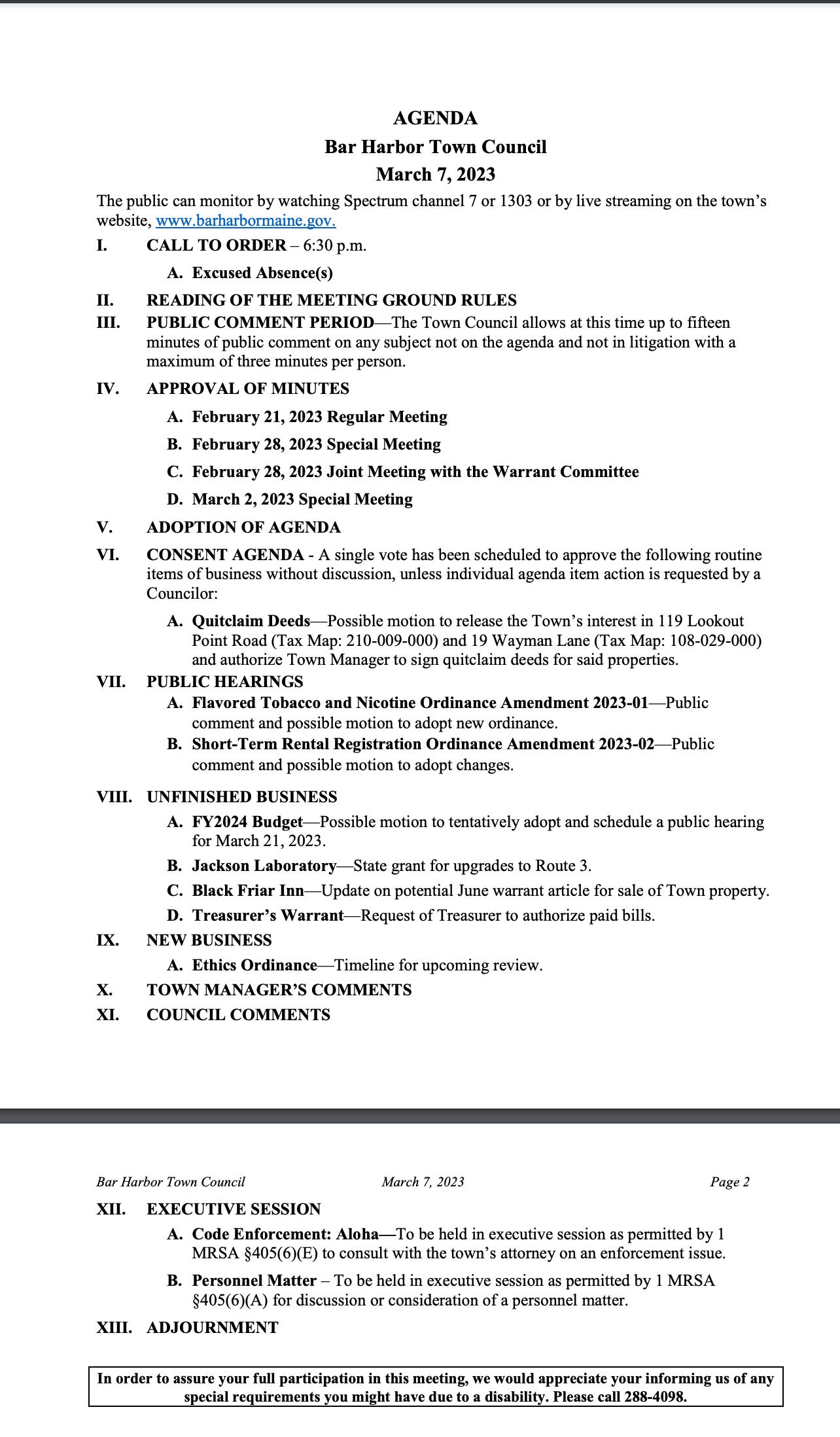 Time:
6:30 PM
Location:
Council Chambers
93 Cottage Street
---
Wednesday, March 8, 2023
Comprehensive Planning Committee Workshop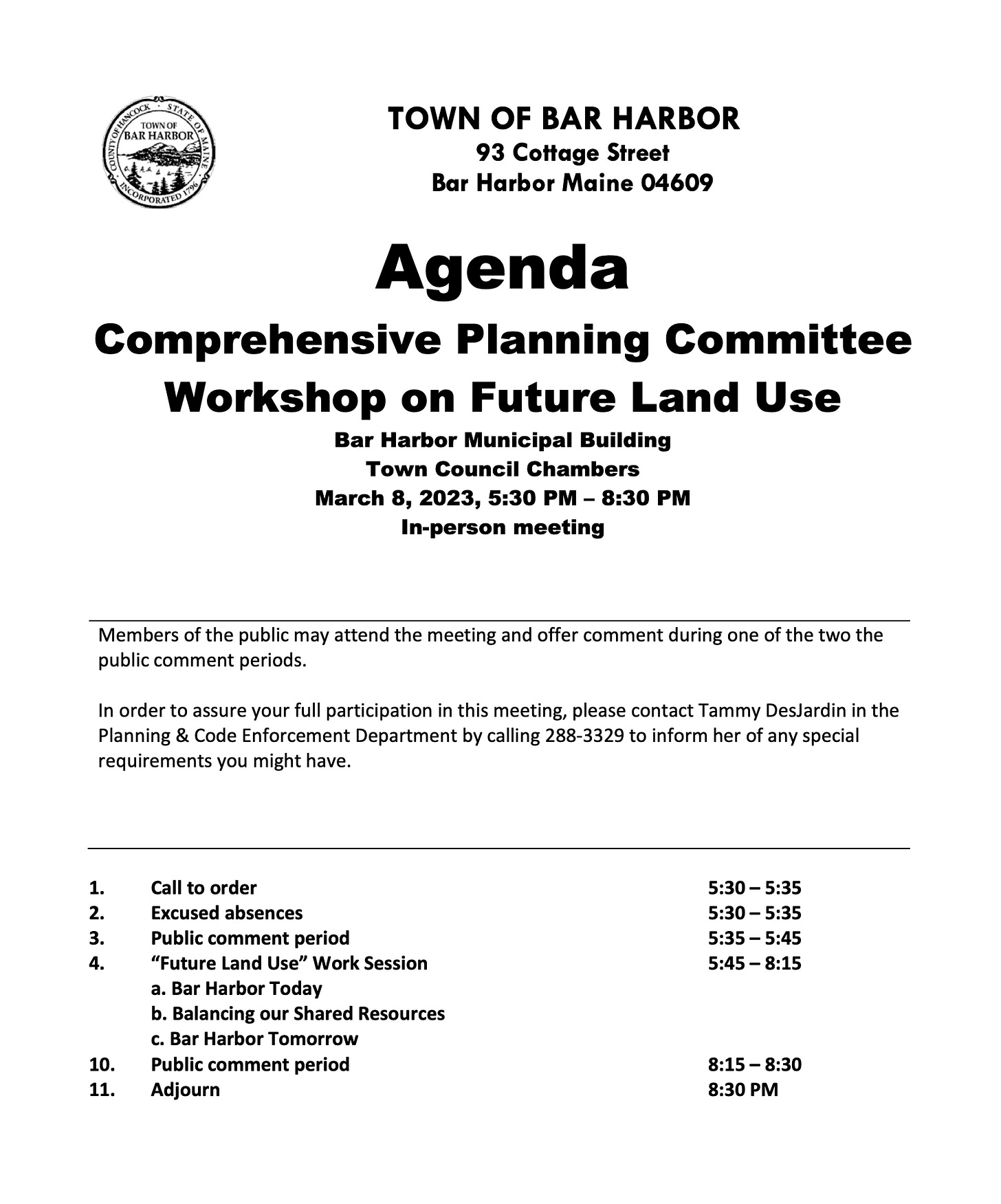 Time:
5:30 P.M.
Location:
Council Chambers
93 Cottage St.
---
THURSDAY, March 9, 2023
Design Review Board Meeting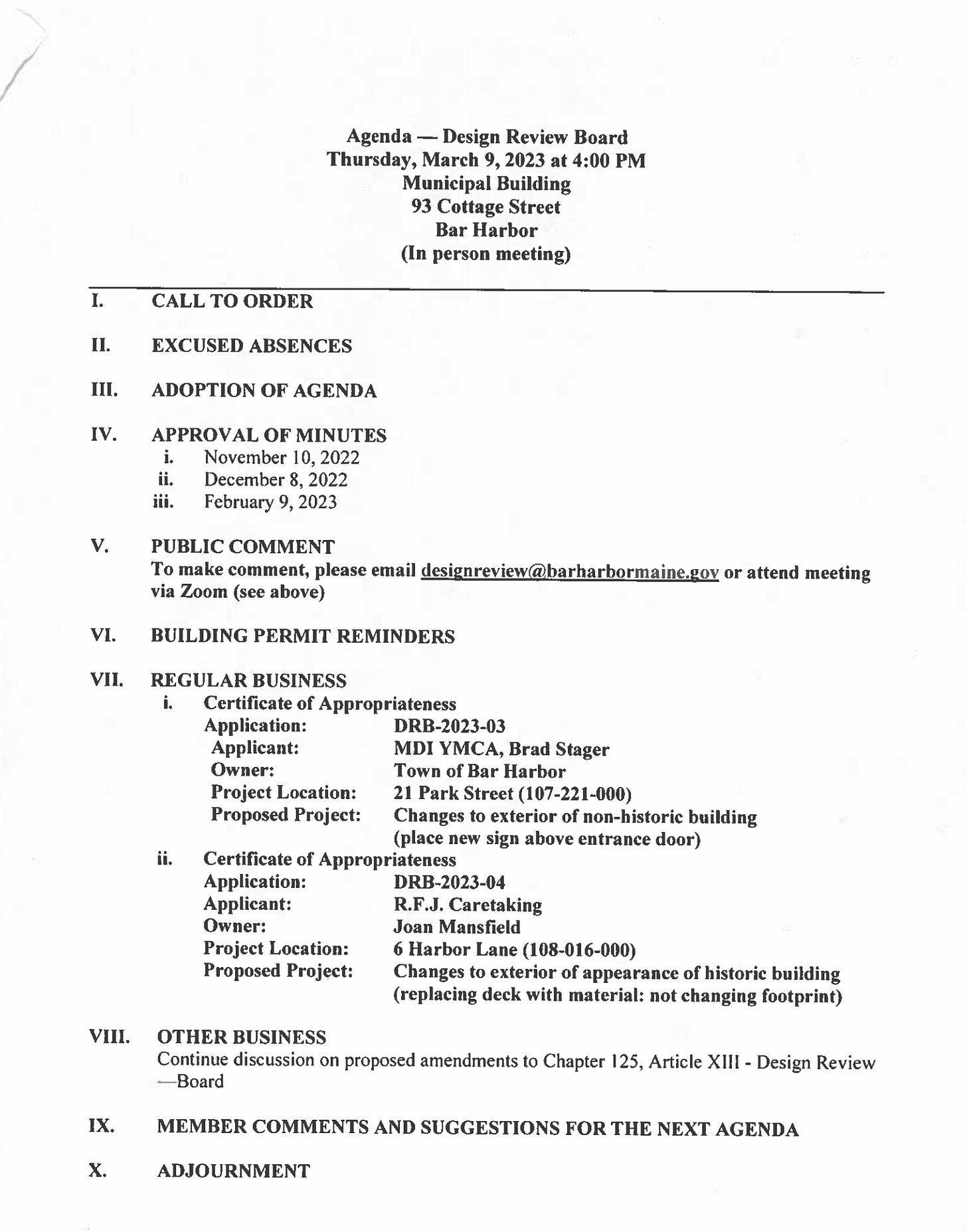 Time:
4 P.M.
Location:
Council Chambers
Address:
93 Cottage St.
---
Bar Harbor Story is a reader-supported publication. To receive new posts and support my work, consider becoming a free or paid subscriber. Thank you so much for being here with me!