What Do Communities Do When Place Names Are Offensive?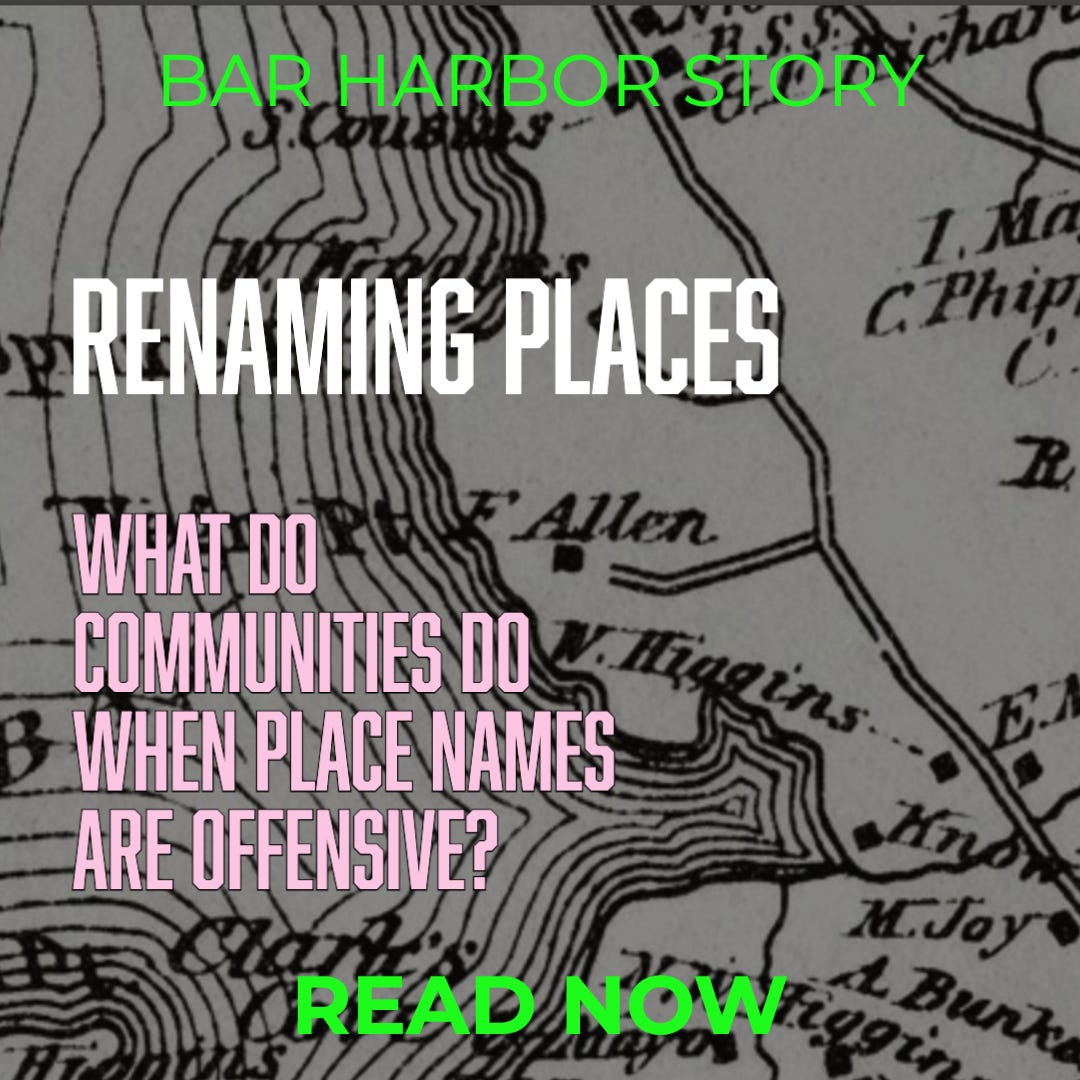 Editor's Note: This article focuses on place names that include racial terminology.
BAR HARBOR—Indian Point Road. Negro Point.
At least two place names in Bar Harbor have names that Maine law considers racist. Indian Point Road runs through Town Hill. Negro Point is now sometimes called Spruce Point, but still has the older name on several maps, such as ones by DeLorme and the USGS.
According to a recent commission created by Maine law last year, there are more than 100 sites in Maine with "Negro" or "Indian" in their names.
The commission's goal is to identify place names that are still in Maine and that are offensive and to expedite the removal of those names.
According to Wabanaki Reach,
"The Place Justice initiative will engage Maine communities in a collaborative process of identifying and reckoning with offensive memorialization practices–one that centers the experiences of impacted community members and actively creates opportunities for their leadership and guidance while benefitting us all.

"Removing and replacing offensive names is hardly a matter of semantics. It's about making Maine a place that is safe and welcoming, where all people feel cared for and protected based on their inherent dignity and worth."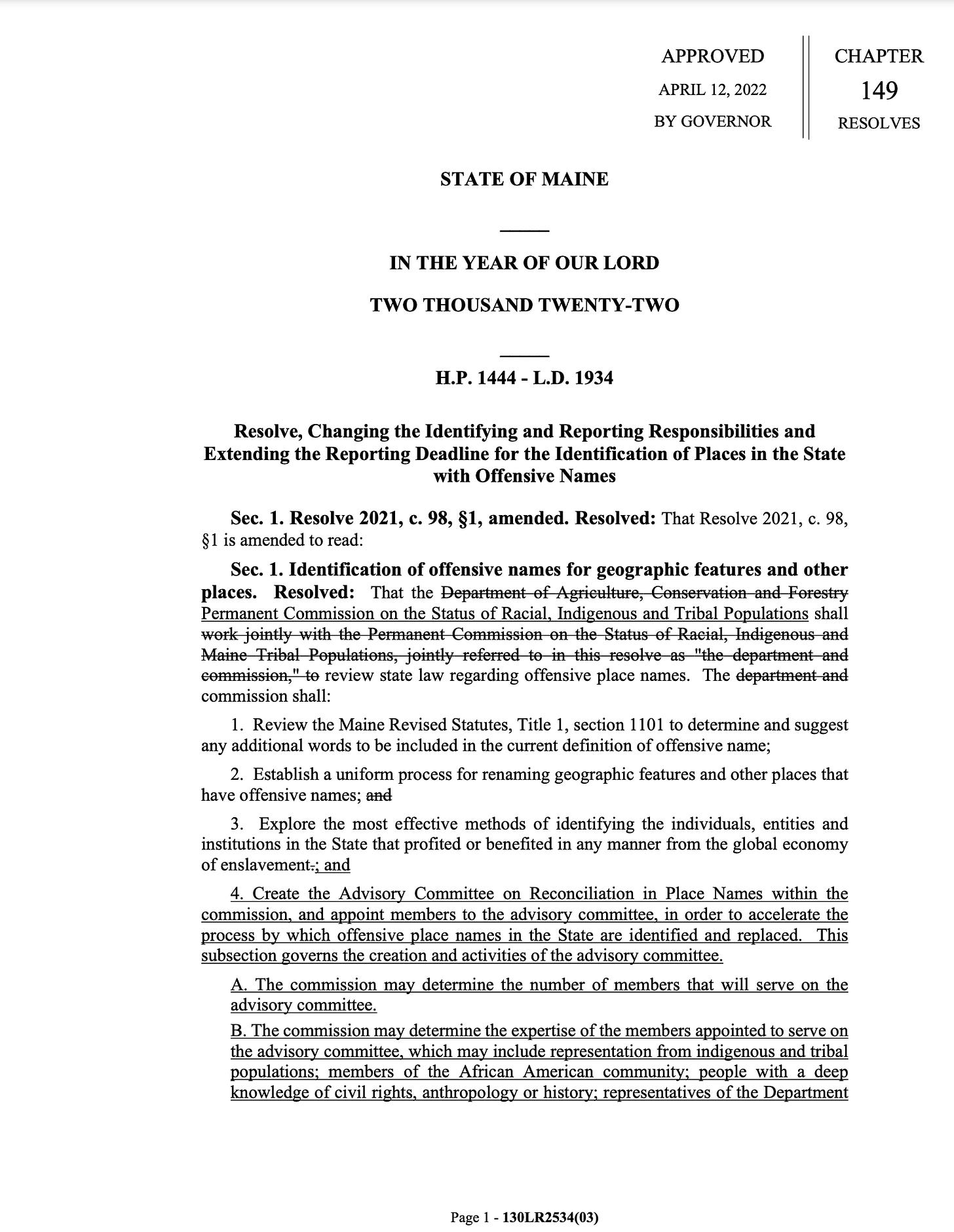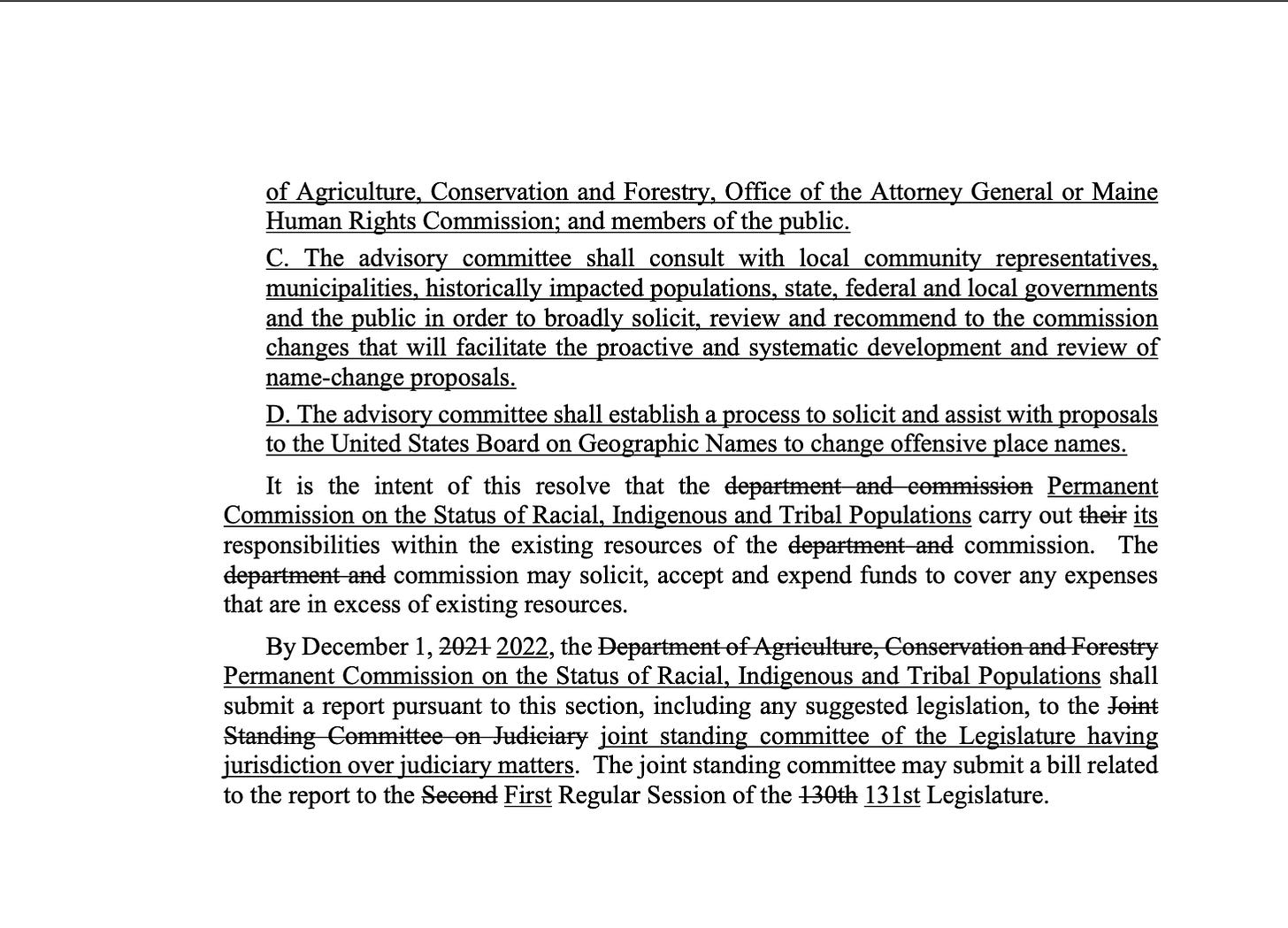 The initiative is already on some Town Hill residents' radar.
The Town Hill Village Improvement Society President Perry Moore said in an earlier article for the Bar Harbor Story that "events like this bean supper are important as opportunities for people to gather, to build 'community.' Sure, we will chat about town politics and gossip. That is the engagement which makes people feel like they belong and are involved – part of a community. But we will also probably engage our neighbors about recent news on 'Place Justice Initiative' started by the Legislature's Permanent Commission on the Status of Racial, Indigenous and Tribal Populations in Maine. Where 'Indian' and 'Negro' are names specifically mentioned for change, residents of Town Hill should have a chance to weigh in on that where we have Indian Point Road as a main road and Negro Point on Clark Cove."
THE ORIGINAL ACT IN MAINE
Way back in 1977 Maine led the nation with "An Act to Prohibit the Use of Offensive Names for Geographic Features and Other Places Within the State of Maine." It was an effort sponsored by Representative Gerard Talbot. House Speaker Rachel Talbot Ross is his daughter. She said the bill was not enforced. So, she sponsored "Resolve Changing the Identifying and Reporting Responsibilities and Extending the Reporting Deadline for the Identification of Places in the State with Offensive Names." It passed in April 2022.
According to Wabanaki Reach,
"Led by Co-Chairs Representative Rachel Talbot Ross and Penobscot Nation Ambassador Maulian Dana, the Permanent Commission on the Status of Racial, Indigenous, and Tribal Populations was established by the Legislature and signed into law in 2019.

"Occupying a unique position vis-à-vis state government, the permanent commission represents a broad cross section of the populations most impacted by racial harm and colonization and others historically excluded from policy-making processes in Maine. Its primary role is to identify and eliminate the systemic injustices embedded in the state's infrastructure, policies, and practices in view of securing improved status and outcomes for historically disadvantaged populations. As such, truth seeking is fundamental to its mission."
In a February 8 Maine Public article Nicole Ogrysko writes,
"The permanent commission said there should be an outcry, and that Mainers, municipalities, historical societies and others need to hold state institutions accountable to make real change. It's why the commission has launched the Place Justice initiative, to raise awareness about offensive place names and symbols and discuss their impact on Black and Indigenous populations in Maine."
A quick search on the USGS data base for just the same two terms in Town Hill show 13 place names in Hancock County where those descriptors are part of the place name.
NOT ISOLATED TO MAINE
Geographic sites with racial terms in their names are not only in Maine.
In a January 2021 CNN report by Leah Asmelash, she writes,
"There are more than 600 geographic sites with the term "Negro" in the name, according to a database by the US Geological Survey.

"Though there have been pushes to change these names in recent years, the term negro has largely been allowed to endure, after being deemed the correct term in 1963, Broughton said. He credits last summer's Black Lives Matter protests for bringing the issue to the forefront, showing that there are a lot of cultural references that need to be updated–including geographic names."
In the United States, there is a Board on Geographic Names, which was founded in 1890 and it approves of the names of places on government documents. According to a January 2022 Atlantic article by David A. Graham, "In recent years, the BGN has spent more of its time reconsidering offensive names than doing anything else, but the process typically takes months and is reactive by design, with names considered case by case upon request."
Names can also be changed via the Department of Interior for federal lands. That can also be a slow process. Graham writes,
"Removing all uses of 'a derogatory word for a Native American woman' is expected to take about a year, and that's the simpler of the two orders. One challenge is that determining what's offensive isn't always straightforward. Names including a slur are easy, but others—such as Jew Valley, Oregon, named after a group of Jewish homesteaders—are less clear-cut. Another is that any feature whose name is removed needs a new one, ideally one that is locally meaningful and that will age better than whatever it's replacing. The BGN is designed with process in mind, not justice or equity."
So, the process takes time and discussion. Graham continues,
"When considering a name change, the board solicits feedback from each state's naming authority, local officials, and any Native American tribes in the area. Staff members also research the history of the feature, including the provenance of both the existing name and the proposed one. For the board, this is an important part of making sure that any changes have local buy-in and will endure. (State and local authorities generally, though not always, follow BGN decisions.)"
---
The Bar Harbor Story reached out to the Abbe Museum and Bar Harbor Historical Society for this story. Neither nonprofit responded. If they do, we'll be grateful and we'll update the story.
---
RESOURCES TO LEARN MORE
There will be a free film screening and conversation on February 21 from 5 to 7 P.M.
https://www.mainepublic.org/maine/2023-02-08/new-initiative-to-help-mainers-reckon-with-and-replace-offensive-place-names
The Place Justice Event Series.
For information about the free February 21 event.
https://www.wabanakireach.org/the_permanent_commission_s_place_justice_initiative_seeks_to_redress_historical_harms
USGS database on domestic names
---
Bar Harbor Story is a reader-supported publication. To receive new posts and support my work, consider becoming a free or paid subscriber. Thank you so much for being here with me.