Week of January 30, 2023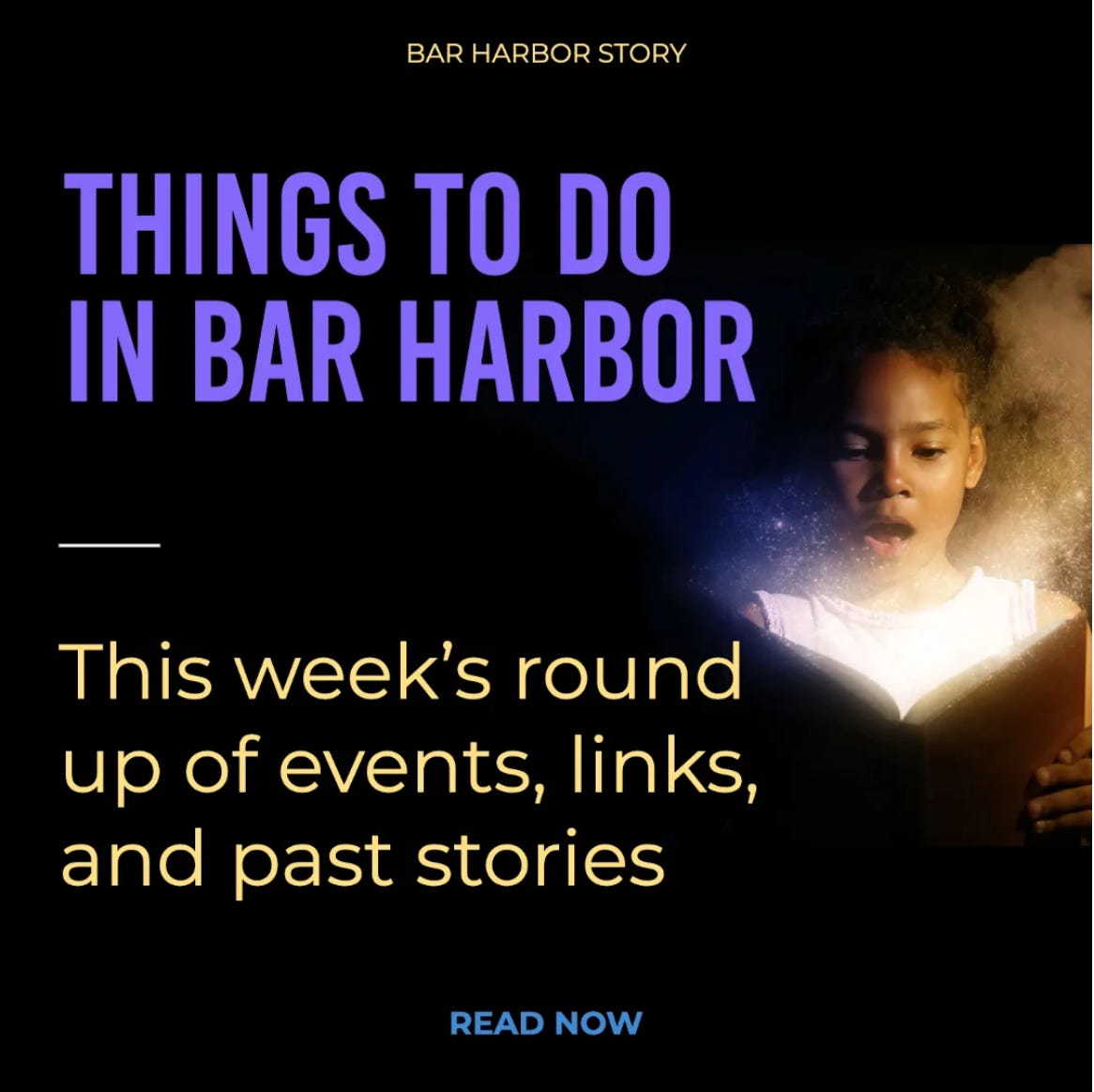 It's our weekly round-up, and I may have missed some things so apologies!
To check out our news stories from the past week. Click on the archive section and you'll see them in chronological order.
Bar Harbor Story is a reader-supported publication. To receive new posts and support my work, consider becoming a free or paid subscriber.
Subscribed
GET YOUR GAME ON!
Game On 2023: all-day game-playing festival
From Apples to Apples … to Yahtzee !! Games available all day, with some games starting at particular times (see poster). Bring friends. Voluntary donations benefit Open Table MDI. PS – we're NOT going to play Pandemic this year.
Time and Date: SATURDAY, FEBRUARY 4, 2023 AT 8 AM – 7:30 PM
Location: Bar Harbor Congregational Church, Mt Desert Street
---
GET YOUR HERO ON!
To check if Bar Harbor Fire Department is currently hiring, please go to the town's jobs page.
But even if it isn't, you can become a call member
Becoming a call force firefighter requires extensive training, hard work, and dedication to the community. We rely on call force firefighters to respond quickly to emergencies, to perform firefighting duties, and to provide assistance and support to career firefighters. To be a fall force firefighter is to have a chance to aid and serve the community, which is an extremely rewarding experience.
---
NARCAN TRAINING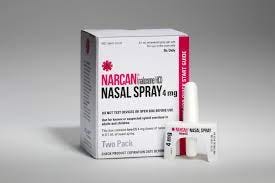 The Jesup Memorial Library on Wednesday, February 1 at 4 PM will host a short training session with Deputy Chief John Lennon of the Bar Harbor Fire Department, on how to recognize signs of an opioid overdose and administer the opioid overdose reversal drug Narcan. All attendees will be issued a Narcan kit after the class if they so choose.
This community Narcan education program is in person and registration is required to attend. Please register at jesuplibrary.org/events/narcan or email eventsignup@jesuplibrary.org.
DATE AND TIME: Feb 1, 4 PM
LOCATION: Jesup Memorial Library, Mount Desert Street
---
Get Your Resources and Learning On!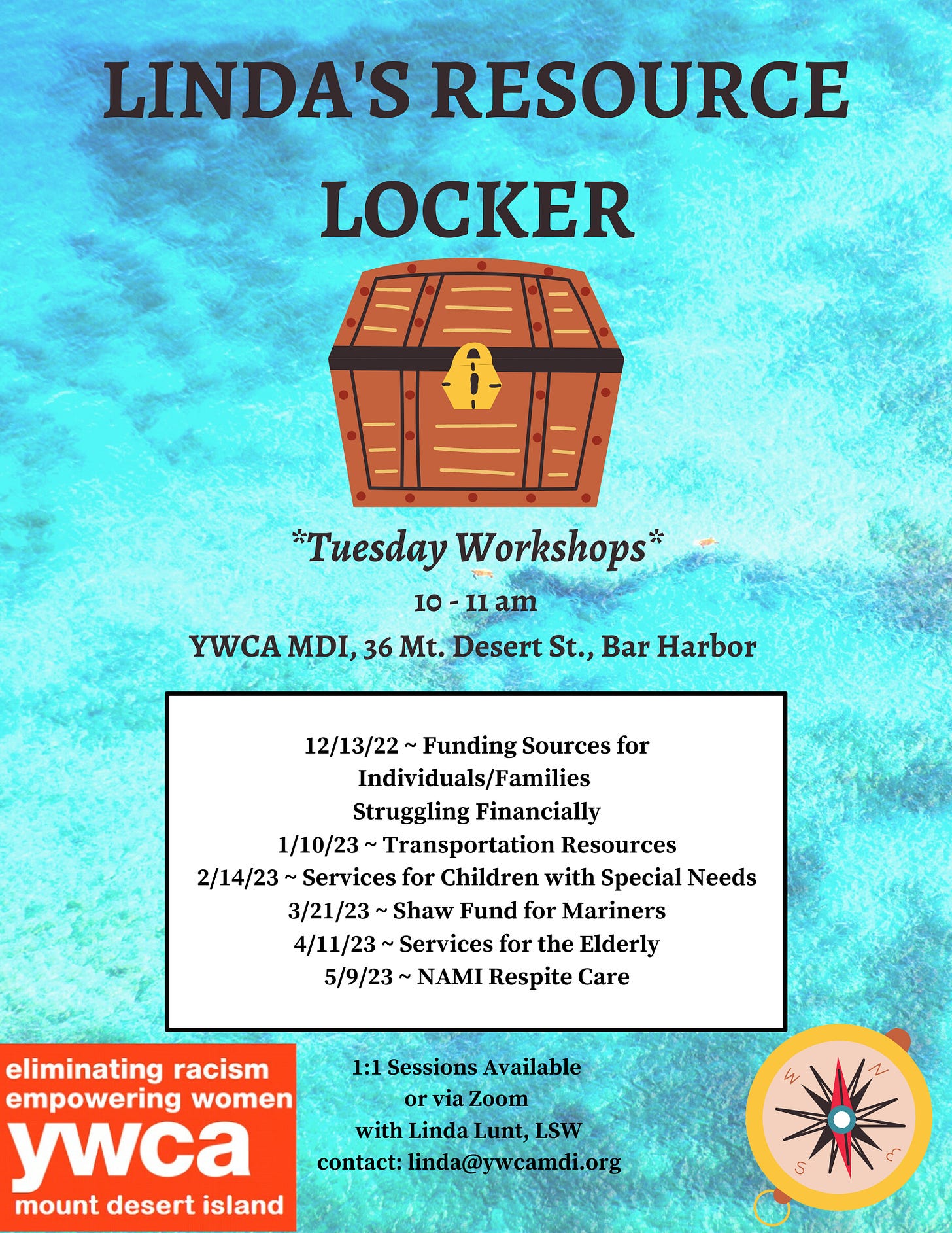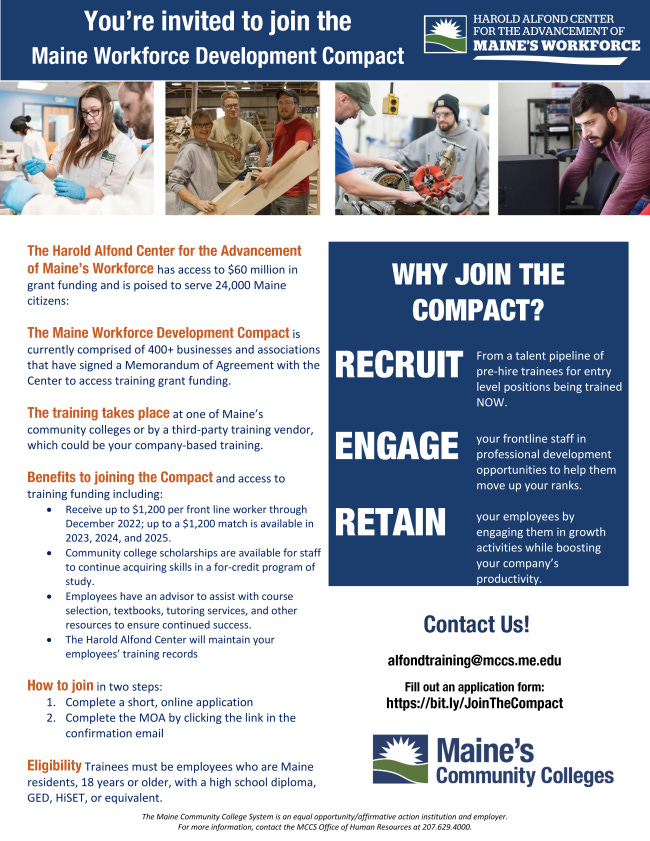 ---
Workforce is the most pressing challenge to the Maine tourism and hospitality industry today. That's why the Maine Tourism Association is forming an industry-led partnership to address these issues in a business-focused way using a grant they recently received from the Maine Department of Labor.
The MTA is inviting you to participate in their upcoming industry roundtables, divided by subsector, where they will discuss labor issues and business-centered solutions.
The MTA is seeking to address the industry's most pressing workforce problems, and your thoughts and guidance will be invaluable as they move forward!
Outdoor Recreation Industry Roundtable
February 1st 10am-11:30 a.m.
via Zoom
Outdoor Recreation Roundtable – Register Here
Arts & Culture + Attractions and Amusements Industry Roundtable
February 2nd 10am-11:30 a.m.
via Zoom
Arts/Culture + Amusements Roundtable – Register Here
---
Get Your Trivia On!
TRIVIA NIGHT AT FOGTOWN BREWING COMPANY BAR HARBOR
Join us for Fogtown Trivia Nights this winter at Fogtown Brewing Company in Bar Harbor! Register your team of no more than six at the bar with the bartender or host. (Be sure to check social media for updates or weather cancellations!)
Date and Time
Saturdays, 6:30 – 8:30 P.M.
Location
33 Cottage Street, Bar Harbor
Fees/Admission
No cover!
Website
Contact Information
(207) 801-9165
---
Get Your Climb On!
Family Climbing Night At Camp Beech Cliff
For novices or experienced climbers, our indoor 30-foot wall provides an instructional and exciting experience. Our programs are designed for a variety of ages and include equipment (harnesses and helmets) and belay instruction from trained staff. Children under the age of 15 must be accompanied by an adult. Pizza and healthy snacks will be available for sale. In addition to climbing, the gym is open, and recreation equipment will be available to be used by all participants.
*There will be no Family Climbing Nights on February 24th or April 21st
Date and Time
Friday Jan 20, 2023
5:00 PM – 7:30 PM EST
Beginning January 13th and running every Friday through April 28th from 5pm – 7:30pm
Location
Camp Beech Cliff Eagle's Nest Gymnasium 264 Beech Hill Rd. Mount Desert, ME 04660
Fees/Admission
$5 per participant
Website
https://www.campbeechcliff.org/climbing-wall
Contact Information
2072440365
---
Get Your Knowledge On!
A Conversation with Lon Cardon, Ph.D., FMedsci, Jackson Laboratory President and CEO
Please join us for a conversation with Lon Cardon, Ph.D., FMedSci, an internationally renowned human geneticist, who joined The Jackson Laboratory as president and chief executive officer in November 2021. From 2017 to 2021, he was chief scientific officer and chief scientific strategy officer at BioMarin Pharmaceutical Inc., a rare disease biotechnology company, where he led a strategic repositioning from ultra-rare genetic diseases to broader genetic disorders. Before joining BioMarin, Cardon held leadership roles at GlaxoSmithKline.
THURSDAY, FEBRUARY 2, 2023
7:00 PM 8:00 PM
JESUP MEMORIAL LIBRARY, 34 MOUNT DESERT STREETTravel Talk // February 2 @ 6pm // Arctic Twilight: Travels in Iceland and GreenlandRaney Bench – Arctic Twilight: Travels in Iceland and GreenlandFrom the moment Raney Bench saw her first iceberg and glacier outside of Anchorage, Alaska, she has been fascinated with ice and its future on our planet. In the summer of 2022 Bench, her parents, and oldest son had the opportunity to explore southern Greenland through a small ship expedition. Traveling through isolated fjords to the base of several glaciers, the impacts of climate change were immediately clear. The trip also offered the unique opportunity to camp with Greenlandic natives, learn to forage and cook traditional recipes, and to spend an afternoon on the ice sheet. Bookending the trip to Greenland were several days spent exploring Iceland, with its dramatically different landscapes and culture. Bench will share her photos, impressions, and lessons learned from this rapidly changing region. Raney Bench is the executive director of the Mount Desert Island Historical Society and lives in Southwest Harbor with her husband, two sons, and several furry companions. She believes that history is vital to understanding our lives today, and in envisioning the future we want. She has been fortunate to travel with her family to several countries, always keen to learn first hand about the impacts of climate change on the ecosystems and cultures she visits. Register HereDate and Time: February 2 @ 6 PMJoin us for the first Travel Talk of 2023!
---
Get Your Book On!
VIRTUAL WRITE ON! WRITING GROUP
Want support for your craft? The Write On! writer's group has been meeting at the Jesup since 2014, and remotely during the pandemic. Each meeting, members may bring in up to 1200 words to read for feedback, and in turn offer feedback to others. Although each member doesn't get to read work every time, the group shares the time fairly. The group meets on Zoom, and hold in confidence what is shared. This group welcomes adults 18 and up writing in many genres. There's no homework–the only commitment is two hours on Saturday mornings.
Date and Time
SATURDAYS
9:00 AM to 11:00 AM
Location
Zoom
How to Attend
Call the library, 207-288-4245, for more about us and how to join, or email info@jesuplibrary.org.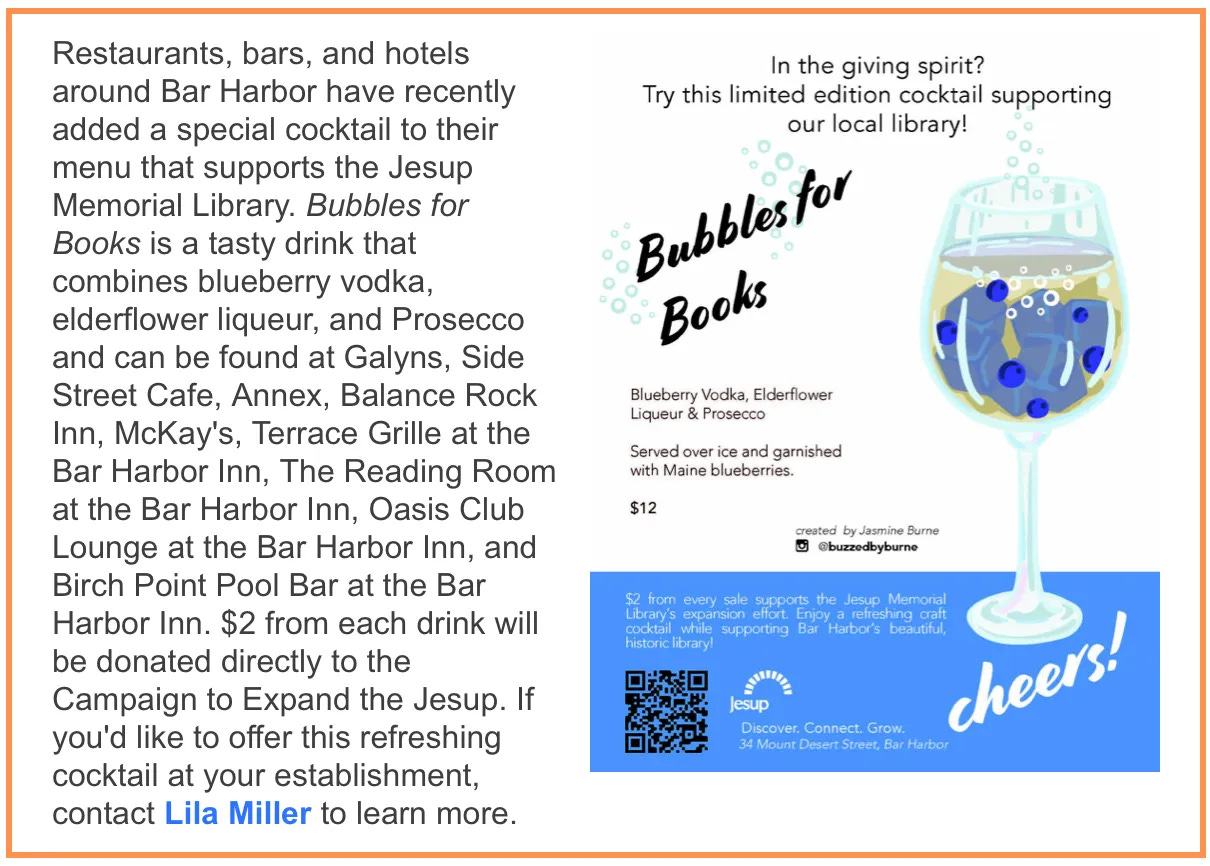 ---
PJ STORY TIME
Join Abby on Wednesday evenings for PJ Story Time! This program is for kids of all ages and their adults.
Time and Date:
Thursdays
6:30 P.M. to 7:00 P.M.
LOCATION:
Jesup Memorial Library, Mt Desert Street, Bar Harbor
---
Take Your Child To The Library Day!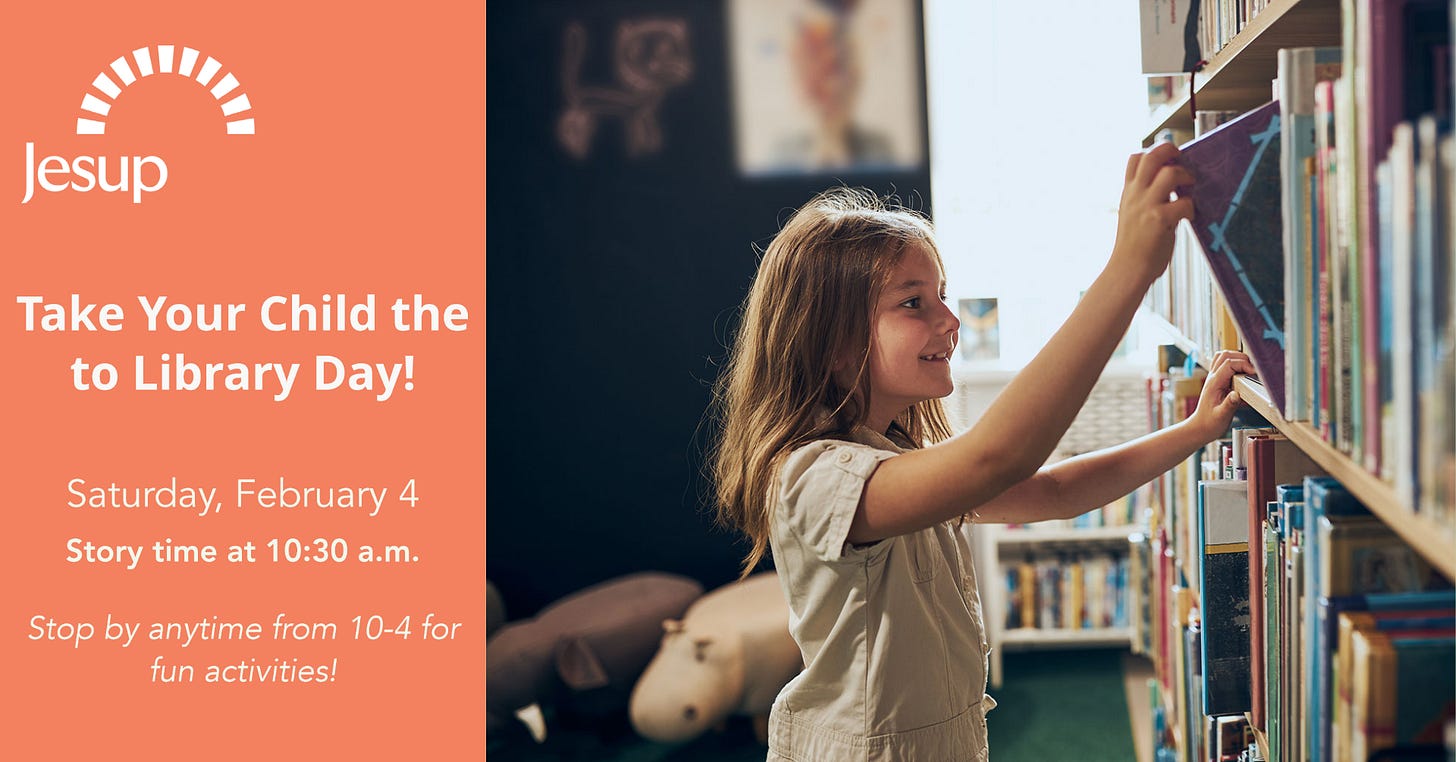 Have you been meaning to stop by the Jesup Memorial Library to get your child a library card and check out some books? Or, maybe you have a card already and regularly use the library. Everyone is invited to join us for "Take Your Child to the Library Day!"
Story time will be at 10:30 a.m. Feel free to stop by anytime from 10-4 for fun activities including a make your own bookmark station.
If you have any questions about this event, please contact Abby (amorrow@jesuplibrary.org)
Date and Time: February 4, 10-4
Location: Jesup Memorial Library, Mt Desert Street
---
---
GET YOUR ART ON!
OPEN STUDIO – MEMBER MONDAYS
Members can reserve a table in our studio for an hour or the whole session and have access to our non-consumable tools or use some materials from our stock!$10 for reserved space – participant brings supplies. OR $25 for reserved space plus access to consumable materials; felting, glass, paint, printmaking.Participants under 18 must be accompanied by an adult. Masking, vaccinated, and social distancing for staff and participant safety.
Date and Time
Mondays
2:30 p.m. – 6 p.m. EDT
Location
ArtWaves, 1345A State Highway 102, Bar Harbor
Fees/Admission
$42.00
Website
https://www.artwavesmdi.org/event
Contact Information207-266-0010
Send Email
---
MONDAY & THURSDAY NIGHT FIGURE DRAWING
Please register, space is limitedArtists will have a few quick warm-up poses then be able to spend time refining a long pose. Registration necessary- ArtWaves maintains distances for safety.The model is the star, no instruction, but plenty of easels, boards, horses, paper, charcoal and fellow friendly artists. Feel free to bring your paints and brushes as well!18 and over, under 18 allowed with parental attendance or prior signature.
Date and Time
Mondays and Thursdays
6 p.m. – 9 p.m.
Mondays 6-9 single pose and Thursdays multi poses
Location
ArtWaves Fine Arts Studio
Fees/Admission
$15 for 3-hour session
Members: $25 month fee
Contact Information
office @artwavesmdi.otrg
Send Email
---
KIDS CRAFTERNOONS
ArtWaves is devoting afternoons of studio (under the big tent) sessions for children to create. Most workshops use unique materials like fiber, ink, stained glass and wax. Weekly themes. Open to kids between 7-11. No skills required.Masks, vax'd (over 5), and distancing for staff and participant safety.
To Register:
Date and Time
Every Monday, Wednesday, and Friday
3 p.m. – 5 p.m.
Location
ArtWaves, 1345A State Highway 102, Bar Harbor
Fees/Admission
$30 materials included or bring some of your own! ($20 for members)
Student membership is $36 a year!
Contact Informationoffice@artwavesmdi.org
Send Email
---
Did You Leave Your Heart in Maine?
Join Pati Dority and create 3D hearts made items like driftwood, shells, sea glass, netting, sand dollars, star fish, lobster shells, etc.! Each student designs their heart onto a frame and will resin the items to the frame with Pati's guidance! This project is perfect to gift for Valentine's Day! Great for a significant other, sisters/brothers, teachers, aunt/uncles, etc.
Date and Time
Saturday Feb 4, 2023
10:00 AM – 1:00 PM EST
Location
ArtWaves 1345A Hwy 102 Town Hill, Bar Harbor
Fees/Admission
Members $55 Non Members $65
Website
https://artwavesmdi.org/event-5127251
Contact Information
2072660010
Send Email
---
GET YOUR MOVIE ON!
REEL PIZZA
Reel Pizza is back! Check below for movies running this week or click here.
---
GET YOUR DANCE AND MOVEMENT ON!
---
ZUMBA!
It's a dance party, no experience needed!

Come take care of yourself, shake, smile & sweat! Every class is different; the music, people and weather, and we always have a blast! Erin leads a workout that caters to all levels of fitness and ability. All you need is a love for music and movement (or come to class to fall in love with dancing), but no experience necessary. You can follow along and give it your own flair! Come join our classes throughout the week, in the gorgeous dance studio at ArtWaves! If you haven't tried Zumba and want to talk with Erin, feel free to email anytime.
Date and Time
Thursdays
5:30 p.m. – 6:30 p.m. EDT
Location
Dance Studio at ArtWaves, 1345A State Highway 102, Bar Harbor
Fees/Admission
$40-$50 per month ($10 per week paid monthly)
Website
---
DOWNEAST COMMUNITY DANCE
Downeast Community Dance meets every Sunday from 10-11:30 a.m. at the Moore Community Center in Ellsworth (first and third) and ArtWaves in Town Hill (second, fourth and fifth).
These free form dance gatherings are not facilitated, with music provided by volunteer DJs. Move to rhythms in your own way and have fun.
Admission is by donation.
For more information, contact Susan at 288-8103 or cloudnine@gwi.net.
Location
Dance Studio at ArtWaves, 1345A State Highway 102, Bar Harbor
---
LATIN LINE DANCING
Join David Lamon for Latin Line Dancing!
No partner? No problem! Line dancing is a great way to have fun while dancing with others in a group. This class will focus on dances that use steps from common Latin dances including cha cha, rumba, salsa and more! No experience necessary. No street shoes allowed in the studio, please bring a pair of clean, non-marking shoes for dancing. Masking is encouraged, but optional.
Date and Time
January 9 to January 30 4 sessions
6:30 PM – 7:30 PM EST
Location
ArtWaves, 1345A, Hwy 102
Fees/Admission
$50
Website
https://www.artwavesmdi.org/event-5062192
Contact Information
2072660010
Send Email
---
STUDENT MASSAGE CLINIC
At Acadia School of Massage Student Massage Clinic, our students gain hands-on experience while our clients receive relaxation or therapeutic massage and bodywork treatments at discounted rates. Enjoy a soothing massage from one of our gifted student massage therapists. The Student Clinic is open to the public and we highly encourage anyone to try a massage!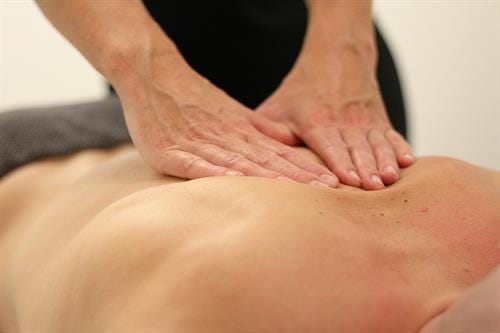 Date and Time
Tuesdays and Wednesdays
1:30 PM – 6:30 PM EST
Tuesdays and Wednesdays through the end of April 2023 from 1:30 to 6:15pm.
Location
Hosted by Tree of Life Day Spa,
108 Cottage Street, Bar Harbor
Fees/Admission
$35 for 1 hour massage
Appointments highly recommended
Book online at
Website
Contact Information
Acadia School of Massage
Send Email
---
DANCE NIGHTS AT FOGTOWN BAR HARBOR WITH DJ POPTART
Come on out and dance away your cabin fever at Fogtown Bar Harbor! Every Friday from 8-10 p.m., DJ Poptart/Gary Allen will be spinning groovy tunes!
Date and Time
Friday Jan 20, 2023
8:00 PM – 10:00 PM EST
Fridays, 8-10pm
Location
33 Cottage St, Bar Harbor, ME 04609
Fees/Admission
No cover
Website
---
GET YOUR FOOD ON!
OPEN TABLE MDI!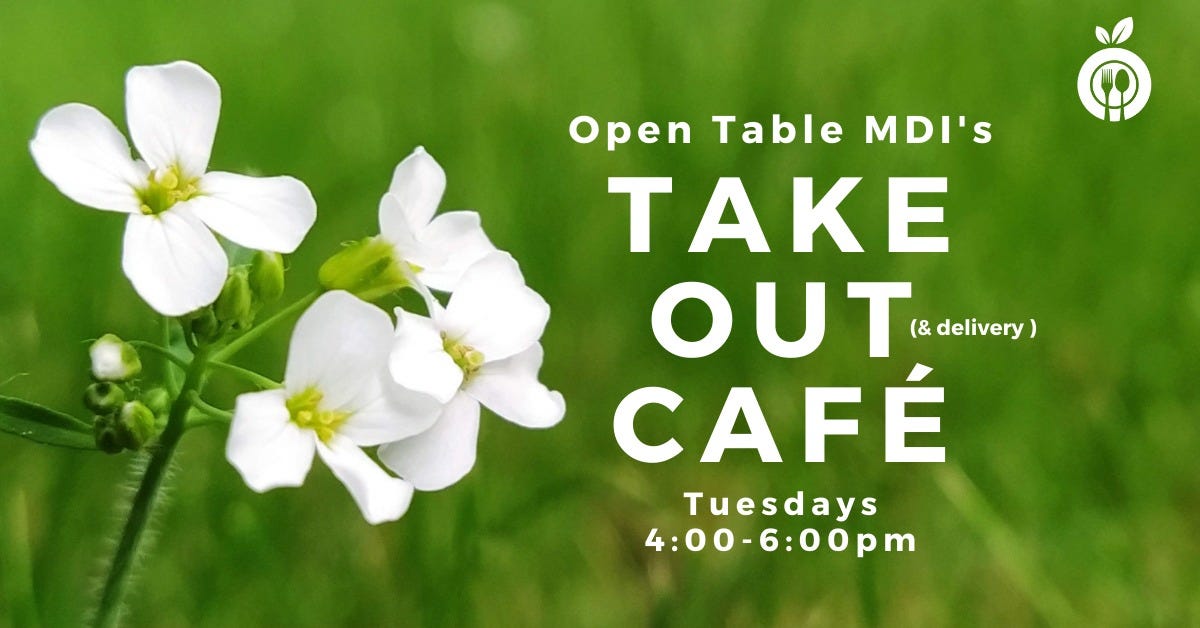 For more information, click here.
---
TOWN GOVERNMENT MEETINGS
SOUTHWEST HARBOR
Regular Meeting Schedule (meetings held at the Town Office unless otherwise noted). Calendar is here.
---
TREMONT:
Select Board meeting is cancelled.
---
BAR HARBOR:
According to the town's website, "Meetings that are broadcast live can be viewed at home by watching Cable Access Channel 7 or 1303 (Spectrum Cable only) and online at Town Hall Streams."
To see this week's events with agendas, click on our story here.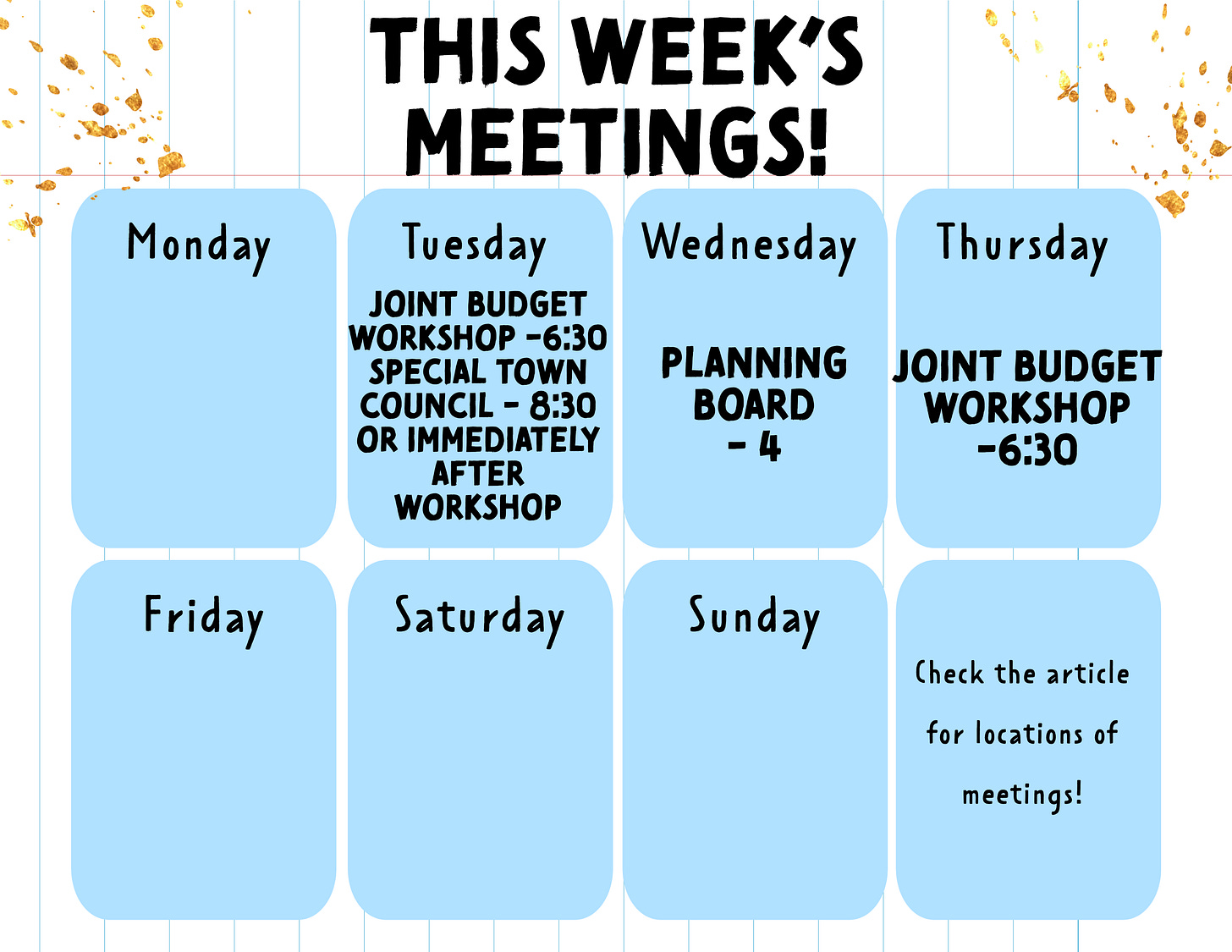 MOUNT DESERT: