New program has long lead-time before eventual fine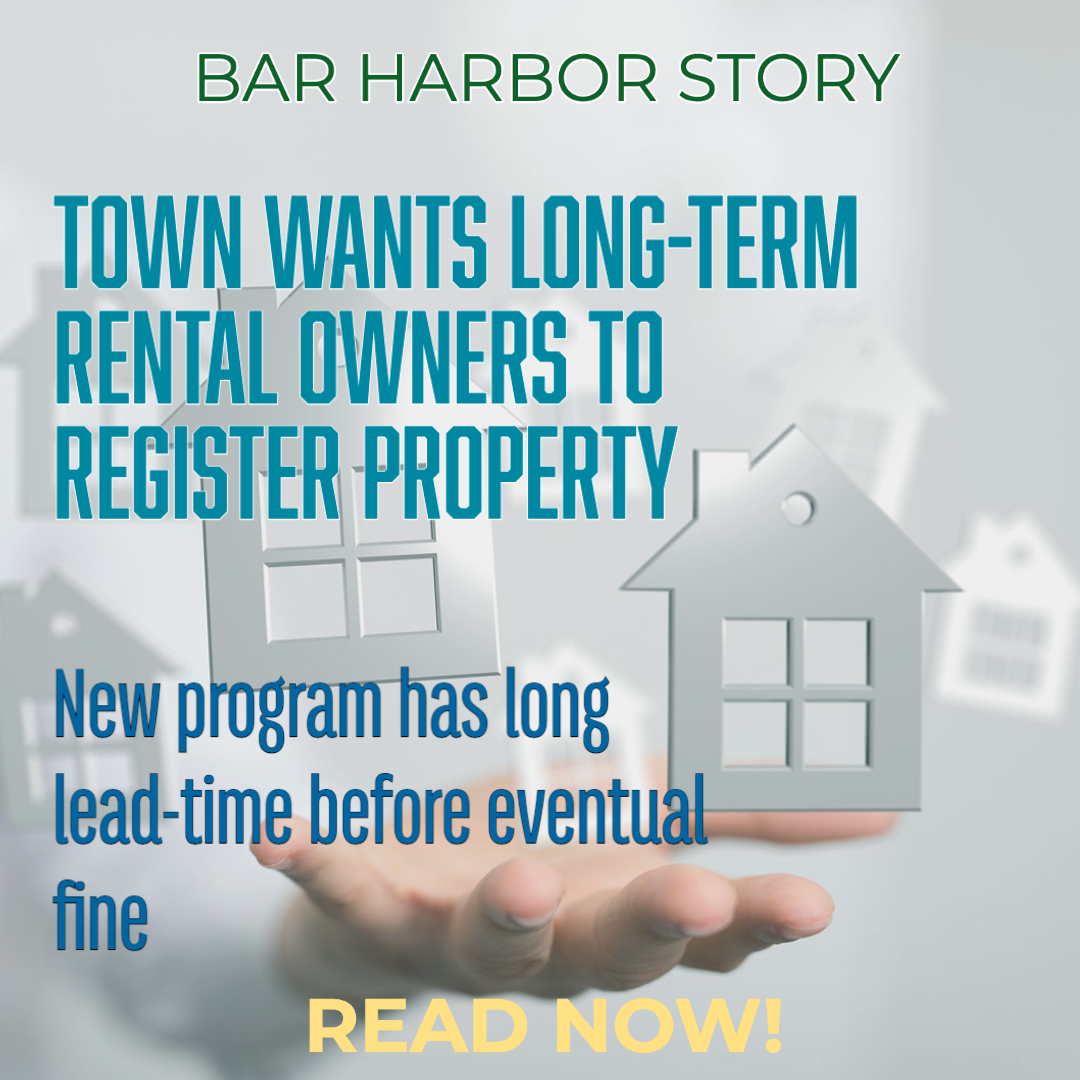 BAR HARBOR—It's time to register your long-term rental. But there's no rush. Property owners have a year to register their property. There is no inspection of long-term rental properties. The registration is free unless property owners fail to do so by February 28, 2024. After that date, there will be a fee for owners who fail to register. Long-term rentals are rentals for 30 days or more.
The Town Council approved a Long-Term Rental Permit program earlier this year.
After a short public hearing in October, the Town Council unanimously adopted a new Long-Term Rental Housing Ordinance Amendment. The purpose of the ordinance is to create a registry of long-term rental housing, which is defined as "any dwelling unit that is rented or available for rent for a period of thirty consecutive days or more, in exchange for compensation."
Council Chair Valerie Peacock said the hearing was the last step in a public process about the ordinance change that the town had been developing.
The ordinance would require that property owners submit a yearly application for each dwelling unit they are renting. Registrations would expire each year on December 31. There would be no fee to register, but there would be a scaled fee if the property owner failed to register. That cost would be $50 if it is filed in March; $100 if filed between April 1 and July 31; and $200 if filed between August 1 and December 31. The properties would not have to be inspected.
At the October meeting, one resident worried that the ordinance would reduce the value of his house significantly. He also worried about the stringency of the codes.
Council Vice Chair Matthew Hochman said that his concern was about life safety issues in the rentals. There's no inspection piece in the ordinance, he said. "My concern has always been—we have seen fires that could have ended badly if there were not proper ingress and egress." Are they safe? he wondered and added, "We know that there are some in town that are not."
At that October meeting, Code Enforcement Officer Angela Chamberlain said that the concern with short-term rentals is that occupants might not know what to do during a fire. "In the middle of the night and there's an emergency, it's dark and they are confused and they don't know where to go in that space." She said those important aspects of the inspection process include a tenant notification system, building elements to slow or prevent fires as well as egress.
"We're going to try to be much less strict with long-term rentals," Chamberlain said.
The task force formed at the request of Chamberlain and Fire Chief Matthew Bartlett. Chamberlain told the Mount Desert Islander's Faith DeAmbrose earlier that the duo had been hoping to create a task force for years and "added that while the town does not receive many complaints from tenants or landlords, she often hears from neighbors that there are problems the town has few tools to address," such as overcrowding. Town ordinance stipulates that up to five unrelated people can reside in one dwelling unit.
"Our goal is not to displace people or be overly burdensome," Chamberlain said.
"We're trying to find the balance where it's beneficial for the landlord and the renters," Bartlett said.
The goal of the task force is to create a "registry of long-term rentals that require registration and relevant associated data to assist the town in understanding the characteristic of the existing housing stock." To encourage that is why they want to create a free registration application with a fee that increases incrementally when landlords fail to register.
At a September 6 meeting, Councilor Jill Goldthwait wondered how the town can permit a building that it didn't inspect. She also worried about the legal obligations and implications. Goldthwait said she was concerned about creating a liability for the town if it approved a unit's registration without having an inspection of that same unit.
At that same meeting, Hochman said he was concerned about making sure the town was renting safe long-term apartments and dwellings. Currently, short-term rentals require inspections. Cough said that dwelling units do require certificates of occupancy, which could take care of some of the safety concerns.
The membership of the task force includes Bartlett and Chamberlain as well as Bar Harbor Planning Director Michele Gagnon; landlords Todd Hardy and Erica Brooks; Town Councilor Joe Minutolo; residents Jennifer Richardson and Philip Galperin; tenants Heidi Hambrecht and Amber Howard; and John Mountford from the MDI and Ellsworth Housing Authorities
---
LINKS TO LEARN MORE
Last Public Hearings For Special Town Meeting Elicit Little Debate
For more about the rental program.
---
Bar Harbor Story is a reader-supported publication. To receive new posts and support my work, consider becoming a free or paid subscriber. Thank you so much for being here!