Bar Harbor Businesses Band Together To Oppose Ordinance Restricting Visitors to MDI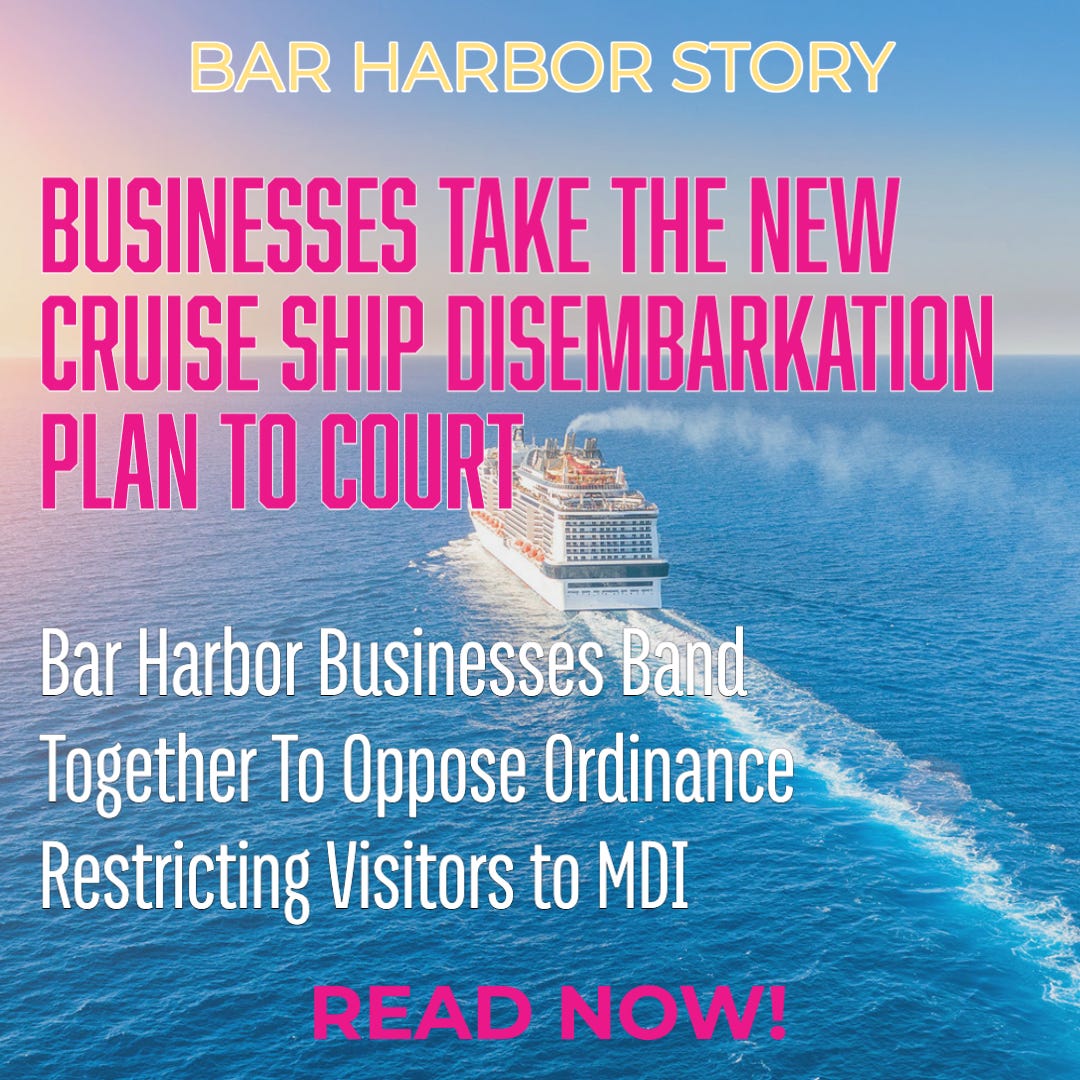 BAR HARBOR—The first lawsuit contesting the town's new cruise ship disembarkation plan has been filed and it wasn't by the Maine Pilot's Association, but by a group of local businesses that have collectively brought legal action against the citizens' initiative that passed in November.
According to a press release, the group, "The Association to Protect and Preserve Local Livelihoods (APPLL) organized and filed articles of incorporation as a non-profit association earlier this month, and is made up of Bar Harbor business owners in Bar Harbor."
Its website has just gone live, but the group has already joined a lawsuit against Bar Harbor's changes to cruise ship visitations, which cap disembarkation to 1,000 people per day. Bar Harbor has hosted thousands of passengers throughout the last few seasons and about 158 cruise ships. Each passenger, the complaint reads, spends about $21.83 on food and drink in port, comprising 10% of September restaurant sales and 12% of October restaurant sales. During public hearings, many from the business community expressed their concerns about how a cap on cruise ships would impact their businesses. A few, including the initiative's lead petitioner Charles Sidman, said it would have no impact. Other citizens spoke to environmental concerns as well as the congestion they believed occurs in Bar Harbor when tourists disembark.
As detailed in the U.S. District Court filing, the group believes that "the initiative could eliminate cruise ships from visiting Bar Harbor permanently. This will result in the loss of many jobs and permanently harm many small business owners, their employees, and families."
"The recent passage of the Citizens' petition will eliminate cruise ships that have been coming safely to Bar Harbor for decades and will cause great economic losses for all of us," said Kristi Bond, president of APPLL, and a small business owner in Bar Harbor. "We are unified as a board to defend our right, and our employees' rights, to earn a living and provide for our families. We have spent our entire lives building our businesses with our own blood, sweat, and tears. It is a fact that the economic impact that Cruise ships have on Bar Harbor is $20,000,000 – $30,000,000 dollars each year. The Citizens petition wipes all of that away."
That money also impacts the state's coffers. Maine collects millions in sales tax from Bar Harbor. That tax then goes to support programs throughout the state.
The group's website says that its members felt as if there was no recourse other than a lawsuit, writing, "Unfortunately the promoters of this anti-cruise ship initiative did not consult the Town or offer to work with the Chamber of Commerce on the potential impacts to their friends and neighbors. Thankfully there are laws in place that protect everyone, and for good reason. The time has come to safeguard the true heritage of Bar Harbor for this generation and future generations."
---
THE LAWSUIT
The group's complaint, which also includes the Golden Anchor L.C. (Harborside) and Bar Harbor Pierce, LLC as plaintiff's, alleges that the cap on disembarkations is not constitutional. It also states that Bar Harbor's economy will suffer. The plaintiffs do not ask for damages other than for attorney's fees and expenses, but that the ordinance be overturned.
The plaintiffs include BH Piers/Harbor Place, BHWW (Bar Harbor Whale Watch), 495, 493, and 492 ( ferry/cruise ship tenders). The suit speaks to how the change would impact the harbormaster's duties as well.
The petitioners wrote that, "Although not expressly stated, the Initiative's purpose―and actual
effect―is to bar virtually all cruise ships that have safely visited Bar Harbor for decades and to
bar the passengers who patronize those cruise ships from entering the Town." It also states that the initiative and changes violate the Supremacy Clause (Article VI, Clause 2, of the United States Constitution) and the Commerce Clause and that it discriminates against local commerce, and unduly restricts foreign commerce."
The complaint alleges that: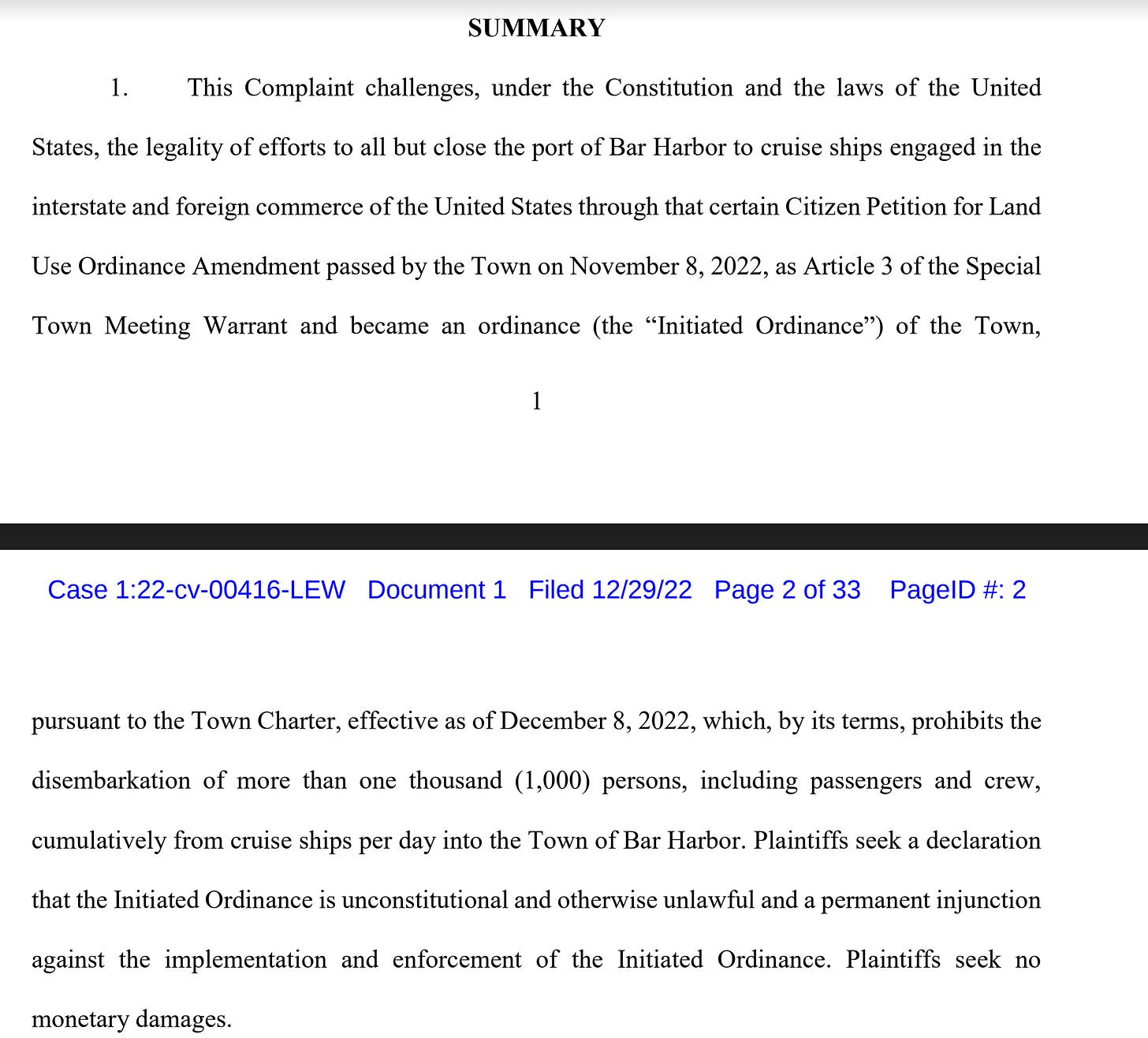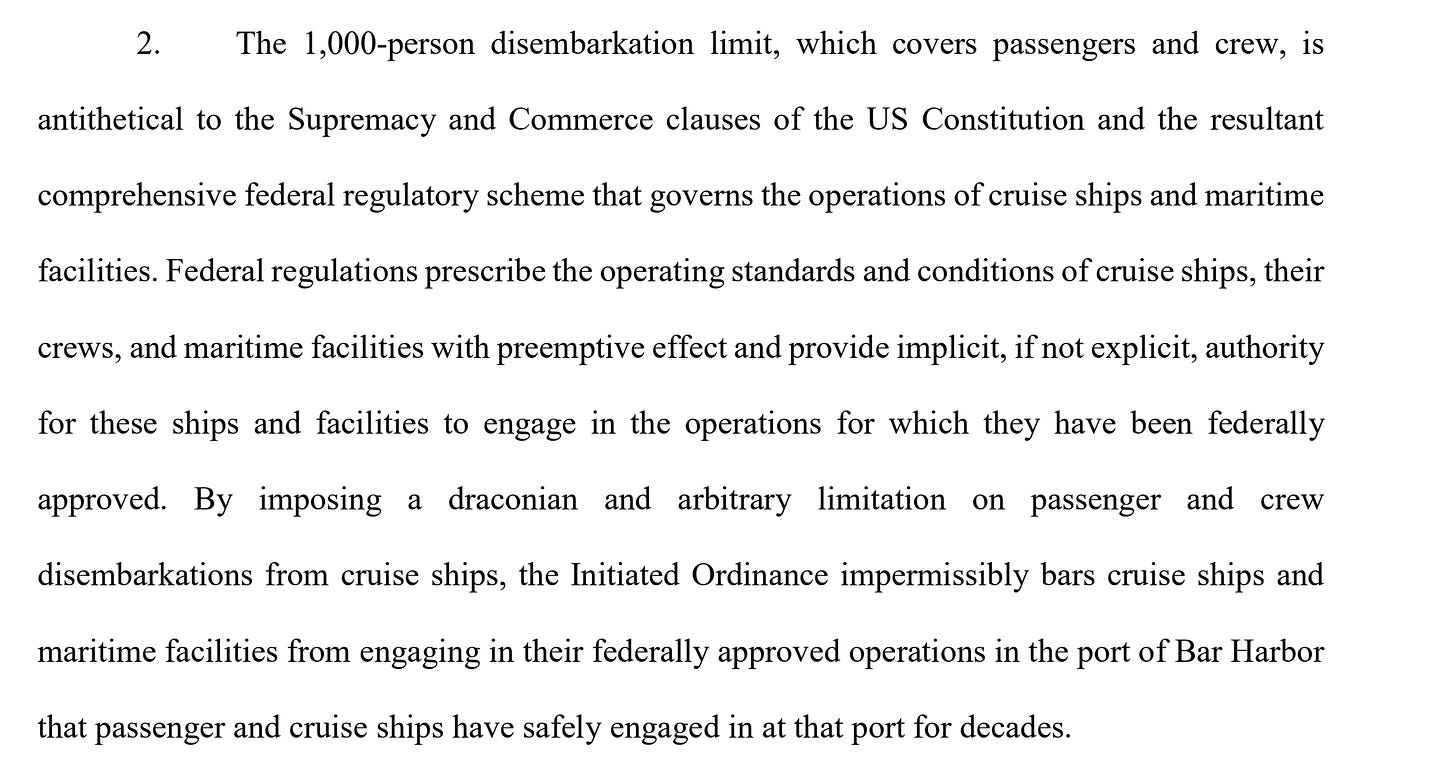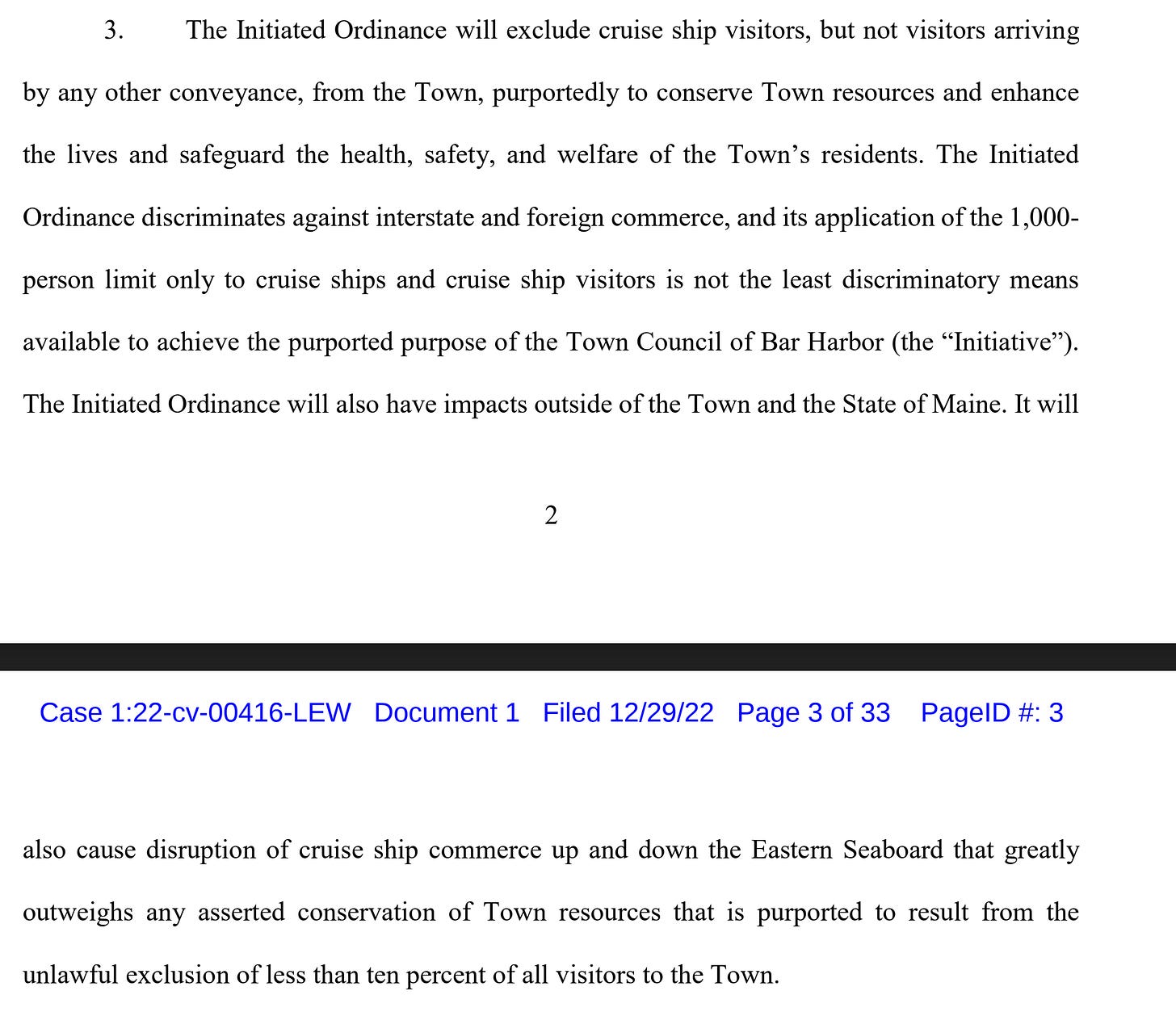 ---
APPLL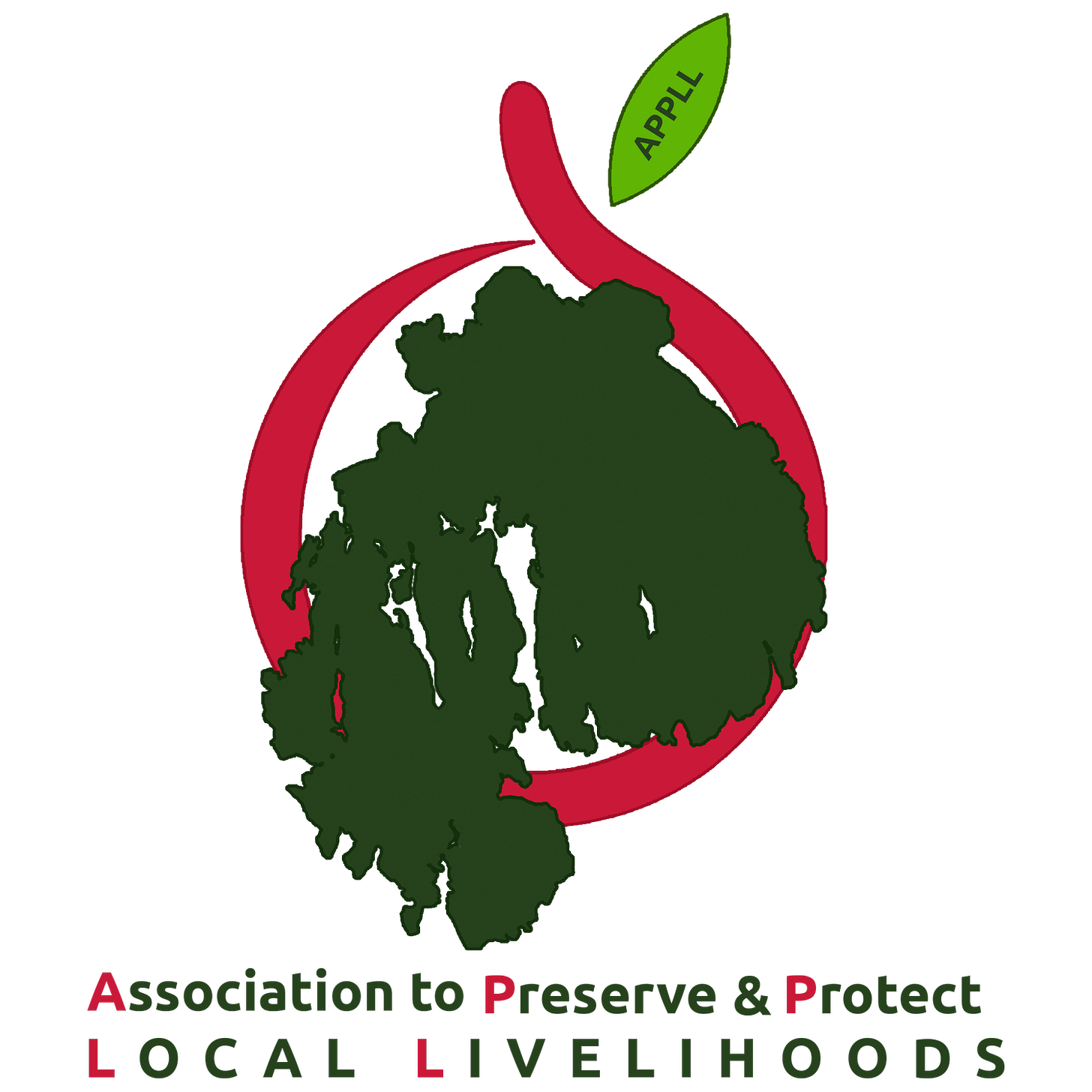 Currently, the association is accepting applications for membership.
"The amount of residents and businesses that have indicated a strong disappointment in the passage of Article 3 is compelling. People are getting a better idea just how destructive the impacts of the petition will be," said APPLL board member Shawn Porter.
"The amount of people who have reached out and offered support has been inspiring," said Tom Testa, another APPLL board member. "We have provided a place to apply for membership to this association and help us defend our right to earn a living and pay our employees.
The new organization also has goals' which are not necessarily cruise ship related. One member told the Bar Harbor Story that many in the business community felt vilified recently because of their opposition to the citizen's initiative and plan.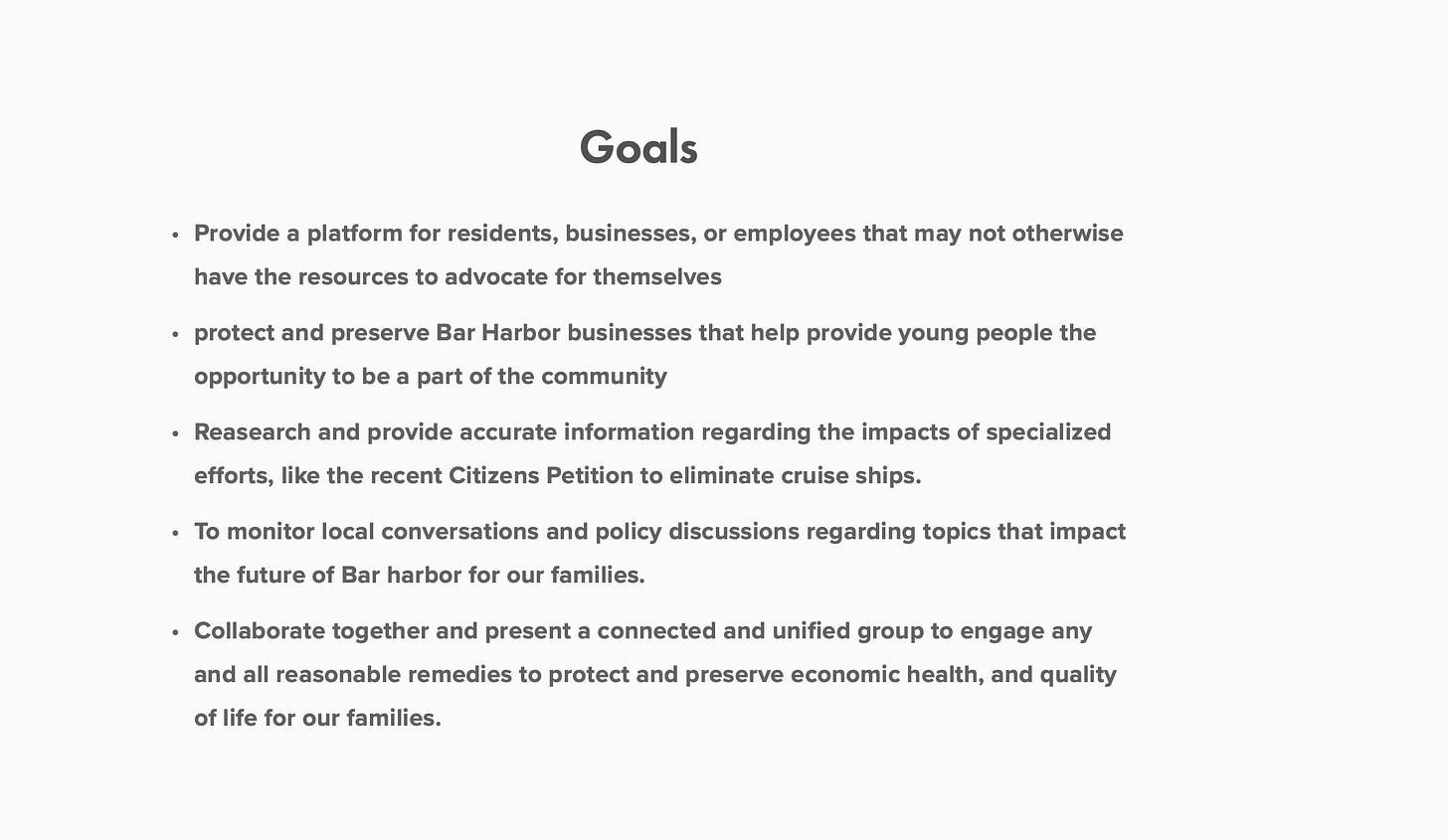 ---
MORE INFORMATION
You can see the filing to U.S. District Court here.
https://drive.google.com/file/d/1ajLq2XsSGMq11d2PIgx5x5amUOwfYJLn/view
For more information you can visit the APPLL website at www.appllbh.org
---
Bar Harbor Story is a reader-supported publication. To receive new posts and support my work, consider becoming a free or paid subscriber. Thank you for being here.