Goals Approved and Impact Fees Discussed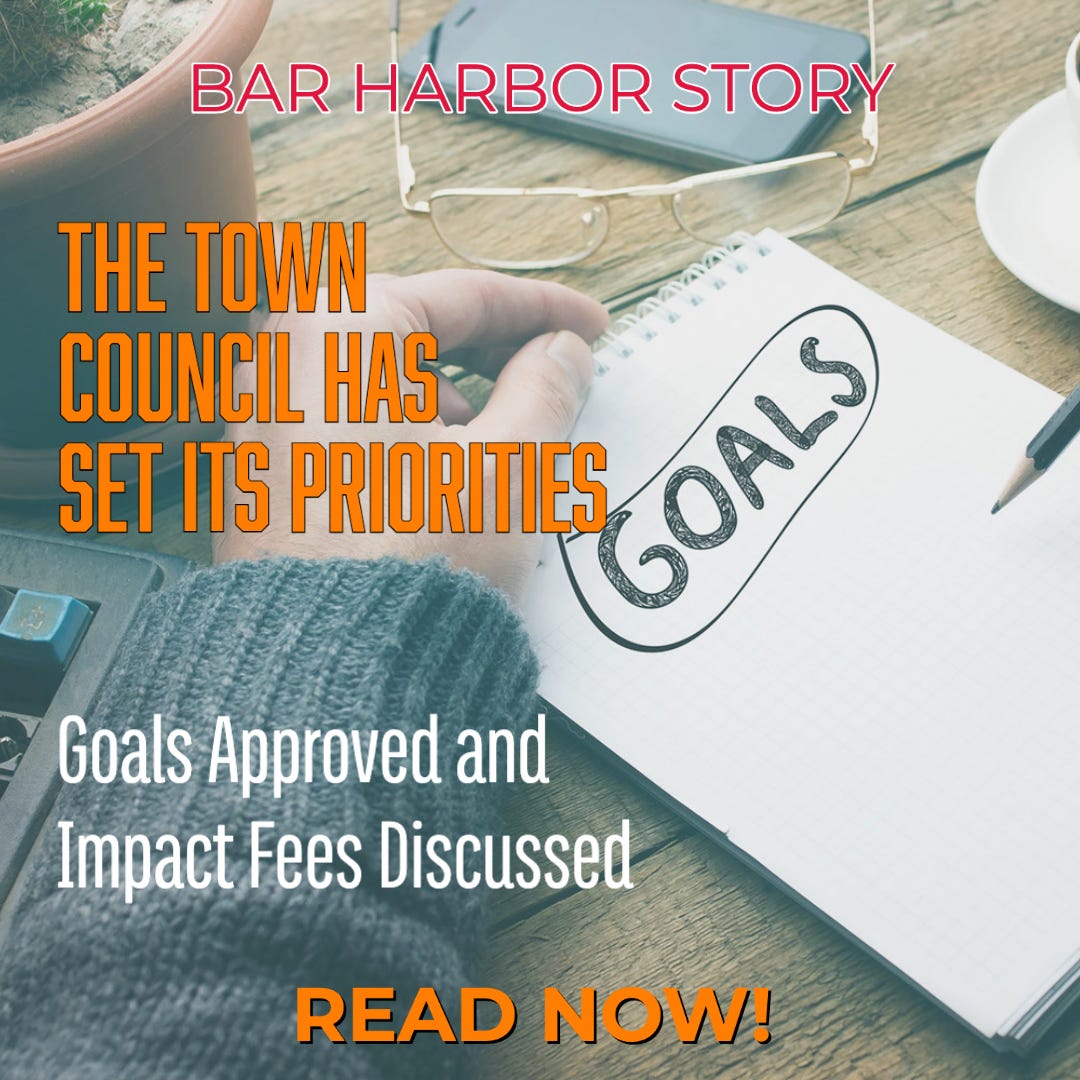 BAR HARBOR—Town Council Chair Valerie Peacock called the council's agenda a top ten list Tuesday evening as the council addressed its own goals, potential impact fees, the comprehensive plan's extension and cruise ship plan that limits disembarkations to less than 1,000 a day.
The goals have been organized into sections such as
infrastructure;
housing;
balancing the year-round community and tourism capacity;
sustainability goals;
communication goals;
and other goals and priorities (schools, community projects, policy work, council and committee process work).
All are listed and then detailed with bullet points.
The council priorities list, Peacock said, began in March with community discussion. Those goals were then further refined and discussed by councilors at a November workshop.
"You created a council vision prior to my arrival in 2021," Town Manager Kevin Sutherland said. That framework was used to further frame the council's goals. At Tuesday's meeting, he wanted to get a sense of how the council thought about the document so that he can use them with staff.
Councilor Goldthwait requested changes in the language of the opening section, which spoke of taxpayers appreciating the council's ongoing attention to Bar Harbor challenges. Her request was unanimously supported and the document was unanimously approved. The goals are below the main body of the article.
IMPACT FEES
An impact fee is a fee that the town would charge a developer and then the fees are used for certain town services that are impacted by what is being built.
For example, in Portland when building housing, an impact fee for transportation and parks and recreation must be paid.
Sutherland said that he's seen a lot of efforts in towns and cities for impact fees to help with the costs for wastewater, water, parks and recreation, open spaces, school facilities. There are opportunities to utilize impact fees around these areas, he said. The fees have to be separated from the general fund.
However, he added, some impact fees can disincentivize the building of housing units in communities.
An impact fee doesn't have to be in the LUO, but can be a separate ordinance, Sutherland said, he also said that the town is currently at 80% of its legal budget for attorneys though it is only halfway through the year. Creating a new ordinance or adding an impact fee into the Land Use Ordinance would likely require legal review.
Councilor Gary Friedmann asked who was paying the cost for the continuing growth in Bar Harbor and during remarks spoke of hotels, bed and breakfasts, short-term rentals and campgrounds.
Shortly after Friedmann's remarks, Councilor Erin Cough said about 4% of housing in Bar Harbor is on town sewer and water and she understood the desire to limit tourism, but believes that impact fees are very sharp tools and she'd rather use other tools.
Councilor Joe Minutolo worried about how smaller builders or businesses would handle the added costs of impact fees. Councilor Matthew Hochman said he'd like to see the pros and cons of an impact fee compared to a sewer connect fee.
There are 1,500 customers on sewer and 1,900 on the water, Planning Director Michele Gagnon said. She said the town can't make people pay for something that's already deficient, but must create a nexus between what the developer is doing and the impact that's being created.
Councilor Jill Goldthwait said that she sensed that developing an actual ordinance is a major undertaking and she doesn't believe that's the first priority of the council.
However, Friedmann suggested asking the sewer superintendent to think about impact fees. I think we have to take a good hard look at the impact of majority tourism in the town. Transient accommodations could pay a fee that would go into a fund that would allow us to support affordable housing, he said.
Sutherland said that a framework of impact fees around affordable housing hasn't yet been done in Maine. Minultolo said that it's important for the council to understand its budget and put a price on how much it costs to host tourism. He asked how much more is the police department costs, the fire department costs, and the sewers because of tourism?
"They don't have a full-time professional fire department. They don't have EMTs," Cough said of other communities of similar size but without the tourists. The tourism, she said gives the town an opportunity to have a much more diverse community even though there's only 5,000 people.
Peacock wondered too about the cost-benefit ratio.
Cough connected tourism with families and employment, saying that jobs come with 200-room hotels. "There are jobs that come with that (hotels, tourism), and they aren't the $100,000 science jobs. And there are kids that come with those families. You're talking about a middle and lower class that Bar Harbor is losing. If you don't have $1500 to rent a studio apartment in Bar Harbor, you're not living in Bar Harbor. We're starting to lose the middle class."
"I don't want to see Bar Harbor becoming a town of the 1%," she said. "I can see how impact fees can really affect those other socio-economic groups in Bar Harbor."
Sutherland's presentation is below the main body of the article.
SCHOOL BUILDING PROJECT
The town set up an account to accept donations for the renovation or replacement of a school at the Conners Emerson Elementary School site. The motion unanimously passed.
QUESTION ABOUT AFFORDABLE HOUSING
Earlier in the meeting, home owner and newer resident Peter Miano spoke about the council's limitations on short-term rentals. "Since question #4 has been enacted has there been one affordable house (for sale) here in Bar Harbor? Has the referendum produced the desired outcomes and would we know what those outcomes would look like if we saw them?" He asked.
He said his "recommendation is that the town council does not pursue and enact policies until they know how to evaluate the outcomes of those policies."
Miano's comments came during the public comment allotment at the beginning of the meeting. No councilors spoke to his questions during their own councilors' comments time later on.
---
RESOURCES TO LEARN MORE":
Council goals document: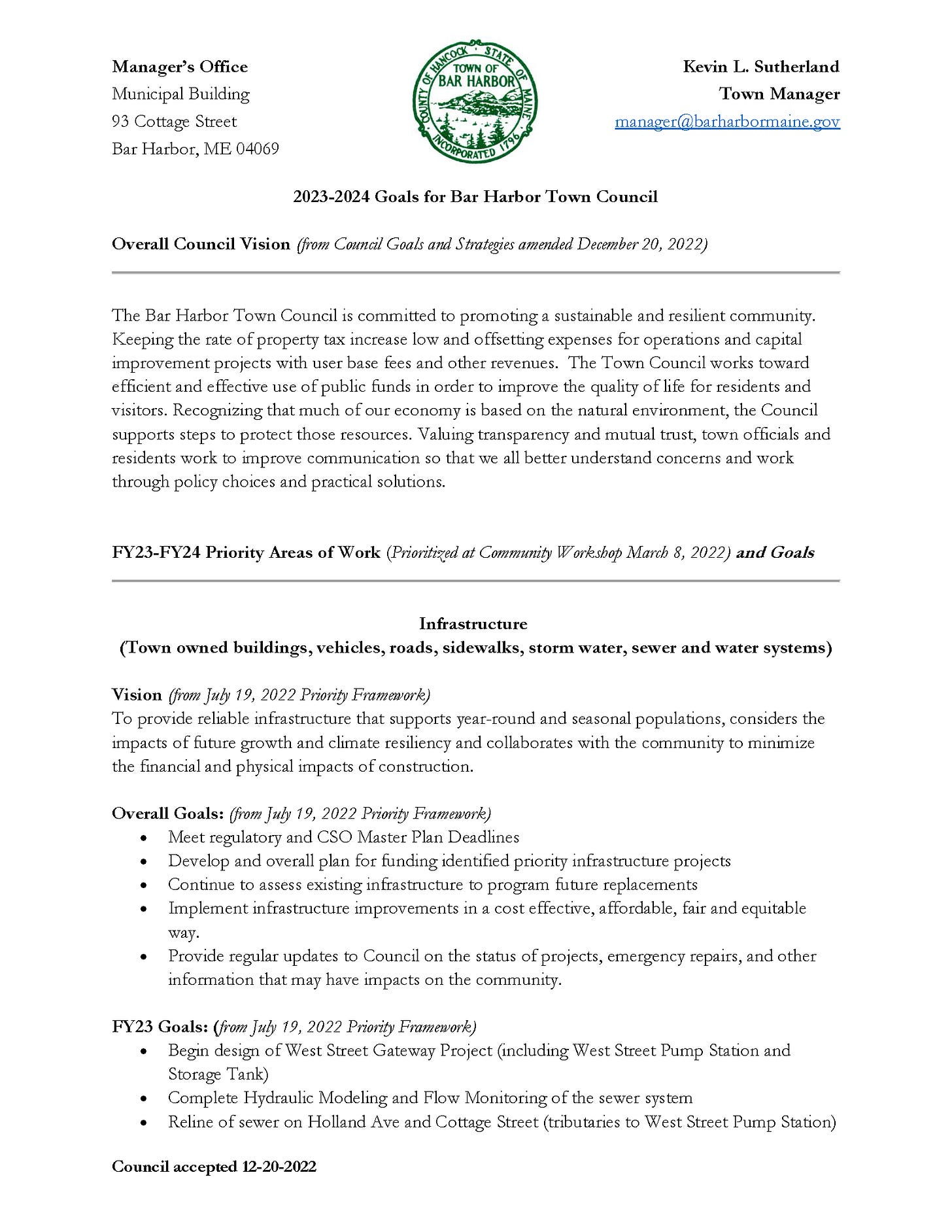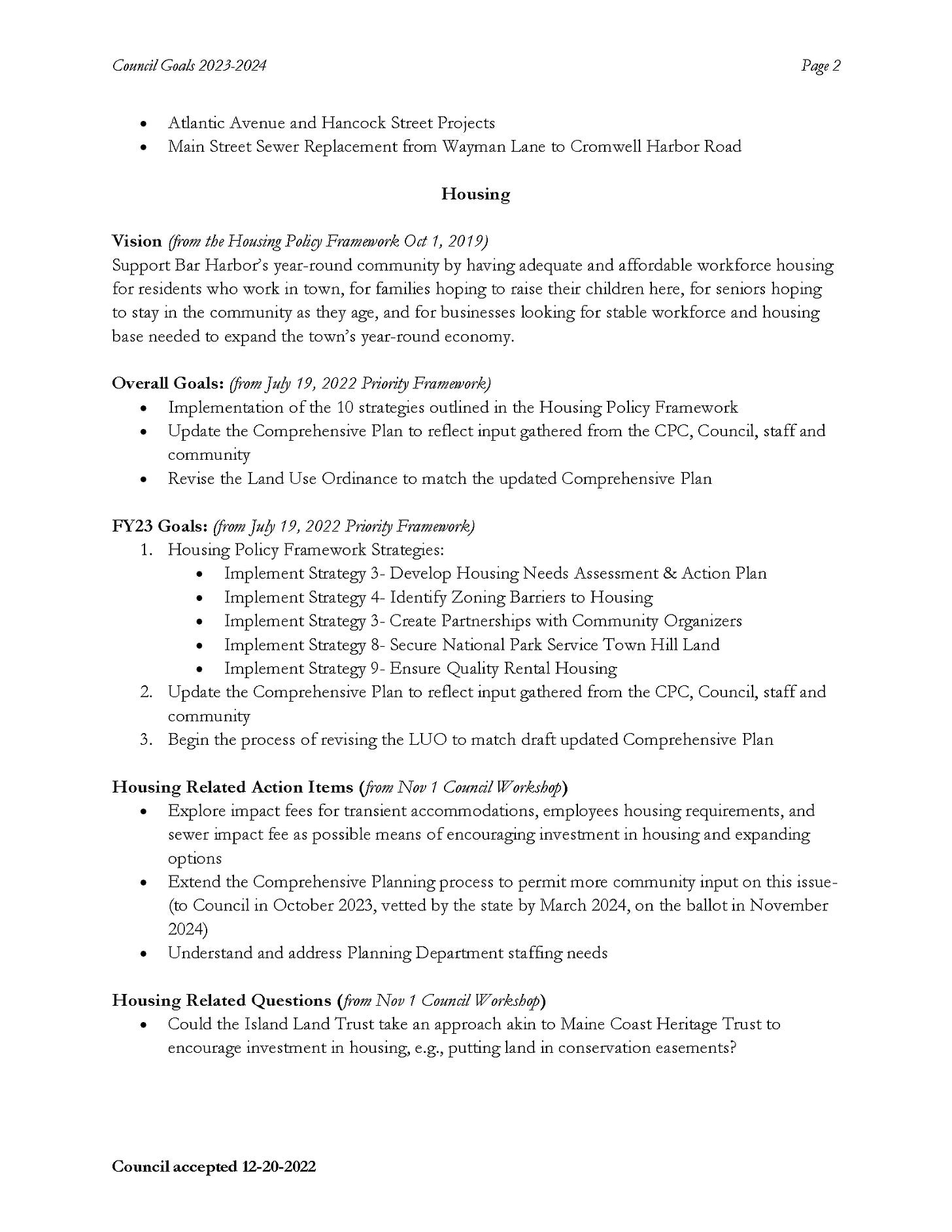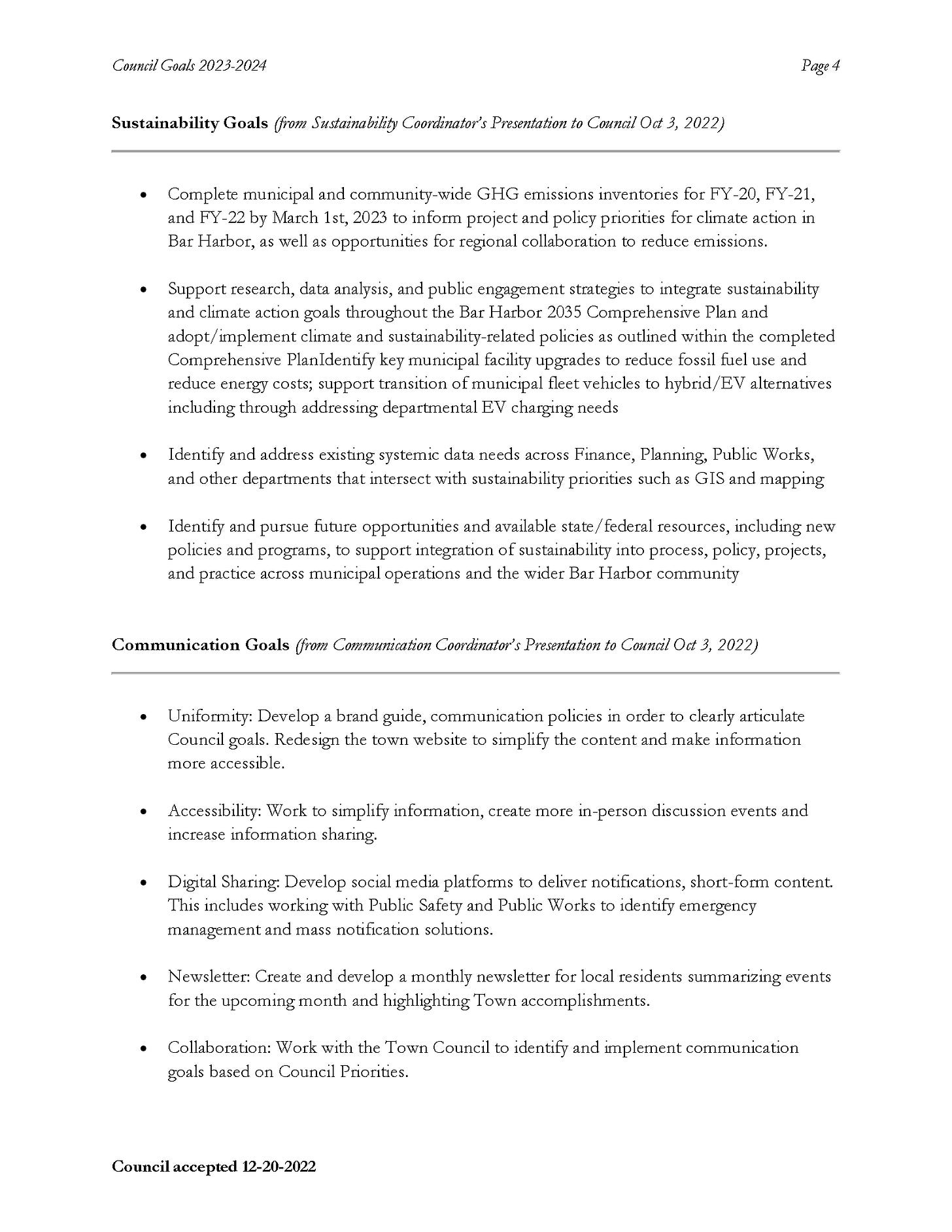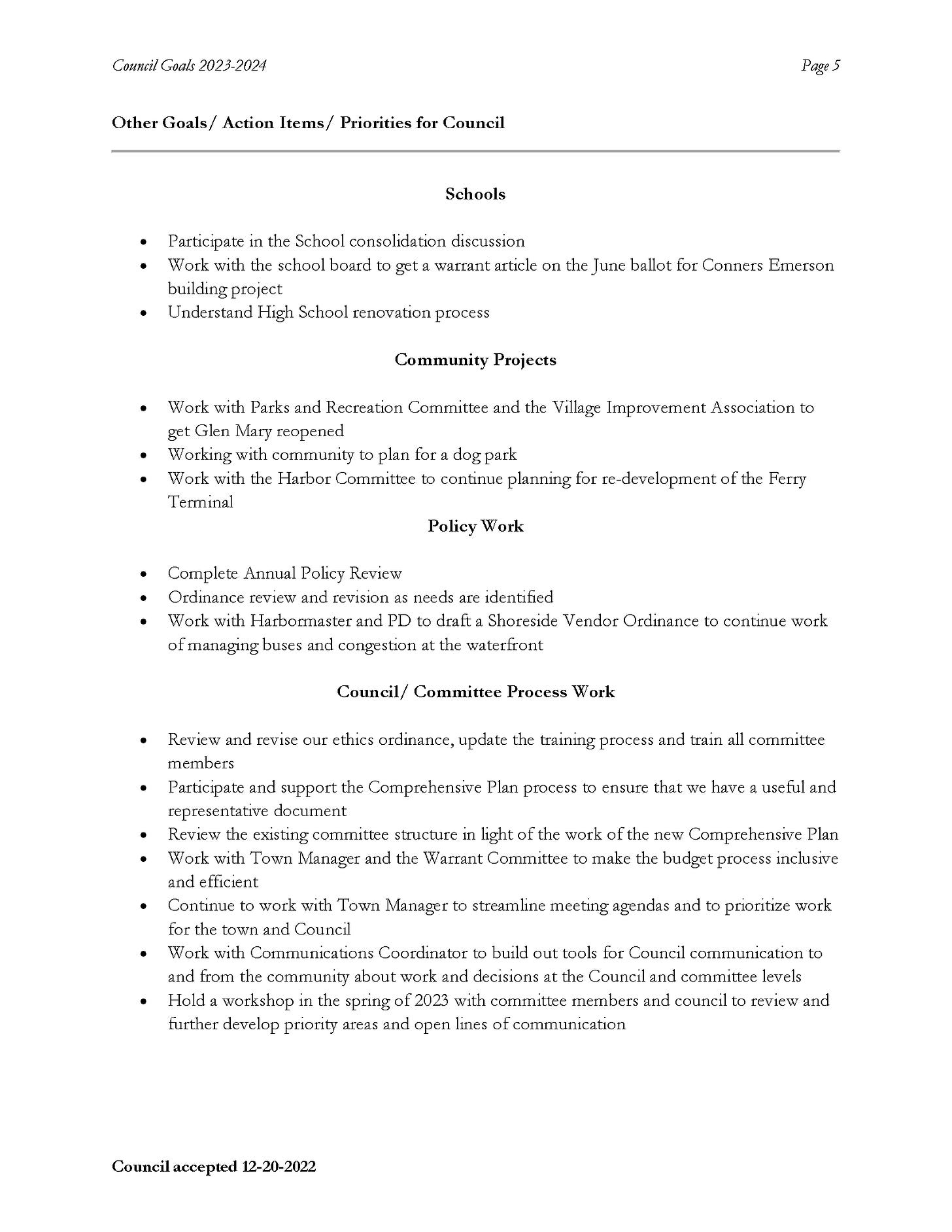 ---
KEVIN SUTHERLAND'S IMPACT FEE PRESENTATION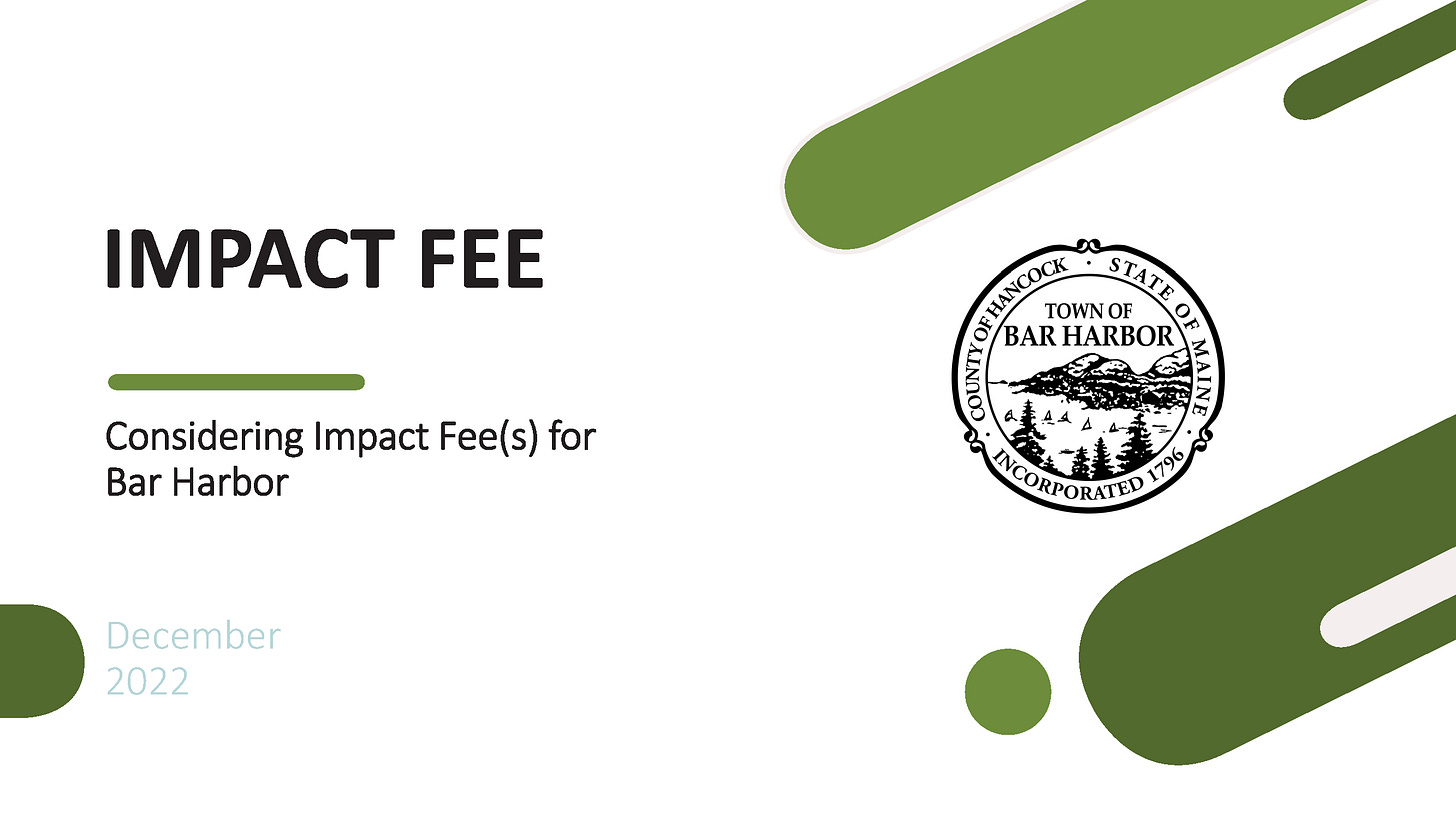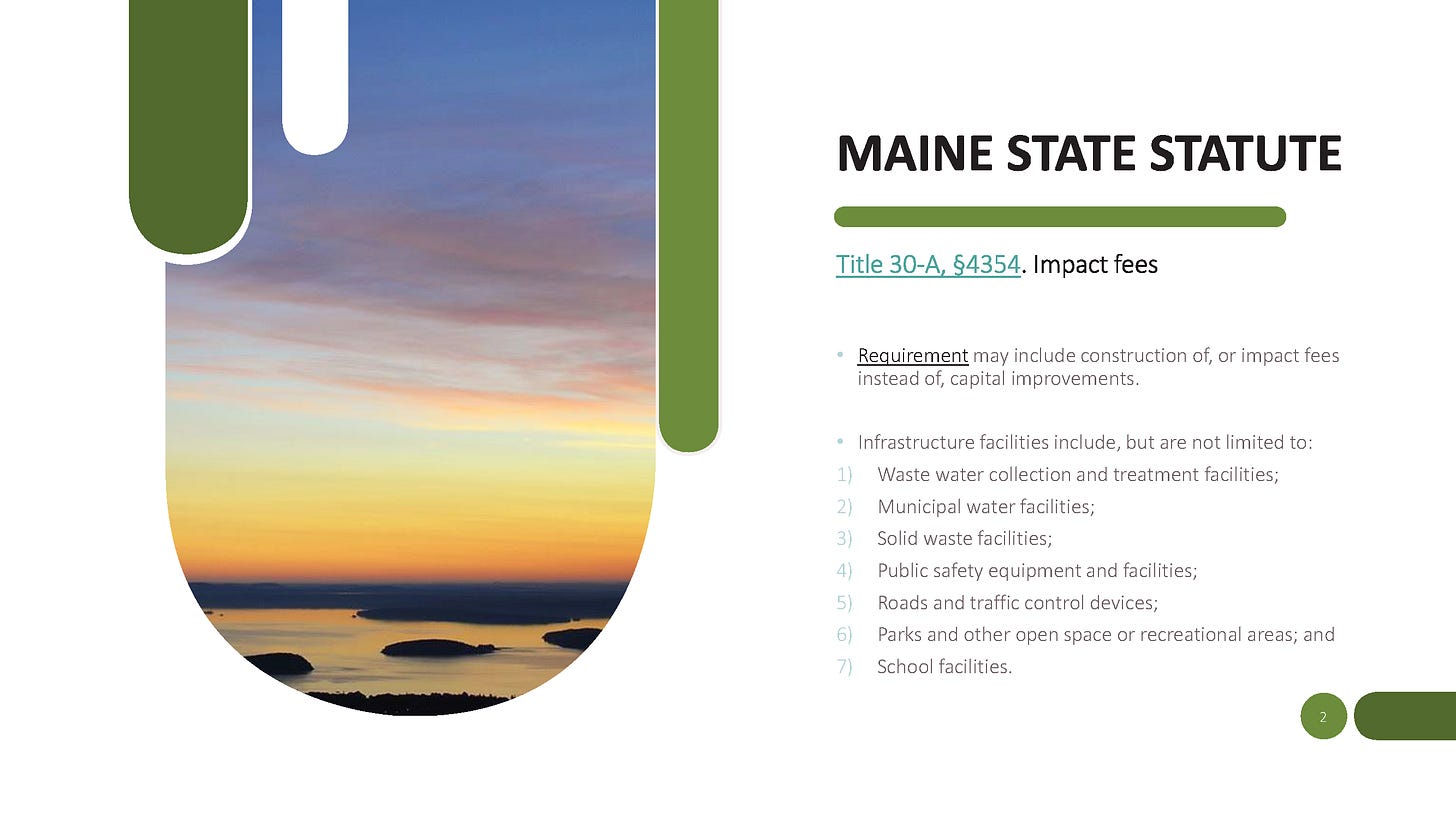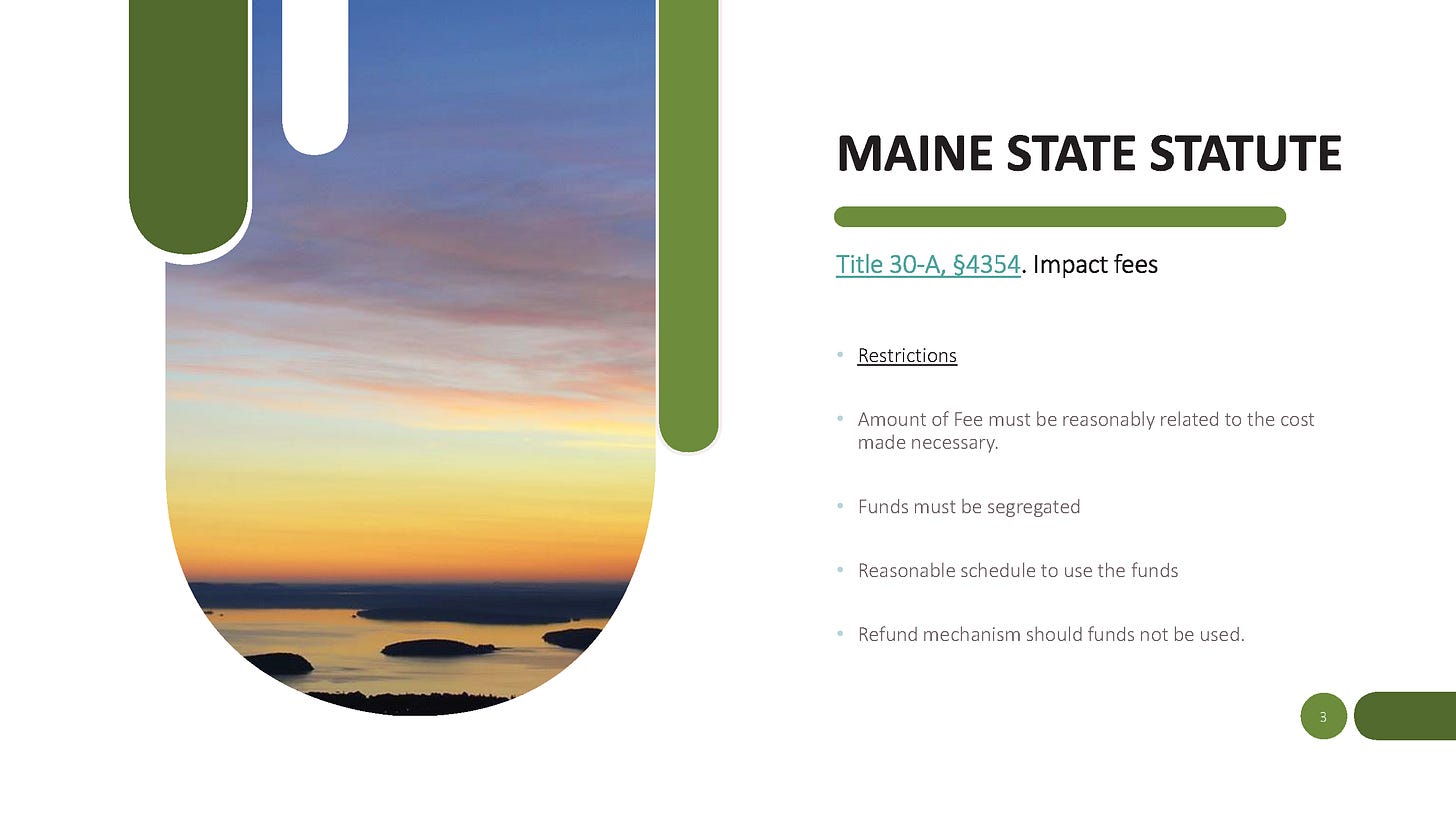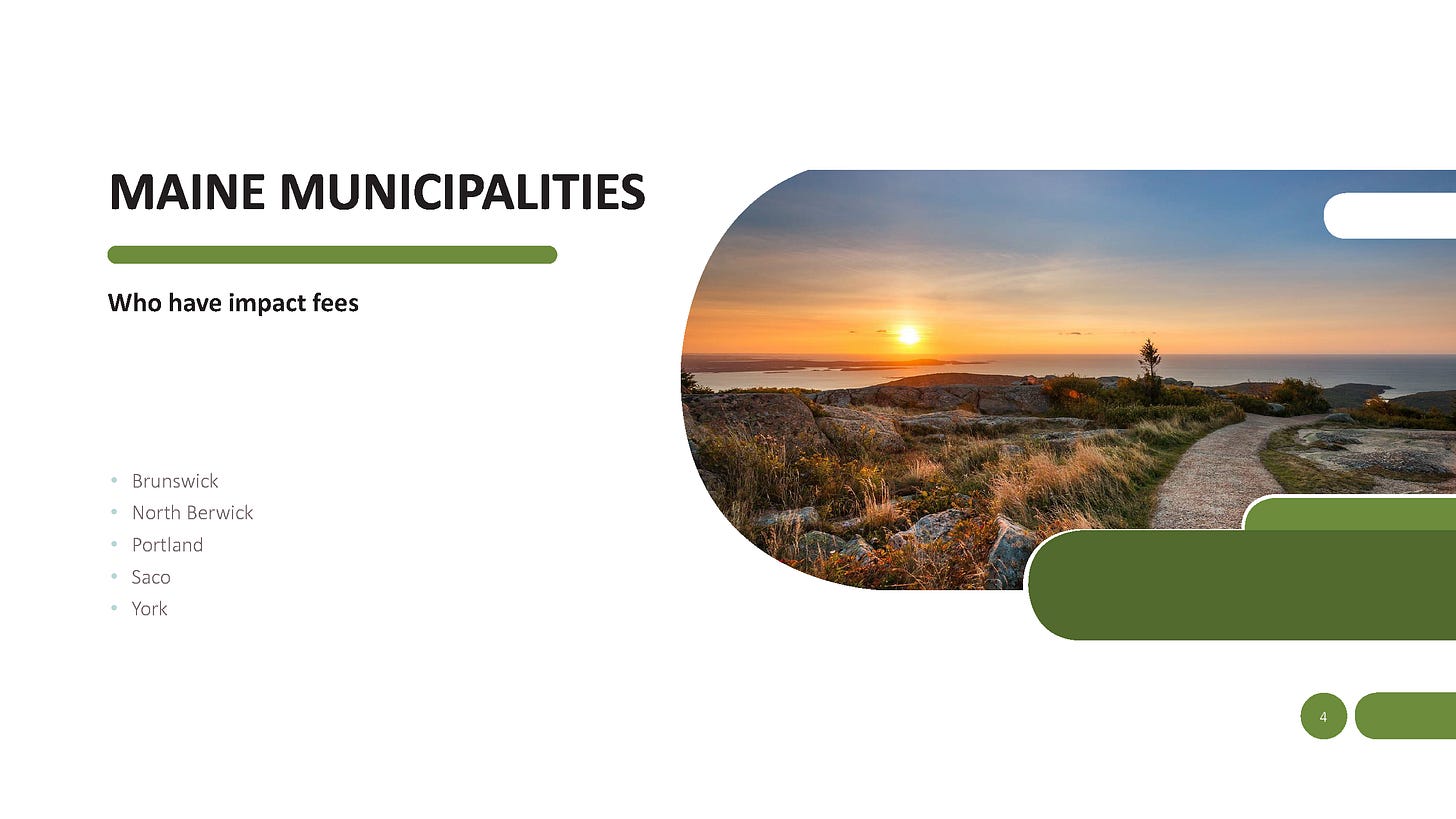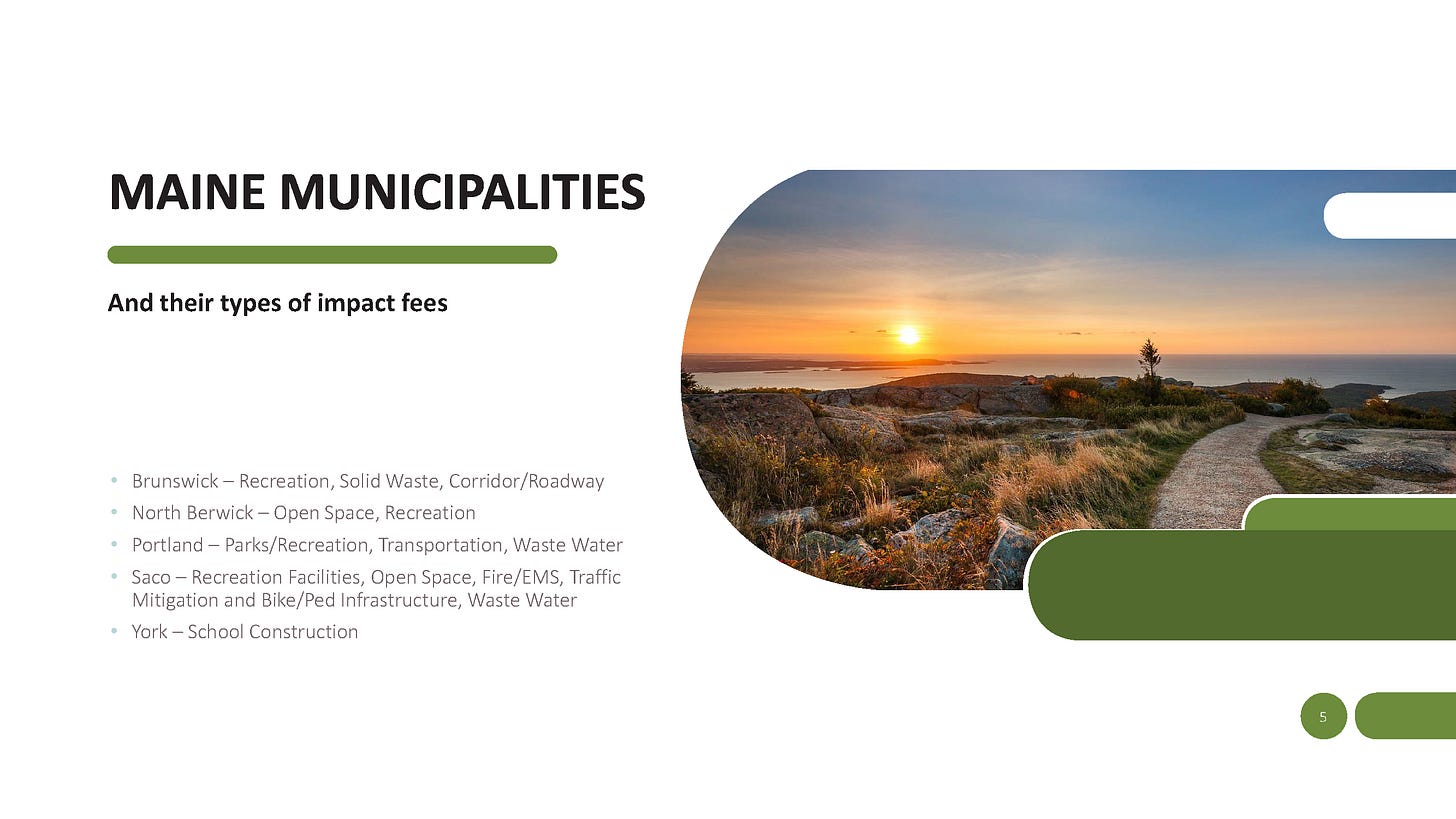 ---
Bar Harbor Story is a reader-supported publication. To receive new posts and support my work, consider becoming a free or paid subscriber. Thank you for being here!