Council Talks School Rebuild/Redesign And Water and Sewer Budgets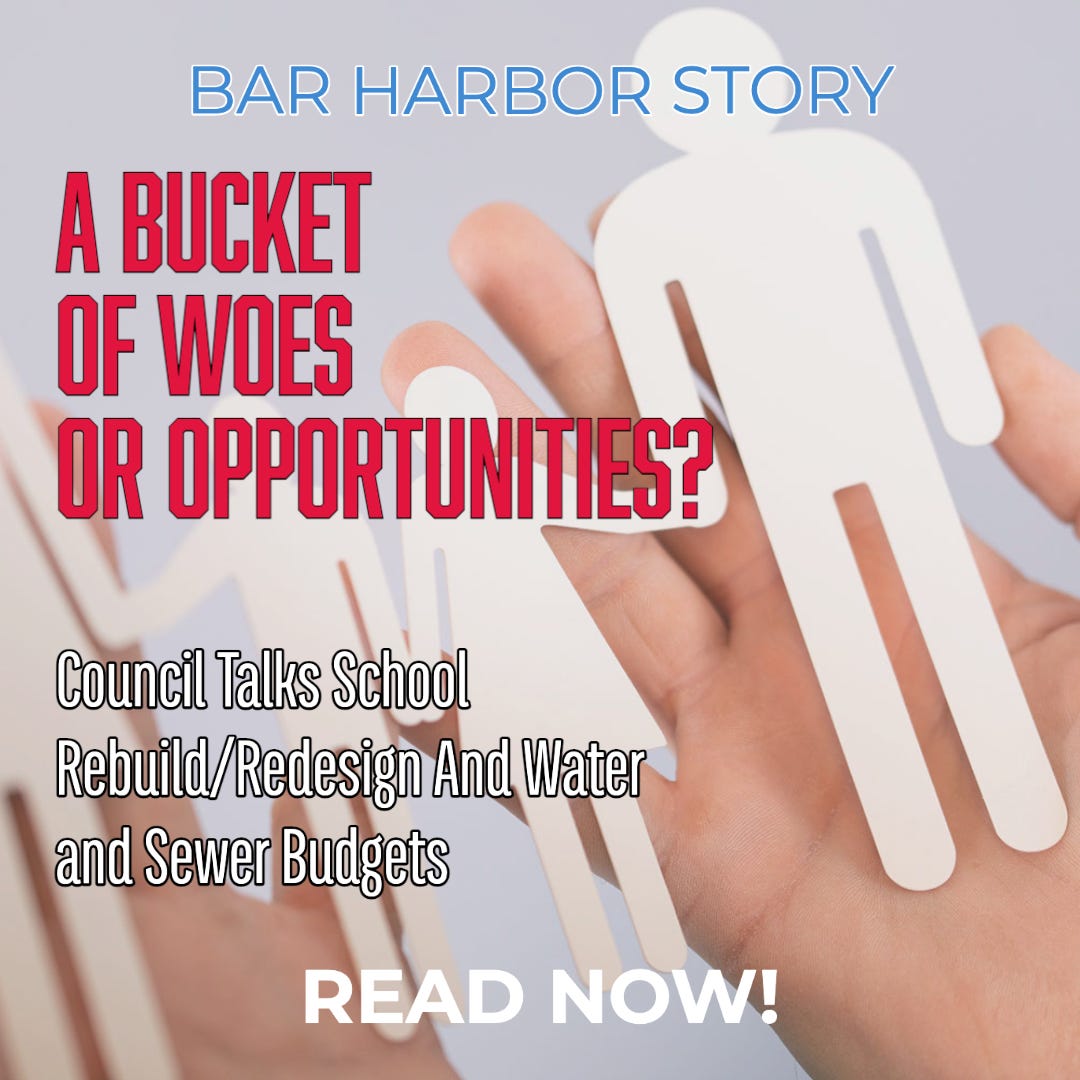 BAR HARBOR—When people are slow to change, change gets more expensive, and often the situations that inspire the need for change get worse. That was a good part of the message at the Bar Harbor Town Council meeting Tuesday night. And the message applied to both the school and the town infrastructure as the councilors discussed the town's water and sewer budgets.
"We have to solve our failures now," Public Works Director Bethany Leavitt told the council during her water department budget presentation.
"We've inherited a bucket of woes," Councilor Gary Friedmann said of the town's purchase of the water system in 2000.
That bucket of woes extends to the Conners Emerson School's structure and
School Superintendent Michael Zboray said that the town had been working on a plan to fix or rebuild the Conners Emerson School prior to the pandemic. The pandemic interrupted that planning. Prior to his position as a school superintendent and another position as an administrator at another MDI school, Zboray worked at Conners Emerson for 15 years. Now?
"Those issues are actually a little bit worse," he said.
Town Council member Erin Cough said when some councilors visited the site last summer, the floors were actually wet. Her worries about the buildings' use of oil, wet floors, and lack of insulation echoed those expressed by the school committee.
Bar Harbor School Committee Chair Alexandra (Lilea) Simis gave an impassioned plea for the children and the future of Bar Harbor during the Conners Emerson School project presentation.
"I honestly feel like the best investment any of us could ever make is on the next generation and I don't think we should take that lightly." She said she was determined to find funding outside of the town budget to help defray costs.
Simis said that recreating the buildings in a more environmentally friendly and sustainable way coincides with the council's goals "I would encourage you to not be so afraid of the price that you won't open yourself up to the project." She later added, "I want everyone to celebrate this for our kids and not feel like it's a sore."
When asked what was her biggest priority to fix, Principal Heather Webster said that it changes every day. It might be 90 students in a small, concrete, windowless space eating lunch while other students walk through one day. It might be lack of adequate special education spaces another day or how the students have to walk outside between buildings, which creates safety concerns. It might be water rushing through a wall. It might be one of the buildings' two boilers breaking like it did this fall.
Councilor Jill Goldthwait worried about the timing of the process in relation to the council's other budget duties, the review of all of the budget occurs in the winter months. The council does not create the school budget. It makes a recommendation to voters who have final approval on all the budgets in the spring. Lisa Sawin from Harriman (a Maine engineering and architectural firm) said that they can tweak the budget timeline.
Council Chair Valerie Peacock said the council's role is understanding the plan, the numbers, and the project's timeline and getting that information out to the community. The council can recommend or not.
"I think we should try," Peacock said.
"To see what school is going to be there for their kids is an exciting prospect," Hochman said.
SHARED SCHOOL
There was also a brief discussion about an island-wide shared middle school. For that to occur, all the towns would have to enter an agreement, a process which could add years to the Conners-Emerson rebuild. Zboray said that reorganization discussions have happened for months. That could be one middle school or different schools, existing or not. The design for Conners Emerson would be flexible for multiple configurations, Zboray said.
If, in the future, other towns sent their students to Bar Harbor, the debt Bar Harbor incurred would be shared by all the towns once those students began attending. The high school is a micro model of how that works, he said.
Councilor Gary Friedmann said he didn't see how that worked. "You're not going to have half the middle school in Bar Harbor and half the island wide middle school somewhere else."
"We might," Simis said.
Zboray said there were 10 different models that came up during discussions. Some school buildings across the island could be pre-k to five and others could be 6-8.
Simis said the problem with Bar Harbor making a shared school for all the island right now without buy in for all the communities was "we've done all this work and we present it to all the island communities and they don't like it? We're still Bar Harbor."
And those are still our kids, she said. And those kids have to be taken care of.
---
WATER BUDGET
Public Works Director Bethany Leavitt presented the town's water budget, which was unanimously approved for a public hearing on January 3, 2023. The waste water budget had a similar fate.
Friedmann said he was concerned that while there was no town vote for these budgets, it's similar to a tax increase for those who use it. He wanted more explanation about the 20.7% increase in the department's operating expenses, why the work time has increased for superintendents, and also why an employee was added.
"Water and sewer are almost like hidden budgets," he said, compared to the rest of the town budgets. He said he felt like he was abdicating his responsibility to not look for more information about the increases.
Leavitt explained that much of the budget increase was due to operating expenses that they can't control. The cost of materials and chemicals has sky rocketed. "The inflation indices show that those get hit the hardest," she said.
The extra position in the budget has been planned for the last few years. And that's because the department has to maintain the system, has to try to flush fire hydrants twice a year, has to deal with more consumers asking for water service, and also has to deal with catastrophic failures of a system that hadn't been taken care of in the past.
"I'm trying to turn us into being a little more proactive," she said, adding that If the town lets something run to failure it's going to cost three times more to fix it.
"We're seeing those catastrophic failures (now)," she said, referencing breaks in the system in the downtown area. The town has been lucky because the valve breaks broke in the right way and she hasn't had to shut down half the economic district, she told the council.
According to Leavitt, when there isn't enough staff what often falls behind is in-system maintenance that nobody sees.
Councilor Erin Cough said that when she pulled the budget apart, she was alright with the increase because of the value of the employees that the town is getting. The ask for the public utility is 18% which equates to a 3% cost of living increase for the six years since the last increase. It's a 3.5% increase this year, she said.
"The sewer budget has a rate increase of 18% and this will be for the second half of Fiscal Year 2023 (Jan-Jun 2023)," Town Manager Kevin Sutherland wrote in his memo for town councilors Friday. "This anticipates expenses related to operating and treatment including an interest payment related to the infrastructure bond."
In June town councilors approved two continuing resolutions for the water department budget and for the waste water budget so that the departments would have more time to draft budgets. The draft Fiscal Year 2023 water and sewer budgets have been separately released Friday.
According to a memo from Bar Harbor Finance Director Sarah Gilbert dated December 6, but released December 2, the water budget, calls for
"No recommended change in the rates
Gross capital expenditures projected at $506,500, with no borrowing
A 3.5% budgeted increase of anticipated revenues
A 21.7% budgeted increase of operating expenses due to added services and increased cost of materials and supplies."
The revenues for that year are expected to be 4.5% higher than the budget projected for FY 2022 and 3.5% higher than the actuals. This predicts a 2% volume increase from FY 2022.
According to Gilbert,
"Total operating expenses, including depreciation, over the 2022 budget are scheduled to increase by 21.7%. Capital spending is requested at $506,500 covered by previously internally generated funds. The fiscal year just ending (FY22) projects an increase of cash of approximately $204,740, primarily because of deferred capital spending. Next year, we are budgeting for $242,158 in cash drawn down because of increased capital spending funded by cash reserves."
---
WASTE WATER BUDGET
The council unanimously scheduled a public hearing on the waste water budget for January 3, 2023. Both budget hearings will occur at the Municipal Building on Cottage Street in Council Chambers during the regular council meeting, which begins at 6:30 p.m..

Councilor Joe Minutolo said, "I think that management of both of these departments has really increased and really improved" in recent years. He anecdotally spoke of his own apartments and bike shop's experiences with the departments. "I think we ought to be really proud of these guys."
---
LINKS TO LEARN MORE
For information on the Bar Harbor School Committee, click here.
For information on the Conners Emerson Building For Our Future project, click here.
https://www.harriman.com/projects/
TO REWATCH THE COUNCIL MEETING.
Sewer Rates May Go Up, Water Remains Stable
Marie Yarborough Elected School Committee Vice Chair
Bar Harbor Story is a reader-supported publication. To receive new posts and support my work, consider becoming a free or paid subscriber. Thank you for being here!