Buoys still available.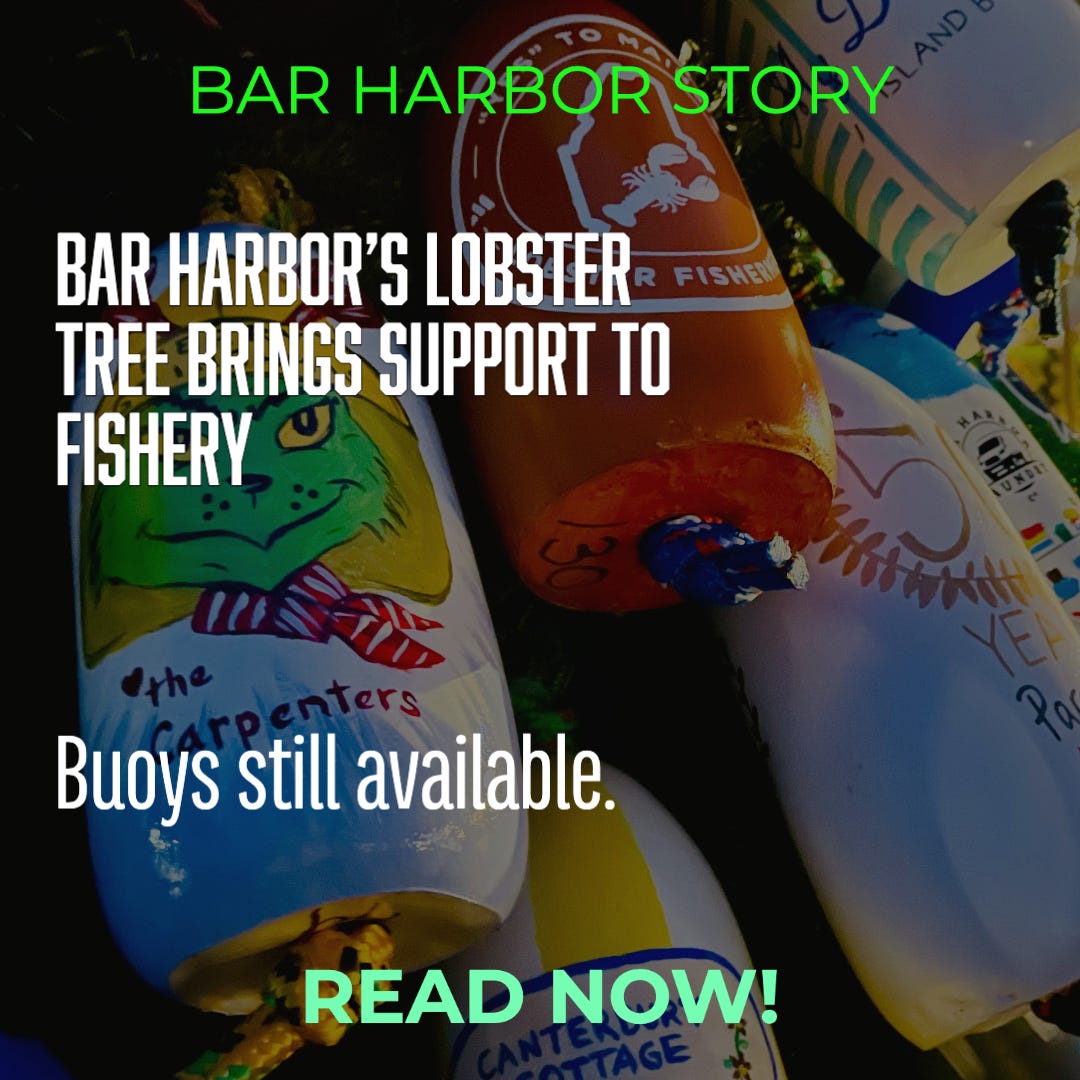 BAR HARBOR—There's a new kind of tree up in Bar Harbor's downtown this year. It's not a Christmas tree or a holiday tree. It's not a newly planted oak or pine or birch. It's a tree made of wood and chicken wire and dozens of individually painted lobster buoys.
It's a tree that signifies support for the lobstering community throughout Maine.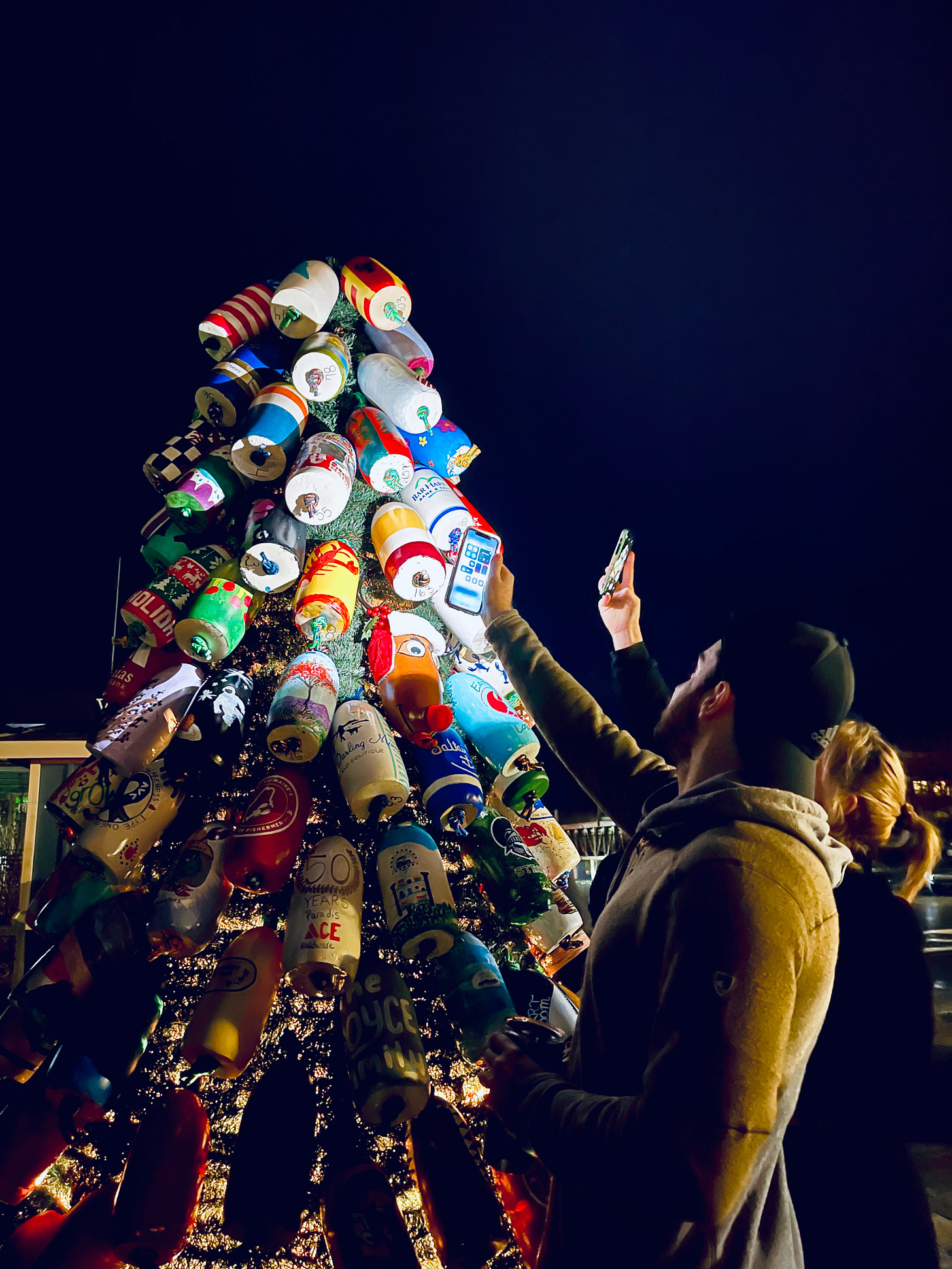 That support came from businesses and individual citizens who all paid the Bar Harbor Chamber of Commerce to paint a buoy. The proceeds went to the Maine Lobstermen's Association. The Chamber's Executive Director, Alf Anderson presented a check of $1,000 to the MLA's representative, Jim Dow of Bass Harbor. The proceeds went to MLA to support its efforts to protect Maine's lobstering heritage.
The rain and gusty winds held off until after the Thursday afternoon ceremony where approximately 30 people gathered near the town's pier to see the tree's lighting.
Dow said that the tree symbolized the community's spirit and support. That support, he said, was a "really big deal for all of us. We really appreciate it."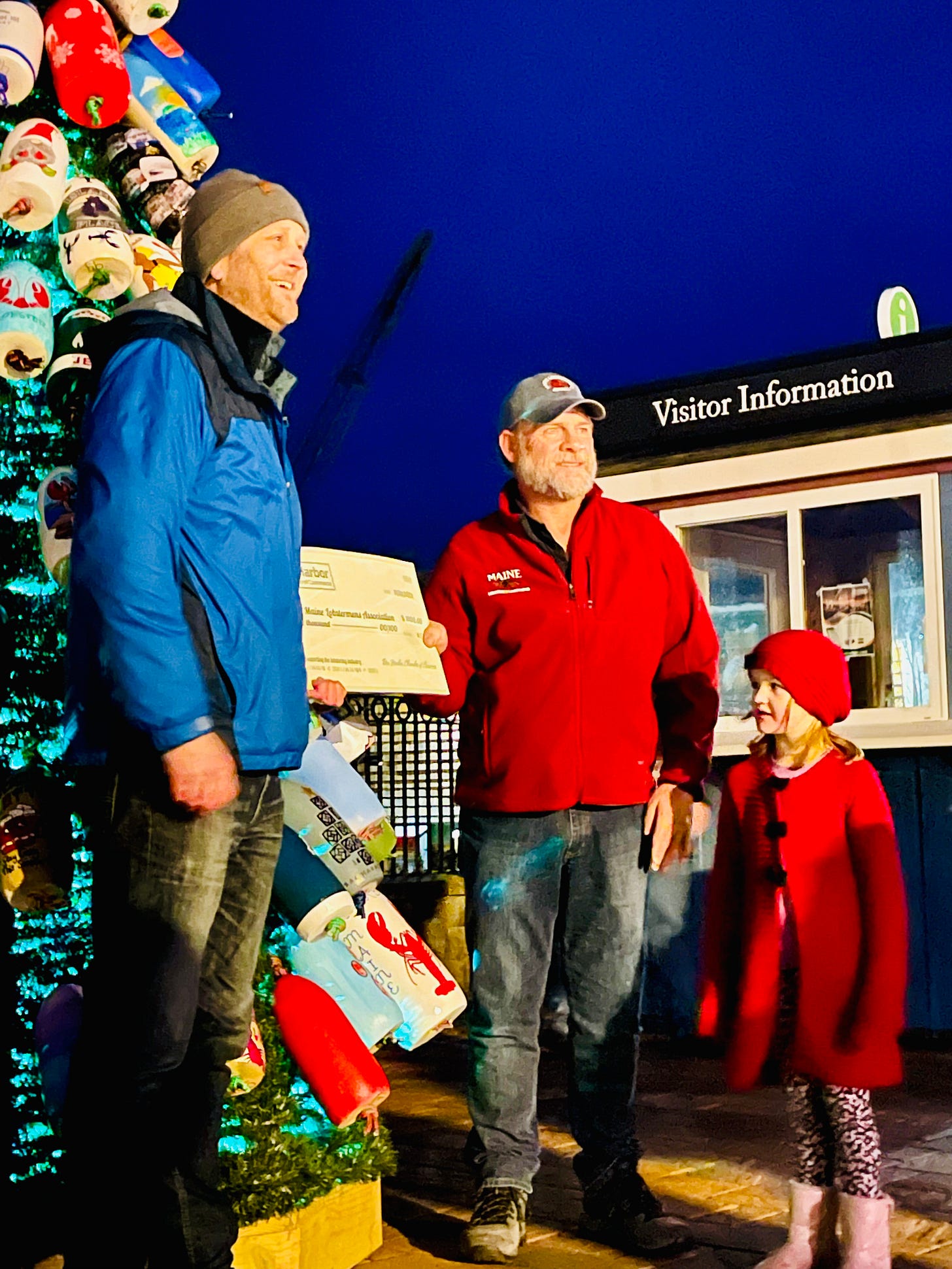 The Chamber's mission, Anderson said, is to bring people to Bar Harbor. "One of the things people love the most is eating lobster."
"They don't come here to eat the chicken," Dow joked.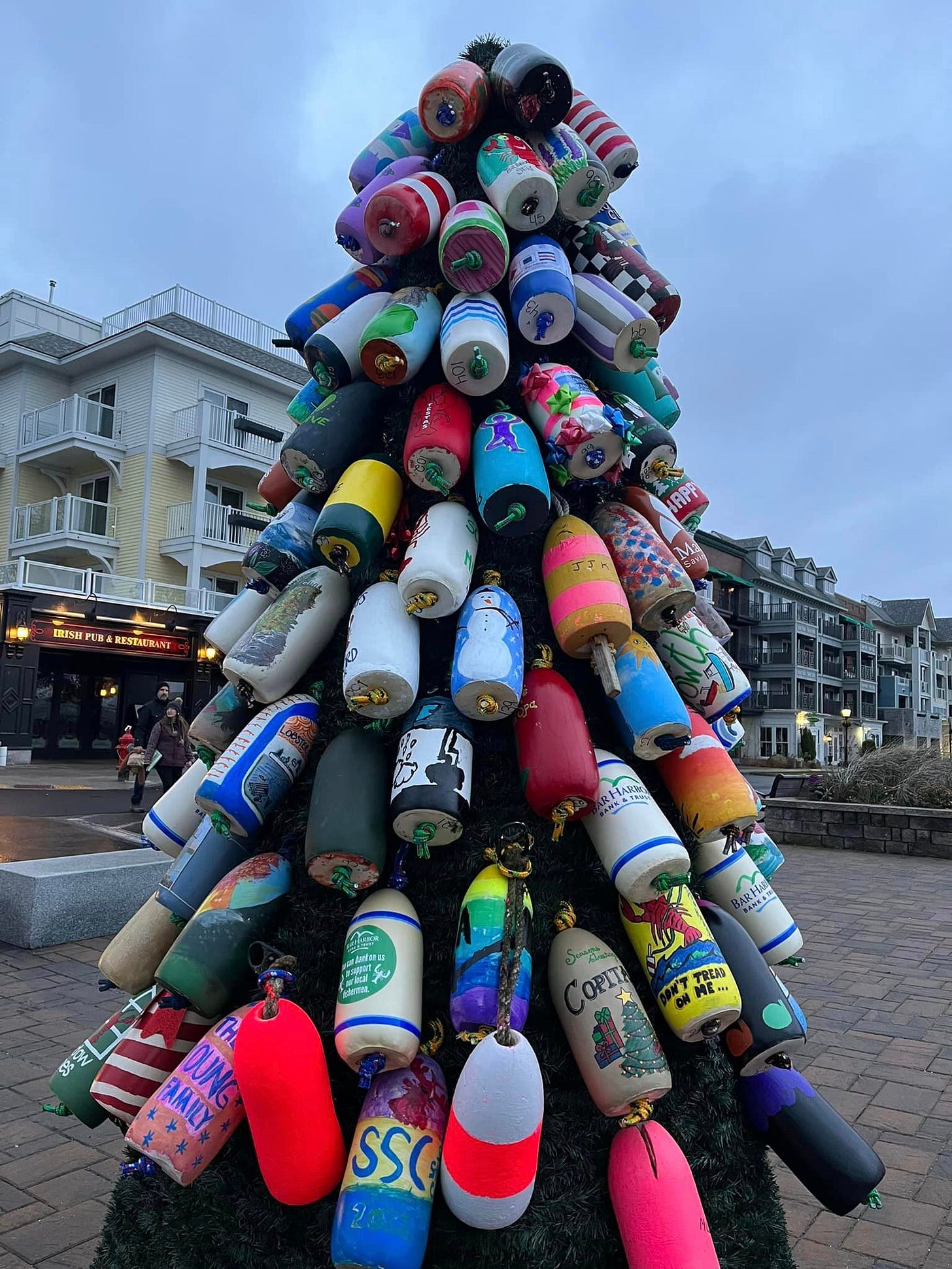 The tree lighting also offered a chance to those who participated in buoy decorating and donating to receive an award. All were entered into a raffle for a cash prize of $500. Down's grandniece drew the ticket and Shaun Farrar of Bar Harbor Coffee and Spice and the Bar Harbor Story won the prize and immediately donated it back to the Maine Lobstermen's Association.
Anderson credited the Bar Harbor Chamber's staff with the event's execution. Aubrie Boyce, events coordinator, came up with the idea. Melanie and Chris Graten were invaluable in its execution, he said.
The Maine lobster industry has recently met a series of legal difficulties due to conservationist concerns about the North Atlantic Right Whale. The Maine Lobsterman's Association writes on its website,
"Burdensome federal regulations threaten to end Maine's lobster industry. In 2021, the National Marine Fisheries Service released a ten-year whale plan that requires the Maine lobster fishery to reduce its already minimal risk to the endangered North Atlantic right whale by 98-percent. This is an unachievable goal and the industry could not survive. The MLA is suing the federal government to stop this plan, and is asking the court to fix it using accurate science so that we can save right whales without sacrificing the lobster fishery and Maine's lobstering heritage."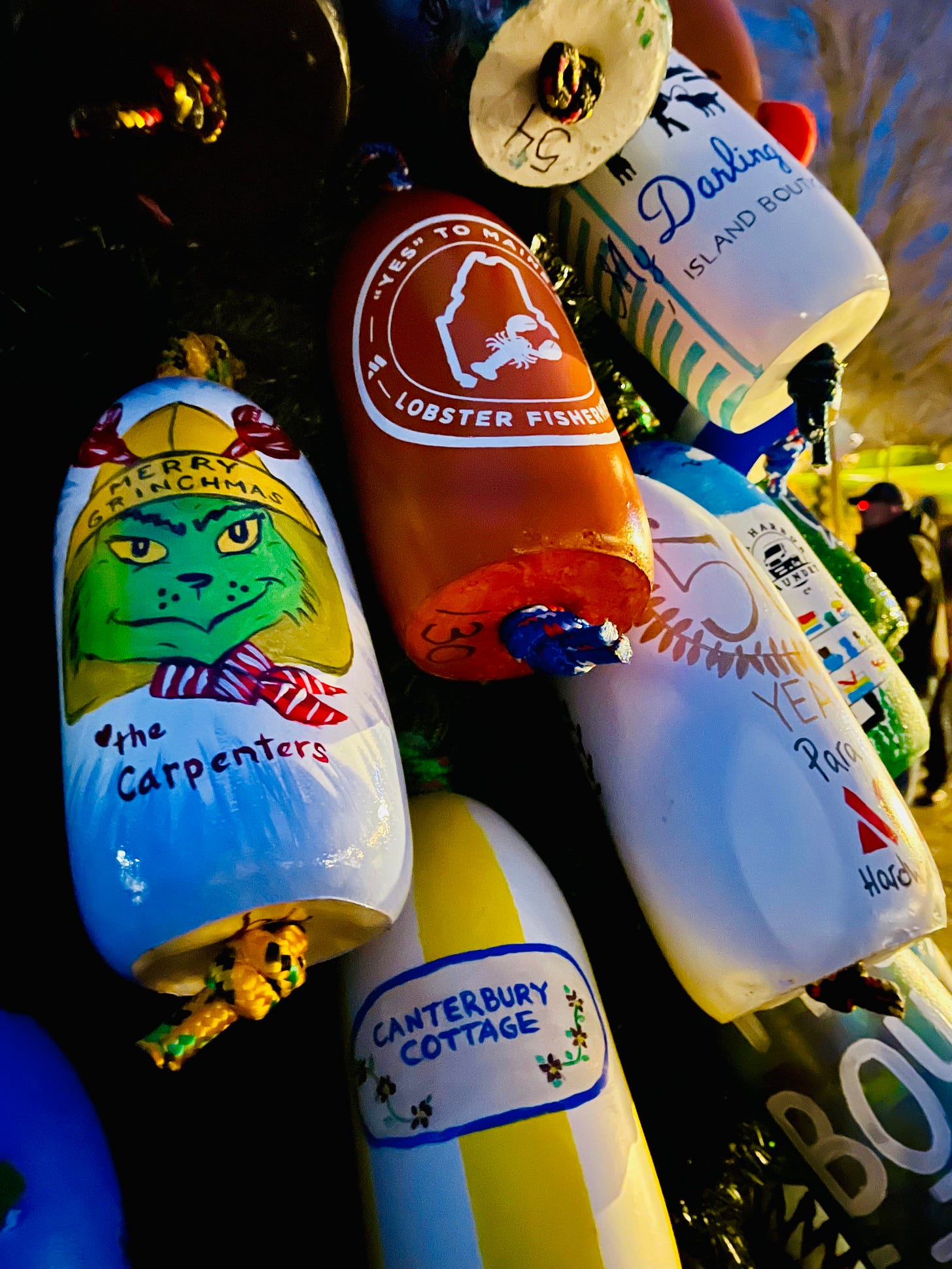 ---
Donations are still being accepted. Those interested in donating can visit this link. Buoys can still be purchased (for $20 at the Bar Harbor Chamber administrative office at 93 Cottage St. and visitor center at 2 Cottage St.), decorated and returned until December 16. There is space left on the tree for additional buoys.
---
Editor's Note: Shaun Farrar is this reporter's (and editor's) husband.
---
LEARN MORE!
Bar Harbor Chamber Lights Buoy Tree November 30
BAR HARBOR, Maine – The Bar Harbor Chamber of Commerce will be holding their holiday buoy tree lighting ceremony and donation presentation to Maine Lobstermen's Association (MLA) on November 30 at 4:30 p.m. at Harborview Park (across from the intersection of West Street and Main Street) in downtown Bar Harbor. The festive "tree" and donation are made po…
2 days ago · 2 likes · Carrie Jones
https://www.mainelobstermen.org/
Learn more about the MLA's advocacy via www.savemainelobstermen.org.
---
Bar Harbor Story is a reader-supported publication. To receive new posts and support my work, consider becoming a free or paid subscriber. Thank you so much for being here!