Do all New Englanders actually serve Roasted Brussels Sprouts and Chestnuts with Prosciutto?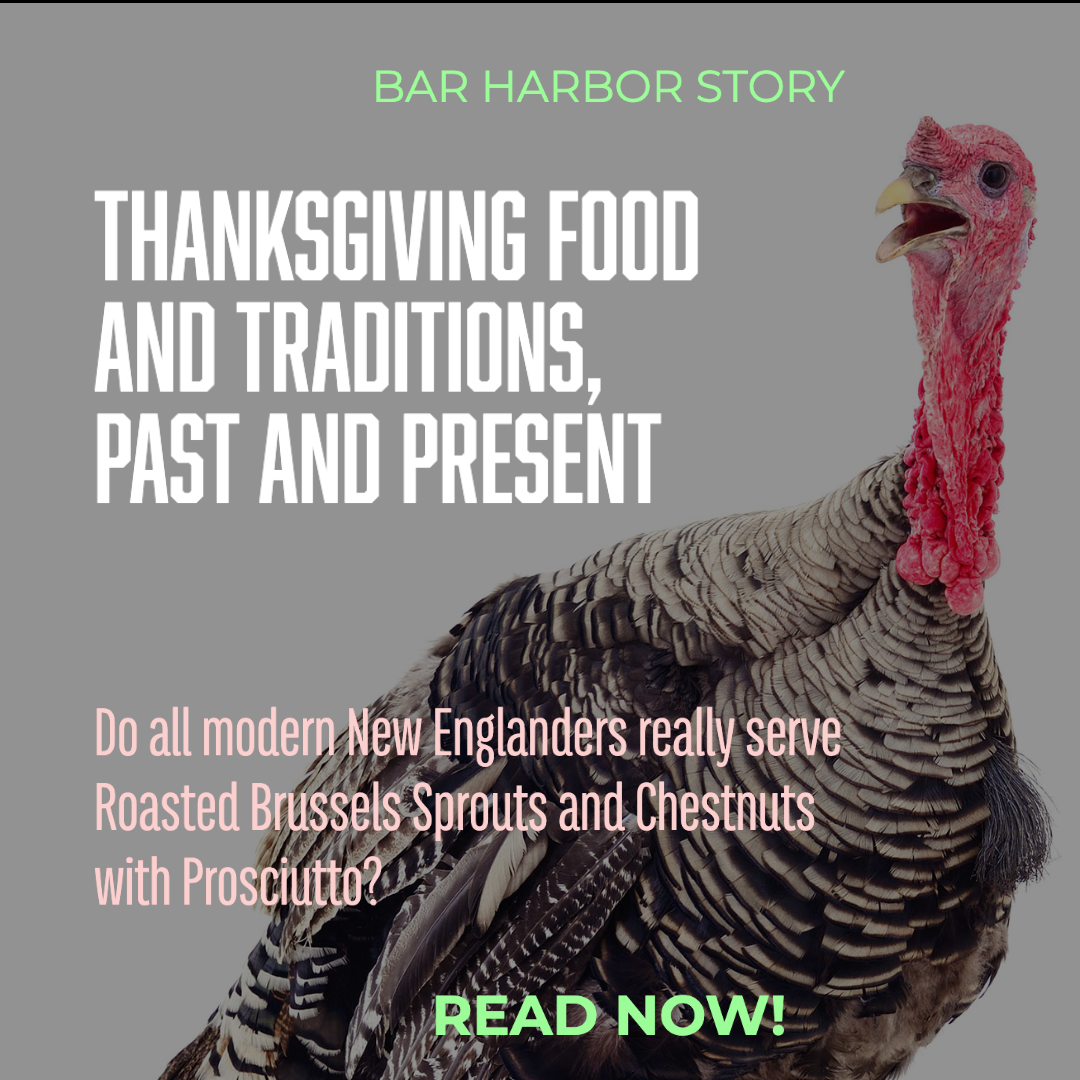 BAR HARBOR—Before there was social media or cell phones, prior to blogs, people used to tell each other where they were going for Thanksgiving and also learn about holiday events via local newspapers. Things have changed a lot since then in Hancock County, but sometimes it's fun to look back and see what life was like back then, especially around the Thanksgiving holiday.
The "Local Affairs" column of the 1898 Ellsworth American is a great example.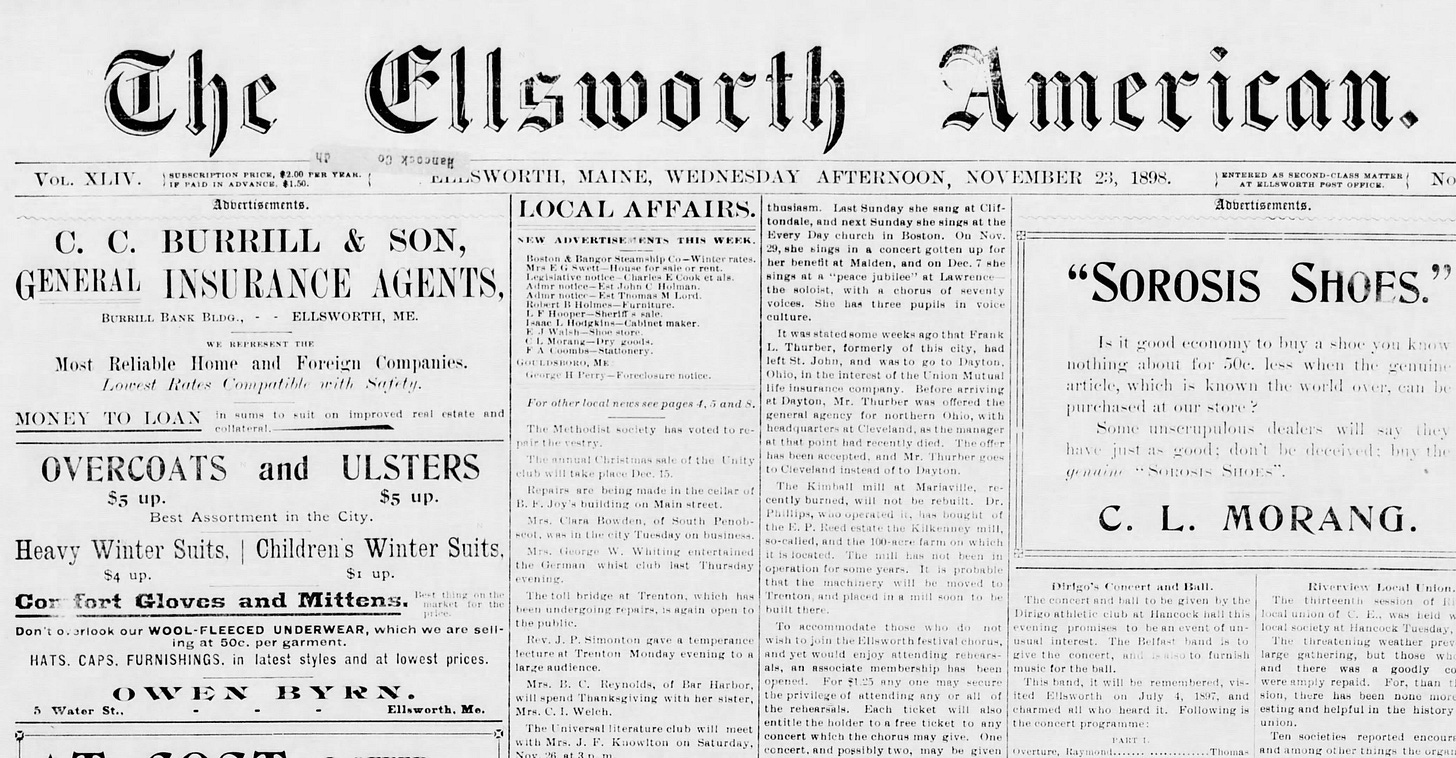 Or the newspapers would tell you about the misadventures occurring throughout Hancock County that week. Moments like a butter mishap,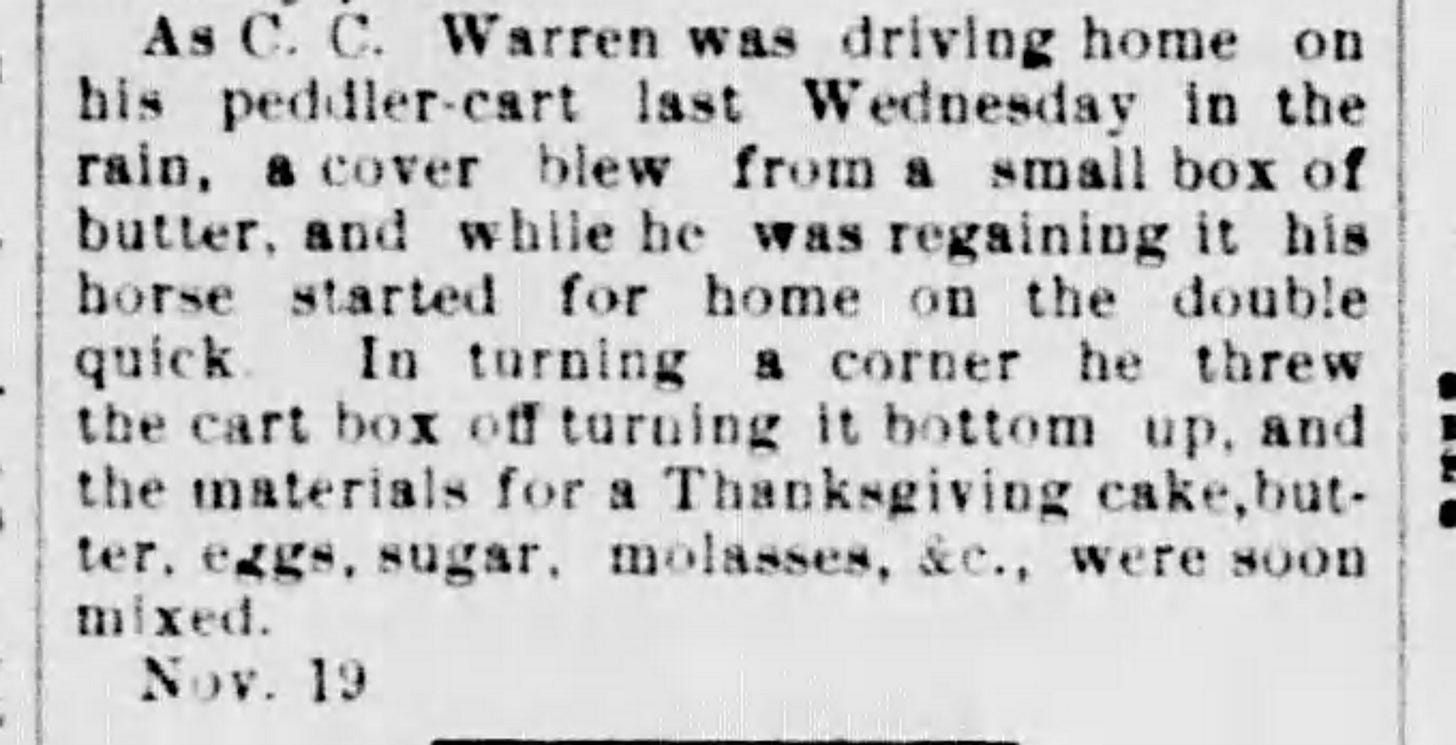 So, it was a bit like the police log in local papers now.
The traditional New England Thanksgiving dinner was slightly different 100 years ago. The 1922 edition of Fannie Merritt Farmer's The Boston Cooking-School Cook Book offers the following menu (check out a recipe below).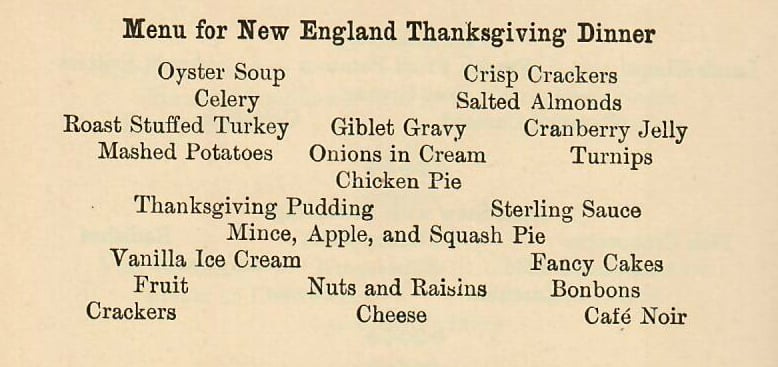 Or try a Thanksgiving menu from the November 1921 edition of American Cookery: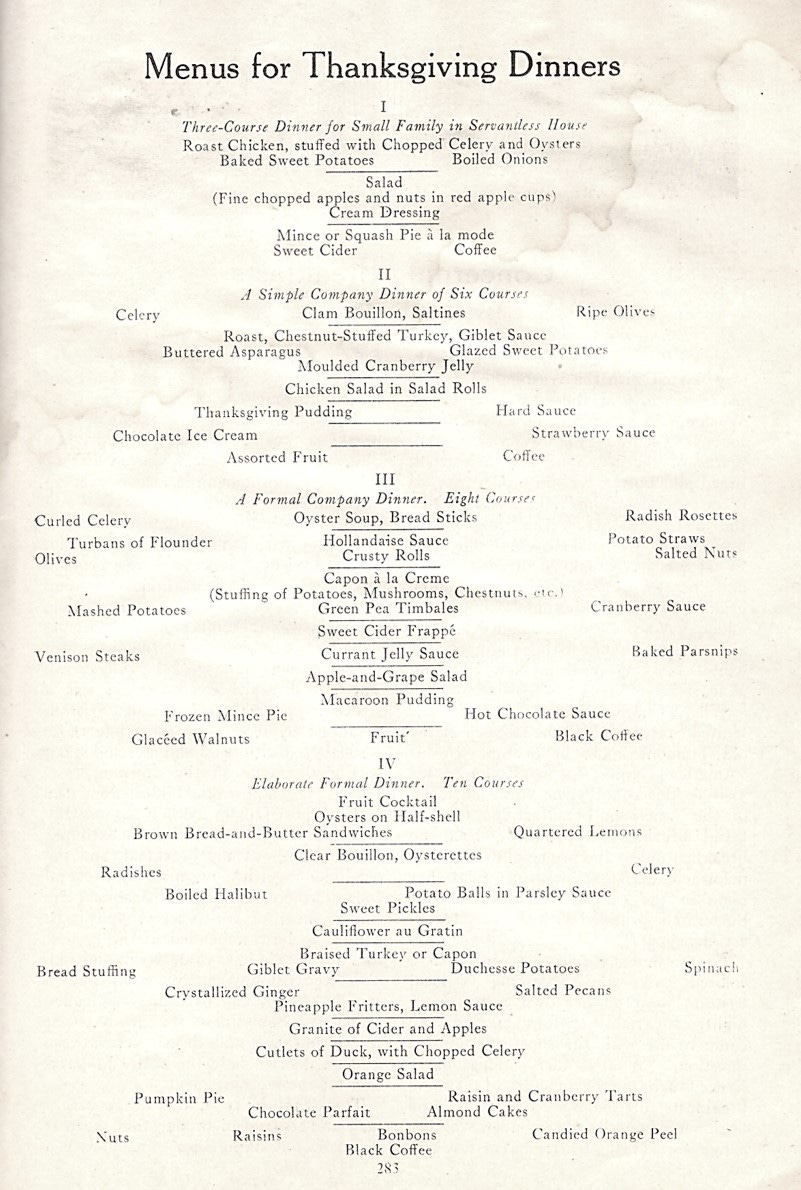 And in 1930, Good Housekeeping Magazine offered up this menu: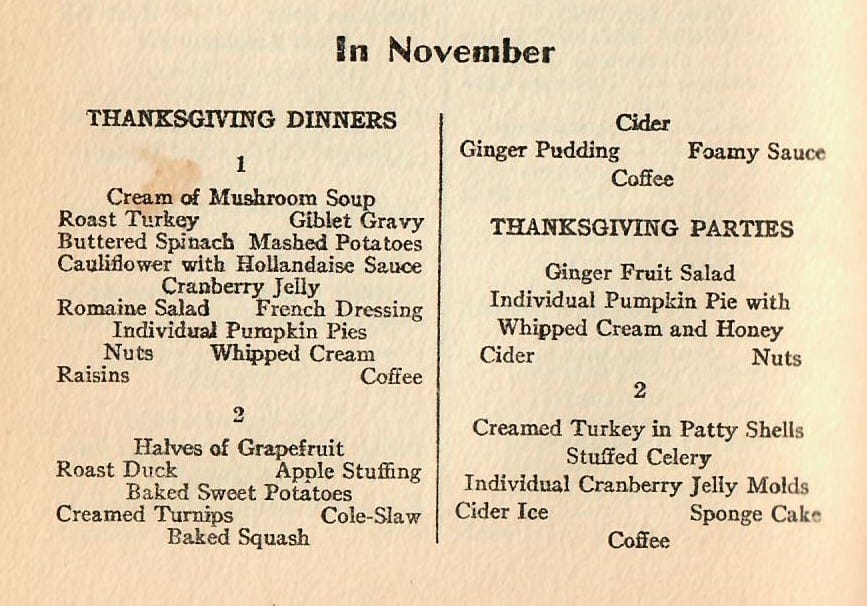 By 1965, James Beard's menu was a bit more elevated.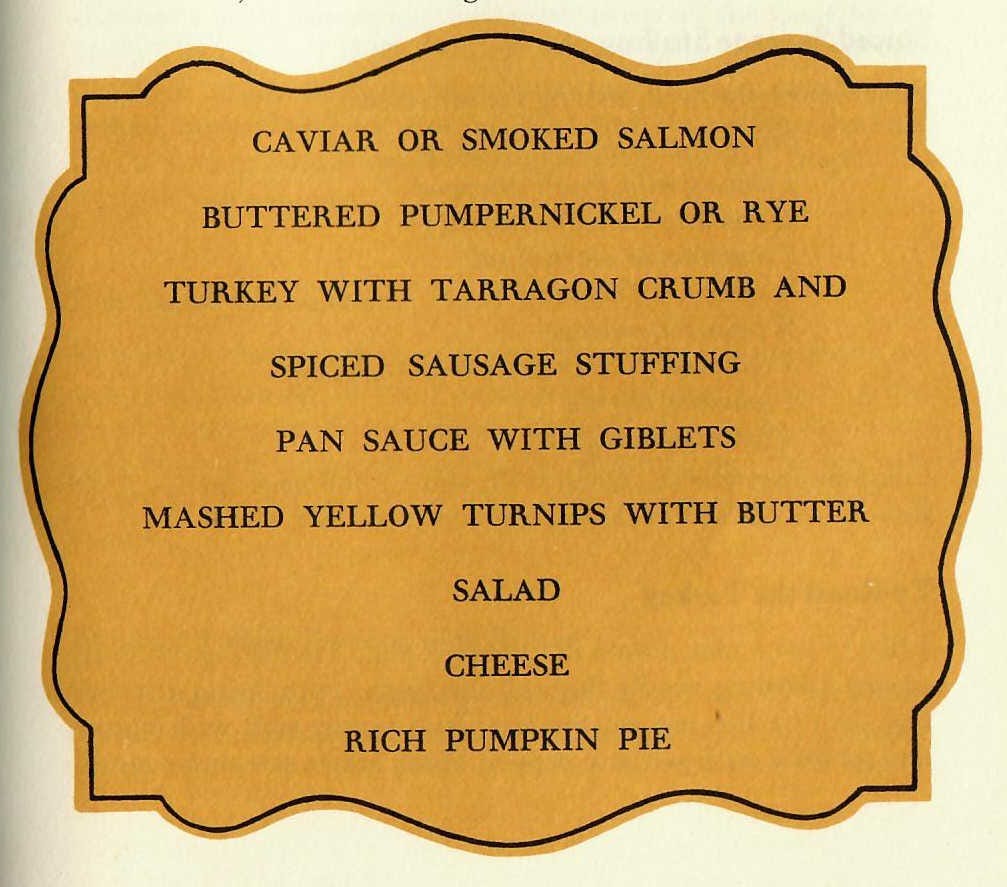 According to The Daily Meal, there are currently ten things that all modern New Englanders serve on Thanksgiving:
Bacon wrapped scallops
Clam dip
Cider-brined turkey
Venison Filet
Oyster Stuffing
Roasted Brussels Sprouts and Chestnuts With Prosciutto
Parker House Rolls
Cranberry-Pear Chutney
Maple Pumpkin Pie
Mulled Apple Cider
---
MAINE SPECIFIC TRADITIONS
Newspapers and news blogs aren't quite the same anymore, but there is always Reddit if you want to get the people's take on Maine Thanksgiving traditions, which ranges from "stumbling through the woods for that morning buck" to "Allen's at 11. Arguments begin at 2" to "standing around in your driveway in shorts in the freezing cold watching your turkey fry."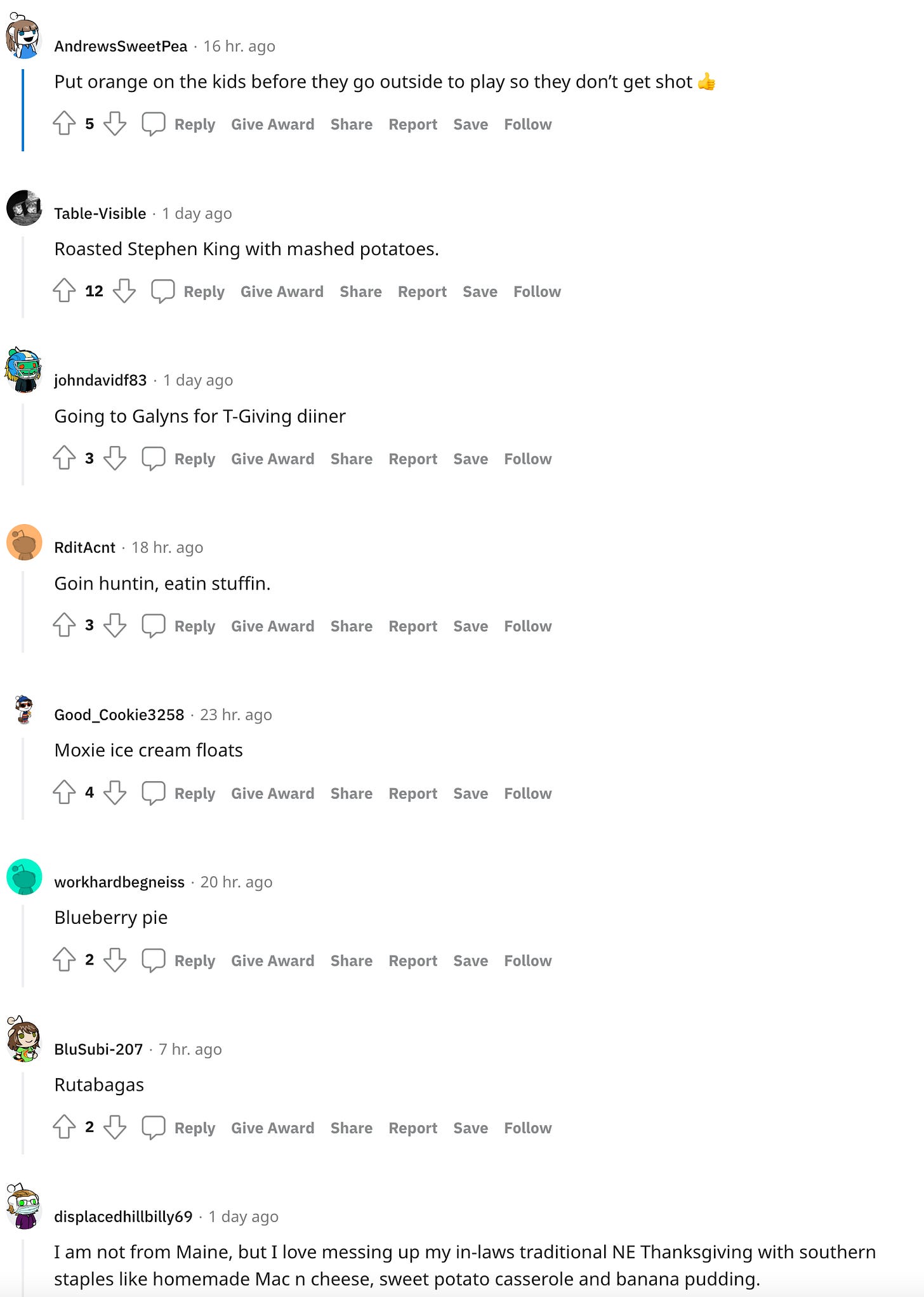 ---
---
SOME REFERENCES
https://www.thedailymeal.com/new-england-thanksgiving-recipe-slideshow
---
TWO RANDOM VINTAGE RECIPES
Oyster Soup
From the 1922 edition of "The Boston Cooking School Cook Book."
1-quart oysters
4 cups milk
1 slice onion
2 stalks celery
2 blades mace
Sprig of parsley
Bit of bay leaf
1/3 cup butter
1/3 cup flour
Salt and pepper
Clean and pick over oysters as for Oyster Stew; reserve liquor, add oysters slightly chopped, heat slowly to a boiling point, and let simmer for twenty minutes. Strain through cheesecloth, reheat liquor and thicken with butter and flour cooked together. Scald milk with onion, celery, mace, parsley, and bay leaf; remove seasonings, and add to oyster liquor. Season with salt and pepper.
Sterling Sauce
Also from the 1922 edition of "The Boston Cooking School Cook Book."
1/2 cup butter
1 cup brown sugar
1 teaspoon vanilla or 2 tablespoons wine
4 tablespoons cream or milk
Cream the butter, add sugar gradually, and milk and flavoring drop by drop to prevent separation.
---
Bar Harbor Story is a reader-supported publication. To receive new posts and support my work, consider becoming a free or paid subscriber. Thank you so much for being here!