Bar Harbor Congregational Church's Basketpalooza Sees Church Transform Into Temporary, Festive Food Warehouse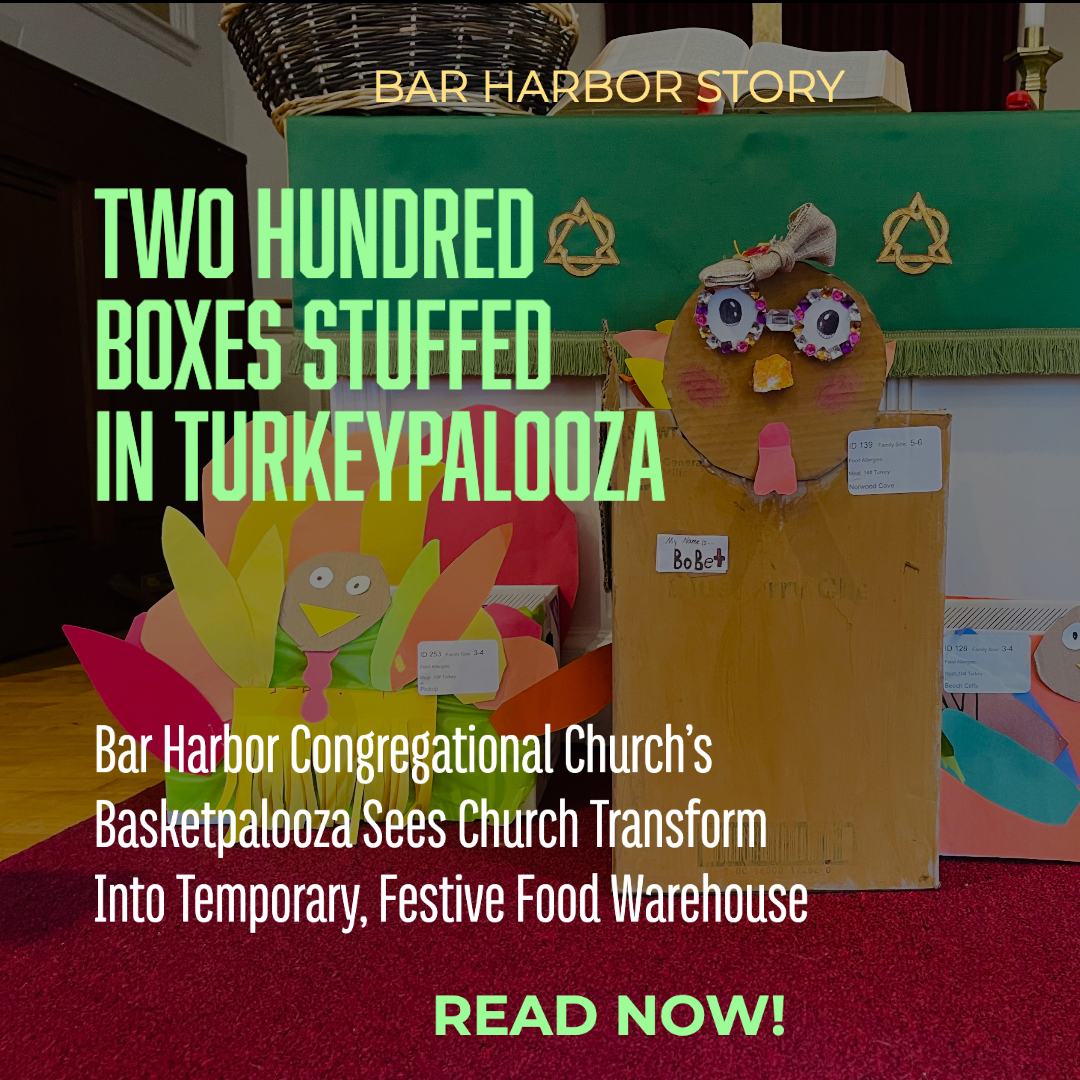 BAR HARBOR—It's not every day that you go to church, find a pew, an sit down to worship with a box of Stove Top Stuffing as your seat mate. That's exactly what happened in Bar Harbor Sunday morning.
Just after the 11 a.m. as the last resonates of "Go Now in Peace" echoed into the Bar Harbor Congregational Church, Basketpalooza began. Congregants pulled out the cranberry sauce stashed under the pews and started filling up 200 boxes.
Inside the boxes?
Thanksgiving meal ingredients that they'd been singing next to and praying next to throughout the one-hour service.
Outside the boxes?
A lot of humanity.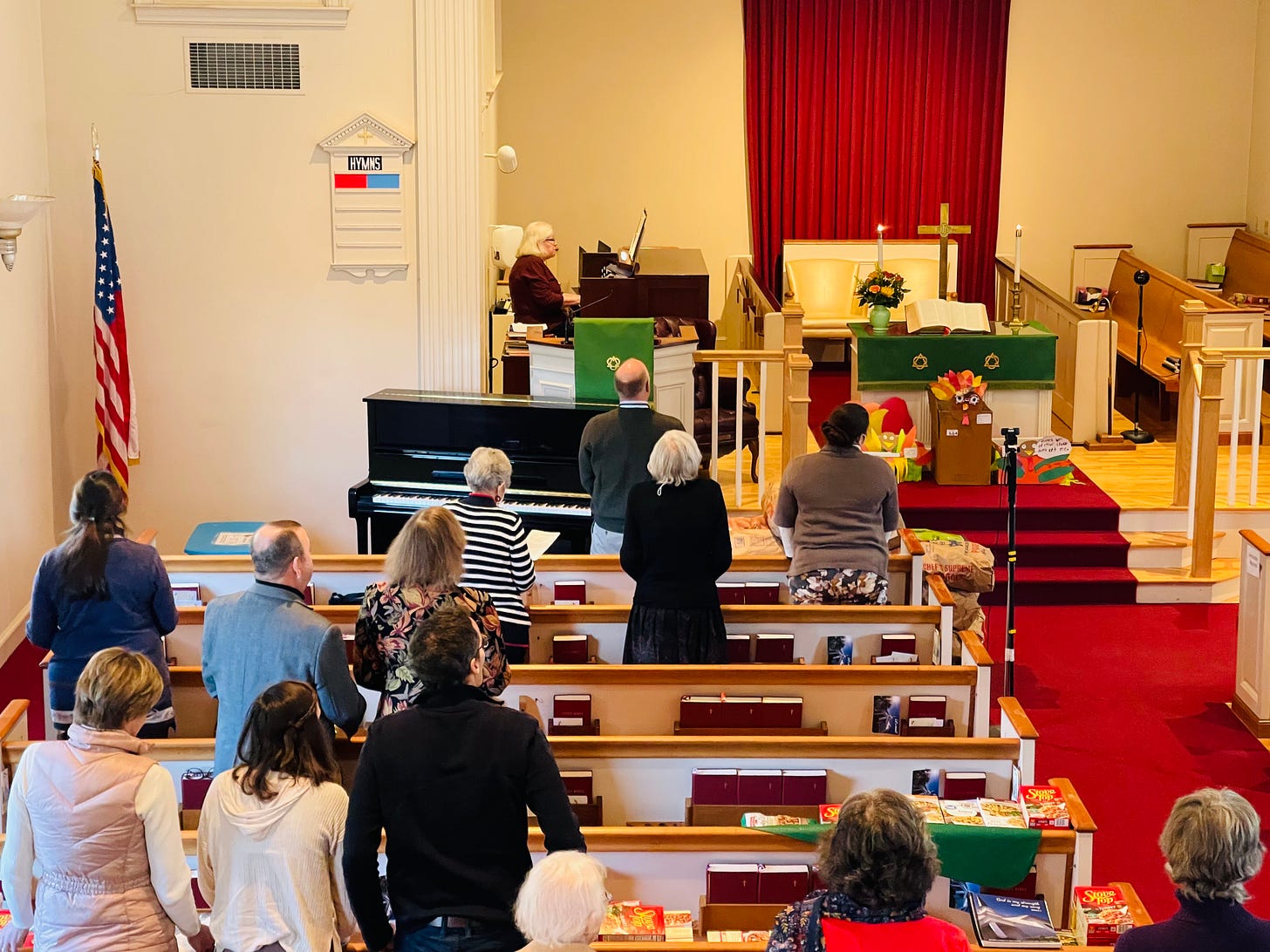 That humanity didn't just begin in the Mount Desert Street church that day. It began in October as three women started organizing how to feed the holiday meal to 200 local families. It continued as kid after kid, adult after adult, school after school, restaurant after restaurant, and nonprofit after nonprofit committed to making the turkey basket drive happen. It's believed to be in its 25th year.
Sylvia Mathews Burwell once said, "Day after day, ordinary people become heroes through extraordinary and selfless actions to help their neighbors."
That selflessness has been on hand all this past month on Mount Desert Island.
Three truckloads of donated food came to the Bar Harbor Congregational Church this week, all food gathered by Bar Harbor students to ensure that all families that wanted Thanksgiving dinner could have a meal.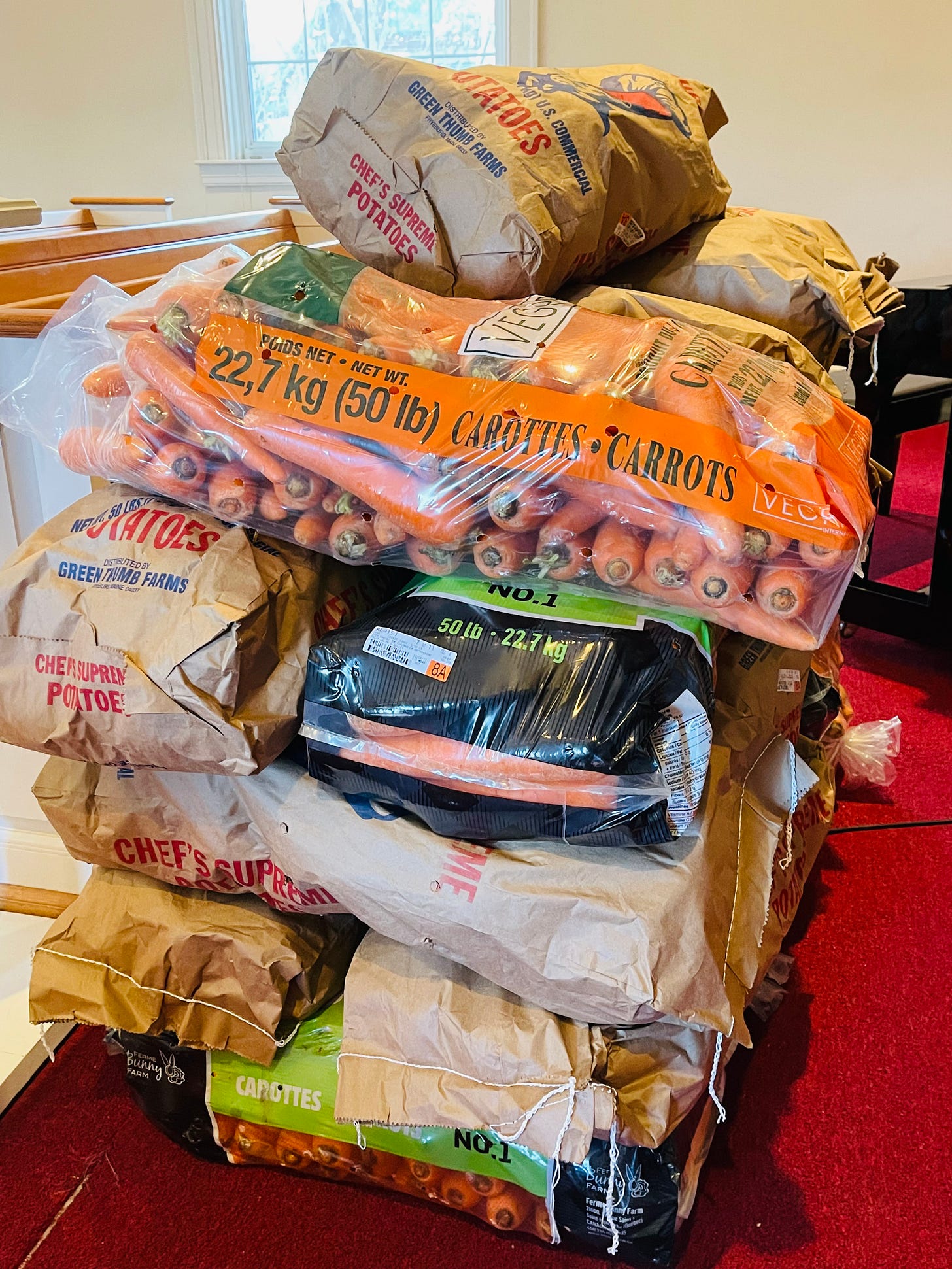 The Conners Emerson students weren't the only kids involved. Students from the Tremont School donated 800 items. Students from Mount Desert Elementary School donated 1,147 items.
"They counted," said Kay Rand who organized the food drive, collection, and disbursement with Cristy Benson and Debbie Hammond.
The Mount Desert students asked how much Tremont collected and when she told them, she expected them to be competitive, but instead they said that they were really proud. She recounted, "'Wow,' they said. 'That's really good.'"
According to Benson, a lot of kindness and goodness that comes together for the Thanksgiving basket collection and disbursement. Many area churches donated. Restaurants did as well. Galyn's gives giant bags of carrots and potatoes year after year. Seaside donated gravy. The Bar Harbor/MDI Rotary Club gave money for cranberry sauce and stuffing.
Girl Scouts came and counted the food items. The food is sorted into pews at the church.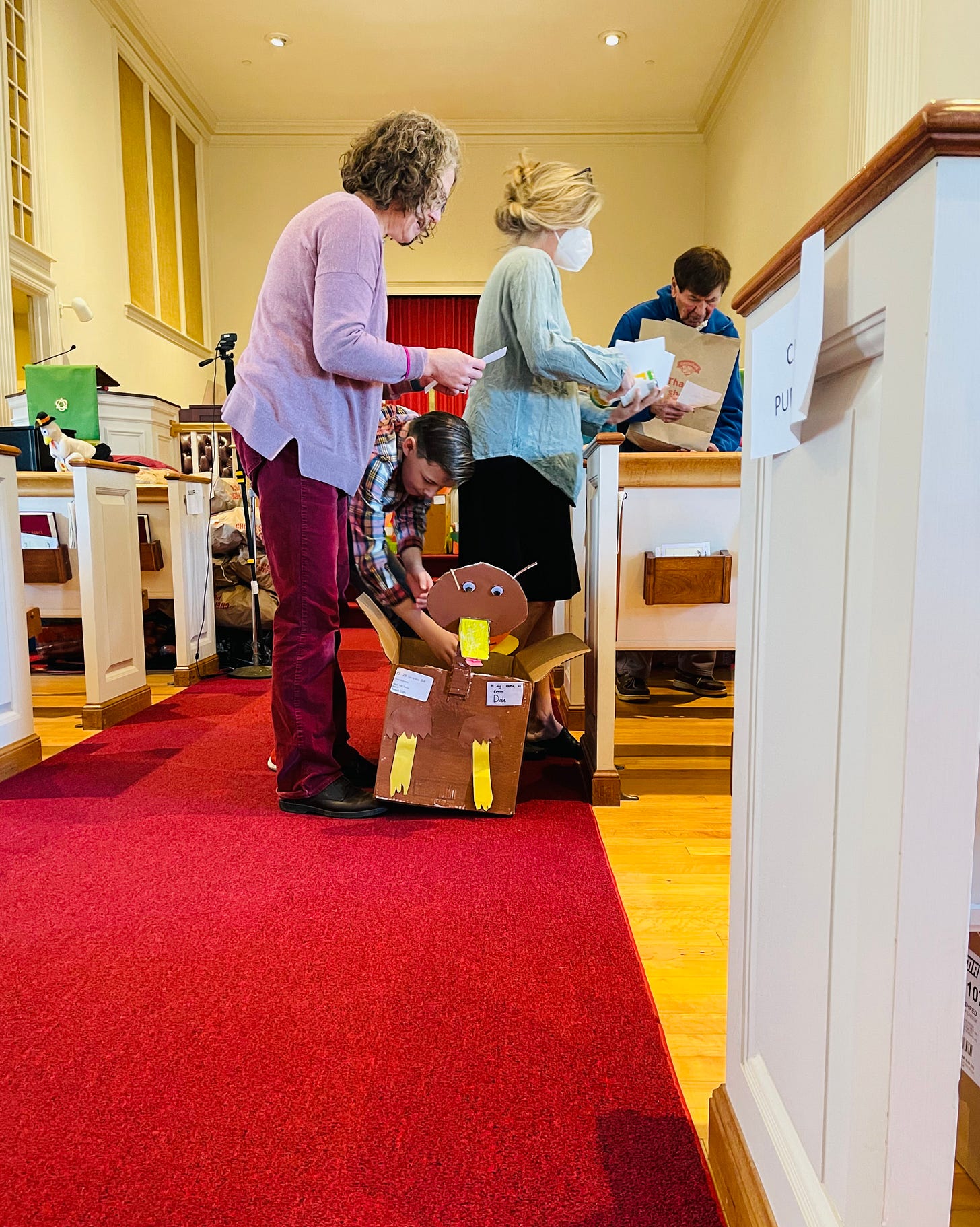 "Now we just have to find enough pews for people to sit in," Benson said Saturday.
They did.
On Sunday, after services, volunteers sorted all the food items into boxes decorated by Conners Emerson students. Kids' Corner students decorated turkeys. Then families pick up the boxes on Monday and Tuesday. Those who can't come to the church have the boxes delivered.
"It's kind of crazy because we spend the end of October to now, hoping to collect enough food," Benson said. And then they can never be certain if they'll have enough of a particular item. One year, there wasn't enough gravy and someone had to do a last-minute gravy run to Ellsworth. This year, Benson was worried about cranberry sauce and stuffing, and she may have headed to Sam's Club in Bangor to make sure there was enough. There was more than enough.
The amount of families taken care of has stayed at two hundred for the past few years, she said, but the amount of giving? That's grown and grown. Any extra food—if there is extra—heads to the Bar Harbor Food Pantry.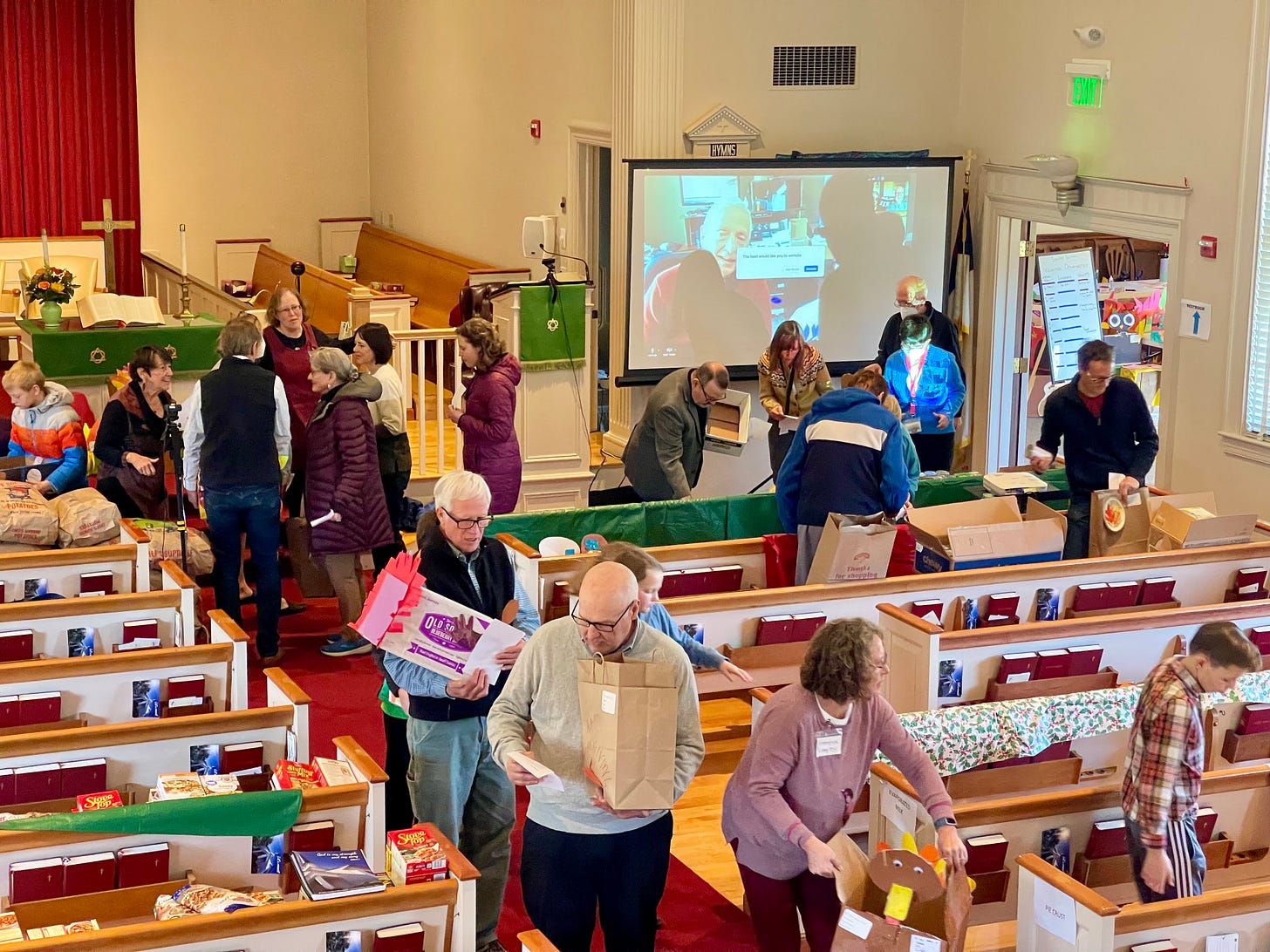 According to the Maine Department of Education, 1 in 4 Maine kids are "at risk for hunger" and 37% of those children aren't poor enough for public assistance.
The University of Maine's Cooperative Extension states that 14.4% of Maine households are food insecure; this translates into 16% of Maine seniors, and 1 in 5 children, so the statistics vary among age demographics. It also states that Maine is 9th in the nation for food insecurity.
According to the USDA, about 10.5% of households in the United States were food insecure in 2020, which represents 13.8 million Americans. Feeding America estimates that 1 in 8 Americans were food insecure in 2021. An article on Stacker estimates that the food insecurity rate in Hancock County is 8.3% higher than the rest of the country, with the insecurity rate for kids being 22.6% higher than the national average. That translates to 1,690 children and 6,420 total residents.
The USDA defines food insecurity as
"At times during the year, these households were uncertain of having, or unable to acquire, enough food to meet the needs of all their members because they had insufficient money or other resources for food. Food-insecure households include those with low food security and very low food security."
---
List of Donations
Artwork: Kids' Corners
Boxes: Acadia Corp
Decorations for boxes: Connors Emerson
Gravy: Seaside UCC Church
Fresh carrots and potatoes: Galyn's Restaurant
Ingredients for pumpkin pie, stuffing: Bar Harbor UCC
Canned vegetables and cranberry sauce: Saint Saviors and Church of Our Father
Fresh baked pies: Slice of Eden
Pumpkin cookies: Open Table
Canned vegetables : Somesville Church
Food drives: Tremont School, Mount Desert Elementary School, Connors Emerson, and the larger community
Financial donations: Rotary, Somesville Church, and Bar Harbor Congregational Church
Organizing food: Girl Scouts
---
TO LEARN MORE ABOUT THE BAR HARBOR CONGREGATIONAL CHURCH
TO LEARN MORE ABOUT THE BAR HARBOR FOOD PANTRY
https://www.barharborfoodpantry.org/
TO LEARN MORE AND/OR POTENTIALLY PARTICIPATE IN SHARE THE HARVEST
Last year's application online.
Call for information: 207-801-0135
---
CONTACT THEM WITH ANY QUESTIONS OR IDEAS ABOUT HELPING LOWER FOOD INSECURITY LOCALLY!
Share the Harvest
(207)-801-0135
Beech Hill Farm
(207) 244-5204
---
MORE RESOURCES:
https://www.ers.usda.gov/topics/food-nutrition-assistance/food-security-in-the-u-s/key-statistics-graphics/
https://stacker.com/maine/counties-highest-rate-food-insecurity-maine
https://www.maine.gov/doe/foodsecurity
A 2017 report on Maine's food insecurity.
More about those statistics from UMaine.
NPR article about the Biden administration's plan to end hunger by 2030.
Biden's remarks on the upcoming conference on hunger, nutrition and health.
---
Bar Harbor Story is a reader-supported publication. To receive new posts and support my work, consider becoming a free or paid subscriber. Thank you so much for being here!